I was compensated by Lowe's for designing and sharing my affordable weekend patio paint project but all opinions about Lowe's and their amazing products are my own.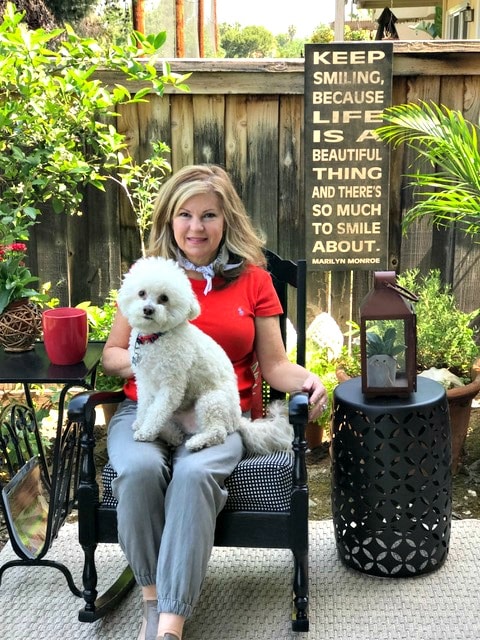 This has been quite a year at our house already. I have two children and both of them decided to get married this year. My son got married just a few weeks ago and my daughter is getting married this summer. I really do have so much to smile about.
In addition to all of the busy plans and preparations for the next wedding, my husband and I are soon to be empty-nesters.
We have plans to turn their empty bedrooms into new work-at-home office space and to use the extra space in our garage for a workout area. Those plans are on hold because weddings are expensive and we have so much to do to get ready for our daughter's "big day".
We've been insisting that our newlyweds get their stuff out of our attic before it becomes a permanent storage space. While working on that project, my husband asked me when I was going to get rid of an old rocking chair I found at a thrift store or garage sale about 3 years ago. He threatened to toss it out so it was time to take action.
All it needed was some paint and a little vision! I'm a sucker for cast off furniture. I've been known to stop by the side of the road and load it into my car. Do you do that too?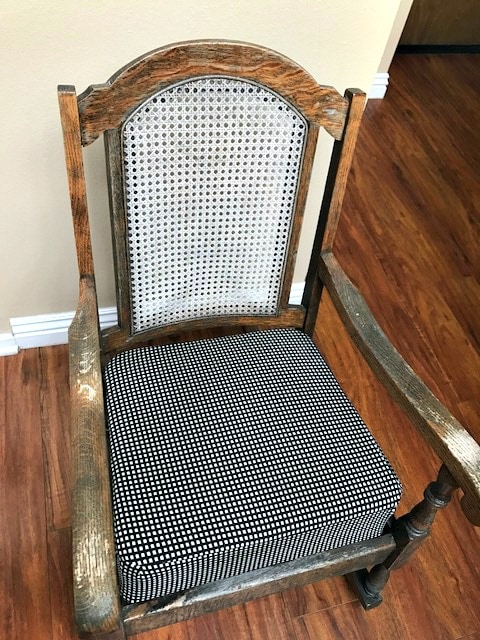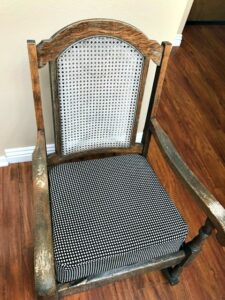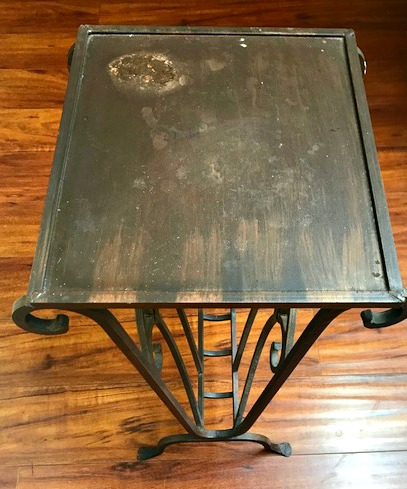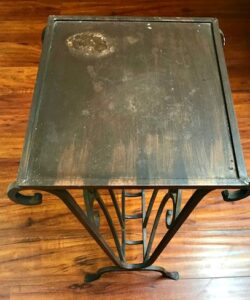 I have also been storing this old cast-off magazine table that had seen better days.
Due to my time and budget constraints, I was ready to complete my small yet impactful paint project. I've wanted a quiet nook for reading and relaxing now that the weather is warmer and the days are longer. I just knew I could resuscitate that old rocking chair and table.
At Lowe's, they have everything you need for your painting projects including helpful and inspiring displays, knowledgeable staff and a satisfaction guarantee; "Love your paint, it's guaranteed"
"If you are not completely satisfied with your interior or exterior liquid paint purchase, simply return the unused portion in the original container within 30 days of purchase. We will replace it with a comparable can of paint or refund your money based on our return policy. We reserve the right to limit guarantee in our discretion in the event of suspected fraud or abuse. US only."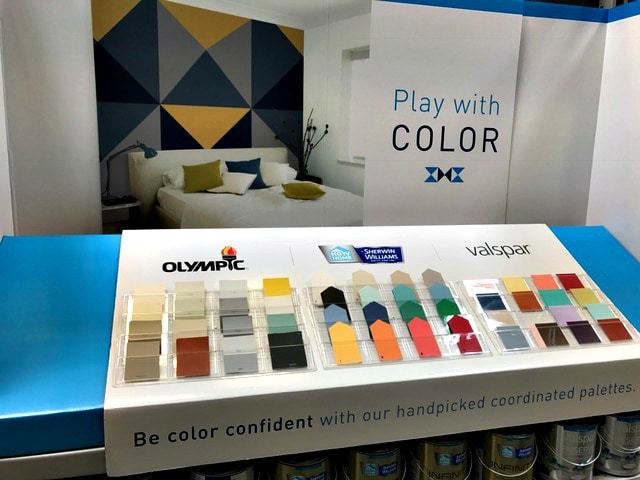 If you want to paint your home, Lowe's can help you with handpicked coordinated paint palates for both exterior and interior projects.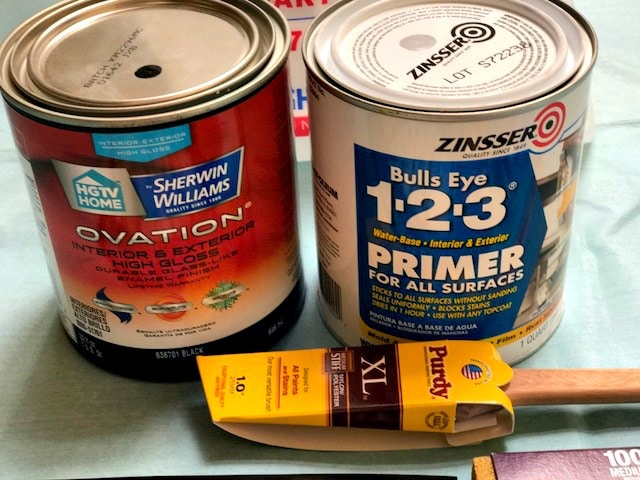 Here are the paint and the primer I used. All it took was a quart of each.
Sherwin Williams HGTV Ovation, Interior and Exterior High Gloss Black
Zinsser Bulls Eye 1-2-3 Interior Latex Primer – knowing I was going to use this white primer to paint my table and chair black, I asked if they could add some black paint to the primer. The Lowe's paint associate added as much as she had room for in the can.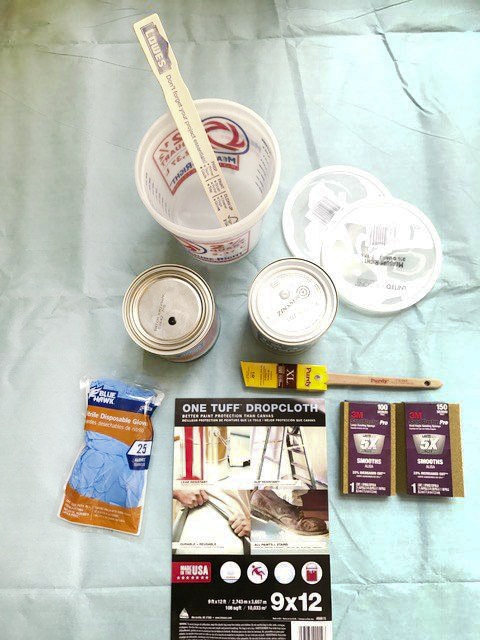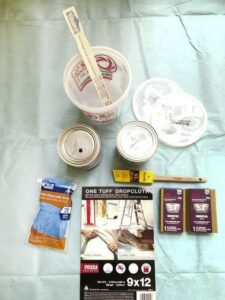 Here are a few more supplies I purchased to make my painting project easier:
Purdy XL Dale Polyester Nylon Blend Angle Sash Paint Brush (Common: 1-in; Actual: 1-in)
3M SandBlaster Pro Large Sanding Sponge in 100 and 150 (medium)
United Solutions 80-fl oz Paint Pail with lids. I find it easier to paint from these lightweight buckets while painting and easier to store the extra paint.
Blue Hawk One Size Fits All Nitrile Gloves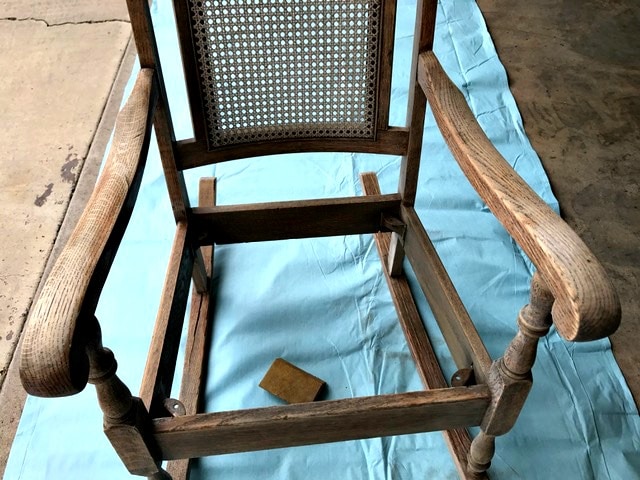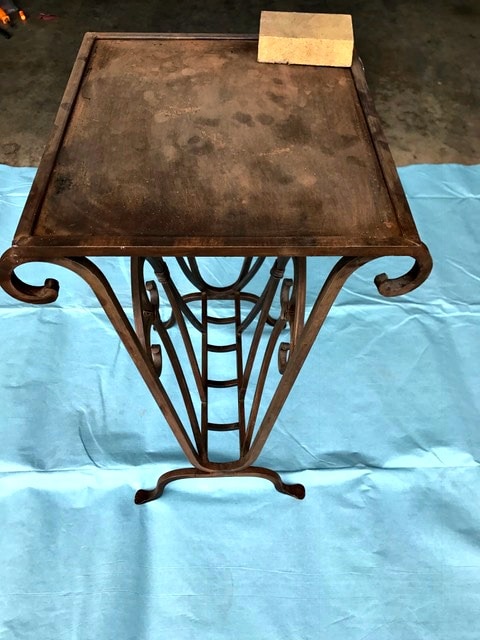 Before I started, I removed the seat cushion.
It is tempting to skip the sanding step but don't! I brought in photos of my table and chairs to show the store associate at Lowe's and I followed her instructions. She advised me to sand both pieces just enough so the primer would have something to adhere to. She also said not use too much pressure and gouge the surfaces.
Once the sanding was done, I used a damp tack cloth to remove the residue and then let the furniture dry.
Sanding didn't add that much time or cost to the project. When you see how well the rocking chair and table turned out, I think you will agree that taking the time to sand the furniture first will provide the best results.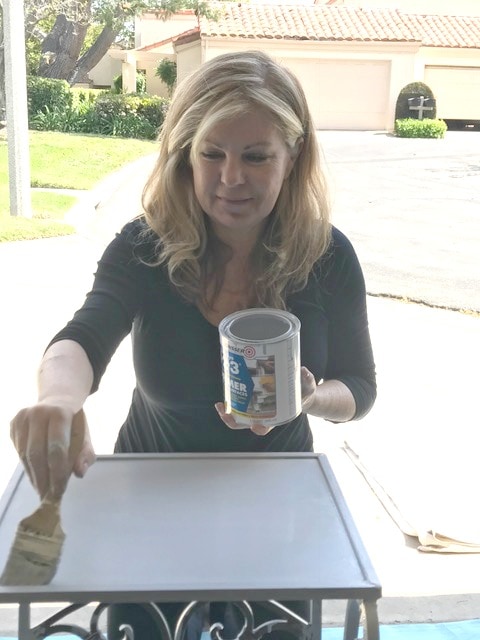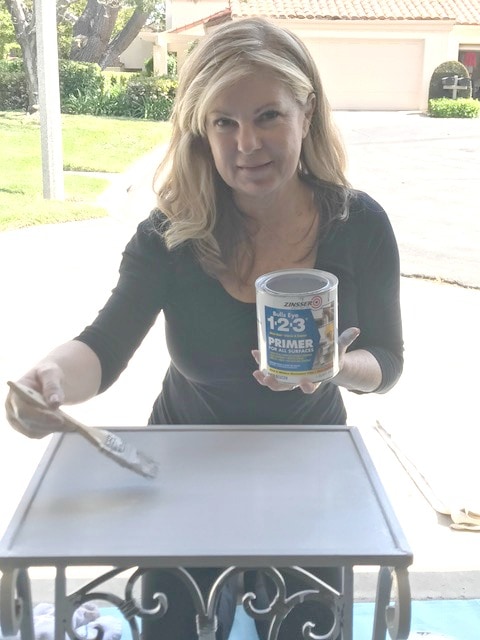 I think painting is relaxing and enjoyable, as long as it does not need to be too precise.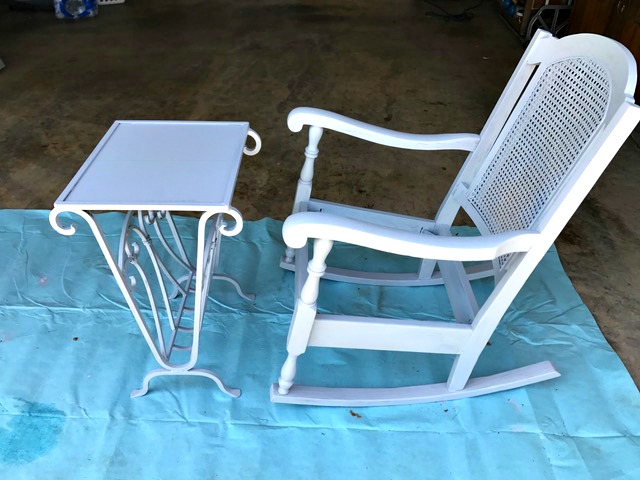 I used two coats of primer to get good coverage.
Here is what the rocking chair and table looked like after applying the primer. If you notice any drips during the primer or the painting process, you can sand those off before proceeding.
Now I'm watching paint dry!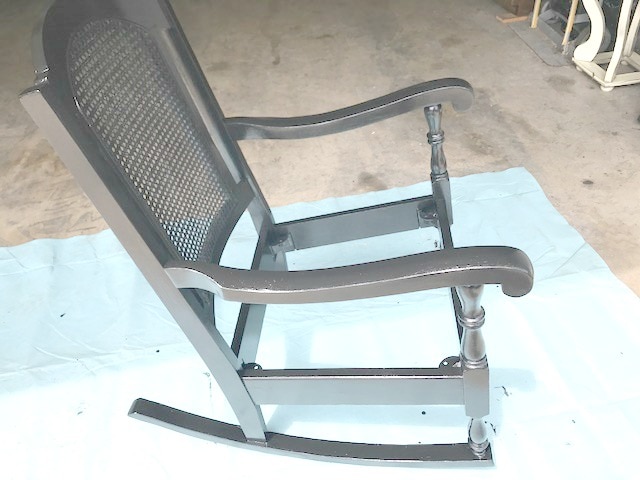 The table and chair project was the perfect amount of painting to tackle over a weekend. I could have completed the project in one day, but I chose to do the sanding and the primer on Saturday and the painting on Sunday.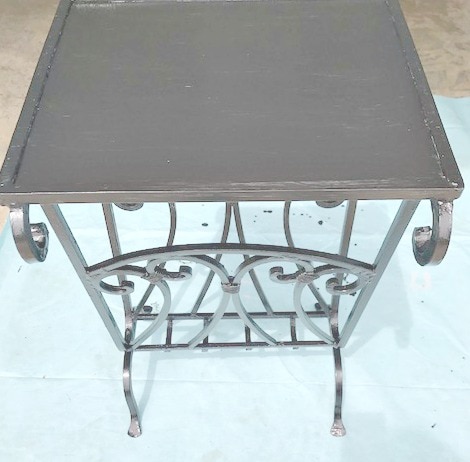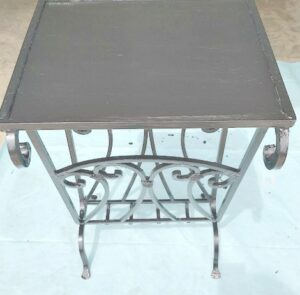 Here is what my little table looked like after one coat of black paint. Because it had so many "nooks and crannies" it needed two coats as did the rocking chair.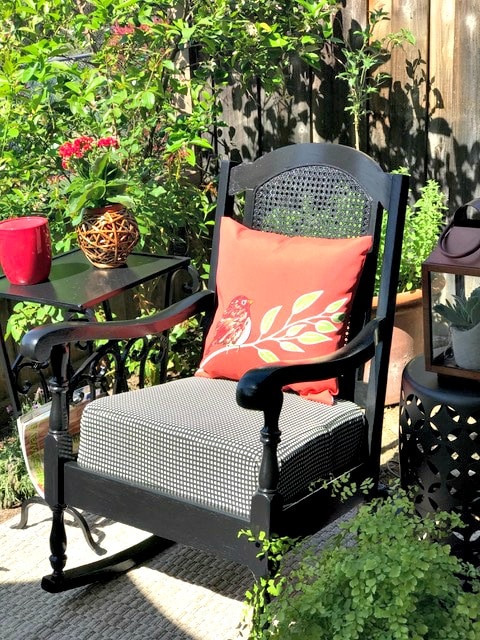 Once the paint was dry, I was excited to move the rocking chair and table from my garage onto my patio. I wasn't sure how the original cushion was going to look once I had the chair painted.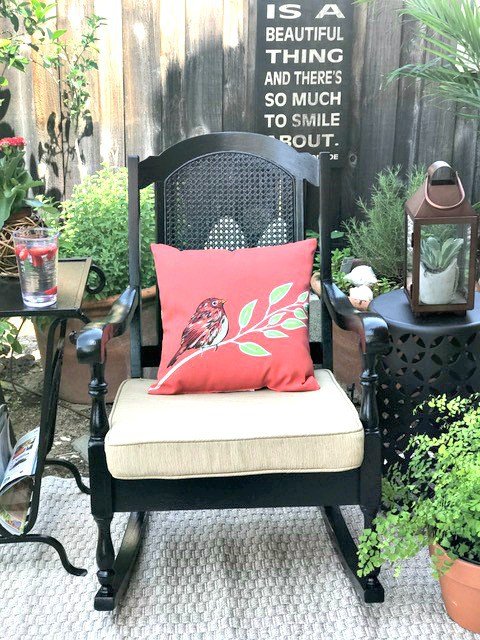 While at Lowe's, I noticed a display of cushions in several colors. You can update your existing patio furniture with new cushions from Lowe's. I really like how the natural colored cushion matches my new rug and shows off the beautiful red bird pillow.