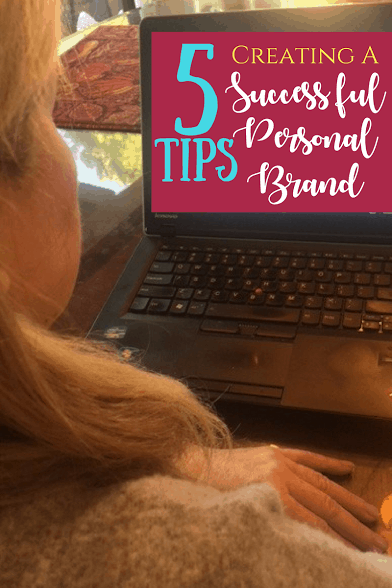 As I begin my 9th year of writing my blog, it's a great time to reflect upon my journey. This post was inspired and sponsored by Domain.ME, the provider of the personal domains that end in .ME. As a company, they aim to promote thought leadership to the tech world. All thoughts and opinions are my own.
I'd love to share with you how my personal blog began, mistakes I've made along the way and a few things that I got right. If you are thinking about starting a blog or are new to publishing content online, I hope my story will be an encouragement to you.
I grew up in a frugal home with a school teacher dad, a stay-at- home mom and three siblings. My two sisters and I shared a bedroom that is smaller than many walk-in closets. All six of us shared one bathroom. But we thought we were rich and you know, we really were.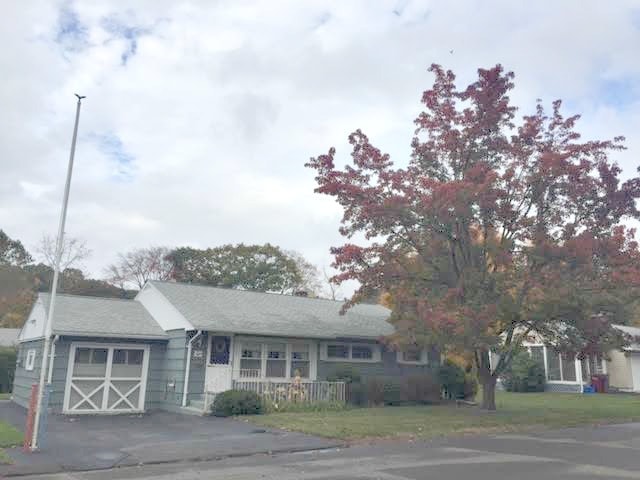 I was blessed to have the parents that I did. From my humble roots, I learned how to stretch a dollar by watching my mom. I was also fortunate enough to be a stay- at-home mom for my daughter and step-son. I wanted both of them to understand that staying at home was a sacrifice and part of my job was to manage our household and to stretch our dollars as well.
I'm one of those people who doesn't want to pay full price for anything and I'll take the extra steps needed to save a few dollars. I'll find promo codes, clip coupons, travel at the right time, shop at thrift stores, ask for a discount or simply wait for a sale. I like to say that saving money is my "super power" and at the risk of bragging, I'm pretty darn good at it.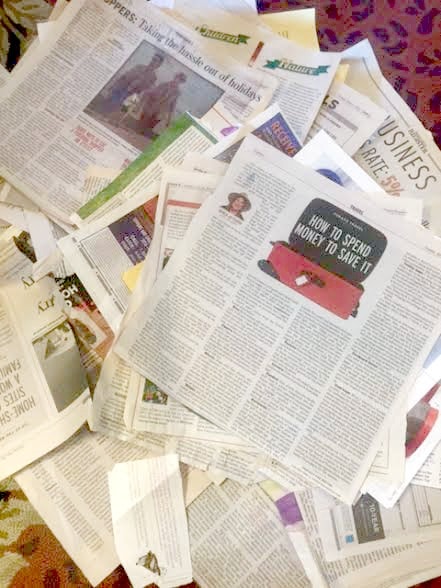 Before I started More With Less Today, I was constantly ripping out articles about saving money to the point where I had almost filled a filing cabinet with clippings for future reference. In 2008, I became fascinated with the ability to self-publish a blog and thought it would be a great way to organize and share my ideas and my clippings with friends and family. That was my only goal at the outset and this is where I made my first mistake.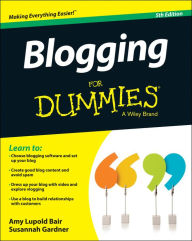 (I read this book early on and could re-read it today and learn some new things!)
Tip #1 – Don't Overthink It
I waited a full year to start my blog, thinking that I needed to know more about blogging and SEO. It's 9 years later and I'm still learning every day. I wish I would have started the minute I had the idea. Don't wait! Your blog will evolve and grow. You'll probably have some cringe-worthy posts and photographs. It's all part of the process. Don't let perfection stand in the way of progress.

My first logo, it was cringe-worthy for sure!
Tip #2 – Hobby or Job?
At the same time that I finally started publishing posts in January of 2009, I rejoined the working world. My daughter was leaving for college and I was facing the empty-nest. It was time for a new chapter or two. I had so much to learn with my new job and my new blog. I used to beat myself up because most days I felt like I couldn't keep up. I should have accepted the fact that my blog was going to be a hobby and relaxed a bit more. Decide if your blog is going to be a hobby or a job, and if it's a hobby, keep it enjoyable.
Tip # 3 – Make Some Friends
In the beginning, I saw every other blogger in my niche as a competitor and I constantly compared myself to them. This was a huge mistake on my part. After going it alone for about two years, I reached out to another blogger with a question and she invited me to join a Facebook group full of other bloggers who were looking to grow and share their knowledge.
That exchange opened up a whole new wonderful world for me. I had been missing out on a supportive community of collaborators, not competitors. Blogging can be a lonely endeavor. Make some friends, support each other, and don't compete. The internet is big enough for everyone!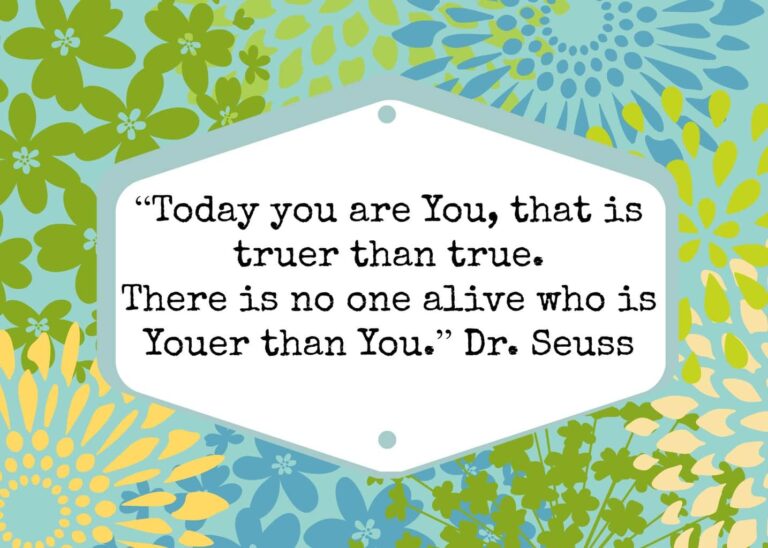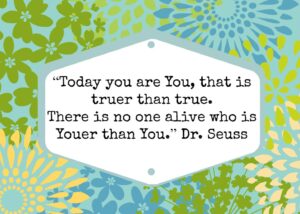 Tip #4 – Be Uniquely You
In the beginning, I tried to mold myself by copying the formats of two successful bloggers. But these were full-time bloggers with a staff of helpers. I was a part-time blogger and I was always frustrated.
I remember one weekend, my husband invited me along on a business trip and I told him I couldn't go. I had all these blog projects I needed to accomplish that weekend. As I sat in that empty house, I had a break-through. Why was I working so hard at trying to be like someone else? It was during that lonely weekend that I changed the entire focus of my blog from one that needed to be constantly updated with deals, to a more encompassing lifestyle blog with recipes, crafts, travel content, and frugal living tips that won't expire and can be reposted and shared with new readers. I stopped trying to swim upstream and it felt exhilarating.
If I had a chance to start over, I would have started with my own name as my personal domain name and created personal branding around ME. I would have built my personal brand as LoriFelix.ME and created an online persona to let my uniqueness shine through.
If you are looking for a memorable and unique way to represent yourself online, start with a domain name from Domain.ME. I've learned that .ME domains are great for personal websites, such as blogs, online portfolios, or aliases for social network profiles. They are also very popular among the global startup scene for the many meanings that .ME carries and the opportunity to get a short, highly-branded, and memorable domain name with a personal feel.
With .ME domain name registrations, there are no restrictions on .ME domain names. Names are open to anyone, similar to .COM, .NET, or .ORG. and .MEs are not penalized when it comes to SEO. They have the same benefits as any .COM.
Your domain name can be your name or something else that is catchy, memorable and meaningful. As I was reflecting back on what I would do differently, it was fun to play with other possible .ME names I could have used:
EmptyNester.ME
PublishYourPassion.ME
Momand.ME
Frugal.ME
It's fun to play around with domain names and there are so many options with .ME domain names. Give yours a try today, to find your perfect .ME domain name.
.ME is a domain name provider that allows anyone to create a unique, safe identity online with a domain ending in .ME. They operate as a B2B, which means that people can register a domain name through one of 190 accredited registrars that operate as .ME resellers.
Tip #5 Invest in Yourself
When your goal becomes building a successful blog and brand, it's time to invest in yourself. Opportunities opened up for me when I started to attend blog conferences. At first, I resisted because they can be expensive, but I've gotten a tremendous ROI from these experiences.
Not only will your knowledge grow from listening to the speakers, you'll also make connections with other bloggers and brands that will continue to pay dividends long after the conference ends.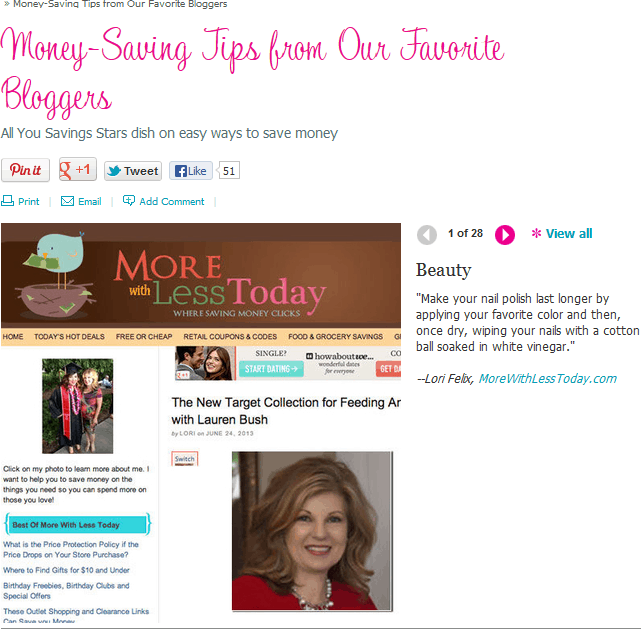 At one of my first blog conferences, I sat next to a magazine editor at lunch and from that friendship, I began a guest-posting relationship that landed me on the blogroll of a magazine published by Time, Inc. The first time I saw my name in that magazine, I felt that I had arrived. It had more to do with us hitting it off at lunch than it did with my readership or the time I had spent blogging.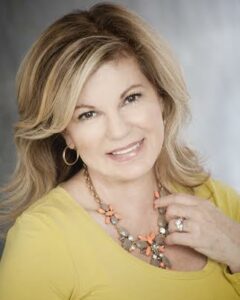 Now I'm the Boss of .ME
Almost three years ago, my job was beginning to show signs of elimination. Since the time I started blogging, I wondered if I could ever make a full-time income from my site. It was the right time to make the leap and give it a try.
I approach my site differently now that it is a full-time business and an important part of our family income. I also employ four part-time people and my husband has assumed the role of my business manager. I have a responsibility to each of them to keep moving forward and growing. That is not to say that I don't still love blogging. That has never wavered.
In addition to writing my posts, I pay attention to my analytics, make decisions about content and developing new revenue streams from ads and sponsored content, continue to build my social media, and pay taxes. I'm proud to be productive and appreciated by my family, and friends, and supported by my wonderful readers.
If you are a blogger, I encourage you to share your story with the #BeginningOfME hashtag. I would love to read about your unique journey!