Are you looking for the best hostess gift or a special gift for your girlfriends? You came to the right place!
We've curated this great list of the Best Hostess Gift Ideas from Amazon to make your shopping easier. This year, we've found some beautiful and affordable gift ideas!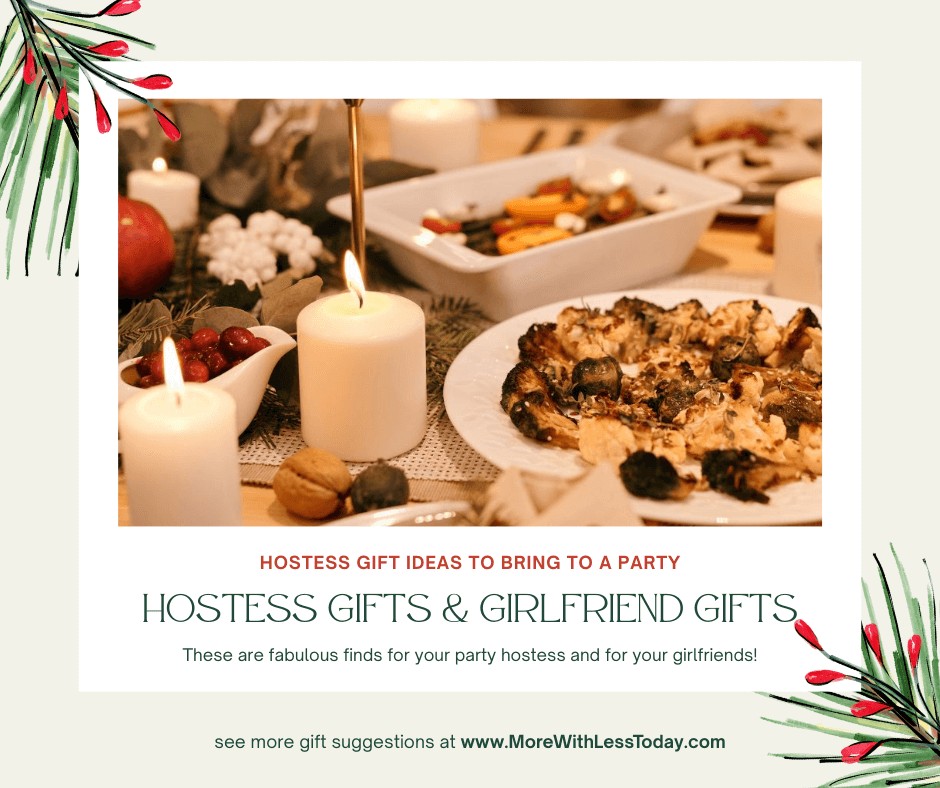 Sometimes it's hard to think of the perfect gift to bring for someone you know, especially at this time of year. Whether it's for a bridal shower, dinner party, baby shower, or holiday party, this list will come in handy when you want to give a thoughtful gift. It's also a sign of good etiquette to bring a hostess a gift!
Every year, I curate the best gift sets to give you options and find that unique gift you're looking for for your next party. Remember: It doesn't matter if you pick a small gift, it's the thought that always counts!
As an Amazon Associate, I earn from qualifying purchases.

Best Hostess Gift Ideas
Instead of just getting a bottle of wine or a bouquet of flowers, why not look for a great gift from my list of Best Hostess Gift Ideas for your special event? This gift list is a combination of new and traditional hostess gifts for your holiday party or to give to a special friend.
This wooden oval bowl is a great hostess gift for someone who loves to decorate. It has a rustic finish and can be used to show off seasonal déco. It's also easy to store your fruits and vegetables in the kitchen or mail and keys in the entryway.
Know someone who loves scented candles? This wood tray would be a great option for a hostess gift. It has 9 unique glass votive candle holders and is sized 22″ x 5.5″. This is a thoughtful hostess gift because it adds a sense of warmth and charm to a room.
This eye massager is a perfect hostess gift! It has built-in heating pads for relaxing and helps reduce eye strain. You'll love the best part of this item, the Bluetooth connection for music! It's a fun gift that can be useful for everyday life.
This lightweight and quality set of hand towels was made in Turkey. It makes a perfect present because the receiver can use it in multiple places in their home. The hand towels are made with high-quality Anatolian Yarn that consists of 100% organic cotton.
This refillable pouch travel bottle set is the perfect choice for a hostess or girlfriend who loves to travel! These pouches are made to last for years to come with their high-quality BPA-free materials. These travel-size bottles are leak-proof, compact, and lightweight enough to store hand soap, lotion, face cream, and more!
Looking for an ideal gift for a foodie host? This Fabulous Food Boards! book might be the one you're looking for! It has over 200 pages for presentation ideas that go beyond the classic charcuterie board designs. It's a true hostess gift that features different themes that can help boost their hosting ideas.
A fabulous winter scarf is always a good hostess gift idea, especially for this time of year! It's a smart choice because you'll love the luxurious cashmere feel of this scarf.
Cute flower pots would be a popular choice of gift for people in your life who love plants like succulents! These pots are the perfect way to display them indoors, which your plant-lover hostess or girlfriend would love!
This toiletry bag is perfect for the hostess or girlfriend who loves to travel! It's waterproof and comes with a makeup bag too. This also has a wet and dry section for easier item separation.
This reusable Canvas Tote Bag is made with fine-quality fabric that is strong enough to hold up to 10kg of items! It's guaranteed to last for a long time. It makes a great gift because not only the vintage print is cute, but it's also environment-friendly!


Check out our Amazon Store for holiday decor and more great gift ideas for everyone on your gift list.
See the rest of the items when you click this link!
Stay tuned for our upcoming posts! These can help you with gift-giving this season when you choose from our specially curated gift suggestions in various categories.
Suggestions
If you liked this Best Hostess Gift Ideas To Bring To a Party, you might also want to check these:
PIN for Later