I received complimentary tickets from THE RIDE through US Family Guide to facilitate my review. As always, all opinions are 100% mine.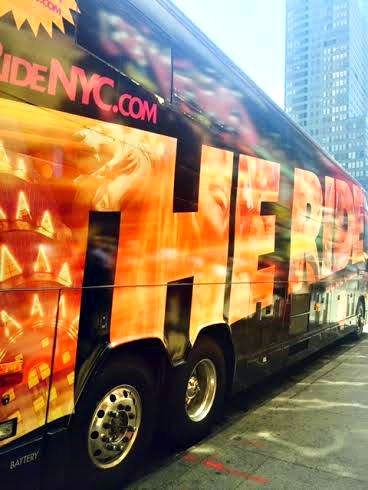 THE RIDE is a comedy tour-experience in the largest New-York-City-Street-Legal bus around some of New York's busiest streets. It's not your ordinary bus tour!
You get a front-row seat to the streets of New York City in a multi-million dollar motor coach that comes equipped with stadium seating, huge panoramic window, state-of-the-art audio/visual technology, including 40 plasma screen TVs and over 3000 LED lights.
There are jokes, mini-shows, and tourist spots such as the Columbus Fountain, Times Square, and the Chrysler Building. THE RIDE also conveys some interesting information about New York City, such as the size, number of people, ethnicities, number of languages spoken, and why cabs are painted the color they are!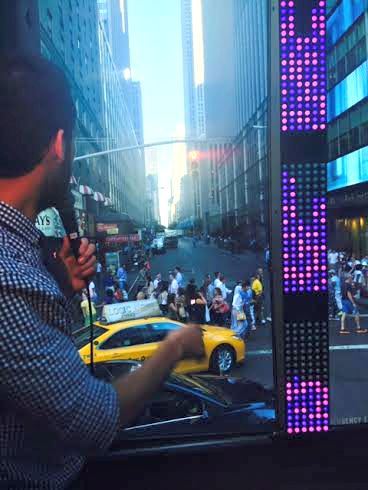 The two hosts that stand on either side of the audience are very entertaining. There were also some street performers that were plants along the route, to help assuage the extreme traffic experience. The first street performer was so well done that I thought he was just another New Yorker who happened to see the bus going by, and then also happened to be a professional dancer.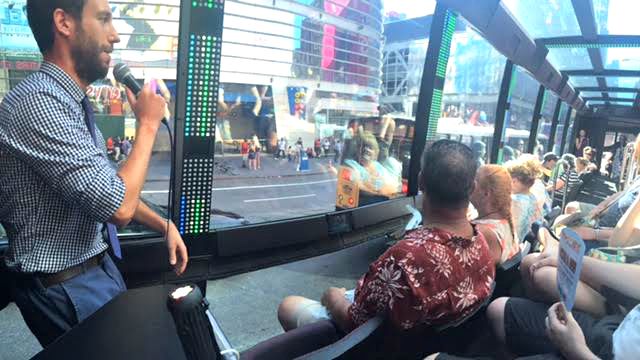 When I got onto the bus, I was surprised to see that the driver side of the bus was set up like a mini theater, where the streets of New York is the performance – and the tour does keep that theme of New York as the focus of the show, consistent. THE RIDE also has some impressive sub-woofers that allows for some innovative virtual reality in some spots during the tour.
The glass room allows for great views upward too!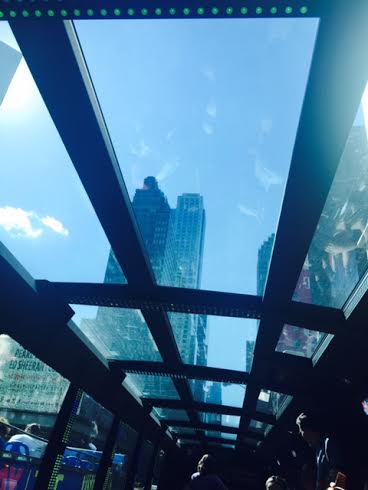 THE RIDE was very entertaining and they did some extremely innovative things while dealing with NYC traffic. If you are planning a trip to New York City, it's great tour.
Use this link for a terrific discount: $50 OFF Your Next Party with THE RIDE!