Traveling with pets can be a super rewarding and fun experience for you and your pet! I have some essential tips for pet travel – including pet-friendly hotels and airlines and what you need to remember if you are taking a road trip with your best friend.
Traveling With Pets – Tips You Need To Know Today
These tips and all this information is super important if you plan to travel with your pet. Honestly, bringing your pet along on vacation can be a fantastic way to bond with your pet. It will also ease your mind. You won't be worrying about the type of care your pet is getting in the kennel.
First, let's look at the best airlines for pets. Not taking any flights? No problem! Skip this section – there are road trip tips towards the end.
Best Airlines For Pets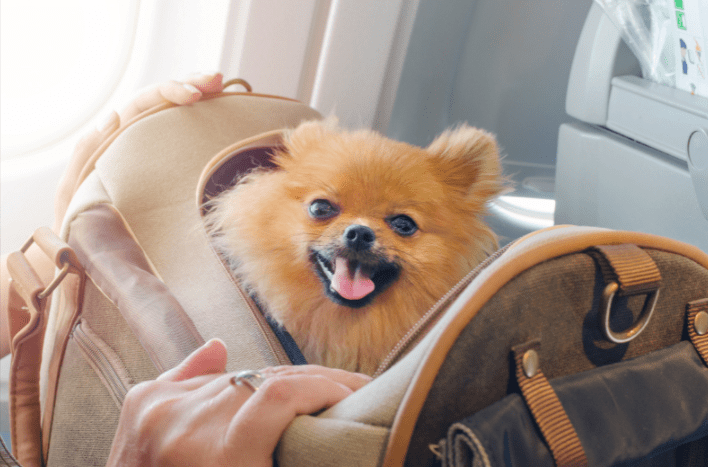 I'm sure you've heard the nightmare stories about pets on airplanes. So before you fly with your pet, call the airline and make sure you are prepared. Understand the rules your airline has in place so you aren't surprised when you arrive.
After you finish your homework, here are the most pet-friendly airlines. You can see a complete list of pet-friendly airlines on the PureWow website.
These are not in any particular order. Please do your own research before taking your pet on a flight with you or putting them in a crate under the plane. With the current travel conditions, airlines might be changing the rules for pet travel.
Due to increased flight changes, we've stopped checking pets for now. We still allow carry-on pets, service, and emotional support animals in the cabin if they meet the requirements. Check the American Airlines website for current rules regarding kennels, kennel sizes, breed and size restrictions, carry on bags, as well as restricted cities and countries.
Jet Blue has a pet program called JetPaws. Cute right?
"Only cats and dogs are accepted for transport under JetBlue's pet policy. You may book your pet online at jetblue.com or by contacting JetBlue." Get more information about traveling with pets on JetBlue.
Small dogs and cats may travel in the cabin in an FAA-approved pet carrier that fits comfortably under the seat in front of you. You can book your pet online, on the free JetBlue app or by calling us at 1-800-JETBLUE (538-2583).
The pet fee is $125 each way and can be added in the Extras section during booking.

Only one pet per customer is allowed.

A limited number of pets are allowed on each flight, so it's best to book early.

We know how much you love to spoil your pet, but they're not allowed in Mint.

Pets are NOT accepted on interline/codeshare bookings, regardless of booking source (jetblue.com, travel agency, partner airline's website, etc.).

TrueBlue members earn 300 extra points per segment for adding a pet to their booking. "
Pet-Friendly Hotels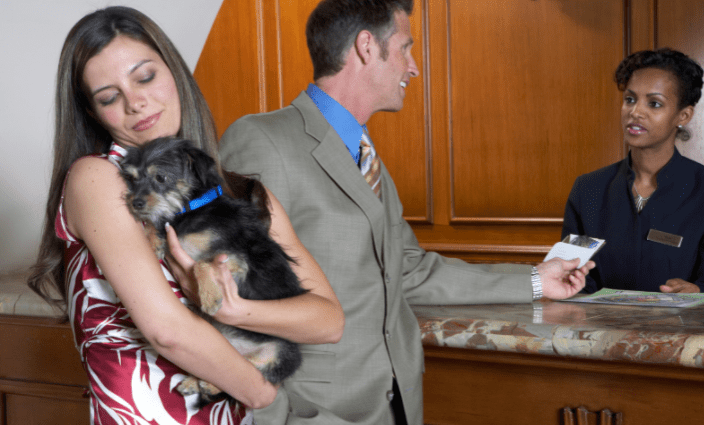 Next, let's look at pet-friendly hotels. This is super important. Research the hotel and ask about any fees they might charge you. Some hotels don't allow pets at all, and rules are changing during these challenging times.
These hotels are known for being pet-friendly – they were found on a list from the American Kennel Club.
Best Western
Locations that are pet-friendly allow up to 2 dogs, at 80 pounds each. So if you are traveling with more than one dog, this is the hotel you want. There might be a $20 per pet charge – call ahead and see what the pet fee is. And some locations charge a refundable pet deposit of $50.
Marriott
The Marriott has a bunch of hotel brands under their name and each hotel has different rules. But almost all of them try to be as pet-friendly as they can. Some of their hotels include the following: Autograph Collection, Renaissance Hotels, Delta Hotels and Resorts, Gaylord Hotels, Courtyard, Residence Inn, SpringHill Suites, Fairfield Inn & Suites, TownePlace Suites and more.
Hampton Inn
The Hampton Inn is another hotel chain that has a goal of being a pet-friendly business, but individual rules are left to the discretion of each location. Keep in mind, even if pets aren't technically allowed, they have to allow service animals to stay.
What to Ask a Hotel About Pets
Those are the hotels that are known for welcoming pets. But before you book your stay, here are a few questions you should ask every hotel:
What size of dog do you allow?

Is there a pet deposit?

Do you have any amenities just for pets?

How many pets can stay in each room?
Road Trip Tips For Pets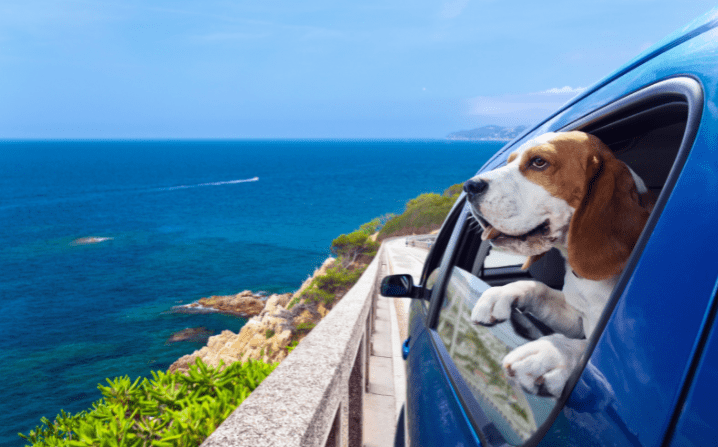 Now that you know what to ask a hotel, let's look at some tips specifically about road tripping with your dog or cat. Honestly, driving can be so much more relaxing. You can stop when your pet needs something and you don't have to worry about your dog bothering someone else (or someone else bothering them!).
For AAA Members
Visit AAA.com/pettravel to find more pet-friendly hotels, restaurants, attractions, and campgrounds plus helpful tips for vacationing with your pets.
Plan Your Route (use GoPetFriendly)
The first (and probably most important) tip is to plan your route before you leave. Decide how long you will drive before stopping, and choose to stop at places that are better for your dog.
GoPetFriendly has a fantastic road trip planner. You enter your start and final destination. Then, it helps you find hotels, rest stops, restaurants and more.
Be Smart With Restroom Breaks
The next tip is to think ahead about how you are going to make your dog comfortable in the car while you use the bathroom. Not every place allows dogs to accompany their owners into the bathroom.
Of course, try to choose rest stops that allow you to take your dog with you. But plan ahead for the chance that this might not be possible. If you find a place that requires you to keep your dog in the car, do the following things to minimize doggy distress.
Bring a pet carrier

Give your pet some water in a spill-proof bowl

Take turns with other travel companions if possible

Park in the shade
Stick to a Schedule
Finally, try to eat and give your dog bathroom breaks on a regular schedule. If you have an at-home schedule, do your best to stick to it. Your dog enjoy the ride more with less stress. Plus, you'll have less chance of an accident.
I swear by Nature's Miracle for pet accidents and take it with me when we travel with our little Buddy.
Traveling with Pets Can Be Fun
My friend Melissa from Roaming My Planet has more tips for traveling with pets including how to keep them calm and reviews of pet-friendly hotels. Stop by her site!
Are you ready? Traveling with pets can be so much fun. It just takes a bit of planning and forethought. There are a ton of pet travel accessories that will make your vacation more fun for both of you. Overall, it can be a time for making the best memories!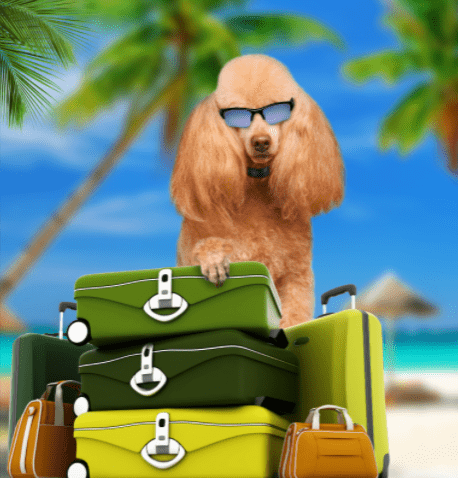 More Travel Articles
Got a serious case of wanderlust? These articles are just the ticket!

PIN these pet travel tips for later!