A car emergency kit is a must-have for every car owner. It helps ensure that you keep yourself and your family safe while on the road.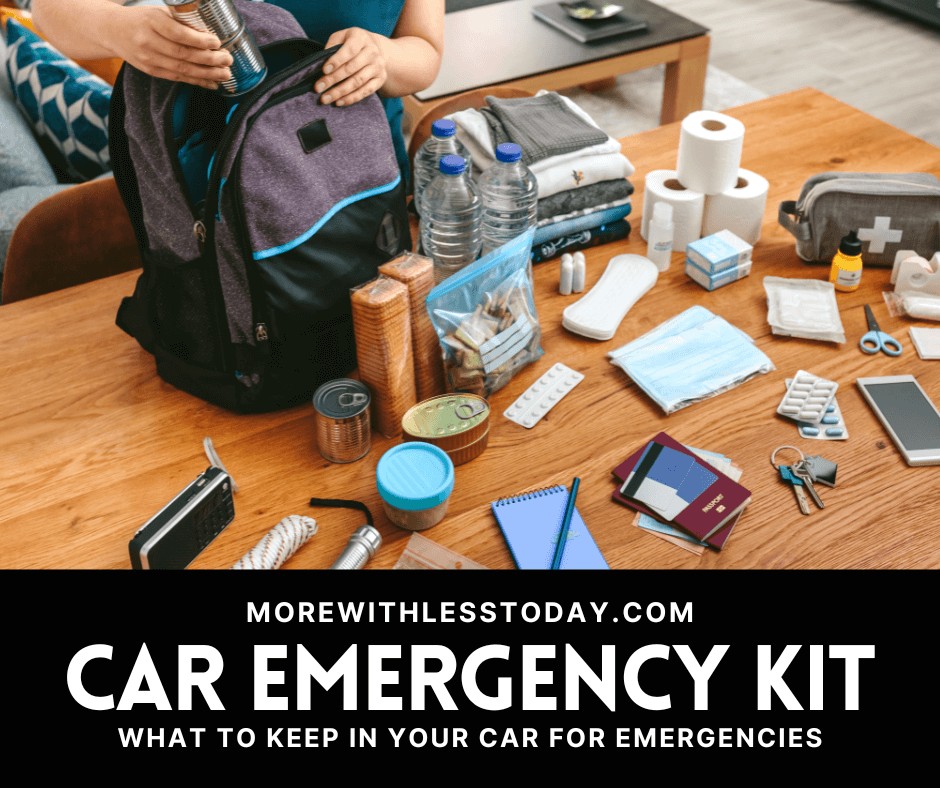 This car emergency kit guide will tell you all the things you need to keep in your car. Even if you're just making trips to the grocery store or doing other essential services, it's important to be prepared. In case of an emergency, it's a great time to make a car emergency kit.
We have affiliate relationships which means we may earn a small referral commission at no additional cost if you shop using our links. As an Amazon Associate, I earn from qualifying purchases.
Why I Have an Emergency Car Kit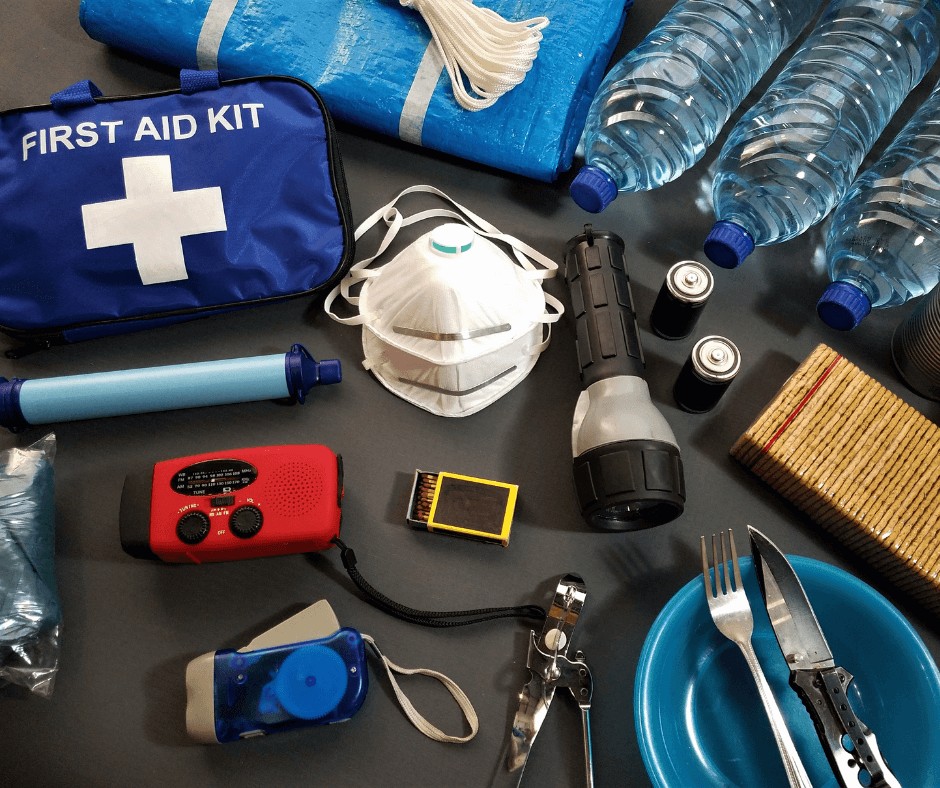 I live in earthquake territory. It often makes me think of what it would be like to be trapped in my car away from my family during a disaster. It's terrifying to think about being stuck in my car, but being prepared can help me stay alive in times like this.
That's why I put together a car emergency kit. The items in my kit are all the things I could think of that would help me in an emergency. If you are doing some spring cleaning, some of the items you may not be using will be perfect to put in a duffle bag or small suitcase to keep in your car for emergencies.
Why You Need A Car Emergency Kit
Believe me, it's always better to plan than to experience something and be unprepared for it. There are even more things you could include in this list, but this is what I always keep in my car.
I like to keep all of this in a duffle bag and store it in my trunk. It's safe there and won't become a projectile in the event of a car crash. Be safe and always be prepared!
Items You Need In Your Car Emergency Kit
There are lots of different versions of a car emergency kit that you can buy online. To save myself money, I decided to create my own. If you don't have time to set it up yourself, you can get what you need by clicking the links I provided to view each item. Here's what I include in my car emergency kit:
Sweatshirt and Blanket
You never know if you will be stuck overnight when it's cold outside. Pack a way to keep yourself warm. I got this 4-pack of thermal blankets at a good price from Amazon.
Emergency Flares
If you are stuck on the side of the road or out in the middle of nowhere, emergency flares can get the attention of emergency personnel. Keep a handful of them in your trunk.
Duct Tape
Duct tape fixes almost anything, doesn't it? Always keep a roll in your trunk just in case.
Flashlight
A flashlight is a must for all car emergency kits. You can use it to walk around at night if you need. You can also use it to try and fix your car if it's dark out.
Pen and Paper
Another tool you need to keep in your vehicle is a pen and paper. There are lots of reasons you might need one. For example, if someone on the phone is trying to give you a phone number for a local towing company or you need a confirmation number.
Toiletries
Always plan for emergency overnight visits. Pack your car with some toiletries and over-the-counter medications, just in case. If you need a prepared toiletries bag, check these out.
First Aid Kit
All cars should have some kind of first aid kit in them. Even if you are in a minor accident, a first-aid kit can help you care for small cuts or wounds.
Snacks
Store a few snacks and bottles of water in your car too. Pack things that are shelf-stable and nutritionally dense. I like to pack granola bars, nuts, and dried fruit like these.
Matches or a Lighter
When you are planning for a worst-case scenario, it's smart to plan for needing a fire. Pack something that could start that fire. These typhoon matches have a great container that will keep them dry and protected. If you want a lighter, I recommend this set of 2 multipurpose lighters to be in your kit.
Plastic Grocery Bags
They have a lot of different ways you can use them. You can put them over your head to protect it from getting wet, and wear them over your socks for protection there too. If you don't keep these in your house and want to have them in your car, you can get this set of grocery bags to keep in both places.
Baby Wipes
From messy foods in the car to the need to clean up quickly like you're taking a shower, baby wipes are a must. I like to keep a large stack of them in my car.
Small Amount of Money
What would you do if you left your wallet at home? Keep enough money in your car to cover a tow truck or a hotel stay. I use this fireproof and waterproof money bag to make sure they won't get damaged in case anything happens.
Gloves
If you want, you can pack plastic gloves and warm gloves. I usually just pack one pair of warm gloves to protect my hands in case I get stuck in the winter.
Toilet Paper
A roll or two of toilet paper is a godsend when you are stuck in the middle of nowhere. You should keep a roll in your trunk.
Here is a link for a portable urinal that can be used by men and women in case of an emergency.
Extra Items For Your Car Emergency Kit
Jumper Cables
These jumper cables are important in case you encounter a dead battery while on the road. It's essential to have these with you, especially if you're going on a long ride and suddenly stopped in the middle of nowhere in your journey.
Tire Pressure Gauge
Include a tire pressure gauge in your emergency kit so you can ensure that your tires are properly inflated.
Safety Reflective Triangle Road Sign
If you need help, this reflective triangle is useful for signaling or warning other drivers of an accident.
Winter Car Emergency Kit
If you're traveling to an area that often experiences harsh winters, consider making a specialized winter car emergency kit. In addition to the items listed above, this winter car emergency kit can include:
Ice Scraper and Snow Brush
These ice scraper and snow brush can help you clear snow and ice from your windshield and windows. This is the one I have and it's easy and convenient to use.
Snow Shovel
If your car ever becomes stuck in the snow, already having a snow shovel ready in your kit is a huge help.
Hand Warmers
You must have hand warmers stored in your kit. These disposable hand warmers will help keep you warm if you're stranded in the cold.
Rock Salt or Sand
Add rock salt or sand to your emergency kit. Is your car stuck in ice or snow? Using rock salt or sand improves traction.
Best Car Emergency Kit on Amazon
If you do not have time to put together a car emergency kit yourself, there are many pre-made kits available on Amazon. Here are some of the best car emergency kits I recommend:
This 42-piece emergency car kit has a variety of essential items that you might need. It includes jumper cables, a flashlight, a first aid kit, and more.
Get the most out of this Road Assistance Emergency Kit that contains 142 pieces of essential items. You'll find a 10-foot jumper cable, a tire pressure gauge, a flashlight, and other essential items inside.
Just like its name, this Always Prepared kit includes many of the same items mentioned in the kits above. It also has additional items for tire repair.
Conclusion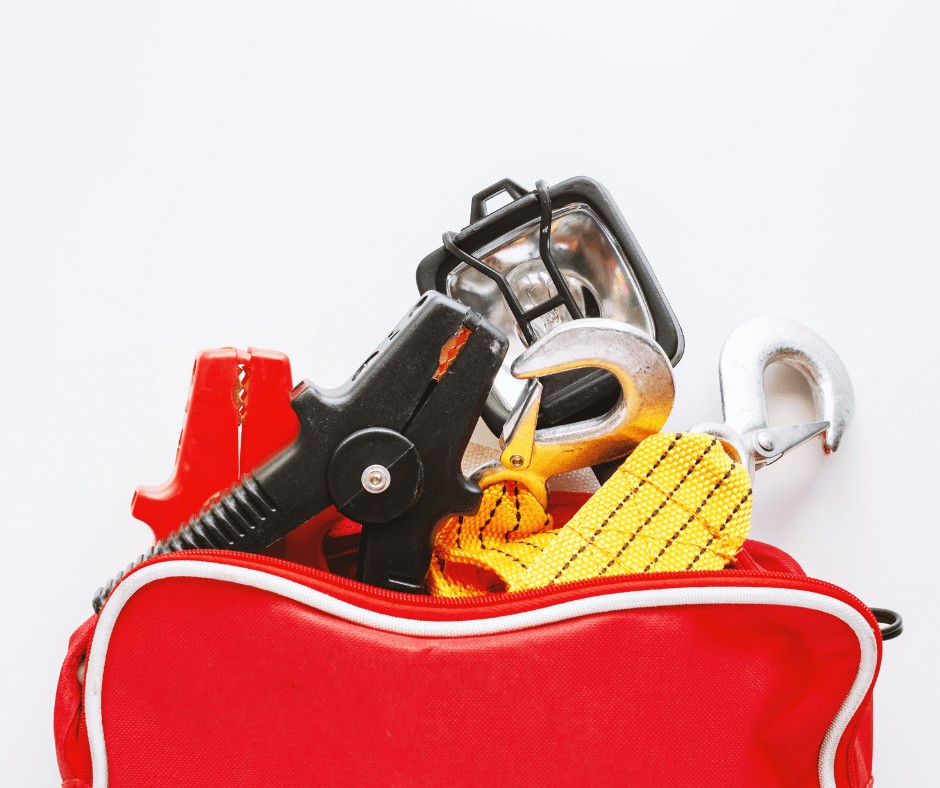 Every car owner should have an emergency kit in their vehicle. It's crucial to be ready for any emergency that may occur. Bring your car emergency kit even if you're only driving to work or going on a long road trip.
Be ready for anything by packing the essentials I listed in this post. I hope that this has been a useful guide for your journey. Always stay prepared and be safe!
Do you have any Car Emergency Kit tips to share? Leave them in the comments below!
More Lifestyle Resources
If you are on social media, I would also love to connect on Facebook, Instagram, Pinterest, or Twitter. Just click on the links to visit my profile. Leave a message and I will follow you back!
PIN for Later