Repurpose things around your home. These clever upcycling ideas give new life to what you might otherwise throw away. Check out these new uses for household items before you throw them away!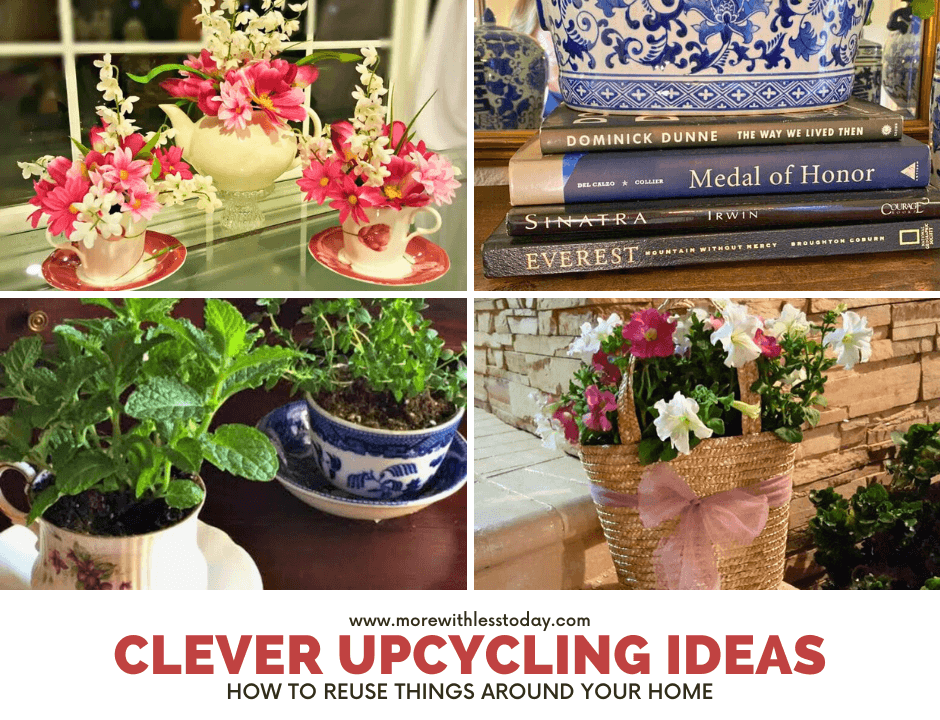 Clever Upcycling Ideas – Don't Throw It Away
There are so many ways you repurpose and reuse things around your home in new ways. Almost all of these ideas use things that we might otherwise throw away. Before you throw something in the trashcan, read through this list and see if it could have a different purpose. These are some really smart upcycling ideas.
From Teapot to Centerpiece
Supplies:
Teapot & Tea Cups with Saucers
Silk Flowers – it is cost-effective to look for silk flowers in bunches or bouquets and then cut them apart
Wire Cutters
Floral Foam
Knife to cut the foam (be careful!)
Measure and trim the floral foam to fit. Cut your flowers and vary the height.
Tea Cups to Herb Garden
I made these for a Mother's Day gift a few years ago. Plant herbs inside old tea cups and mist them as needed for a lovely Tea Cup Herb Garden
Straw Purse Planter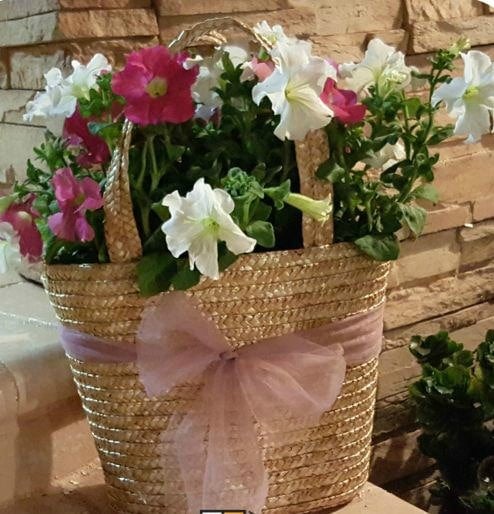 When choosing a purse for your planter, look for one with a lining or you can line it with a grocery bag. Choose a purse with a flat bottom so it can stand up on its own. Also, look for a purse with a wide opening and short handles.
Old Lamp to Nautical Decor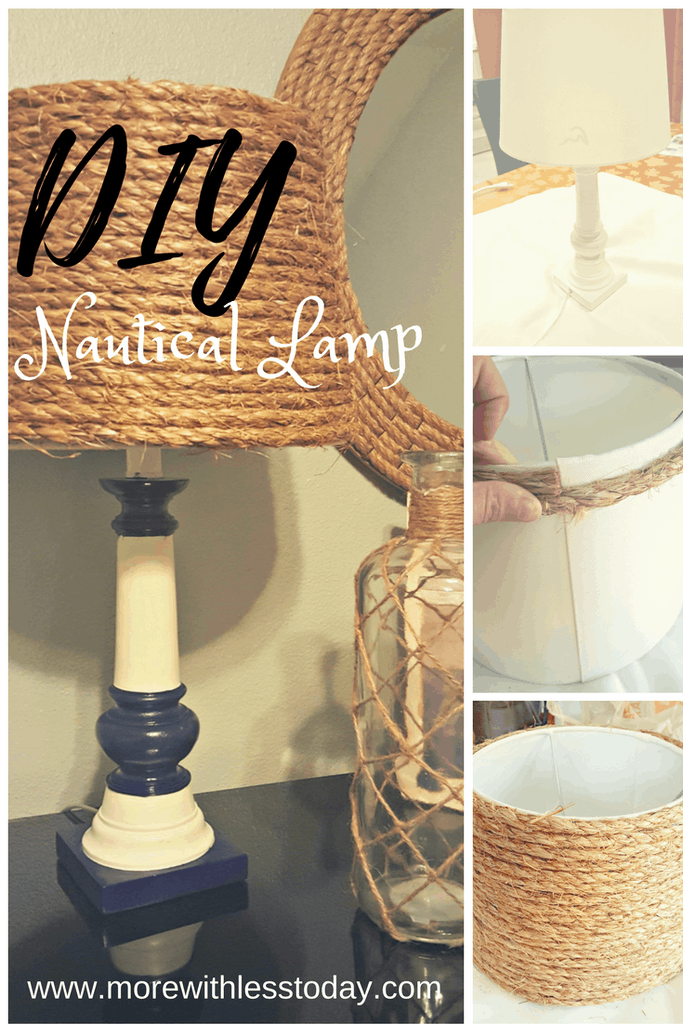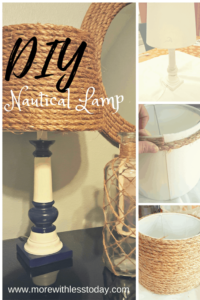 Old Lamp to Nautical Decor
We spray-painted the lamp. Apply painter's tape in the areas you want protected not painted.
Measure the size of the rope needed to go around the lampshade. We used 3/8″ thick rope and used the joined line as the starting and ending points. Cut the rope into individual pieces that you measure first. Each line of rope will be different as the lampshade gets wider.
Nautical Theme Bottle Vase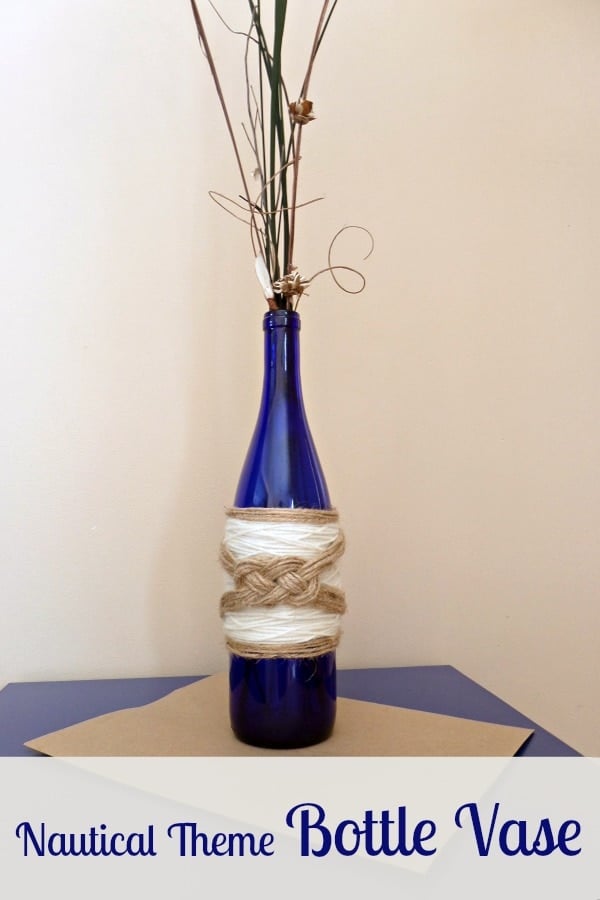 Nautical Theme Bottle Vase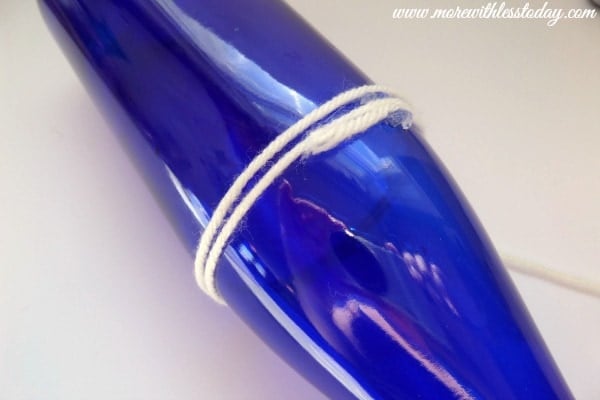 Use additional hot glue as needed to secure the yarn but only on the backside. Continue wrapping the bottle until you have covered 4″-5″ of the center. You can cover more if you like.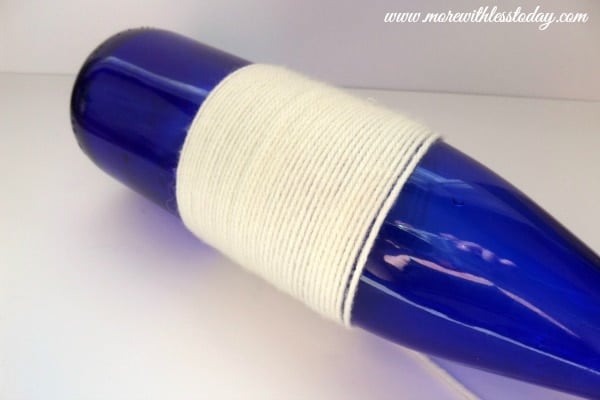 I made a sailor's knot with my twine. There are many tutorials available to learn how to make these. I added the twine sailor's knot to the vase with hot glue.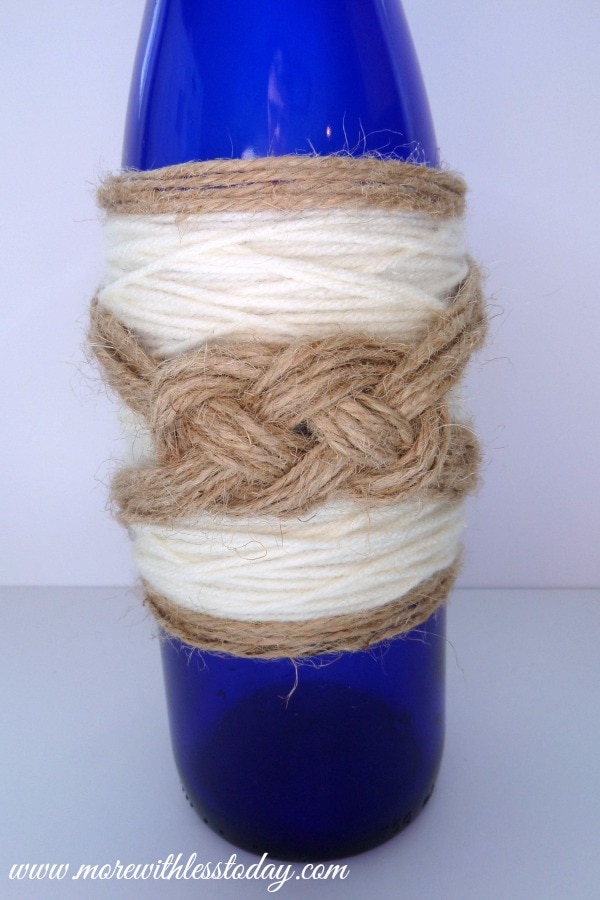 Ribbon to Bookmark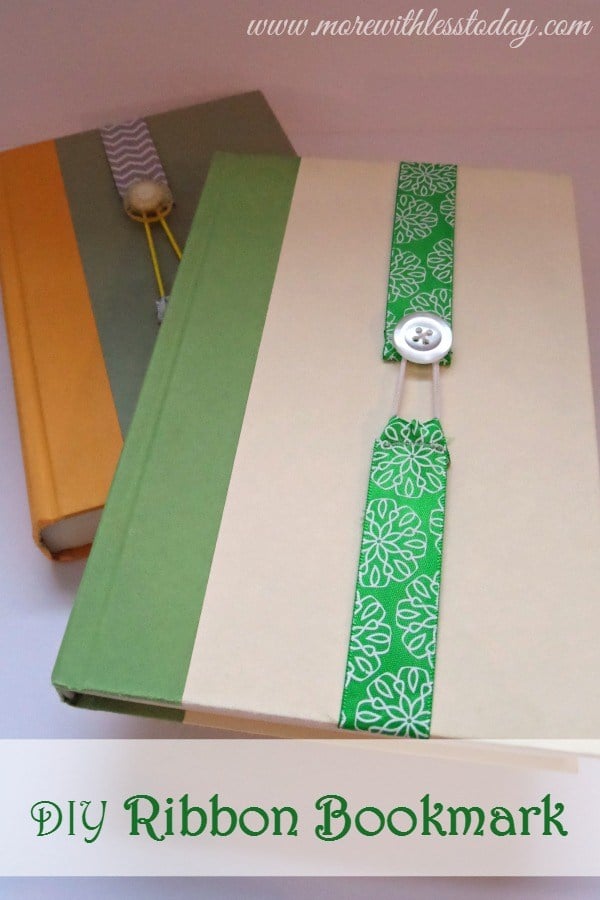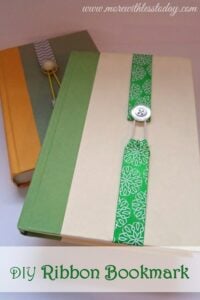 Make a helpful and lovely bookmark using an old ribbon.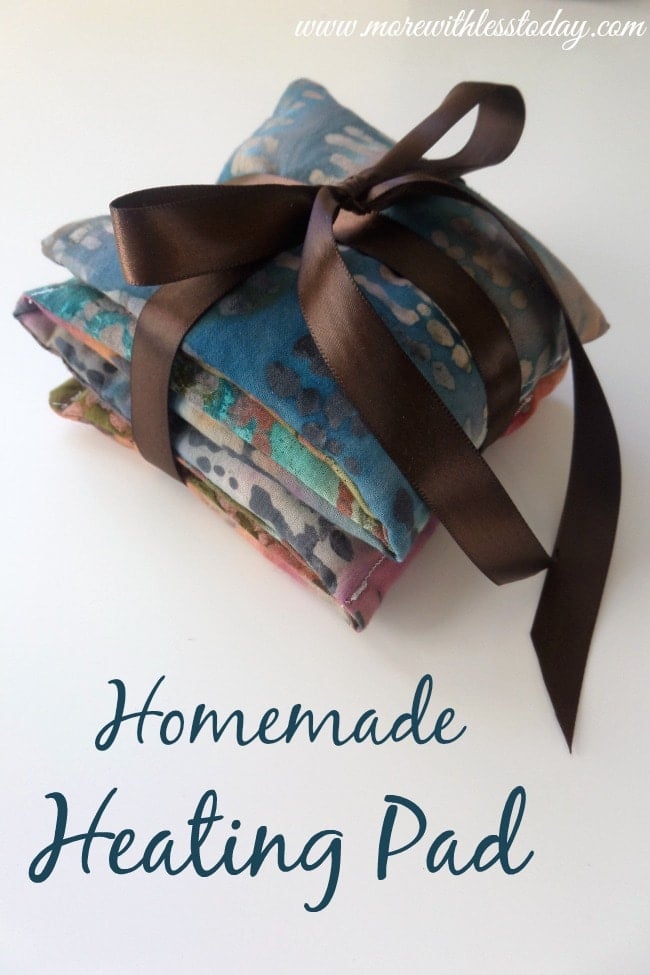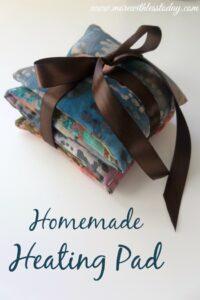 Homemade Heating Pad Using Flaxseeds
Get the instructions to make a comforting heating pad using flaxseeds.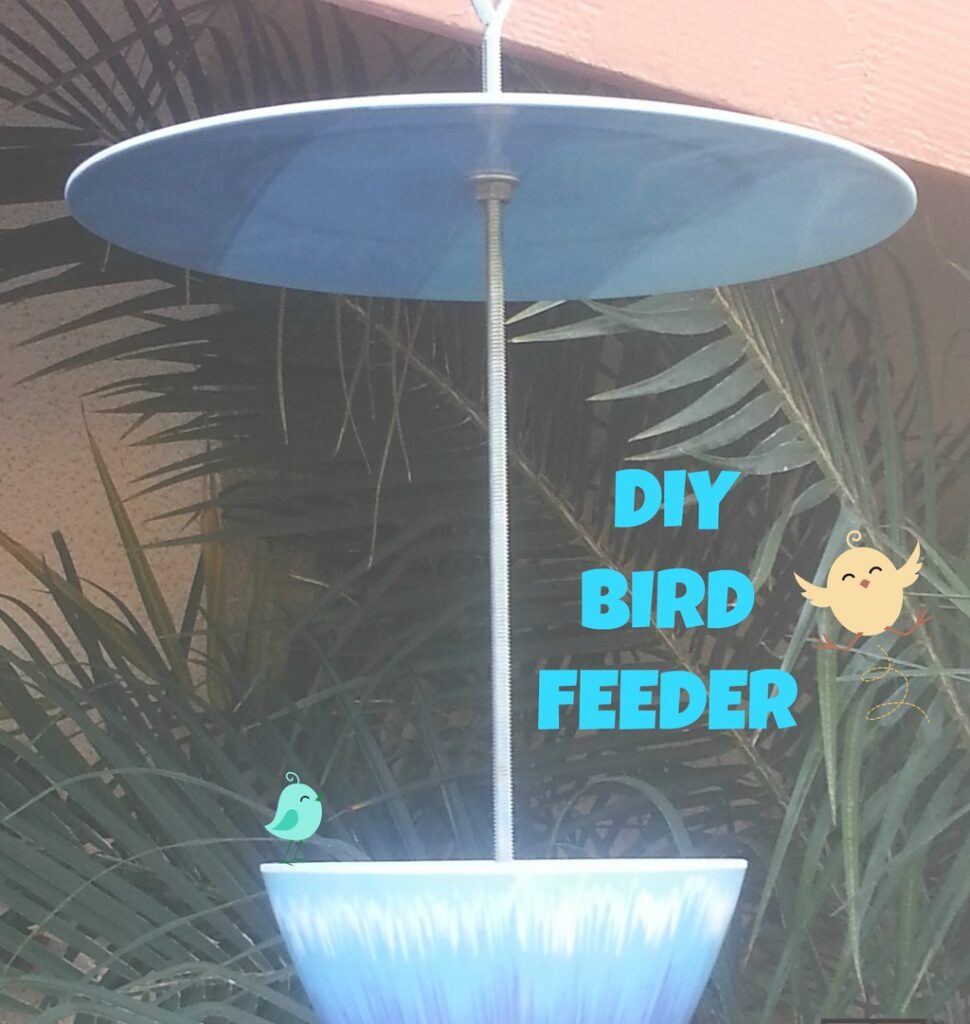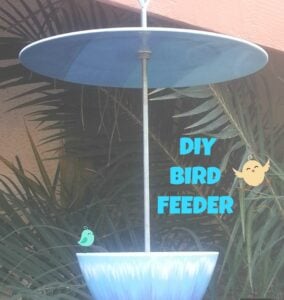 Plastic Plates and Cups into a Bird Feeder
Make this Easy DIY Bird Feeder from Recycled Plates and Cups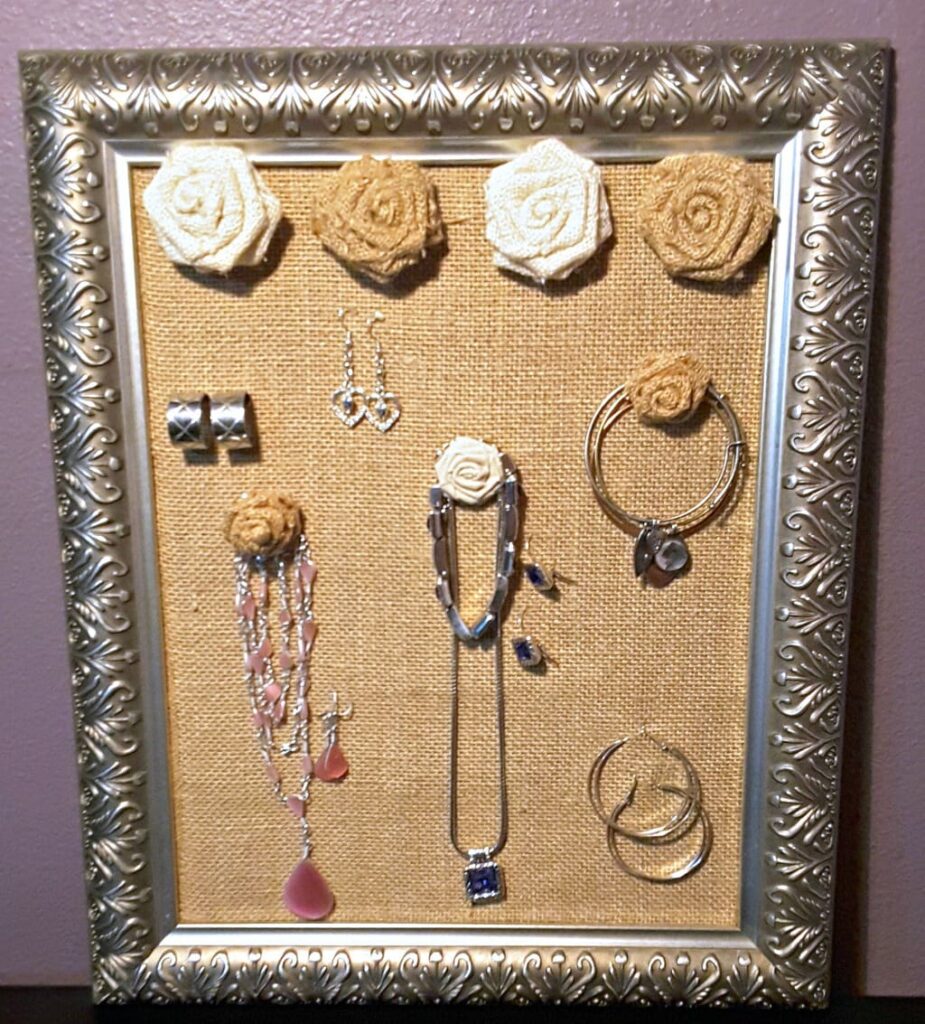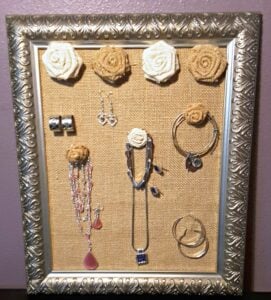 Discard the glass from an old picture frame. Spray paint if you don't like the color. Cut burlap fabric to fit the cardboard backing in the frame and then hot glue it. Use large push pins so they can go through the burlap and the cardboard.
DIY Burlap Charger Plate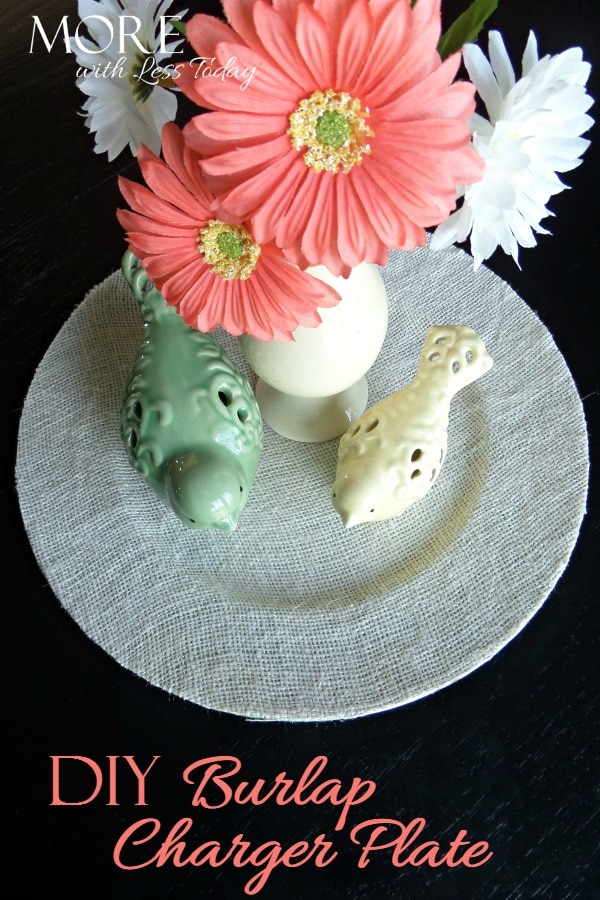 Simply spray a charger plate or plastic plate with spray adhesive. I used Elmer's Craft Bond. Spray a generous amount of adhesive onto the plate and quickly cover it with the burlap fabric. Work quickly to smooth the fabric onto the plate removing any air bubbles or wrinkles.
DIY Jewelry Modern Pendant

We used scrapbook paper, you could also create pendants using fabric or photographs. Imagine what a wonderful gift this would be for moms, sisters, grandmothers, or friends. Here is a popular pendant kit – pendant kit with clear plastic indents and metal pendants
You will also need glue meant to be used on glass.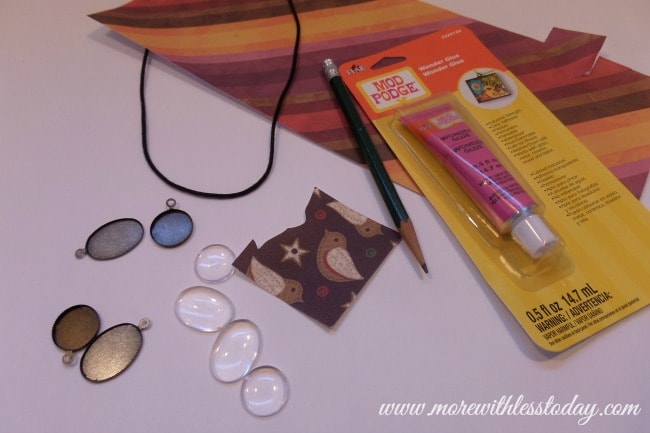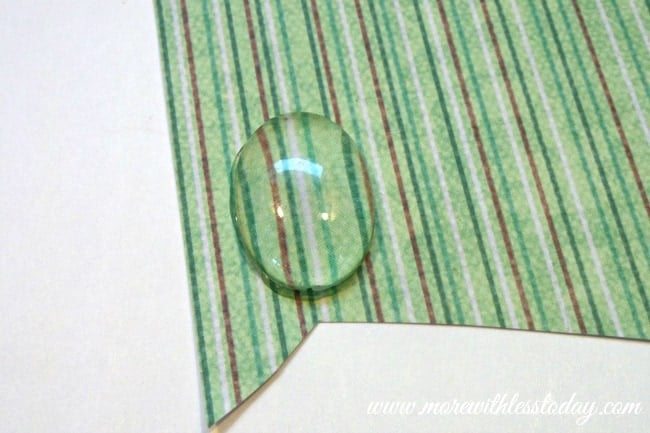 Make a necklace from old T-shirts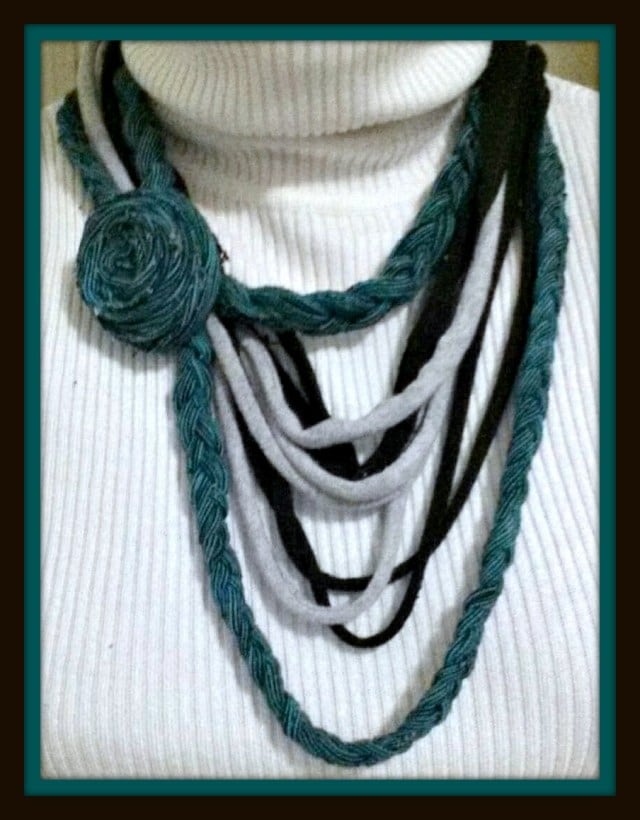 It takes a little time to cut the strips of fabric but the end result is DIY fashion so unique that everyone will want to know where you bought it. You can use a rotary cutter and mat or just scissors. You can pick up a rotary cutter and a mat at any craft store.
Cut off the hem (throw out this piece, you will not need it) Cut the shirt horizontally (starting with the bottom); these pieces can be anywhere from 1/2″-1 1/2″ depending on how thick you want the strands. Cut a few strands from different color t-shirts.
When you are done cutting your strands, place your thumbs on each end of the strand and pull them apart. This will cause your t-shirt strand to stretch and roll into a longer piece. The more you pull apart, the longer the strand will be.
Take three strands of that color and with an extra piece of fabric (you can get this from the sleeve), tie them together. Braid your piece. Tie off at the end (cut off any excess fabric above the knot).
Take three more pieces of that same color, but this time cut the strand at one of the ends to remove the hem. This will make for three very long, yet thin pieces to braid together, then tie off the end.
Make sure to measure the braided pieces fit around your neck in a length you like before tying them off. The pieces will not be the same size, so make sure you tie off at the ends of each piece to get a droop in your strands.
Grab the two ends (which will be bulky) and tie them together. Make sure to try on the necklace and make sure it is the right size before tying them together, you can make adjustments. Cut about a 2′ strip to cover the tied-off area. Tie off on the end and cut off any excess material.
Use one of the strands to roll up until it forms a flower. Hot glue the flower as it takes shape to keep it in place. Take a small piece of leftover fabric and hot glue the flower to the piece of fabric and then wrap that around the necklace and glue it into place.
Repurpose and Reuse Glass Jars for Pretty Storage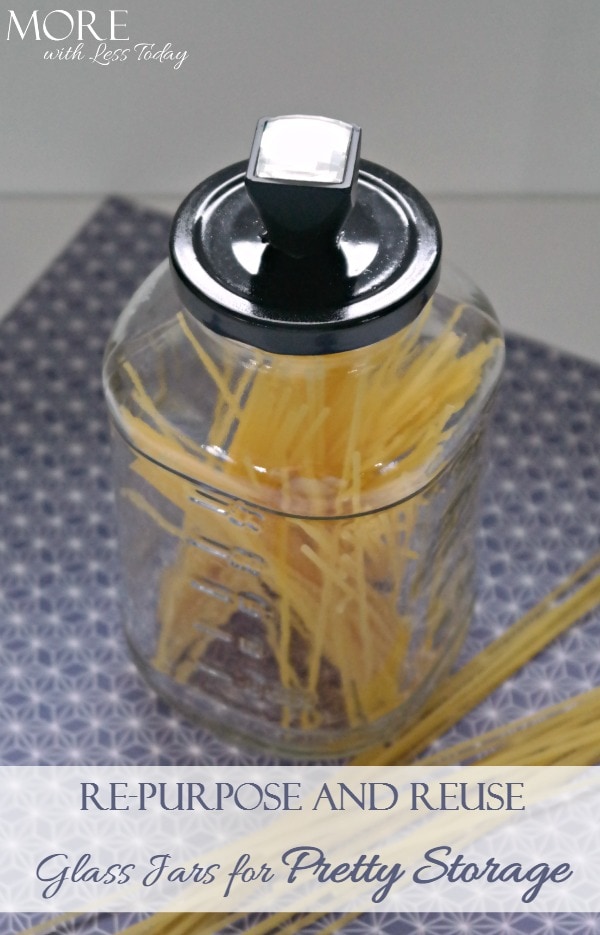 Repurpose and Reuse Glass Jars for Pretty Storage
We used a cabinet knob, spray paint, and an all-purpose adhesive.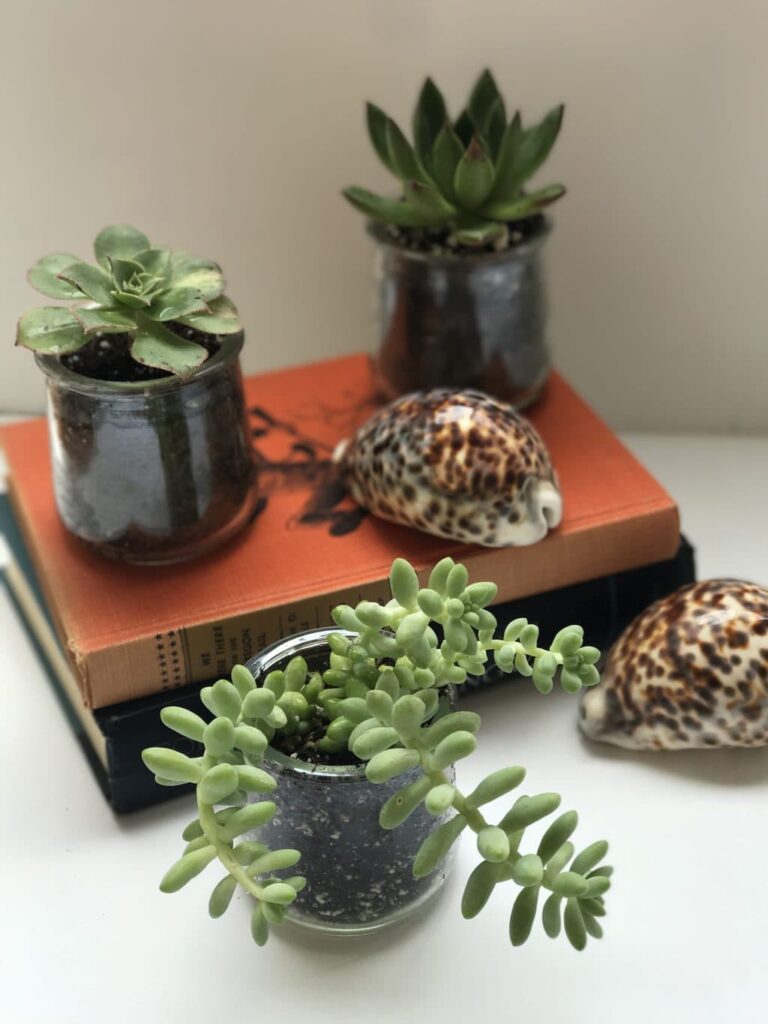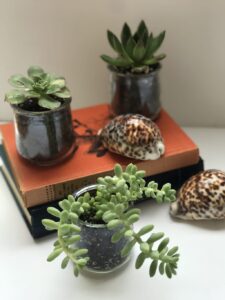 I bought some inexpensive succulents and added them to glass jars. I love how they look on my bookshelves.
Kids Chore Chart from a Cookie Sheet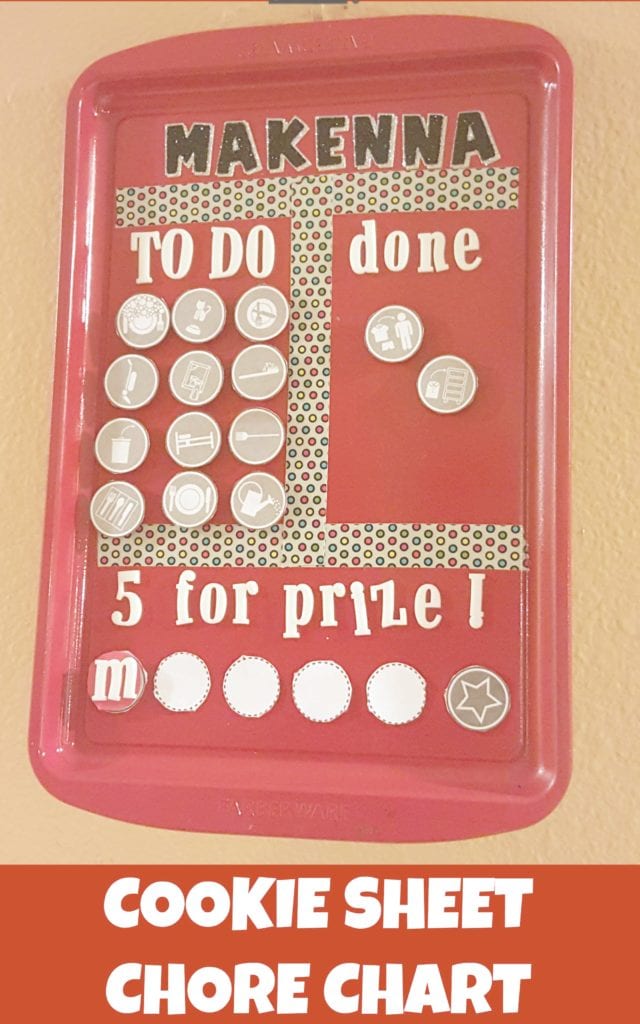 You will need:
Cookie Sheet – avoid non-stick pans (see tips below) You can test your pan with a magnet first. Aluminum pans are not magnetic.
Spray Paint
Washi Tape
Alphabet Stickers
Magnets (recommend Adhesive)
Printable Chart Pieces
Glue
Scissors
Spray Paint Cookie Sheet with several coats and let each coat dry completely.
Spell out the name with stickers on the top middle of the cookie sheet. Then use patterned washi tape to make the divisions for both a "To Do" and "Done" column, plus add the reward area at the bottom. We chose five chores to earn a reward, but you can customize this for your child.
Search online for "Free Printable Chore Chart" and you will get several options that you can print out. Look for those that have photos of the chores to make the chart more visual and fun.
Glue the chore photos you find to cardstock to make it firm or laminate the sheet. Cut out the individual pieces and glue them to the magnets.
Creating a Family Command Center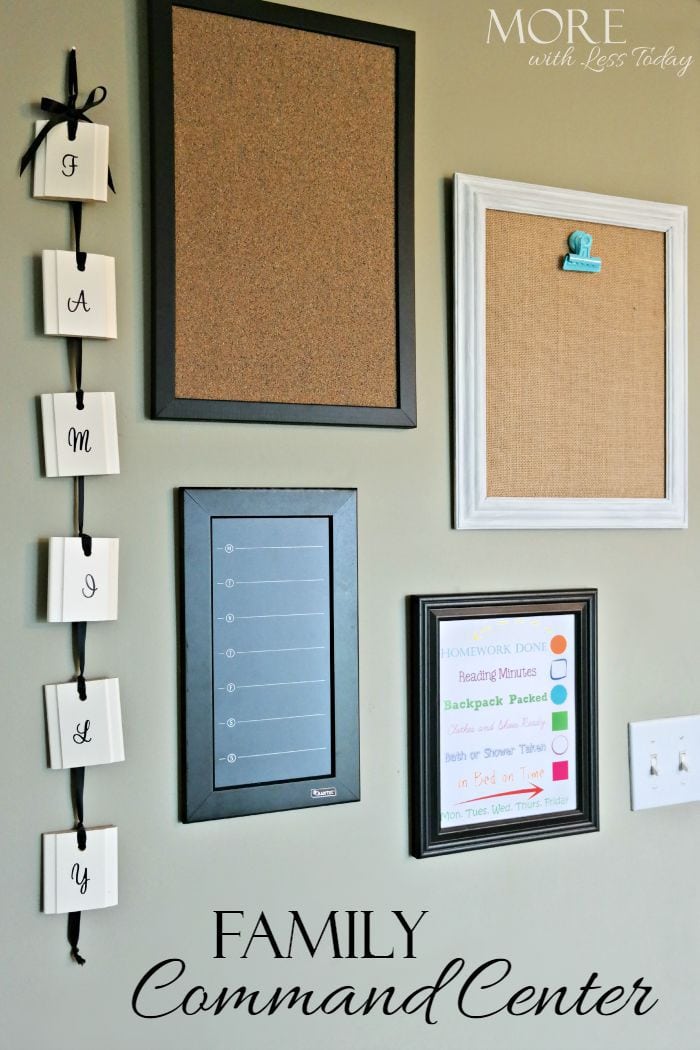 Creating a Family Command Center
You can make a dry-erase board from an old picture frame or a chalkboard using chalkboard paint. A board framed is also good for pinning up notices and important papers.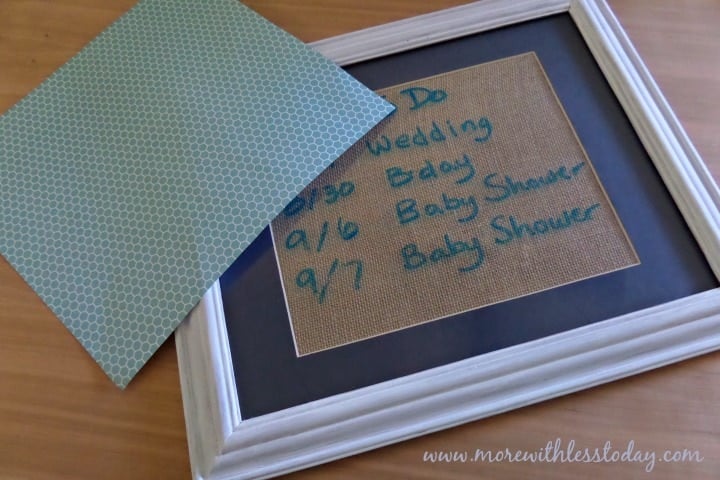 HOME DIY Letter Decor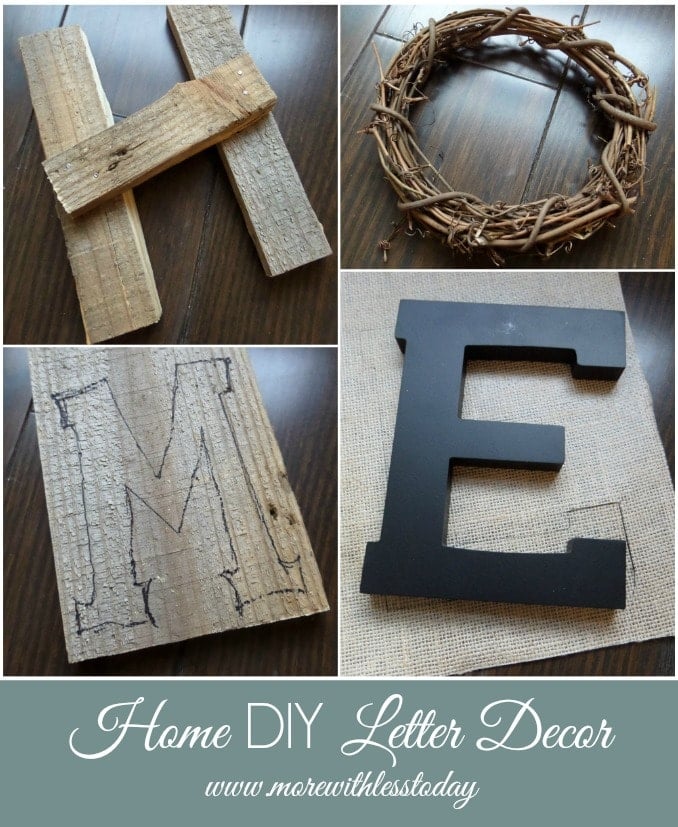 Supplies:
Scrap wood or pallet pieces for letters H and M

paint

paint brush

wooden letter E

small grapevine wreath for letter O

burlap sheet

small trim nails

craft glue

scissors

You could make many variations of this craft for holidays or different spaces – FALL – SNOW – HOPE – GIVE. What word would you make for your home decor?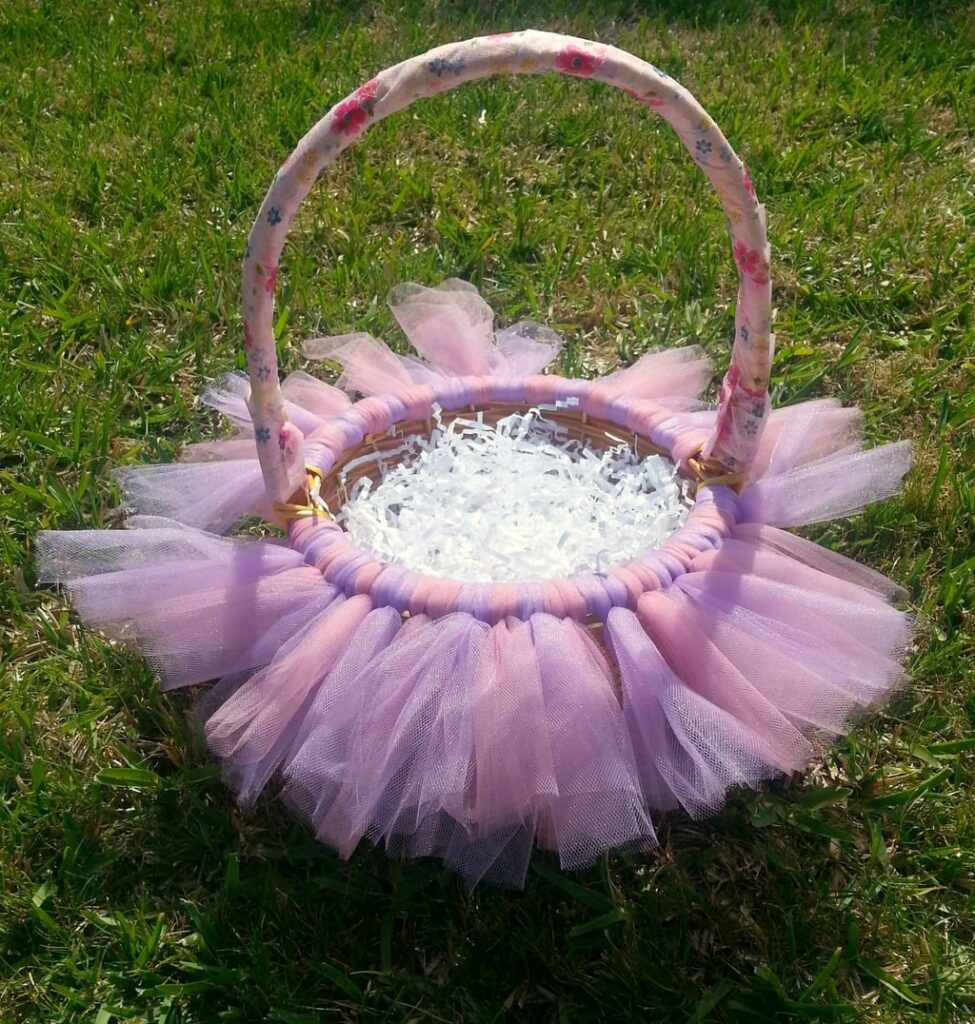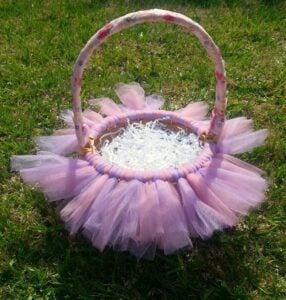 DIY Goodwill Easter Basket Fit For a Princess
A basket with open weaving will work best. We used 2 spools of tulle which were 20 yards each. We cut 34 strips of purple tulle and 34 strips of pink tulle. Depending on the size of your basket, you may need a little more or less.
Cut the tulle to 6″ x 12″ (use as many colors as you want). Using two pieces of the cut tulle, fold in half horizontally twice to make a skinny long piece. Then fold the piece in half horizontally.
Take the folded side of the tulle and push through a hole in the basket (if necessary use a tool to push through tight woven baskets)
Make a slip knot. Do this by finding the hole near the folded side of the tulle, pull the other end of the tulle through the hole to make a knot. (Make sure the excess tulle hangs on the outside of the basket). Placing the knots close together, repeat until the whole basket is covered in tulle slip knots.
Wrap the handle with a pretty ribbon. and secure with a little hot glue on the bottom side of the handle so that it does not show.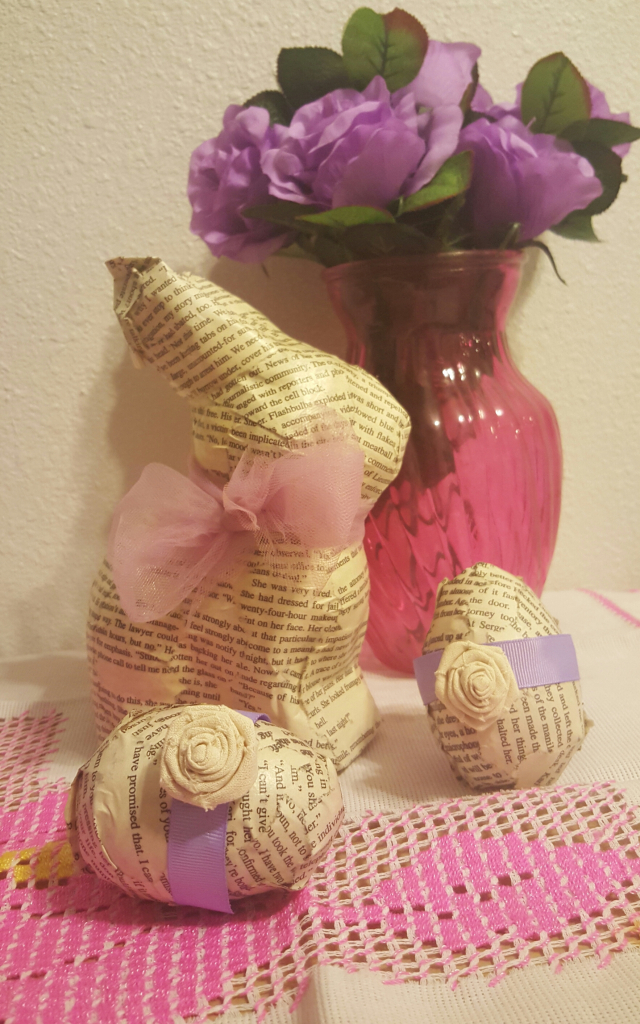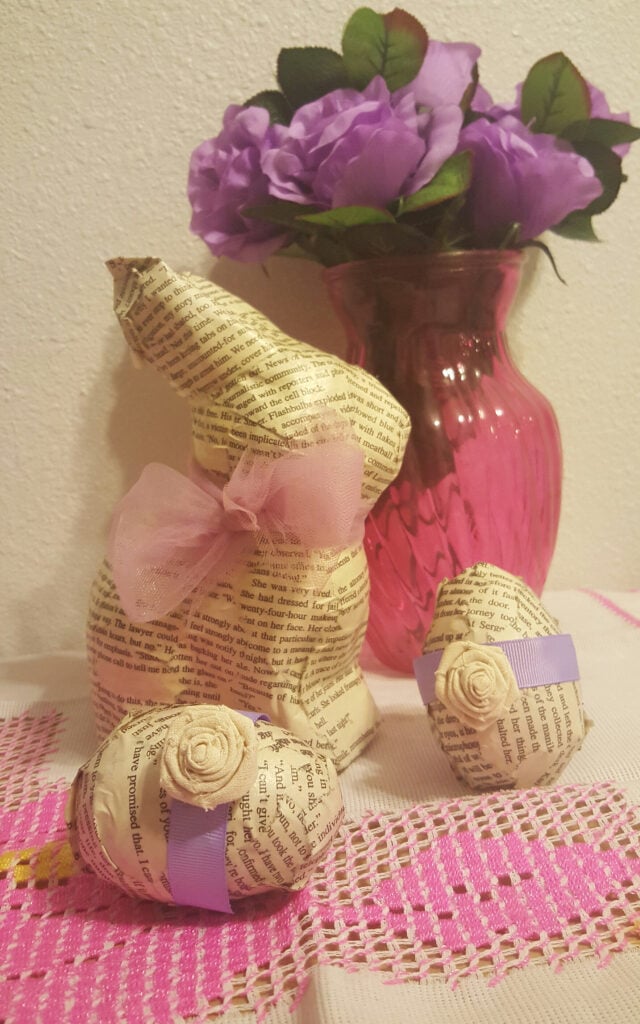 Working with Mod Podge is easy, messy and fun. You don't have to be precise to have your project turn out great!
This DIY bird feeder is easy to make! Just follow our simple steps.
Having a bird feeder is a great way to get to know the native birds and have your porch or yard become a regular place for them to dine. Enjoy the outdoors right outside your window with this DIY bird feeder you can make with items from the thrift store.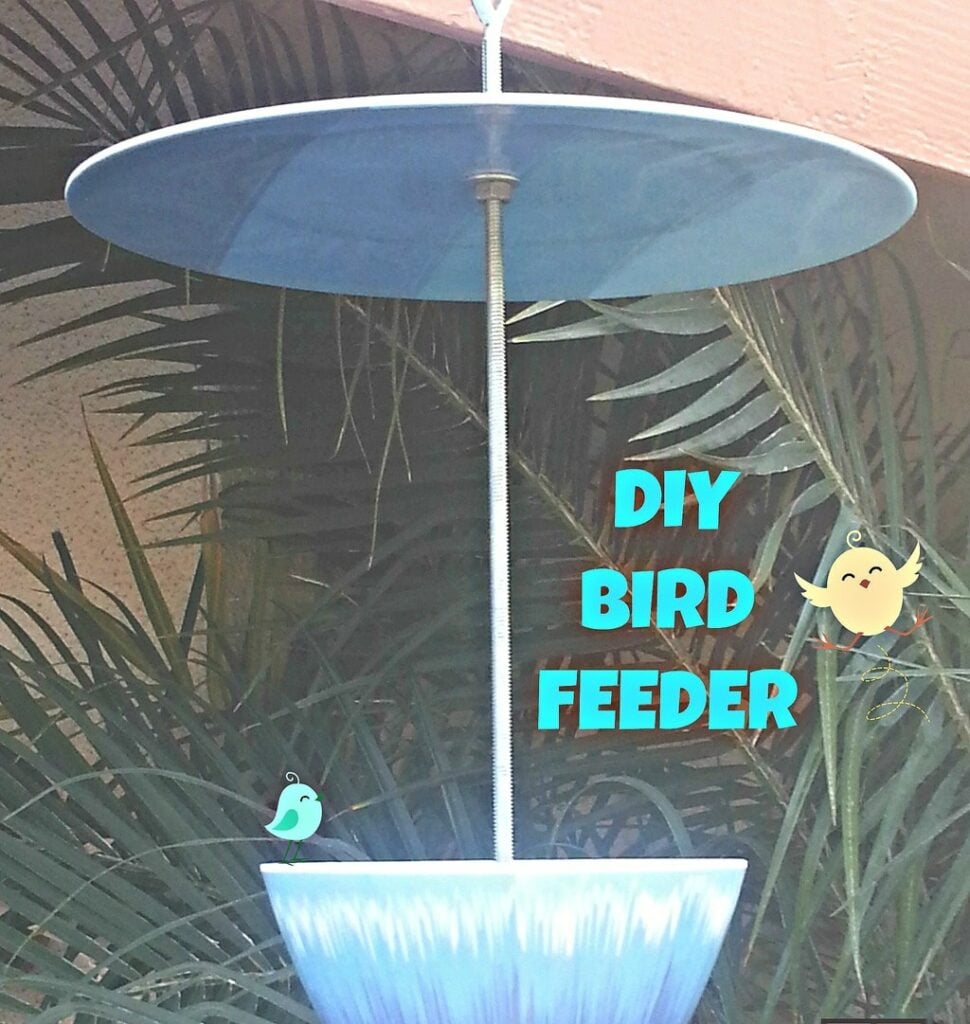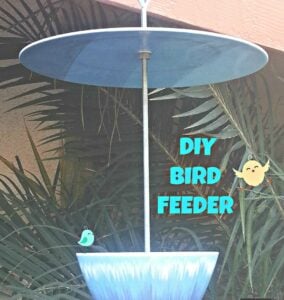 What You Need:
(1) Melamine Plate
(1) Melamine Bowl
(1) Eyebolt 1/4 x 2 1/2
(1) 1/4″ Coupling Nut
(1) 1/4″-20 Threading Rod
(3) 1/4″ Hex Nut
(3) 1/4″ Flat Washer
(1) Drill Gun
Drill a hole in the middle of the plate and then the bowl. (Do this gently and slowly so that the drill does not crack the melamine)
Take the eyebolt and screw it into the coupling nut.
Take the threading rod and thread a hex nut onto it until it sits a few inches from the top. Lay the flat washer on top of the bolt.
Place the plate upside down until it sits on the washer and nut.
Screw on the coupling nut to hold the plate in place.
On the other end of the threading rod, thread a hex nut and a flat washer.
Place the bowl up against the nut and washer and secure with a hex nut and flat washer on the bottom.
Make sure to tighten all bolts and nuts before hanging.
Old Books to Designer Decor
A popular designer trick is to use old books to "elevate" your decor.
Make a Vinyl Record Clock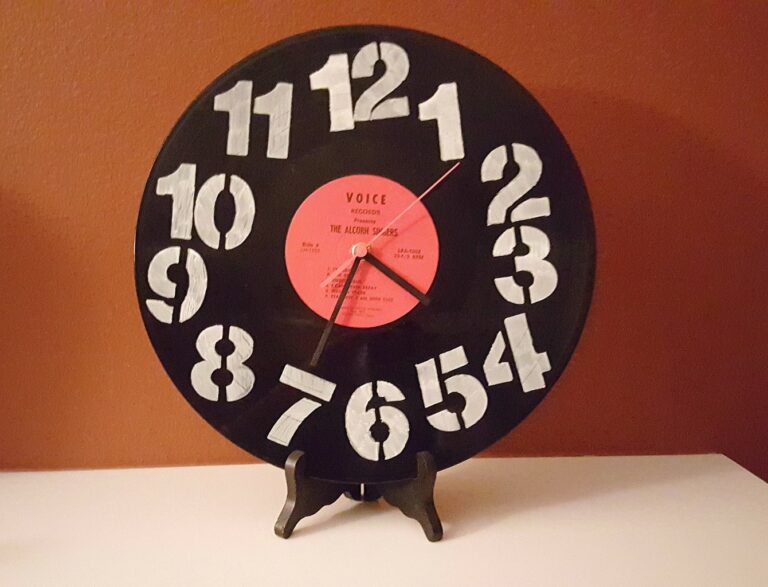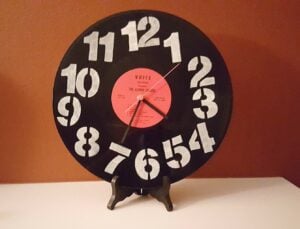 DIY Retro Clock from an Old Vinyl Record – Rock Around the Clock!
Supplies
Vinyl record
Battery-operated clock. Flip it over and make sure it has a mechanism with a battery slot that is held in by screws. The clock should have hands for hour, minute, and seconds.
New battery to fit in the clock's mechanism
Numbering system. I used stencils and a paint pen but you could also use scrapbook paper, stickers, or paint.
Screwdriver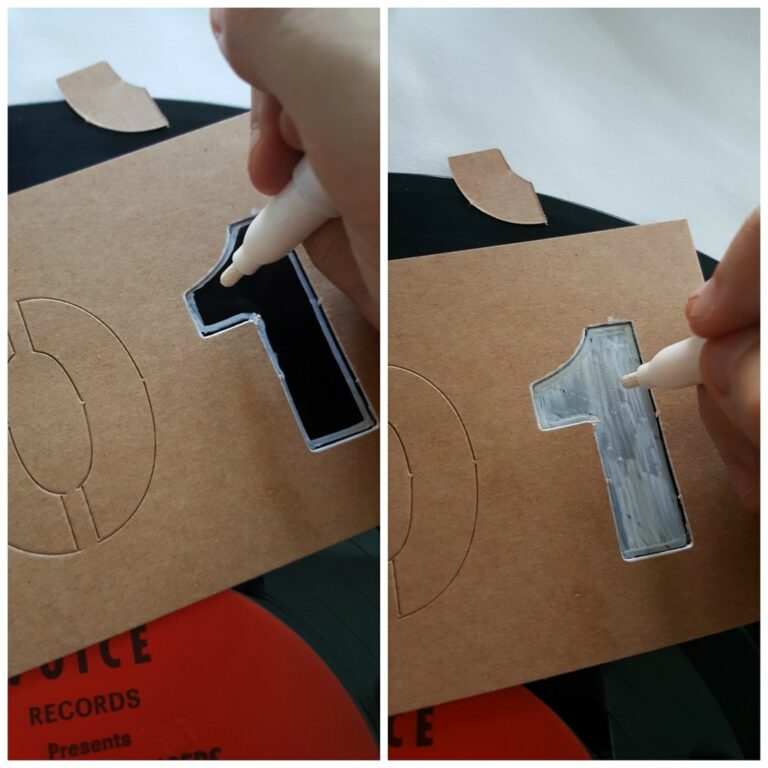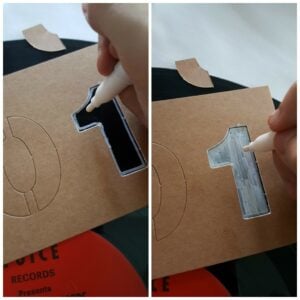 Take apart the clock so you can get to the clock's mechanism. Use a screwdriver to remove the screws from the back of the clock. you should have a second hand, a minute hand, and an hour hand plus the back plate. If the hands get bent, just carefully bend them back into place.
Insert the clock mechanism into your vinyl record. Try to screw it in and not jam it in. If the hold is too small, use a drill bit to make the hole a little larger.Put the hands back on, put the battery in, and stand back to admire your DIY vinyl record clock!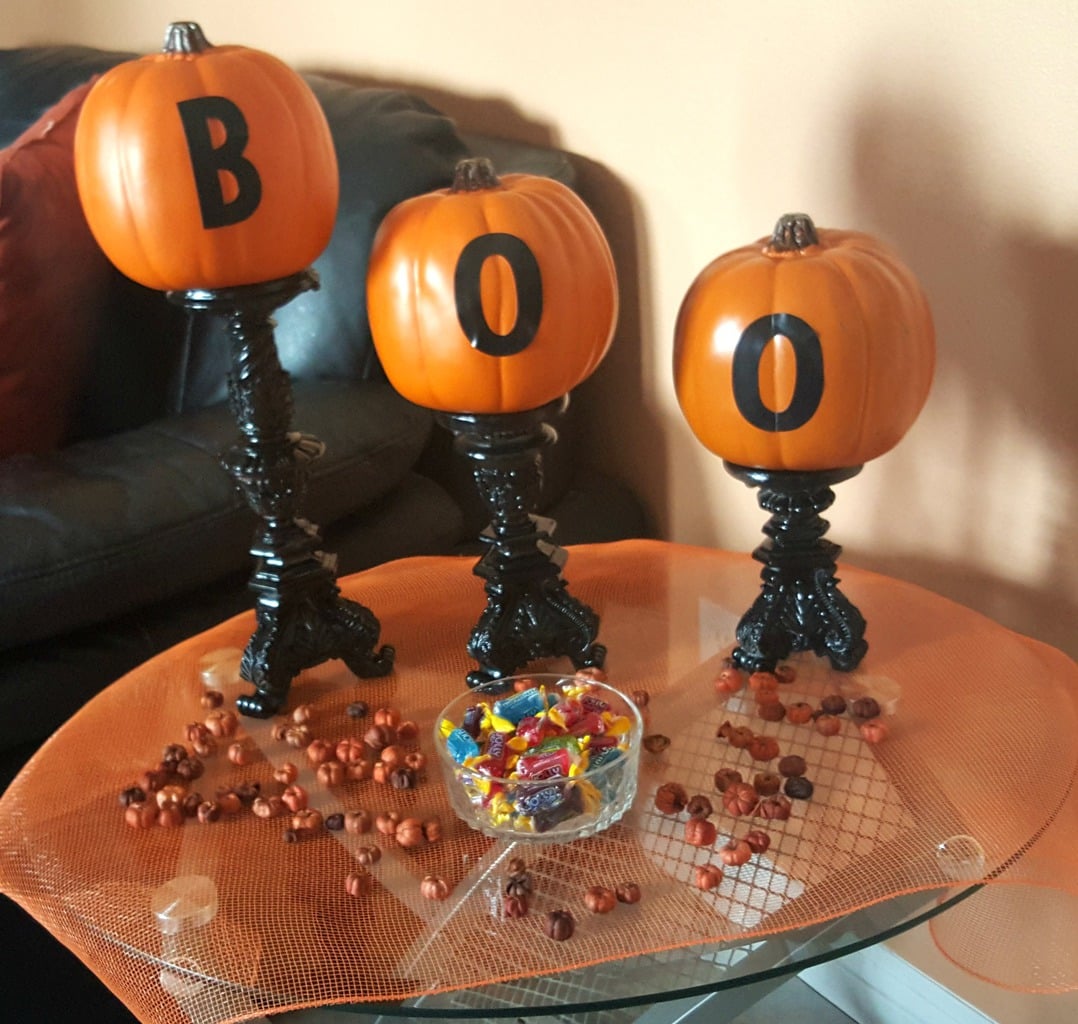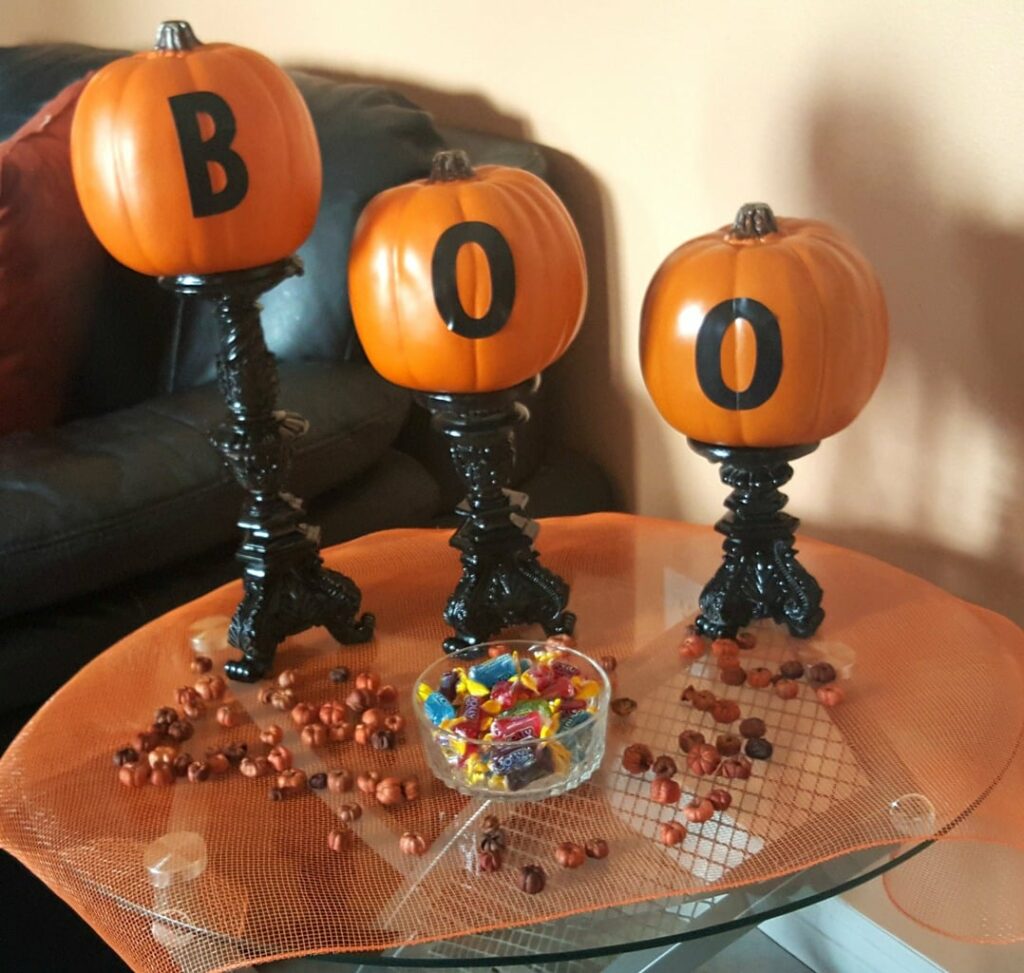 We created this easy and fun Halloween Decor; BOO Candlesticks from a thrift store find.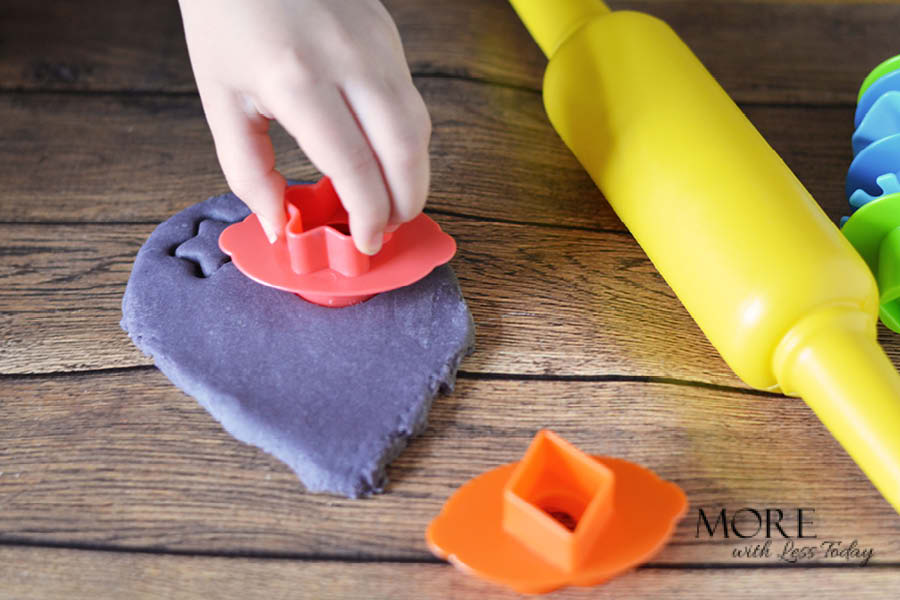 Ingredients for Homemade Play DoughWeave ribbon through a square of burlap to make a pretty placemat.
2 cups of boiling water
3 tablespoons of vegetable oil
1/2 cup salt
1 tablespoon of cream of tartar
2 packages (4 g) of unsweetened Kool-Aid powdered drink mix
2 1/2 cups flour
Directions for Making Homemade Play Dough
Combine water, oil, salt, cream of tartar and Kool-Aid mix in a saucepan and heat until warm.
Remove from heat and add flour. Sir, then knead until smooth and the color is well-blended. The cream of tartar is very important. That is what will make the homemade Playdough last. Store in an airtight container or a Ziploc freezer bag.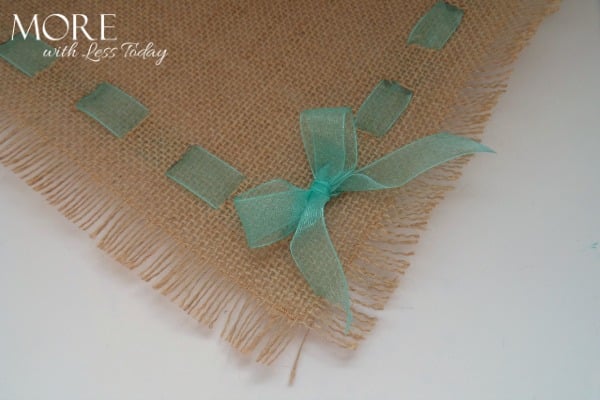 Weave ribbon through a square of burlap to make a pretty placemat.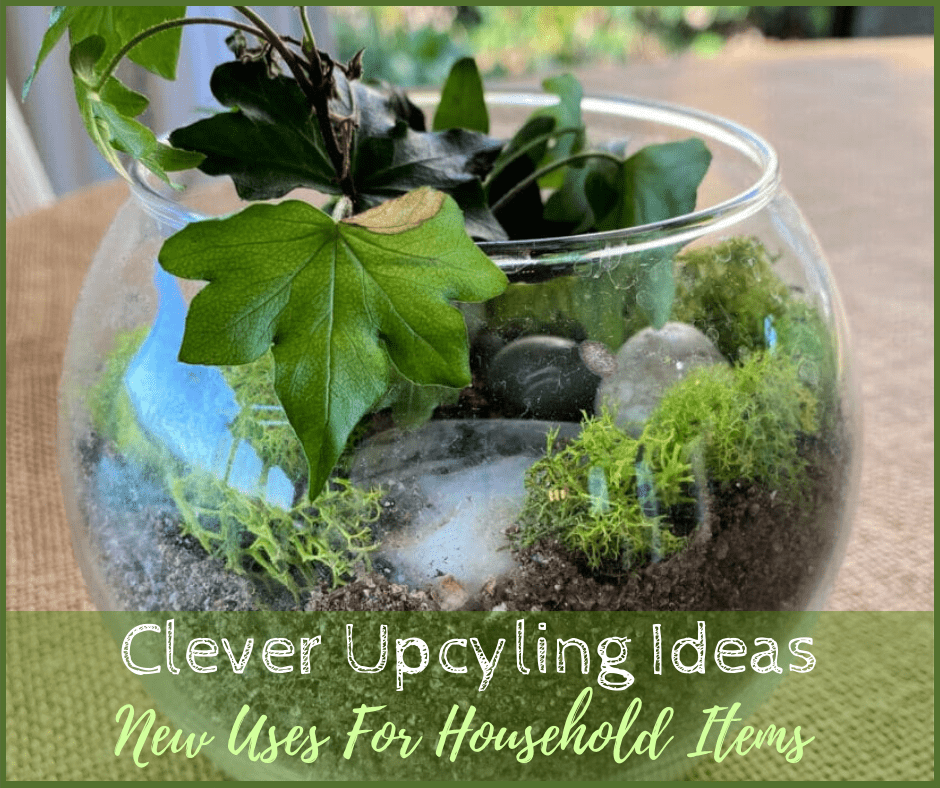 Glass Bowl to Terrarium
Turn a glass bowl into a terrarium. Just add dirt, pebbles, and a small plant. Mine has been going strong for several months now.
Brown Paper Bags To Dry Wet Shoes
There are so many different uses for brown paper bags. Keep a stash handy. My favorite is to use them to dry wet shoes on rainy days. Crumple up parts of the paper bags and stuff them into your wet shoes. They will absorb the moisture and help them dry faster.
Some people also like to use newspapers for this purpose, but a newspaper could leave ink marks on your shoes.
Label Cords With Bread Tags
Those square plastic bread tags are excellent at labeling cords. Just use a permanent marker to write the name of the electronic it belongs to and clip it to the cord. Easy!
Broken Pottery For Plants
Even broken pieces of pottery can be reused. Lay it on the bottom of your plant's pot to elevate the roots. Be careful not to cover up the drainage hole. Put the broken pottery on the bottom before you add the dirt. Your plants will be able to access the water so much better now.
Dish Rack to File Folder
Take an unused dish rack and turn it into a file folder. The cutlery holder can become a pen and pencil holder. Spray-paint it if you want to!
Paper Towel Holder to Store Bracelets
Repurpose a paper towel holder to stack your bracelets and you can see them at a glance.
Old Photo Frame to Decorative Tray
Add some pretty wrapping paper under the glass of an old photo frame to make a decorative tray.
Turn an Old Bread Box into a Charging Station
Drill holes in the back of an old bread box and you can conceal those ugly chargers plus have a home for your devices with their chargers.
Cheese Grater to Earring Holder
Clean and spray paint an old cheese grater and use it to display your earrings.
Pool Noodles to Fill Tall Boots
Cut old pool noodles to fit inside your tall boots and see them stand up tall. I have also done this with empty gift-wrapping tubes.
Ice Cube Tray to Snack Station
Fill the compartments with raisings, blueberries, grapes, Goldfish Crackers, and yummy snacks for the little ones.
Wastebasket to Wrapping Paper Storage
Use an old small wastebasket to store wrapping paper upright.
Mount a Wine Rack and Store Towels
Mount an old wine rack to a bathroom wall, roll up your towels, and keep them handy.
Plastic Jugs As Scoops
With a few cuts, a plastic jug can turn into a DIY shovel. You can use this for pet food, gardening, or for a fun beach toy.
First, completely clean and dry your gallon or half-gallon jug. Then, poke two holes in it. One hole should be 2 inches below the handle, the other on the opposite side, about an inch lower.
Cut from one hole to the other to create an angeled opening. Throw away the bottom of the jug and smooth out any jagged edges.
Old Knobs Become Useful Hooks
Did you recently refinish some cabinets and replace the old knobs? Save them! You can use them as a decorative rack for your keys or scarves. It's so easy.
To create a DIY scarf organizer, you first have to remove the flat screws from the back of the knob. At this point, you can either spray-paint them or leave them as they are. Then, find something to attach the hooks to. A wooden board or piece of molding works great. On your board, make some holes with a screwdriver and a pointed screw that is the same size as the screw on the knob. Then, push the knobs' falt screws through these holes.
Twist the knobs onto the wood and attach it to the screws. Then, hang this up!
Upcycling Ideas Save You Money
These are my favorite clever upcycling ideas. Using things you already have lying around the house will save you money and help you live your best frugal life! There are so many more ideas than this. Let me know your favorite and it might appear on this list next.
More Frugal Living Tips
Are you on a quest to live better or less? I'm here to help! Here are some fantastic ways to save money and live your best life.
Save yourself time and money and stay home. Repurpose things around your home. These upcycling ideas give new life to what you might otherwise throw away.
PIN for Later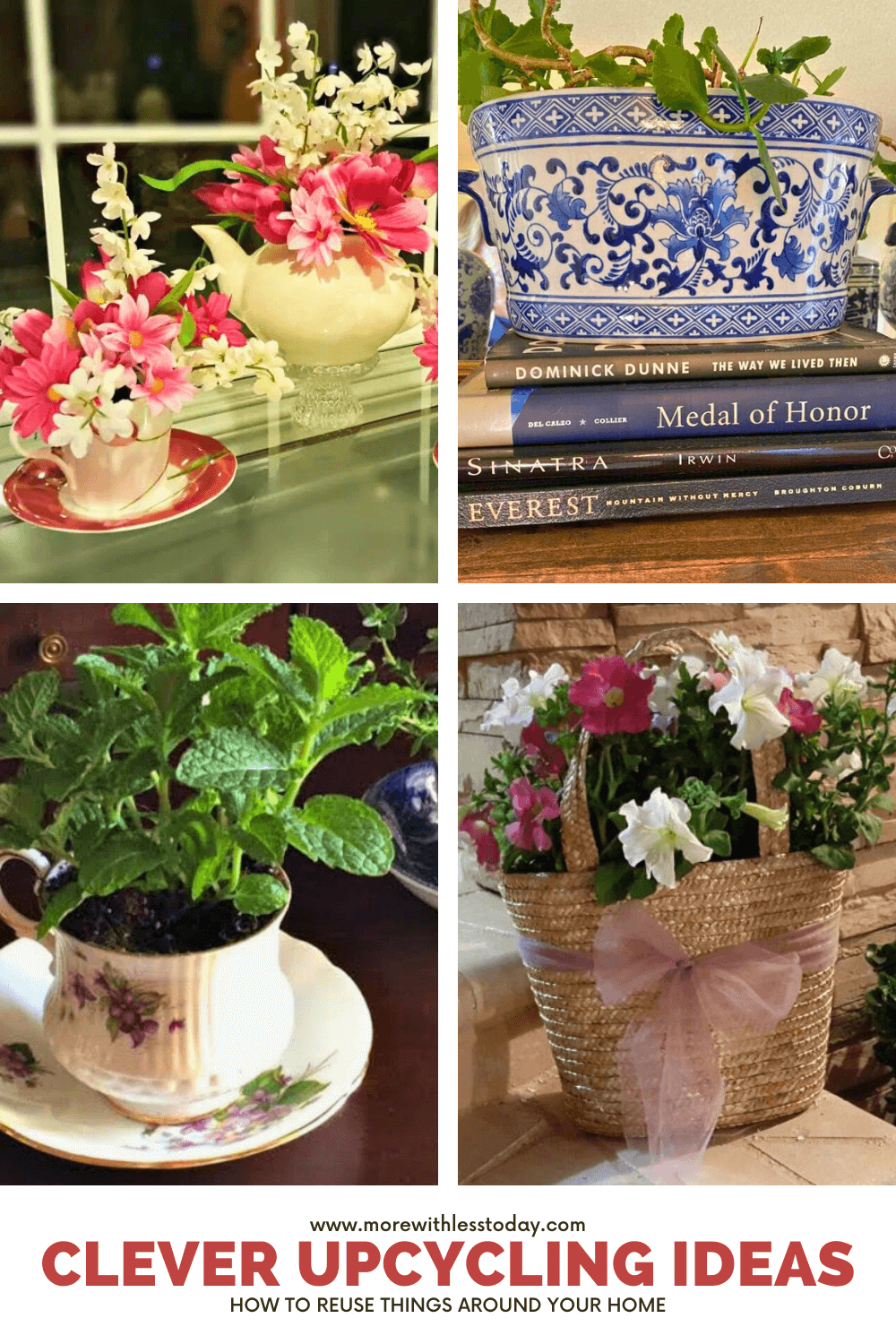 Don't forget to share this post with your friends and loved ones. If you are on social media, I would love to connect with you on Facebook, Instagram, Pinterest, or Twitter. Just click on the links to visit my profile. Leave a message and I will follow you back!