If you are looking to get cash for clutter, take a look at these sites that pay. We found many places we found to recycle, donate or sell your old gadgets, plus you can cash in on your spring cleaning! We have updated this post and we welcome your ideas.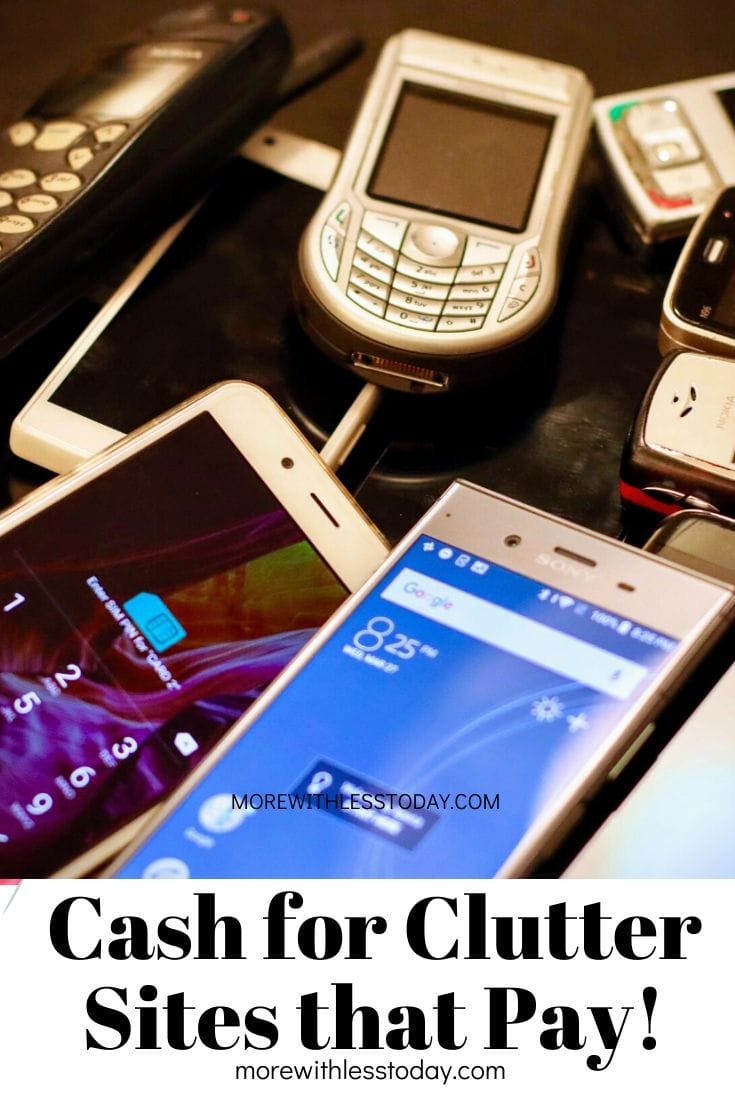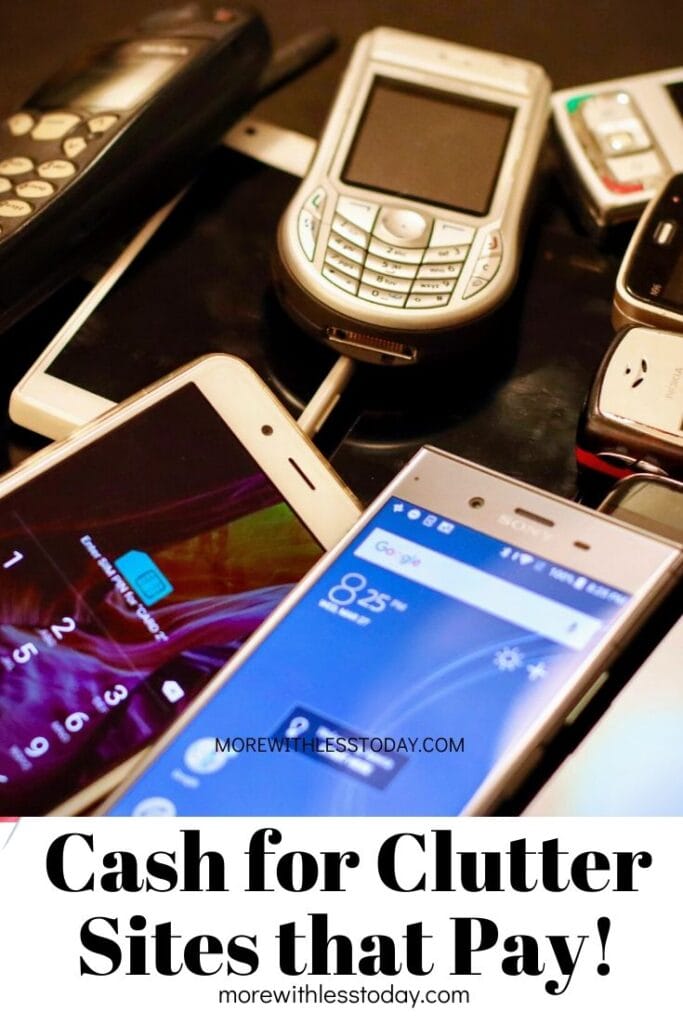 Cash for Clutter – Sites that Pay!
We found stores and sources where you can recycle, donate or sell your old gadgets. Most of our old electronics like computers, cell phones, digital cameras, video games, and printers can have either cash or trade-in value. We have affiliate relationships which means we may earn a small referral commission at no additional cost to you if you shop using our links.
Their popular trade-in program offers credit for used items including video games, Bluetooth speakers, tablets, cell phones, Kindle E-Readers, and textbooks.
Trade-in your qualifying cell phones, computers, video games, and other electronics online or at a participating Best Buy store. Among the most popular trade-in items at Best Buy include iPhones, iPads, gaming hardware, PC laptops, Samsung Mobile phones, Microsoft Surface, Apple Notebooks and video games. You will get paid in Best Buy gift cards.
Sell your old phones on eBay.
Get gift cards or cash for your used electronics including iPhones, Kindle devices,iPods and gaming systems. They have special offers on the Game Stop website for specific items so be sure and check those out. You will take your old devices to your local store to complete the transaction.
Sell your used cell phones and other devices including iPhones, Samsung phones, iPads, tablets, Apple computers, iPods and more. Get cash for the gadgets you no longer use, even if damaged.
Get a quote instantly. Select the device you want to sell (for cash) and shipping is always free. Categories include smartphones, tablets, and wearables.
Through their Tech Trade-Up Program, you can trade in old devices at any Office Depot store and they will make you an offer for your tech or you can trade-in online. Enter the information about your trade-in on their website, and they will provide you with the value. If you agree, you mail it in with a prepaid label they provide.
Answer a few questions about your device and get an immediate quote. Staples will provide a pre-paid UPS shipping label for any device worth $1 or more. A Staples eCash card will be emailed to you as soon as they check your device.
Get fast and fair value for your electronics including voice speakers, wearables, consoles, games, tablets, and phones. "The process couldn't be easier: Just generate quotes for your devices and ship them to us using the prepaid shipping label generated at the end of the process. We ensure same-day processing and fast payment, with a no-risk evaluation process." Your payment is in the form of a Target gift card.
Walmart has teamed up with CExchange to power an Electronics Trade-In Program. You can earn an eGift Card good at Walmart.com by trading in used electronics, including cell phones, laptops, MP3 players, digital cameras, and more. The process is easy, and qualifying items ship for free. There is no in-store option at this time.
Where to Get Cash for Empty Ink Cartridges
Selling multiple cartridges at once, known as selling in lots, is the preferred way to list on eBay.
Recycle your ink and toner cartridges in-store. Limit 10 cartridges per month. Get $2 back in rewards per recycled cartridge when you make a $10 qualifying purchase during the same month.
Rewards are paid out quarterly online only as a reward certificate.
Spend at least $30 on ink or toner. Buy in-store or online within 180 days prior to recycling. Recycle your used cartridges and bring cartridges to the register at your local Staples® store or request a shipping label to recycle your cartridges online. Get $2 back in rewards. See rewards in your next monthly Rewards statement for each cartridge you recycle (up to 20 cartridges per month).
Cartridge Buy-Back Sites
There are several cartridge buy-back sites that will buy your empty cartridges. Toner Buyer is a site that our savvy readers have shared with us.
Cell Phone Companies
What's more, cellular carrier stores, including AT&T, Sprint, Verizon, and T-Mobile offer consumers their choice of in-store drop off or pre-printed shipping labels that make for quick and easy returns, free of charge.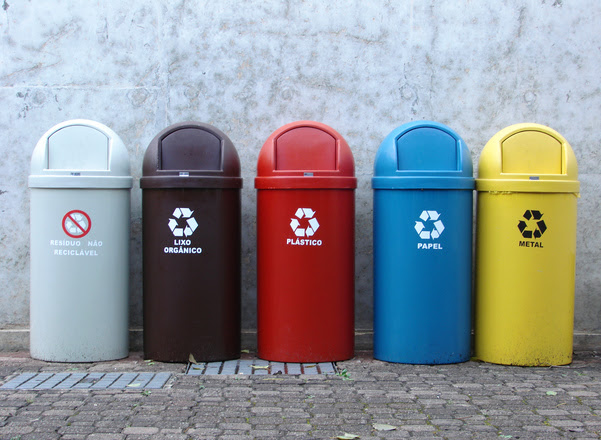 The two companies listed below will help you recycle just about anything.
Not Worth Selling? Recycle Your Electronics
Electronics can be recycled for almost all of their components including metal, plastics, glass, and more. And there are more local, manufacturer, and retailer recycling programs than you'd think.
Find local organizations with Greener Gadgets. They offer a list of nationwide manufacturers, retailers, and certified eCycling programs in your area.
Donate Old Gadgets
Numerous established organizations accept donations of old electronics and repurpose them for a good cause. The Environmental Protection Agency is a good resource to find a local organization to unload your old electronics.
Reusing and repurposing is a great way to unclutter our life and reduce e-waste. Don't dump your old gadgets in the trash. They often contain products that could be harmful to our groundwater.
Why not put the kids to work sorting this out and finding out how much their old gadgets are worth? Offer to split the proceeds with them and call it their allowance or save toward a shared family goal. Planning to have a garage sale soon? See my tips on How to Attract Serious Buyers and Have a Successful Garage Sale.
Do you have any other places that offer cash for clutter to share with us?
PIN this for later!