I have been treasure hunting at garage sales for as long as I can remember. I'm the one driving slowly by your house and deciding whether or not I am stopping or going on to the next sale.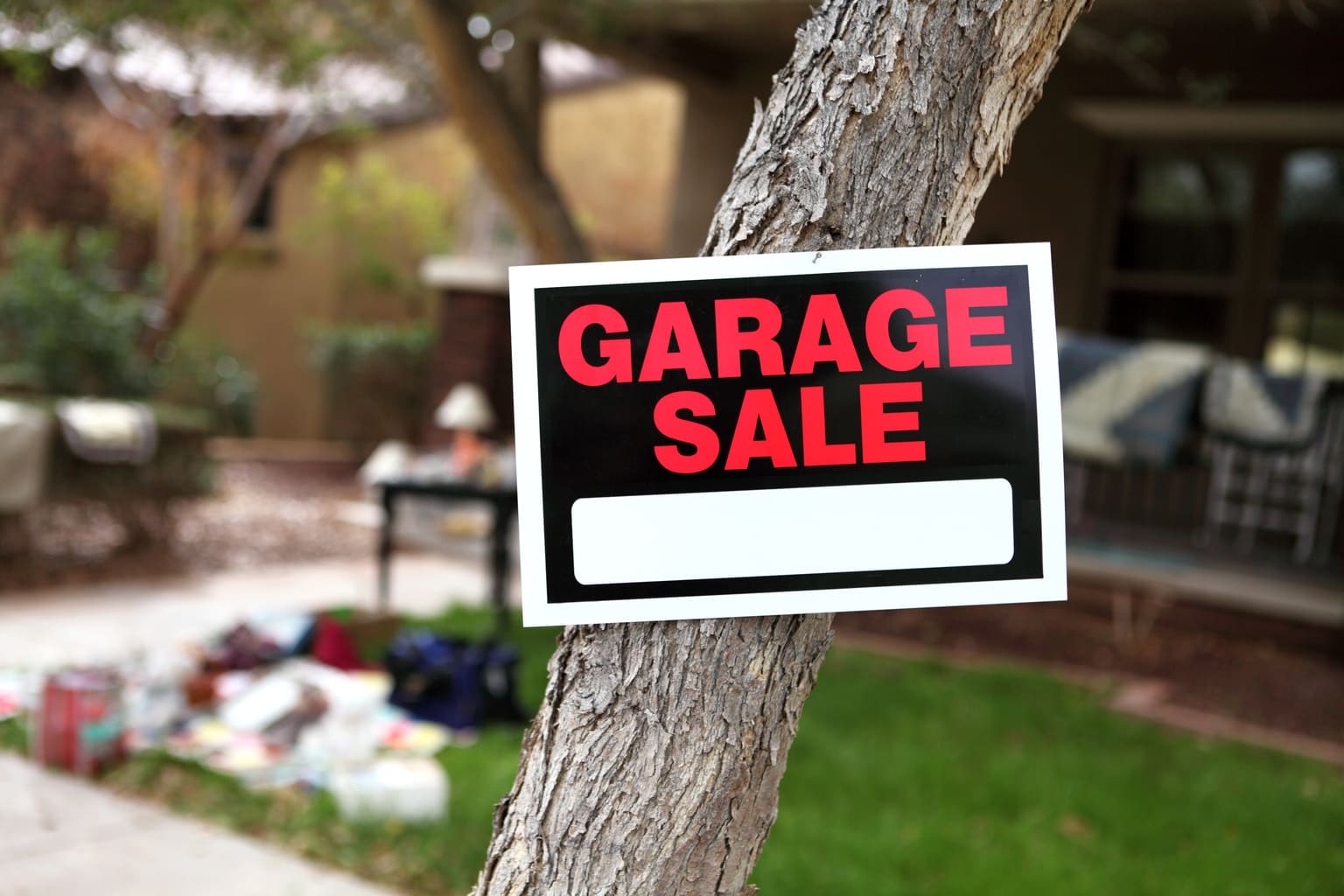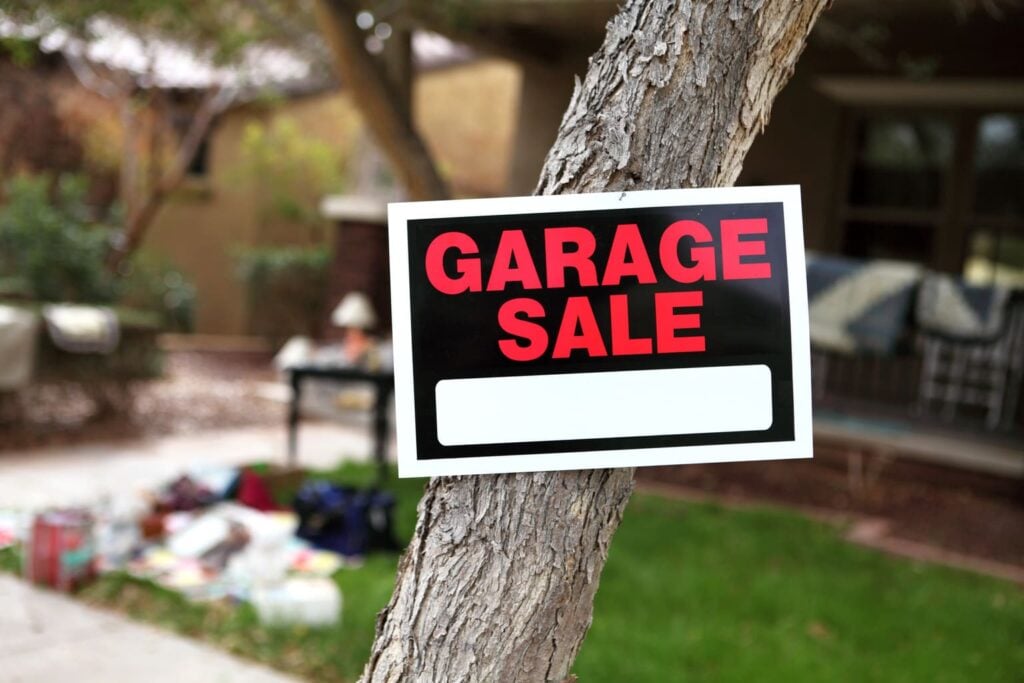 Organizing a garage sale is a lot of work. I want to help you to get the word out, make top dollar and get rid of all the things you longer need — all in one day. Think about how great that is going to feel!
Before you get started
Try and get the entire family involved. Consider spending a portion of your profit on making a fun family memory. It can be as simple as a hike or a picnic or a meal at a favorite restaurant. You can ask for input for fun ideas based on your proceeds and get everyone excited and on board.
Start by going room by room and adding items to your inventory. If it feels overwhelming, begin with one or two rooms over a weekend. Plan your sale far enough ahead to give you enough time to do this well and do it only once.
I like to sort by using laundry baskets from the dollar store. They are great to use on the day of your sale too. You can buy different colors to help you get organized.
Some communities and neighborhood associations require registration or permits so be sure to check that out in advance.
Scheduling your garage sale
You may want to have a Friday pre-sale for family and friends so all your attention can be given to your customers on Saturday.
Saturdays are best but don't schedule your sale over a holiday weekend. Set a goal to get rid of everything by the early afternoon so you can enjoy the rest of your weekend.
The first Saturday of the month is always popular because most people have just gotten paid. Although this is not fool-proof, check the 10-day weather forecast and have a rain date if need be.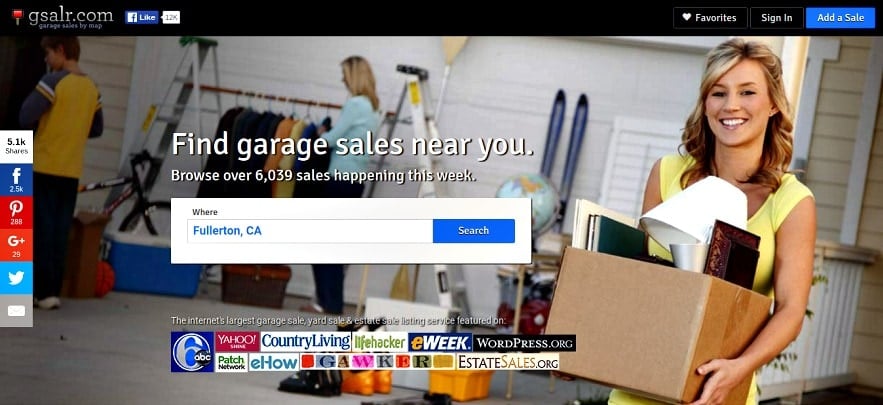 Advertising your sale -the critical step for success
In our digital age, you need to do more than throw up a few neighborhood signs to have a killer garage sale. Savvy garage salers like me are looking for your sale online ahead of time and planning which ones to visit.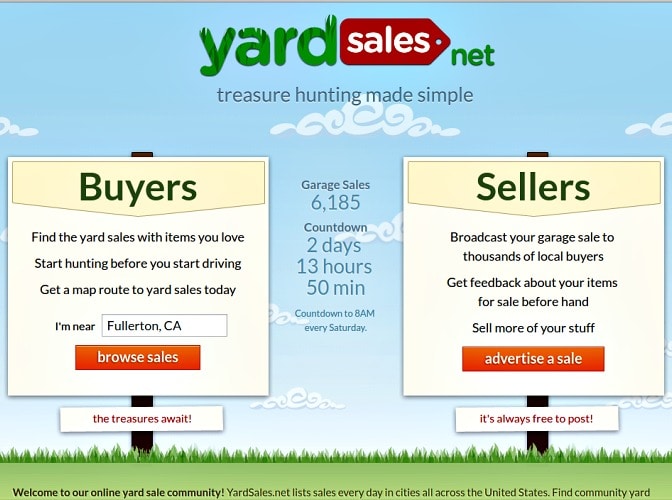 Here are the top sites to list your garage sale for FREE to attract the serious buyer:
Yard sales listed YardSales.net or Gsalr.com also get emailed out to yard sale enthusiasts in your local area. These are free listings and this is where the garage sale pros go to find you. This is the most important tip.
After you have listed your sale online, make large signs and post them around the busiest intersections near your home. Include arrows directing people. Do this on the morning of your sale, and be ready for people to follow you home! Ideally, you will have another person at home to watch your items or help you with the signs.
Make a note of how many signs you posted and where you put them so you can go back and take them down. If you live in an area where many people speak a language other than English, ask a friend who is bilingual to help you and include that in your advertising and signage.
How to attract serious buyers
There are thousands of people reselling items for a profit on eBay, Amazon, Craig's List, and similar sites. They call themselves re-sellers and these are the serious buyers you want to attract. Most of them work within a particular niche, so you want to use their keywords in your online ads.
Some of the most popular items that re-sellers like include Pyrex and glassware, vintage items, antiques, designer labels (specify Michael Kors purse or Tory Burch wallet), video games, vinyl records, and specific toys. If you have any of those items for sale, be sure and feature them in your online ads.
There are also booksellers who will scan your books for resale value with a phone APP's like Scanner Pal or Bookscouter so if you have books and particularly textbooks, be sure and mention those.
Etsy sellers and furniture refinishers, they love picture frames, old jewelry, craft supplies, fabric, and small furniture items that can be repainted.
You want to advertise your most profitable items and get those sold.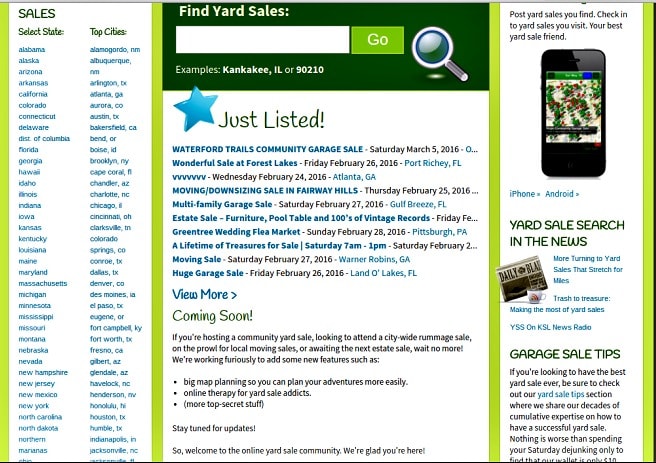 Getting cars to stop and not just drive-by
Put a "Free" box right in front with items that are not saleable and the "lookie-loos" will stop. Also set up your larger items and men's items such as electronics, lawnmowers, tools, electronics, and computer items near the front so they can be seen easily from the street.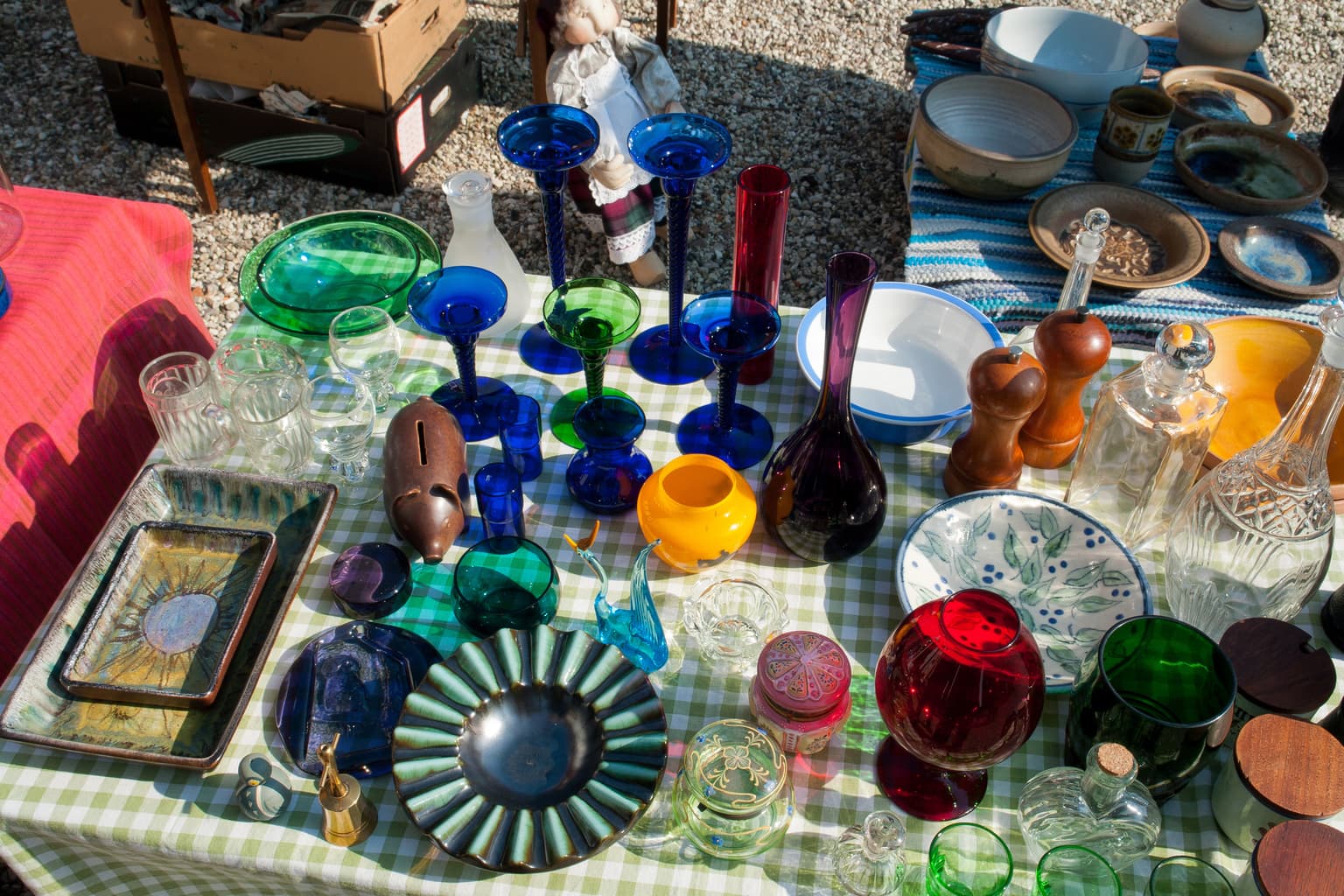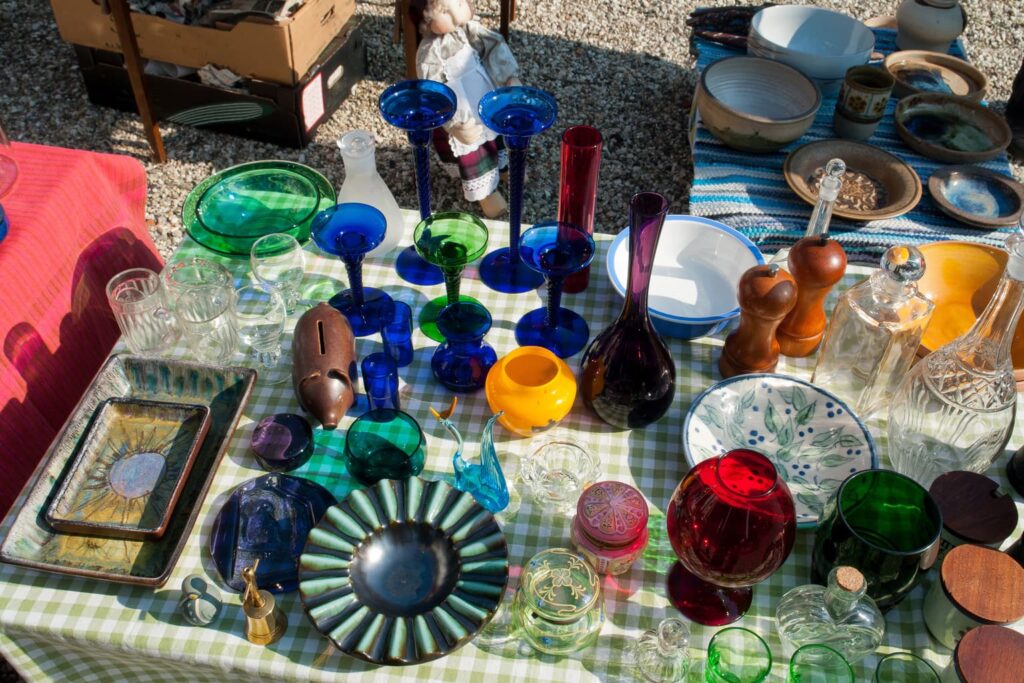 Think like a store owner and merchandise your sale as attractively as you can. Set up tables to display your merchandise and leave room between the table for customers to walk around.
Try to hang your clothing and not pile them on the ground. You can use two ladders and a pole or make a clothesline. Separate clothes by size. If you have a lot of one item, consider a bundle such as "10 maternity tops for $8." Offer a discount to buy a bundle.
Use removable stickers or masking tape to put a price on everything. Price most items under $5 and under $1. If a price is firm, then write that on the price tag.
If you have sets of dishes, you can use clear packing tape to tape bowls, plates, and cups together so individual pieces won't get separated.
For small jewelry items, I like to use muffin tins or egg cartons to display them.
Keep rearranging your items throughout the day to keep the sale looking appealing.
Smart tips for the day of the sale
Have a calculator, measuring tape, and extension cord if you have items that need to be plugged in and tested.
If you have fragile items, be sure and keep them away from the children. You may want to set up a blanket with some crayons and coloring pages or toys to keep the kids occupied so their parents can shop.
Use a fanny pack or a cross-body purse for your cash and not a cash box. Make sure your house is locked up tight during the sale because you will be distracted. Direct people to the nearest public restroom if needed.
Have lots of change as well as $1's, and $5's. Do not take checks, only cash. I would not take large bills. If someone wants you to hold something, take their name and number and tell them you will only hold it until a certain time. If someone wants you to come down in price, but you are not quite ready, take their name and number and call them toward the end of the day if the item has not sold.
Drop your prices toward the end of the day and try to encourage bundling such as "all toys in this box for $5."
If your kids are the right age, have them set up a food and beverage stand and have them make some side money too!
Do you have your own tips to add to our post, "How to Attract Serious Buyers and Have a Killer Garage Sale?" We welcome your ideas!
Just for fun…
Here in California, we call them Garage Sales. In Connecticut, where I grew up, they are called Tag Sales. Do you call them Yard Sales or what are they known as in your part of the country?