I love thrift store shopping and it is my place to go whenever I need some "retail therapy." I almost always score something fabulous and rarely spend over $25 at my favorite thrift shops.
I have found great designer items with the tags still on them. There are hidden treasures to discover if you are willing to do a little digging! I've found amazing designer clothing at my favorite thrift stores and consignment stores.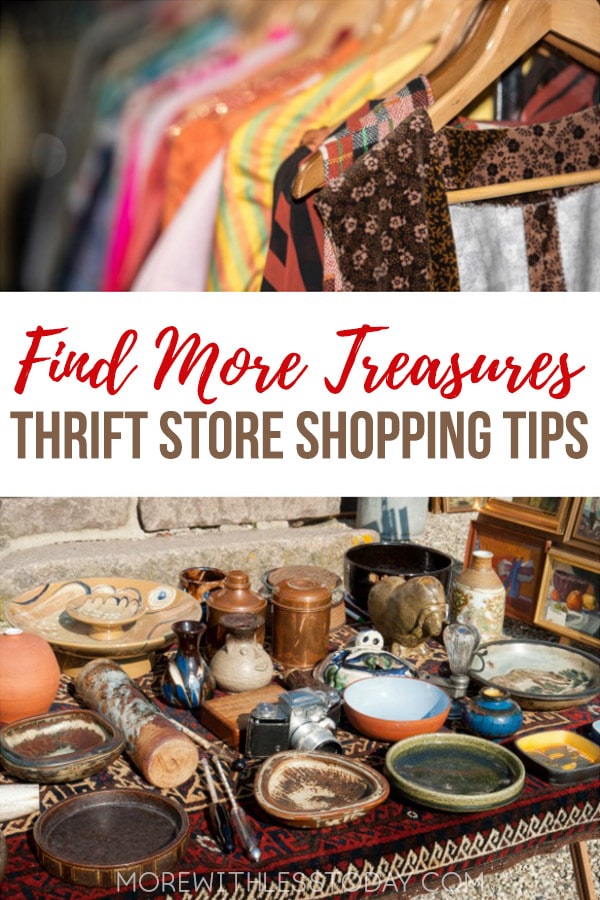 My favorite thrift store is Goodwill, although my sister, a fellow thrift store devotee who lives in New York, does best at Savers. I have amazed my friends with some of my famous scores including a pair of Christian Louboutin shoes for $12.99. That is not a typo! I have also scored Tory Burch flats for $7.99, Ferragamo shoes for $9.99, St John Knit sweater sets for $9.99, Lily Pulitzer dresses, and on and on. Talk about great prices!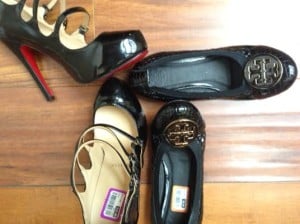 Over the last few years, I've furnished my daughter's dorm rooms and campus apartments with household items from thrift stores including small appliances, desks, chairs, lamps, curtains, and housewares.
If you are not a thrift store shopper, you should give it a try! Cue the thrift store song… "I've got twenty dollars in my pocket."
10 Tips for Scoring Great Finds at the Thrift Store for Savvy Shoppers
1. Location – look for a store in an upscale area, a retirement area, near a college, or near a tourist district. Did you know that hotels often take unclaimed clothing and electronics to a local thrift store? While on vacation, search for a thrift store in a tourist location. You can often score treasures to bring home for just a few dollars.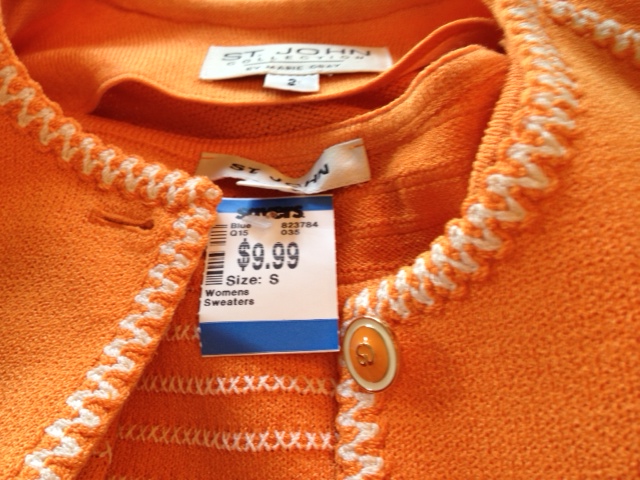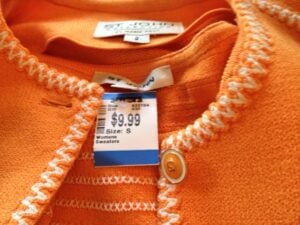 2. Fabric – develop a good eye for quality items and learn to scan the racks this way. Often the thrift store will arrange items by color. You can spot well-designed garments in good condition at a glance when you begin to recognize quality wool, silk, or knit garment. Next, I check the tag, size, and condition. Hold the garment up to the light and check for holes.
3. Discount Days – know the discount days and upcoming sales at your local community stores. Some offer a discount on certain days, certain items, certain tag colors, Senior days, or offer VIP cards to save all the time. Ask at the register if they are running any special promotions and shop accordingly. Showing up on the right day can mean the difference between a $10 thrift store find–or a $5 score.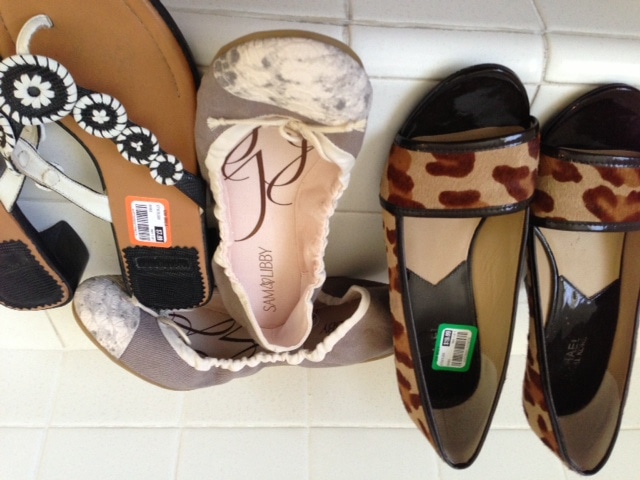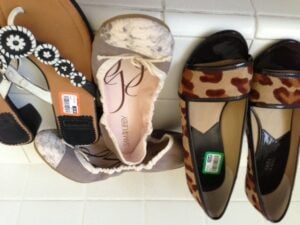 4. Try on everything if at all possible. Stains, holes, missing buttons, and broken zippers are common candidates for the donation pile, but you may not spot a fatal flaw until you try the garment on. If you have sewing skills then you are ahead of the game. If not, find an inexpensive tailor. My dry cleaners will do simple alterations for just a few dollars. I buy all of my work pants at the thrift store and usually need to have them hemmed. Factor in the cost of alterations to determine if that item is still a good deal. Often the answer is yes!
5. Know your brands and know how those brands fit you. I know how my favorite brands are sized. When I spot one of those, I don't even have to try it on or get it tailored. Many stores these days are organized by color or size, making finding those perfect items that much easier.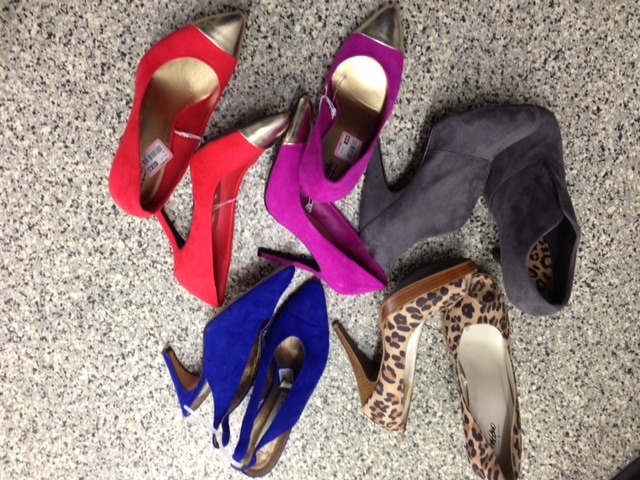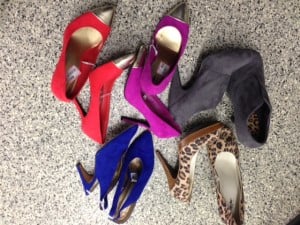 6. Keep a list. I have a list of needed items for my wardrobe and often find accessories to change up an outfit for very little money. Perhaps you have a great pair of pants in your closet but you need a specific style of blouse or shoes to start wearing them. Put this information in the "Notes" section of your phone. I also keep a list of items that my friends and family may be looking for. Buy in the offseason and buy next year's sizes for your kids. Often you can find new items with tags that can go in your gift closet.
If you have a theme party coming up (or if your kids have special dress-up days at school), be sure and look for these items each time you visit the thrift store. I scored a sequin dress that will be perfect for the Roaring 20's theme party I am attending! The time to find that Ugly Christmas sweater for the office party is right after the new year!
7. Buy out of season. If you spot a winter coat in the middle of summer, buy it and store it. Our kids grow quickly. Buy ahead and keep an eye on future sizes.
If you are traveling and packed for the wrong weather, hit up the local thrift store. You can buy warm coats, snow gear, rain gear, summer attire and more!
8. Take a friend. My sister and I can divide up the thrift store and shop for each other. When we meet in the middle, we usually have a cart full of items to try on, some for her and some for me!
9. Be patient. It may take you quite a while to sort through everything and you may not end up with one item. Enjoy the process.

10. When in doubt, put it in your cart and think about it. If you try and circle back, you may not find it, or another thrift store sleuth may have snatched it up! You can edit everything before you check out.
One more tip… read fashion magazines and take pictures of outfits or looks that you like. Trendy items can often be replicated with thrift store finds!
If you are losing weight, gaining weight, or are pregnant, the thrift store is a great source to find transitional clothing.
More With Less Today tip- I live in southern California and my family lives in New England. I bought a winter coat and snow boots at a Goodwill store in Connecticut during one of my visits and I leave them stored in my mom's basement. I don't have to stuff my winter gear in my suitcase every time I visit. I just bundle up in a few sweatshirts or sweaters until I get there.
Find a few items to bring and donate. You don't have to take the time to clean out your entire closet! I keep a laundry basket inside my closet for this purpose. At the Savers I frequent in New York, you get a 20% off coupon for your donation.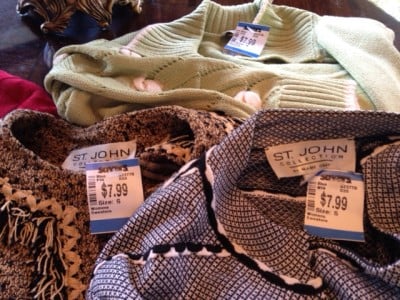 Shopping at thrift stores will change how you view department stores and even discount store prices. Where are some of your favorite thrift stores? What are some of the best deals you've found? We would love to hear from you!
My sister sells her thrift store finds on eBay and Poshmark and makes extra money doing something she enjoys. a few extra dollars each month. She sets aside time one day a month to photograph and post her items.
Do you love DIY Crafts? Here are some that we made from thrift store finds: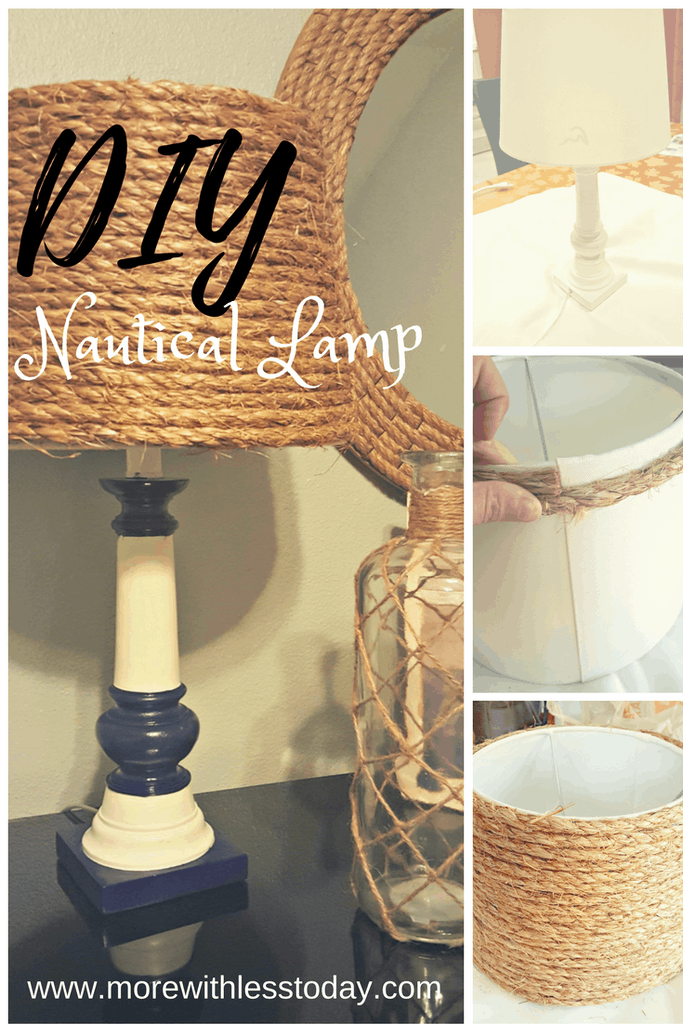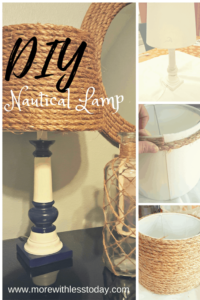 Turn an Old Lamp Into Nautical Decor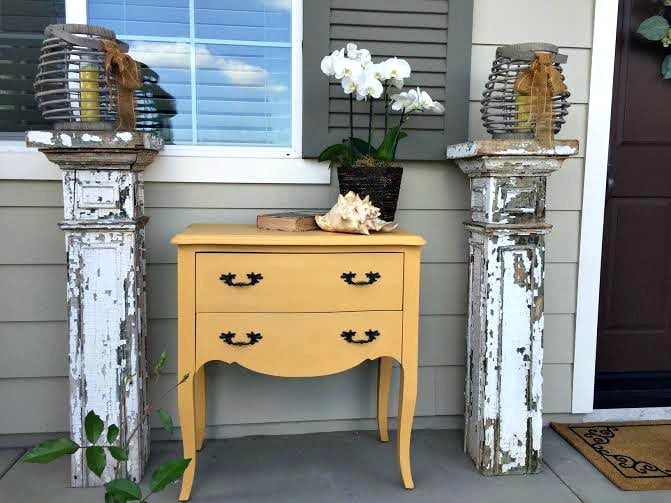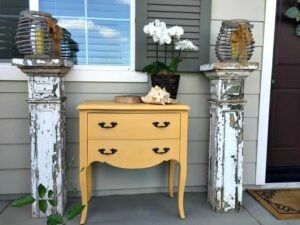 How to Easily Paint Old Furniture
Click on the photo and PIN it to Pinterest!