As a brand ambassador for Oriental Trading, I received products for my Fiesta Bridal Shower. All opinions are my own.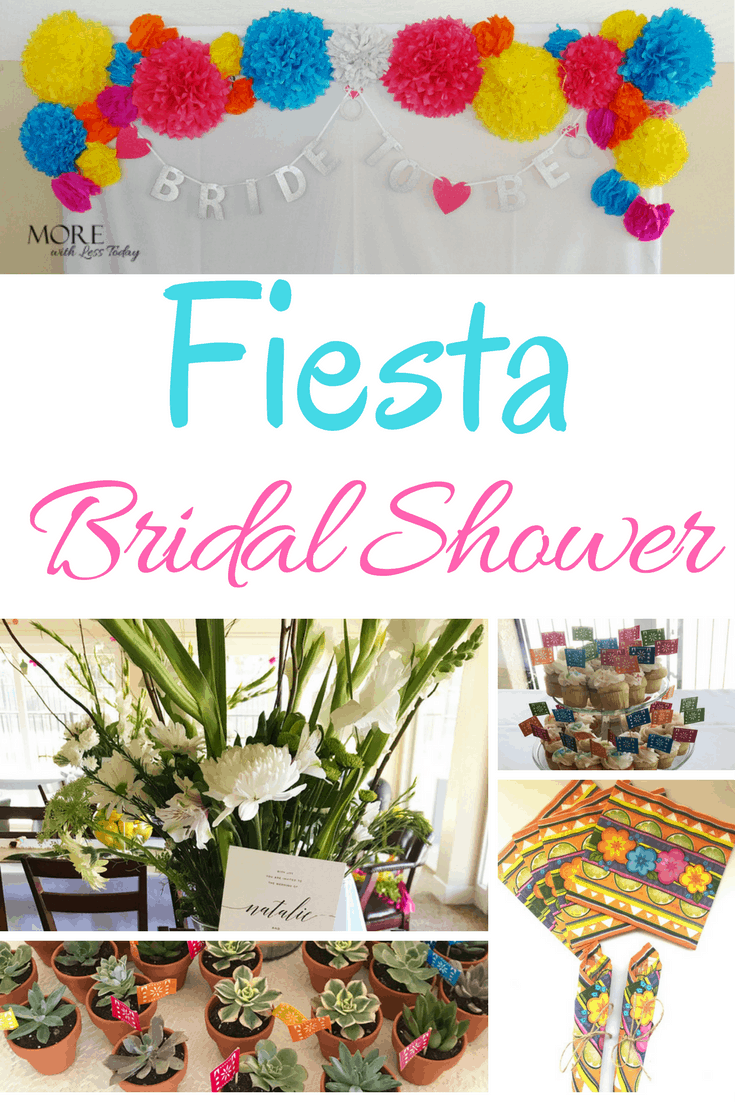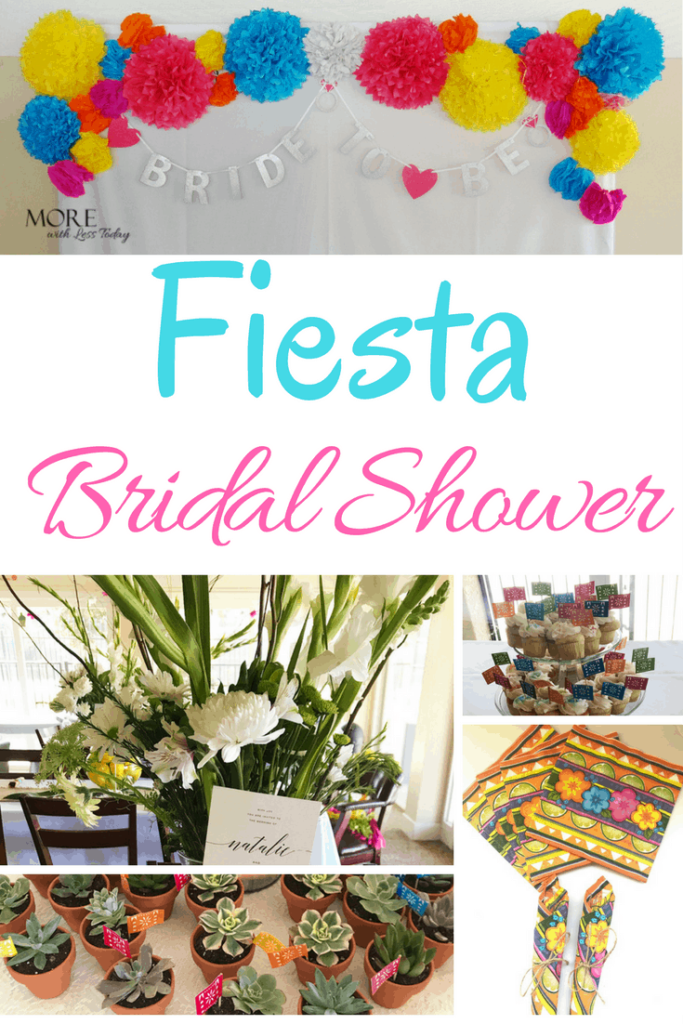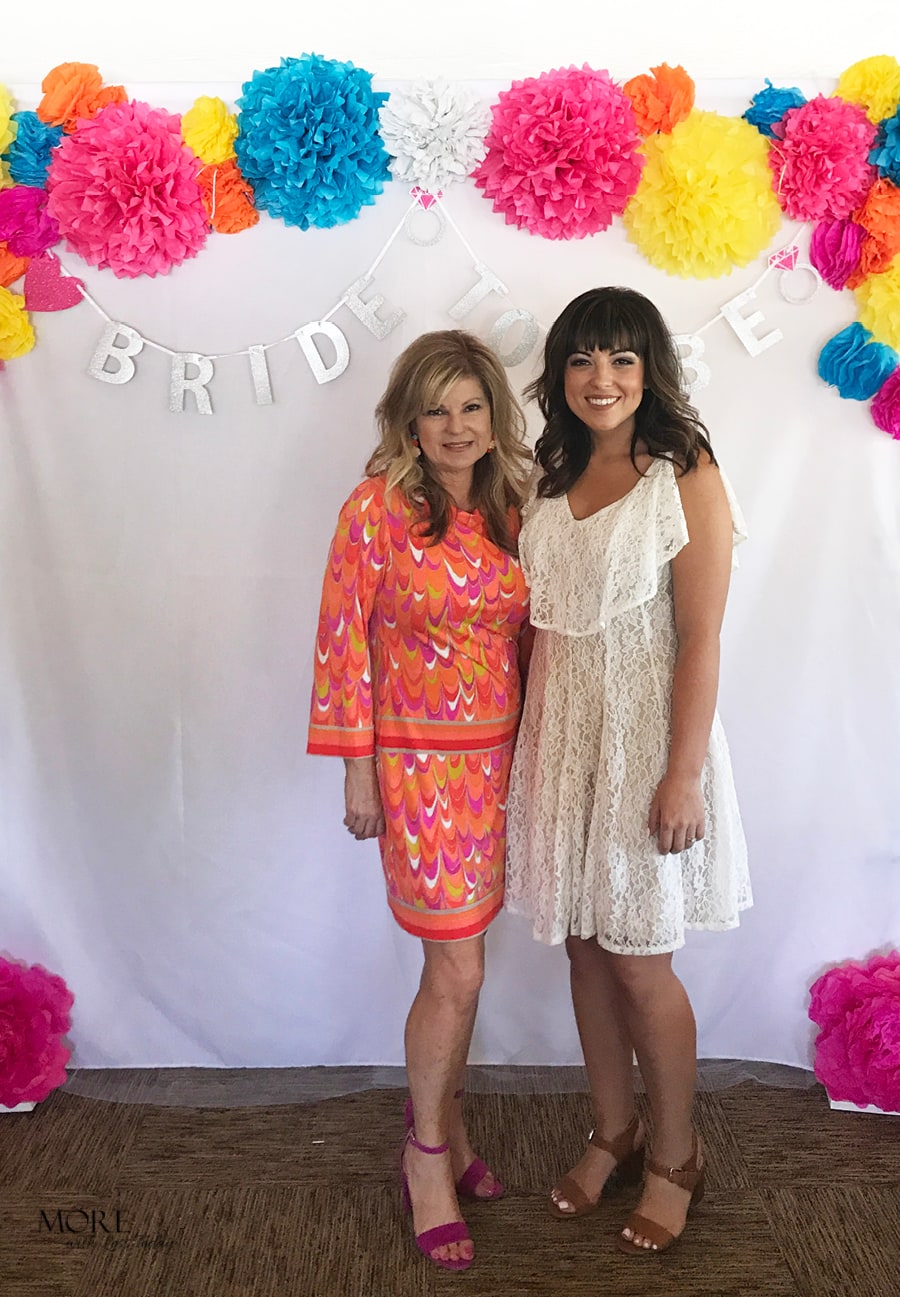 Many of you know this is a big blessed year at our house. My son got married at the end of March and my daughter is getting married in just a few weeks!
The excitement is building as the day draws near. Last week, together with her mother-in-law-to-be, we gave her a Fiesta bridal shower and everyone is still talking about how festive and fun it was!
I was excited to put my new partnership with Oriental Trading to work. I knew they had party supplies galore but I did not know they have a site solely devoted to wedding decor, appropriately called Marry Me. No matter what your shower or wedding theme is, you need to take a look! They have amazing prices (I have looked everywhere and know my prices!), and best of all the quality is first-rate. You'll find bridal shower decorations, wedding decor, favors, tableware, balloons, and so much more. We have affiliate relationships which means we may earn a small referral commission at no additional cost to you if you shop using our links.
Our Fiesta Bridal Shower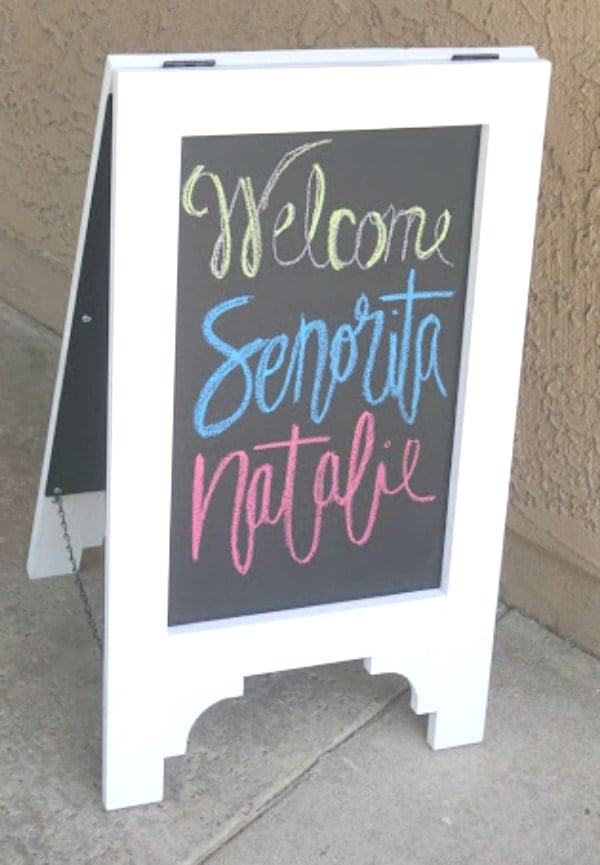 I began with the theme "From Señorita to Señora." The primary colors were turquoise, hot pink, yellow and orange.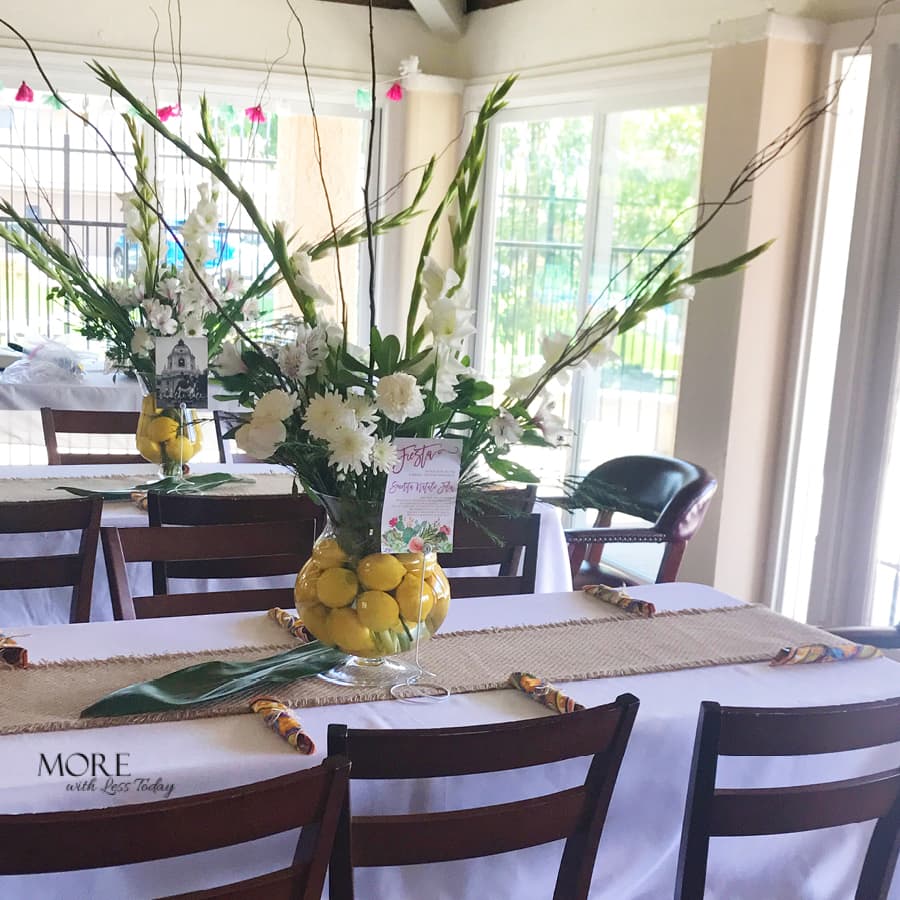 Because the room was going to be very colorful, I chose to make the centerpieces with white flowers and I was so happy with how they turned out.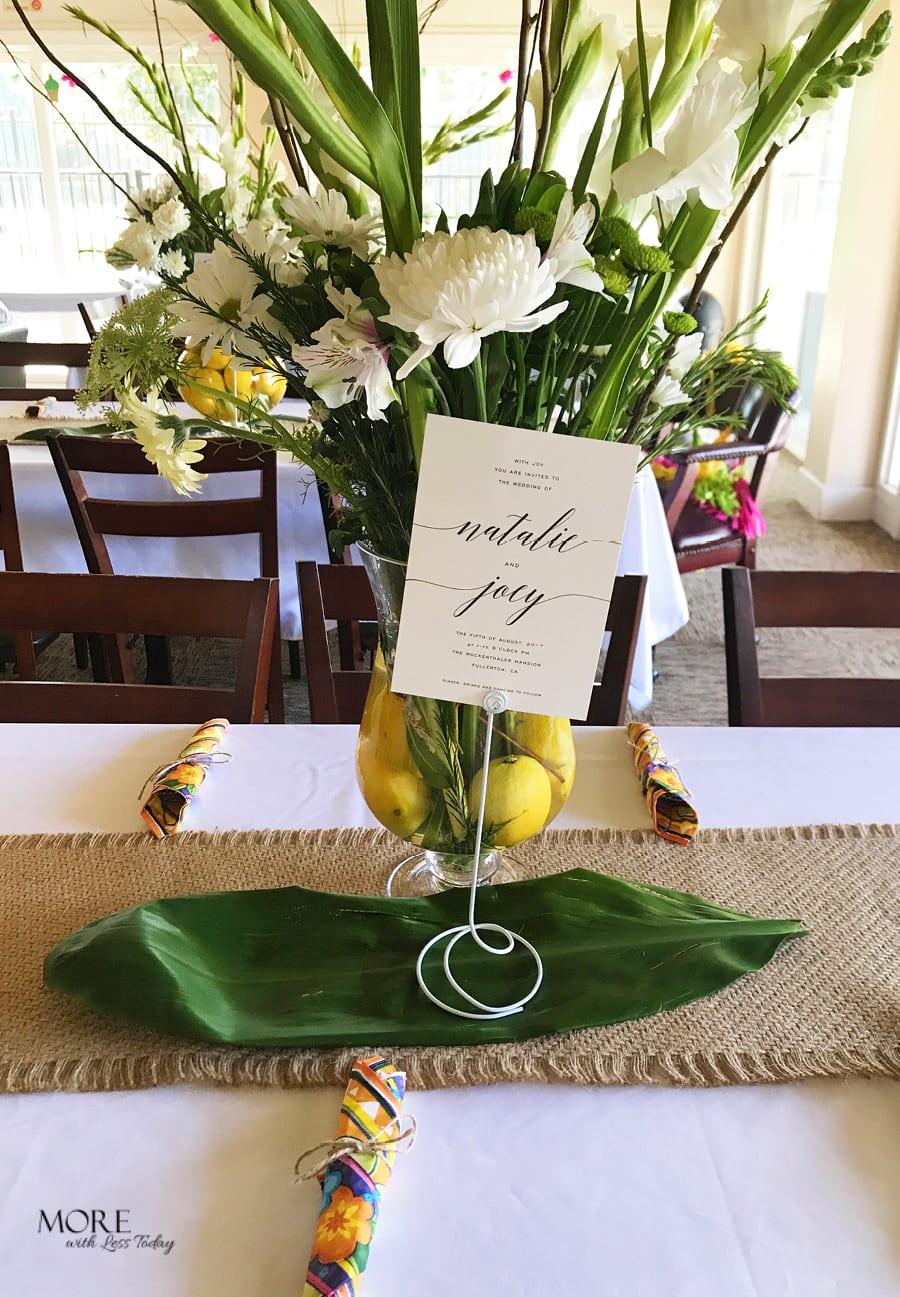 I used lemons in the vases which helped to hold the tall gladiolas, the bouquet of assorted white flowers and the sticks firmly in place. I purchased the gladiolas from my local florist. It is almost a week after the shower now and they still look magnificent at my house. I highly recommend them for their elegance and longevity!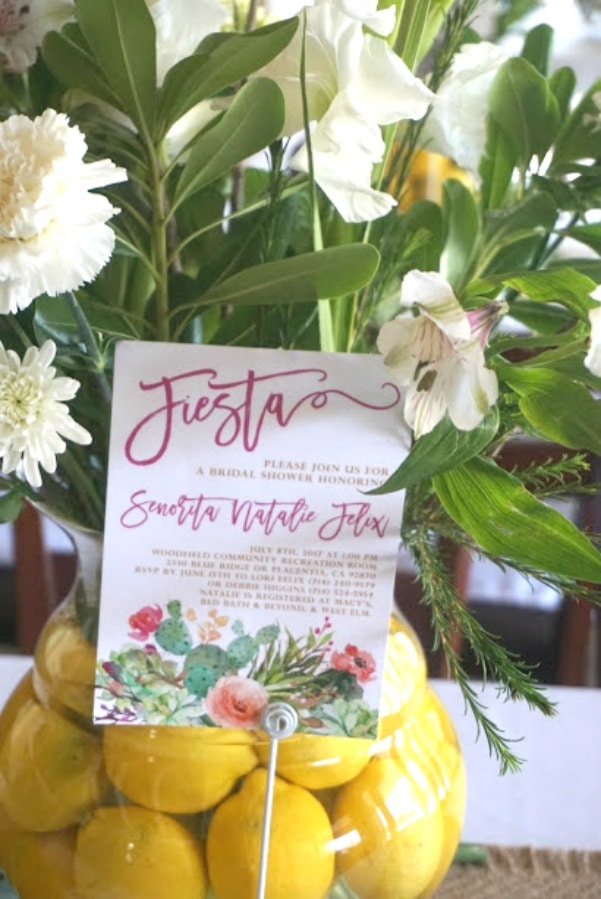 I ordered these white tall spiral place card holders from Oriental Trading to incorporate her bridal shower invite, wedding invite and save-the-date invite into the table decor. I know I will use these place card holders over and over again for parties and home decor.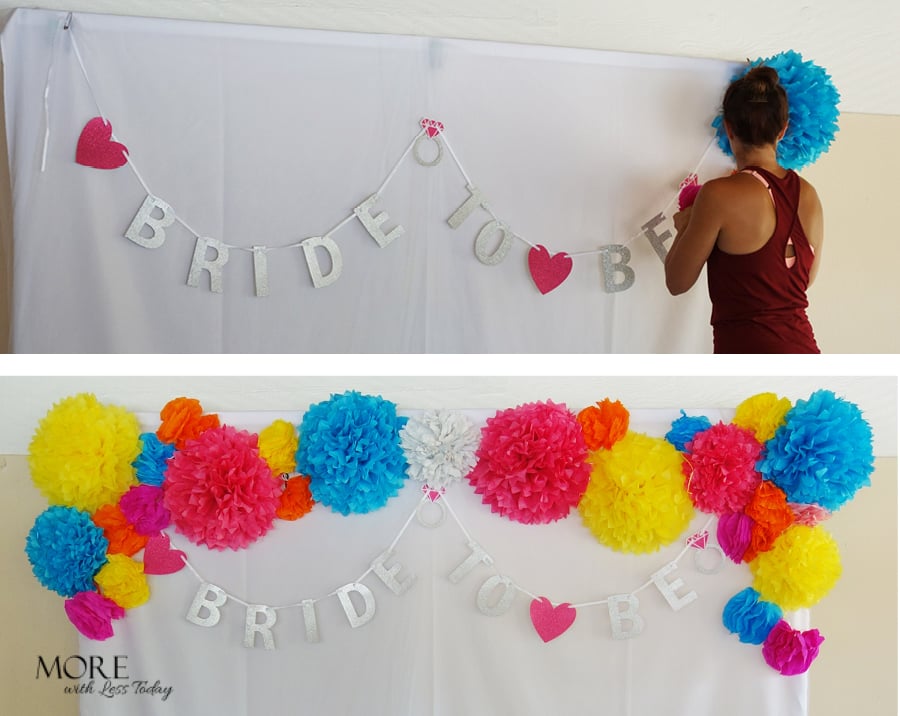 The highlight of our room decor was our beautiful backdrop. We began with a white tablecloth tacked up to the wall with this fun Glitter Bride to Be Banner I found on the Oriental Trading Marry Me Wedding site.

My daughter is a teacher and one of her co-workers lent us some tissue paper flowers she had, and we bought more from Oriental Trading. We used safety pins to attach them to the sheet and double-sided tape to attach them to the yellow chair and the bottom of the banner.
Their large pink tissue flowers were breathtaking. They come 3 to a package and you just cannot beat the price. They arrive flat in the package and all you need to do is gather up the individual petals in your hand and then fluff just a bit and you can see that it covers the entire paper disk. It took just a few minutes and they were spectacular! The finished flowers are 15 inches and make a big impact.
These would also look amazing in a girl's room, even a dorm room on the wall, over curtains, on a door… heck I want to put these up at my house.
Originally I was going to try my hand at making the tissue paper flowers but when I saw what was available at Oriental Trading + the price, it was a no-brainer. If you are having a fiesta-themed party, you must check out their tissue paper flowers and all of their Fiesta party decor.
The Little Touches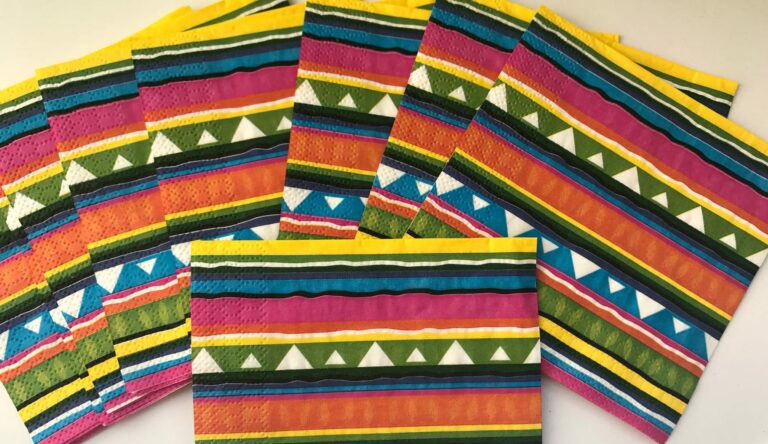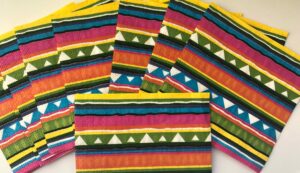 I mixed and matched the colorful Fiesta-themed napkins. These are called Fiesta Margarita Beverage Napkins.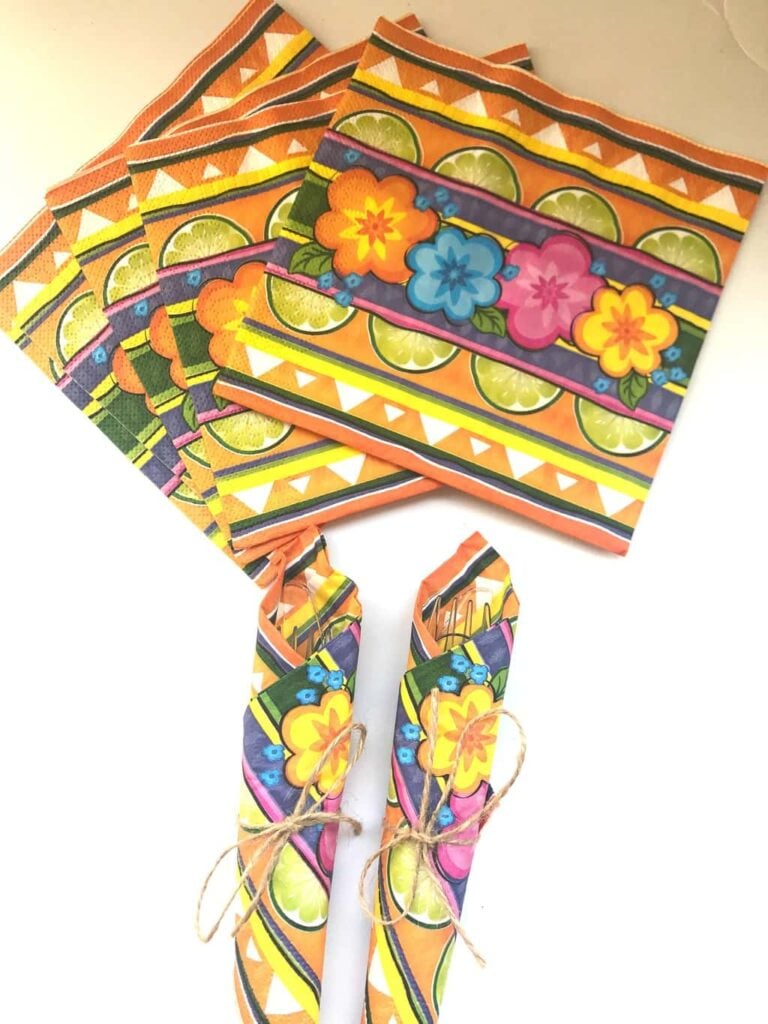 The Fiesta Margarita Lunch Napkins were so fun and colorful. You'll find so many beverage and napkins choices including personalized options.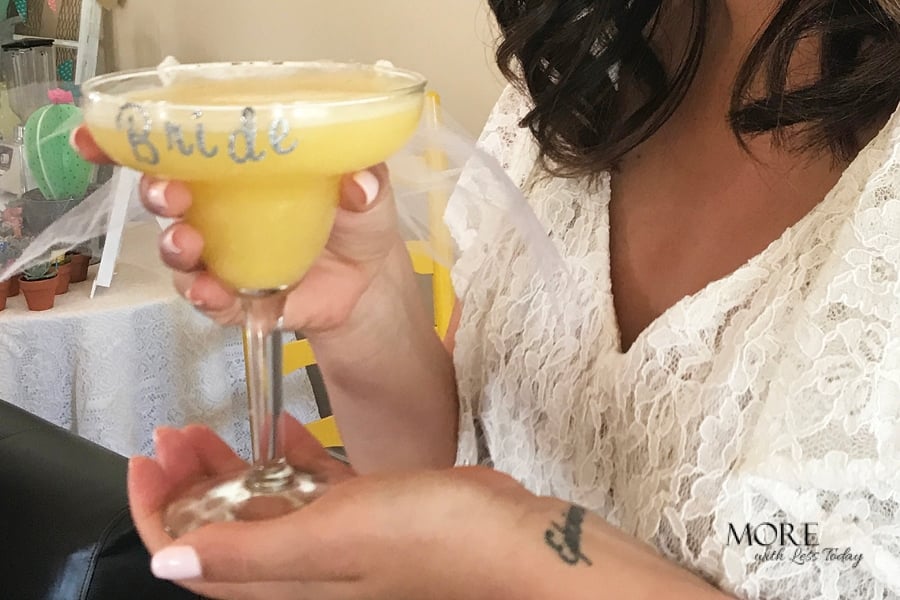 My sister made a special margarita glass by gluing white tulle to one edge and adding glittery alphabet stickers to spell out BRIDE. It was adorable.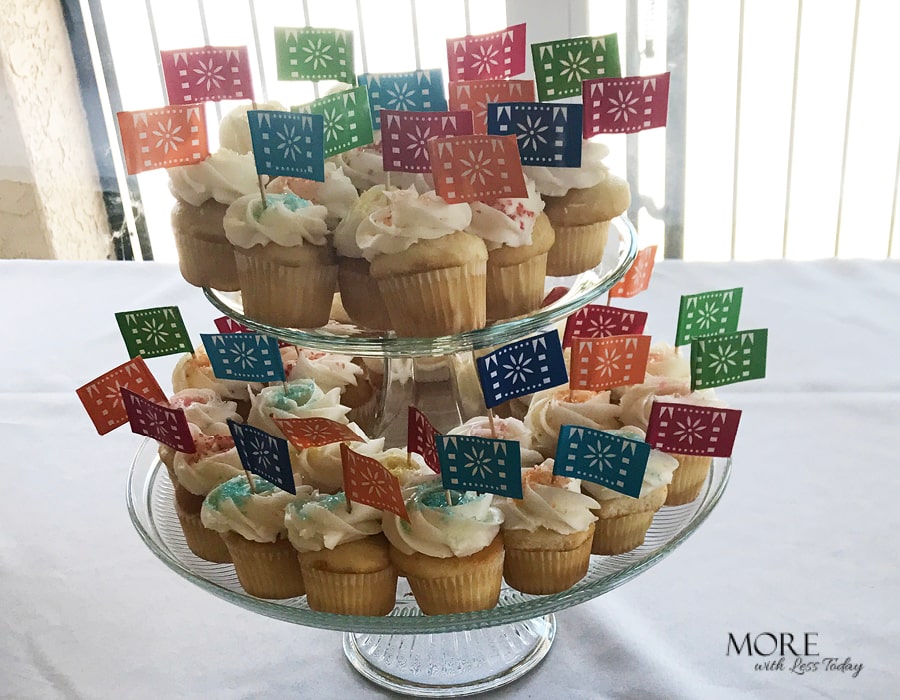 We served margaritas, Mexican food and had a lovely dessert table too. We used Fiesta Flag Paper Picks to decorate the mini-cupcakes and they were the perfect little touch.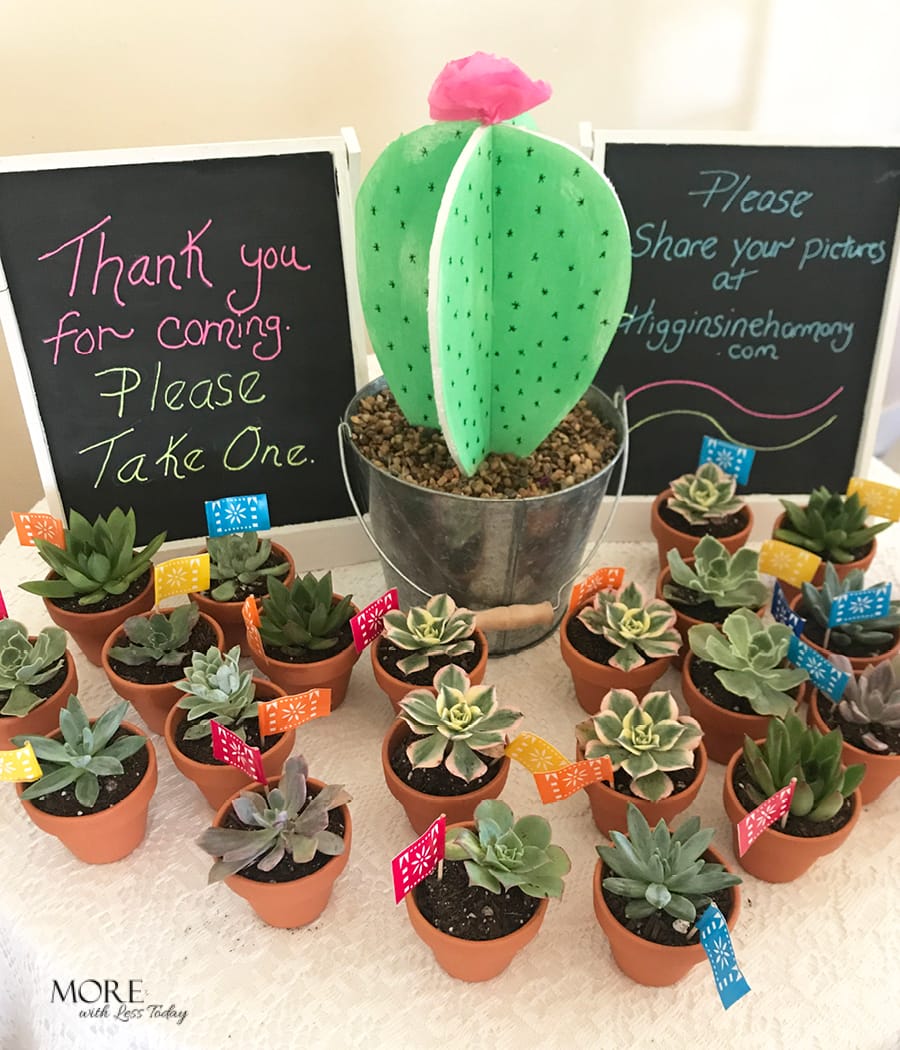 For guest favors, we put tiny succulents in terracotta pots and added more of the festive Fiesta Flag Paper Picks. These come 144 to a box so they will go a long way.
Thanks to Oriental Trading, this colorful Fiesta Themed Bridal Shower was one of the easiest parties I have ever hosted.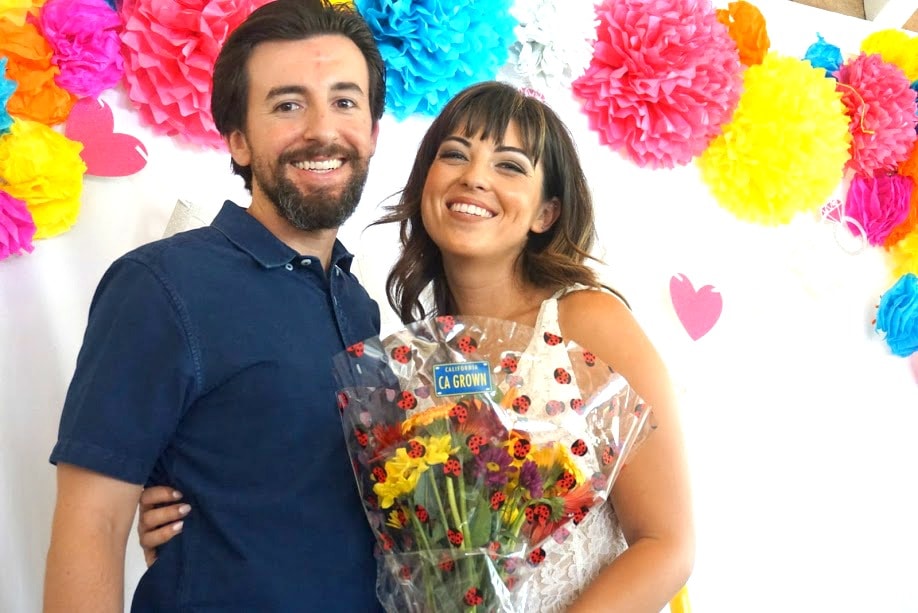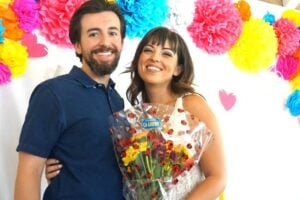 Send some warm wishes to the soon-to-be- newlyweds. Yes, they really are this happy!
If you have a party or special event, be sure and check Oriental Trading for everything you'll need. If you have not visited their website in some time, they deserve a fresh look. I am so impressed with their service, selection, and prices.