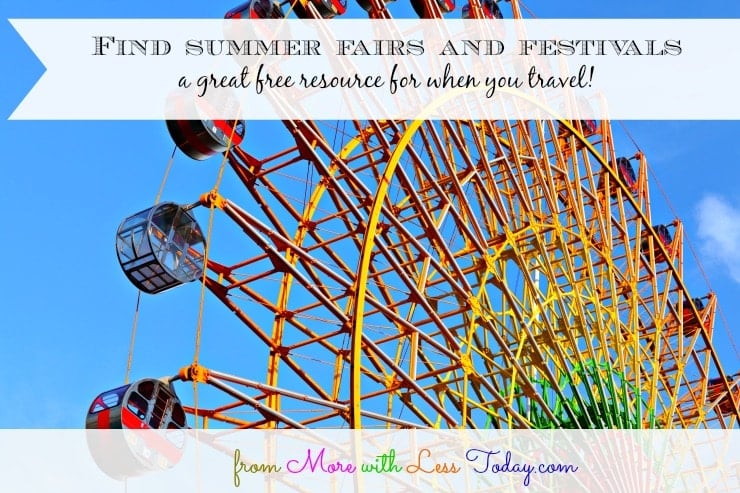 Planning a summer trip or staycation? Find summer fairs and festivals in your area – a free resource for staycations and car trips.
I found a fun, free website called Fairs and Festivals and they list summer fairs and festivals happening all across our 50 states. You can find state fairs, county fairs, car shows, food festivals, arts and crafts shows and even farmers markets.
Use the calendar feature on the home page of Fairs and Festivals to sort by date and location. This is a great tool to use when you are on vacation and looking for a fun activity that can be budget-friendly.
Here is a list of the some of the fun activities that they track:
Fairs including State – County – Community – Street and Arts and Crafts

Renaissance Faires

Irish, Scottish, Polish, Cinco de Mayo, Italian, Greek, Chinese Parades

Native American Festivals and Pow Wow's

Music Festivals including Folk – Pop – Country – Reggae – Blues – Indie – Classical – Jazz – Bluegrass and Christian Music

Antiques, Art and Crafts

Other Festivals including Wool and Fiber – Film – Dragon Boat – River, Lake and Ocean

Livestock including Chicken, Goats, Beef and Pork shows

Food Festivals INC. Orange, Chocolate, Apple, Strawberry, Peach, Cherry, Blueberry and Peanut

Beer, Wine, Bourbon BBQ's International Food, Ice Cream, Tomato

Heritage Fairs

Oktoberfest

Lobster, Crab, Shrimp and Other Seafood

Daffodil, Rose, and Flowers

Snow, Sand, Ice Art shows and Sculpture

Pride Parades

Kite, Air Shows, Hot Air Balloons Shows and Races

Bird watching and shows

4th July Parades

Horse Shows and Rodeo's

Boat, Car, Home, and Garden Shows

Spring, Summer, Fall and Winter Events

Frontier Days, Western days and Cowboy Events

Christmas, May Fairs, Harvest Events

Farm Shows, 4H Fairs, Antique Farm Equipment
PIN for Later!
You can PIN this blog post to your Pinterest page so can use it when you need it. Follow me on Pinterest here and I will follow you back. I love to see what my readers are pinning!
I'll be attending the Orange County, CA fair next week. Do you have a favorite local fair or festival to share?