This is a sponsored conversation written by me on behalf of The J.M. Smucker Company. The opinions and text are all mine. I'm partnering with Folgers® at Walmart through the Share A Cup & A Story campaign, to create personal connections with Veterans and honor their service to our country.
People are always surprised when they hear that I served in the Army. I was so young – just a month out of high school. When I left home for basic training, it was my first time on an airplane.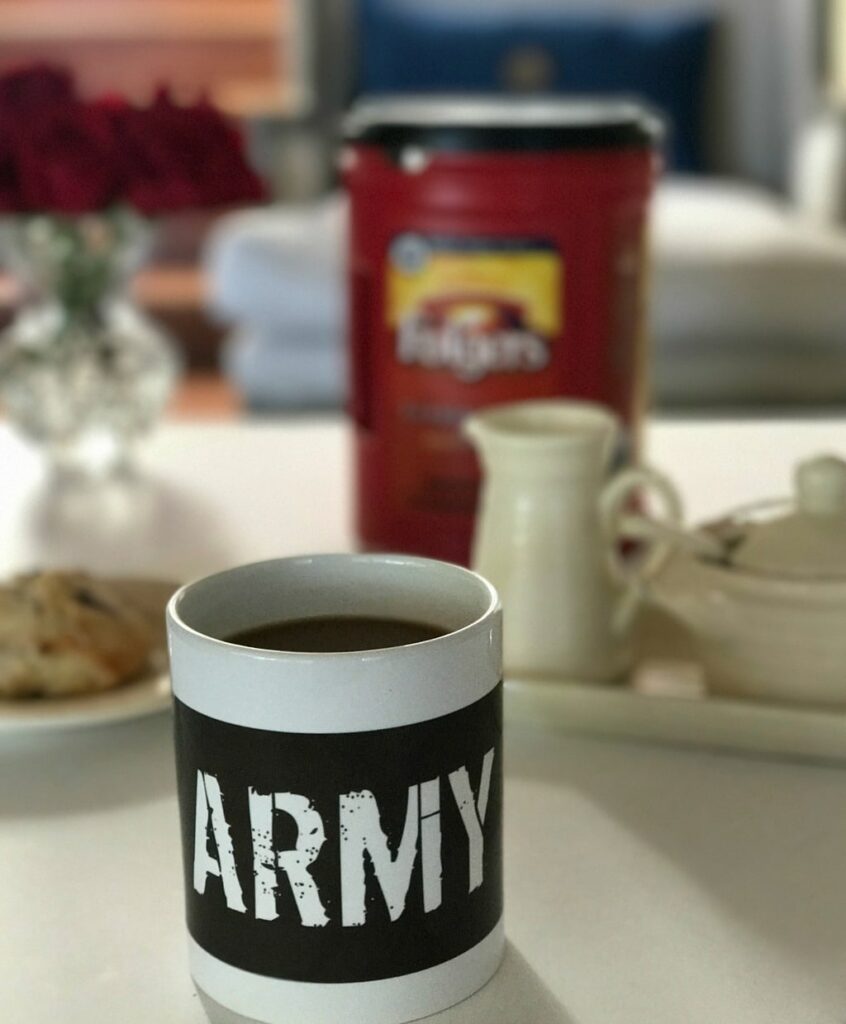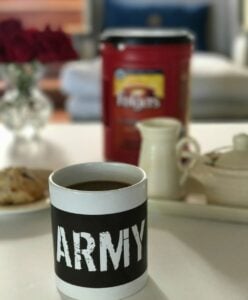 Little did I know at the time, those three years would continue to serve me. I still draw upon my experiences and remind myself that I am stronger than I think I am. I have a sign that I look at daily, and it simply says, "I can do hard things."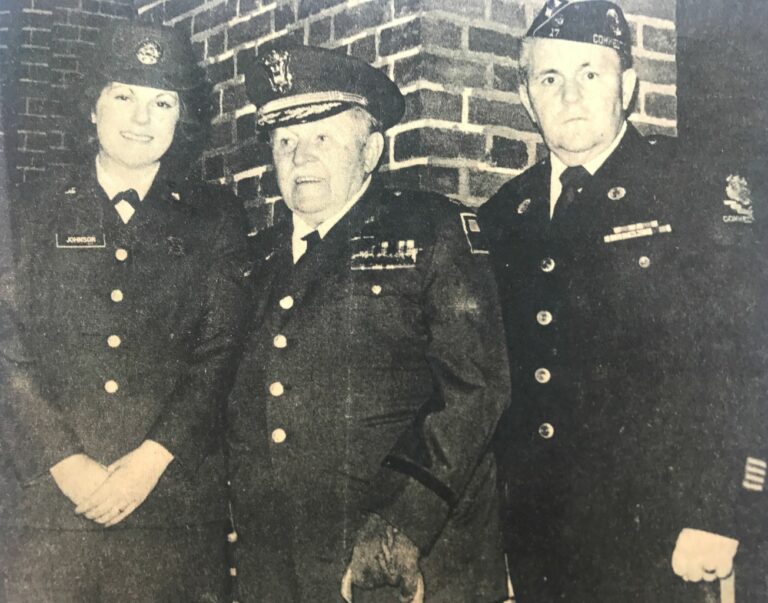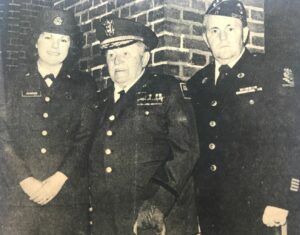 My paternal grandfather was a career Army officer. He served in both World War I and World War II. My dad was a World War II veteran who fought in the Battle of the Bulge and D-Day. Dad served the needs of veterans from the time he got home from the war until he died a few years ago. Everyone in my hometown affectionately called him "Uncle Sam." He was a lifetime member of the American Legion and part of his devotion to veterans was to organize a Veterans Day and Memorial Day parade each year. Over the decades, the Memorial Day parade grew in popularity and it became the largest one in New England.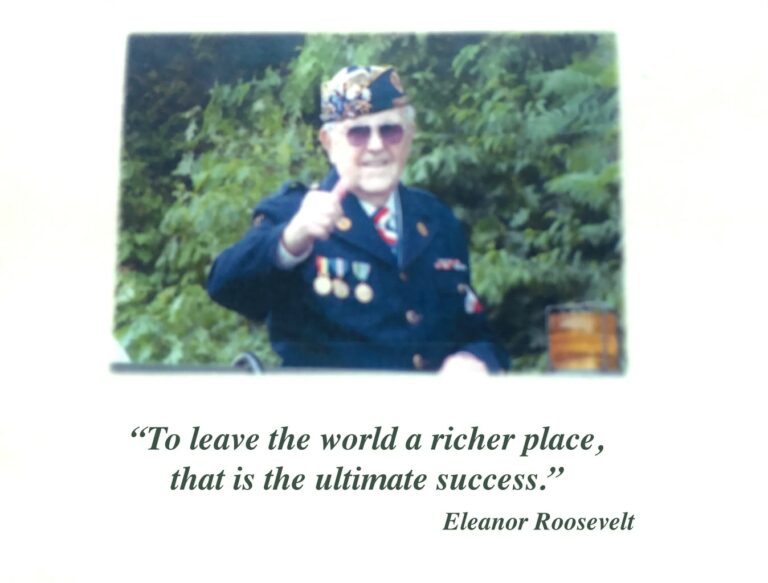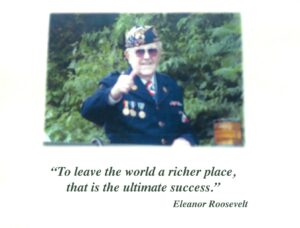 Veterans Day and Memorial Day were dad's special days. At the end of the parades, he would speak to the crowd and urge everyone to remember the sacrifices that our veterans, both past, and present have made and to teach our children that our freedom is not free.
One of most vivid memories from my childhood is going with my dad to place flags on the graves of veterans. I had the audacity to complain that I was tired and hot. Looking back, that was a setup. Dad was looking for a tangible way to talk to me about the real hardships of serving your country and what soldiers endure on our behalf.
I miss him so much but I've realized that my grief has kept me self-centered. Since his passing, it has been difficult for me to simply say "thank you for your service" when I see a veteran, let alone stop and chat with them. I get all choked up, and then I get embarrassed.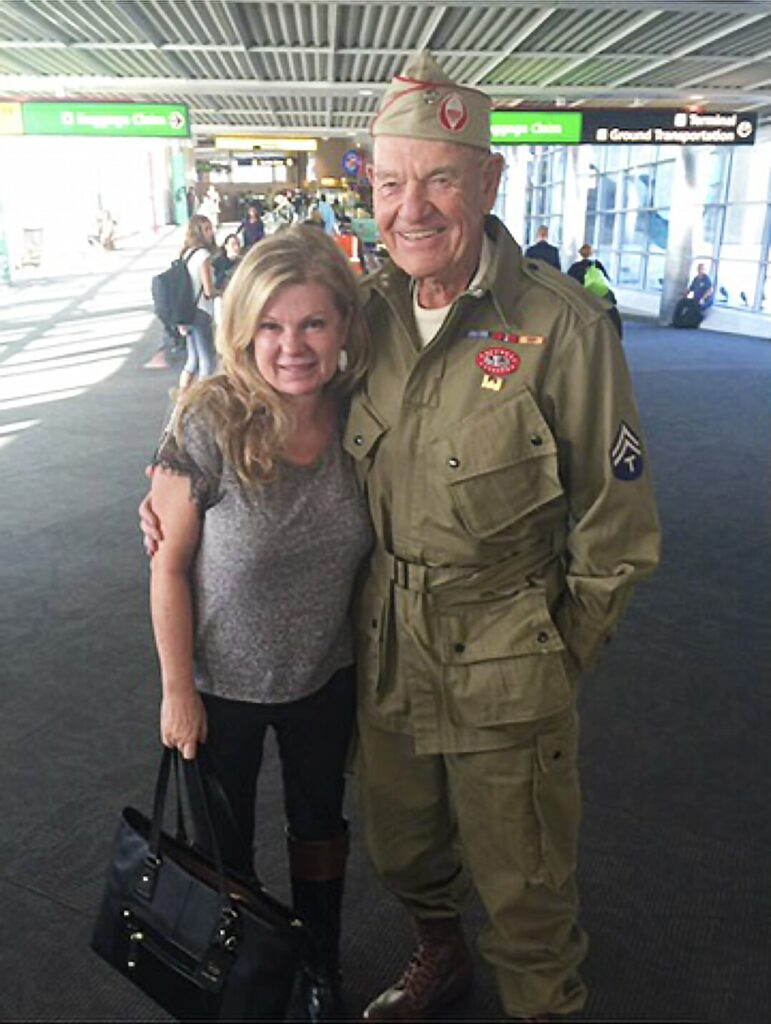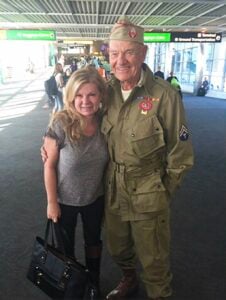 Last year, I was at the Baltimore airport on a layover. As I waited at my gate, I could hear loud cheering getting closer and closer. An Honor Flight of World War II veterans had just arrived. They were on their way to see the WWII Memorial in Washington, D.C. The entire terminal was clapping and standing as they walked by. Many were in walkers or wheelchairs. I'll never forget that moment. It was our greatest generation right in front of me. All I could do was clap and cry. When I look at this photo of me and one of these heroes, I can see the tears in my eyes. The lump in my throat was so big that I could barely speak. I knew in that moment that my dad would not have been satisfied with my lack of courage and that I needed to do better.
When I was given the opportunity to participate in the Share A Cup & A Story campaign with Folgers® coffee and Walmart, I knew it was time to think of others and not of myself, in the way that I was taught.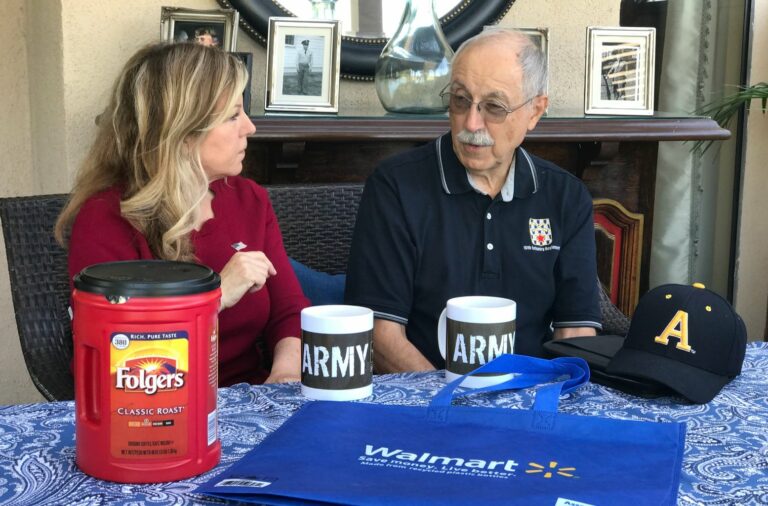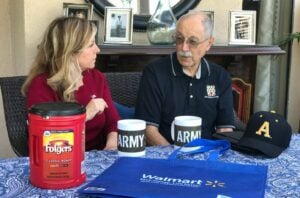 I've known my neighbor Paul for about 6 years. My husband Art is a Vietnam veteran and he and Paul have bonded over their mutual love for our country. Through their friendship, Art has shared some of Paul's background with me. I know that my dad and Paul would have also been fast friends. In my mind's eye, I can see them sharing stories and bonding over their common experiences. My fear of becoming too emotional and embarrassing myself has held me back from reaching out and getting to know my neighbor better.
With Veterans Day approaching and my dad on my mind, it was time to fight that inner battle and do one of those hard things that I have been avoiding. I invited Paul over for a cup of Folgers Classic Roast. We share a fence and as it turns out, we also share some common experiences as veterans.
.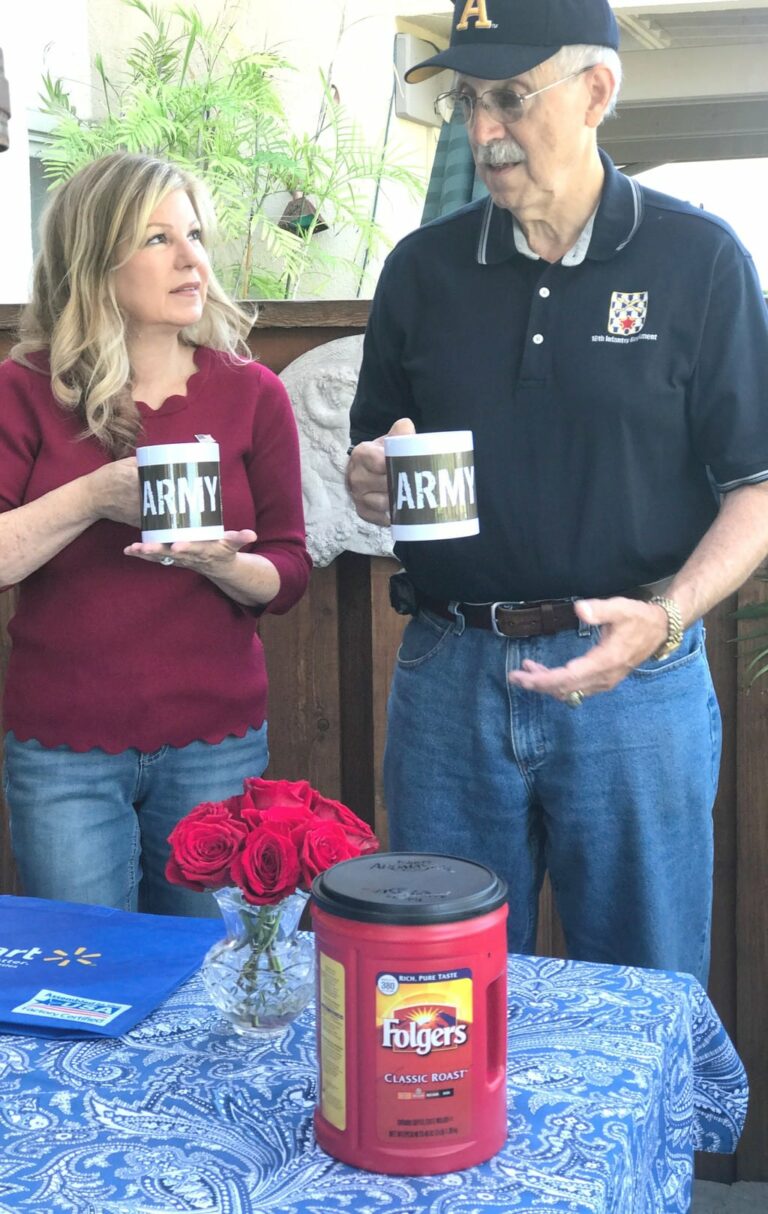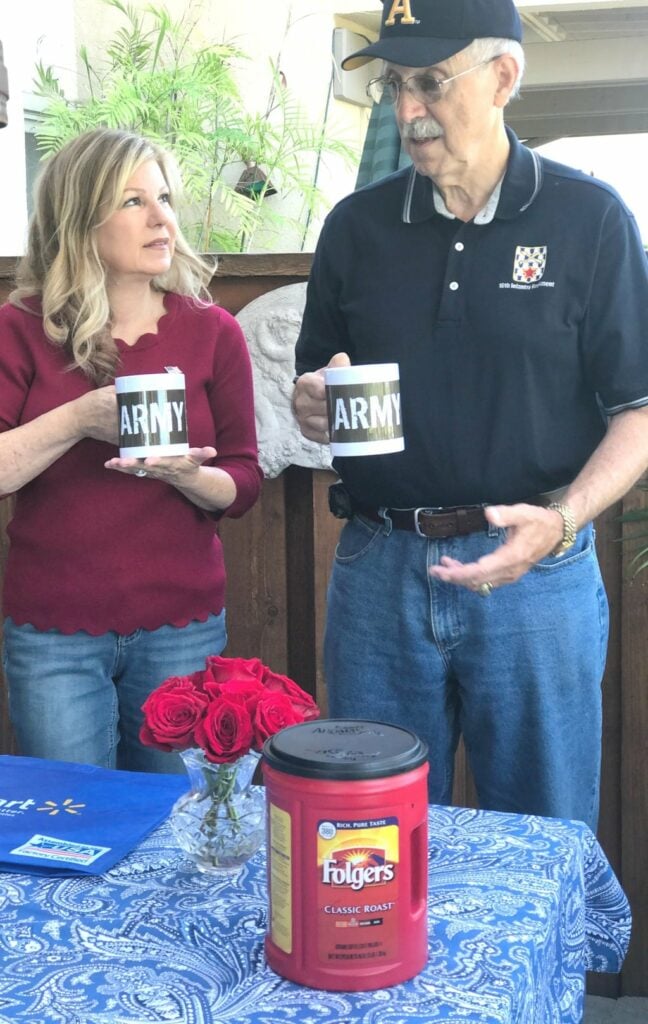 Paul is 71 years young. You can see his military bearing in his posture, speech, and manners. Those traits have remained strong and steadfast.
He is a decorated West Point graduate. I asked him about his military awards and he has 13 including the Legion of Merit. He served in Germany and Korea and several stateside posts during his 23 years of active service.
I learned that his father was a B-17 pilot in the Army Air Force (AAF) during World War II and that five of his uncles also served. It was one of the commonalities we discovered. I also had five uncles and one aunt (a nurse), who also served in World War II.
As a mother, I can only imagine the anguish of having your children serving in wartime with limited communication, praying and wondering if you will ever see them again. Sadly, one of Paul's uncles served in the Korean War and was classified as killed in action with his remains unknown only three days before the truce was signed to end that war. Those stories should never be forgotten.
Paul grew up on a small farm with no close neighbors or children. As a young boy, he remembers playing soldier by himself wearing his dad's uniforms. He also remembers watching the Army/ Navy Academy football games with his dad. That made me smile — that is another fond memory we shared. Going to West Point was his dream from the time he was a young man. I wonder how many other dreams were shaped for future Navy Midshipmen and Army Cadets while watching the pageantry and camaraderie on display at those classic football games.
As a commanding officer, he learned to set high standards both for himself and for those who served under him. He made a point to tell me that he treated his soldiers with respect and he led by example. Paul said he would study the characteristics of leaders, both good and bad. Imagining myself under his command, I'm speculating that he would have been tough but fair. His military training and discipline molded his character and has much to with his desire to continue to lead and instruct.
Although he is retired, he advises aspiring high school West Point cadet candidates. He administers physical fitness tests they must pass in order to qualify as future military leaders. Paul said the cost of a West Point education surpasses a half million dollars so there is no doubt that the screening process is extremely rigorous.
Before he visited, he took the time to write down his military history to help to jog his memory and then he put it in a special place at home so his children and grandchildren would have access to a written timeline of his military service. If you have an older veteran in your life, I encourage you to have them do the same.
As Paul and I got more comfortable chatting, we talked about another common memory. Serving in the military often comes with extreme loneliness, feeling forgotten, and longing for home.
Last year, I shared 20 ways to honor our veterans beyond Memorial Day and Veterans Day. Here are just a few ways to celebrate this Veterans Day in a meaningful way.
Reach out to a military family in your community
Extend a hand in friendship to a military family. Invite them over for a meal, bring them a meal or invite them out for dinner. Something as simple as running an errand or taking a walk together can forge a friendship. If Mom or Dad is deployed, there will be additional challenges for the spouse at home. Get to know them and find out what you can offer. Simple gestures such as clipping extra diaper coupons, cutting the grass or helping to put up Christmas lights can mean so much when you are alone.
Put it in writing
Write a letter of thanks to a military family, those currently in the service or a veteran through Operation Gratitude or amillionthanks.org.
Visit an older veteran or wounded vet
Contact a nursing home or a veterans hospital. A visit can brighten a day and help a veteran to know they are not forgotten. The Walter Reed National Military Center has a Facebook page that provides inspiration and ideas.
Foster a pet

The Guardian Angels for Soldiers Pets arranges foster care for the pets of the military when they are deployed, during basic training or if they are unable to care for them. Contact them if you are able to provide a temporary home for a beloved pet.
I'm feeling strengthened by the experience and the satisfaction that comes from doing the right thing. I've made a pledge to myself that I am going to honor my dad's memory by connecting with the veterans that cross my path. I'm going to continue to overcome my reluctance to be embarrassed should that lump in my throat and tear in my eye emerge. I'm guessing that they will. I've learned that grief is a lifelong journey and that we all have stories to tell.
This year for Veterans Day, why not pick up some Folgers coffee at Walmart and invite a veteran to share a cup of coffee and a story with you. Listening to their stories is a small yet powerful way to extend a hand in friendship and to honor their service to our country.
Do you know a veteran you'd like to learn more about?