I attended a media/blogger tour of Carmel and Hofsas House. Although my stay was included, all opinions are 100% mine.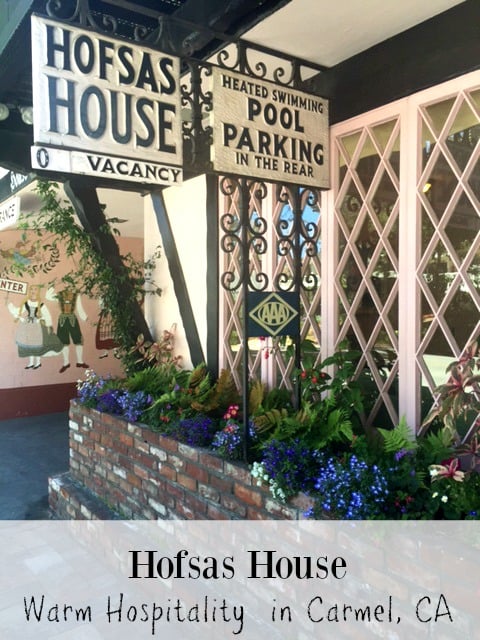 Years ago, my husband was in the Army and stationed at Fort Ord on the Monterey Peninsula in Northern California. He has often talked nostalgically about how beautiful the area was, but as a young GI on a very limited budget, he could never fully enjoy all that Carmel-by-the-sea has to offer.
Now that we are empty-nesters, we are making time for travel and to rediscover life after kids. We were very fortunate to take a road trip to Carmel where the Hofsas House European- style hotel was our home away from home for a few days.
The Hofsas House Hotel is nestled among shady pines with cool beach breezes, and invokes a small town familiarity. The hotel has been family owned by the Theis Family for 4 generations and for more than 69 years. You will find it between 3rd and 4th Ave. on San Carlos Street.
The hotel is a commanding Bavarian-style structure with many rooms having fanciful Dutch doors (open both/or top and bottom portions) to let in the cool breeze and very comfortable European style appointed rooms. Ours had an with ocean view, a wet bar, kitchenette and a fireplace. They offer 38 one-of-a-kind rooms and our room was romantic and spacious.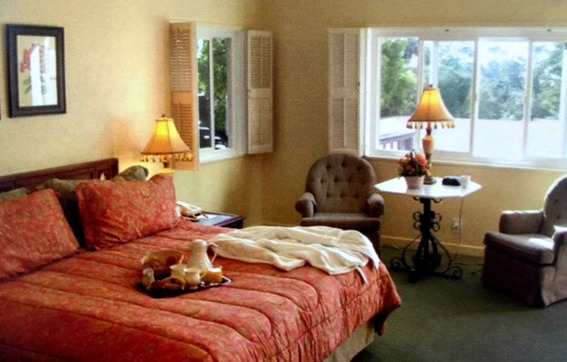 Hofsas House is one of the most dog- friendly hotels in a very dog friendly town. You will also enjoy a heated swimming pool, a European style dry sauna, and free WIFI with cable TV. Unlike "big city" hotels, there are no annoying add- on fees for parking or amenities.
Since we arrived in the evening, we were happy to have pre-ordered a robust Monterey wine and cheese pairing from the excellent Cheese Shop in Carmel. You can specify red or white when you arrange this at least package 48 hours before your stay for $30. We sat outside on the balcony, saw our first glimpse of the ocean and toasted to our good fortune.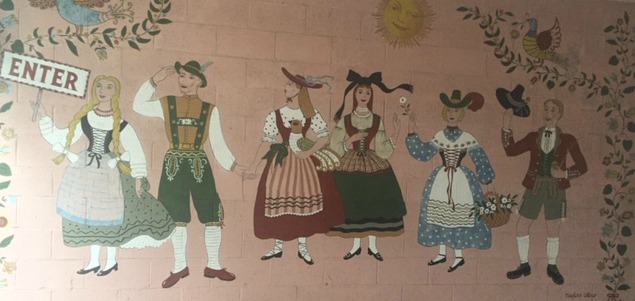 Before we set out the next morning to explore the Carmel village, we admired the beautiful welcoming mural which adorns the front of the hotel. It was painted by American artist Maxine Albro (her background is well worth a Google search), around 1957. The colorful Bavarian characters are a wonderful enhancement to the charming theme.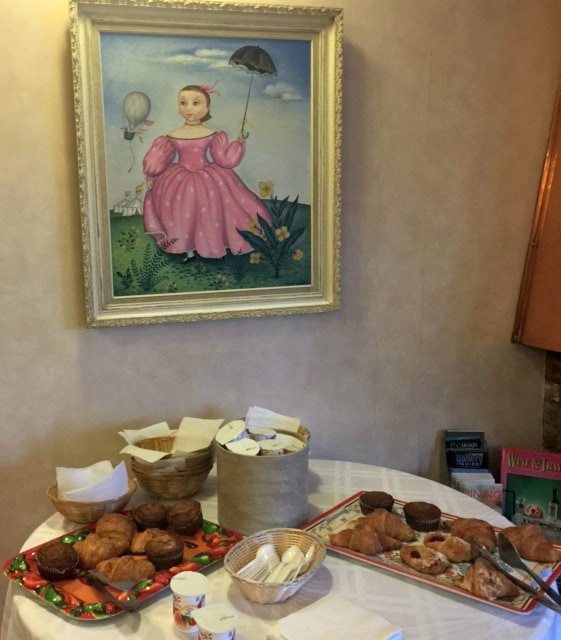 I enjoyed getting to know Carrie Theis (who is the general manager/owner of the hotel) in the comfortable lobby. Carrie is a wealth of knowledge about the hotel, and about Carmel and its history.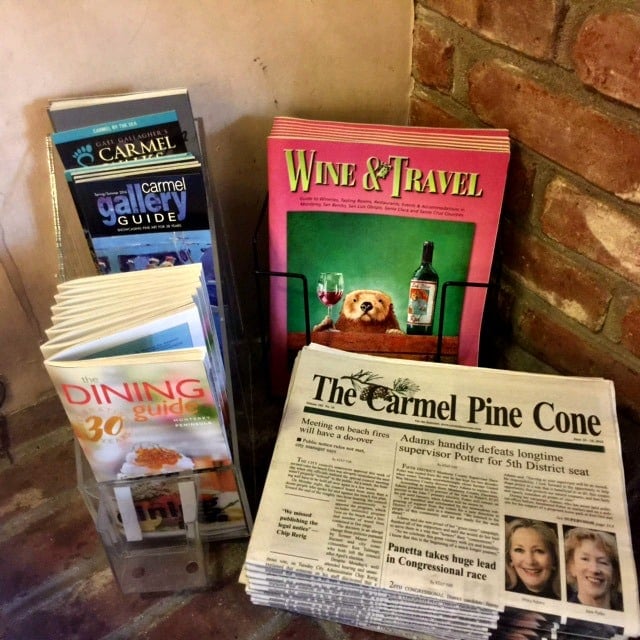 You will also find recommendations and maps to help you to plan your day plus you can enjoy a continental style breakfast each morning.
We enjoyed the Wine Walk by-the-Sea package where you can taste wines at 9 different Carmel tasting rooms with a Wine Tasting Passport. For $65, you get one $10 flight at each of the 9 different tasting rooms, (a $90 value). you can spread out your tastings over your visit and they never expire if you want to save some for your next visit.
The wine proprietors were so friendly and interesting and told us more stories about Carmel and educated us about the delicious wines they offered. You can purchase this package at Hofsas House after you check in.
Our next day was spent exploring some of the more than 80 art galleries that are just a short walk from the hotel. The "Get Artsy" package from Hofsas House offers the opportunity to meet local Carmel sculpture Steven Whyte, plus tour his studio. There are also Carmel Art Tours available at a nominal cost which can be arranged by the hotel staff or you can do what we did and just wander into those that looked interesting. It's a very pleasant way to spend an afternoon. Time seems to slow down in Carmel. It's the perfect place to unwind.
We stopped for lunch at the 5th Street Deli and heading over to the park across the street to enjoy their delicious picnic lunches that you can buy to go.
On our next visit, we would like to take the History Tour–a two hour guided tour past enchanting cottages, hidden courtyards, and award winning gardens. The cost is $25 per person and would be a wonderful way to get to know more about this charming community.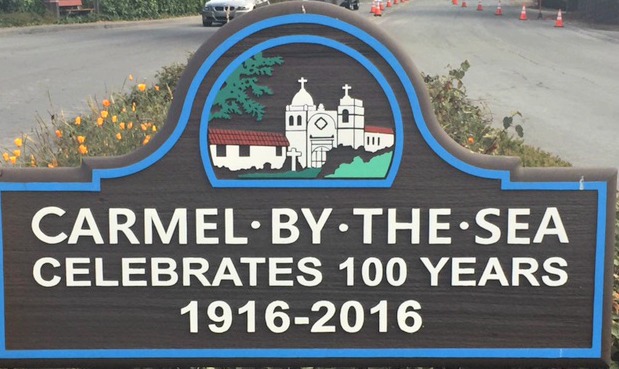 Carmel is celebrating their 100 birthday this year and special celebrations are planned all year long. It is the perfect place to reconnect and unplug. You will find specialty shops offering clothing, food and beverage, wine and cheese shops and so much more. You won't find chain stores or chain restaurants in Carmel, which adds to the feeling of being in a European small town.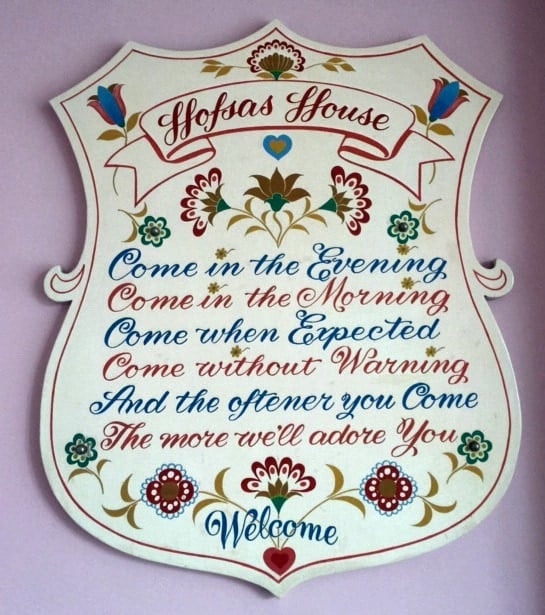 From the moment we arrived until we sadly had to depart, our hosts At Hofsas House made us feel as if were in our own home. We cannot wait to return to this special place. Learn more on the Hofsas House website and follow them on their Facebook and Twitter pages.