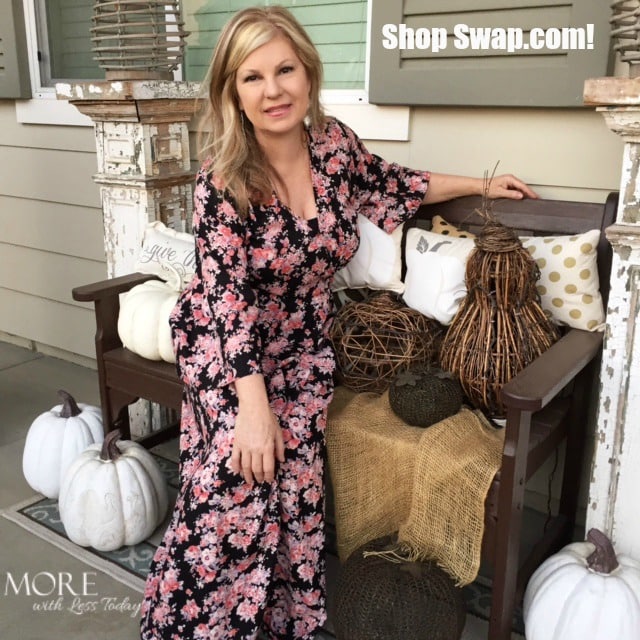 Why I love Shopping at Swap.com
I love shopping online, and I love shopping at thrift stores but I have fallen in love with Swap.com. This online consignment shop has everything I could need and more. I know my prices and my brands and these are from 50 – 90% off retail. Not only can I find inexpensive great quality clothing for everyone in my family from their huge inventory, but I can sell old clothes and items we don't use anymore. If you haven't tried Swap.com, read on to find out why you should!
I'm a frugal girl and I'm guessing that if you are a regular reader, you are too! I like nice things are every once in awhile, I crave some "retail therapy", aka new clothes.
I really wanted a Prairie-style long dress. They are so in right now, but like most trends will be out of style in a flash. I am not a big fan of going to the mall anymore, I don't know about you. I did go to look at the prairie dresses in a few stores but I did not want to spend a lot on something so trendy. I found exactly what I wanted at Swap.com and can I tell you how much I paid? $12.00. You heard that right. Score!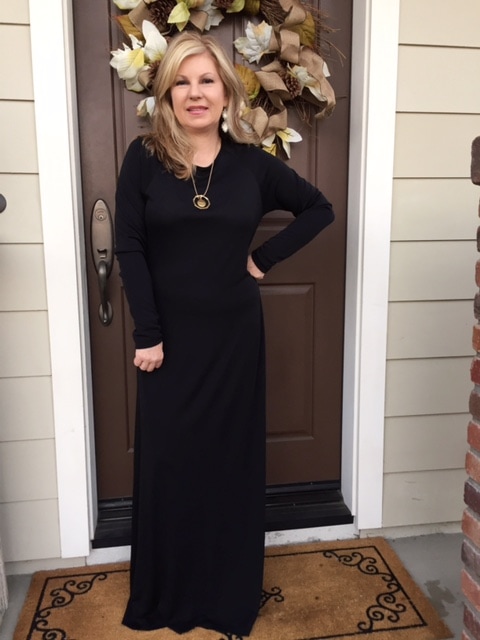 I also bought this Ralph Lauren long black dress that is timeless. I can dress it up or down and add a belt and other accessories and I paid $10.00 for it. The fabric is luxurious and the dress is so comfortable. Yes, I have a new source for deals and I'm super excited to share it with you.
I also added a black top with bell sleeves because you can never have too many black tops, right? I paid $8 for the top. So for $30, I updated my wardrobe with 3 new items that I love! I can shop as often as I want to without busting the budget and I can do it on my own time.
When I visited Swap.com, I added items to my cart as I saw things I liked and then when it was time to purchase, a day or so later, I went back and made some edits to stay on a budget. But I know I'll be back! Like with any great consignment store or thrift store, if you spot something you love, you better grab it because it may not be there when you go back for it. I've learned my lesson with this one!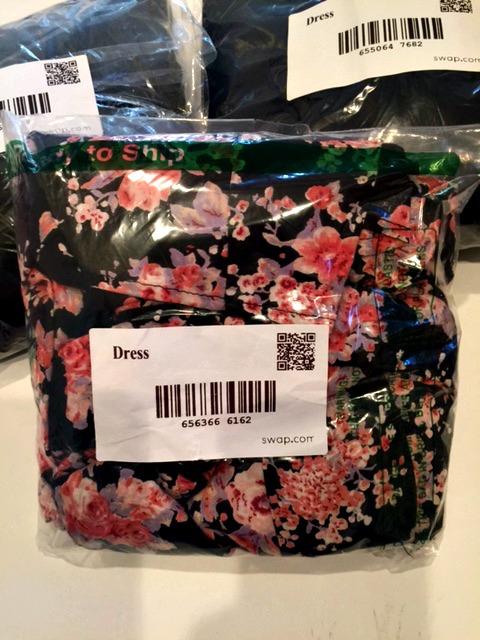 Each of my pieces arrived wrapped in its own package within the shipment.
Thrift Store Deals, But These Are Easier to Find!
Filter by type of clothing, size, season, colors, condition, price and more. Be sure and visit their Clearance Corner for more deals and markdowns. If you have a favorite brand, just type that into the search bar. That is how I found my beautiful Ralph Lauren dress!

Swap.com has more than clothes
Kids love getting new toys, movies, and books. They don't care if they are new- just new to them. With Swap.com, you can find inexpensive toys and games all year long. Simply search by age, brand, or what your child wants. Here are some of the top picks:
Leapster games: These start at just $5 and are great learning games for kids.
Speed Boat Plaster Molds: Kids can create and decorate their own speed boats.
Wooden Play Railway Set: Trains are a timeless toy that kids of all ages enjoy.
They have a Great Selection of Movies and Books
When it comes to spending quality time with those you love, buying movies and books at retail price can get pricey. Swap.com has hundreds of movies and books you and your family can choose from. With the holidays coming, find some great movies and books you can enjoy together.
You Can Find Clothes for the Whole Family
With top brands and many options for kids, babies, men, women, and even maternity clothes, Swap.com makes it easy to do your shopping all in one place.
The Prices Are Very Affordable
We all know how fast kids grow. Swap.com is the perfect solution, especially in the middle of the school year when they are already outgrowing the back to school clothes bought just a few months ago. If you know someone who needs maternity clothes, be sure and tell them about Swap.com. It's ridiculous how expensive maternity clothes can be.
Selling Your Old Stuff is Easy (Make some Christmas cash!)
You can send your old stuff to Swap.com and average about $150 a box! Here's what you need to do:
Order a pre-paid shipping label. Send your items in a box to Swap.com
com will review the items and store them at their fulfillment center.
You will get an email when the items you sent in are available for review and pricing.
Wait for your items to sell and get paid.
From the Swap.com website – " Our sellers, on average, earn about $150 per box they sell on Swap.com when sending in-season high-quality items. See how much you can earn today!"
About Swap.com
Swap.com is the fastest-growing online consignment store in the United States. With over 1,000,000 unique items, they offer the largest selection of pre-owned baby, kid's, maternity, women's and men's apparel and accessories. They are located in the Chicago suburb of Bolingbrook, IL and are the US subsidiary of Netcycler.
Have you ever shopped at an online consignment store? I would love to hear about your experience in the comments below!
This post is sponsored by Swap.com. As always, all opinions are 100% mine.