Looking for easy stocking stuffer gifts that won't bust the budget? We put together a holiday gift guide full of stocking stuffer gifts under $10. All prices and availability were verified at the time of posting but we all know prices can go up and down quickly and availability changes, especially at this time of year so double check before you make a purchase.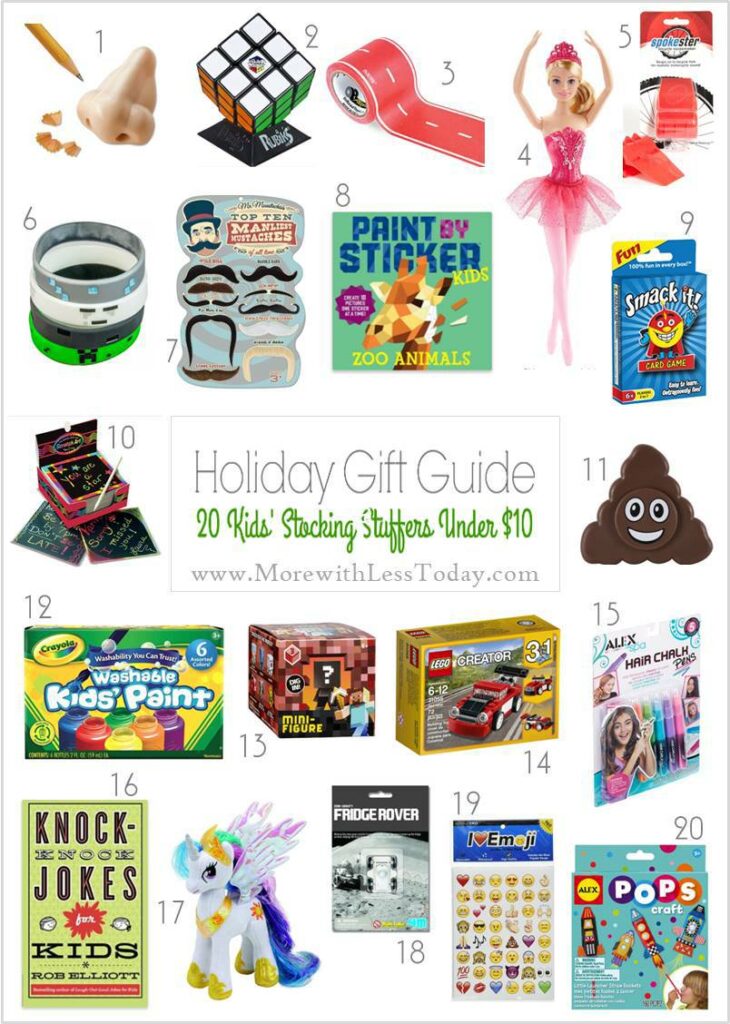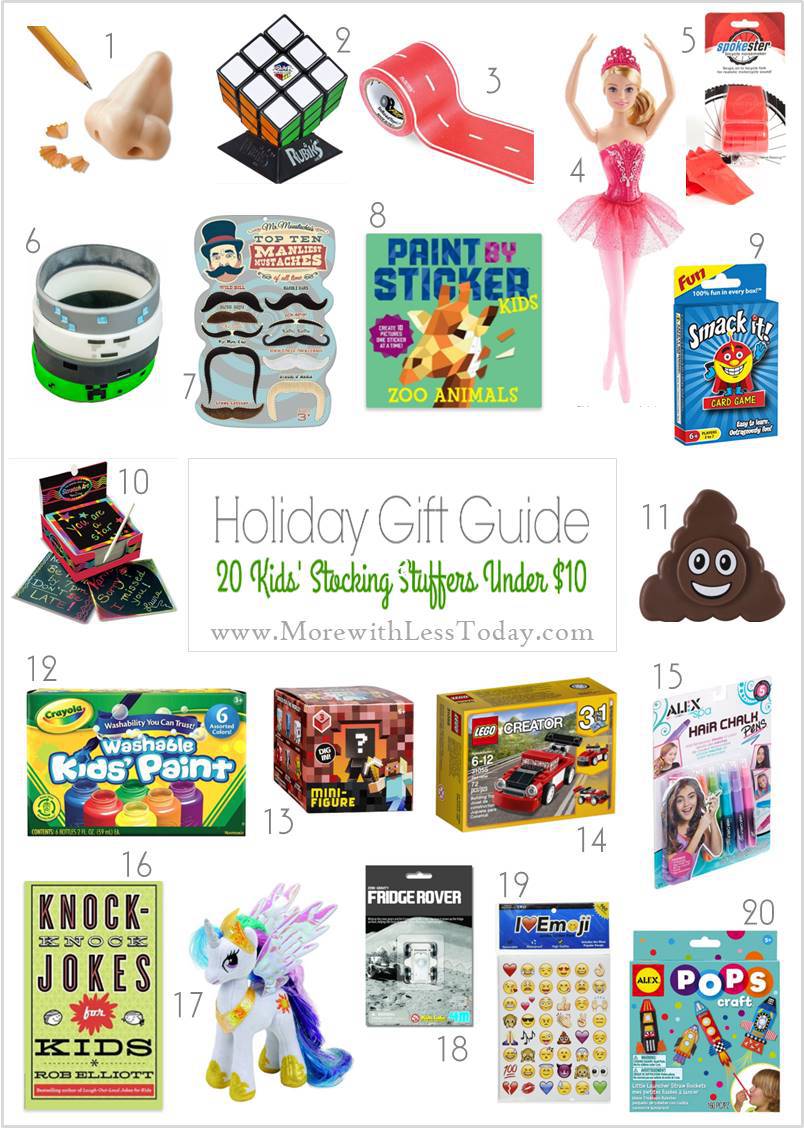 We have affiliate relationships and may receive a small commission at no additional cost to you if you make a purchase. All of these stocking stuffer gifts are available at Amazon so shipping should be quick but time is short so be sure to check delivery times.
Stocking Stuffer Gifts Under $10 (a few choices are under $20 today as the prices go up and down often. You can double check all available options when you click over to Amazon before making a selection.
Nose sharpener measures 2.5″ high x 1.75″ wide x 1.5″ deep.

Made of plastic.

Great gag stocking stuffer.
TWIST, TURN, AND ROTATE: The Rubik's Cube has many combinations, but only one solution

CHALLENGE YOUR MIND: Twist the Rubik's pieces to solve the puzzle

SOLVE THE PUZZLE: There are many combinations, but only one solution

FRUSTRATION FREE: Ships in easy-to-open, recyclable frustration-free packaging

INCLUDES: 1 Rubik's Cube and display stand

FOR AGES 8 AND UP
THE REAL THING | PlayTape is the original road tape. Unlike imitation products, PlayTape is 100% made in the USA, non-toxic, and third-party tested to meet all U.S. and international child safety standards. It's safe for your floors and walls too! Our 4" roads and curves are exactly scaled to match the most popular toy cars and trucks on the market like Hot Wheels and Matchbox. Get the original road tape – PlayTape!
Barbie Fairytale Ballerina Doll, Pink
This Barbie doll is dressed to dance the day away in a stage-ready ballerina costume

She wears an attached bodice with delicate detail and a removable tutu in a sheer pink

A matching removable tiara and attached toe shoes (with detailed and painted tights) complete the prima ballerina look

Collect all of the Barbie fairytale dolls for endless storytelling fun (each sold separately, subject to availability)

Enjoy traditional dance play or choreograph new adventures for this ballerina doll
Bicycle accessory for kids that adds realistic motorcycle exhaust sound

New design snaps more easily by hand onto front bike fork, no tools required

Durable plastic lasts for hundreds of miles, much more than baseball cards and clothespins

One size fits most children's bikes, BMX bikes, and mountain bikes – not for oval or tapered bike forks

Makes a great boys and girls stocking stuffer
Pixellated Video Game Style Silicone Wristbands – 8 Pack Party Favor Set (2 of each design)
Mr. Moustachio's Top 10 Manliest Mustaches of All Time Assortment, Black, One-Size
10 high-quality stick-on mustaches for kids and adults

2-5 inches in length, fully-sized for adult faces

Each assortment contains one of the following styles: Wild Bill, Crumb Catcher, Fu-Man-Chu, Handle Bars, Rich Uncle Nicklebags, The Dali, Con Artist, Disco Dave, Rollin' Rollie and Stache O' Mania

Easily applied and removed

Perfect for gifts, parties, stocking stuffers and impromptu disguises

Paint by Sticker Kids: Zoo Animals: Create 10 Pictures One Sticker at a Time!
Find the sticker, peel the sticker, place the sticker. And sticker by sticker, a koala appears! Or an elephant, frog, red panda, puffin, peacock, snake, giraffe, tiger, or gorilla. (And no mess to clean up!)
Get ready for some fast-paced, rowdy FUN. Smack it! is a fun and exciting NEW twist on the classic kid's card games Slap Jack and War. (Two fun card games for kids everyone loves to play).
Kangaroo's Emoji Fidget Spinner
The kids favorite of all Emoji party supplies and Emoji party favors
Crayola Washable Kids Paint, Classic Colors, 6 Count
6 Classic Crayola Paints: Red, Orange, Yellow, Green, Blue, and Violet.
Minecraft Collectible Figure Mystery Blind Box (Styles May Vary)
Includes 1 miniature figure; colors and decorations may vary
LEGO Creator Red Racer 31055 Building Kit
Features a sporty design with rear engine, round headlights, and an adjustable rear spoiler
3-in-1 model: rebuilds into a Tow Truck or a Race Car with an easy three-part modular design for quick model reconfiguration
5 assorted colors of hair chalk pens
Go from plain to punk in minutes
Mess-free pens glide smoothly onto dry hair and wash out with shampoo
Includes Hair chalk pens in pink, orange, green, blue and purple, a comb and easy instructions. Recommended for ages 8+.
Kids can't get enough of laughter–so they can't get enough of Rob Elliot's hilarious joke books! Knock-Knock Jokes for Kids is an all-new collection of knock-knock jokes that will have kids and kids-at-heart rolling in the aisles.
TY My Little Pony Soft Toy Ty41182 Princess Celestia 20cm
Look for the familiar heart-shaped tag that means you've purchased an authentic Ty product.

The gravity-defying Fridge Rover will move over any magnetic surface. All you have to do is wind it up and watch it go.
Emoji Jumbo Stickers | 960 Most Popular Emoticons | Larger In Size | Cool, Educational and Fun
ALEX Toys POPS Craft Little Launcher Straw Rockets
Includes 4 plastic bendy straws, 4 paper punch outs, 152 stickers and easy instructions.
Do you have any Stocking Stuffer Gifts Under $10 to share with us?