Traveling to Omaha? I recently visited as a guest of Omaha Steaks as an ambassador and was also hosted by Visit Omaha.
I want to share some of the highlights of my trip to this vibrant and exciting city. Did you know that Omaha is a foodie's paradise?
Being from Los Angeles, I could not believe the convenience of the Omaha Airport (OMA). It is less than 5 miles from the downtown convention district. Once I landed and got my luggage, I was at my hotel in about 15 minutes, which is unheard of around here. The lack of traffic and the ease of getting around town was shocking to this California girl, but I digress.
Let's talk about Omaha
Omaha is home to the fifth-generation family-owned Omaha Steaks as well as several fortune 500 companies including Warren Buffet's Berkshire Hathaway. The population of the metro area is just under 1 million people. Although there are big city attractions, Omaha has a small town friendly midwest vibe.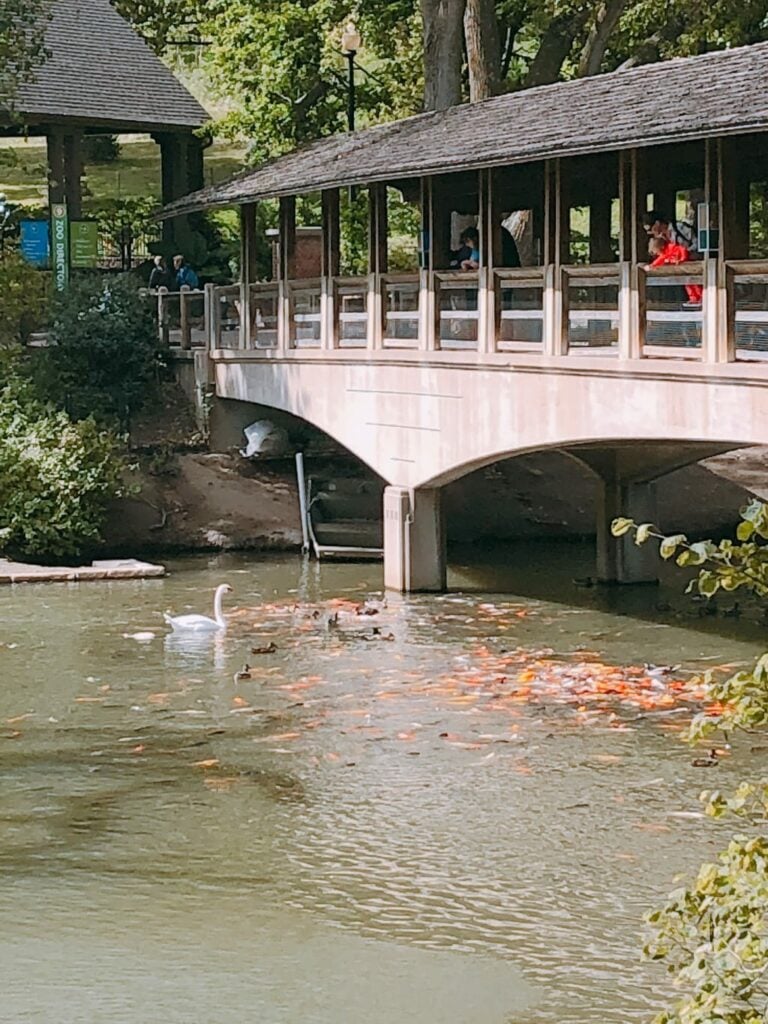 If you visit Omaha, you must allow time for a visit to their zoo. The Henry Doorly Zoo and Aquarium is world-renown and many consider it to be the best zoo in the United States. I was particularly impressed to learn about their conservation efforts across the world.
The zoo is family-friendly and well laid out. I am told by locals that the annual pass is well worth the price. They are continually upgrading and adding new exhibits. You will enjoy the world's largest indoor desert and nocturnal exhibits along with one of North America's largest indoor rainforests. Other recommended exhibits include the Scott Aquarium, Hubbard Orangutan Forest, Gorilla Valley, the butterfly and insect pavilion and the Skyfari aerial tram that gives guests an aerial view of the 160 acres of plants, animals, and habitats.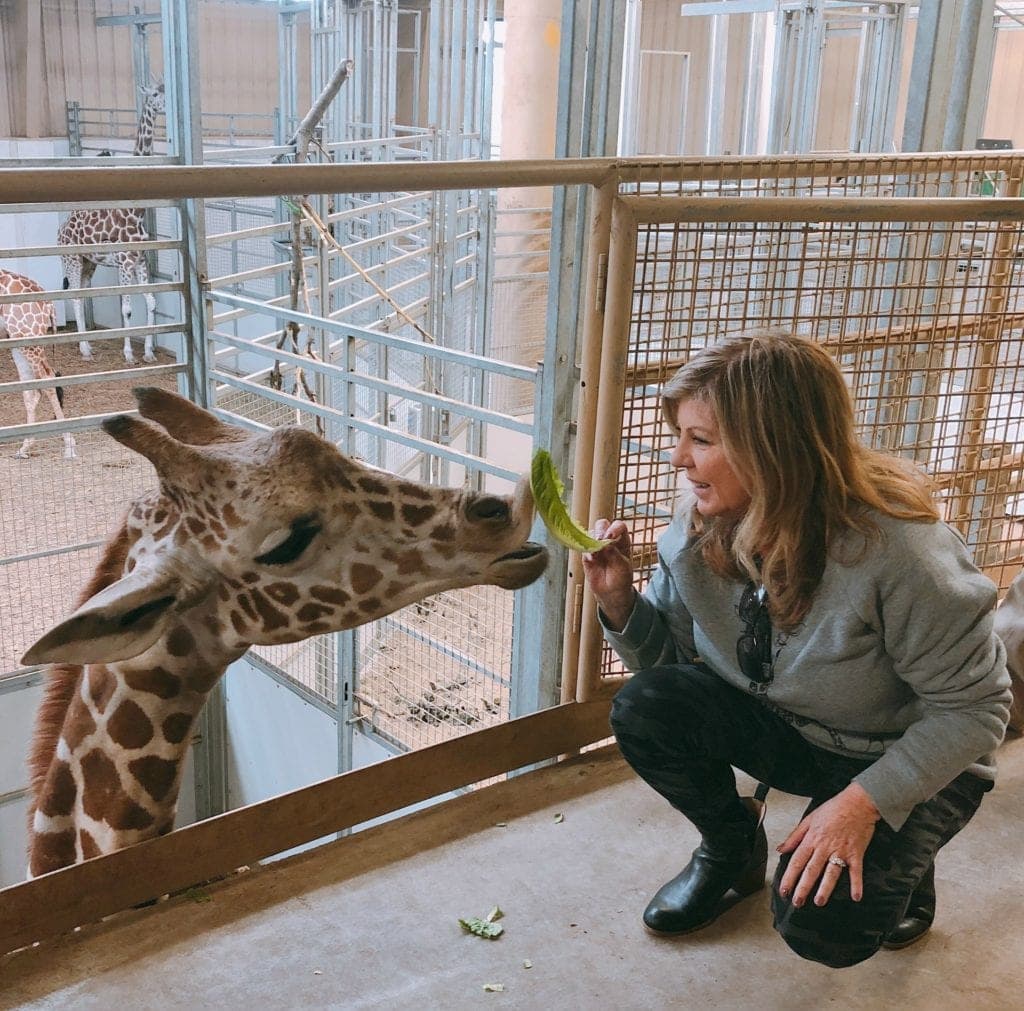 I fed Malcolm the giraffe and I will never forget this up close and personal encounter with this magnificent animal. It was thrilling!
The Bob Kerry Pedestrian Bridge

His friends call him Bob and he is kind of a big deal in town. The Bob Kerry Pedestrian Bridge is a one-of-a-kind suspension bridge connecting Nebraska and Iowa. Take a stroll across the 3,000-foot pathway above the Missouri River and you will get beautiful views of the city. You must take a photo with one foot in Nebraska and one foot in Iowa and share it on Twitter @BobTBridge.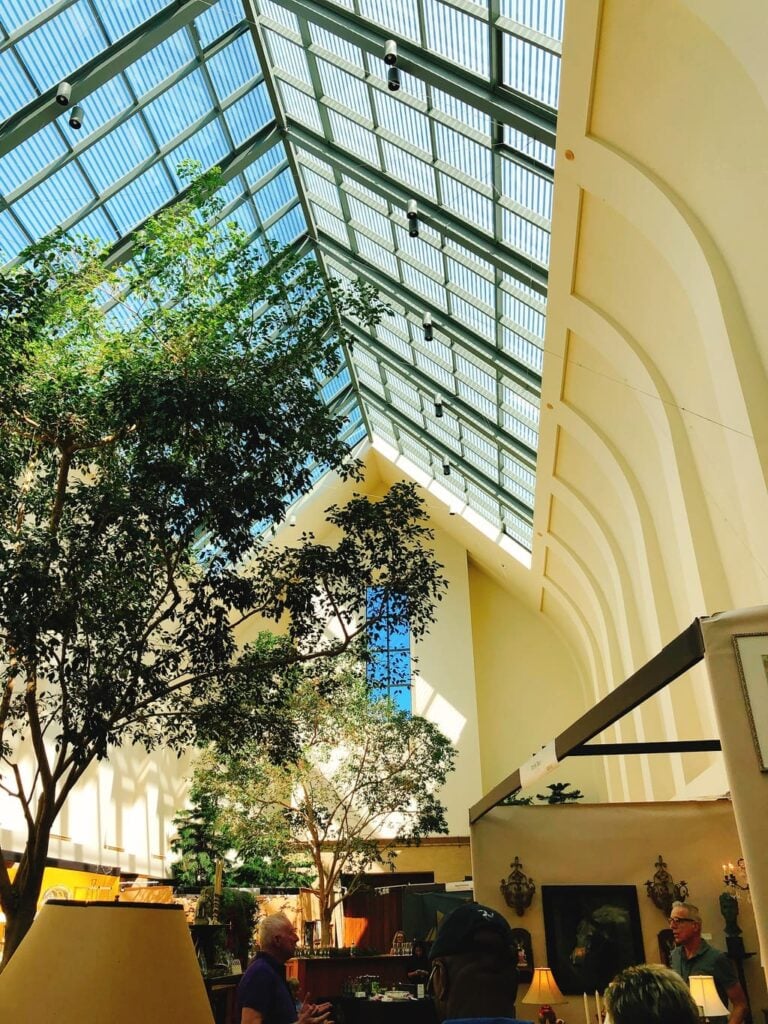 Enjoy a tranquil visit to these lovely botanical gardens and an urban oasis in the heart of the city. You can explore their beautiful plant displays including a rose garden, herb garden, model train area, and more. There are 100 acres to explore by foot or by tram.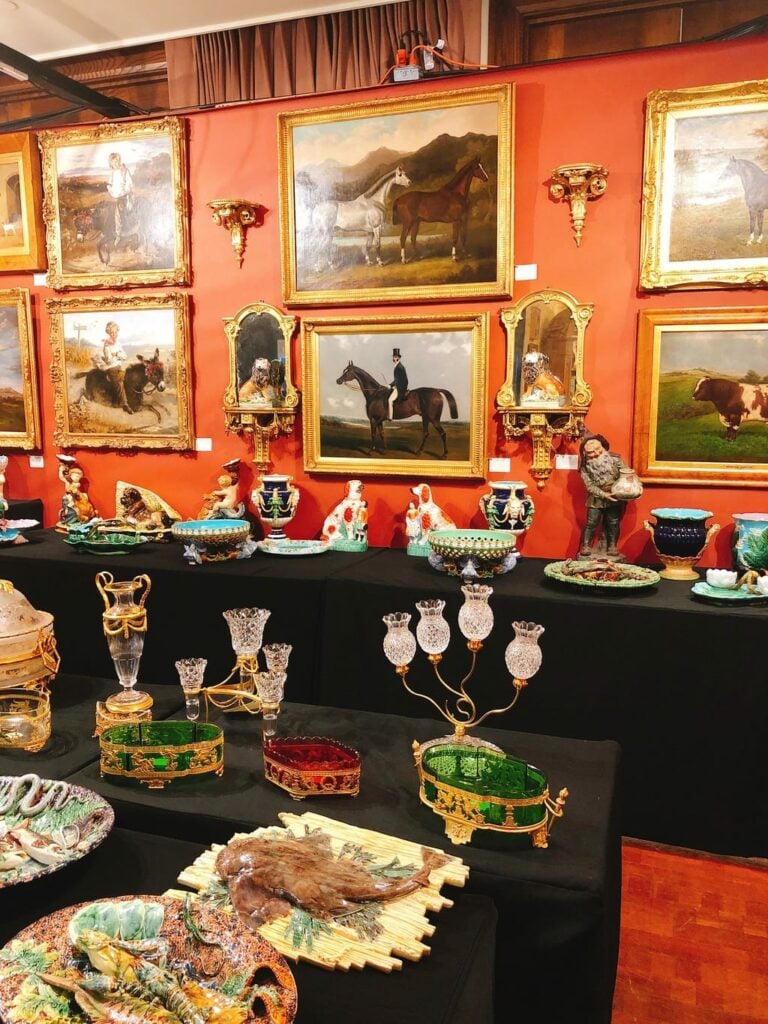 They frequently have special activities including their world-renown annual antique show. I was delighted to attend as a guest of Omaha Steaks, one of the event sponsors. The show features one-of-a-kind collections from antique dealers from all over the world. If you love antiques as I do, this will be a highlight for you.
Old Market Entertainment District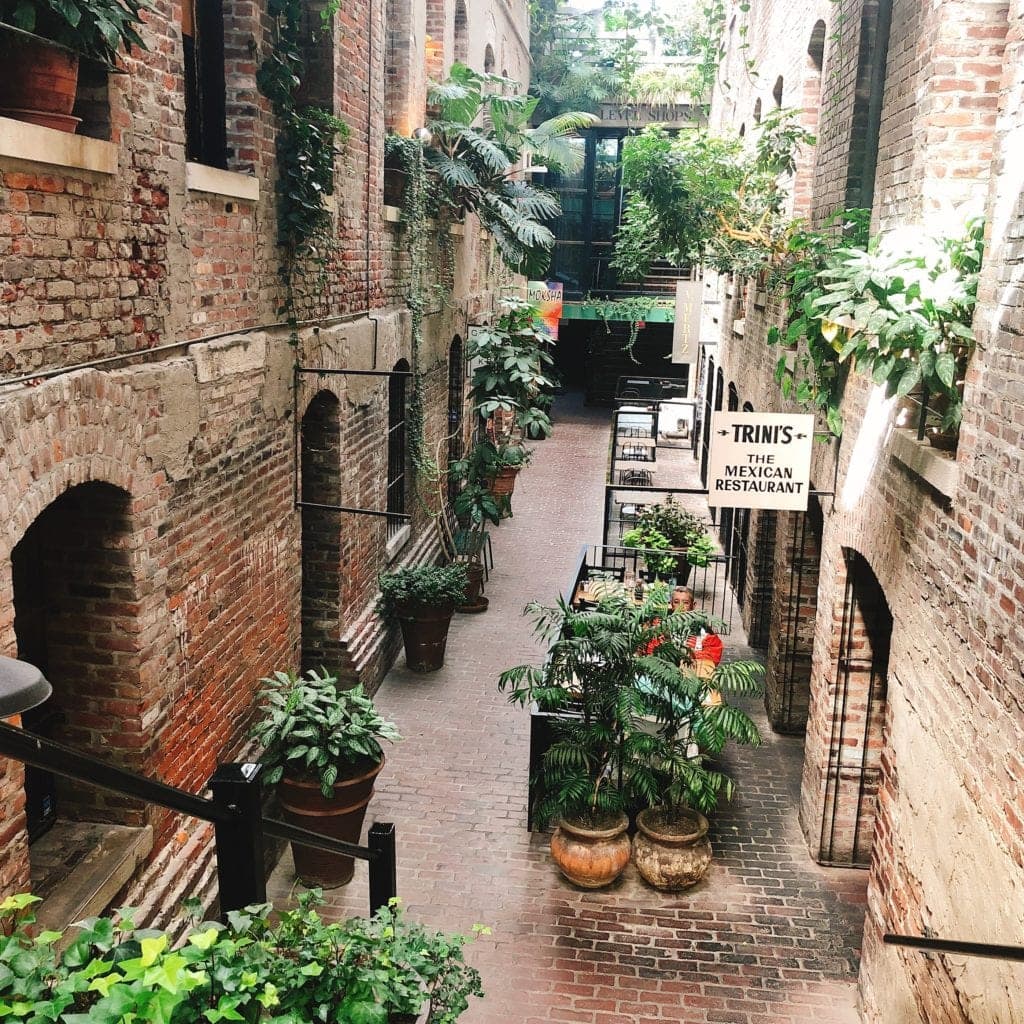 The cobblestone streets of this walkable area are lined with locally owned restaurants, boutiques, coffee shops, pubs and taverns, street entertainers, horse-drawn carriage rides and more.
It stretches across several blocks and is full of life during the day and in the evening. I was told that it is especially charming during the holidays with white twinkling lights and festive decor.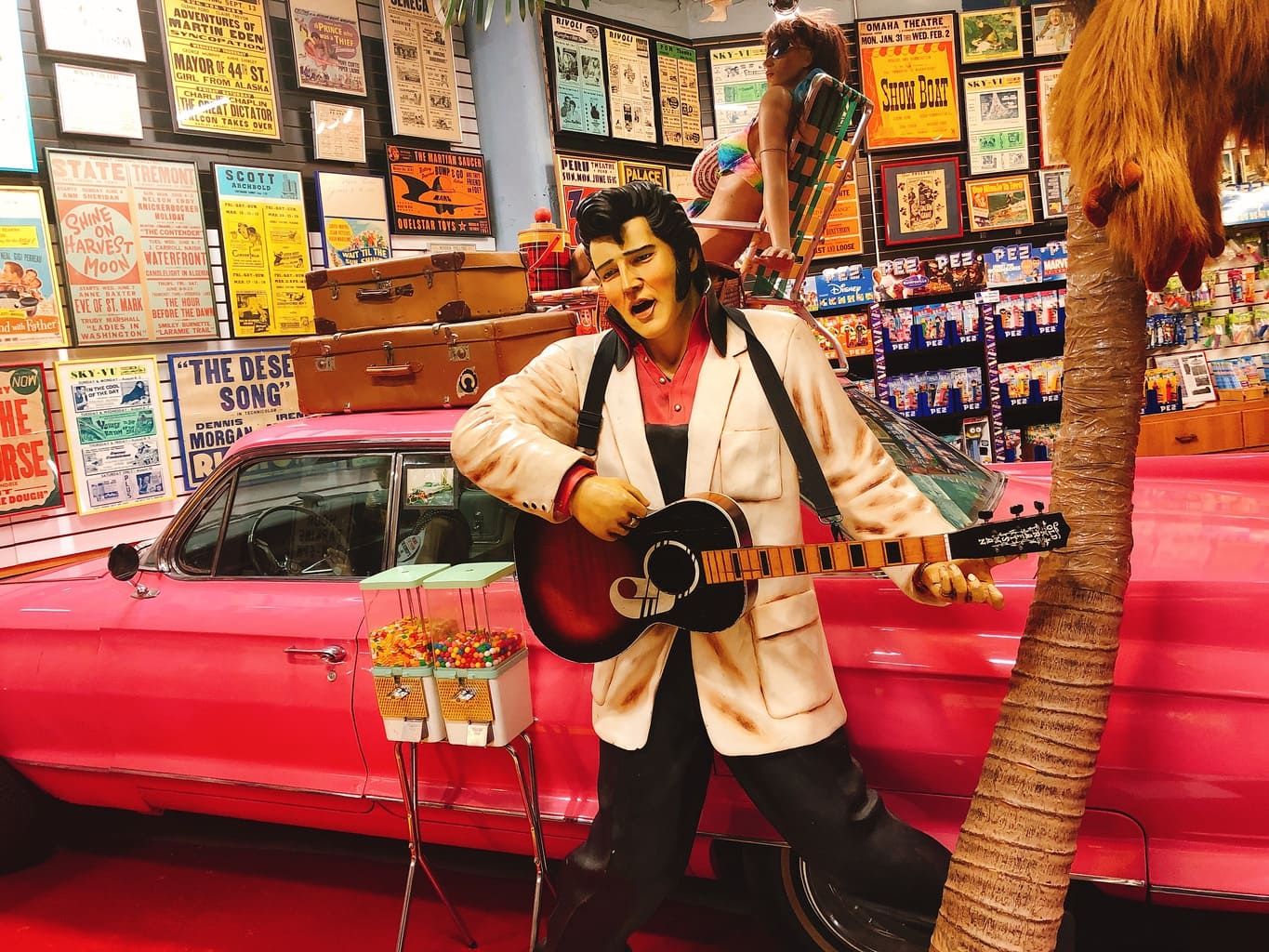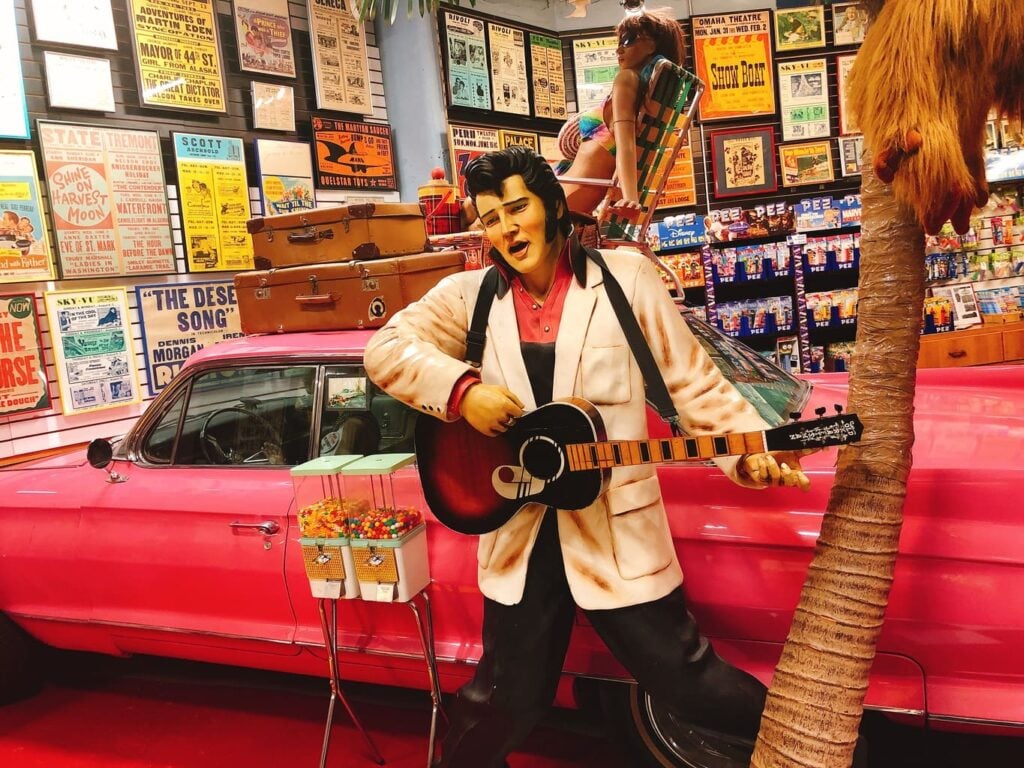 This is part candy store and part museum. You will find, an old-fashioned soda fountain, movie-theater, and all your favorite childhood games and toys displayed. This is a fun stop on your Omaha tour for kids of all ages.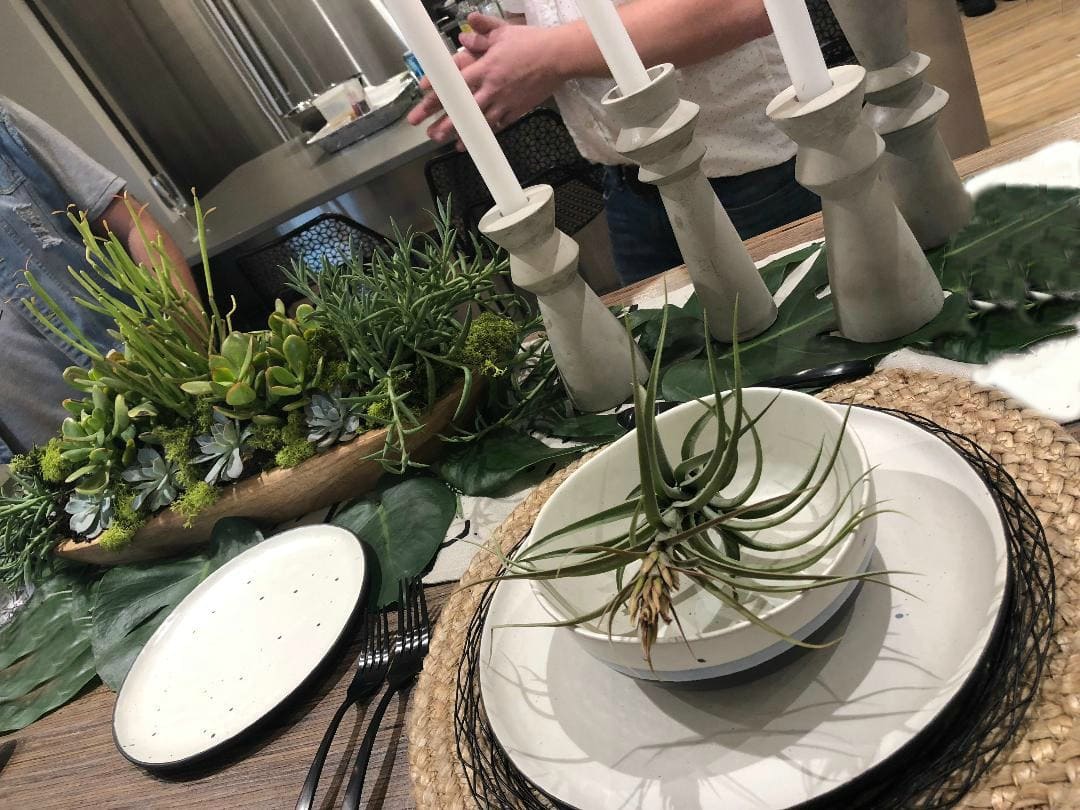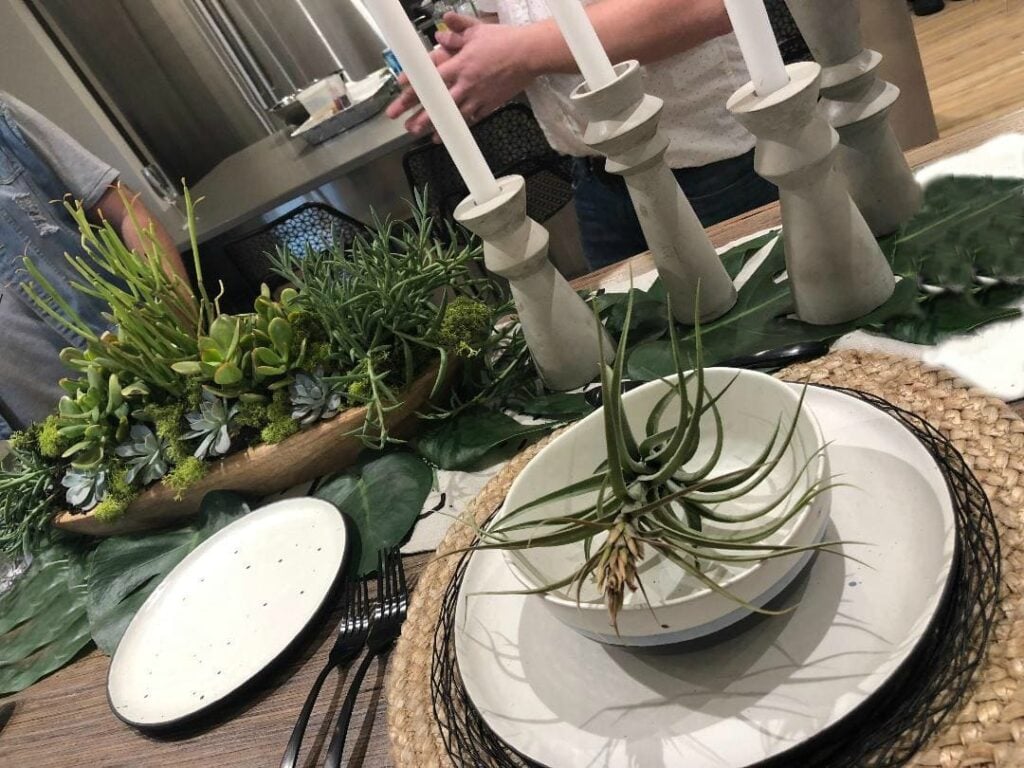 Hutch is a new modern, local craft and found vintage furniture, lighting, rugs, art and gift store located at Midtown Crossing. They feature local makers and artists. If you love modern decor, be sure to include a stop at hutch.
Owners Nick and Bryan taught our group easy napkin folding techniques and tablescapes which will be perfect for holiday entertaining.
Omaha Hilton

The Omaha Hilton features comfortable rooms with plush beds and flat-screen TVs. They have several inviting public spaces in their lobby and a relaxing bar area. You will also enjoy their informal restaurant serving classic American dishes, a coffee shop, and a spa with a fitness center, pool and whirlpool tub. Business facilities include a business center and 39,000 sq ft of meeting space. There's also a free airport and local shuttle.
The hotel is connected to the

CenturyLink Center convention facility via an enclosed walkway. The CenturyLink Center is one of the city's top concert venues and convention facilities. The hotel could not be more conveniently located. The staff was friendly and efficient. I highly recommend the Omaha Hilton.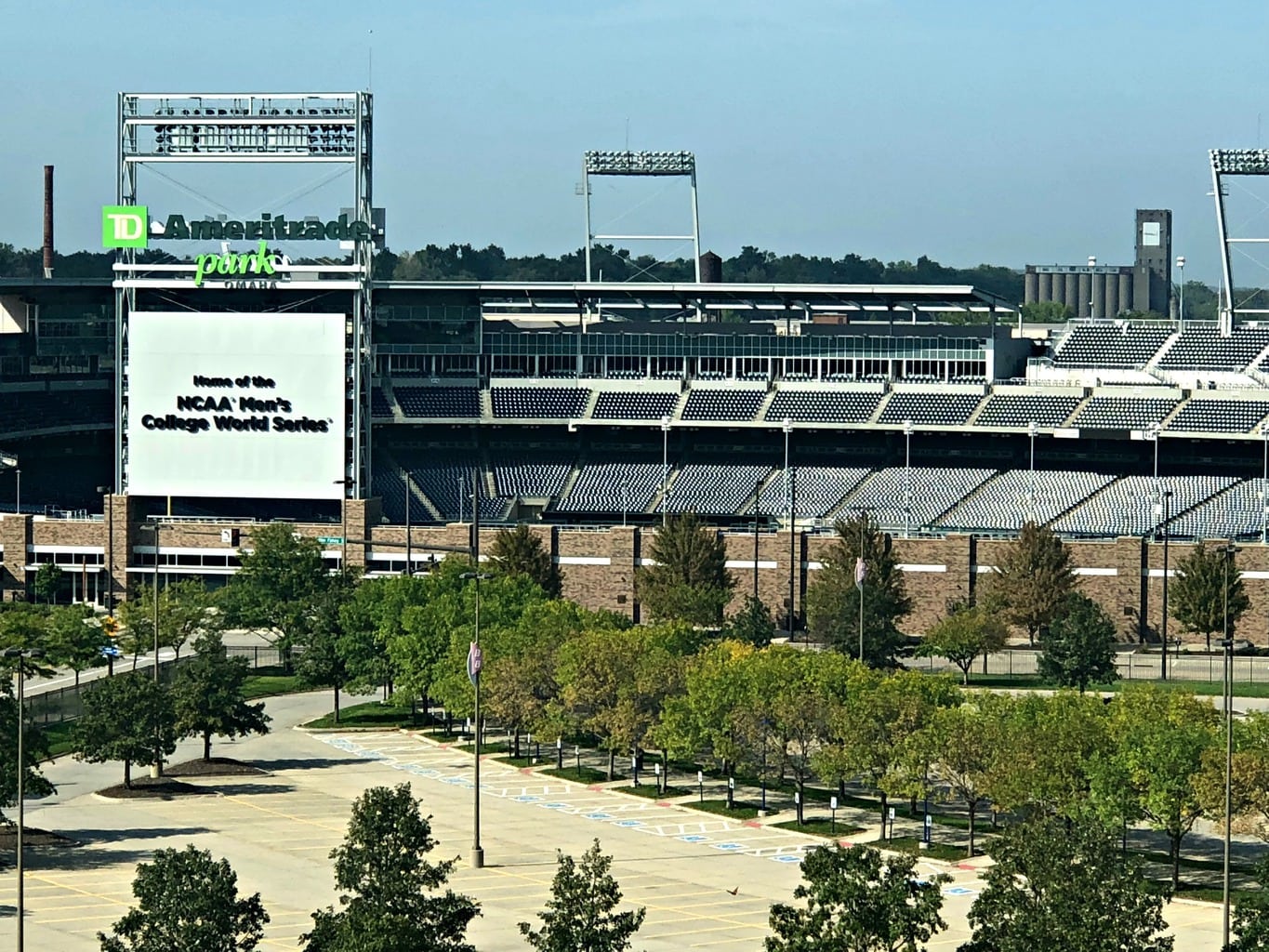 The view from my window looked right into TD Ameritrade Ballpark, home of the NCAA College World Series.
A Foodie's Paradise
Who knew that Omaha would be such a culinary adventure? Many chef-based restaurants are cooking with locally sourced ingredients making Omaha a foodie's paradise. Seriously, I was not expecting such great food!
M's Pub in the Old Market District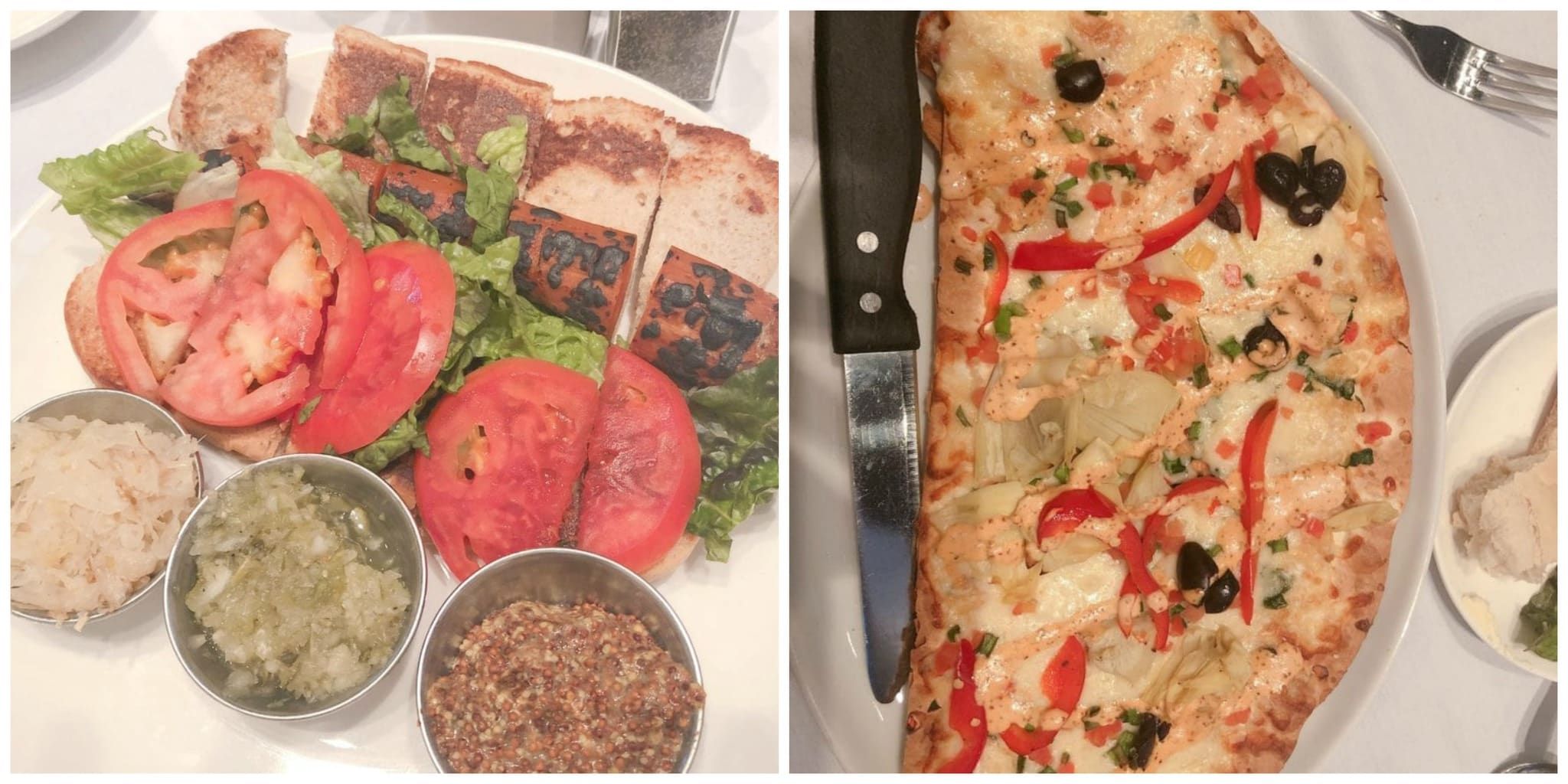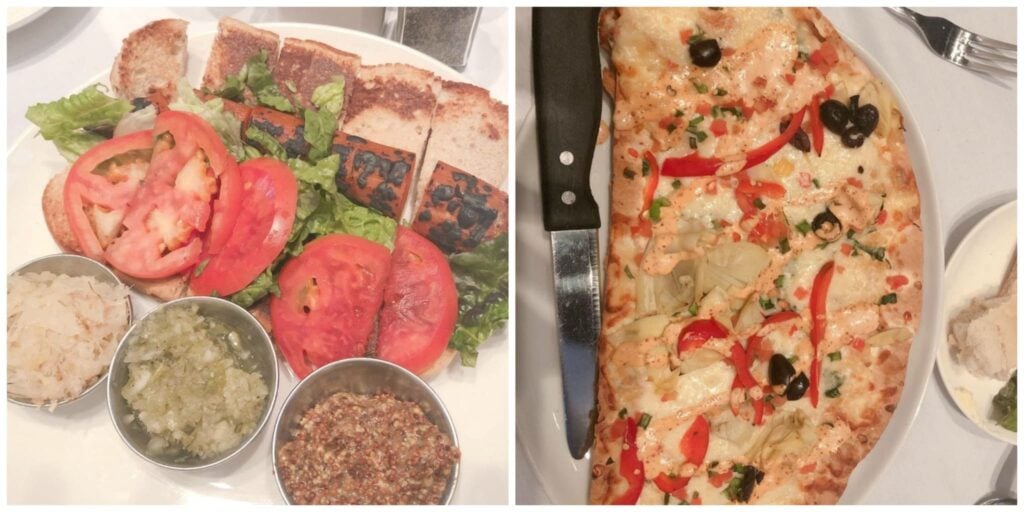 M's Pub has been part of The Old Market district in downtown Omaha since 1972. In 2016, they had to close due to fire. They have since created the space to almost exactly what it was prior to the tragedy with the help of original designers.
They have uniquely crafted new dishes that have their customers raving. Our hosts recommended tasting their Carrot Dog which looks exactly like a hot dog but yes, is made with carrots, marinated and grilled, served on a hoagie bun with pickle relish, mustard, and ketchup. Several of us shared one and it was tasty.
One of their specialties is M's Famous Lahvosh which is an Armenian cracker with Havarti cheese. I ordered the Vegetarian Lahvosh and consumed every bit of it. I would order that every time. It was so good.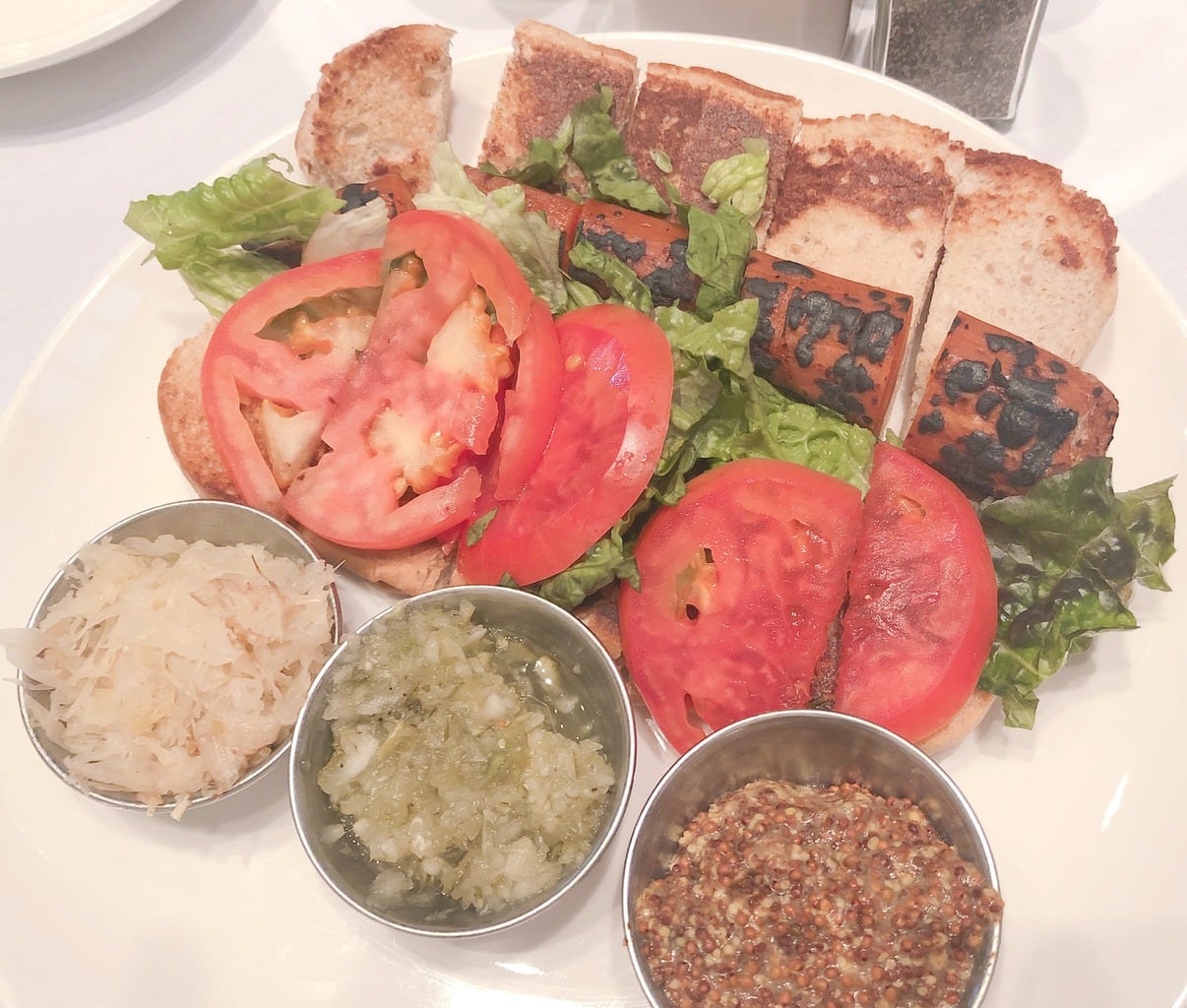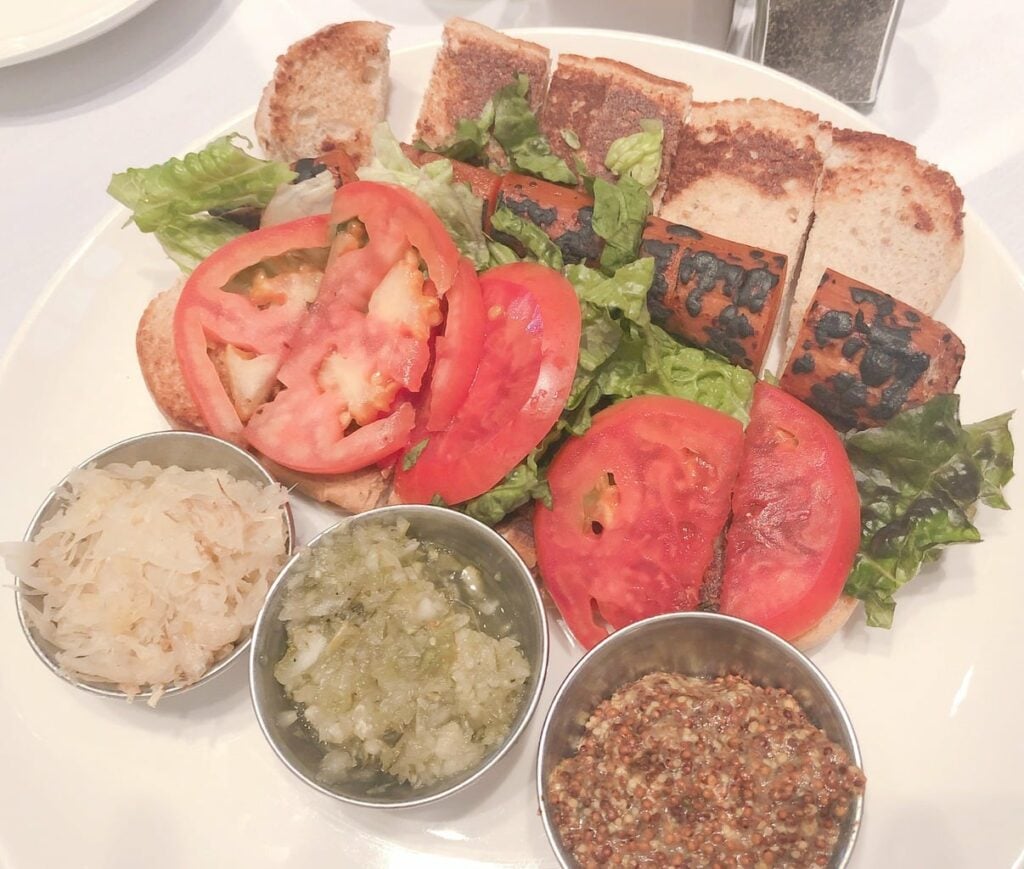 Dante Pizzeria Napoletana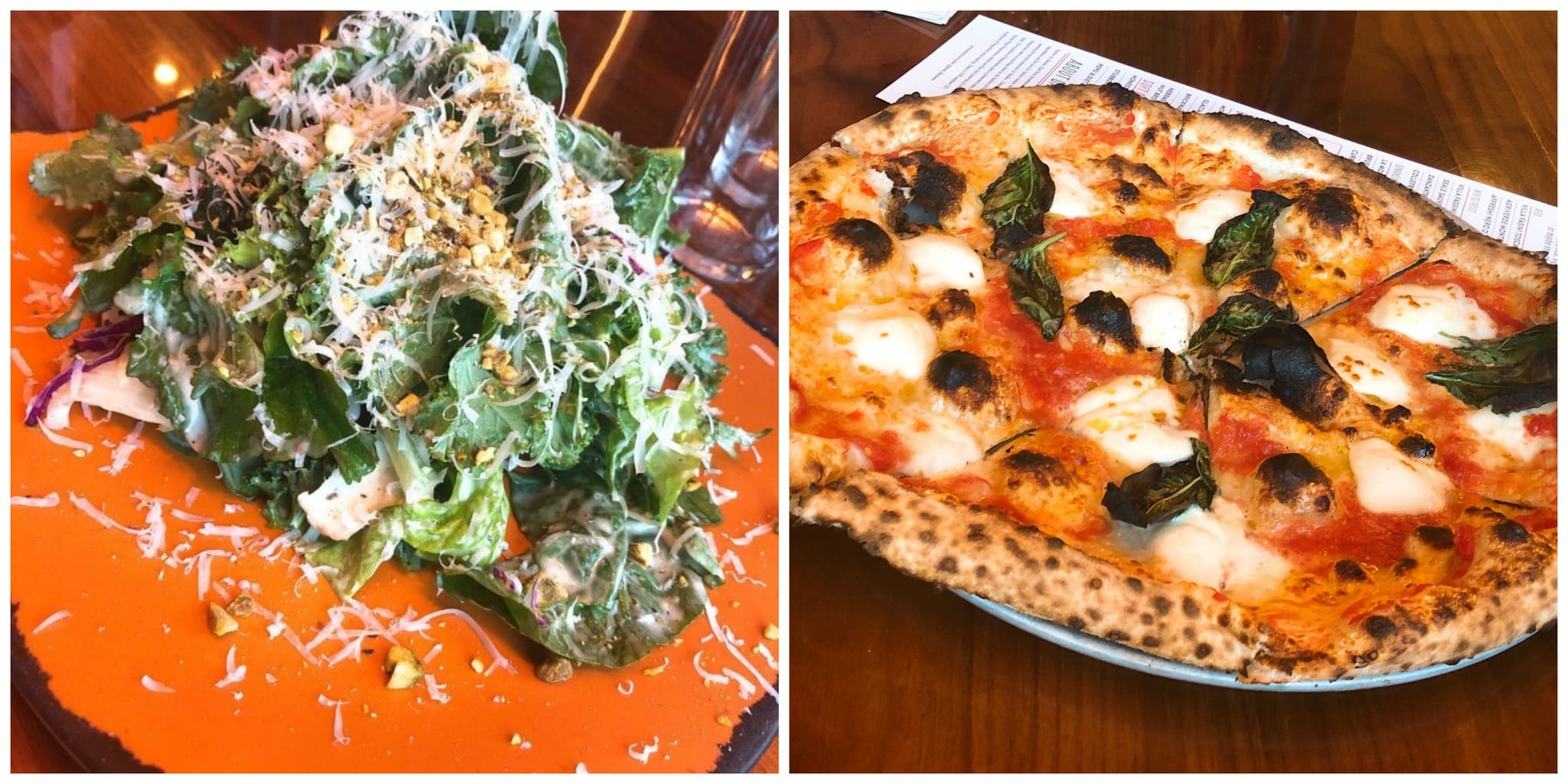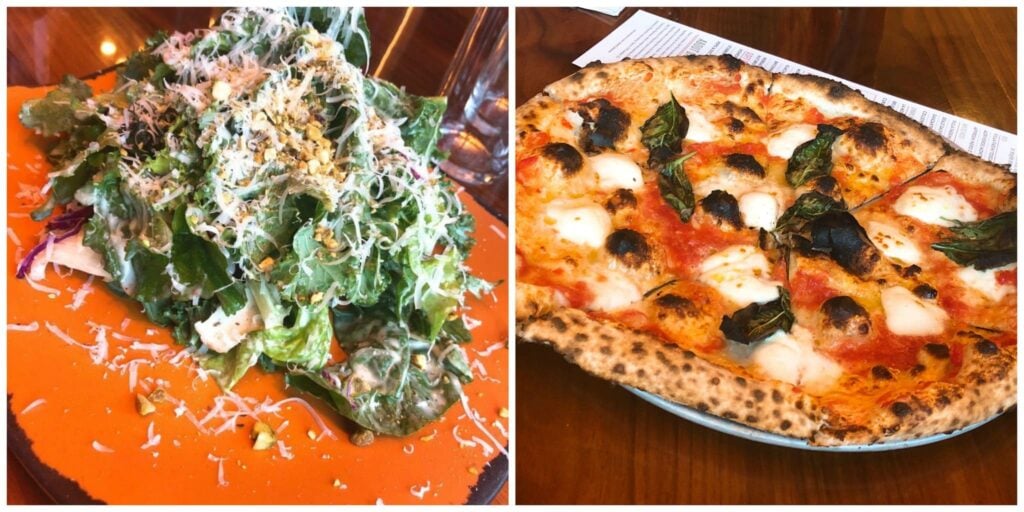 Chef Nick Strawhecker is an Omaha native whose passion is cooking great Italian food using locally sourced seasonal ingredients. The wood-fired pizza oven makes the most delicious pizzas in the tradition of Naples. It was easy to see why this is one of Omaha's most loved restaurants.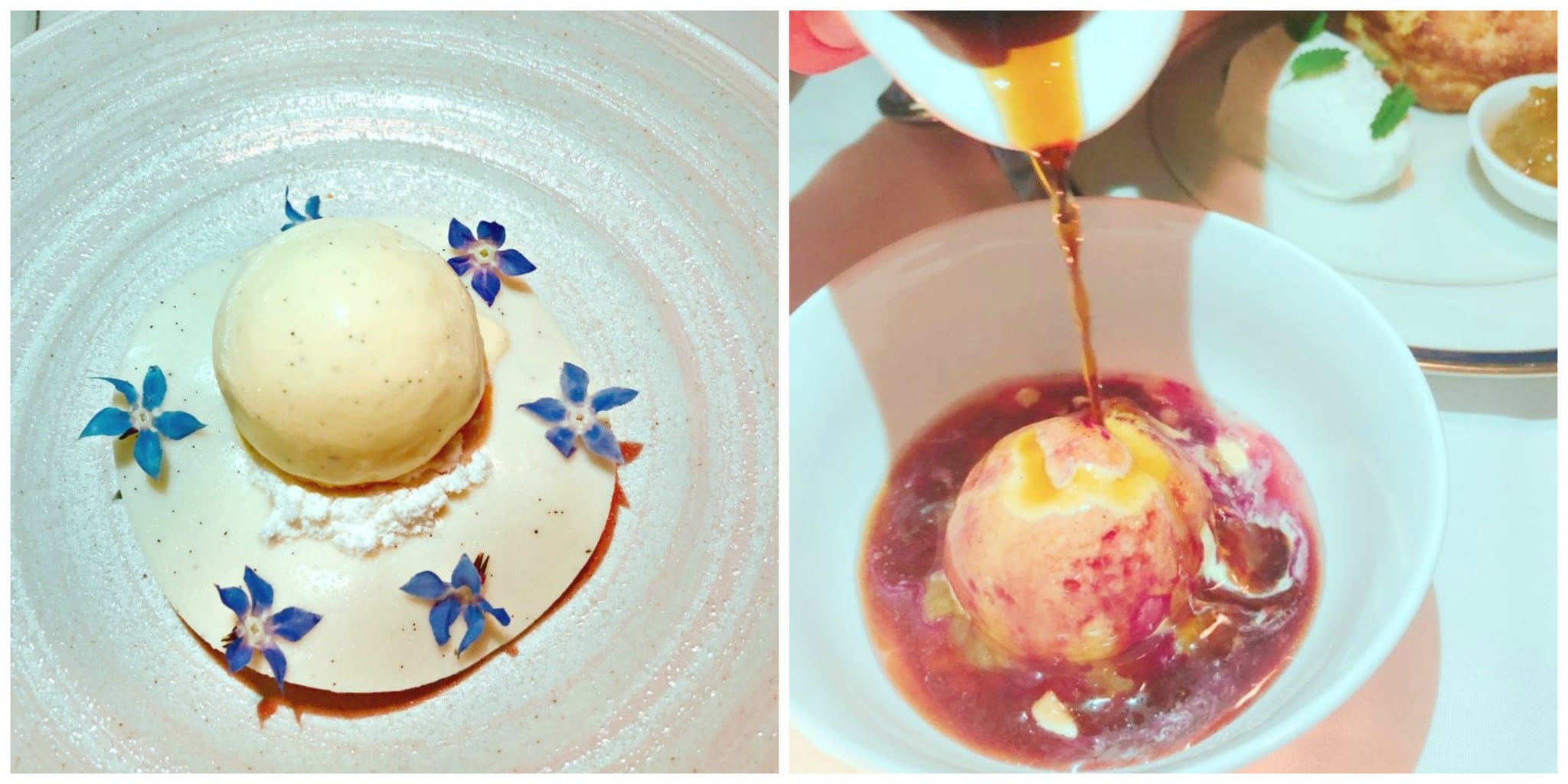 V. Mertz is the perfect restaurant for an intimate meal or a special place to bring guests. They feature contemporary American cuisine with an emphasis on classic French technique. Organic and eco-sustainable grown products are utilized as much as possible and their service is impeccable.
We got to know their Sommelier Matt Brown at several wine tasting dinners with Omaha Steaks. Their desserts were *almost* too pretty to eat.

Owner Mary Venditte treated us to her original creation, Spaghetti & Sweet Balls ice cream sundae. She makes it with vanilla ice cream (styled like spaghetti noodles) with cookie meatballs and topped with a strawberry sauce and grated white chocolate topping. It really looks like spaghetti and meatballs and is delicious too. She also makes amazing cannelloni.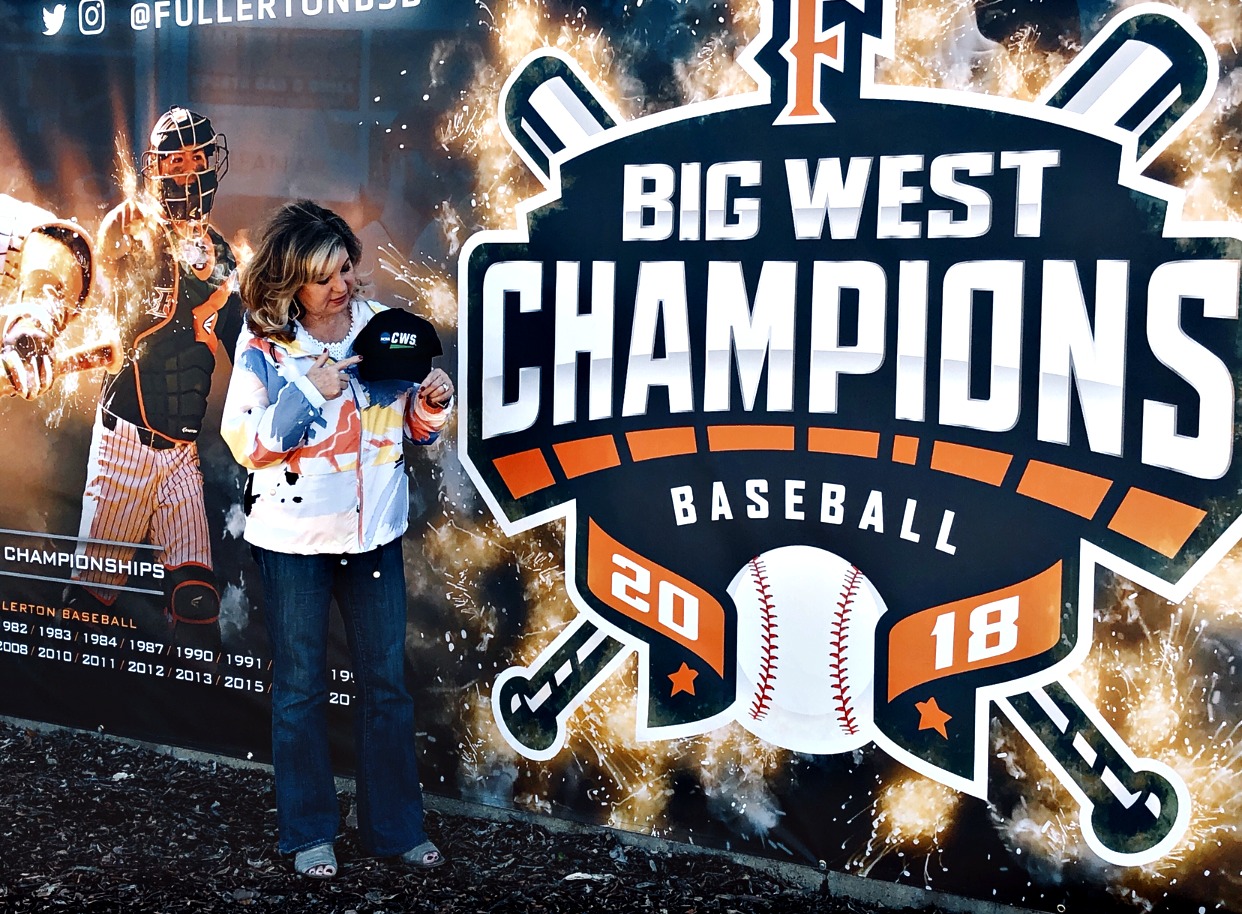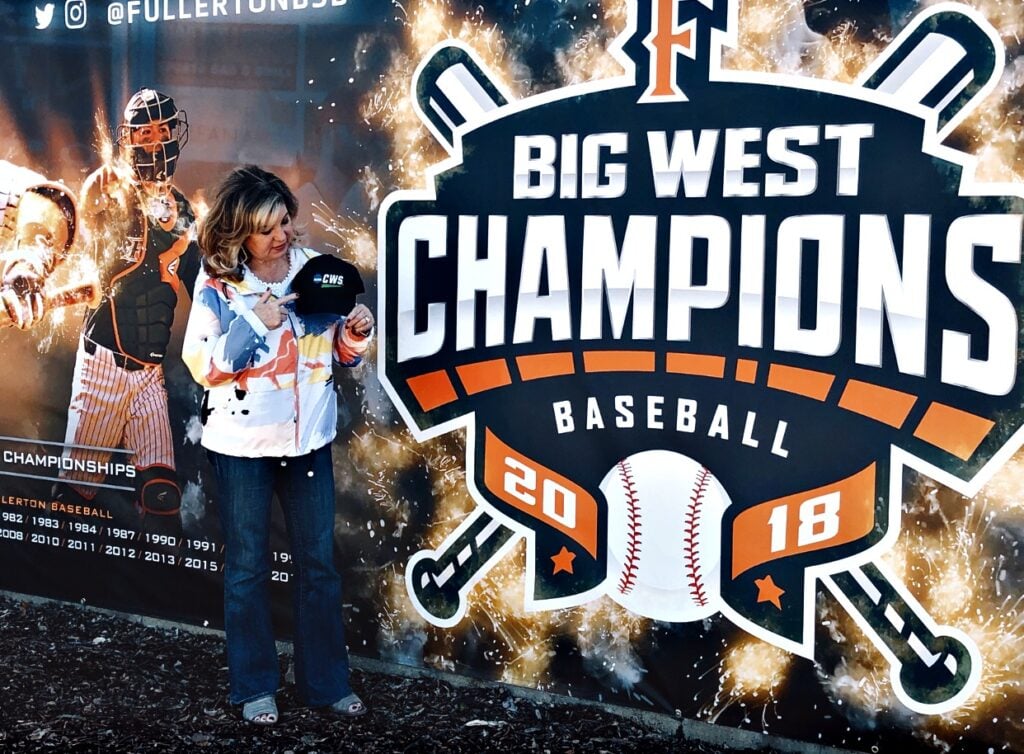 I have an exciting update to share! My husband and I will be traveling to Omaha in June for the opening weekend of the College World Series! We are both so excited. We watch the tournament every year and we've often said that it would be so much fun to see the tournament in person. My team is the CSUF Titans (I'm a proud alumnus) but it doesn't even matter what teams are playing. We both loved college sports and I've heard that Omaha does a wonderful job hosting the tournament and showcasing the city.
Now that we are empty-nesters, we've made a pact to go on as many adventures as possible and cross things off our bucket list. I hope you will follow along during our visit. I cannot wait to share some of my favorite places with my husband.
If you are traveling to Omaha, get more information at Visit Omaha. You can sign up for their Omaha eNewsletter or request a free visitors guide. Follow them on social media using #OmahaWeekend.
I hope you can tell that I loved the city, the friendly people and the food. I hope you get a chance to visit Omaha soon!