Several readers asked me, How to Find the Best Deals at Omaha Steaks?
Ways to Save Buying Omaha Steaks: Special Offers, Discounts, Discounts and Omaha Steaks Coupons for the Best Steak Online -Your Complete Guide
If you have ever been curious about where to buy the best steak online, you are in the right place! I've been researching ways to save on Omaha Steaks with Omaha Steaks coupons, Omaha Steaks promo codes, special offers, deals, and discounts.
I'm also sharing the history of the company and discovering what makes their food so delicious. Several years ago I was privileged to be one of the Omaha Steaks Ambassadors and got to try so many of their delicious options. We have affiliate relationships which means we may earn a small referral commission at no additional cost to you if you shop using our links.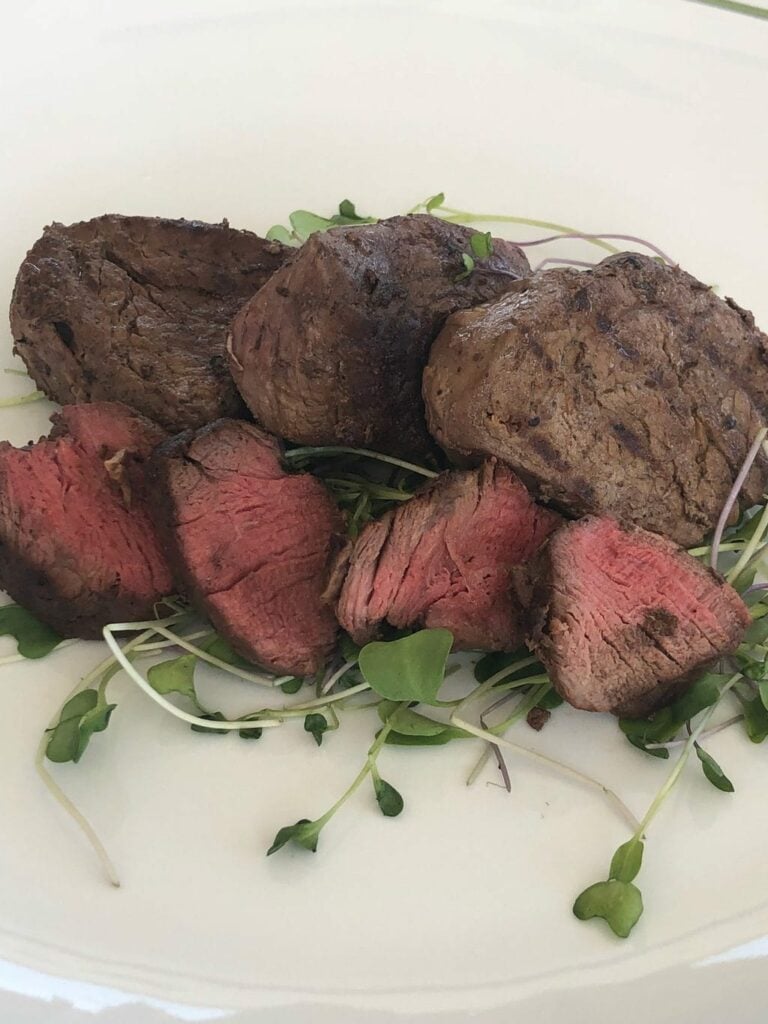 Sending an Omaha Steaks gift card or selecting a delicious meal is one of my favorite gifts to send. You can send some of their best steaks for any special occasion, I've also sent one of their delicious desserts to celebrate a birthday.
If you are not sure of what to send a gift card and let the recipient choose from a wide variety of premium steaks or enjoy easy shopping from their website.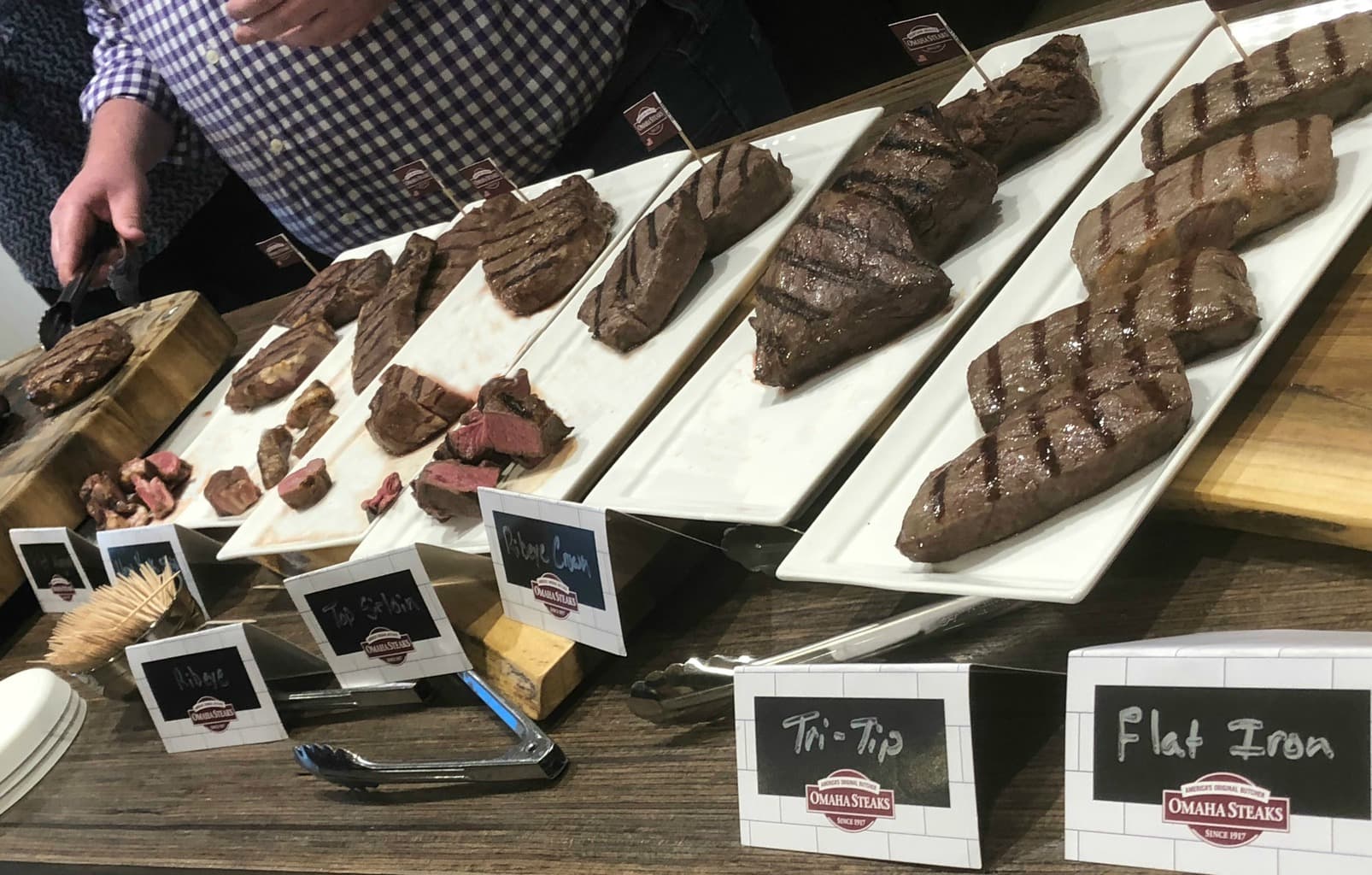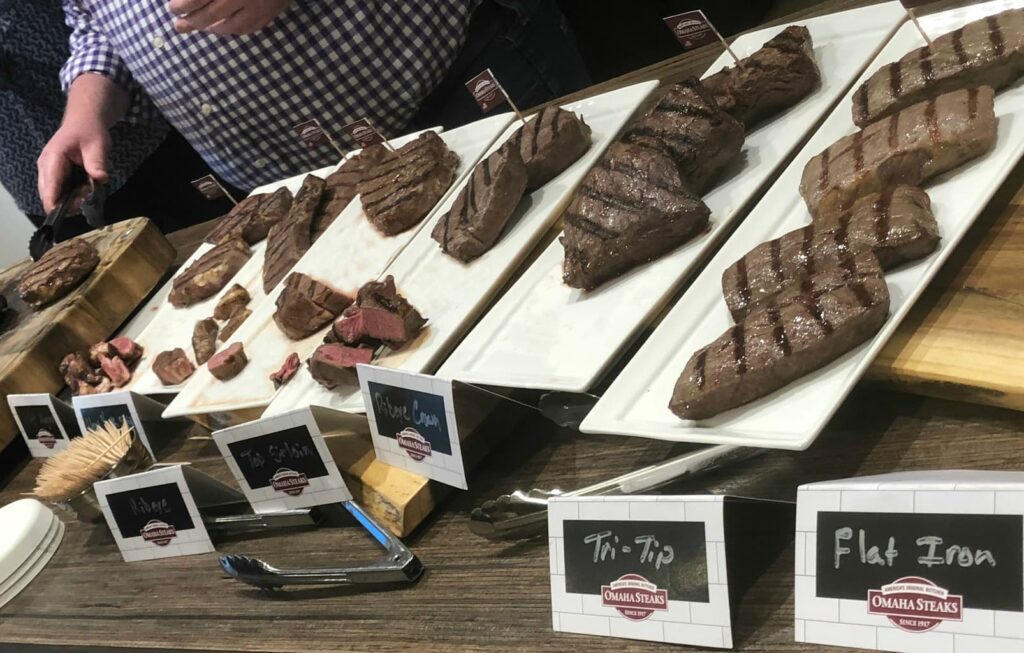 How to Save Money on Omaha Steaks
Omaha Steaks really does sell the best steaks I've ever prepared. They are worth every single dime! But you can also save money on Omaha Steaks with these tips:
Exclusive Email Offers
They often run promotions, so sign up for their emails. Recently, they ran a sale offering free shipping with no minimum order.
Steaklover Rewards
If you sign up for the free Steaklover Rewards, you can begin earning points from every purchase you make. Then, use your points to save money on your next purchase or on free products.
Members of the Steaklover Rewards program can shop at a private spot for exclusive deals that are not found anywhere else. Each combo is packed with special values for members plus bonus points.
Share the love and save even more!
When members of the Steaklover Rewards program share their link with friends and family, you get points and they get a great special offer. Be sure to sign up and start sharing today!
Free Shipping Packages
Be sure to check out their most popular free shipping packages at Omaha Steaks.
Value Packages
You can also buy in bulk from Omaha Steaks! Their bulk prices are affordable, so if you have the freezer space to stock up, this is a great way to save money and have the products on hand.
Military Discounts
Omaha Steaks offers a 10% Military Discount for Active Duty, Military, Retirees, Veterans, Military Spouses, and Dependents. Get more information here.
Omaha Steaks Deals on TV
A few times a year (usually right before Father's Day) and before major holidays, you can find great deals from Omaha Steaks on Good Morning America, The View – View Your Deal, and more.
I share those deals straight to your inbox so if you want to be notified, Sign up to get my free email newsletter and get all the top TV deals sent straight to your inbox. Plus, I respect your privacy and will never spam or share your email.
Groupon Deals for Omaha Steaks
You can often find deals when you search Groupon Omaha Steaks.
Offers & Promotions for Omaha Steaks
Check out their page dedicated to ways to save today on Omaha Steaks products with exclusive offers and promotions.
Follow Omaha Steaks on Social Media
They offer exclusive deals and packages just for their fans on social media followers. Find them on Omaha Steak's Facebook, Twitter, and Instagram. Be sure to check out Omaha Steak's Pinterest page for amazing recipes and cooking tips.
About Omaha Steaks – a Family Business
Omaha Steaks is a world-renowned meat supplier, known as America's Original Butcher. They started out in the early 1900s selling steaks to railroad dining cars. By the mid-20th century, they expanded to catalog mail-order meats to consumers. With now over 100 years of experience, you will enjoy reading the history of their family-owned company. They are family-oriented and community-minded. Many of their employees have been with them for decades, it was so impressive and it spoke volumes about how well-loved they are by their employees and in Omaha.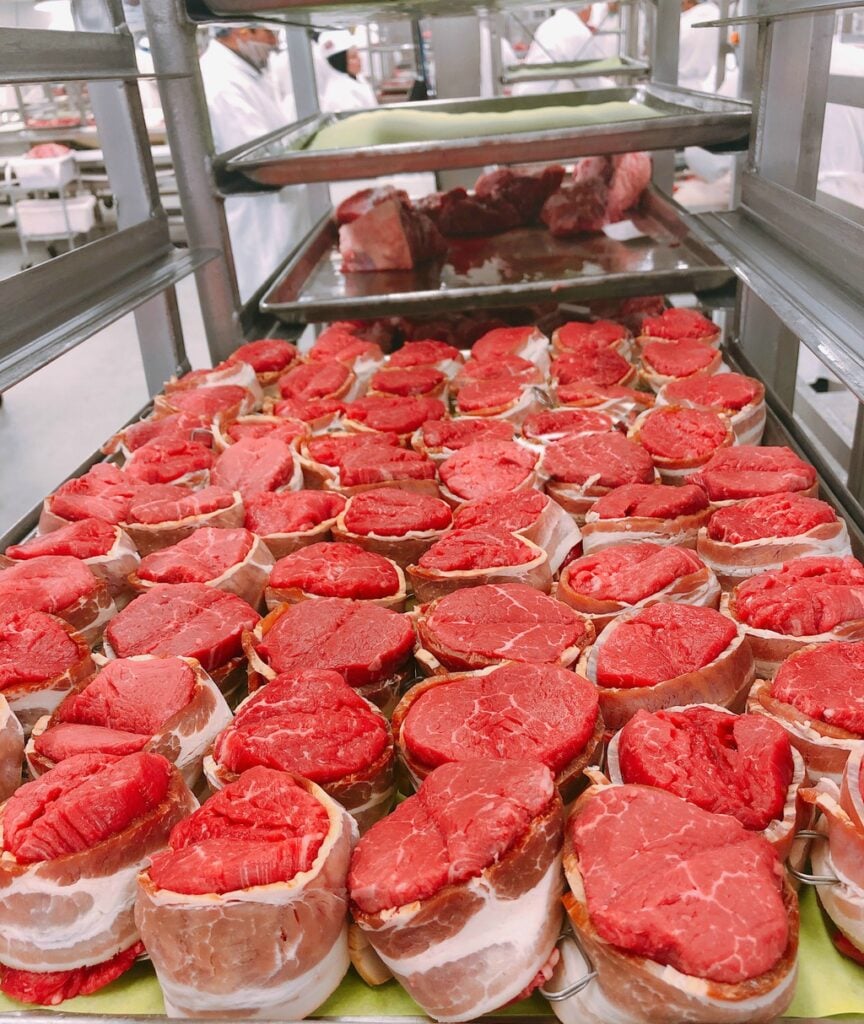 Your satisfaction is 100% guaranteed!
You can order from Omaha Steaks with complete confidence knowing that they will deliver the highest quality food straight to your door in the safest way possible. I saw firsthand their rigid standards for quality assurance and their safety standards. Each and every product from them comes with a 100% unconditional guarantee, for any reason they will cheerfully replace it or refund your money.
Steak & much more!
While they are known for their high-quality steaks, they actually sell a wide variety of products. Browse their site and be prepared to be amazed at the selection.
Quick link to what is on sale today at Omaha Steaks.
Steaks

Meats – including chicken, fully-cooked ham and fully-cooked turkey

BBQ

Seafood

Meals – including Skillet Meals ready in 15 minutes or less & slow cooker meals from freezer to slow cooker

Starters & Sides

Desserts

Wine

Gifts – including under $50 gifts!

Business Gifts

Last-Minute Gifts

Private Reserve

Custom Combos

Value Combos

Dog Treats

Special packages for Filet Mignon (my favorite) and more!
Their desserts are so good and are perfect for any special occasion!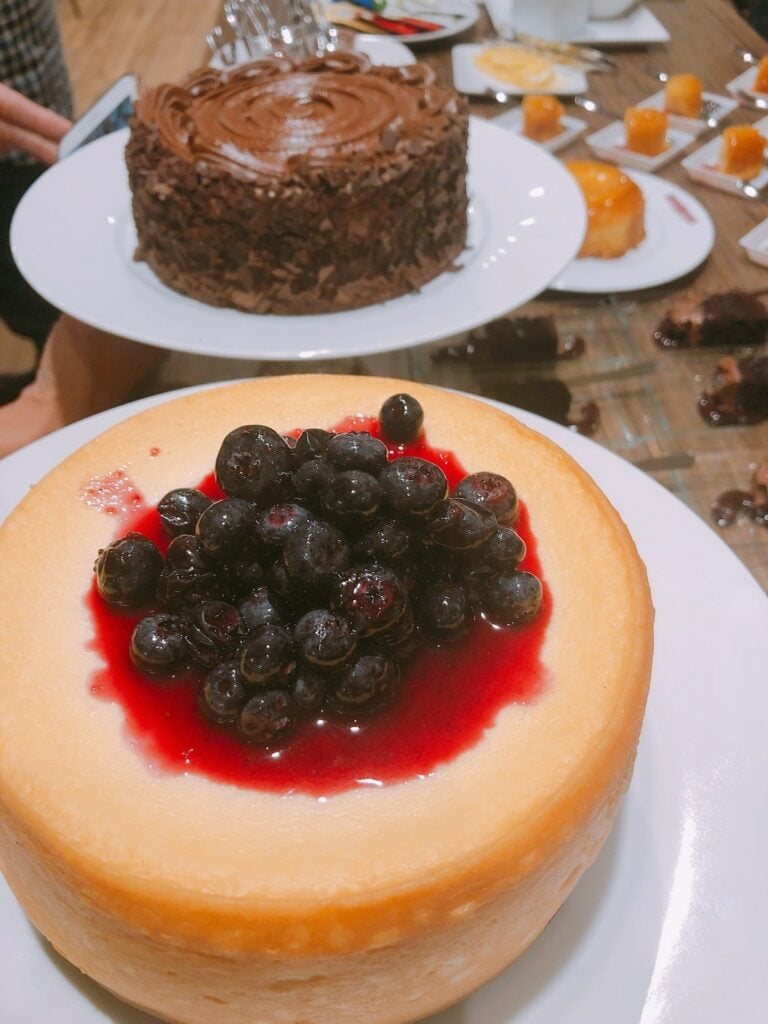 World Port Seafood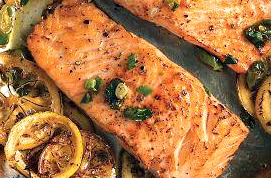 Seafood from Omaha Steaks
World Port Seafood is a branch of home food delivery from Omaha Steaks. I have tried their Argentinian Shrimp, Snow-Crab Cocktail Claws, and their Colossal Scallops so far. The quality is simply top-notch.
No Waste!
One of the great benefits of ordering from Omaha Steaks and World Port Seafood is that their products are frozen and individually vacuum-sealed. You select only what you will be eating, leaving the rest safely frozen to enjoy at another meal.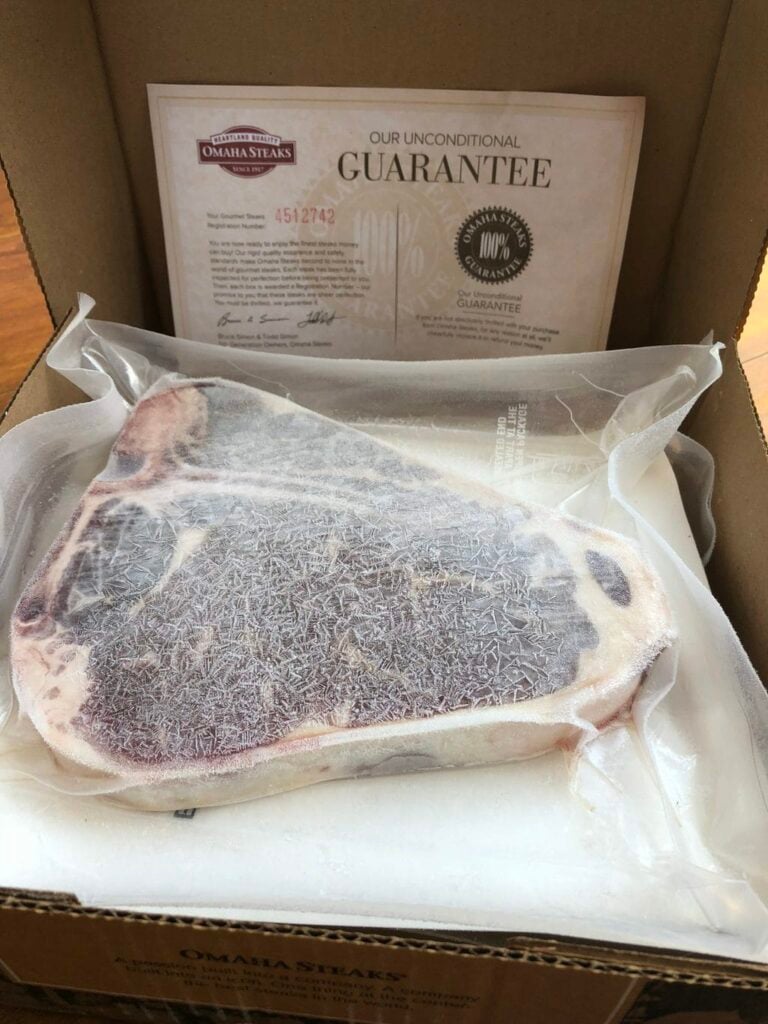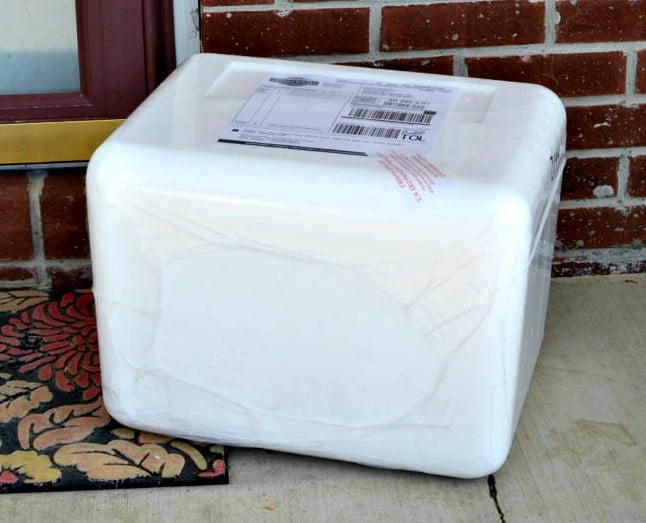 Your products are individually frozen and boxed, then packed with dry ice in an insulated cooler.
They Make Buying Meat Online Simple
Their entire website, app, and catalogs all make buying food from Omaha Steaks the easiest and most fun experience ever. In addition to tons of stunning pictures, they also have a recipe center with videos! You'll know how to prepare your exquisite steaks so they taste their best.
Where to Buy Omaha Steaks
You can buy Omaha Steaks online, at a local retail store, by catalog, or via their app.
Shop Online
This is my favorite option because it is so easy! You can literally see what you are buying. And the Omaha Steaks website is incredibly user-friendly. It has also become one of my favorite gifts to send. Your recipient will be thrilled with the quality of the gift you select.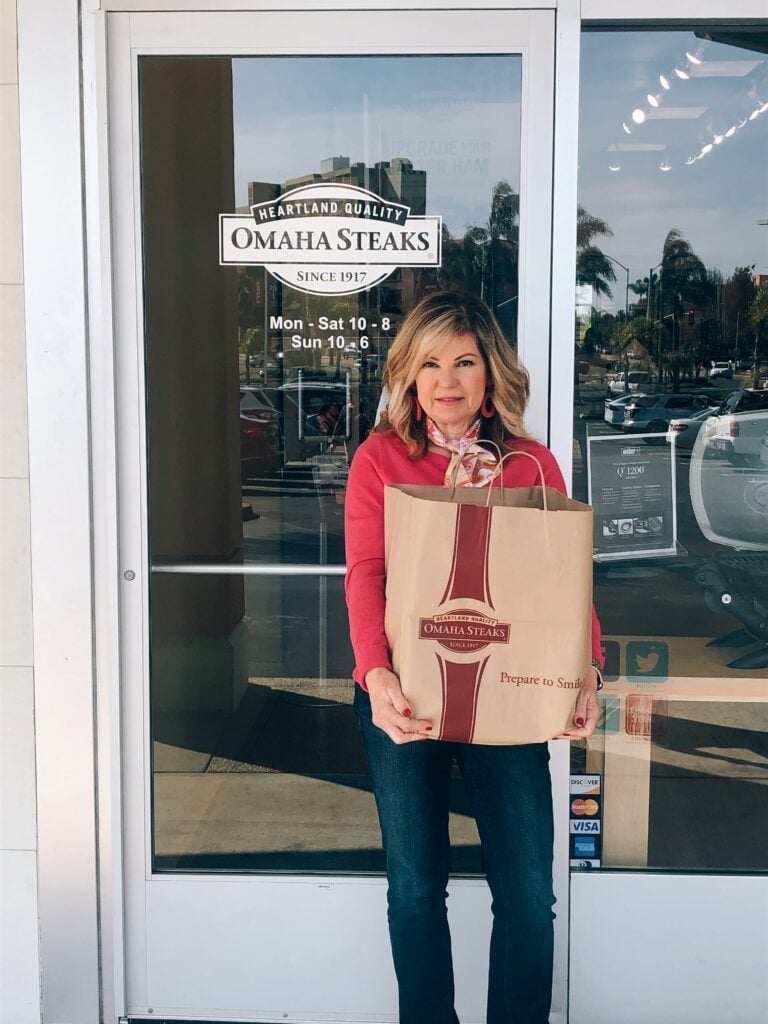 Omaha Steaks Retail Stores Near Me
Their local stores have deals and special offers and you don't have to wait for shipping. Omaha Steaks stores are found in about 70 locations. Find an Omaha Steaks store with the Omaha Steaks store locator to see if there is one near you.
Omaha Steaks App
Order their delicious products right from your phone. Omaha Steaks has a mobile app for both Android and iPhone. Here are the links:
Catalog
Omaha Steaks has one of the most drool-worthy catalogs in the business. If you still enjoy flipping actual pages and doing mail-order, you can request a catalog. Of course, you can always just download their most recent catalog digitally too.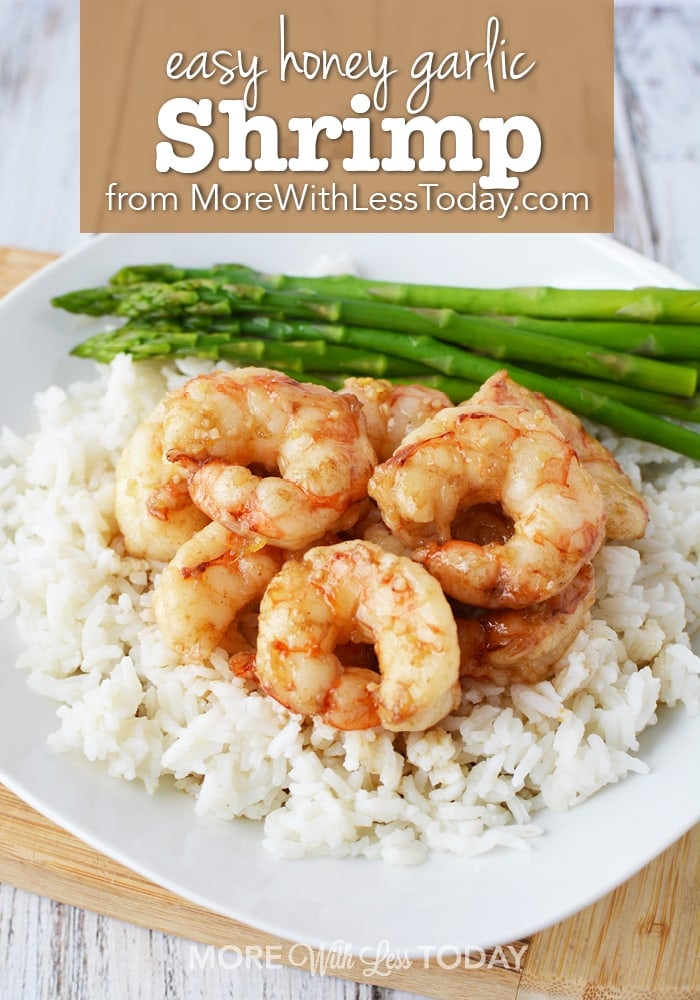 Omaha Steak Recipes
Ok, this is my favorite part! If you are wanting some of my personal recipes, here is one of the best! All of these are made with gourmet foods from Omaha Steaks.
I'm excited to share insider tips on how to find the best deals at Omaha Steaks. Whether you're shopping for your next gourmet meal or want to send a gift that will be appreciated and enjoyed, this is how to find Omaha Steak's best packages!
PIN for Later!