Today a reader asked "What is Amazon Layaway?" so I wanted to tell you all about it. Many readers were disappointed when Walmart discontinued its layaway program so maybe this Amazon layaway plan is an alternative for some.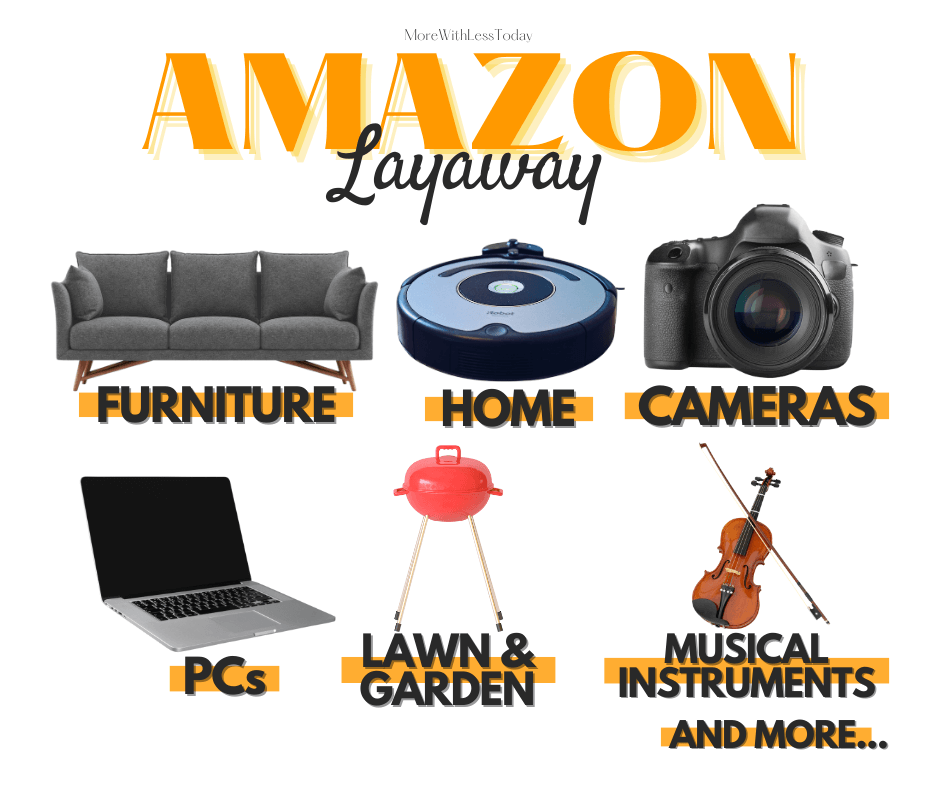 As an Amazon Associate, I earn from qualifying purchases.
Quick link to Amazon's layaway plan
Amazon has a Layaway Program that will allow you to pay for your purchases over time, with no fees or interest. You can purchase items at today's prices or when you spot a great deal by putting down a 20% payment, and then make additional payments over the next 8 weeks or until it is paid for. There are no credit checks and no interest or fees to pay.
Under Amazon Layaway, you will find the eligible items with the "reserve with layaway" label on the product listing. By paying 20% down, you can reserve the item at the current price, and then it will be shipped to you once the balance is paid. There are no additional fees to use Amazon layaway.
How Does Amazon Layaway Work?
Pay as you go online without fees or credit checks
To find products eligible for Layaway, look for the 'Reserve with Layaway' label
Pay 20% today to reserve your item and lock in the price
Make 4 more payments over 8 weeks
Item(s) ship after your final payment
Pay off early for earlier delivery
Only available for items shipped and sold by Amazon
Is Layaway available to all Amazon customers?
Layaway may not be available to all customers for a variety of reasons including the type or price of the product, product availability, or delivery address.
Do you perform a credit check before I put an item on Layaway?
No. It won't affect your credit history.
Does Amazon report to a credit agency if I miss or am late with a Layaway payment?
No.
What is eligible for purchases with Amazon Layaway?
Layaway is available on select products that are sold and shipped by Amazon. You can identify items that are eligible for Layaway by looking for "Reserve with Layaway" near the product name. If you do not see this label near the product name it may be due to multiple offers on the product.
Where can I find Amazon Layaway?
Visit the Amazon Layaway homepage, which features a list of categories and items eligible for Layaway. Product availability varies for Layaway. Items currently available for a Layaway payment plan will be clearly labeled in your search results.
Can I purchase items on sale with Amazon Layaway?
You will be able to lock in the price of the item when you start your Layaway plan, including any deals or discounts you see at the time. Once the Layaway order is placed, the price of your Layaway item will not change.
This can be helpful for new products or popular products that may sell out. You can reserve yours with 20% down.
When will the Amazon Layaway program be available?
The program is available year-round, including Prime Day and other holidays.
How do I start a Layaway plan?
To begin a Layaway plan, select an item marked 'Reserve with Layaway' and add it to your cart. You will pay 20% toward the cost of the purchase at checkout. The amount paid at checkout will be the first of 5 payments on your 8-week Layaway plan. If you need to cancel your Layaway plan or do not complete the payments, we will refund all amounts you have paid to the payment method(s) used to make any scheduled payment.
How do the payments work for Amazon Layaway?
Payment Options
Amazon Layaway plans can be started with any credit or debit card. Your Layaway plan is 5 payments, including your first payment to reserve the item, with the remaining 4 payments automatically charged every 2 weeks.
Taxes and shipping fees (if any) for your purchase will be charged with your final payment. You can manage your Layaway plan through your Amazon account, where you can update your payment instrument, pay the next scheduled payment early, settle overdue payments, or pay off the remaining balance to complete your purchase and ship your item. There are no hidden fees.
How are my payments calculated?
Your Layaway payments are calculated by dividing the total price of the item, excluding tax and shipping fees, into 5 payments. The first payment reserves your item and starts your Layaway plan. Let's say that on October 23rd you start a Layaway plan on an item that costs $500, excluding taxes and shipping.
Your first payment on October 23rd will be $100. Payments 2, 3, and 4 of $100 each will be charged to your chosen payment method two, four, and six weeks after the initial payment. When your fifth and final payment is processed eight weeks later on December 18th, you will be charged $100 plus the estimated taxes and fees, if any, for your chosen shipping method.
What happens if I miss a scheduled payment?
If a payment attempt is unsuccessful, Amazon will email you informing you that your Layaway payment is overdue. While your Layaway plan is overdue, you will not be able to open any additional Layaway plans with Amazon. If you pay the outstanding balance prior to the next scheduled payment, your plan will become current and you can make additional purchases on Layaway. However, if payment is not received on the overdue payment before the next scheduled payment, we will automatically cancel the Layaway plan for that item and refund all amounts to the payment method used to make previous payments.
No late fees or cancellation fees
They do not charge any fees for overdue or canceled Layaway plans.
Other Questions about Layaway Plans
Is Amazon Layaway really free?
Yes. There are no interest charges, late fees, sign-up fees, service charges, cancelation fees, or restocking fees for using this payment option.
What if the price changes on my product while I am paying it off?
There will be no changes to the price you're going to pay. This is because the price at which you reserved the item is locked-in for the duration of your Layaway plan.
Can I extend my Amazon Layaway plan?
No, all your Layaway orders must be paid in full within the 8-week Layaway period.
Can I pay off my Layaway plan early?
At any point in your Layaway plan, you can pay the remaining balance. Once the balance is paid in full, your order will be shipped based on the shipping option you selected when placing the Layaway orders.
When is the last day I can start a Layaway plan to get my item before December 25th?
To complete the full 8-week Layaway plan and ensure delivery before December 25th, your purchase needs to be made by October 23rd. You can start Layaway plans after this date, but you can need to pay off those items early if you'd like to receive your items sooner.
What if I prefer to pay in cash or use my Amazon Gift Card balance?
If you're planning to do this, it's important to know that they do not accept cash or Amazon gift cards at this time.
Can I make payments on my Layaway plan in a store?
No. Your Layaway payments can only be done online through your Amazon account.
Shipping
How does shipping work with Amazon Layaway?
There will be standard shipping costs that will be applied and you will be charged on the final payment. If you're an Amazon Prime member, you'd benefit from free shipping options. This only applies to your items that are eligible for free shipping with Prime. Once you've placed your Layaway order, you cannot change the shipping address or delivery speed. There are no additional shipping fees to use Amazon Layaway.
Why is Amazon Layaway not available for my address?
Because Amazon Layaway is currently not available for orders shipping to CT, DC, IL, MD, OH, and PA.
How long will it take me to receive the product once I finish paying for it?
When Amazon receives your final payment, they will prepare your purchase for shipment. They will also provide a delivery estimate using the shipping option you selected when placing your Layaway order.
Can I return items purchased through Amazon Layaway after I receive them?
Yes. Amazon's standard return and exchange policies apply to your Layaway purchase after the items have shipped.
You Might Also Like
PIN for Later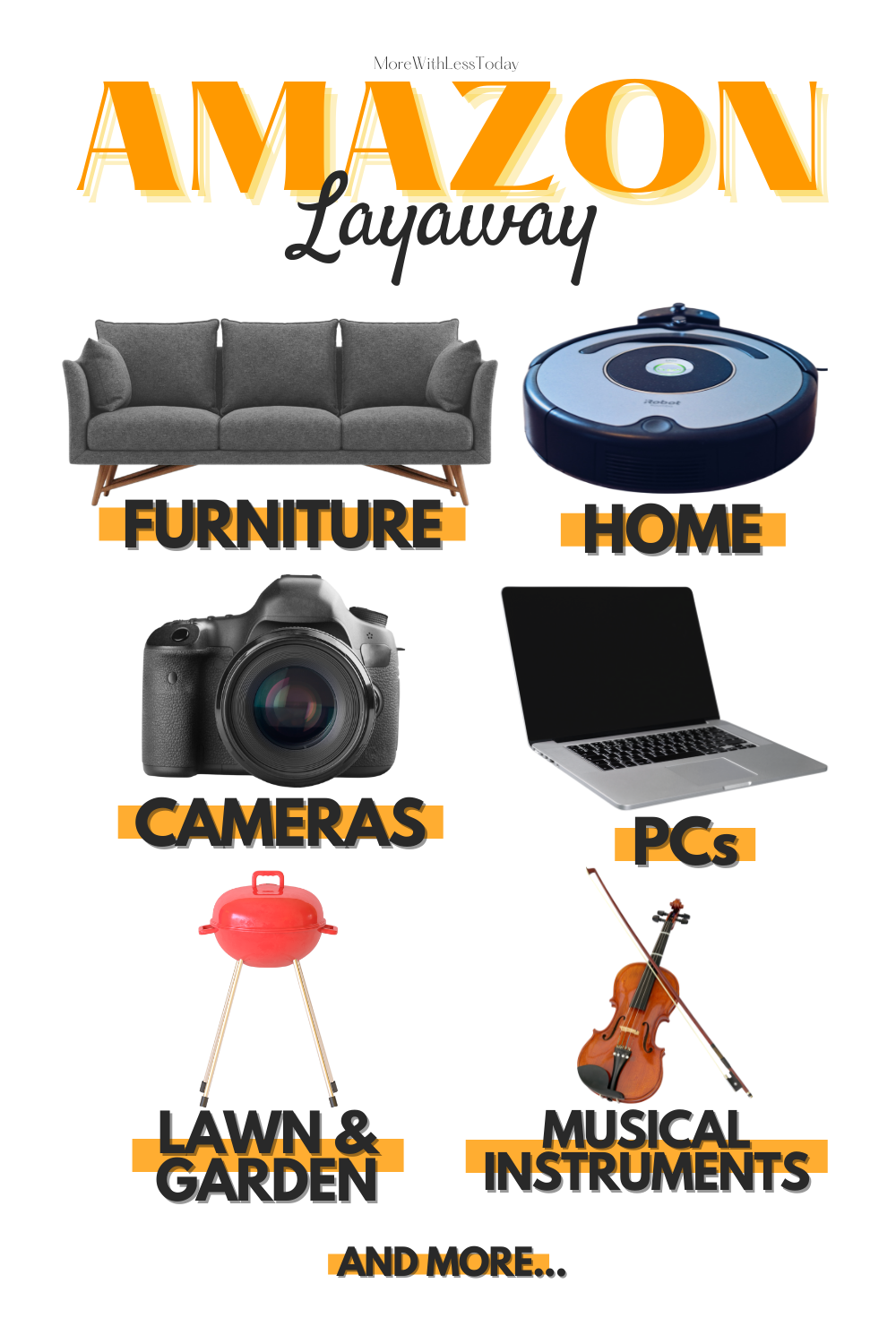 Don't forget to share this post with your friends and loved ones. If you are on social media, I would love to connect with you on Facebook, Instagram, Pinterest, or Twitter. Just click on the links to visit my profile. Leave a message and I will follow you back!