One thing leads to another is a true statement when we begin home improvement projects, don't you agree? One upgrade can make everything else look old and dated. This post is sponsored by BabbleBoxx.com on behalf of Erie Insurance and all opinions are 100% my own. Check out my easy tips to style your house like a decorator which will work for any budget.
I've been fortunate to befriend an interior decorator who has the knack we all wish we had. She knows when to buy high-end pieces and what can be replicated on a realistic budget. I've studied how she does it, taken photos of her work, and had her help me decorate several homes throughout the years. You can see some of Mindy Laven's talent on her website.
Recently we talked about decorating trends and homeowner regrets. I was telling her about a 2019 national survey from Erie Insurance, where they asked 500 U.S. homeowners what features they wanted and got in their current homes, but would not choose again if they were buying a home today.
According to the survey, here are the top five features homeowners wanted and got, but would not choose again:
1. Hardwood flooring 9.2%
2. Granite countertops 7.8%
3. Stainless steel appliances 7.6%
4. Fireplace 7.4%
5. Deck 7.2%
Do you agree or disagree with the survey results?
I love my hardwood flooring but might choose a good look-a-like alternative if I had to do it again. They are hard to keep clean and having a messy dog does not help.
Whether you have just moved into a new home or you are looking for a quick refresh, there are professional decorator tips and tricks you can use with minimal effort and cost to make your home look like you hired an interior decorator too!
One of Mindy's rules to live by is to establish a color palette for the entire house. Not only will you have a cohesive look, but you can also switch around decorative items to give your house a refresh without spending any money.
Here are some of her best decorator tips that I have learned and incorporated into my home.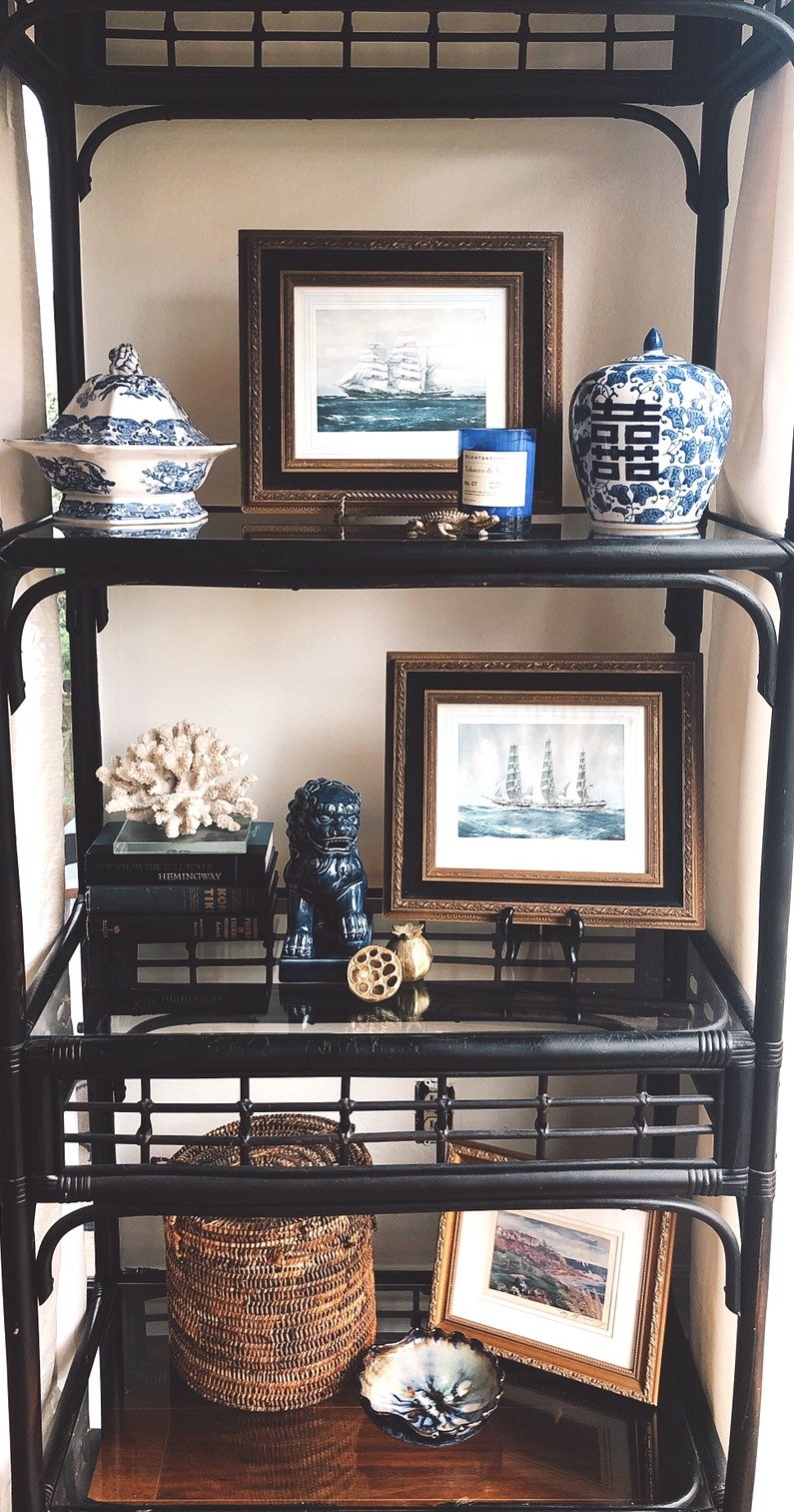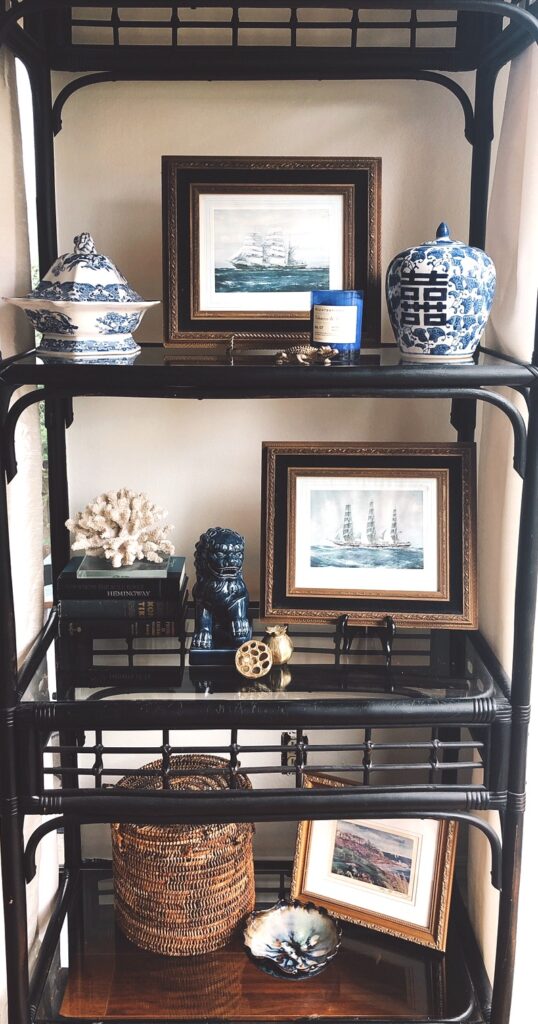 Use What You Have in a New Way
Before you begin, take stock of what you already have. Many of us have treasures packed away in boxes. Try items you already own in different rooms and group like objects together in a collection instead of spreading them around. Once you get it just right, be sure and take a picture before you change it out so you can recreate it later. I made this mistake after last Christmas!
Mindy helped me decorate this open-shelf bookcase using items I had elsewhere. You can see my love for blue and white decor, brass, and nautical decor repeated for continuity.
Use Books to Vary the Height of Decorative Objects
Vary the heights of your decorative objects. Using hardback books is another top decorator trick. You should choose your hardcover books by color. Blue is a unifying color in my home so I collected old books with a blue cover. For this purpose, remove paper covers. Thrift stores and yard sales are great sources to find them.
Accessorize Using Uneven Numbers
When you use uneven numbers such as 3,5,7 items when displaying objects, it keeps the eye moving and creates interest.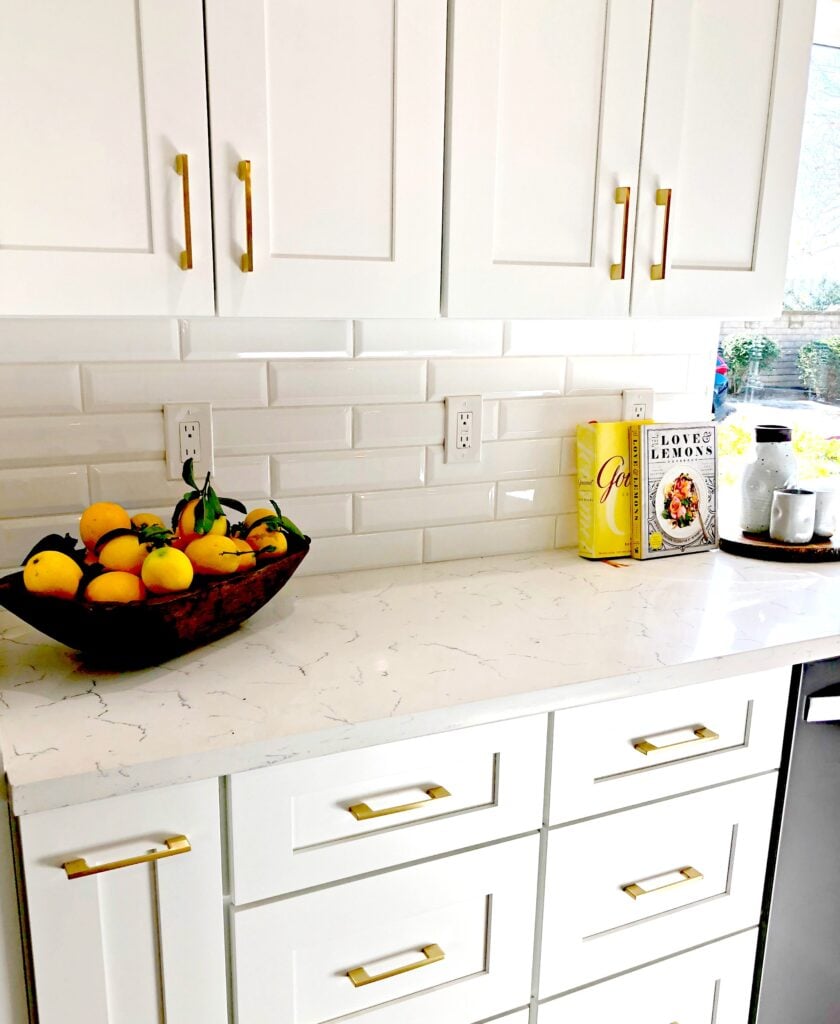 Upgrade Your Hardware
Changing out handles on cabinets and cupboards for a quick and easy upgrade. Don't these look so modern and fresh? You can find her affordable sources in this condo project she recently finished.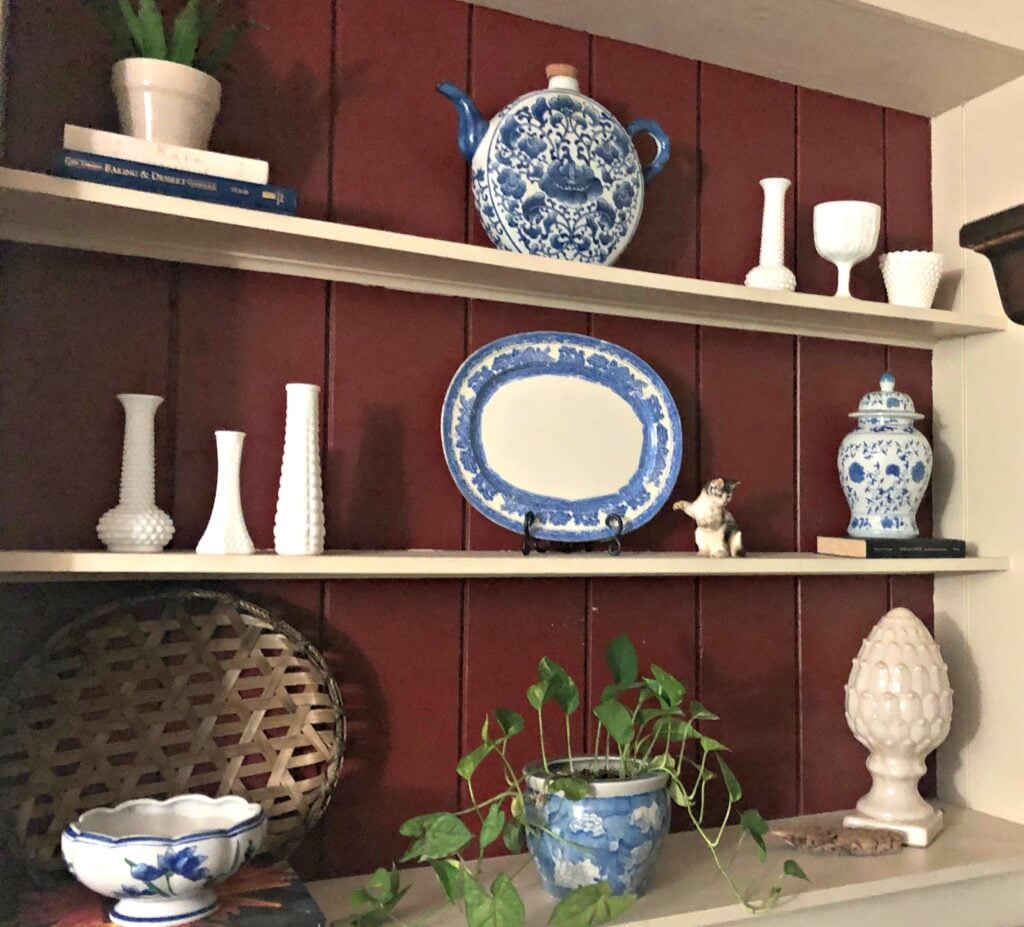 Paint or Wallpaper Your Bookcases
Adding color or pattern will transform the space and make it more important. It's a simple and inexpensive refresh tip. This photo is of a shelf area in my sister's house. We did a quick spruce up using some of her favorite blue and white pieces she has collected. I love how they look against the red paint.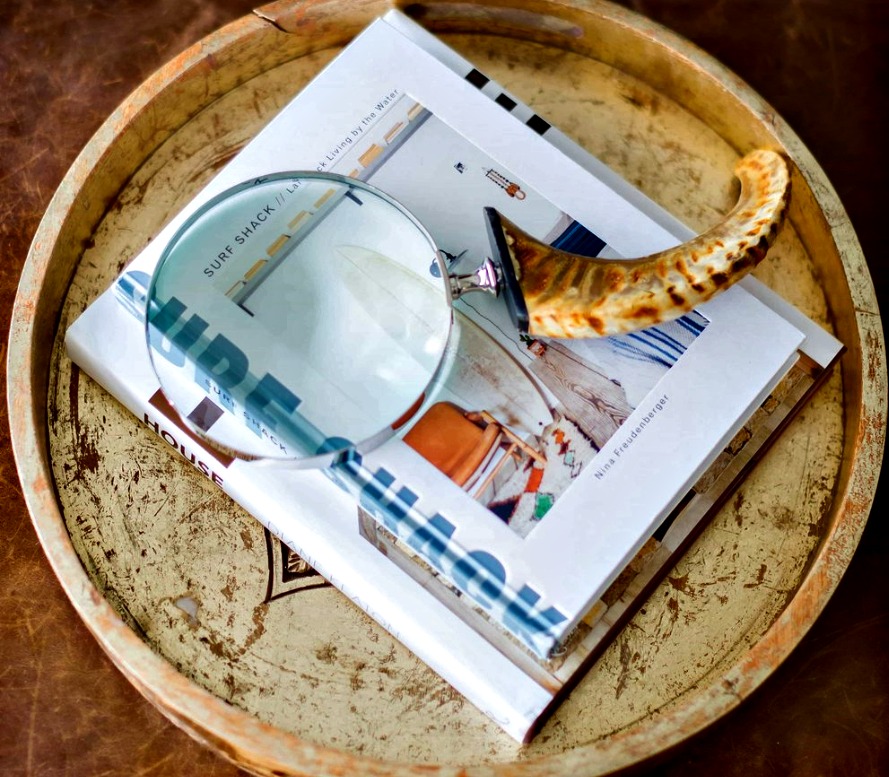 Use Trays
You can turn a random group of objects into a pulled-together look by grouping them inside a tray. Trays can be placed on bedside tables, bathroom surfaces, kitchen counters, on bar carts, on patio tables and anywhere else that needs a vignette. Once you get started, you'll be amazed at how many places a decorated tray will look Pinterest-worthy!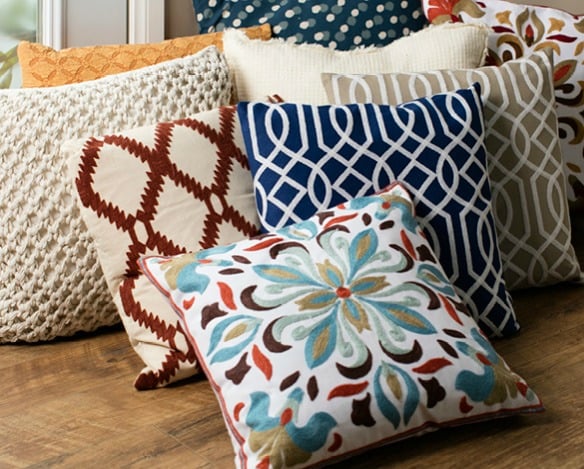 Change Out Accent Pillows
Choose neutral colors for your large pieces of furniture such as sofas and sectionals and then change out your pillows for an inexpensive way to bring in color and interest. You can also use pillow covers for an easy way to change up your room as the seasons change. If there is an expensive designer fabric you love, put that on some pillows.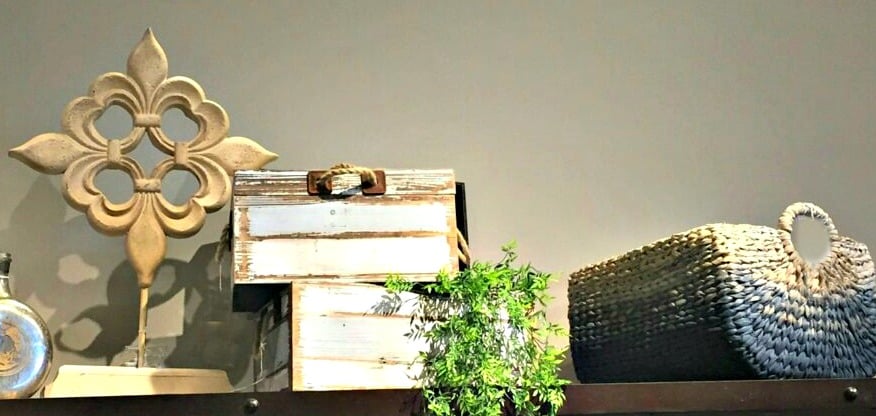 Go Back to Nature
Add texture with a variety of organic materials such as wicker baskets, straw, jute, and wood. Vary the height and bring in nature with items such as plants or shells to create softness and interest.
Plants are an inexpensive way to accessorizing your space. Not only are plants beautiful but many can clean the air. Look for plants that are easy to care for and are not toxic to kids or pets.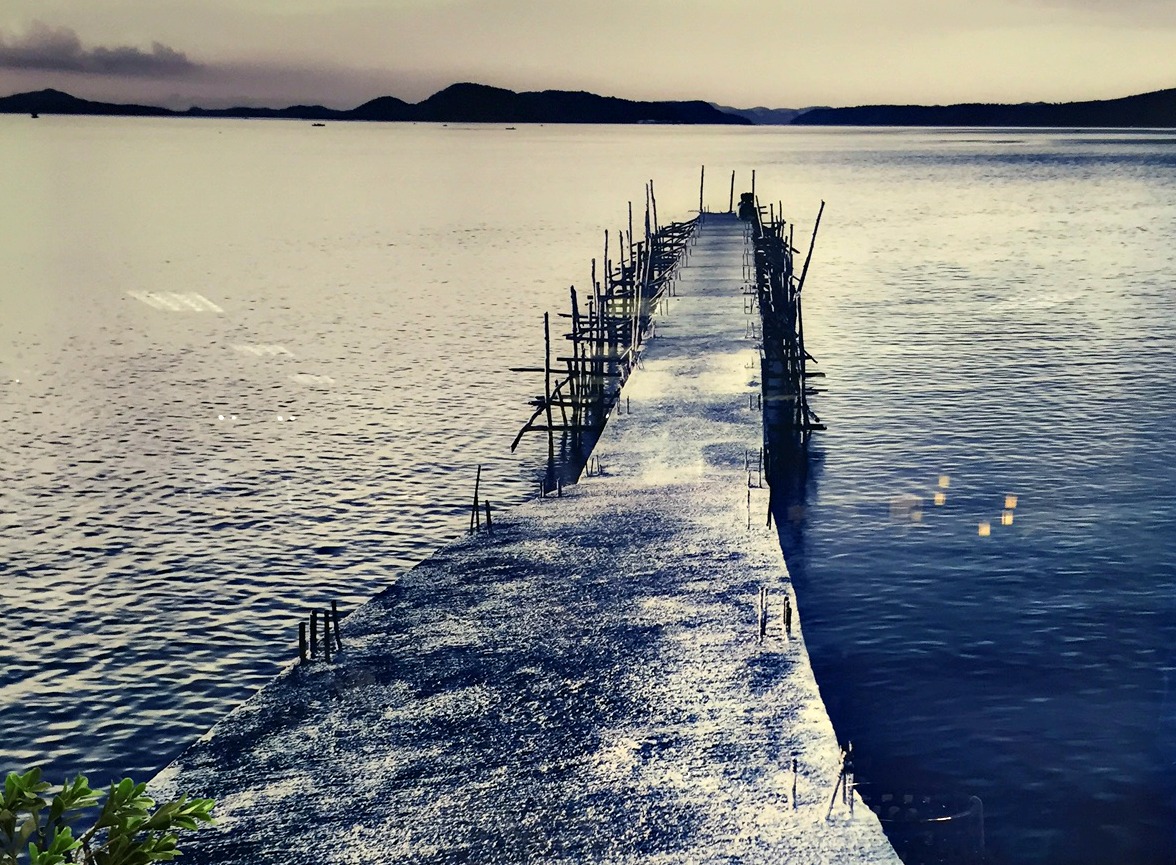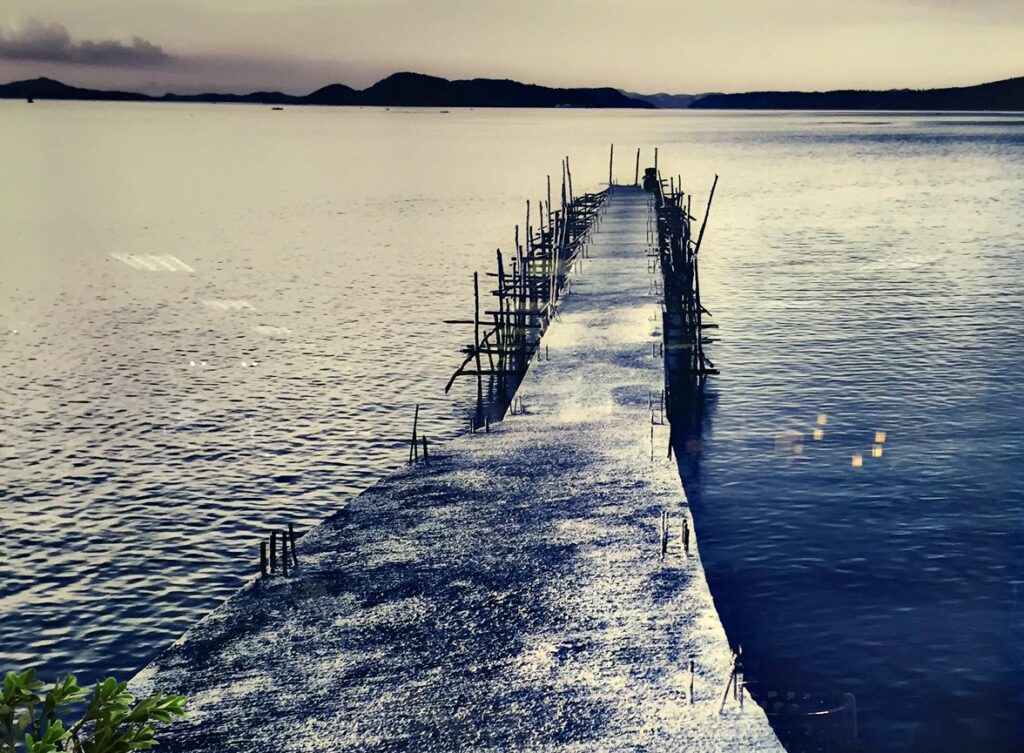 Go Big
One large piece of art that you love can often make a bigger impact than several smaller ones.
Mirrors can also be used to make a small space feel more expansive. If you place mirrors across from windows you will add instant light to the room. You can use decorative mirrors instead of art to fill empty wall space.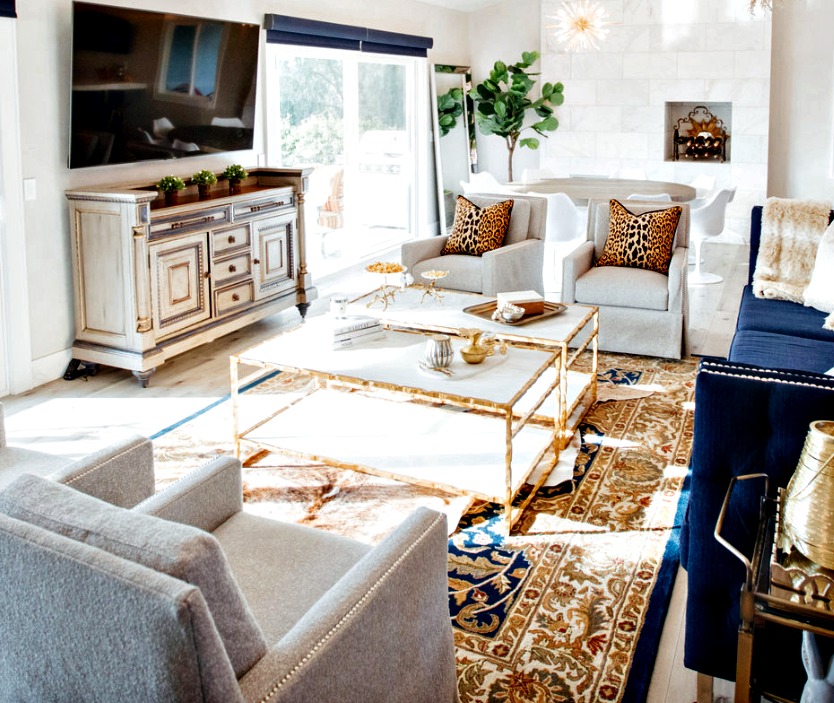 Use Area Rugs to Soften Hardwood Floors
Rugs give warmth and can add great texture, color and personality to your living space. Hardwood floors are beautiful and easy to maintain but they lack the comfort that carpeted floors offer, especially in the cooler months. Use several of varying patterns and fabrics together to showcase your character. Or add several rugs of the same pattern and fabric, or different textures but the same color. You can change your area rugs to reflect the seasons using warmer tones and fabrics for cooler months and lighter ones for the warmer days of the year.
Let your home reflect your personality and your style. Collect things you love and display them.
Being a world-renowned frugalista, I am always on the hunt to upgrade what I have from consignment stores, Craig's List and Facebook groups for local sellers. I keep a list of the items I want and the measurements I need in a notebook App on my phone. That way, I can snag those bargains without hesitation!
In the survey, it showed that most people like or love their homes, but the survey also revealed that many homeowners are not fully aware of what type of insurance they need to best protect their homes. We spend time and money getting our homes livable, so that big investment needs to be protected.
On the Erie Insurance website, you can get information about "guaranteed replacement coverage" which would pay to rebuild your home in today's dollars. Every homeowner's insurance policy comes with a local agent who will help determine the right coverage. Visit their website today to get educated about protecting your biggest investment, the place you call home.