If you have a wine lover on your gift list, we found some terrific and affordable gifts with a wine-theme that you will be proud to give. You can give them as hostess gifts as well as to friends and co-workers.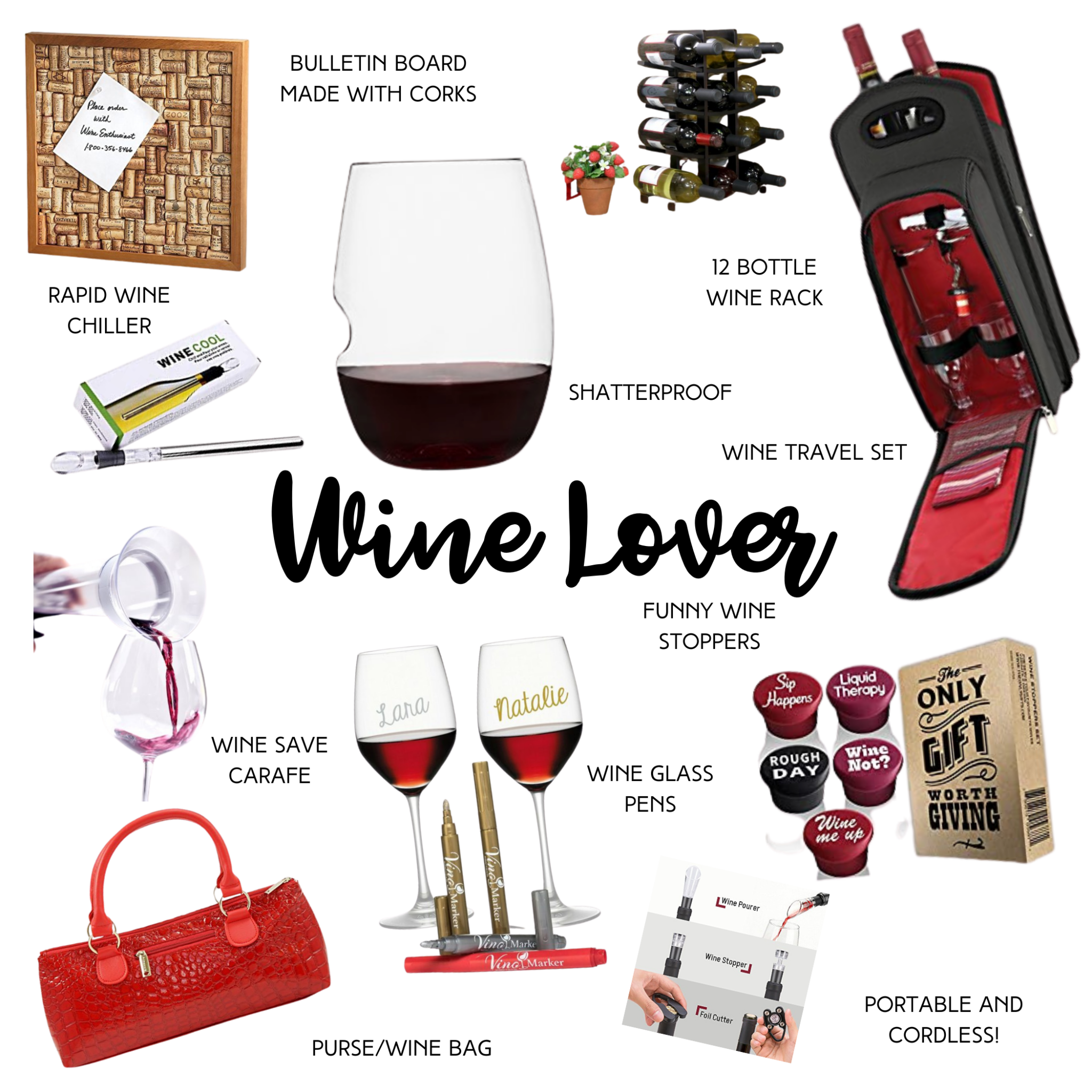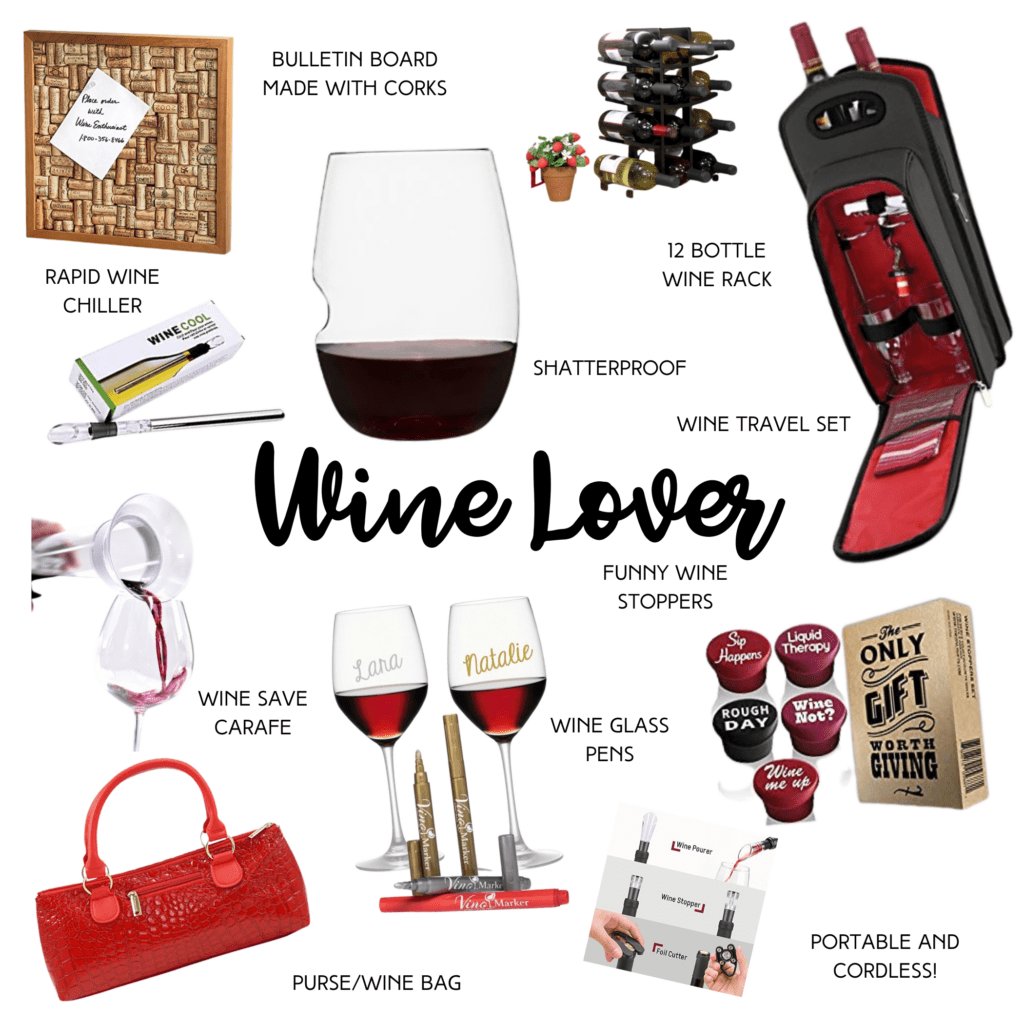 You can pair any of these affordable wine-themed gifts with a nice bottle of wine and you will be all set! As an Amazon Associate, I earn from qualifying purchases.
For the Wine Lover – Wine Gifts and Wine Accessories for Easy Gift Giving
Cordless Electric Wine Bottle Opener
"Open any wine bottle effortlessly – includes one electric wine opener, one air pump wine opener, 2pcs vacuum bottle stoppers, one wine pourer, one foil cutter.
Portable and cordless- it uses batteries."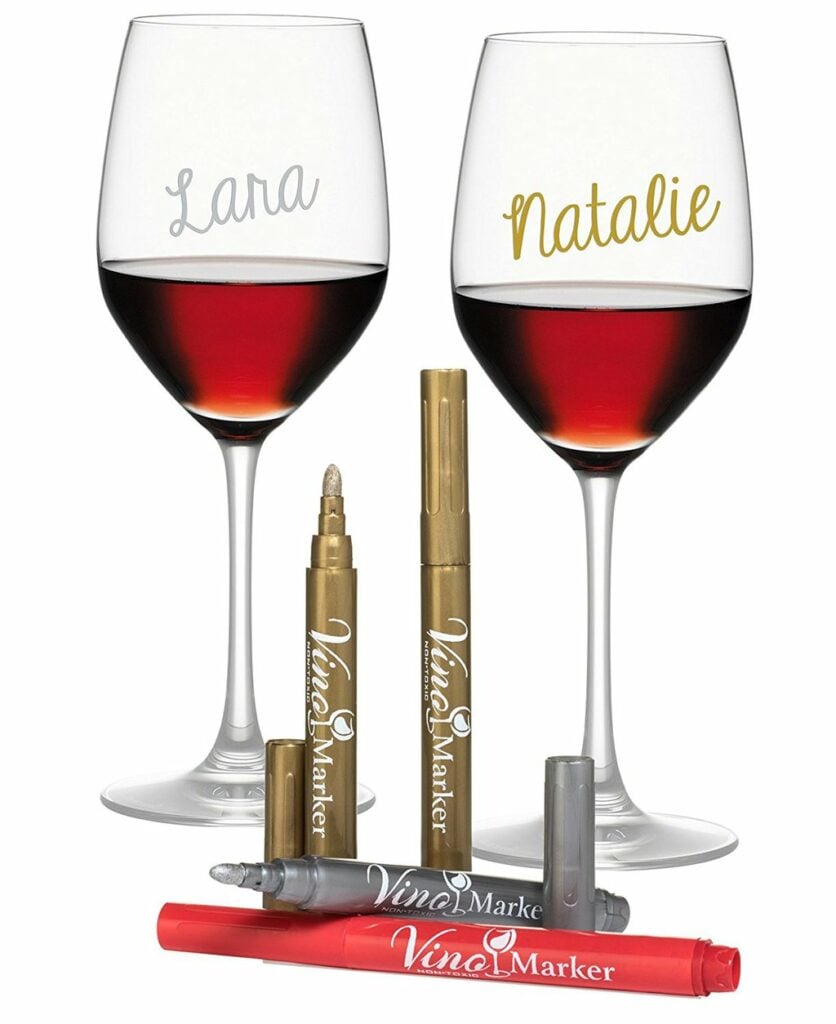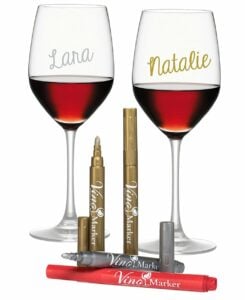 Vino Marker Metallic Wine Glass Pens – Pack of 4
"Vino Markers are the ideal way for your guests to personalize their wine glasses at your event. With our new 4 pack of pens, you get more for your money. We've included an extra gold pen…(our favorite!).
For red wine, write anywhere on the glass. Just let it dry for 3 to 5 minutes and it will stay on for the life of the party. The ink will not smear even while holding your wine glass. "
Govino Wine Glass Flexible & Shatterproof, Set of 4
"The Govino Go Anywhere Wine Glasses performs better than plastic, acrylic, silicone, and polycarbonate glassware."
Wine Enthusiast Wine Cork Board Kit
"The bulletin board made in mahogany wood is perfect for the kitchen, home office, or wine cellar. We supply the hardwood frame and instructions and you supply the wine corks. Approximately 128 wine corks are required to complete the bulletin board kit."
Wine Travel Bag and Picnic Set
"This Wine Travel Set includes (2) Acrylic Wine Glasses (2) Wine Glass Stakes (2) Cloth Picnic Napkins (1) Corkscrew (1) Bottle Stopper and (1) Elegant Insulated Carrying Bag. The well-insulated main storage compartment will keep your wine at the temperature you need. The included wine stakes will stick right into the ground and hold your wine glasses right where you want them."
Primeware Gold Cork Wine Clutch
" target="_blank" rel="nofollow noopener">Purse/Insulated Wine Bag
Many color choices!
"Versatile Carryall – Along with holding a standard 750mL red or white wine or champagne bottle, it can also be used for snacks, lunch, water bottles, and more."
12-Bottle Dark Espresso Bamboo Wine Rack
This wine rack is made from 95% wood and 5% metal. It holds 12 bottles.
Savino Connoisseur – The wine saver carafe
"Designed to maintain fresh wine for up to a week, The lid with a rubber seal prevents spills and it features a float that seals the wine, preventing oxidation. It holds a standard bottle of wine (750ml) and fits in most refrigerators! It just measures 10,5 inches. It is available in glass and plastic for outdoor use."
"These cute wine stoppers are durable, reusable and easy to wash. They are made of premium quality FDA approved food grade silicone material. Hand-wash or throw them in the dishwasher as many times as you need."
"The secret to a perfect wine – Newward Wine Chiller Stick, a combination of wine bottle chiller, filter, and pourer, allows you to enjoy a glass of perfectly chilled wine at optimal temperature. Its elegant design will add a level of refinement to your wine drinking experience."
Be sure and check out all of our new gift guides. Our elves have been busy early finding the perfect, affordable gift suggestions so you can enjoy the holidays and get your gift buying done early and on budget.