Are you going on a trip for a week? This post about Travel Clothes for Women over 50 will help you with your packing! It will also give you some good ideas for your travel capsule wardrobe. Check your closet to see what you already have and then use this packing list to fill in as needed. I chose items from well-known stores.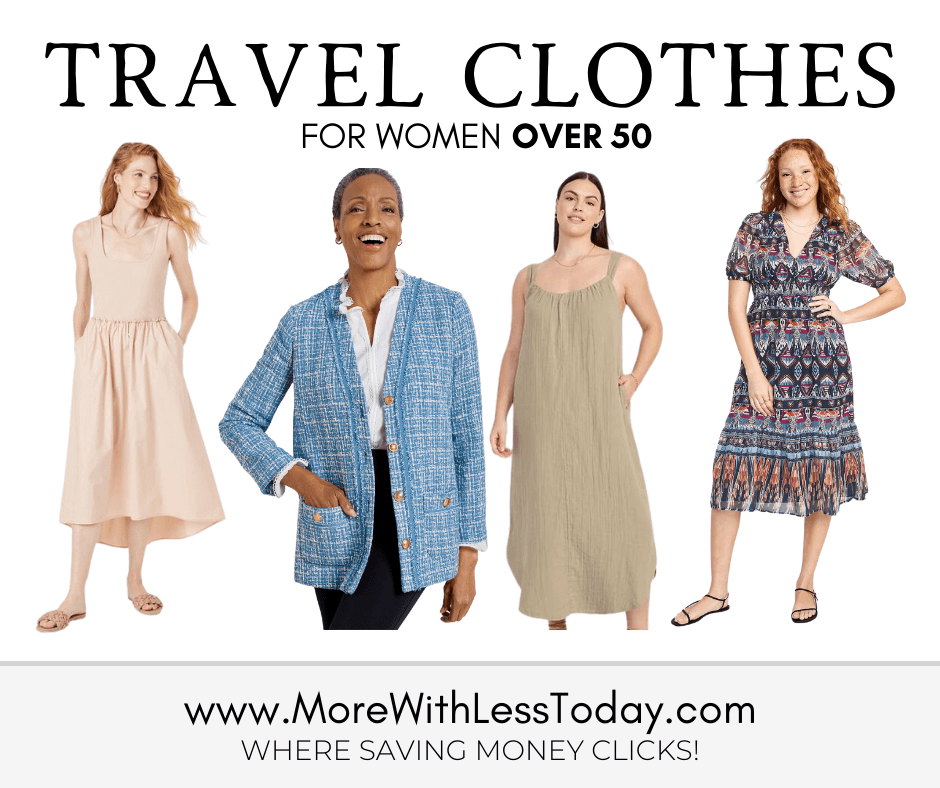 I'm not great at packing but I am making an effort to be better at it. Mostly I bring way too many items and other times I forget to pack something important. I've put together a travel clothes packing list for an upcoming vacation and I thought I would share it and invite your ideas too!
We have affiliate relationships which means we may earn a small referral commission at no additional cost to you if you shop using our links.
Travel Clothes Checklist for One Week Vacation
3 tops
4 bottoms
1 jumpsuit
4 dresses
3 pairs of footwear
2 bags, 1 hat, 1 necklace
1 jacket, 1 cover-up, 1 pair of sunglasses, 1 swimsuit
1 scarf
Travel Clothes for Women Over 50
Tops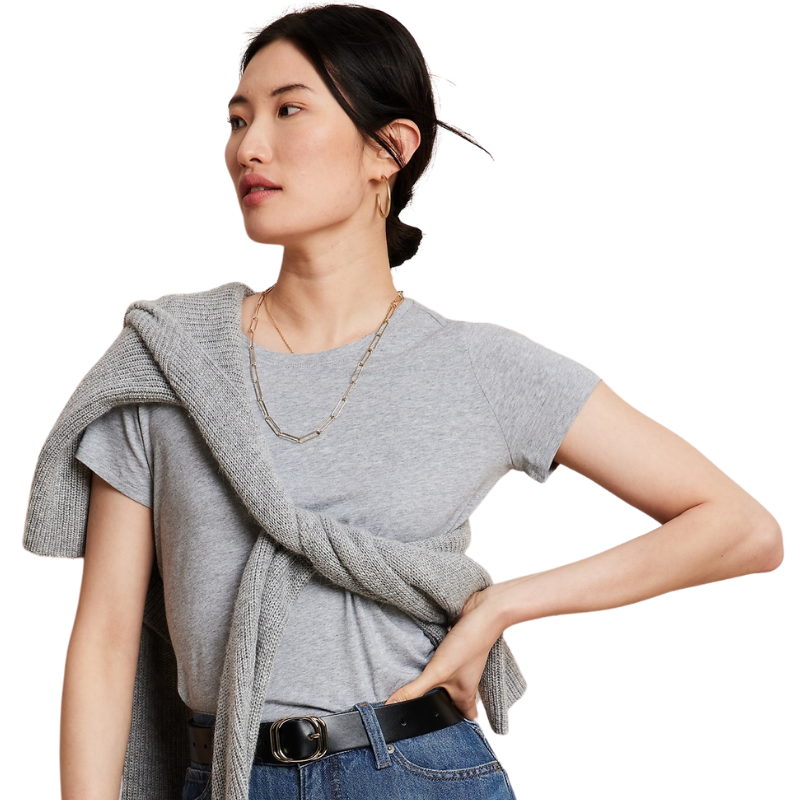 photo from the banana republic factory
You'll love the perfect blend of comfort and style of this Timeless T-shirt from Banana Republic. This shirt has a classic fit and definitely a must-have for any wardrobe!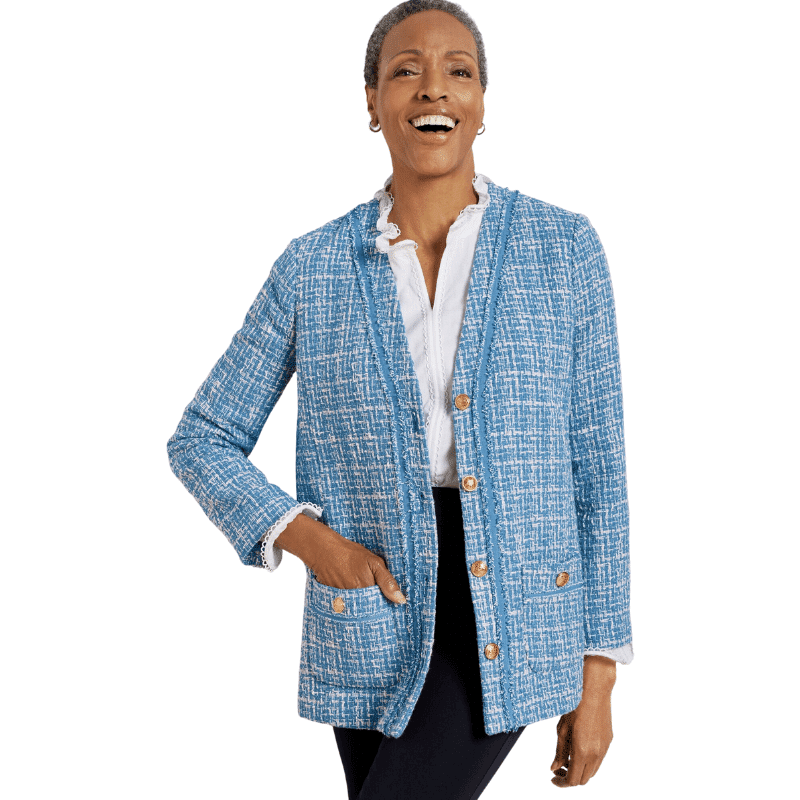 photo from talbots.com
You'll love this Tweed Coatigan from Talbots! It's made from elegant tweed. It's versatile and comfortable and will make a perfect addition to your wardrobe.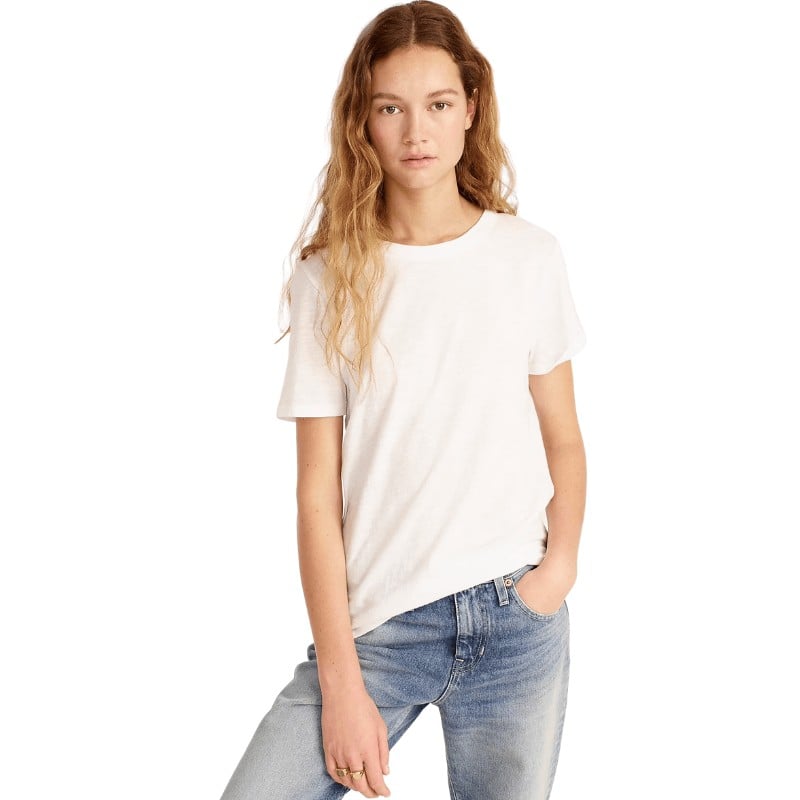 photo from jcrew.com
Do you need a basic tee for your wardrobe? Grab one of these Vintage Cotton Crewneck T-shirts from J.Crew! The soft and lightweight cotton and relaxed fit of this shirt make it exceptional for everyday wear.
Sizes available: XXS – 3X
Travel Clothes: Bottoms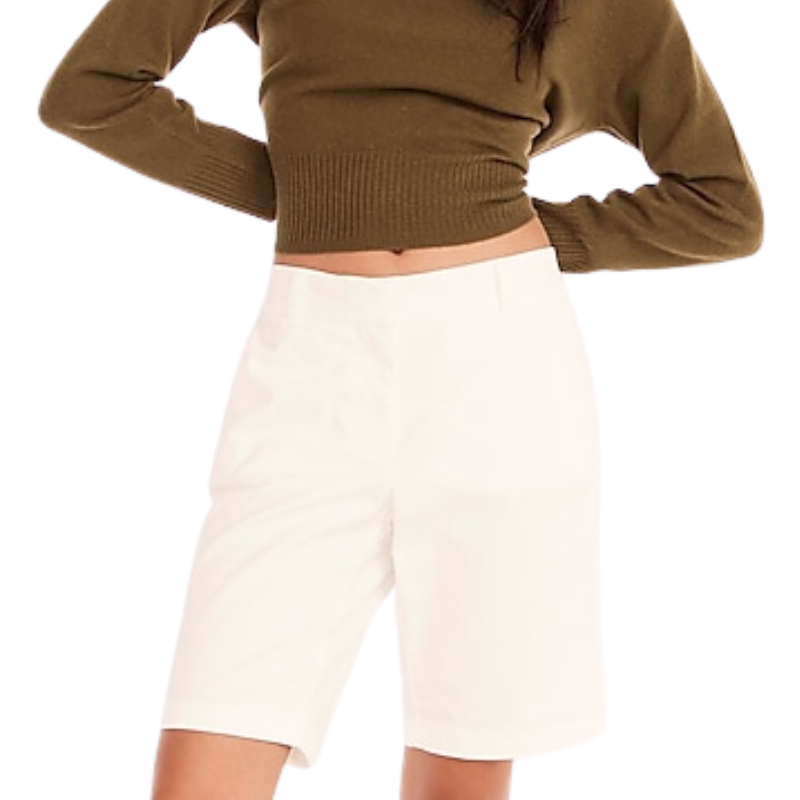 photo from jcrew.com
Upgrade your style this season! This Stretch Chino Shorts is the perfect addition to your summer wardrobe. These shorts are perfect for any outdoor activity.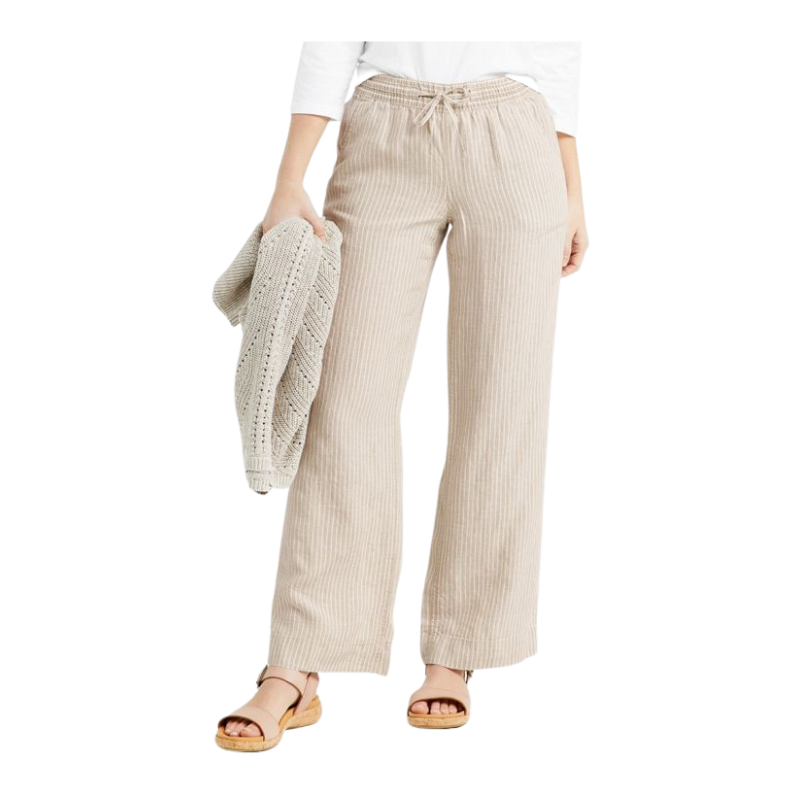 photo from llbean.com
Enjoy high-quality linen fabric that's both breathable and durable with this Premium Washable Linen Pull-on Pants from LL Bean! These striped pull-on pants are perfect for any occasion. You'll love the combination of style and comfort.
Sizes available for regular, petite, and plus
photo from kohls.com
These GOWALK Pants from Skechers are made with soft and stretchy materials that are great for all-day everyday wear. The tapered leg design makes it a flattering fit.
Jumpsuit
photo from Amazon.com
Ready to shop for new summer clothes? Add this Loose Off Shoulder Romper Jumpsuit from PRETTYGARDEN! The fabric used for this jumpsuit is lightweight and breathable – perfect for summer! It has a loose and flowy fit that makes it look chic and perfect for casual gatherings.
Look at the reviews for this! It went viral.
Travel Clothes: Dresses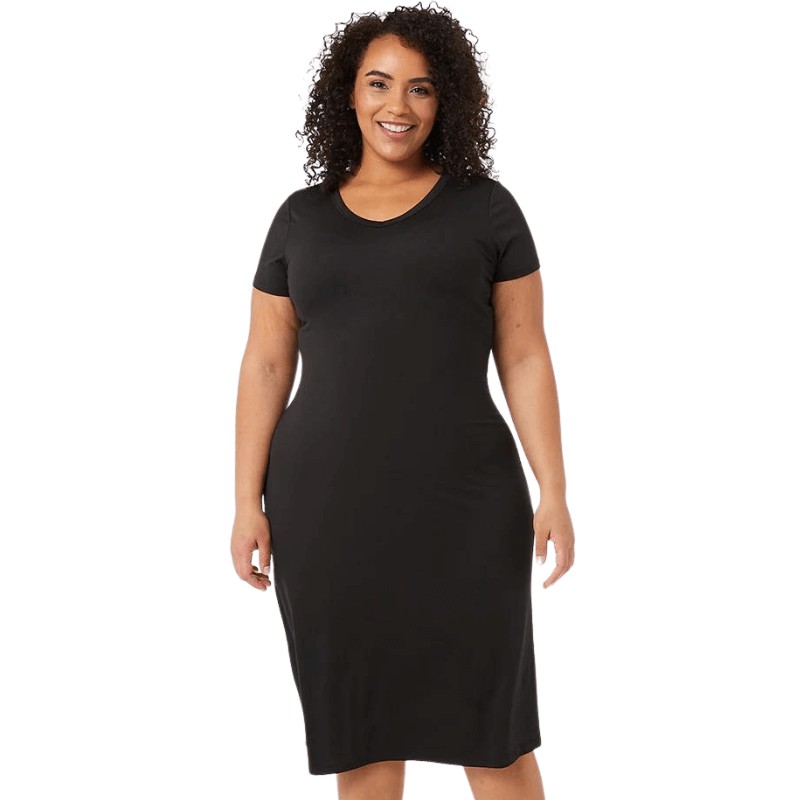 photo from 32degrees.com
This Cool T-Shirt Dress is perfect for those hot summer days! Made with a moisture-wicking and quick-drying fabric, this dress will keep you cool and comfortable all day long. At the time of posting, it was deeply discounted.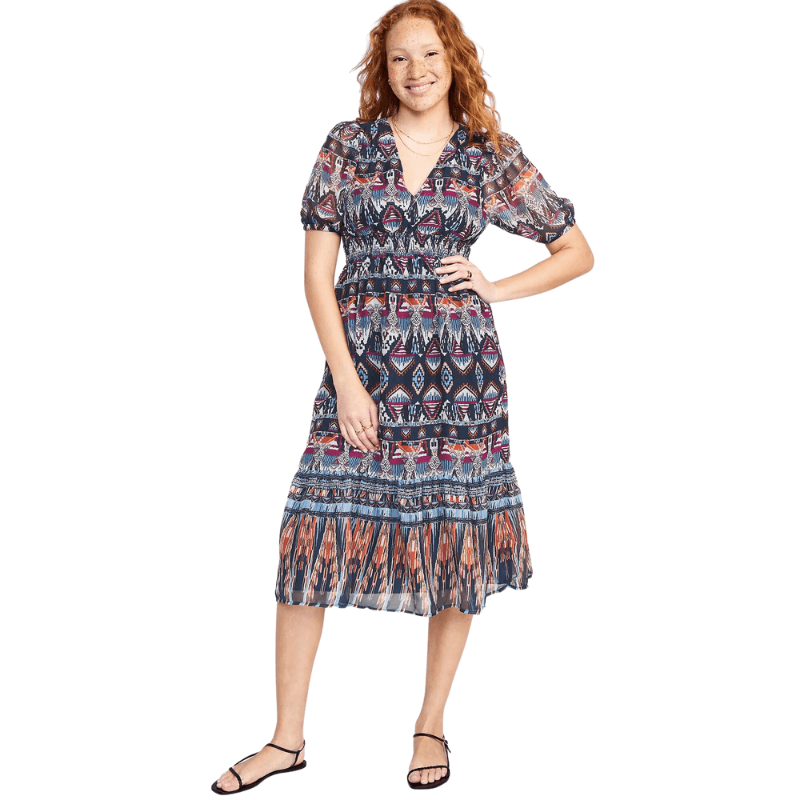 photo from oldnavy.com
This Waist-Defined V-neck midi dress has the perfect combination of comfort and style for any occasion! Made with a soft and breathable fabric, this dress features a flattering and comfortable design.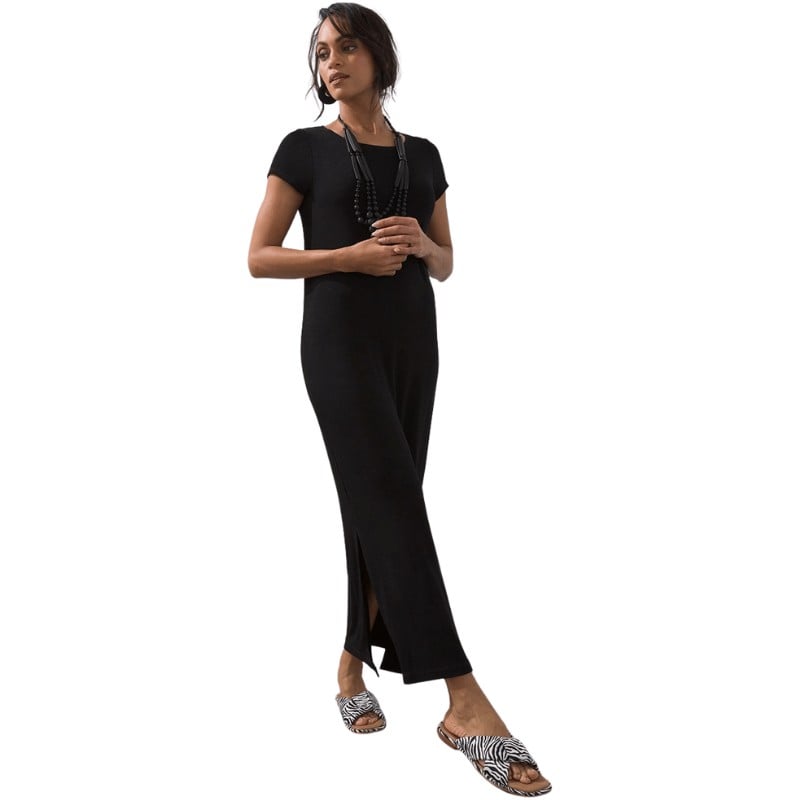 photo from chicos.com
Do you need a classic maxi dress in your wardrobe? This Classic Short Sleeve Maxi Dress from Chico's is the ultimate dress for effortless elegance! Made with a soft and flowy fabric, this dress features a classic and timeless design that's perfect for any occasion.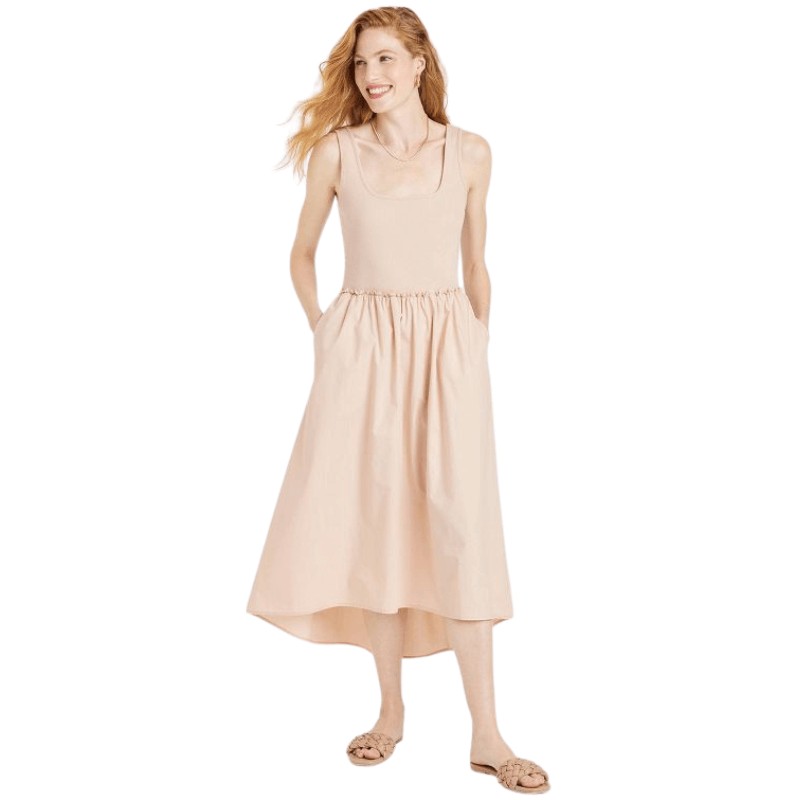 photo from target.com
Get this Sleeveless Ballet Dress! It's a perfect dress for a day out or a night on the town. This dress features a flattering and feminine silhouette that will make you feel confident and stylish.
Jacket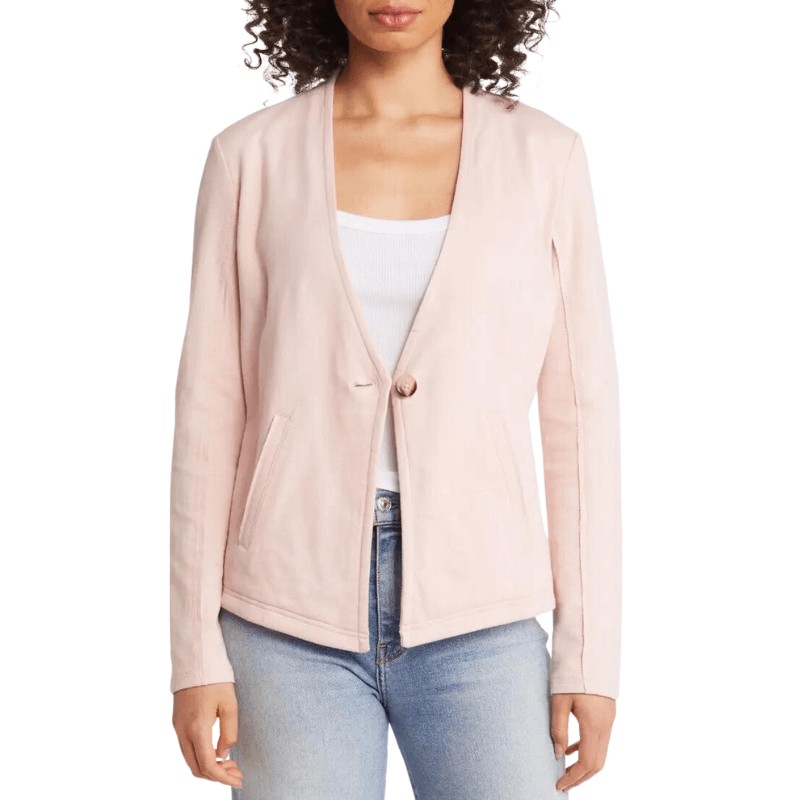 photo from nordstrom.com
This One-Button Knit Blazer from Caslon provides a combination of comfort and warmth, especially on a chilly airplane or air-conditioned venue. This jacket features sharp lines and a one-button silhouette.
Travel Clothes: Beachwear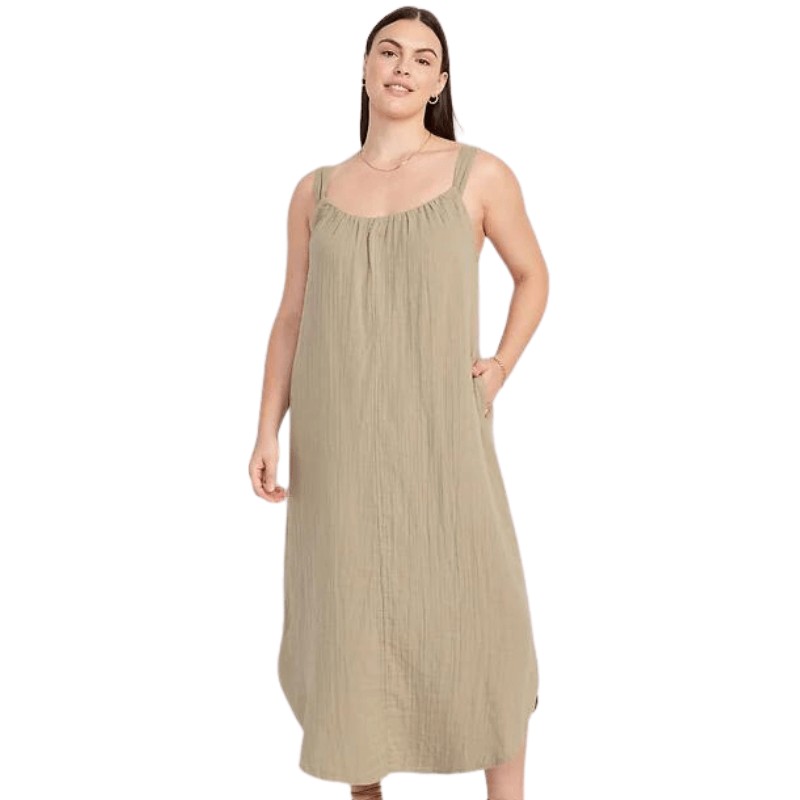 photo from oldnavy.com
Ready to go for your upcoming vacation? Don't forget to get this cute Sleeveless Shirred Maxi Dress! This dress has a flattering and comfortable loose fit. It comes in several colors.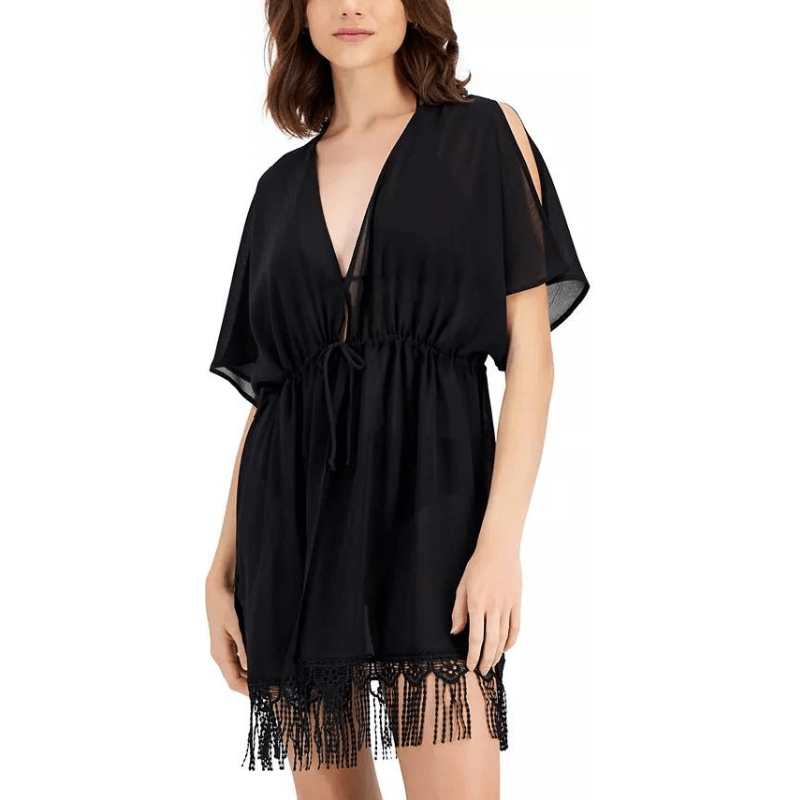 photo from macys.com
This Fringe-Hem Tie-Front Kimono Cover-Up from Miken is a great choice to add to your summer wardrobe when you want to look and stay comfortable and stylish during your vacation. This cover-up is soft, lightweight, and breathable, ensuring maximum comfort even in the hottest weather.
Footwear
photo from amazon.com
Made with high-quality materials, these Star Sneakers from Taos feature a supportive footbed and a stylish star design that can elevate any outfit.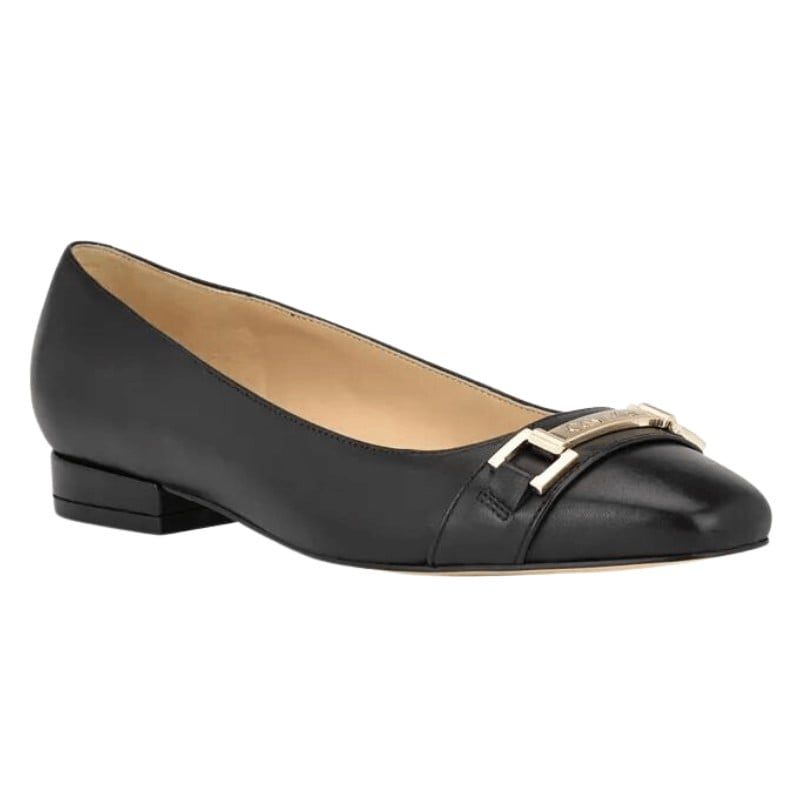 photo from asos.com
Do you need a good pair of ballet flats? These Crystil Slip-On Pointy Toe Dress Flats from Calvin Klein are versatile and made of durable material. The pair features a modern pointy toe and a stylish kitten heel for all-day comfort.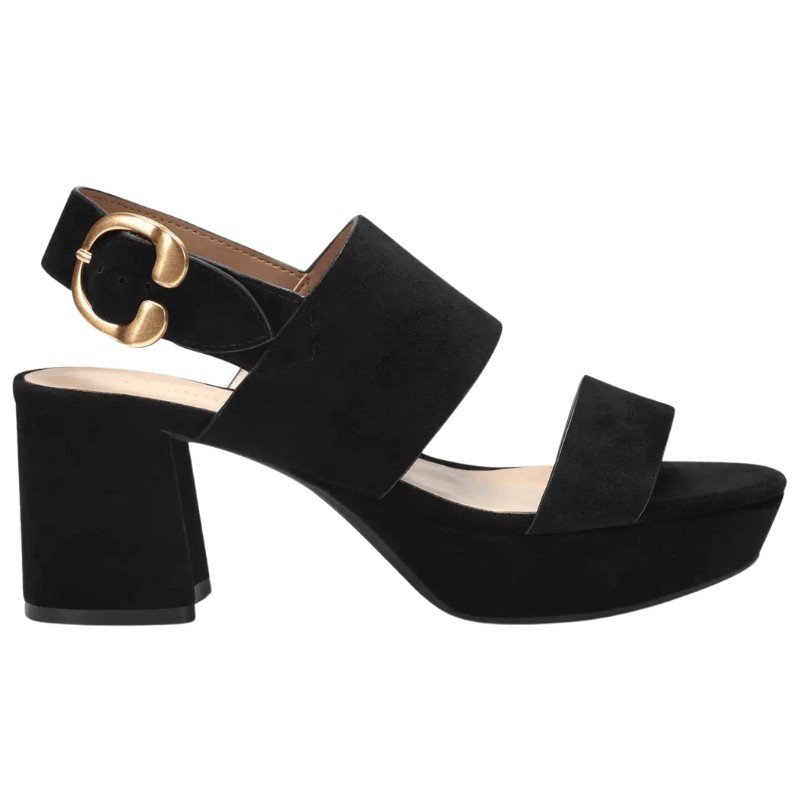 photo from aerosoles.com
These Women's Sandals have a soft and cushioned footbed, adjustable straps for a customized fit, and a sleek black design that will elevate any outfit. You'll find them in other colors too, I think they are so stylish!
Travel Clothes: Accessories
photo from Amazon.com
If you're looking for a great travel bag, you might want to check out this Anti-Theft Classic Messenger Bag from Travelon. This bag has a slash-resistant body and strap, locking compartments, and RFID-blocking technology. You're sure that your valuables are protected from pickpockets and identity theft. It's the perfect travel bag.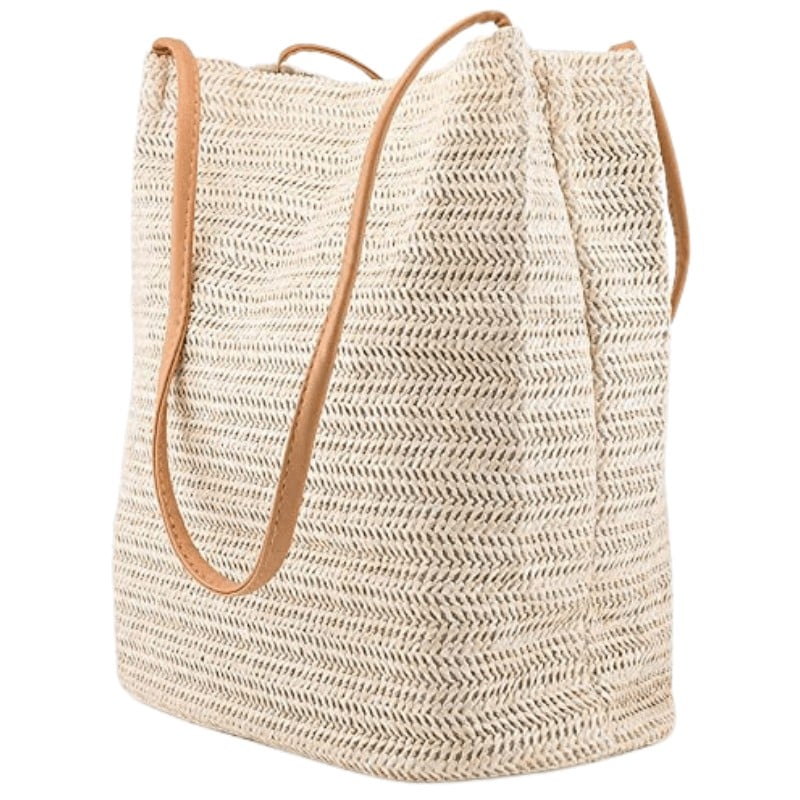 photo from Amazon.com
Need a beach bag for summer? This Straw Beach Bag Tote from Oct17 is the perfect accessory for your day at the beach! It's made from quality straw material and has a roomy interior to hold all your essentials.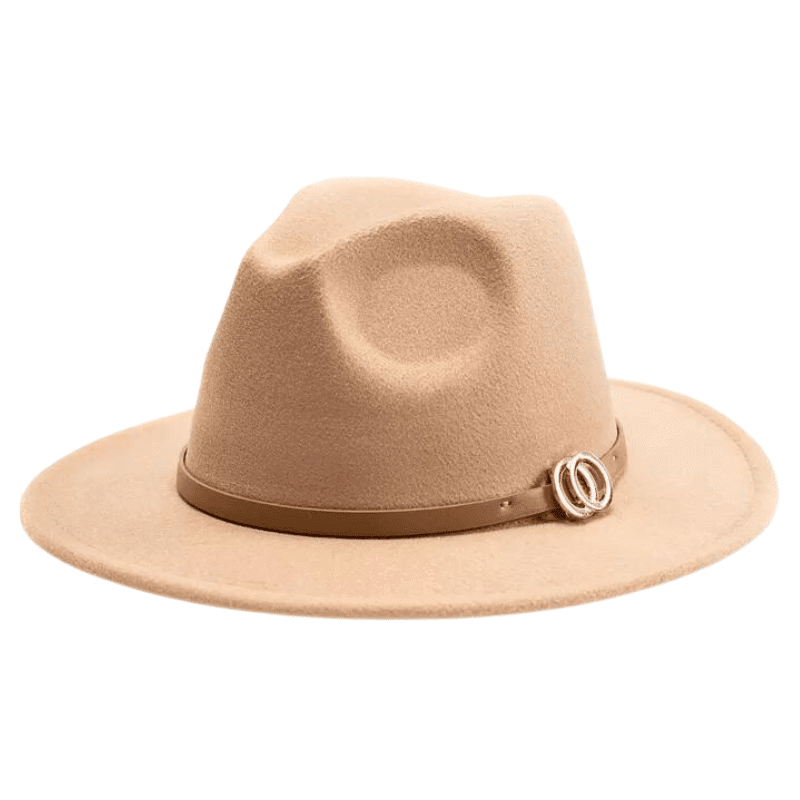 photo from macys.com
Complete your fall outfit with this Sunburst Crochet Floppy Hat from I.N.C. International Concepts! This hat is a practical and stylish accessory for any outdoor activity.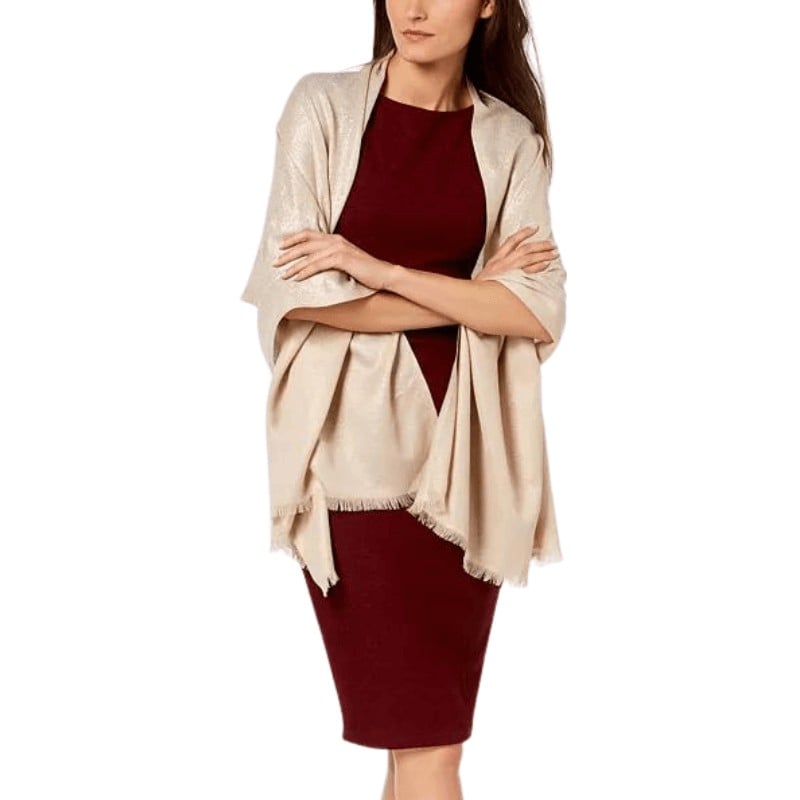 photo from macys.com
Add elegance to your outfit with this Lightweight Metallic Evening Wrap from Calvin Klein! The high-quality fabric makes it perfect for keeping you warm on cooler evenings.
YOU MIGHT ALSO LIKE:
PIN to SAVE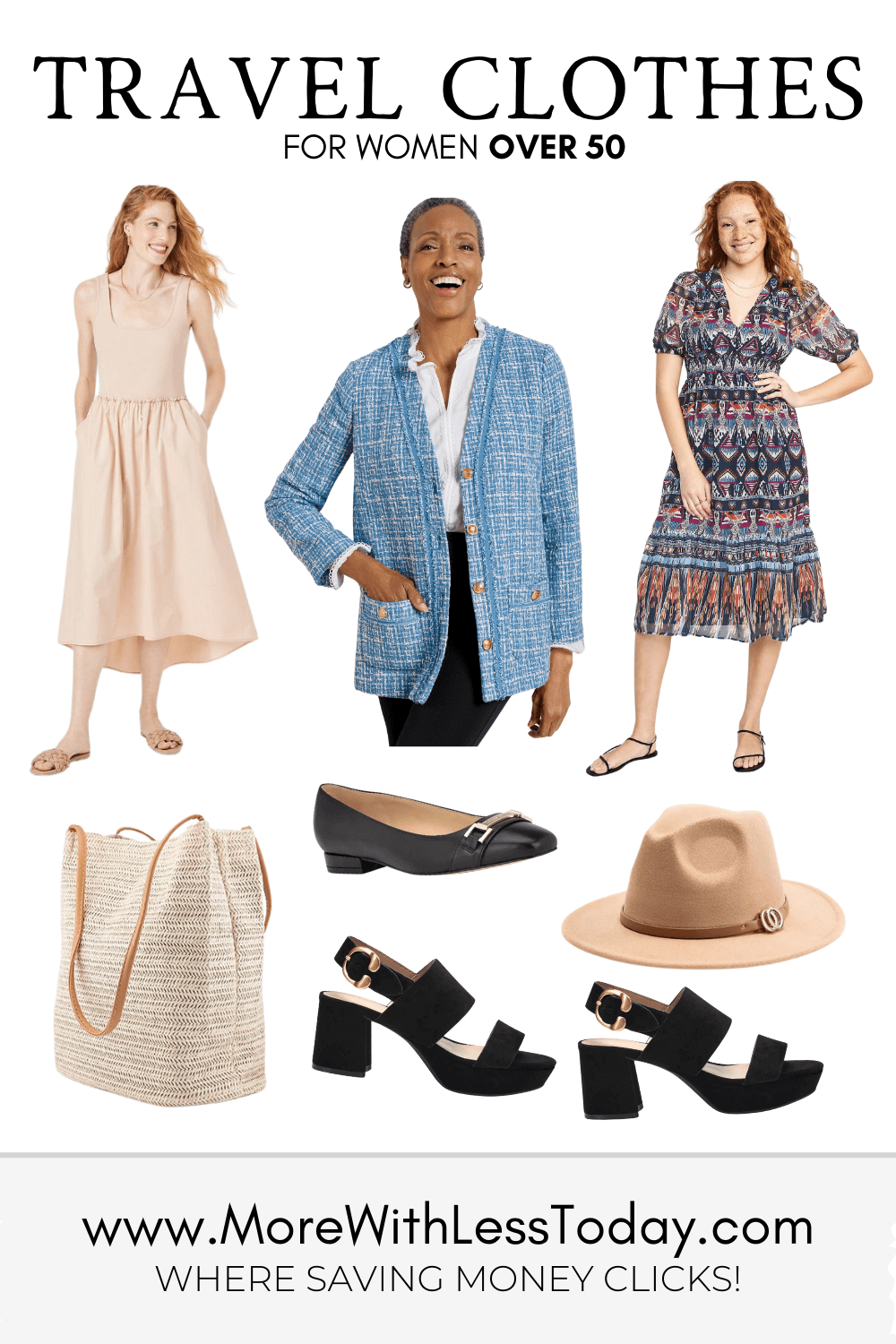 Don't forget to share this post with your friends and loved ones. If you are on social media, I would love to connect with you on Facebook, Instagram, Pinterest, or Twitter. Just click on the links to visit my profile. Leave a message and I will follow you back!