Apple cider vinegar is made from fermented apple cider. Filtered versions will be gold in color and clear. The unfiltered version may contain some sediment and the cloudy result of the natural fermentation process which is called "the mother" and it is harmless.
I have a newfound appreciation for Apple Cider Vinegar or (ACV as devotees call it) About a month ago, I started drinking a straight shot of it every morning. Let me just say, it's not for the faint of heart.
The stuff tastes terrible, I'm not gonna lie. But I am seeing such great benefits that I have my morning smoothie ready, chug the shot, and chase it immediately with my smoothie. Yes, sometimes I even slam the shot glass down on the counter after I finish.
Some people prefer to mix two tablespoons into 16 ounces of water and drink it up slowly. Like I said, I prefer to get it over with quickly.
We came up with 46 ways that Apple Cider Vinegar can improve your life! Do you have any other ACV benefits to share? With a little help, I could update this post and make it an even 50!
I'm not qualified to give any medical or health advice so always consult with your physician.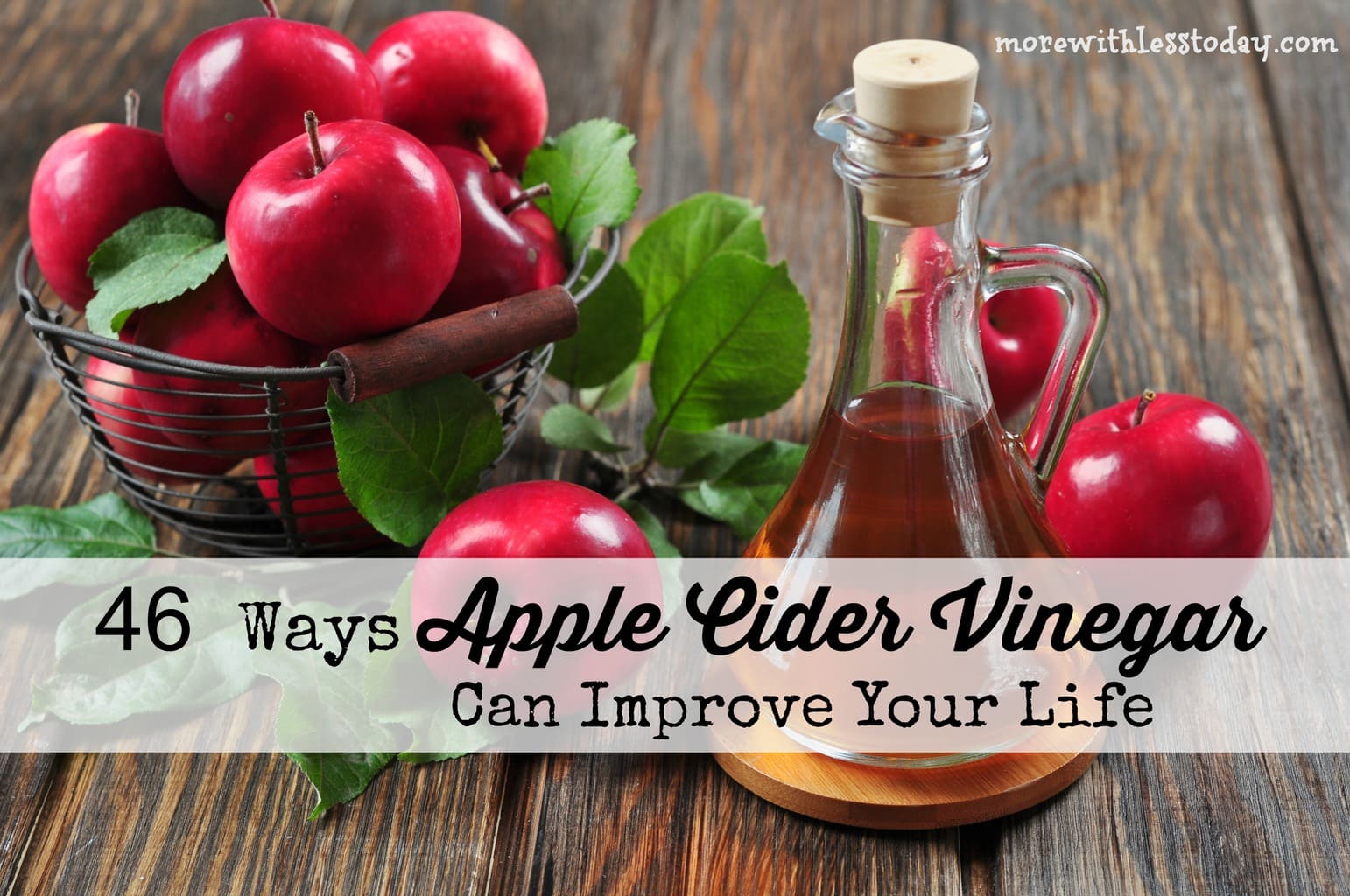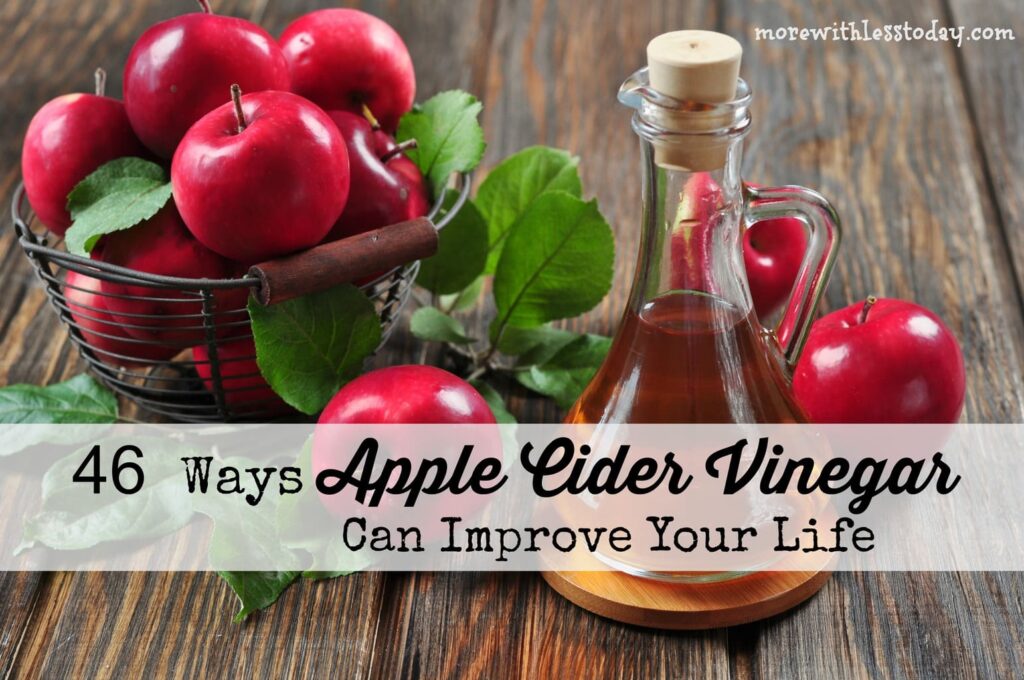 Now, I'm not a medical professional, nor do I play one on TV, so always consult with your medical expert before embarking on a new routine, just to make sure there are no interactions with any medication you are taking or any medical protocols your doctor is recommending.
Naturalists and herbalists recommend ACV for it's health-boosting benefits which include:
HEALTH
1.) Helps with weight loss (this is the benefit I am seeing, along with lessening my appetite- yea!)
2.) Helps break down fat
3.) Serves as a natural appetite suppressant by helping you to feel more full
4.) Boosts energy and reduces lactic acid after a workout- add some ACV to a glass of water
5.) Helps to maintain your body's alkaline pH levels
6.) Helps to detox your liver
7.) Helps to reduce heartburn
8.) Helps to reduce chronic acid reflux
9.) Helps relieve gout
10.) Helps your body combat candida (yeast)
11.) Helps to improve irregularity (has helped me with this, sorry TMI)
12.) Helps lower cholesterol according to a study published in the Journal of Agricultural and Food Chemistry.
13.) Helps lower blood pressure
14.) Helps lower blood sugar – one study had participants take two tablespoons of ACV before bed and saw their blood sugar lowered by 4-6% when they awoke.
15.) May help to dissolve kidney stones
16.) Can help to prevent the flu and stomach viruses
17.) Relieves a sore throat – gargle with equal parts warm water and ACV at the first sign of a sore throat and repeat as needed.
18.) Gets rid of nail fungus
19.) Prevents flare-ups of athlete's foot
20.) Gets rid of foot odor – wipe off your feet with a clean paper towel soaked in ACV to help eliminate odor-causing bacteria.
21.) Remove warts – soak a cotton ball in ACV and cover the wart overnight. Use a band-aid or medical tape and repeat until the wart falls off.
22.) Reduces inflammation
23.) Relieves itchy skin – apply with a cotton ball to bug bites, poison ivy, and itchy skin conditions
24.) Reduces sinus pressure and reduces mucus. Sip some ACV and water to relieve sinuses
25.) Helps to fight migraines
26.) Reduces arthritis symptoms
27.) Relieves allergy problems
28.) Suppresses nausea symptoms
29.) Fights bacteria and bad breath- swish around ACV diluted with two parts water then brush as usual.
30.) Deodorant – apply a little ACV under your arms to fight odor-causing bacteria. After it dries, the smell will dissipate.
31.) Relieves sunburn (mix 1 cup of ACV into the bathtub and soak)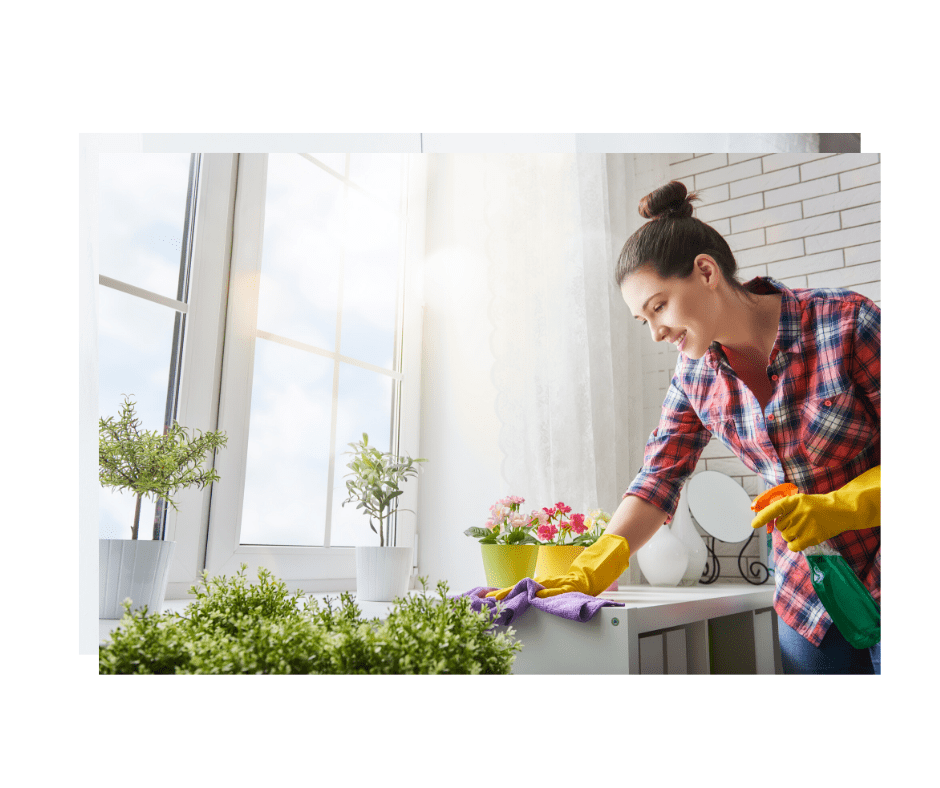 HOME
32.) Cleans and disinfects – dilute a half-cup ACV with one cup of water to clean surfaces
33.) Deodorizes- put it in a spray bottle with one cup of ACV and one cup of water (be sure you like the smell first)
34.) Flea repellent- spray the dog with 1/4 cup ACV to 3/4 cup of water. It makes for a shiny coat too. I have a little white dog and fleas just love little white dogs. This is so much healthier than the harsh chemical flea-repellents, and so much cheaper too!
35.) Weedkiller in the garden – mix one part ACV to 8 parts water and spray on the weeds and on your garden vegetables.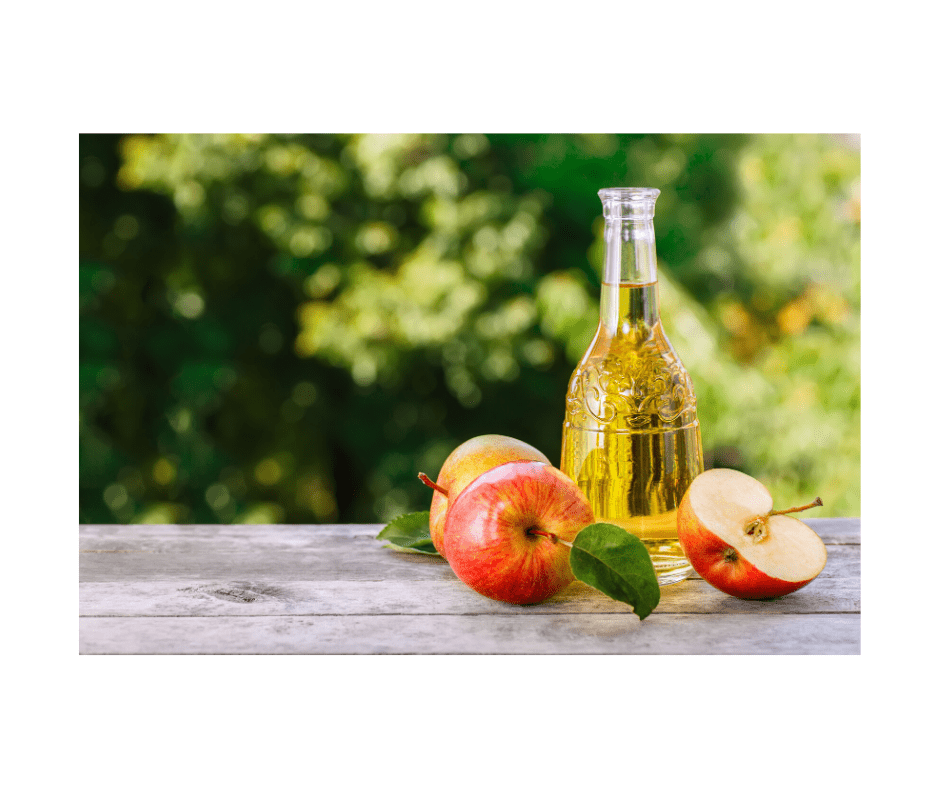 FOOD
36.) Wash off your produce- mix 4 tablespoons of ACV with a gallon of water and rinse the dirt and pesticides off your garden grown and store-bought fruits and vegetables.
37.) Add a little bit to your BBQ sauce and marinades to give them a tangy yet sweet flavor
38.) Add it to olive oil along with favorite spices to make your own salad dressing
BEAUTY
39.) Helps to clear up blemishes and skin conditions and prevent acne flare-ups
40.) Helps to tighten skin
41.) Helps to tone skin
42.) Makes your hair softer and shinier (mix 1 part ACV with 1 part water and use after your shampoo)
43.) Removes build-up from hair care products
44.) Reduces dandruff – spray your scalp with equal parts water and ACV. Wrap your head in a towel for an hour and then wash hair as usual.
45.) Whitens teeth- swish around ACV diluted with two parts water then brush as usual.
46.) Fade bruises faster- dab ACV on a bruise to help ease the discoloration
Did you ever imagine that one bottle of something could provide 46 benefits? Apple Cider Vinegar has been used for healing since 400 B.C.! Talk about tried and true!
I buy Bragg Organic Apple Cider Vinegar which is easily found in most health food stores. You can also purchase it from the comfort of your keyboard on Amazon.com and have it sent straight to your home.
Thanks to the blog Anytime Fitness and Mamavation for your help with this helpful list of 46 Ways Apple Cider Vinegar Can Improve Your Life.
You May Also Enjoy:
Cheap Uses for White Vinegar Around the House
10 DIY Cleaners You Can Make at Home
Homemade Oatmeal Honey Face Scrub
PIN for Later