Here are 50 genius ways to use Vaseline around your house! A small amount of this wonder jelly can do so many things.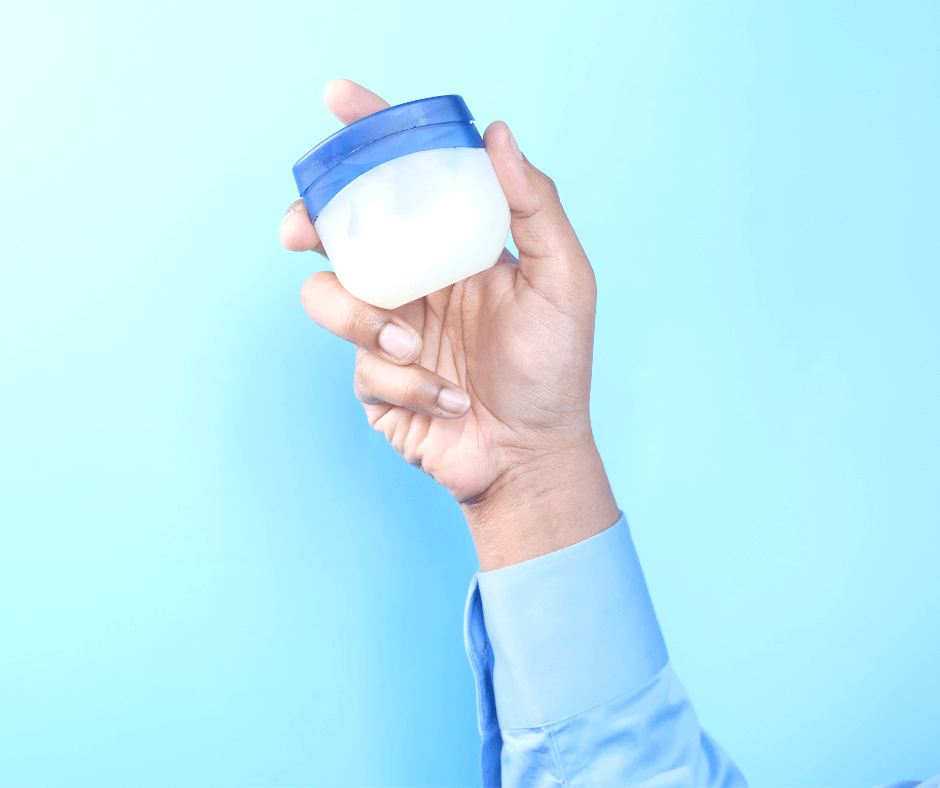 Not only is Vaseline cheap, but it can also help out with household tasks and beauty issues too. Allergies to Vaseline are rare and unless you are using a large amount on your face, it should not clog pores.
I'm not a doctor so always test a small area and check with your medical professionals when you have questions. Do not ingest it or use it internally. Do not apply to infections as not allowing the skin to dry or not cleaning a wound properly can lead to more problems.
What is Petroleum Jelly?
Petroleum Jelly is made up of a mixture of mineral oils and waxes that create a semisolid jelly-like substance. It's often used for the skin as a moisturizer to treat or prevent lots of skin issues like itchy, dry, flaky skin and minor skin irritations.
Quick History of Vaseline
Vaseline Petroleum Jelly has been around for more than 140 years. During the 1860s, chemist Robert Chesebrough from New York, discovered petroleum jelly. By 1870, the product had been branded and Americans have been buying it since 1875. Today, Vaseline is a staple in medicine cabinets of a lot of households around the world. To learn more about the history of Vaseline, click this link.
Fun Fact
The American Academy of Dermatology has recommended and listed a few of the benefits of petroleum jelly for skin care. You can read the full post here. It's important to note that despite the many uses of Vaseline, you should be cautious before applying any to a part of your body to prevent skin irritation. Test a small patch first.
Click here to get yourself a tub of Vaseline! Beware of counterfeit products.
As an Amazon Associate, I earn from qualifying purchases.
Genius Ways to Use Vaseline Around Your House
A little bit goes a long way. From body parts like dry lips or unruly brows, discover more benefits of Vaseline. Here's a list of more than 50 genius ways to use Vaseline: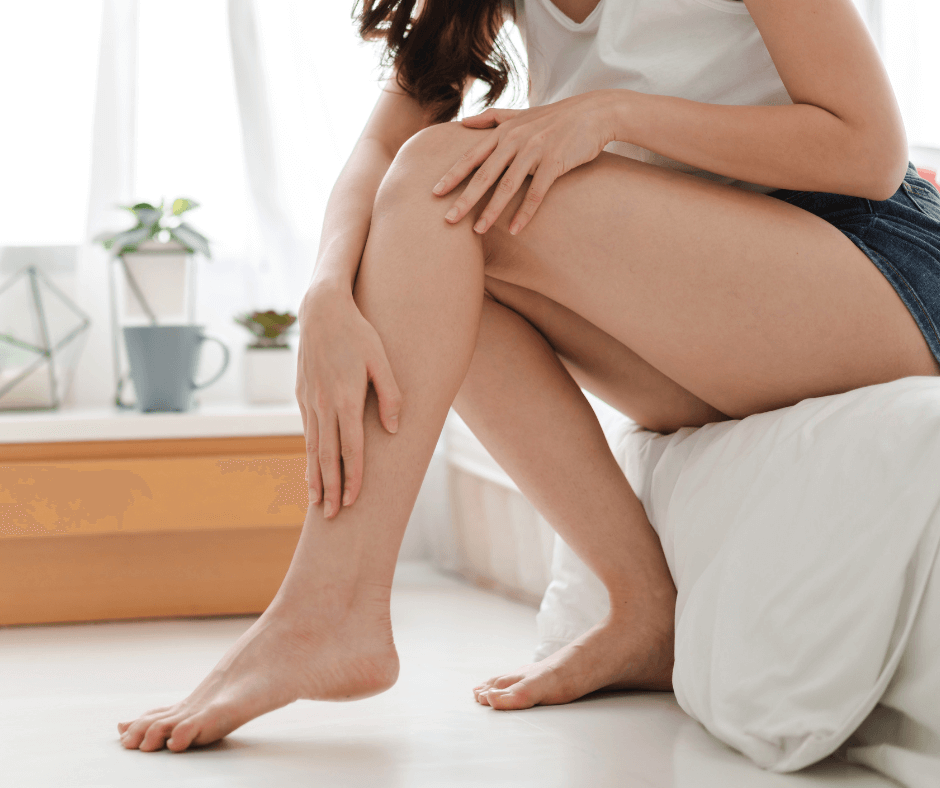 Genius Ways to Use Vaseline On Your Skin
1. Wake up to softer feet every day by putting on a coat of Vaseline at night. A good way to do this is placing a bit of petroleum jelly and covering your feet with a pair of socks.
2. Does your baby have a diaper rash? Preventing this means always keeping your baby's skin dry and clean. In the event of a rash, apply a little petroleum jelly on their skin after every diaper change.
3. If you have severely dry skin, Vaseline could help as some lotions can irritate the skin.
4. Prevent dry and ashy knees by applying a small amount of petroleum jelly every day.
5. Need a new scrub? Mix a dab of Vaseline with sea salt or Epsom salt. Gently rub it in a circular motion to get rid of dry skin.
6. Have soft and hydrated skin in your elbow area when you put Vaseline on elbows every day.
7. Applying petroleum jelly helps soothe your skin after shaving.
8. Get a clean cloth or cotton pad and add Vaseline. It's an effective makeup remover.
9. Make earring insertion easy and painless by lubricating your ears with Vaseline.
More Ways to Use Vaseline on Your Skin
10. It can help to reduce scaling and itching associated with dandruff.
11. Make your scent last longer by applying this product at your skin's perfume points before spritzing the perfume.
12. It can be therapeutic when applied to itching caused by poison ivy.
13. It can help prevent chafing.
14. Got new tattoos? This helps heal and protect them. Follow the after-care instructions from your tattoo artist and ask about when to apply Vaseline.
15. Prevent uneven tanning by applying a small amount on dry spots on your body before the fake tanning lotions are applied.
16. Moisturize your cracked heels by applying Vaseline during severe dry and cold weather. You can also get their deep moisture foot cream, which specifically helps this issue.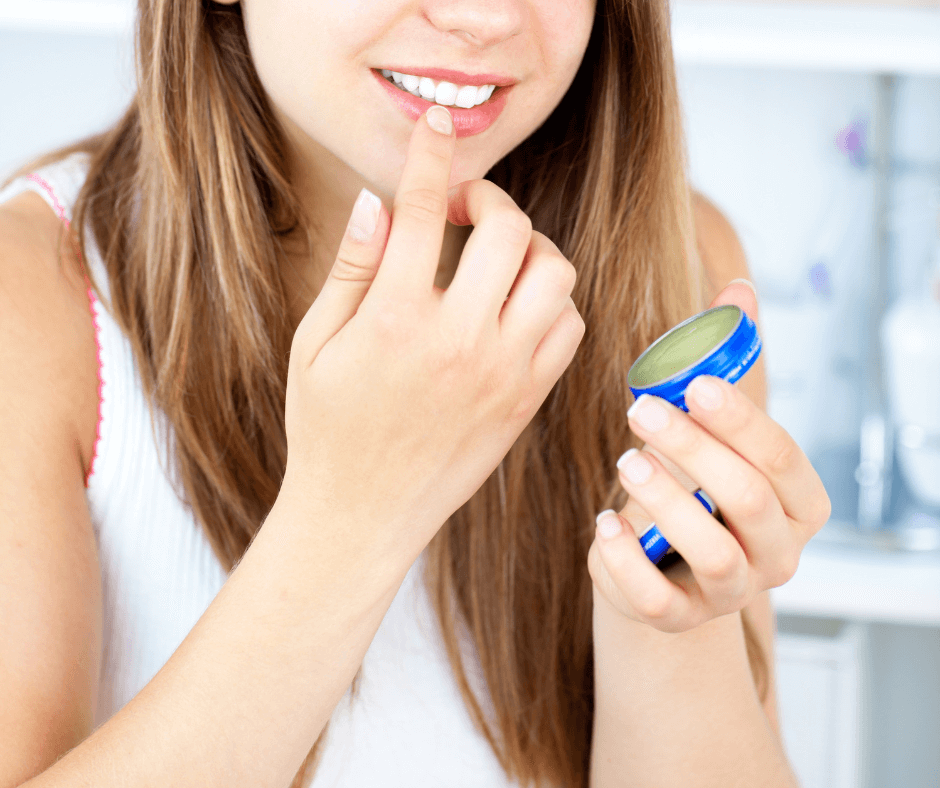 Genius Ways to Use Vaseline On Your Lips
17. Got dry lips? Apply Vaseline like a lip balm to help with your chapped lips.
18. Do you like colored and flavored lip gloss? Melt Vaseline and one chocolate chip in the microwave, mix, and let resolidify.
19. Another way to make colored and flavored lip gloss is by mixing a little Vaseline with a little Kool-Aid powder.
20. Applying a small amount of Vaseline on your teeth prevents lipstick from sticking to the teeth.
21. Make your lips smoother by putting Vaseline on your lips. Leave it for a few minutes, then scrub your lips with a toothbrush to exfoliate them.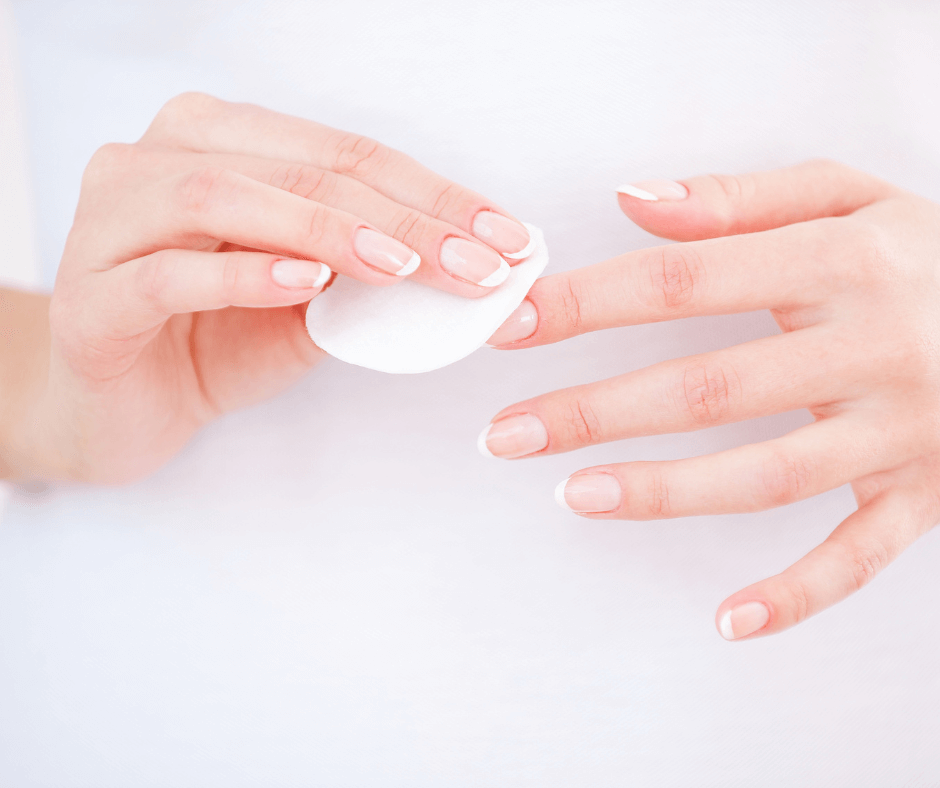 Ways to Use Vaseline On Your Nails
22. Got dry cuticles? Apply Vaseline on your cuticles for softer skin.
23. Make your old nail polish look new again by rubbing a small dab over the polish.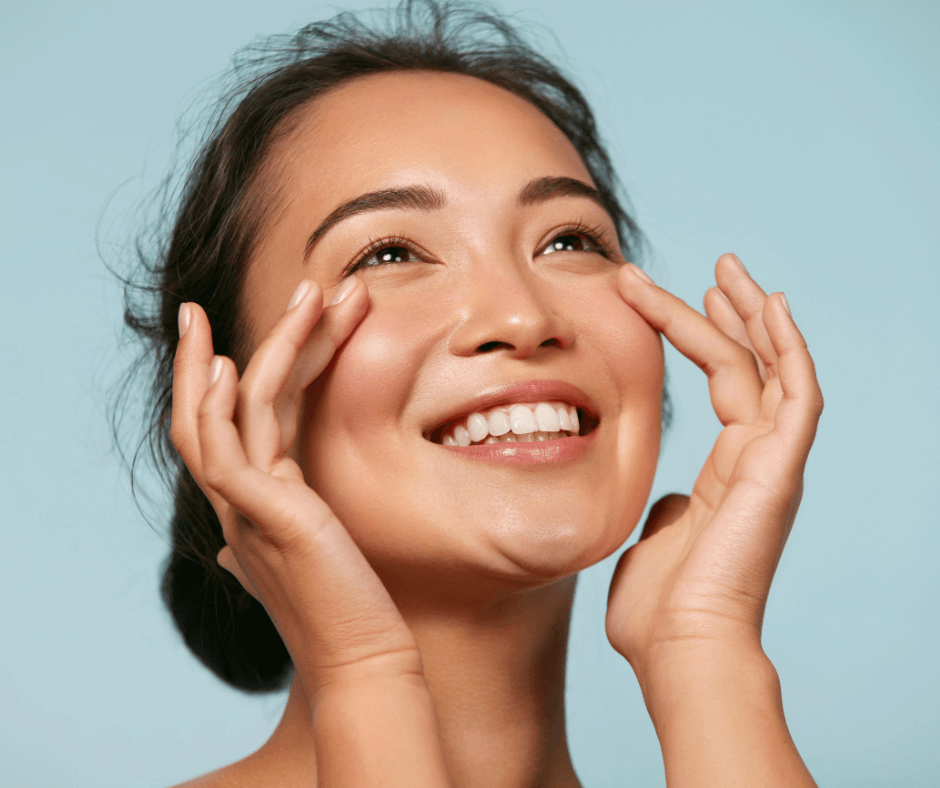 Genius Ways to Use Vaseline with Your Beauty Products
24. Apply a small amount under your eye shadow to create a shiny effect.
25. Tame your unruly eyebrows by applying petroleum jelly to them using a q-tip.
26. Apply a little of the product on your cheeks for a dewy look.
27. Use Vaseline with your lipstick to create a cream blusher for your cheeks.
28. Use a touch of Vaseline mixed with powder eyeshadow pigment to make new colors. You can also create a more solid eyeshadow that won't get all over your face when you put it on.
29. It helps remove false eyelash glue from your lash line.
30. Want longer and thicker lashes? Put a thin layer of Vaseline on your eyelashes before you go to bed. Lots of people swear by this with frequent use.
31. Need to condition your hair? Apply some to your scalp pre-shampooing.
32. Got split ends? Use just a touch on the ends of your hair to hide dry and split ends.
33. Smear a tiny bit on your hands and scrunch through your hair for a choppy texturized look
34. It can protect you against harmful hair dyeing, perming, and straightening chemicals when you use it as a mask around the hairline.
35. Stretch the use of your favorite lotion by mixing it with Vaseline.
36. Put a barrier of Vaseline around your fingernails before you paint them. It will be easy to wipe away any excess polish once your nails dry.
37. Use a little bit on flyaways to create a more polished look.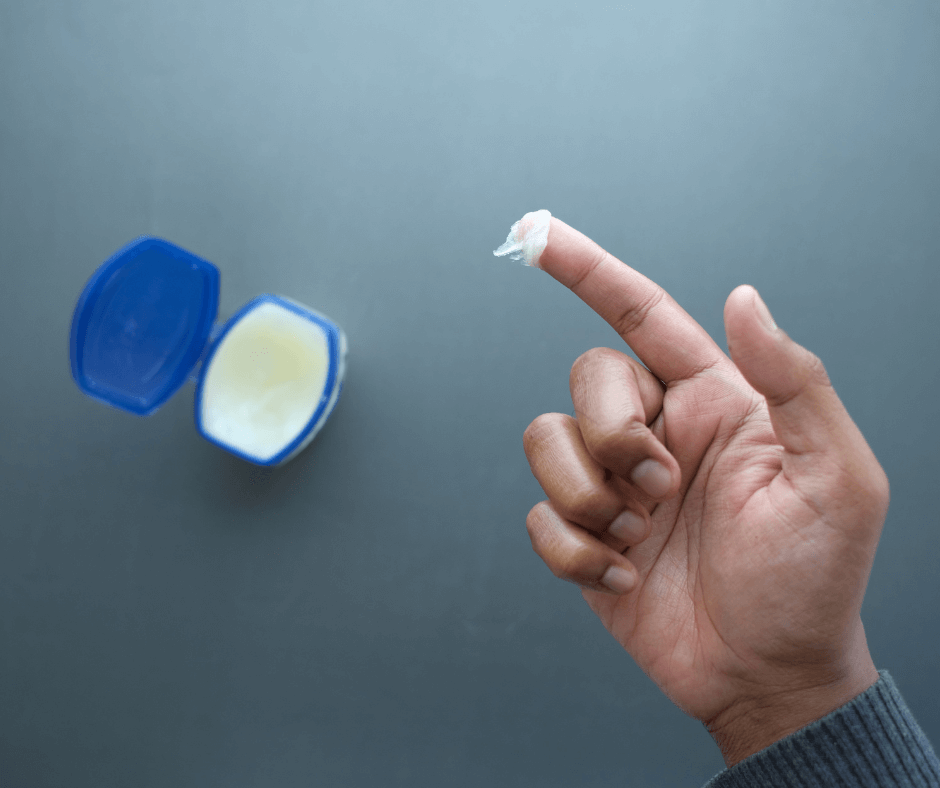 Other Genius Ways to Use Vaseline
38. Use Vaseline to remove your stuck rings.
39. Is your nail polish cap stuck? Rub Vaseline on the neck of your nail polish bottle.
40. It helps remove makeup stains from clothing.
41. A tiny dab can put a quick shine to your shoes and bags.
42. Polish up dull patent leather shoes using a soft cloth with Vaseline.
43. Prevent your carved Halloween pumpkin from rotting or going dry by rubbing Vaseline on the exposed edges.
44. Your dog's paws can become dry and cracked. Apply a small amount while they are resting, but not too much as they might lick it and cause tummy trouble. Always check with your vet.
45. Squeaky door hinge? Apply a little petroleum jelly to the hinge and swing the door back and forth to get it coated.
46. Try using a damp cloth and some Vaseline to remove makeup stains from clothing. Treat the stain and then launder to make sure it is removed. Test a small area first.
47. Keep your razor blades from rusting in between uses by putting a very thin layer of Vaseline on the blade once it is dry.
48. Help get any excess paint off your hands and skin.
49. Help repair wood scratches by applying a light coat of Vaseline to the wood and letting it dry overnight before polishing the surface. Test in a non-conspicuous area first to be safe.
50. Use it to unstick a zipper.
YOU MIGHT LIKE THESE:
Shortcuts, DIY's and Life Hacks to Make Things a Little Easier
New Money-Saving Tips When You Are Feeling the Pinch
PIN for later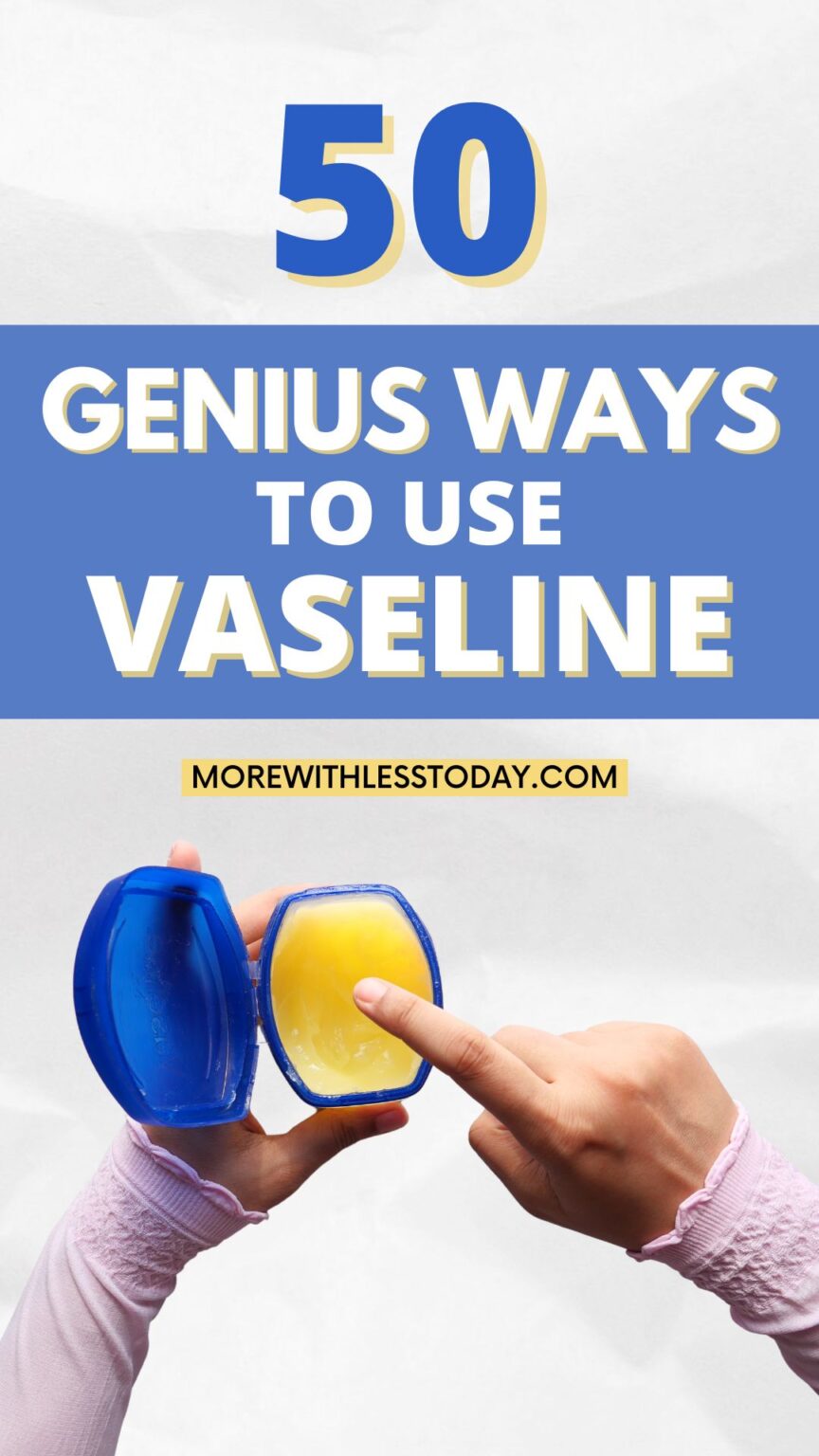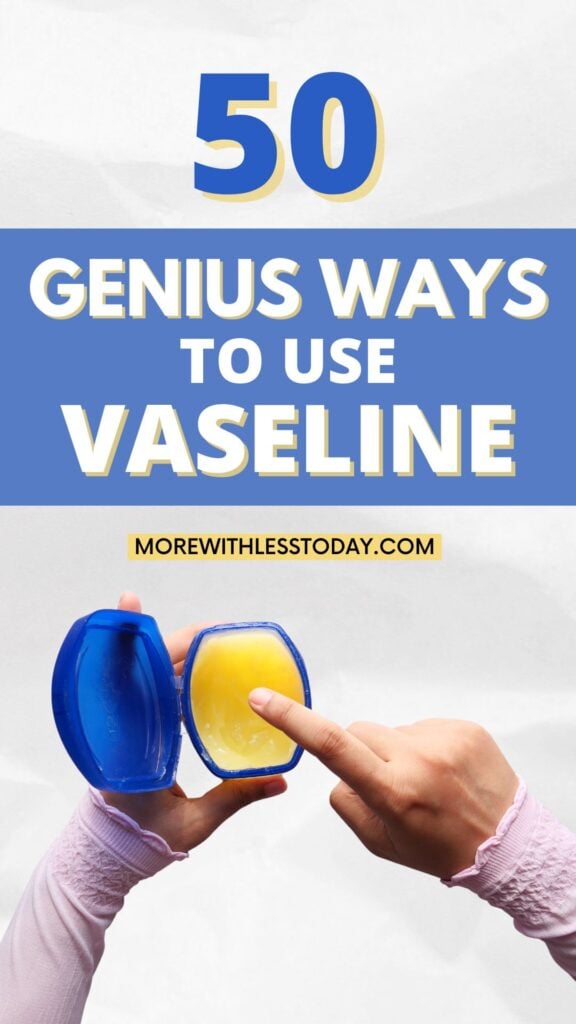 Did you enjoy this post and want to share your own Vaseline hack? Share it in the comment section below!
If you are on social media, I would also love to connect with you on Facebook, Instagram, Pinterest or Twitter. Just click on the links to visit my profiles. Leave me a message and I will follow you back!