Backyard fun and games are one of the most sought-after gifts this year. Get everyone outside, from kids to grown-ups. Here is Southern California we can enjoy backyard fun and games all year long but we cannot use the DIY Snowman Kit that I included!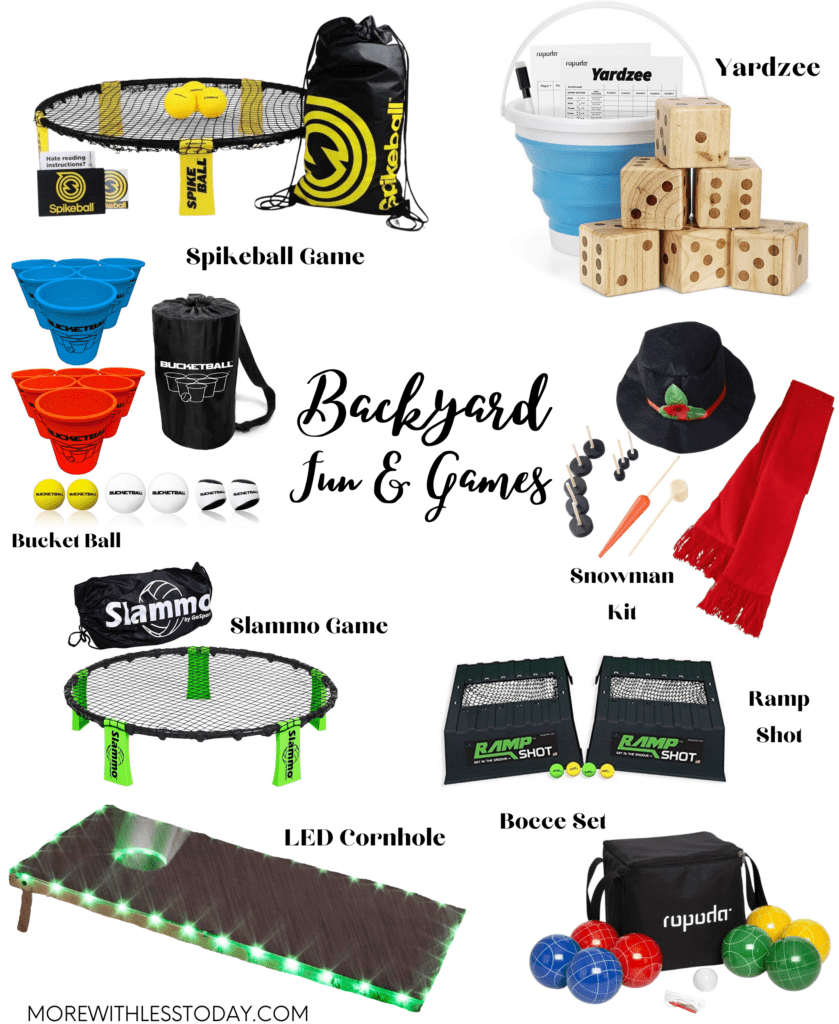 As an Amazon Associate, I earn from qualifying purchases. Be sure to check out all of our affordable gift ideas at the bottom of the post. If there is something you are looking for, send an email to morewithlesstodayteam [at] gmail.com and we will do our best to send you some options at the best price we can find. We love to help our readers.
Backyard Fun and Games
Spikeball is a fun, active, and competitive 2 on 2 outdoor indoor sports game played on college campuses, tailgates, the lawn, yard, backyard, beach or gym with rules kind of like volleyball. It has foldable legs to make it easier to store. You can also adjust the difficulty of the game with the adjustable net.
Yardzee Giant Wooden Yard Dice Set for Outdoor Fun
The giant wooden yard dice set provides 2 dry erase score sheets, the instructions are on one side of the cards, while the other side keeps the score. And it comes with a dry erase marker for reusable use.
BucketBall is the ultimate beach, pool, poolside, backyard, camping, tailgating and outdoor game that family and friends love playing. The Beach Edition Combo Pack Includes 12 Ultra-Durable Buckets (6 Blue & 6 Orange), 2 Hybrid Balls, 2 Bucket Pong Balls, 2 Tailgate Balls, Tote Bag & Instructions. It has a lifetime Warranty, and when packaged it takes up less than a cubic foot of space.

16 Piece Cute Snowman Kit in a white box- 1 Top Hat, 1 Scarf, 1 Carrot Nose, 1 Pipe, 2 x Arms, 5 x Mouth Pegs, 3 x Buttons, and 2 x Round Eyes. BIG SIZE: The hat is a generous 11 inches inner diameter, and the scarf is 54 inches long.
An exciting outdoor lawn game for kids and adults. Set includes 1 slammed target, 2 competition size balls, 1 training ball, travel carrying case and game rules.
A Cornhole-like game set is a more exciting and fast-paced version of cornhole. It comes with 2 ramps, 4 balls, 2 stickers, 2 nets, and instructions. It's a great way to develop motor skills, hand-eye coordination, teamwork, and have a ton of outdoor fun.
My nephews in Long Island, New York are friends with the two guys who developed this game. I've watched them play and it is a lot of fun!
The LED Strip Light lights up the rim and ring of the cornhole hoop. You can change the colors with up to sixteen unique light patterns. The package included: 2 x cornhole rings lights and 2 x cornhole edge lights, 1 x remote control, 2 x battery case (AA batteries not included), 1 bag of cable clips
Bocce Ball Set with 8 Balls, Pallino, Case and Measuring Rope
It can be played with 2 to 8 players and provide hours of fun entertainment!
Shop the Post

It's not too early to get into the gifting spirit this year. With inventory and shipping issues becoming commonplace, it is important to shop early to avoid stress and disappointment.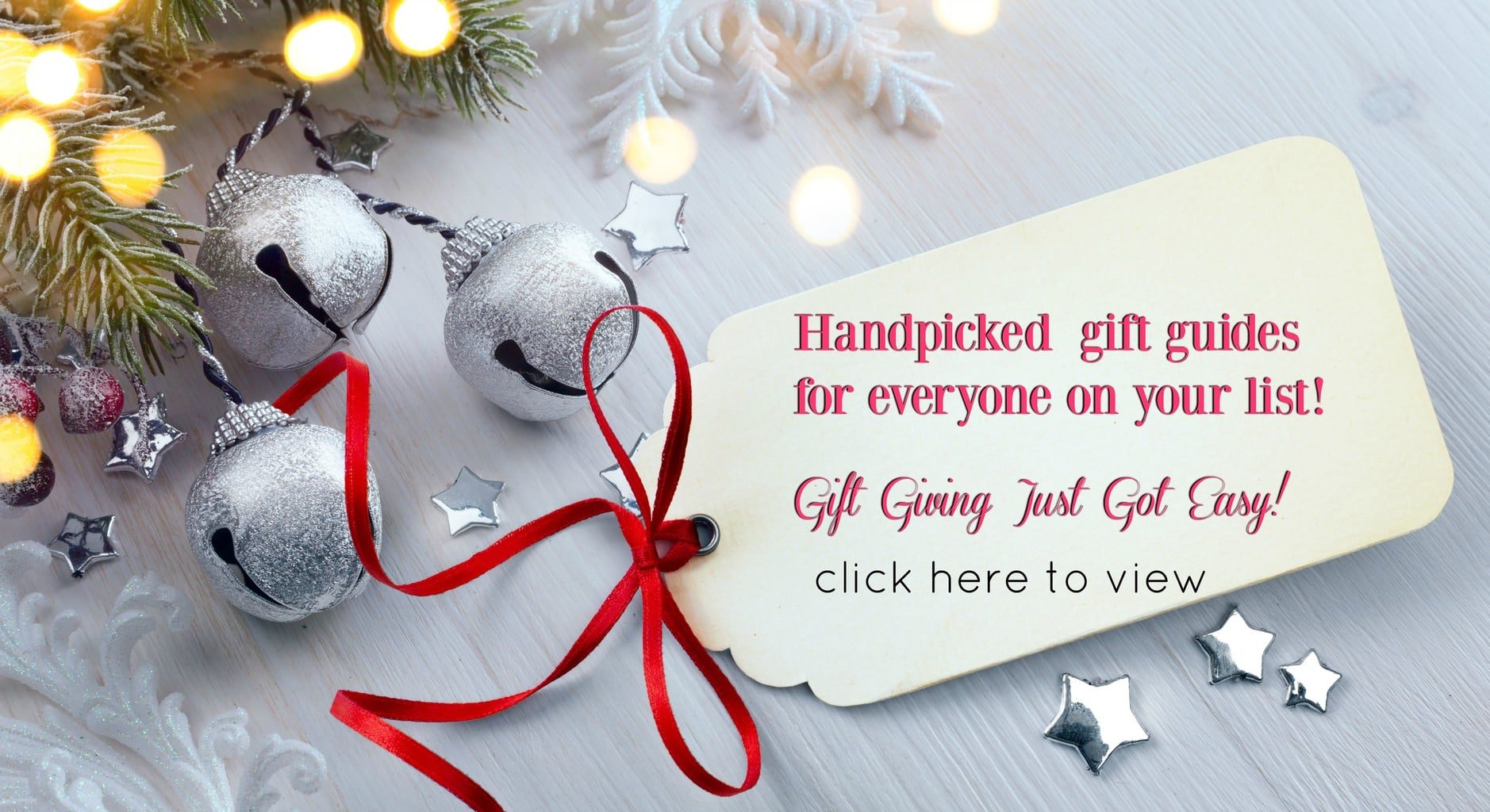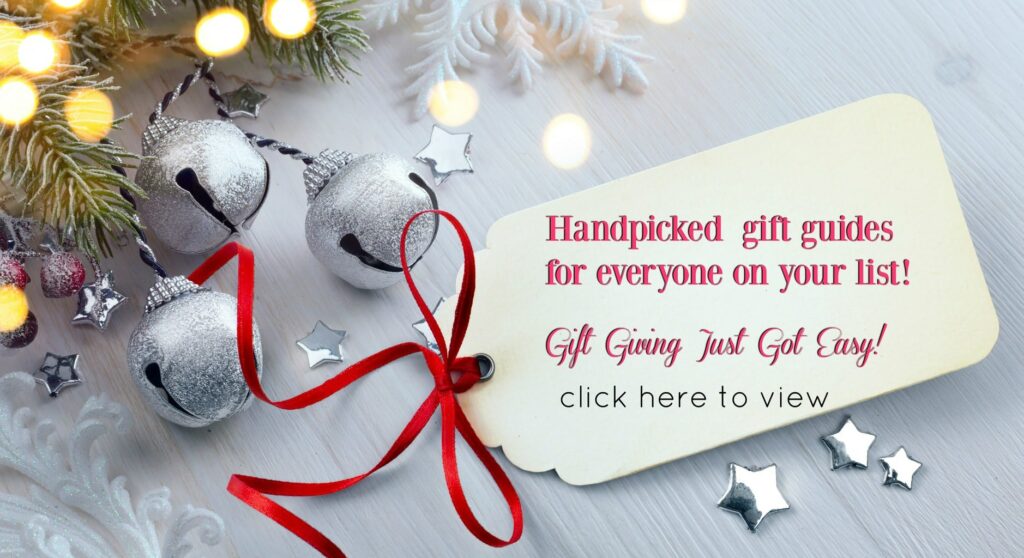 The holidays are almost here and the giving is easy when you check out our affordable, curated gift guides!
Gift Guides

Matching Family PJs for the Holidays – A favorite tradition!

We will be putting together more gift guides in the days ahead. If you have a topic that would be helpful, just let us know! You can email us at morewithlesstodayteam [at] gmail.com.