The talented Drew Barrymore has launched a line of cookware and appliances at Walmart called Beautiful Kitchenware by Drew Barrymore. I love the stylish retro-inspired designs and the affordable price tag.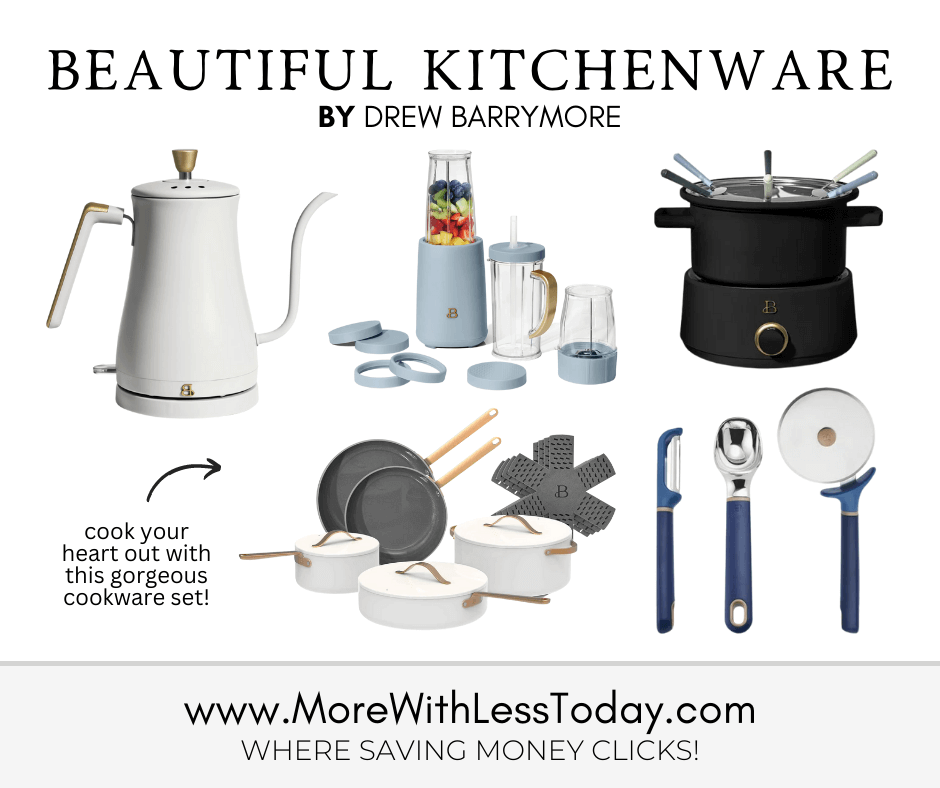 The collection features an air fryer, coffee maker, toaster, toaster oven, blender, electric kettle, and more! The Sage Green is the signature color, but you will also find options in Cornflower Blue, Oyster Grey, Black Sesame, and White Icing.
We have affiliate relationships which means we may earn a small referral commission at no additional cost to you if you shop using our links. All photo credits are via Walmart.com.
What's New at Beautiful Kitchenware by Drew Barrymore
Drew Barrymore's kitchenware brand, Beautiful, just dropped four new items just in time for the holidays! Take a look at these items because you might know someone who will love these as presents or get them for yourself.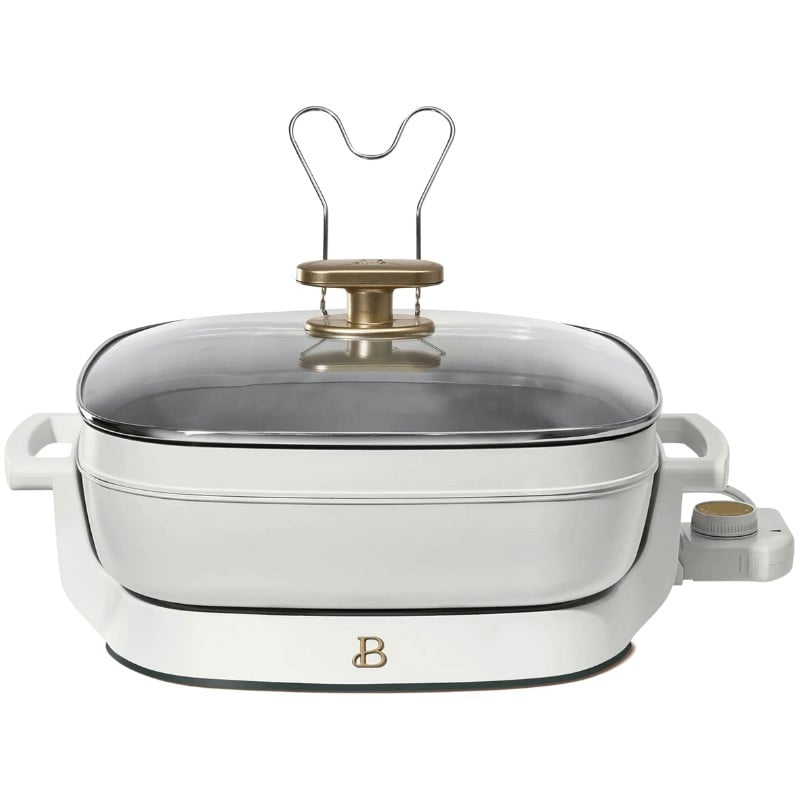 Enjoy more ways to cook your favorite meals with this Electric Expandable Skillet! With this, you can saute, steam, simmer, slow cook, and more. Imagine how much space you'd get to save when you get this 5-in-1 skillet!
Sauté, Steam, Simmer, Slow Cook, Buffet Serve, and more​
5 Heat settings from Low to High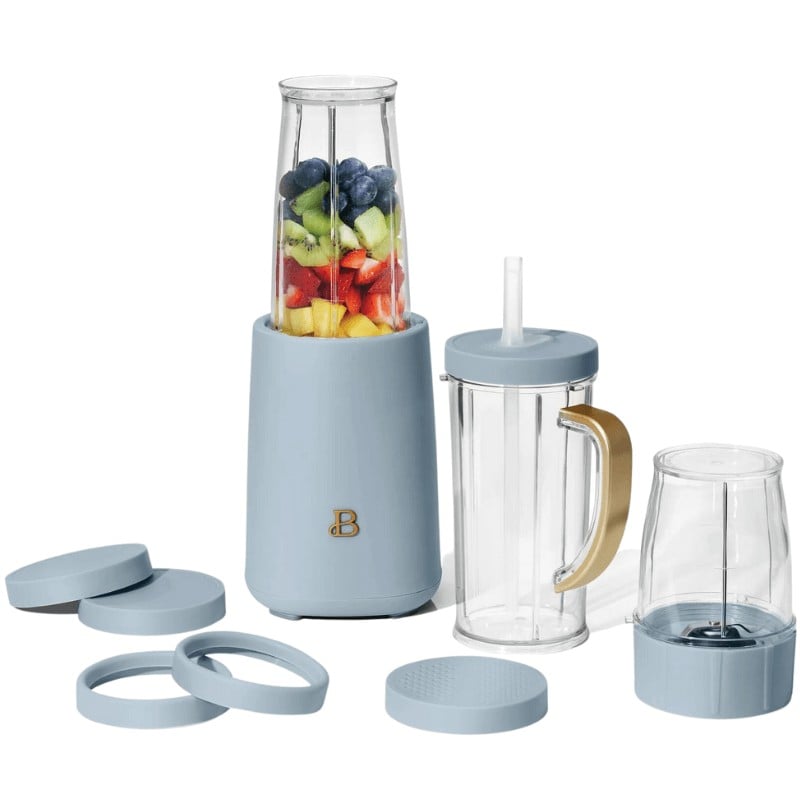 Make your own juices at home and save more for less with this 12-Piece Personal Blender set. Take your smoothies anywhere with its 16oz ToGo Travel cup with handle and Drew's signature No Drippy Sippy flexible straw and twist-off lid!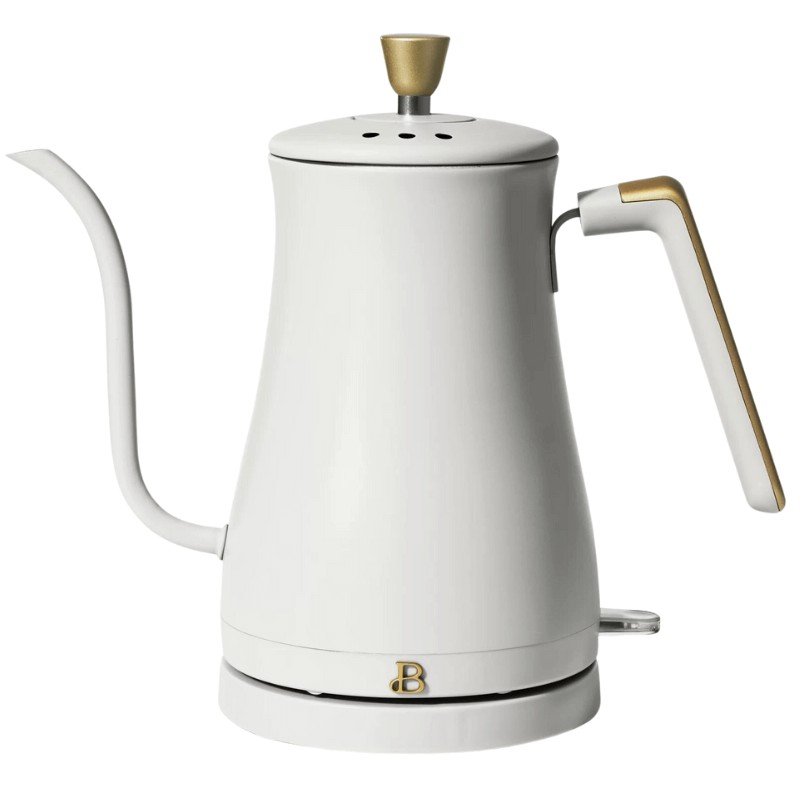 This 1.0L Electric Gooseneck Kettle is designed to perfectly pour over coffee and teas! It has an elegant design with modern silhouettes that will look beautiful on your kitchen counter.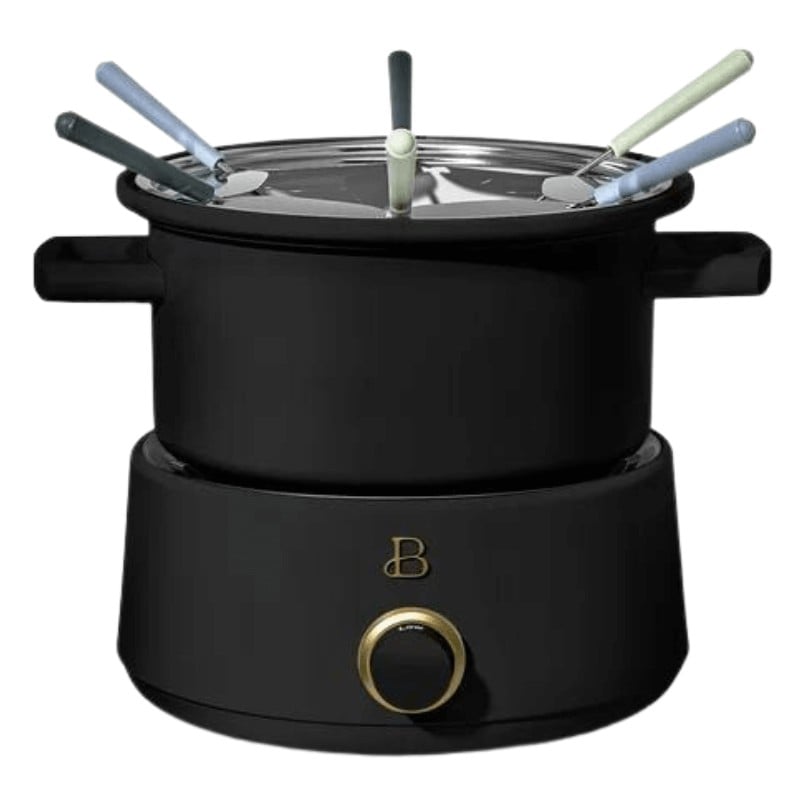 If you love hosting and serving melted cheese or chocolates, this Electric Fondue Set with a Bonus Ceramic Pot is perfect! Make them fast and easy in this high-performing machine!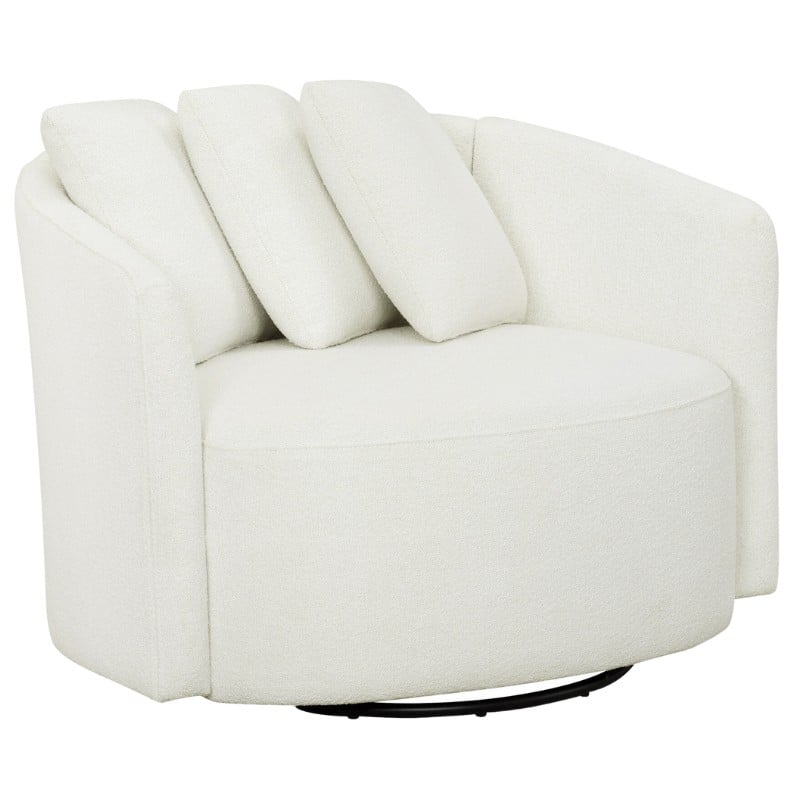 Enjoy your days and nights relaxing at home in this wonderful Beautiful Drew Chair. This chair has soft fabric with natural fibers and color that can complement any home decor style, color palette, and space. It also features a metal swivel base that spins 360 degrees so you can easily direct your attention in your room.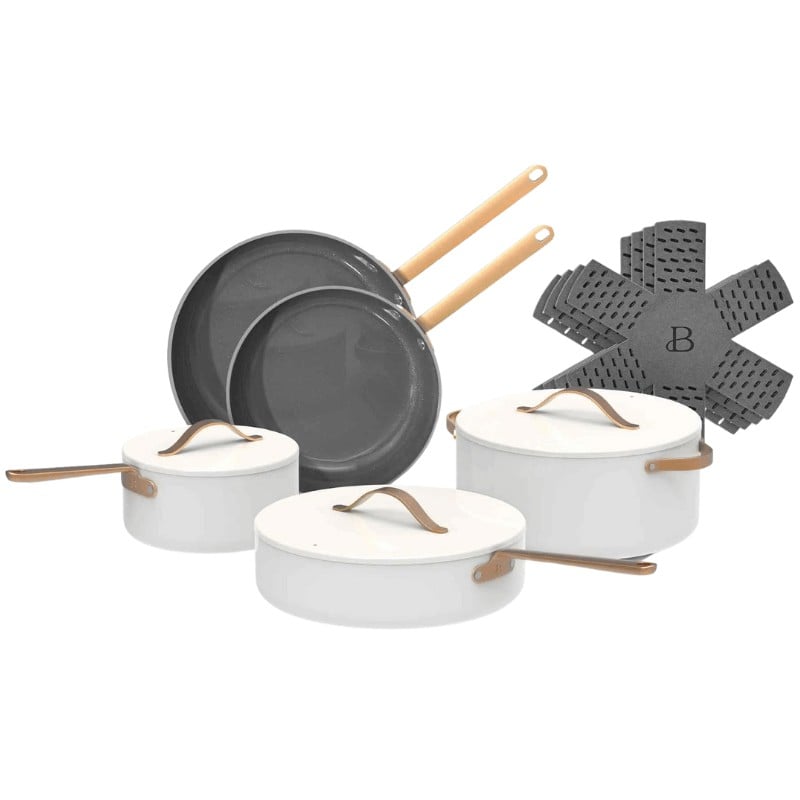 Save when you get this 12-piece Non-Stick Cookware Set from Beautiful! If you're cooking Thanksgiving dinner this year, you'll love using these! It comes in all available colors by the brand.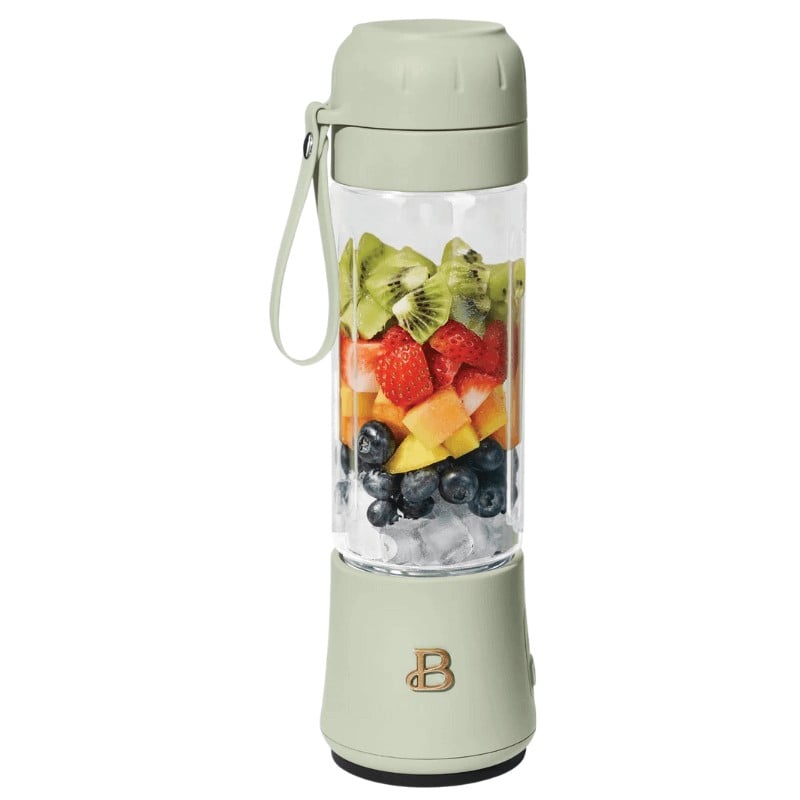 Are you always on the go or know someone who is? This Portable Blender has a compact design where you can make 22 different blended drinks like smoothies, iced drinks, juices, and more.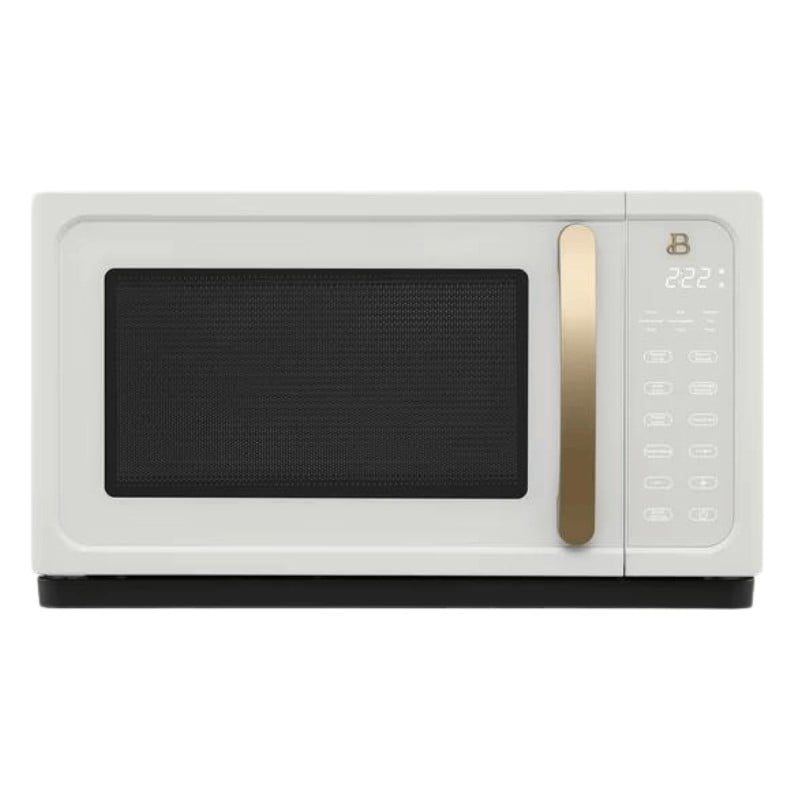 White Icing is one of my favorite colors from the Beautiful brand. This Sensor Microwave Oven in this color looks so elegant and has 15 pre-set functions. It's made with heavy-duty material that is built to last.
With the retro-chic design and beautiful buttons, every piece will look beautiful displayed on your countertop. The price I saw today ranged from $40 to $139.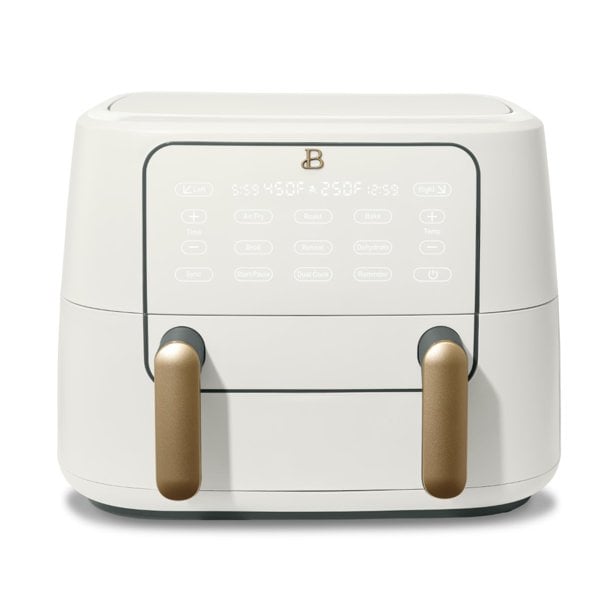 I don't think you will ever find a nicer-looking air fryer! Part of my hesitation in buying new appliances is how they will look on the counter in the kitchen. This one is beautiful! Have you tried making food in an air fryer? I love to make Kale chips. Trust me they are delicious!
"The Beautiful™ 9QT TriZone™ Air Fryer lets you cook 2 foods, 2 ways at the same time using separated baskets or 1 larger meal using the full basket by removing the center divider. For foods needing different cooking times, program each item accordingly to finish cooking at the same time."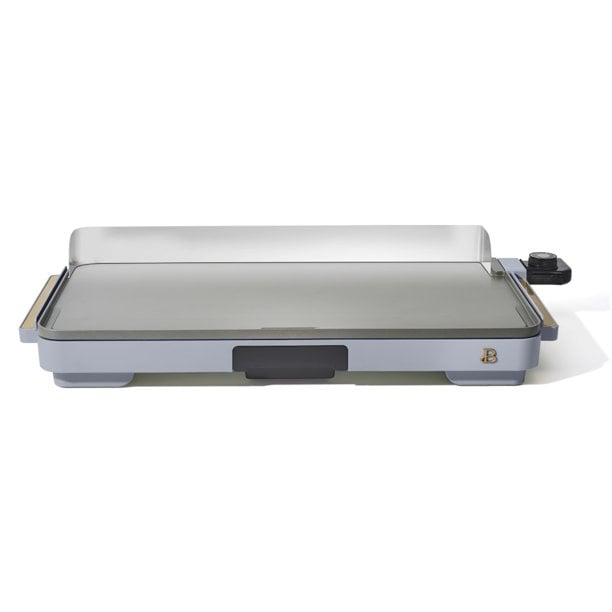 More with Less Today tip – Use a large griddle like this one to cook up a big batch of pancakes on the weekend and then freeze the extras to use during the week.
" The Beautiful™ 12"x22" Extra Large Electric Griddle offers a family-sized cooking surface allowing you to make up to 15 pancakes or eggs at once. Thoughtfully designed for easy cabinet storage and our signature gold accents, the Beautiful™ 12"x22" XL Electric Griddle is made for your kitchen and your lifestyle."
XL family-sized cooking surface makes up to 15 pancakes or eggs at once to feed the entire family
PFOA/PFOS free non-stick coating
Slim design for easy cabinet storage
Detachable stainless steel backsplash to keep your counter clean while cooking
Removable heat control with an easy-to-use dial ranging from 200°F – 400°F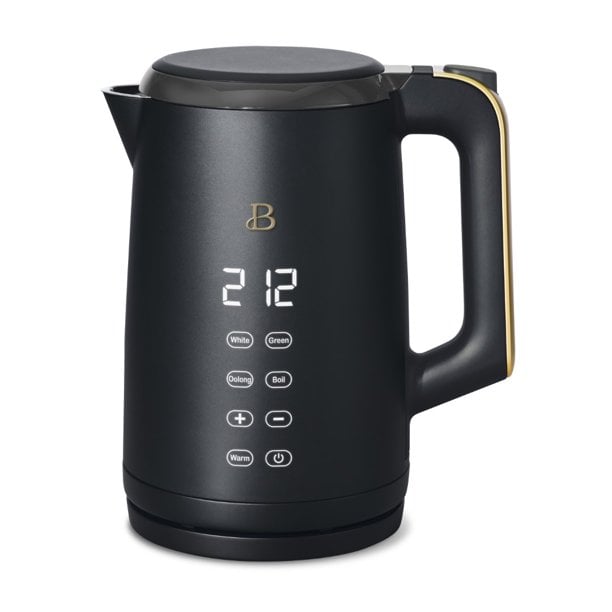 I like to bring an electric kettle when we travel by car. I pack instant coffee and instant oatmeal for a quick breakfast in the room. This one will look so good on any countertop.
"Tea that tastes just right. Boil 7 cups of water in under 7 minutes with the Beautiful 1.7L Programmable Temperature Kettle with Touch Activated Display. Thoughtfully designed with sleek touch-activated illumination and our signature gold accents, the Beautiful Kettle is made for your kitchen and your lifestyle."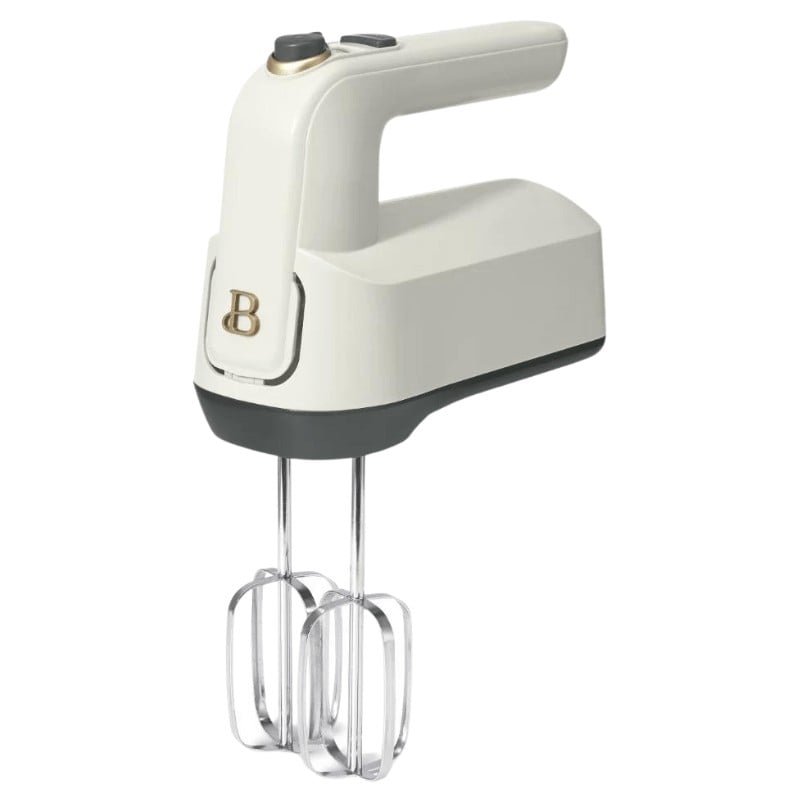 It is almost cookie-baking time. A hand mixer is so much more convenient to use and clean. This one is on the quieter side too.
One-touch 6-speed slide control
Lightweight for easy handling and comfortable grip
Quiet & powerful 350W DC motor for maximum blending power without all the noise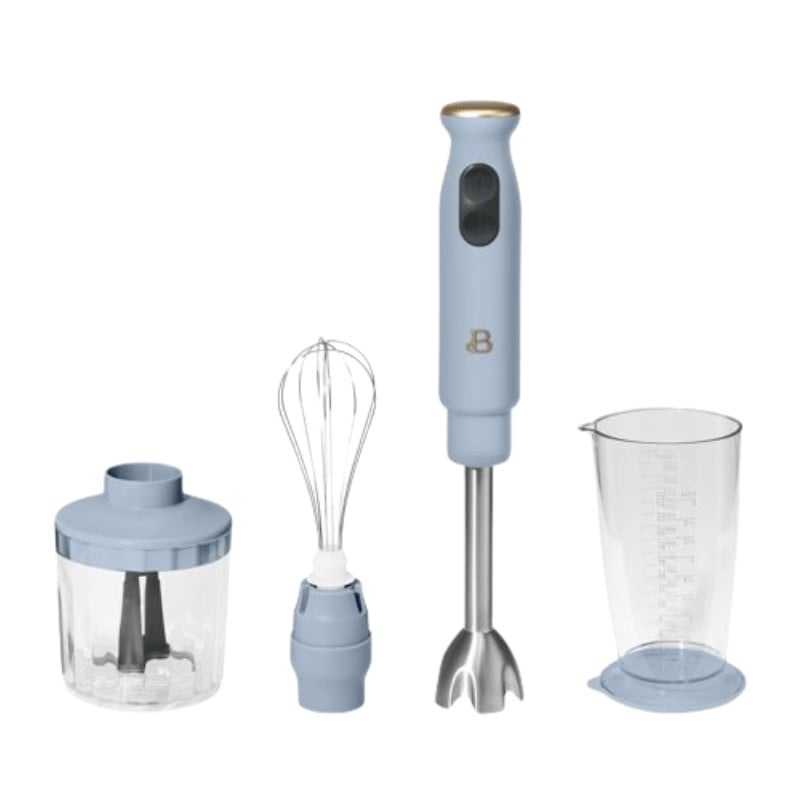 The design on this is so well thought out. The extra-long cord is perfect!
"The Beautiful™ 2 Speed Hand Blender comes equipped with all the accessories you need to blend, chop, whisk, and more. Features an 8″ detachable blending shaft that fits into your deepest pots and pans and is equipped with an extra long 5″ cord that allows you to move around your workstation for effortless cooking."
Beautiful Kitchenware in Sage Green
The Sage Green color seems to be the most popular color so I separated the Drew Barrymore Beautiful Kitchenware available in Sage Green. You may want to upgrade all of your small kitchen appliances. These really are beautiful!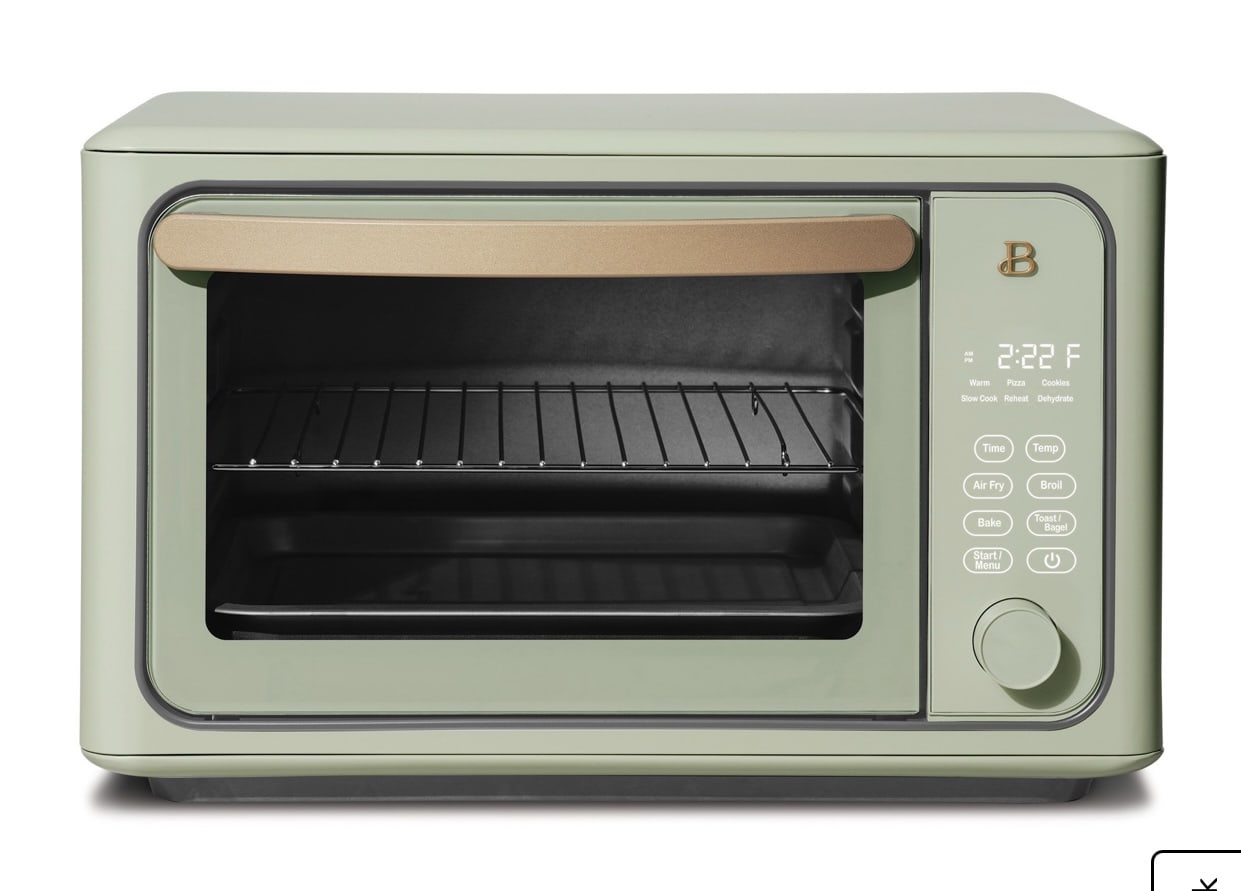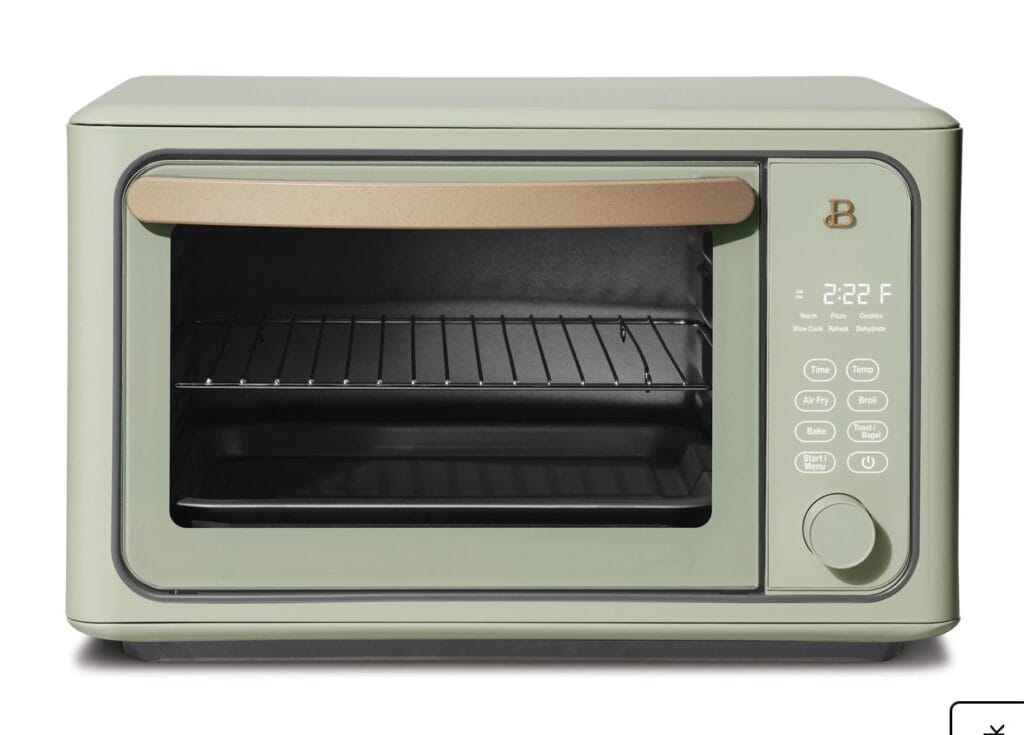 Prepare your food easily with this Touchscreen Air Fryer Toaster Oven! This features 11 preset functions that will help you prepare a delicious 12″ pizza or toast with 6 slices of bread.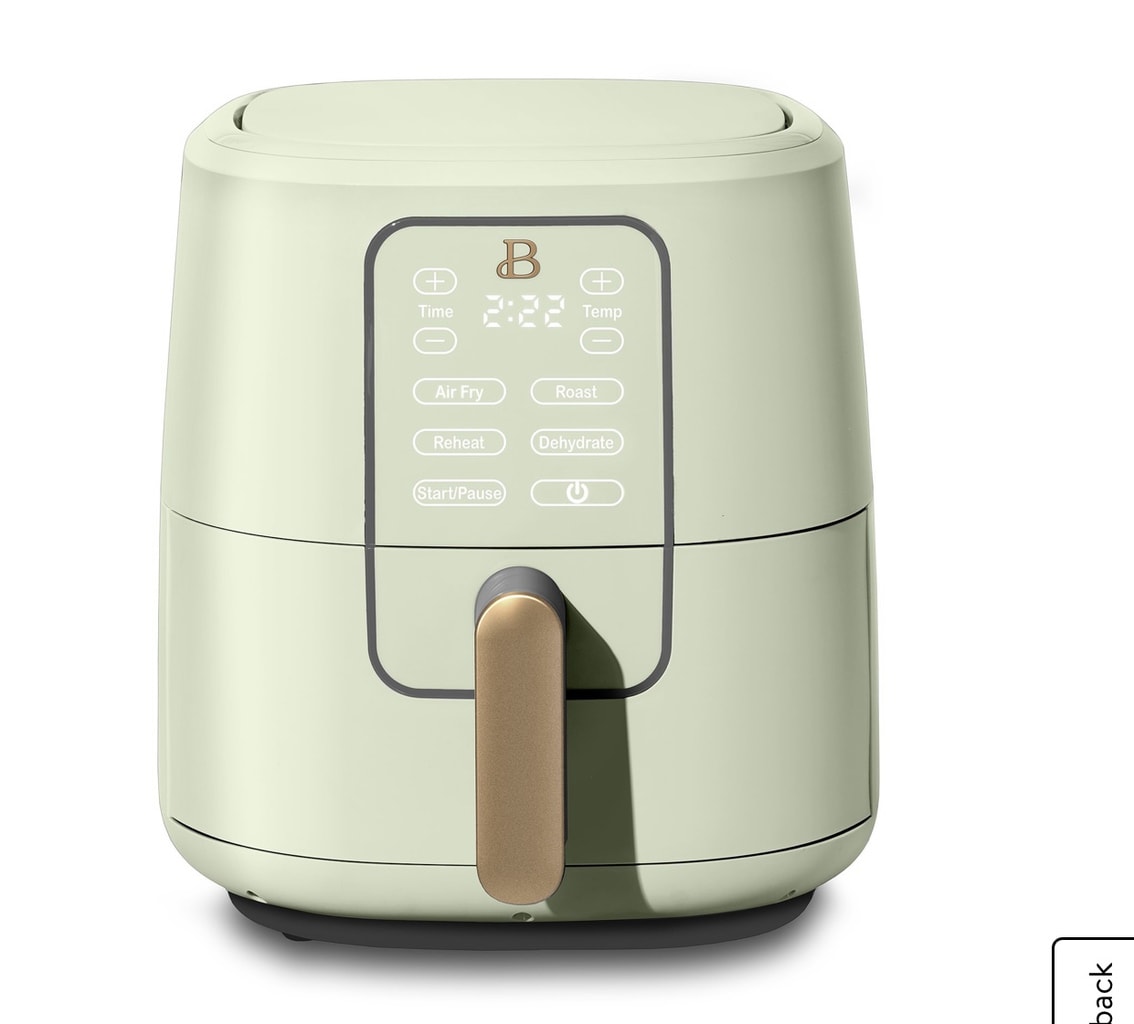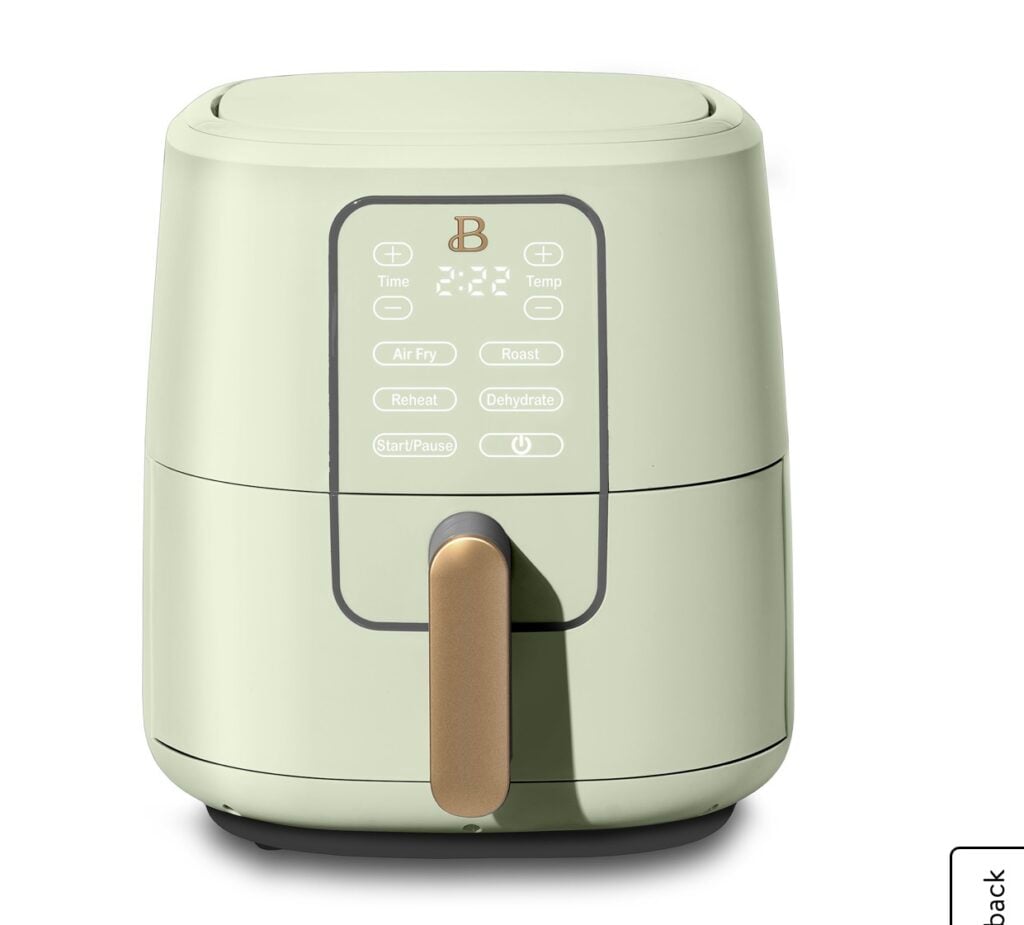 "Easy meals for busy weeknights. Air fry, roast, reheat, or dehydrate your favorite meals with the Beautiful 6QT Digital Air Fryer with Touch Activated Display. Thoughtfully designed with sleek touch-activated illumination and our signature gold accents, the Beautiful Air Fryer preheats food up to 50% faster than a traditional oven with a 5lb food capacity ideal for serving 5-7 people."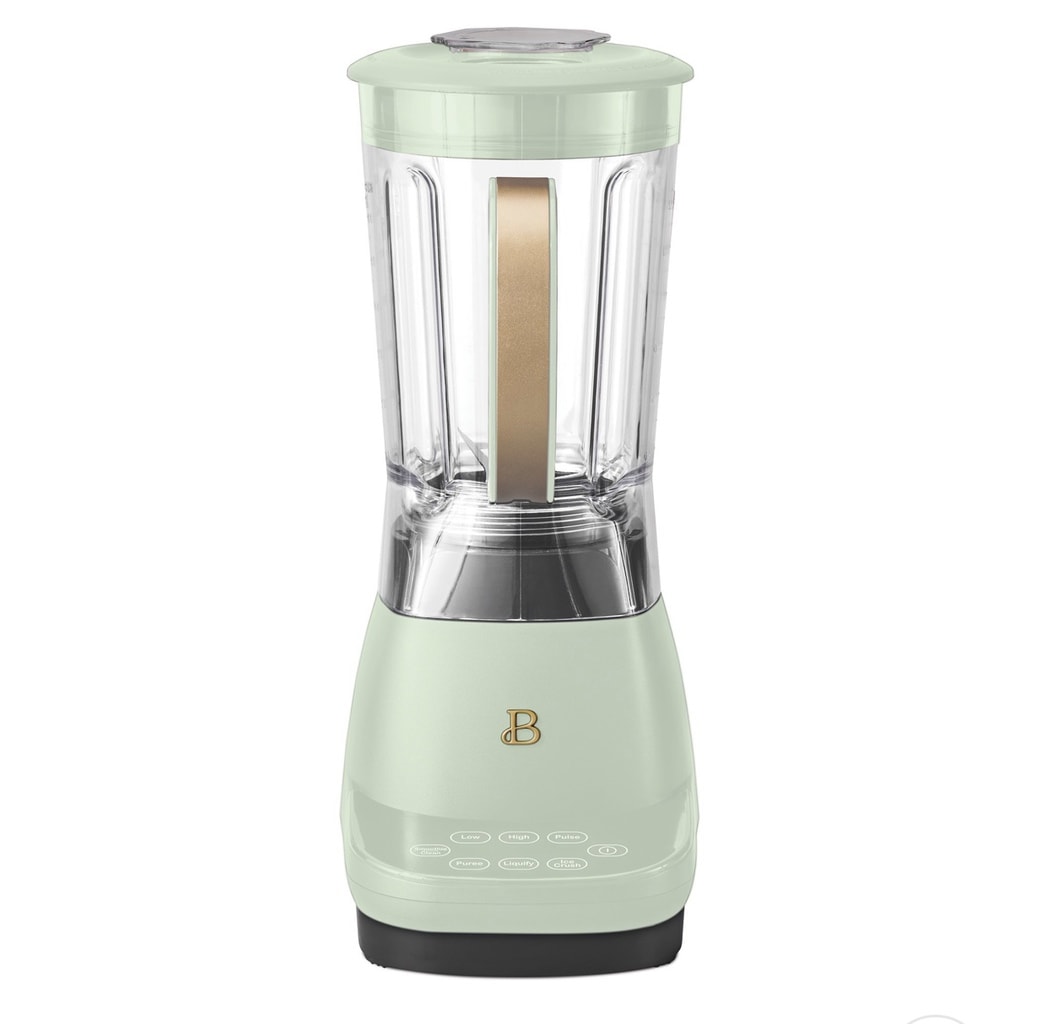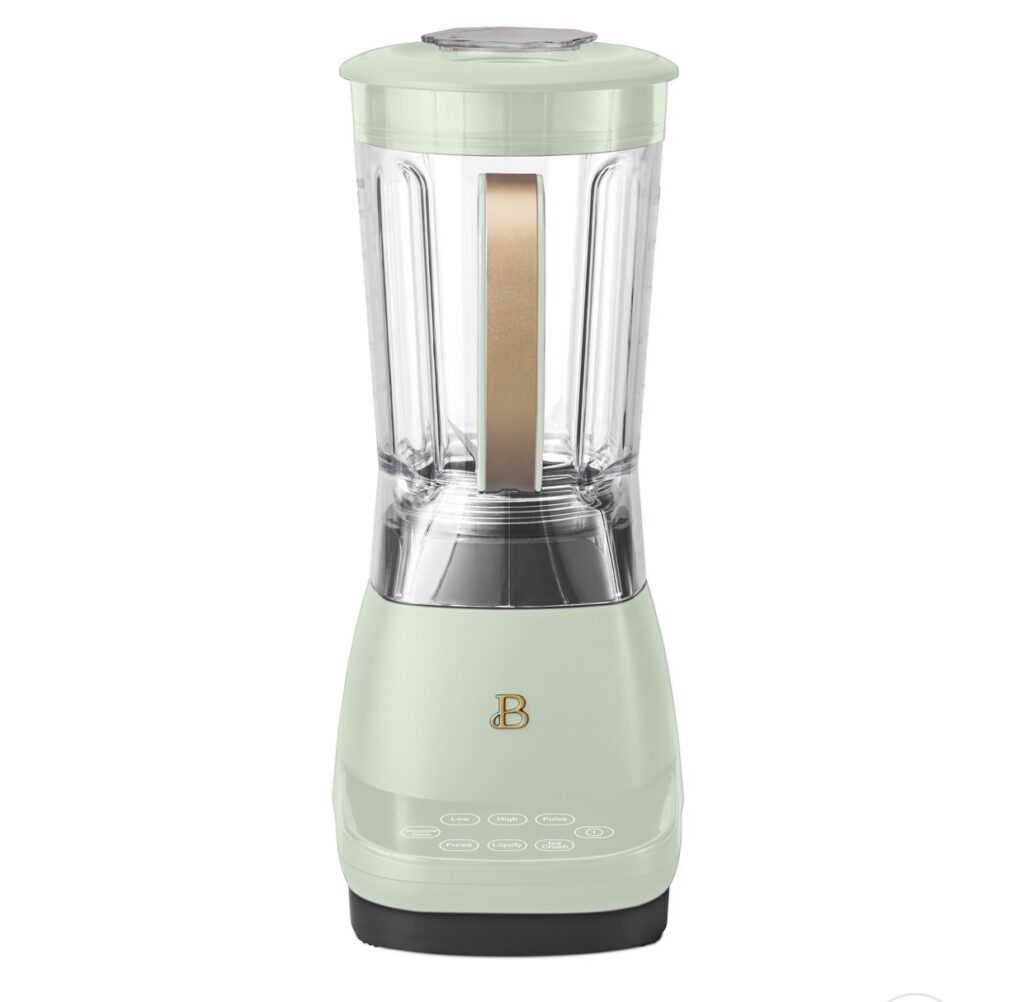 Blend ice and fresh or frozen vegetables and fruits in seconds with this powerful High-Performance Blender with Touch Activated Display. I use mine to make my healthy shakes every morning and I can say that I really love the quality of this blender.

Get your tea or coffee ready using this One-Touch Electric Kettle. Expect to get your hot water quickly in under 7 minutes.
Our signature touch-activated display illuminates only when you need it. No dials, buttons, or knobs.
The powerful 1500-watt system heats up quickly and boils 7 cups in under 7 minutes.
4 one-touch preset programs and adjustable temperature settings ensure ideal temperatures for all kinds of tea.

Who doesn't love toast? This Touchscreen Toaster is modern and easy to use! This features 7 settings and a browning control so you can achieve the perfect toast you want every time.
"Toast just the way you want it. The Beautiful 2-Slice Toaster with Touch Activated Display features 7 settings and a browning control with convenient preset buttons, including Bagel, Frozen, and Reheat."

Are you looking for a gift for a coffee lover? They might love this Beautiful 14-Cup Programmable Coffee Maker! Expect to get 14 cups of coffee in as fast as 14 minutes. It even has customizable brew options.
"Delicious, flavorful coffee for your whole day. Brew 14 cups in under 14 minutes with the Beautiful 14-Cup Programmable Coffee Maker with Touch Activated Display. The Beautiful Coffee Maker is easy to use and easy to clean with a soft-glow display that illuminates only when you need it."
Beautiful Kitchenware in Other Colors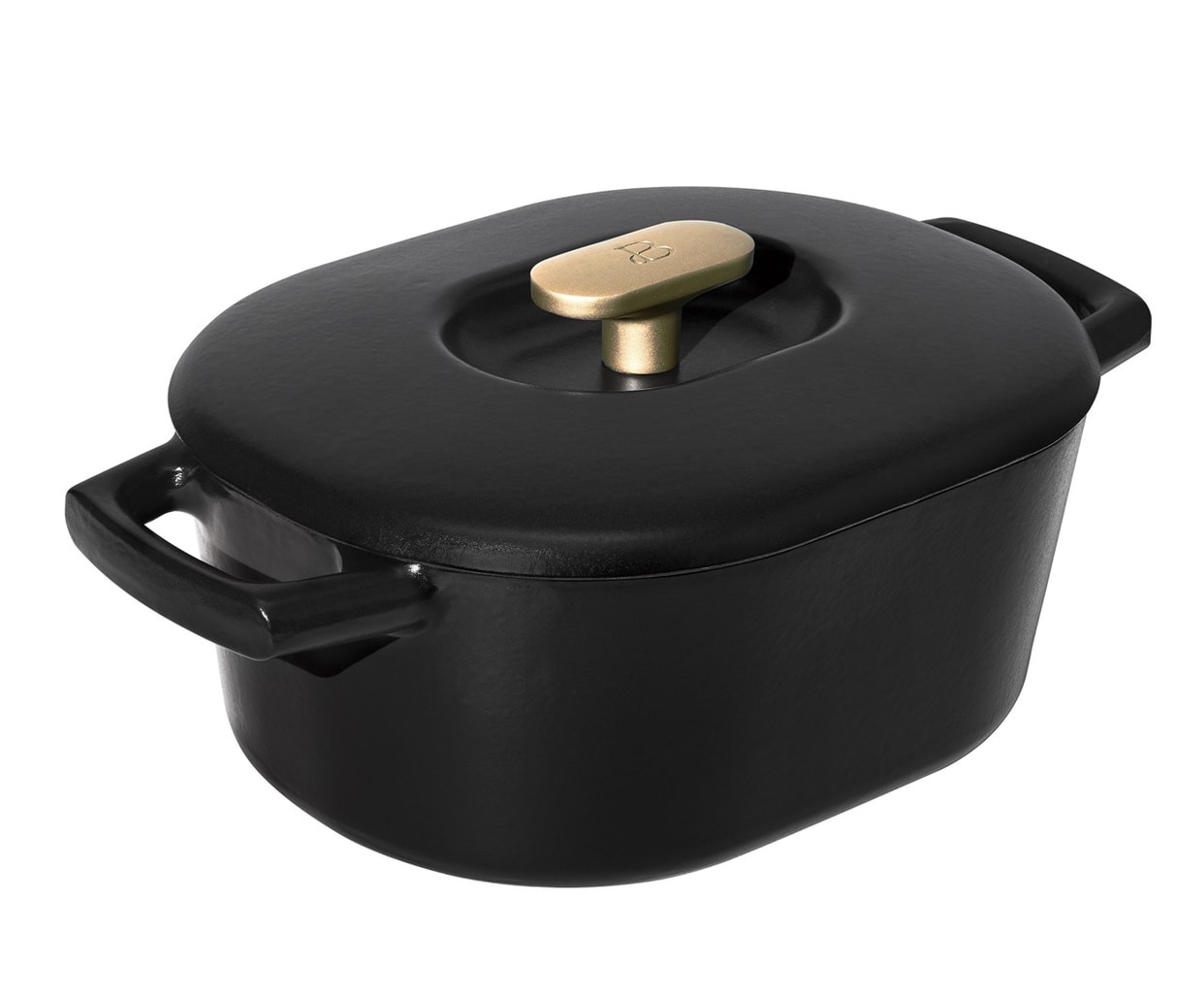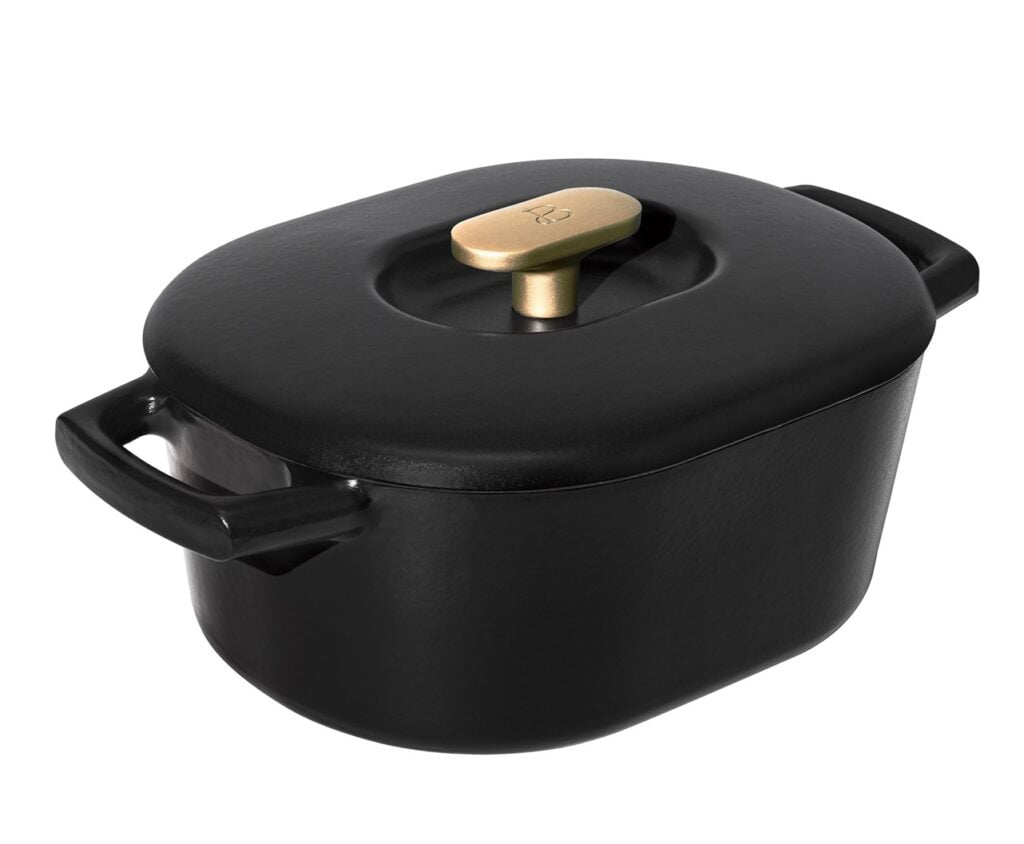 Make your favorite recipe in this Beautiful 6QT Enamel Dutch Oven! It's perfect for everyday cooking and is effortlessly perfect for the stovetop, oven, or tabletop when entertaining family and friends.
"From stovetop to the tabletop. Made for everyday cooking with friends and family, the Beautiful 6qt Enameled Cast Iron Dutch Oven effortlessly transitions between stovetop, oven, and tabletop to serve and entertain."
Large 6-quart capacity transitions from stovetop to oven to tabletop.
Durable cast iron construction retains heat and locks in moisture.
Enamel coating reduces sticking.
No pre-seasoning is required.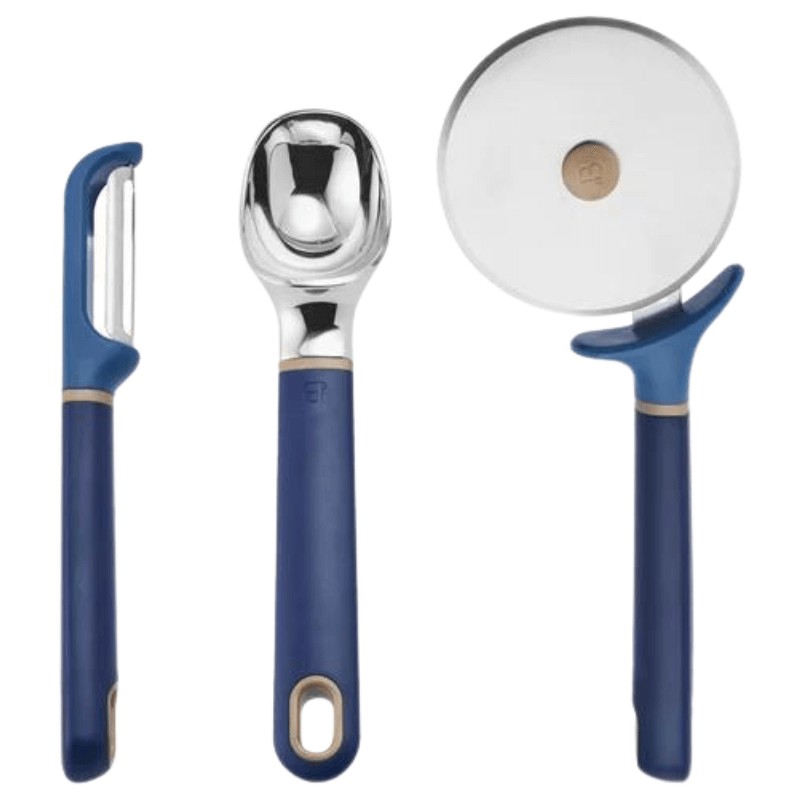 This would make a nice gift for a new home or dorm room.
"This set of 3 offers an ice cream scoop, a pizza wheel, and a swivel peeler. The entire set is dishwasher safe and comes with a limited lifetime warranty."
The ice cream scoop head design makes it easy to scoop hard ice cream
The pizza wheel is ideal for slicing pizza, focaccia, and more
Swivel peeler peels vegetables with ease
Dishwasher safe
If you are fans of Drew Barrymore like we are, then you know she also has Flower Beauty makeup and hair tools, Flower Home Decor and Furniture, and Flower eyewear all available at Walmart. Check out the Beautiful by Drew Barrymore Kitchenware Collection and check back as we will feature more kitchen products just as soon as they are available.
You Might Also Like
Don't forget to share this with your friends and loved ones. If you are on social media, I would also love to connect with you on Facebook, Instagram, Pinterest, or Twitter. Just click on the links to visit my profile. Leave a message and I will follow you back!
PIN this for Later