Shopping at Walmart today? We found the Best Ways To Shop at Walmart to get more deals and savings for you!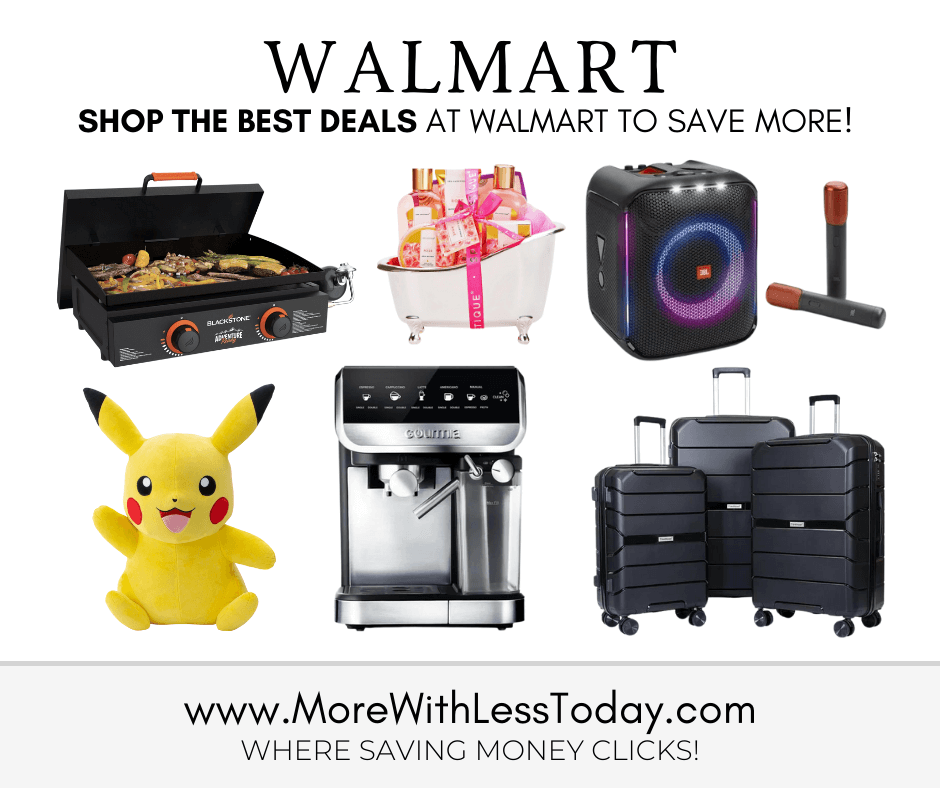 I love shopping on Walmart because of the great deals! Whether I am looking for groceries, household items, electronics, clothing, or anything else, I can always find it at Walmart. Walmart also has a pharmacy, a photo center, an auto care center, and other services that make shopping easy.
Stretch your shopping dollars and apply these tips to get the best deals from Walmart. We have affiliate relationships which means we may earn a small referral commission at no additional cost to you if you shop using our links.
Best Ways To Shop at Walmart to Get More Deals and Savings
Here are some tips and tricks to help you get the best deals and savings at Walmart.
Subscribe and Use Walmart+
Walmart+ is a membership program that offers many benefits and advantages to Walmart shoppers. Here are some of the reasons why you might want to join Walmart+:
You can save time and money on shipping and delivery: Enjoy free shipping on online items with no minimum purchase amount when you use Walmart+. You can also get free delivery from your local store on groceries and other items, as long as your order is at least $35. Depending on your needs and availability, you have the option of same-day, two-day, or next-day delivery.
Enjoy discounts and rewards on various products and services: You can get up to 10 cents off per gallon with Walmart+ when you buy gas at participating locations. Additionally, you'll receive complimentary access to the Paramount+ streaming service, which has TV shows, films, live sporting events, and more. You can also earn up to 5% Walmart Cash on travel bookings, powered by Expedia. Additionally, you will have first access to discounts and promotions, including early Black Friday deals.
Overall, the benefits of Walmart+ can add up quickly for frequent Walmart shoppers like me. Try Walmart Plus for the convenience. You can get a 30-day free trial to make sure you love it!
Shop The Current Best Deals at Walmart
Amazing JBL Original Pro Sound
A light show that syncs to the beat
10 hours of playtime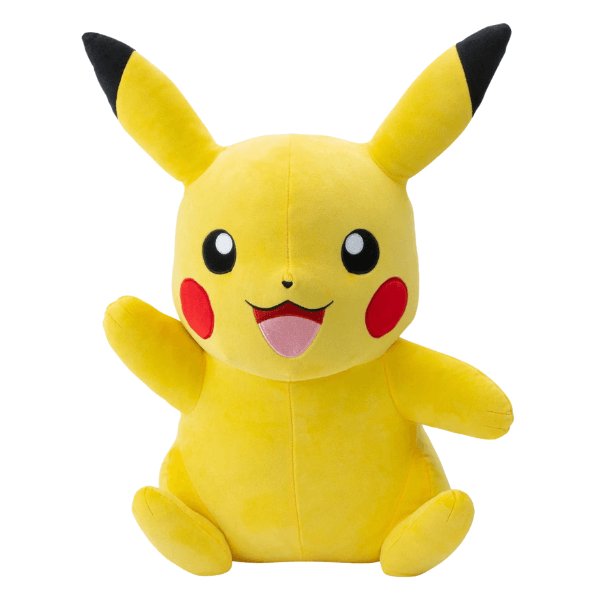 100% PP material, lightweight, hard side, and durable
3-Step Telescoping Handle
4 Quiet Spinner Wheels
Use the Walmart App
When it comes to shopping, the Walmart app is a great way to save money on your shopping. You can access exclusive deals and discounts through the app that aren't found in-store. The app also allows you to scan items in-store and check out with your phone, which saves time and hassle.
The Walmart app has weekly ads that feature local sales and in-store specials for nearby Walmarts. It's the easiest way to find deals before you shop, and it saves time compared to flipping through coupon books or weekly flyers. Additionally, during the holidays, the app enables early access to sales and exclusive product catalogs.
Quick links to the official Walmart app: iOS // Android
Shop Clearance Items
One of the simplest ways to save money online is often by buying clearance products, especially at Walmart. Items on clearance are marked down even further from everyday low pricing. Some Walmarts have smaller clearance sections or just mark clearance products throughout the store. Whatever the case, clearance products have a bright yellow tag that shows you the original price versus the clearance price. Click here to see our monthly Walmart Clearance picks.
Quick links to more savings sections
Subscribe to Walmart's Email List
Signing up for Walmart's email list is another way to save money when shopping at Walmart. This way, you will get notified of the latest sales, promotions, and exclusive offers.
Shop at the Right Time
To get the best deals at Walmart, you need to be there at the right time. When you shop during certain times of the year, like Black Friday, Cyber Monday, and the end-of-season clearance sales, you can save a lot of money. These are the times when Walmart offers the biggest discounts and the lowest prices on a variety of products.
Also, shopping early in the morning or late at night can save you money. Foods that go bad quickly, like meat, dairy, and fruit and vegetables, tend to be marked down in price at these times. You can find these items in the clearance section or with yellow stickers that indicate the reduced price.
Take Advantage of Free Shipping
Shipping costs can add up quickly when you shop online, so it's wise to look for free shipping options. Walmart.com offers free two-day shipping on orders of $35 or more, no membership required. Some products may be eligible for free same-day shipping, depending on your location and availability.
Enjoy the Convenience with Walmart's Free Pickup Service
Walmart's free pickup service is a convenient way to shop for groceries and other items online. You can order online, pick a time, and then someone in the store will pick up your items and put them in bags. You can pick up your order at a nearby store or have it brought right to your door when it's ready. Click here to learn more about Walmart's free pickup service.
Use Price Matching
Walmart has a great price-matching policy that lets you get the same price as a competitor if you find a lower price elsewhere. You can ask for a price match either when you buy something or 14 days after you buy something. You need to show proof of the lower price, like a newspaper ad, a flyer, or an online deal.
However, there are some things that the price matching strategy doesn't cover, like clearance items, third-party sellers, and stores that only sell online. You can check the full details of the Price Match policy on Walmart's website or ask a store associate for help.
Buy Refurbished Items
Walmart Restored is a program that will help you save money while still getting quality products. Brands like Samsung and KitchenAid are among the refurbished items that can be bought through the program at everyday low prices. All products listed on the site have been professionally inspected, tested, and cleaned, so customers can be confident that they're buying from top-rated performance-managed vendors and suppliers.
In addition, Walmart has a 90-day free return policy to help boost customer confidence in the used products. Walmart's Restored program ensures that the refurbished devices you buy from Walmart appear and work like new ones by hiring qualified professionals to repair, inspect, and test them. Read more here to see more details about the Walmart Restored program.
Use a Walmart Rewards Card
One of the benefits of using a Walmart Rewards Card is the ability to earn cash back on purchases made at Walmart and other locations. You may get different rates of rewards depending on the type of card you choose. For example, the Capital One Walmart Rewards Card offers 5% back on Walmart.com and in the Walmart app, 2% back on restaurants and travel, and 1% back on everything else.
Another advantage of using a Walmart Rewards Card is that you can use it anywhere Mastercard is accepted, giving you greater flexibility and convenience. You can also link your card to Walmart Pay, which allows you to pay at checkout with your phone. Get to know more about the Walmart Rewards Card.
Trade in Your Electronics
If you have old or unwanted electronics, you can trade them in at Walmart and get a Walmart e-gift card in exchange. You can use the eGift card to buy anything at Walmart.com or any Walmart shop in the United States. You can also use it for gift-giving or for saving up for something else.
The trade-in program is simple and easy to use. All you have to do is find your old device, answer a few questions, print a prepaid shipping label, and send it off for free with FedEx or UPS Ground. CExchange, the company that runs the program, will evaluate your device and send you an eGift card after they receive it. You can also check the value of your device on the website before you ship it.CExchange will recycle or refurbish your devices and keep them out of landfills. This overall program gives you a way to help make the future greener by trading in your old gadgets at Walmart.
Install Apps to Get More Savings
Install third-party apps to save more. Get Checkout 51, Ibotta, Coupons.com, and other cash-back apps. These apps are easy to use and can be paired with cash-back credit card programs like Walmart's.
Walmart is a great place to shop for almost anything you need, and with these Best Ways To Shop at Walmart, you can get even more value for your money. Whether you shop online or in-store, you can find deals, discounts, and rewards that will help you save big. I hope these tips help you save money while shopping at Walmart! Happy shopping!
Check Out These Celebrity Brands Exclusively Available at Walmart
More Posts Like This
PIN for Later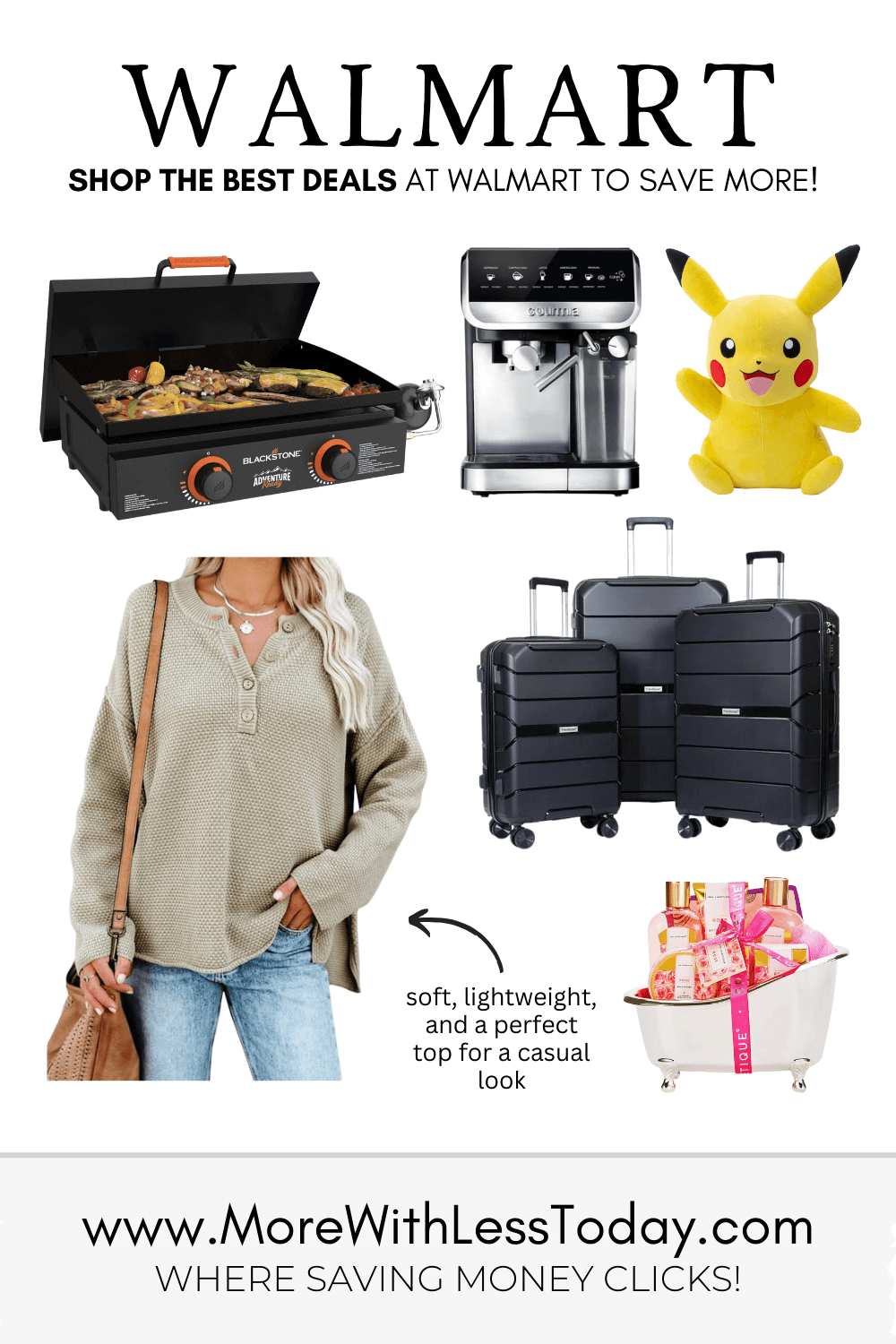 Don't forget to share these Best Ways To Shop at Walmart with your friends and loved ones. If you are on social media, I would love to connect with you on Facebook, Instagram, Pinterest, or Twitter. Just click on the links to visit my profile. Leave a message and I will follow you back!