This Chicken Caesar Salad with Homemade Dressing is a simple recipe to follow and make. You can buy the ingredients for this delicious salad on your local grocery store.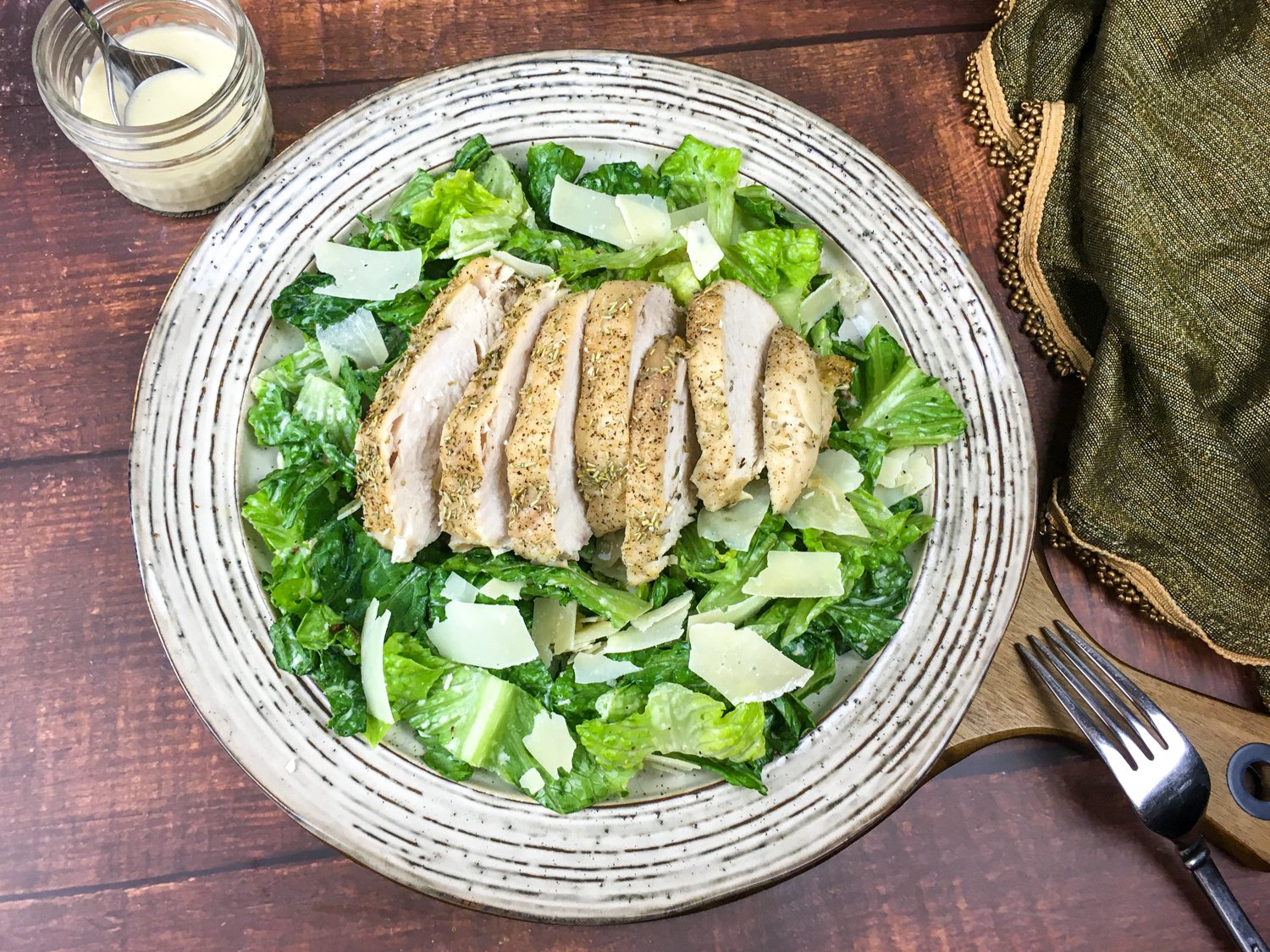 Making your own salad dressing is so easy! It's a great way to give this easy Chicken Caesar Salad recipe much flavor. The combination of the creamy homemade dressing and juicy chicken as the best part, which makes it a perfect main dish or light meal.
Notes
This homemade Chicken Caesar Salad dressing is refined sugar-free. If this is not a concern for you, you can add 1 t. Worcestershire sauce for added depth.

For best results, prepare the creamy dressing the night before serving to allow the flavors a chance to fully develop.
We have affiliate relationships which means we may earn a small referral commission at no additional cost to you if you shop using our affiliate links. As an Amazon Associate, I earn from qualifying purchases.
Cook time: 20-25 minutes*
*Always cook chicken to temperature, not by time. Actual cooking time will vary depending on several factors, including the starting room temperature, thickness of the meat, and variations in individual oven temperatures. Check temperature with an instant-read thermometer after 15 minutes and adjust final cook time accordingly.
Homemade Caesar Dressing Ingredients
½ c. sugar-free mayonnaise

½ c. Greek yogurt

½ T. fresh lemon juice

1-2

large cloves garlic, minced

1 t. Dijon Mustard

1½ t. Anchovy Paste

Sea salt and black pepper, to taste*

¼ c. Parmesan Cheese, freshly grated

¼ c. light olive oil
*Taste before adding additional salt because the Anchovy Paste is naturally briny.
Chicken Caesar Salad with Homemade Dressing Recipe Remaining Ingredients
1 lb. boneless, skinless chicken breast

2 t. Italian seasoning

½ t. Garlic powder

Sea salt and black pepper, to taste

1 large crisp head of Romaine lettuce, cleaned, chopped, and dried completely

½ c. shaved Parmesan cheese + more for serving
Supplies used
Cooking Directions for Chicken Caesar Salad with Homemade Dressing
Step #1. Prepare the homemade salad dressing by combining the mayonnaise, Greek yogurt, lemon juice, garlic, Dijon mustard, and anchovy paste in a medium-sized bowl. Season with salt and black pepper, to taste, and whisk to combine.
Step #2. Add grated Parmesan cheese to the dressing and stir to combine. Then, slowly drizzle the olive oil into the dressing and whisk until thoroughly incorporated into the mixture. Taste and season with additional salt and black pepper, if needed. Cover and refrigerate until ready to use.
Step #3. Place top oven rack in the center position and pre-heat to 400°F. Line a large, rimmed baking sheet with parchment paper or a Silpat™ baking sheet.
Step #4. Arrange the chicken breasts on the prepared baking sheet and sprinkle evenly with the Italian seasoning, garlic powder, salt, and black pepper. Place the baking sheet in the preheated oven and roast for 20-25 minutes, or until the chicken is cooked through.
Note: An instant-read thermometer inserted into the thickest part of the chicken should read just over 160°F when it is ready. The temperature will continue to rise several degrees while the chicken rests.
Step #5. Finally, remove the chicken from the oven. Cool it for 10-15 minutes before placing it on a cutting board.
Step #6. To serve your Chicken Caesar Salad, assemble the salad by adding the chopped Romaine hearts to a large bowl. Add the shaved Parmigiano Reggiano and drizzle with 1/3 cup dressing. Gently toss to combine.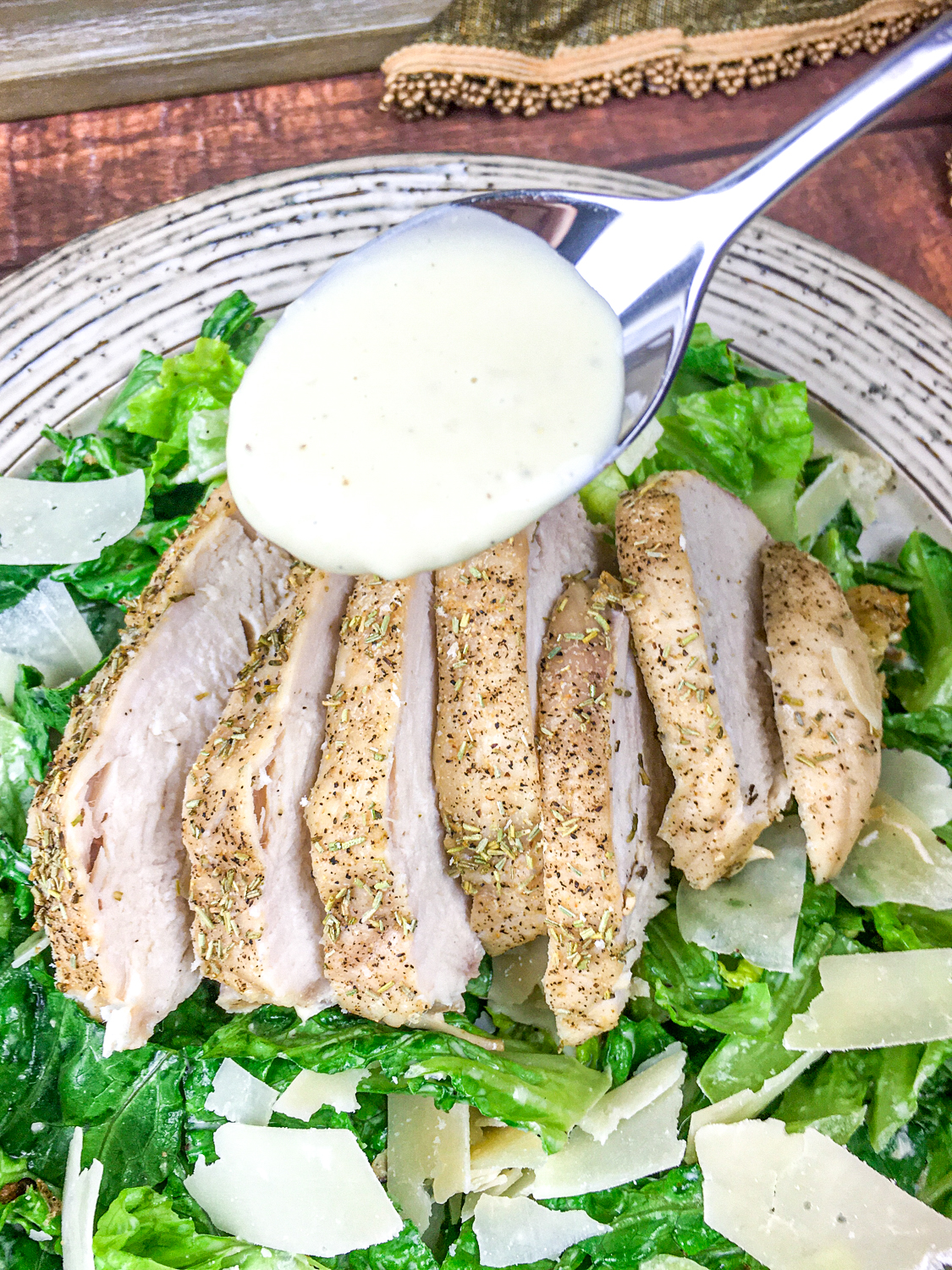 Step #7. Divide salad between chilled salad plates and top with the sliced chicken breast. Serve immediately with the remaining creamy homemade caesar salad dressing and additional shaved Parmesan on the side. Enjoy!
Grocery Prices, Ugh. Here are a Few Tips to Save Some Dough!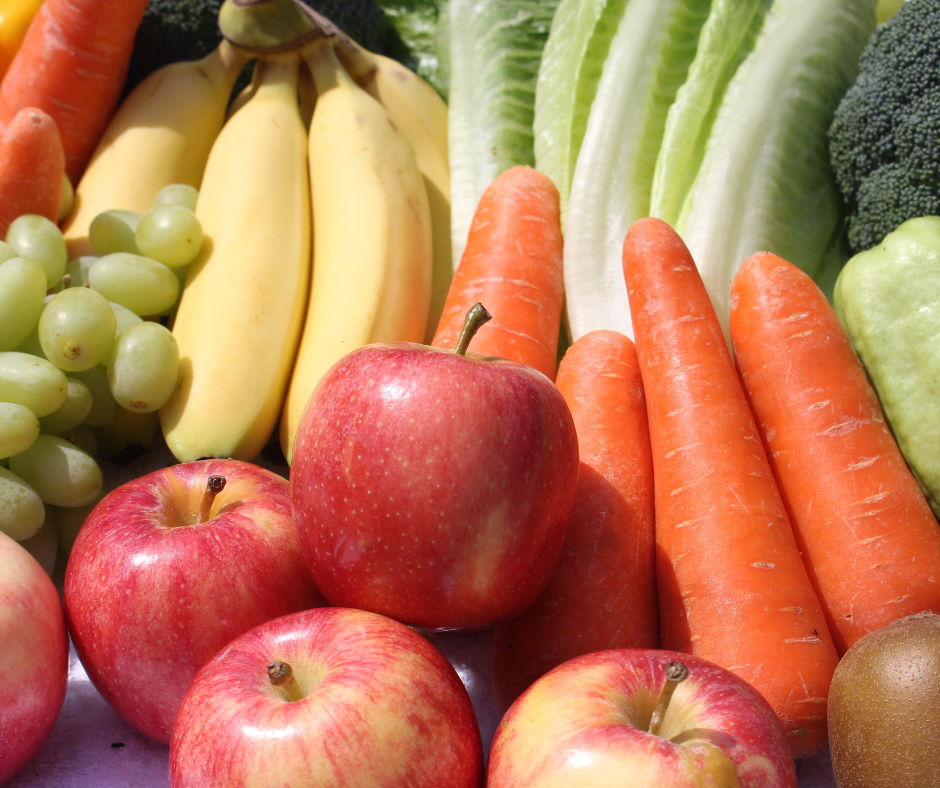 Stretch your dollars on groceries and household necessities with online coupons right on Amazon. Have you checked this section for current Amazon coupons? They change them up often. It could not be easier to save a few dollars.
Use Their Coupons for Groceries, Food, and Household Items
Amazon has a dedicated section for coupons that you can electronically "clip" and use. Head over to the coupon hub to look for what you need that's on sale. Click on the item with a coupon box next to it then the discount will be applied at checkout.
"Discounts applied at check out or on first subscription. Some coupons may only be available to Prime members. Coupons may be subject to a maximum dollar value, which will be reflected at checkout if applicable. Some restrictions apply."
Making the Most from Your Amazon Prime Membership (try it for free)
Join Amazon Prime
Try Amazon Prime for FREE with a one-month free trial. After one month, you can decide if the cost of the membership makes sense for you and then cancel before you get charged for the membership. You do need to enter a credit card to access the free month so write the ending date on your calendar and set up an alert so you can decide if you want to keep it or cancel right before your free month is up.
Try Amazon's Subscribe & Save Feature
Have you ever tried Amazon's Subscribe and Save feature? It will save you at least 5-15% on your reoccurring purchases. Plus you won't run out which is especially helpful these days. I use this for our favorite snacks, dog food, vitamins, household supplies, and more. You can pause or cancel orders easily from inside your account.
Save at Whole Foods Market
Find lots of exclusive weekly deals all over the store, and save an extra 10% on hundreds of sale items. Keep up to date on featured Prime Member Deals every week.
Skip the trip to the store
With Amazon Fresh, get 2-hour delivery on just about anything. Check here for availability in your area.
Here are 30+ Tips to Save More at the Grocery Store
Looking for a great meal to try? Click here to view all the delicious recipes on my site.
Pin to Save for Later: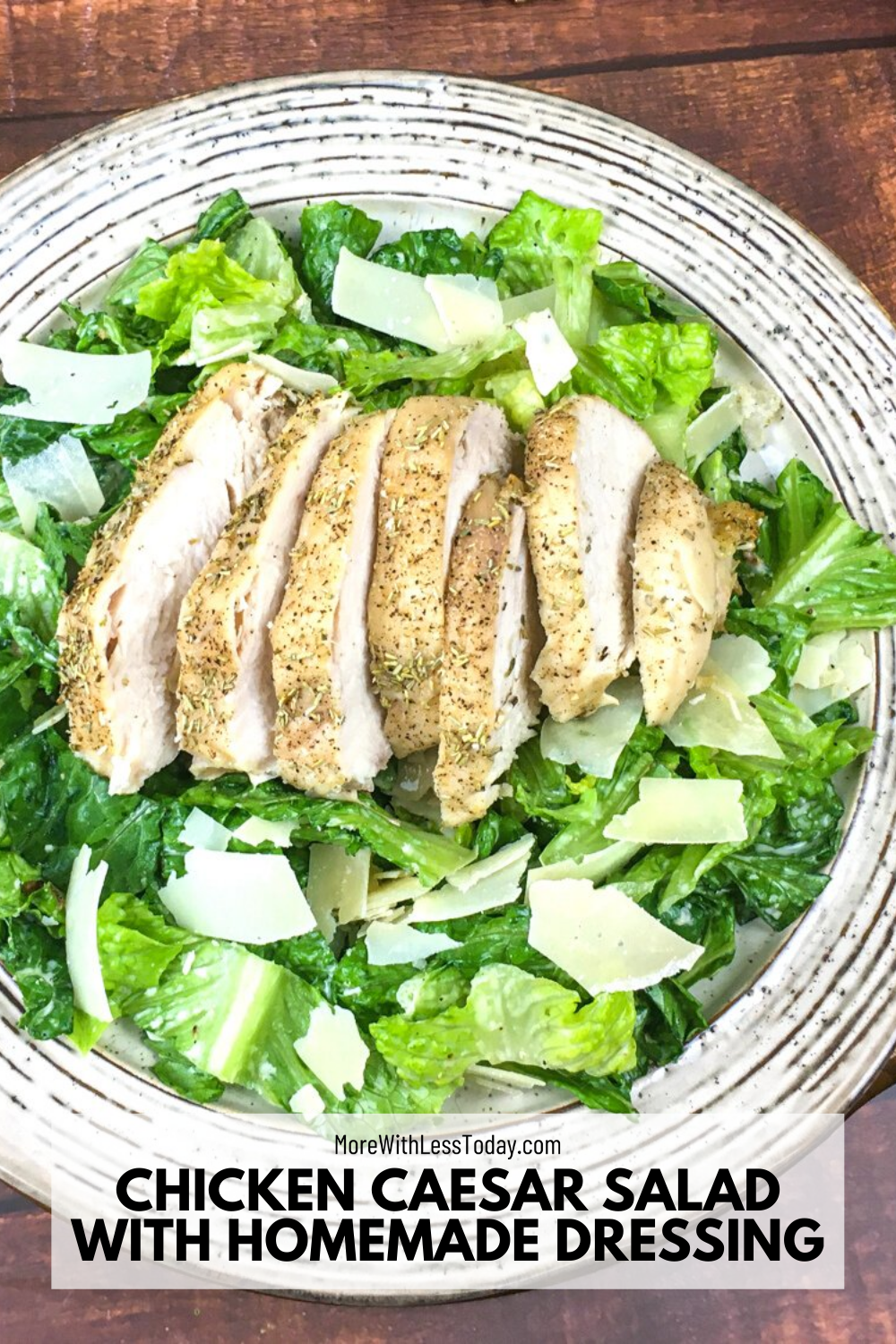 Don't forget to share this Chicken Caesar Salad with Homemade Dressing recipe with your friends and loved ones. Follow me on social media to stay updated every time I post.