The new Drew Barrymore Flower Home Collection at Walmart is Affordable and Chic! Filled with colorful home decor and stylish furniture. You'll find bold prints, fresh patterns and pieces that will look great together.
The new collection features more than 200 items ranging in price from $18 for ceramic decorative vases to $899 for a mid-century sofa. We have affiliate relationships which means we may earn a small referral commission at no additional cost to you if you shop using our links.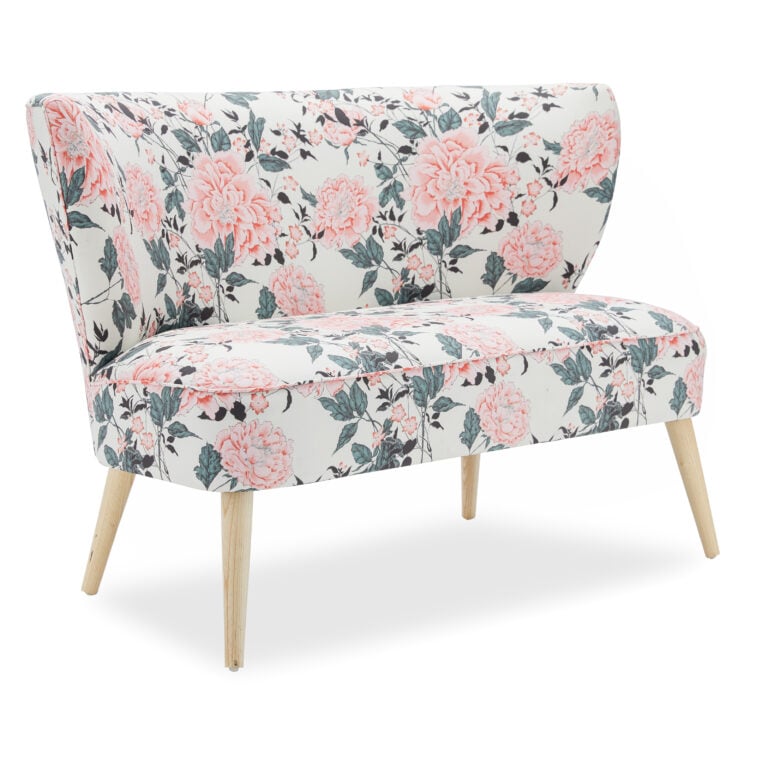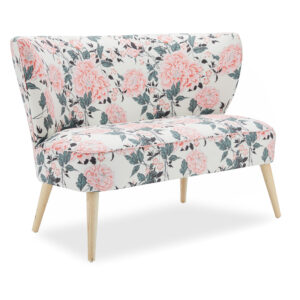 Our favorite pieces from the New Drew Barrymore Flower Home Collection at Walmart
"The Vintage Floral Loveseat by Drew Barrymore Flower Home's retro-inspired print and curved edges will make a bright and bold addition to your dazzling digs. Whether you're looking for extra living room seating or a home office accent, this eye-catching loveseat has got you covered.
The exclusive Vintage Floral cover is crafted from a soft 45% linen and 55% cotton combo for a smooth feel with every sit. Angled, tapered legs complement this homage to the old days for a contemporary twist on a timeless design. Complete this blast-from-the-past look with throw pillows, blankets, and other accessories from Drew Barrymore Flower Home."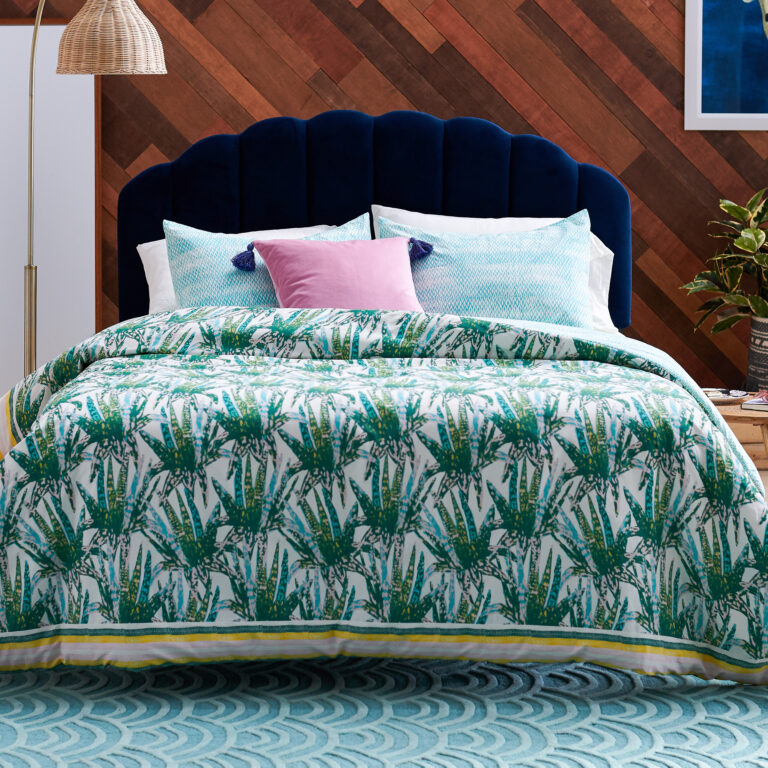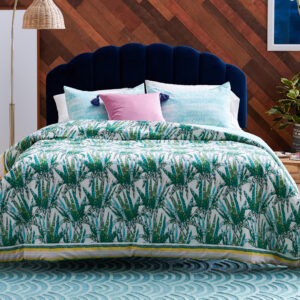 Watercolor Succulent 3-pc Comforter Set
"You're going to want to make your bed from now on, if only so you can have a perfect view of the Watercolor Succulent 3 Piece Comforter Set by Drew Barrymore Flower Home during the day. The comforter's brightly colored Watercolor Succulent pattern is complemented by the shams' coordinating Painterly Triangle print. For a complete bedroom renewal, pair this vibrant bedding set with a bed frame and decorative accents designed by Drew Barrymore Flower Home.
All pieces are made from cotton sateen. The comforter also has 270 GSM polyester fill. Short for Grams per Square Meter, GSM is an indicator of your bedding's density and quality. For easy care, simply machine wash the bedding with cold water."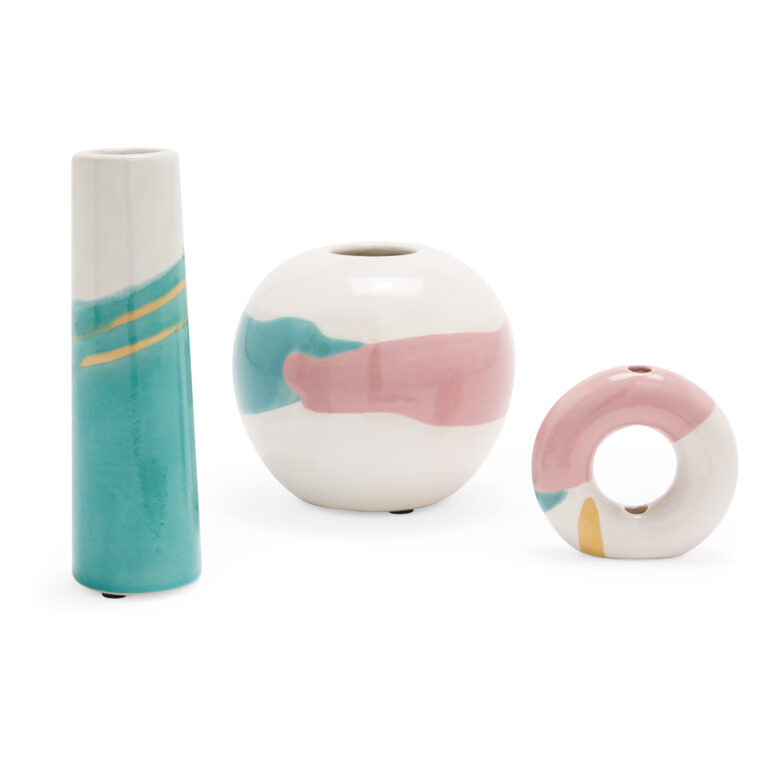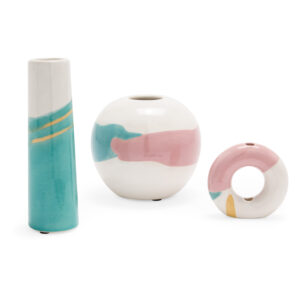 "The Abstract Vase Set of 3 by Drew Barrymore Flower Home introduces a subtle retro feel to any living space. The combination of soft pastel colors brings calmness while adding a pop of color. Each piece is handcrafted individually with earthenware and completed with a glossy finish. They can be placed together as a set or spread throughout your house to create a unique look. This vase set is a part of the exclusive Drew Barrymore Flower Home collection, which allows you to easily find pieces to complete your look."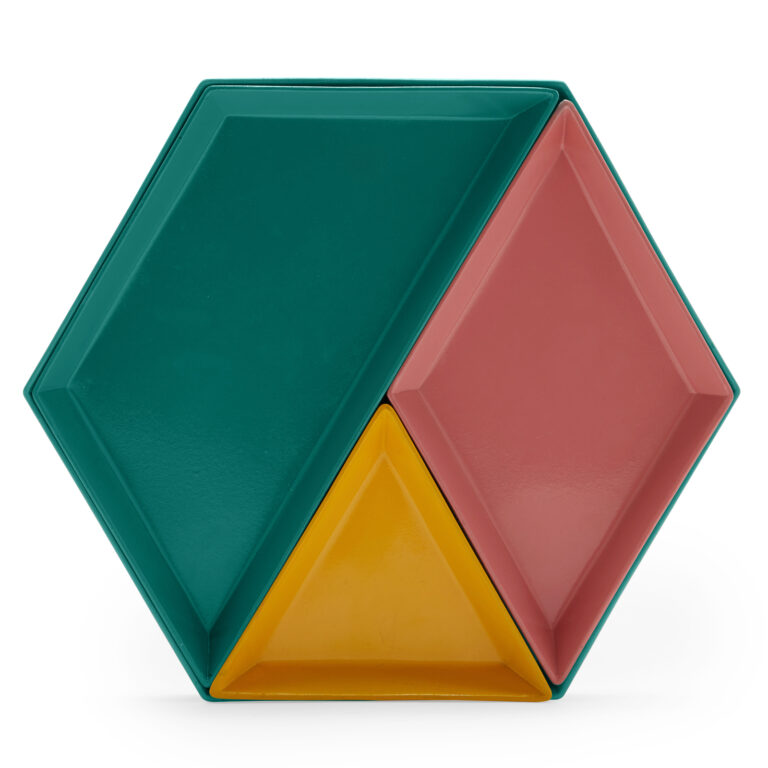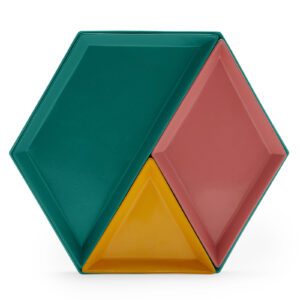 Multi-Colored Geometric Trays Set of 4
"The secret to a completely coordinated home is all in the details – that's why the Drew Barrymore Flower Home Multi Colored Geometric Trays – Set of 4 is the must-have finishing touch to your creatively curated space. Introduce a pop of eye-catching color to your coffee table or desk with these pink diamond, yellow triangle, and green trapezoid trays. The three smaller dishes can be placed within an additional hexagonal tray for easy, compact storage in a unique color-block design. Tabletop décor blends fashion and function like never before with this fun, multicolored set perfect for organizing your jewelry or other small accessories. A sturdy metal construction means these accent trays can easily hold up to your always-on-the-go lifestyle. Shop more fresh finds with the full collection from Drew Barrymore Flower Home."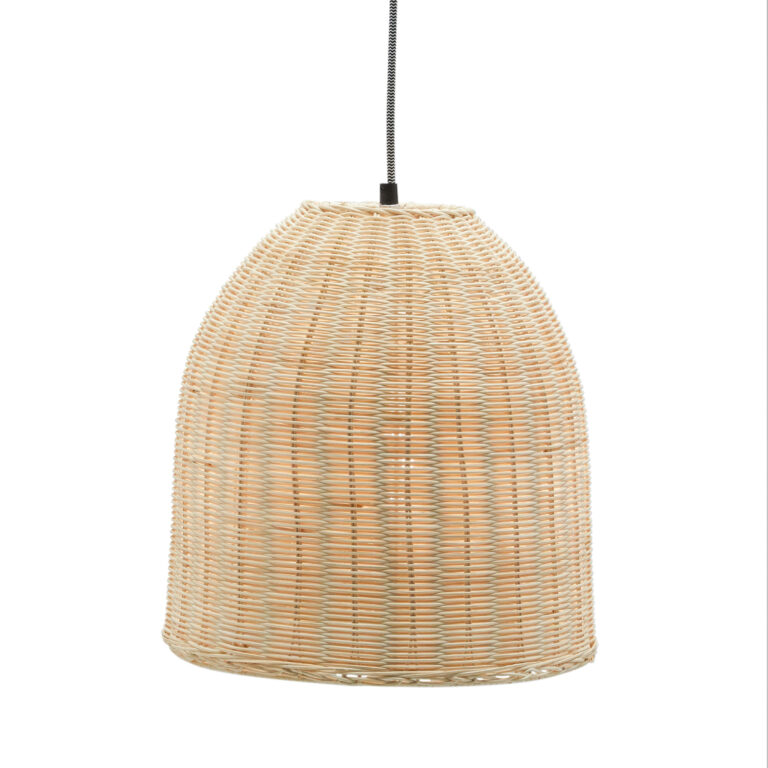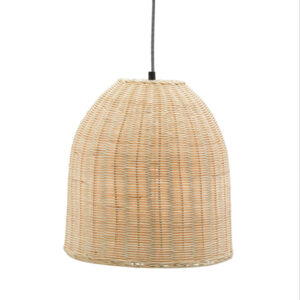 "If your space craves something new, the Rattan Pendant Light by Drew Barrymore Flower Home will add a bit of texture above your dining table or kitchen prep area. This pendant light features a bell-shaped shade made of woven rattan. The natural hue will coordinate easily with existing decor. For hanging, it's equipped with a 4-foot black and white chevron cord. It also includes a 6-watt LED Edison bulb, which will cast a warm glow wherever it's displayed. Group two or more of these lights together for an impactful lighting arrangement. Pair it with other pieces by Drew Barrymore Flower Home for a cohesive look in every room."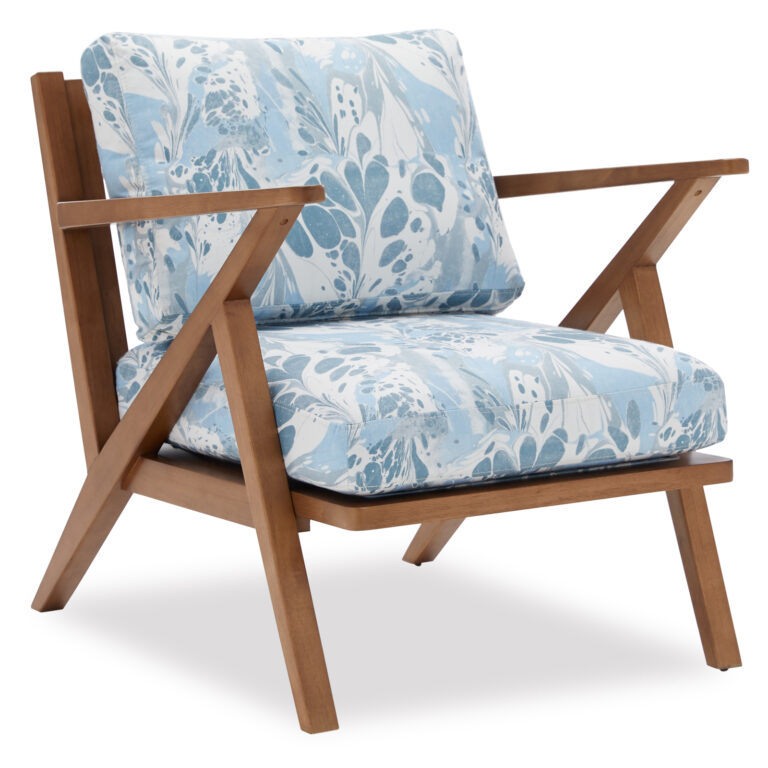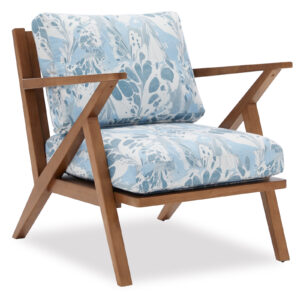 Vintage Marble Mid-Century Accent Chair
"The Vintage Marble motif of the Vintage Marble Mid-Century Accent Chair by Drew Barrymore Flower Home has us California dreaming. The exclusive print in soothing blue and white hues makes an appearance on the soft linen upholstery of this chair, creating a boho aesthetic with a fresh twist. When the cushions are paired with the angled armrests, legs, and slatted back of the frame, you're talking about an accent with a stage presence. A deep walnut finish tops the rubberwood frame and creates a becoming counter to the airy quality of the cushions. Lift the bottom cushion to reveal a matching upholstered seat with an attractive piping trim. With its comfortable and cool design, this chair is a natural in any space. Style it with other items from Drew Barrymore Flower Home for a home that's inviting and eclectic."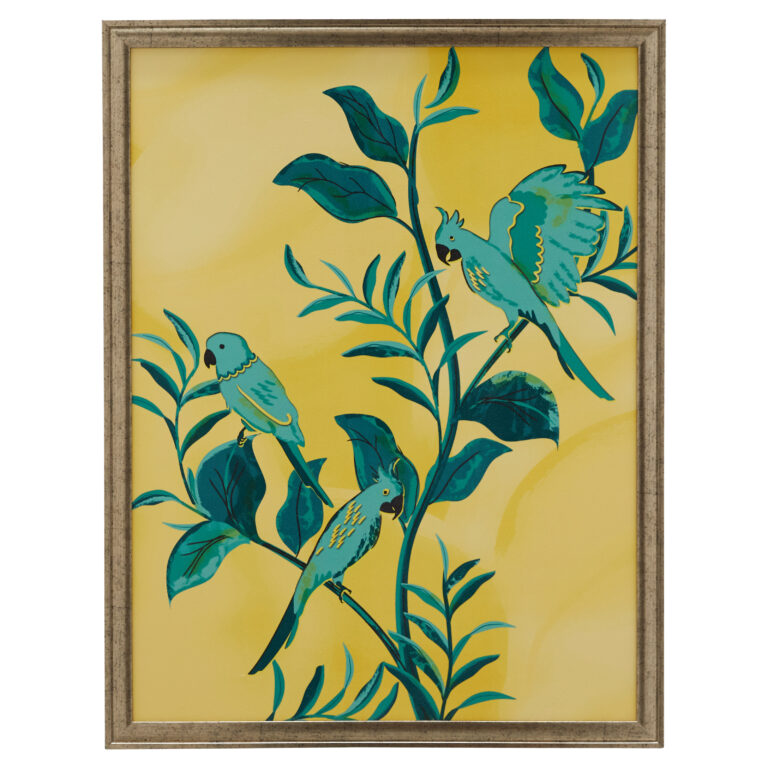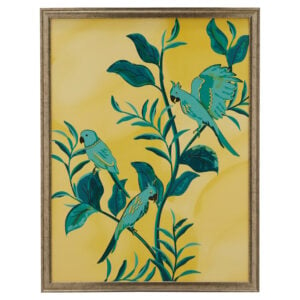 "The over-sized Birds Framed Canvas Wall Art by Drew Barrymore Flower Home will add a splash of color to any space. This print features three exotic birds on branches in bright yellow and shades of green. The image is printed on canvas and embellished with gel to give it a painted texture. The polystyrene frame features a versatile champagne finish and simple decorative edge. All you need is an empty wall; this artwork is displayed behind glass and equipped with hanging hardware for easy installation. Pair this wall art with other items by Drew Barrymore Flower Home for a boho-eclectic look."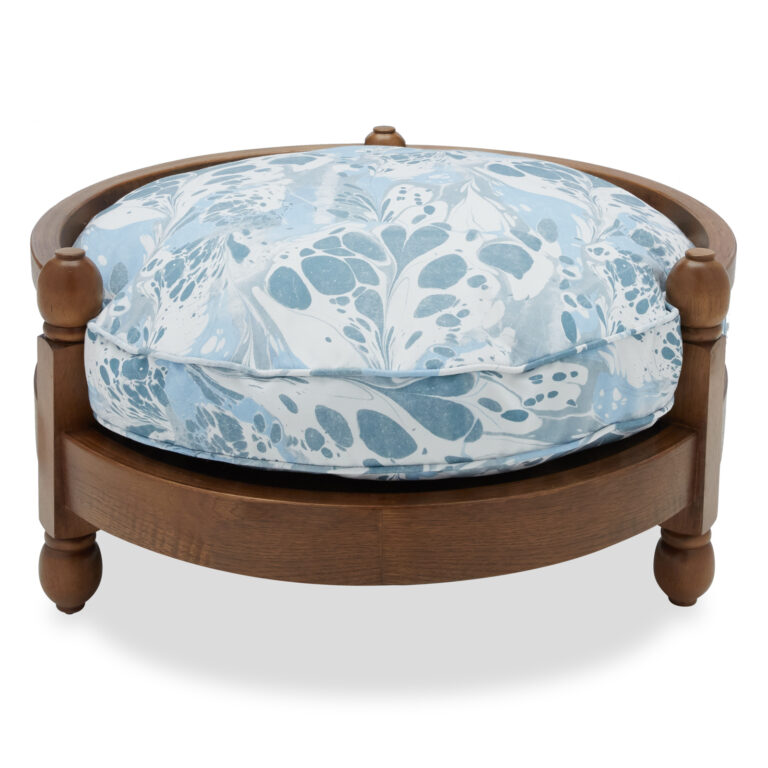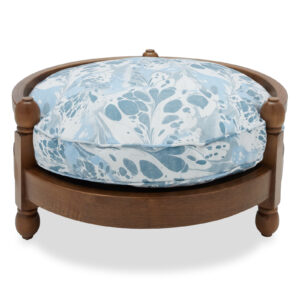 Vintage Marble Wood Frame Pet Bed
"Make your pup feel posh with the Vintage Marble Wood Frame Pet Bed by Drew Barrymore Flower Home, which features a plush cushion and raised frame. This bed is sized for small or medium pets up to 75 pounds. The frame is constructed of eco-friendly engineered wood and rubberwood, and it's topped with birch veneer in a warm walnut finish. The round frame is supported by three turned legs. For comfort, a polyester-filled cushion fits perfectly within the demilune design. The removable 100% polyester cover features a multicolored Vintage Marble pattern. For best care, remove the cover and wash in cold water as needed.
This pet bed will coordinate with other pieces by Drew Barrymore Flower Home. Don't be afraid to mix and match patterns and colors – everything in the collection goes together!"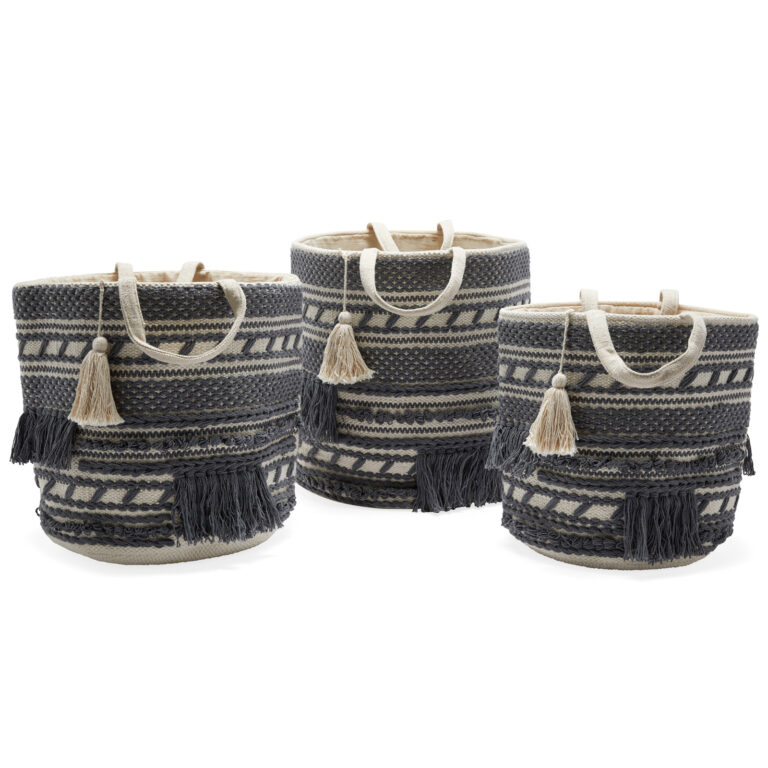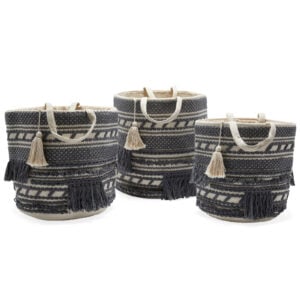 Hand Woven Macrame 3-pc Basket Set
"The Hand Woven Macrame 3 Piece Basket Set Natural and Charcoal by Drew Barrymore Flower Home offers busy households storage and organization that is anything but ordinary. Woven by hand, these boho-style baskets feature a textured design with an alternating mix of bold prints in a rich charcoal gray and natural cream color. What makes it so unique is its aesthetic focus on macrame design, which is known to create a one-of-a-kind look formed by combining knotting and fringe. Tasseled fringe and a large tassel hanging from the top are fun finishing touches. These versatile totes can be used to hold anything from magazines and throw blankets to toys and books.
This set comes with three baskets in assorted sizes to fill many needs around your household. Each has an exterior of handwoven macrame in 100% cotton with an EVA sheet lining on the interior. Sturdy carry handles allow for easy transport, and they can be easily folded down for convenient storage. To keep them looking new, simply spot clean when needed."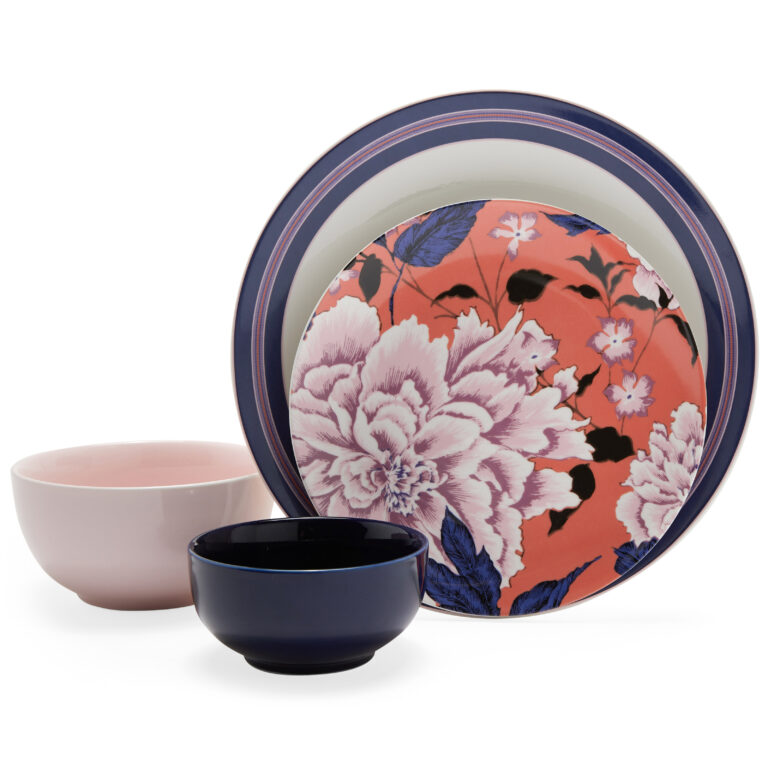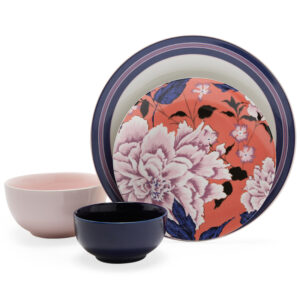 Vintage Floral 16-pc Dinnerware Set in Georgia Peach
"Your ingredients may or may not be fresh from the garden, but pieces in the Vintage Floral 16 Piece Dinnerware Set by Drew Barrymore Flower Home look plucked from a blossoming Eden. This stoneware dinnerware set serves four and includes four dinner plates, four salad plates, four larger bowls, and four small bowls. Each type of dish has its own unique look, but it comes together with the rest of the set for a playful combination of colors and elegant details. The dinner plates are white and rimmed with several colorful stripes while salad plates feature the unifying Vintage Floral pattern. The large and small bowls are finished in solid glazed accent colors. Choose from available color combinations to set your perfect table.
The Vintage Floral 16 Piece Dinnerware Set by Drew Barrymore Flower Home is made of 100% stoneware for a dinnerware set that is both durable and dishwasher- and microwave-safe. Included with the set is a storage box for when you need to store the dishes or you're switching them out for seasonal dinnerware."
About Drew Barrymore Flower Home
"Drew Barrymore Flower Home makes it easy and affordable for everyone to let their unique personal style come alive wherever they may live. Vibrant, inviting, and full of life, the collection itself has a get-along philosophy, allowing things to come together in a curated way. Guided by inspiration from Drew's travels as well as familiar places she keeps near to her heart, each piece is a reflection of her direction and taste crafted with attention to detail. The result is a refreshing and unexpected mix full of bold prints, feminine patterns, fresh color ways, and functional silhouettes."
Ready to Style your Home?