I attended a media/blogger tour of Carmel-by-the-Sea and Hofsas House. Although my stay was hosted, all opinions are 100% mine.
Now that my husband and I are empty-nesters, we love to get away whenever we can. We had the opportunity to visit one of our favorite California cities, Carmel-by-the-Sea in Monterey County, California and stay at the warm and welcoming Hofsas House. While the weather was not the best during our visit, it rained quite a bit, but it turned out to be a cozy, very relaxing time to reconnect and unwind for a few days.
This was our third trip to Carmel-by-the-Sea (often simply called Carmel), in the last few years and our second stay at Hofsas House. The charm of Carmel attracts artists, writers, photographers, and actors. You will find beautiful white sandy beaches, stunning natural scenery, fine restaurants, boutique shopping, wine tasting and 80+ art galleries within walking distance from the hotel.
The town is located on the Pacific coast about 330 miles north of Los Angeles and 120 miles south of San Francisco.
California's Most Charming Town
The village of Carmel is only 1 square mile so you can walk everywhere. We did not move our car once during our stay. Carmel is a bit quirky but in a very authentic in a charming way. There are no street lights in the village, parking meters or house numbers. Everyone goes to the main post office to pick up their mail and there is an ordinance against wearing high heels to prevent lawsuits from tripping on the cobblestone streets or uneven pavement.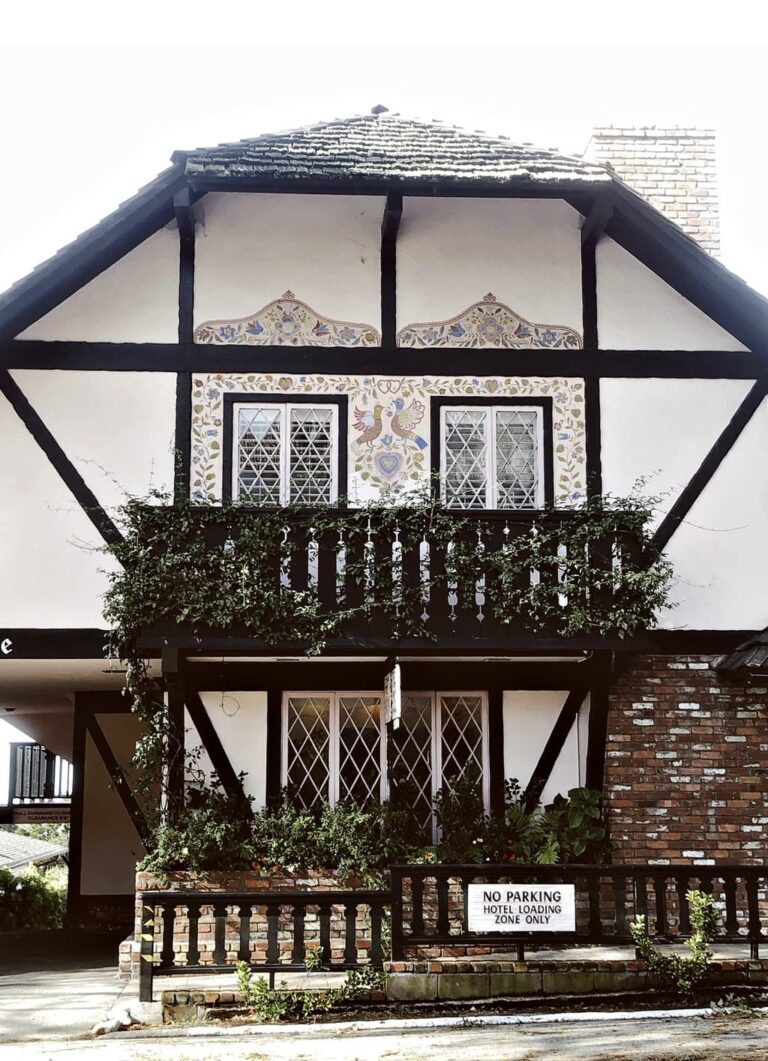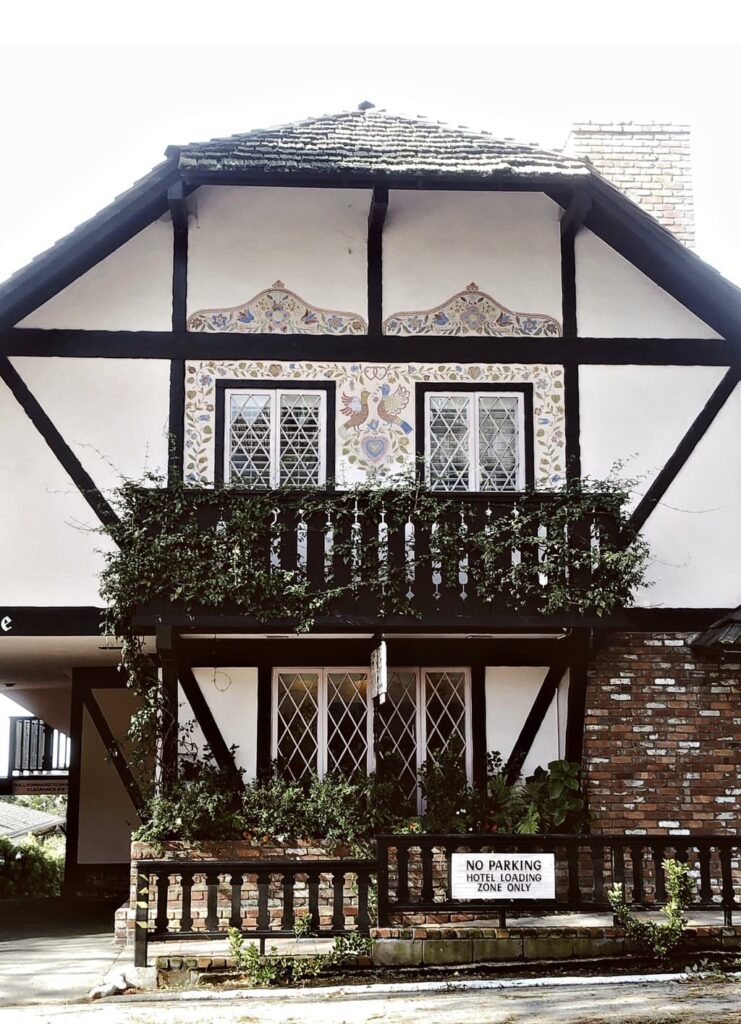 When you pull up to Hofsas House, you will feel like you stumbled into a European Inn. Hofsas House has 38 spacious one-of-a-kind Bavarian-inspired rooms with amenities like fireplaces, private balconies, wet bars, kitchens, and Dutch doors so you can enjoy the ocean breezes and the crisp pine-scented air. Many of the rooms have ocean views above the treetops where the sunsets are magnificent, A walk to the beautiful beach is a pleasant stroll through town, about a half mile away.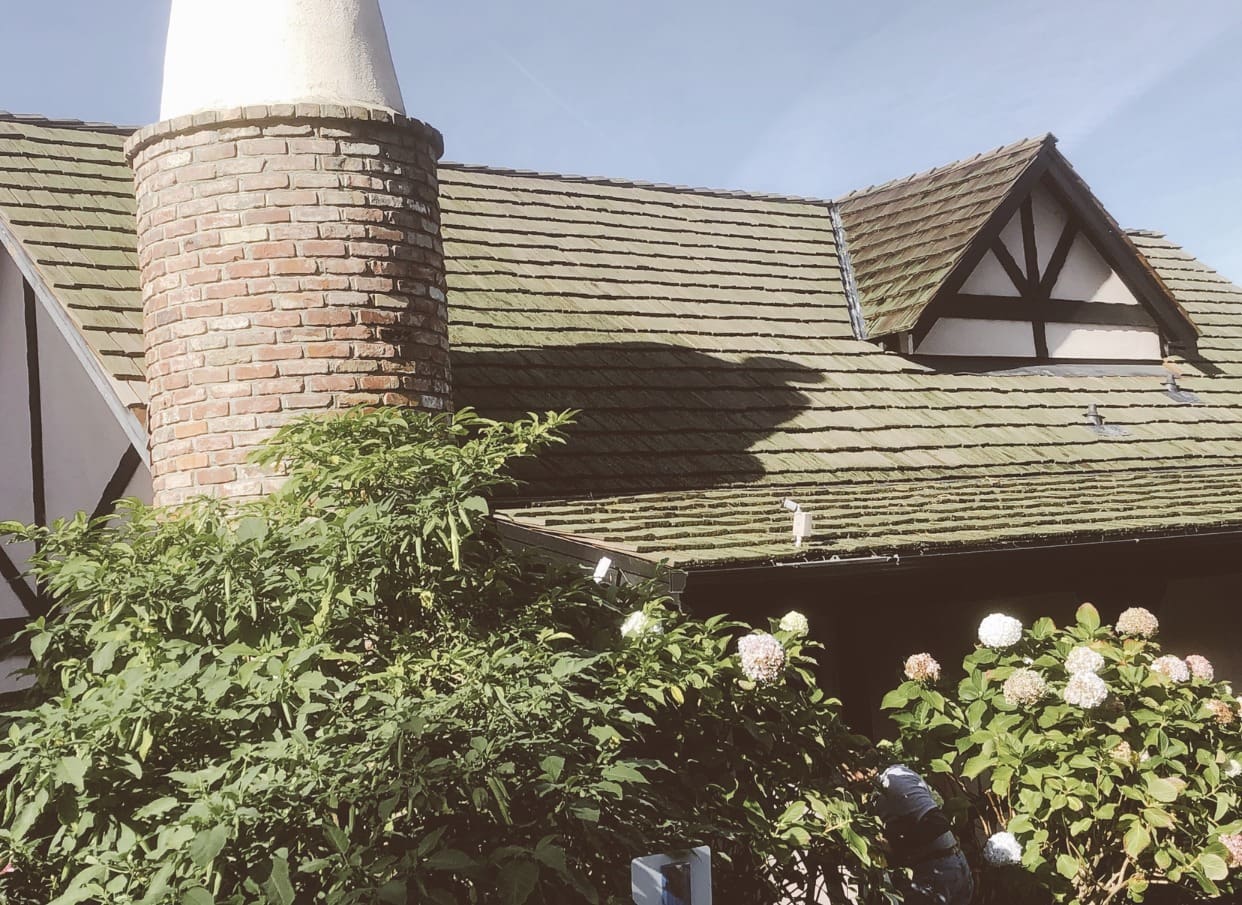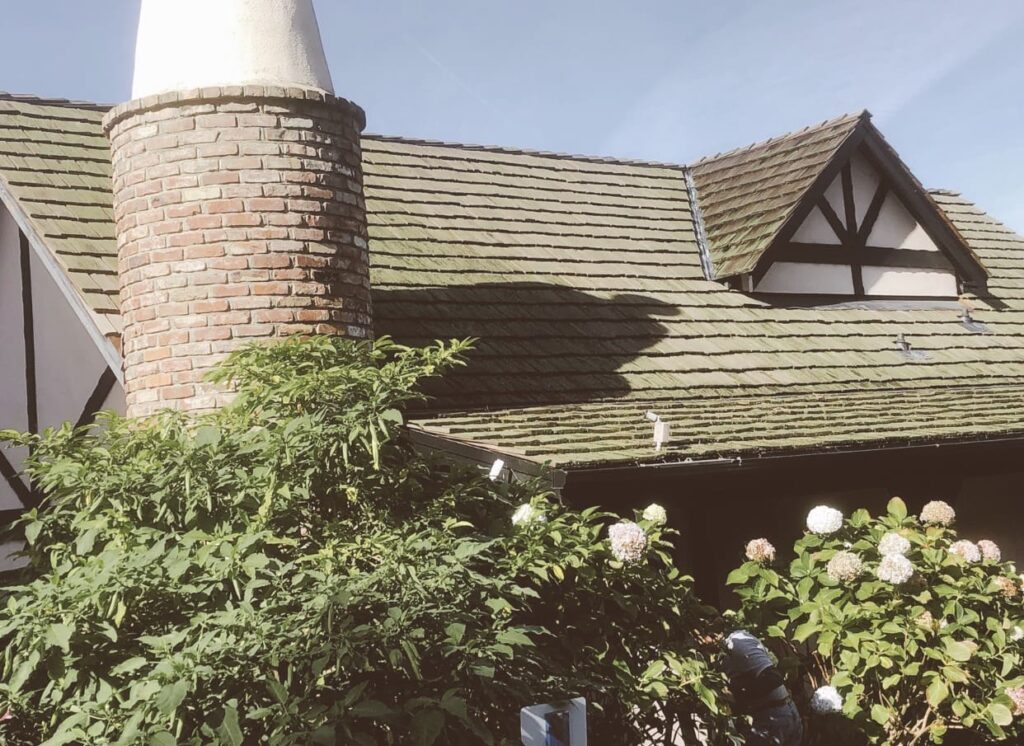 The Hofsas House Hotel is easy to find on San Carlos Street between 3rd and 4th Ave.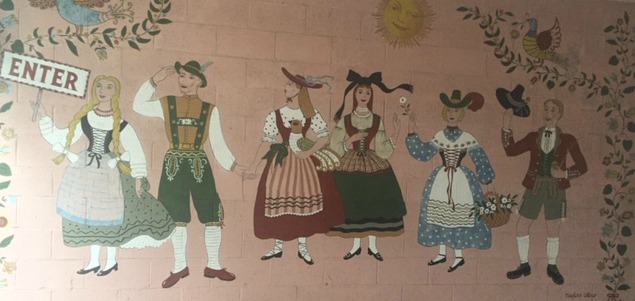 The hotel has been family owned by the Theis family for four generations and seven decades.
This welcoming mural was painted by Maxine Albro for her friend Donna Hofsas, the founder of the hotel. You will also recognize her distinctive paintings in the lobby and her decorative touches throughout the hotel to enhance the charming Bavarian theme. Maxine took a trip to Mexico after her formal art training and was influenced by Diego Rivera's stylized figures.
In the late 1940s, Donna and her husband Fred moved from Los Angeles to the current site of Hofsas House where they purchased four cottages and they lived in one and rented out the others. In 1957, the main hotel and the swimming pool were built. Today, Donna's granddaughter Carrie Theis is the general manager and is a wealth of knowledge about the hotel, and about Carmel and its history.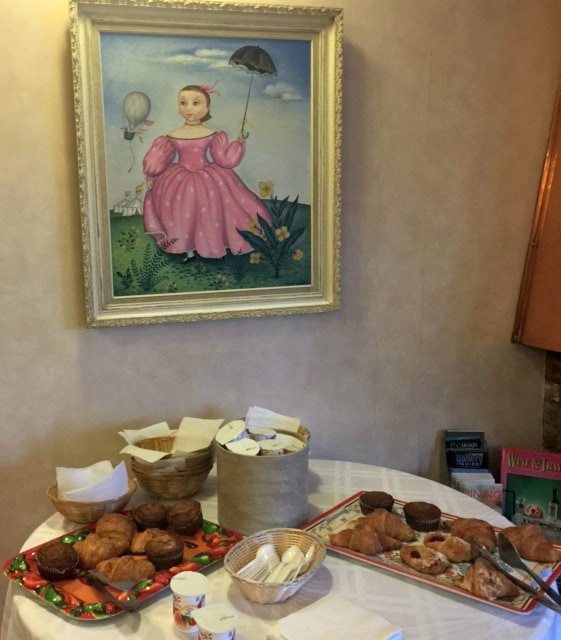 You'll enjoy a complimentary continental style breakfast each morning in the lobby with delicious pastries delivered from a neighborhood bakery, French Roast coffee, tea, juice, and fruit.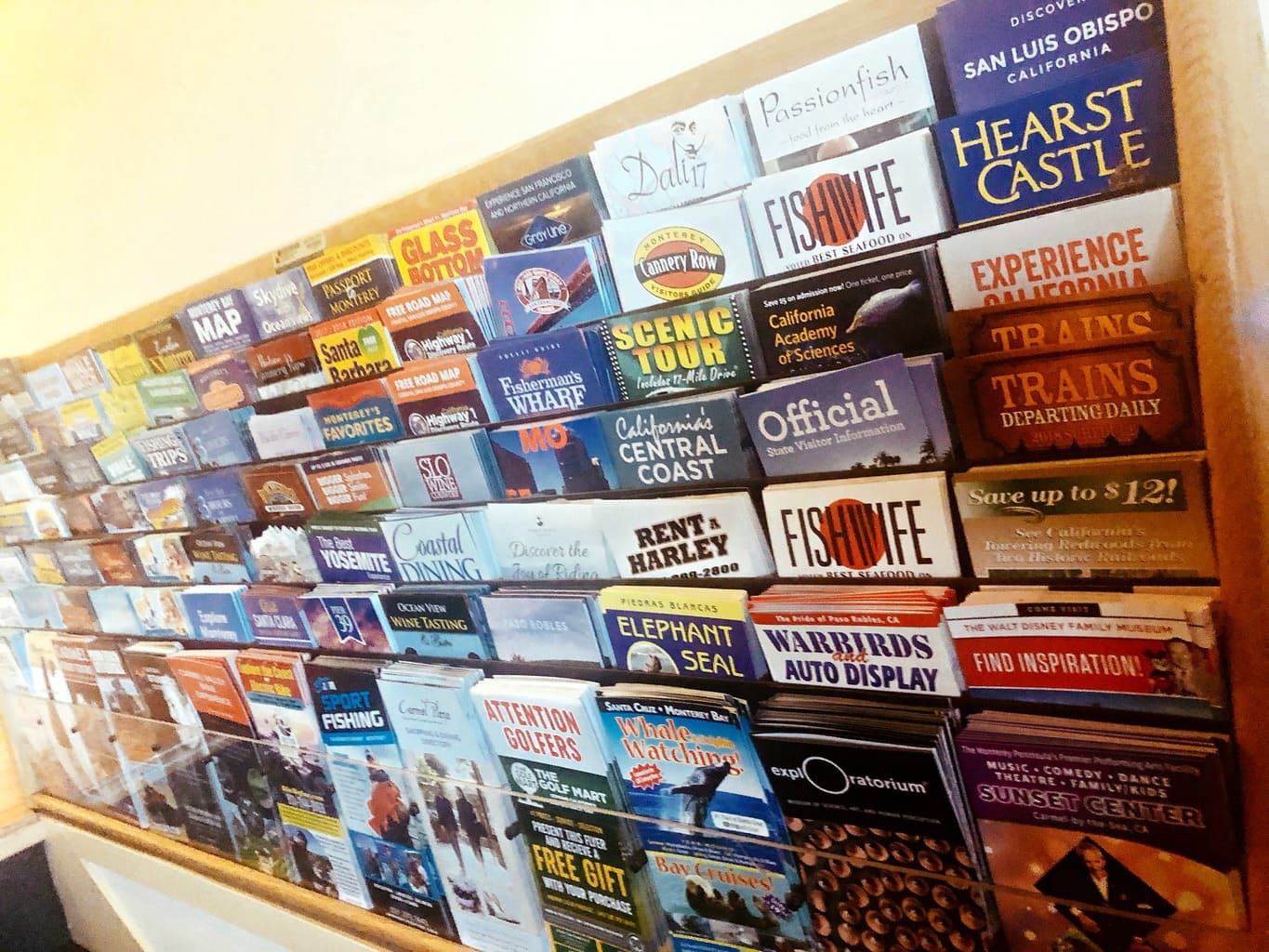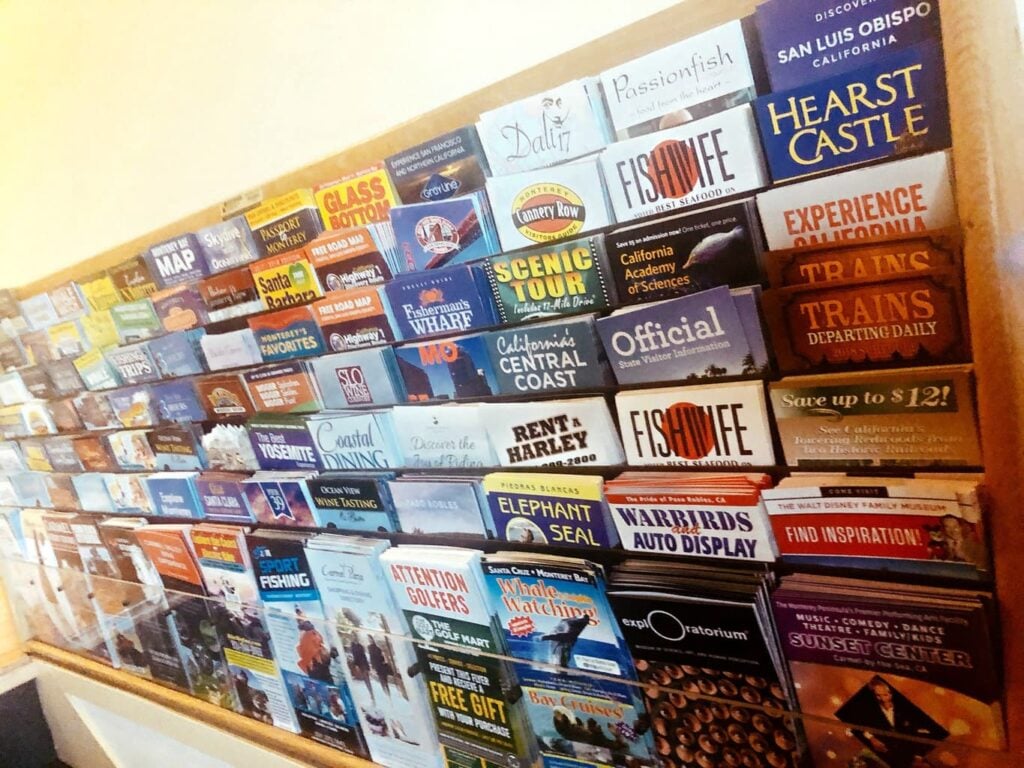 Although you will find information about Carmel and the surrounding area, take the opportunity to chat with the front desk staff. Everyone is so warm and welcoming and will go above and beyond to make sure your stay is special and tailored just for you.
.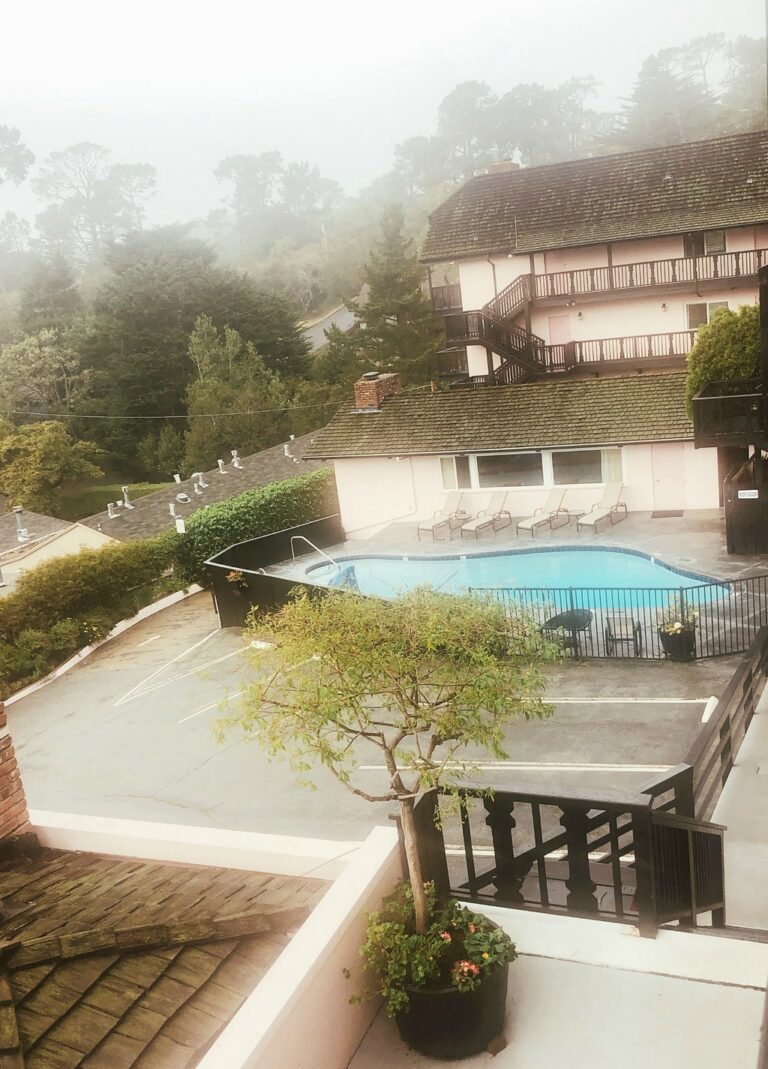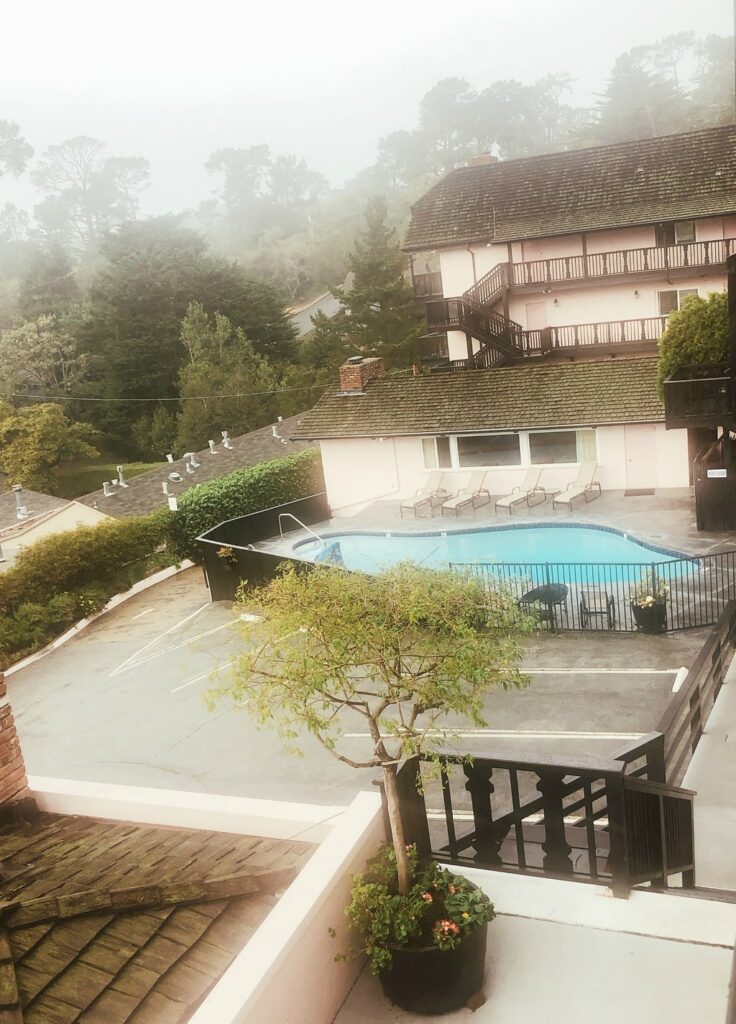 Carrie said the heated pool had been redone since our last visit but the weather was too cold and rainy to take a dip this time.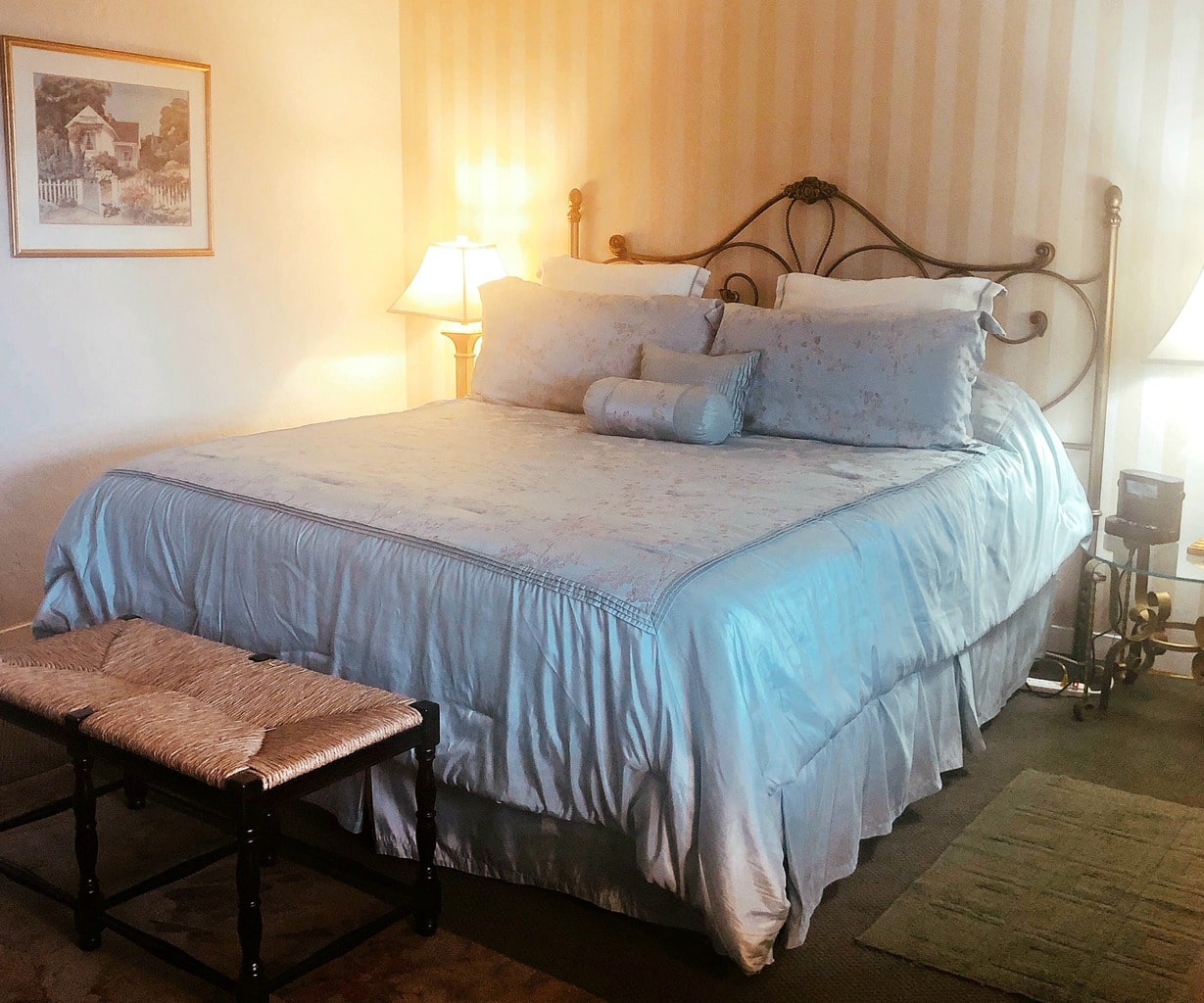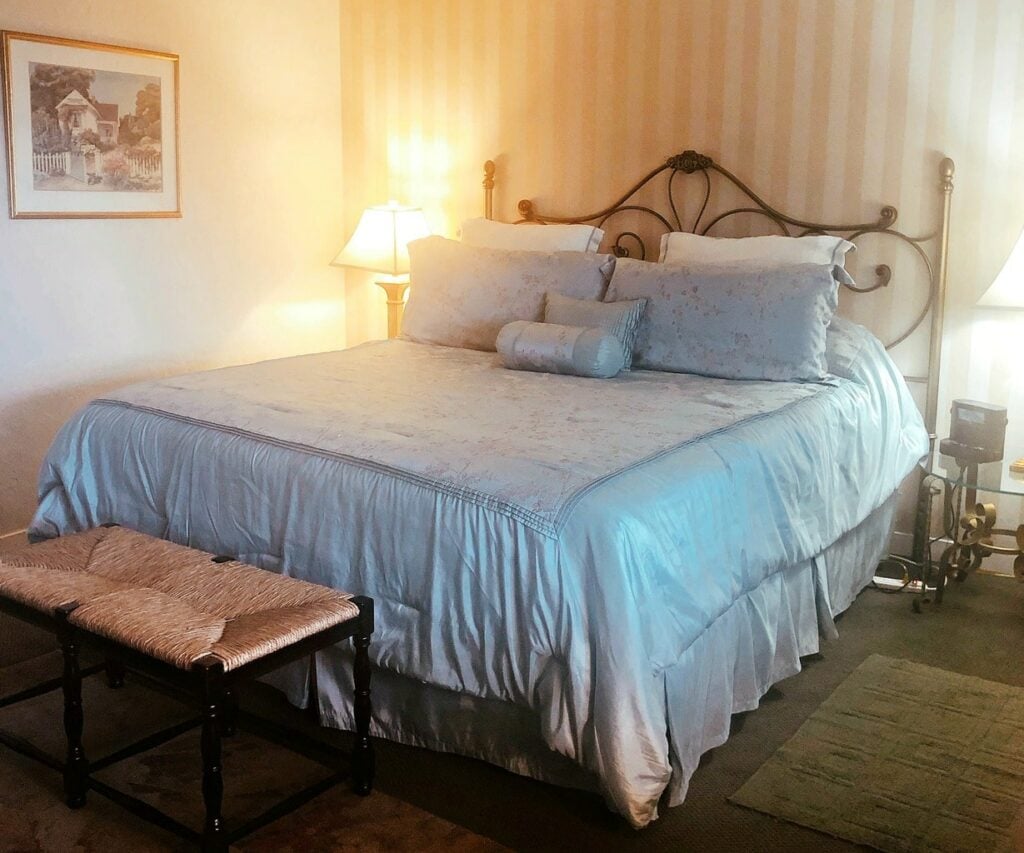 You will also find a dry sauna, viewing deck areas and free wireless Internet access. Unlike chain hotels, there are no annoying add- on fees for parking or amenities.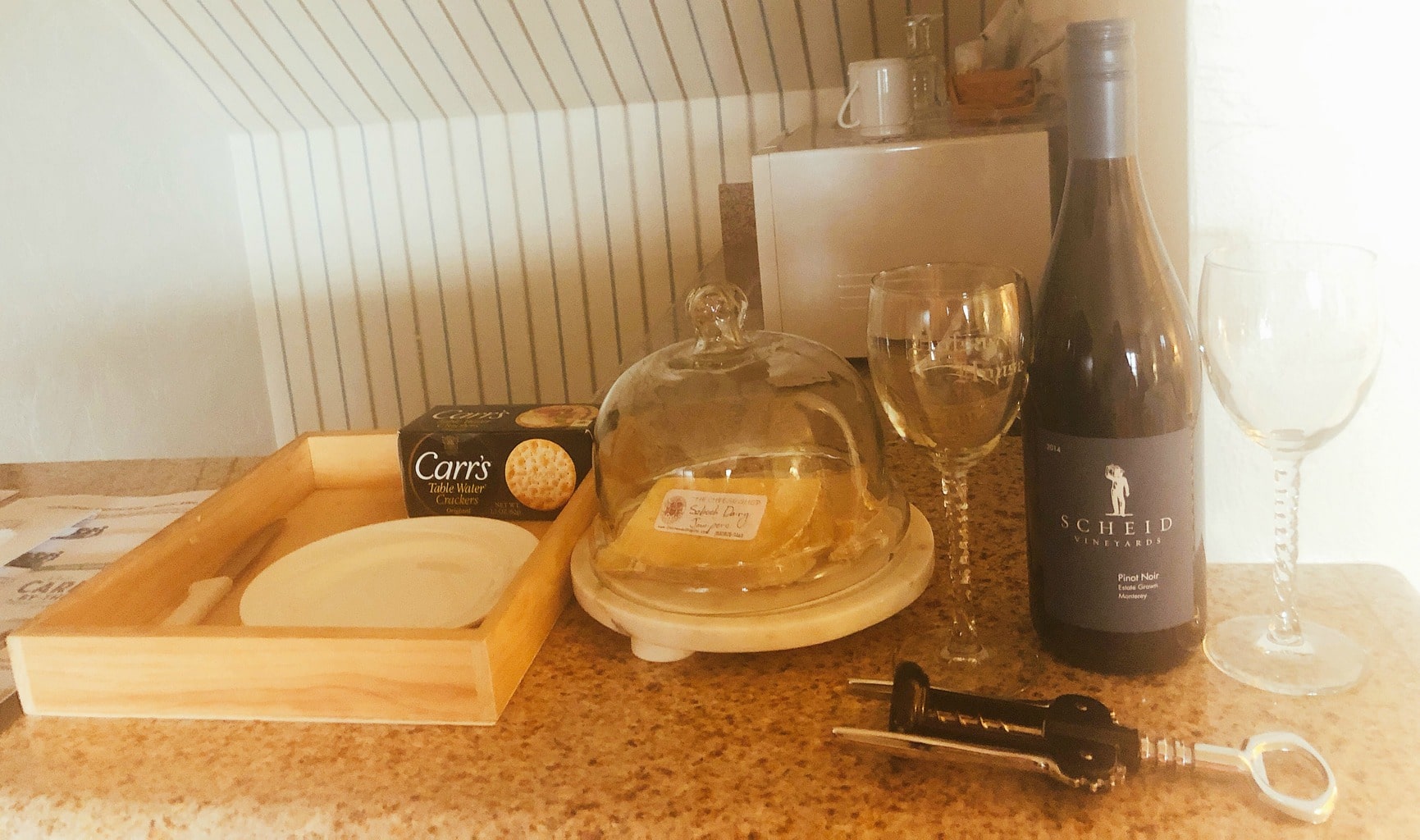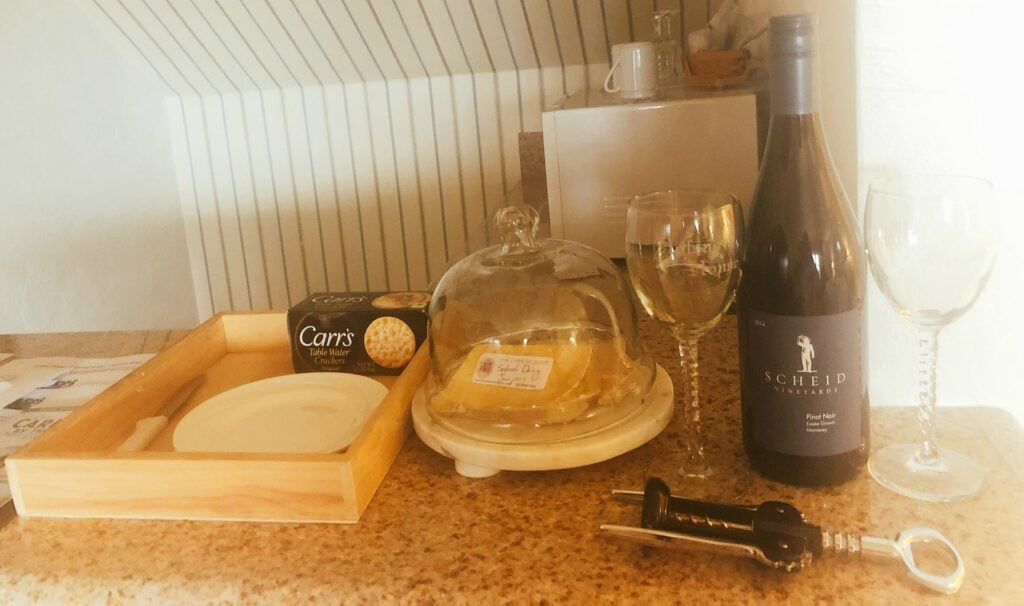 A lovely bottle of wine and cheese from the local cheese shop was waiting to welcome us when we arrived.
Special packages at Hofsas House
Carmel Art Tours will take you to art galleries and artists' studios. You'll discover secret passageways, visit internationally acclaimed galleries and have the opportunity to have a chance encounter with an artist at work.

Wine and Chocolate Package featuring Lula's Chocolates, handmade locally in Monterey using recipes passed down from generations. Wine from Monterey County is recognized as one of the world's top 10 wine destinations and are especially known for their Chardonnay and Pinot Noir varieties.

Champagne and Cheese Pairing with engraved flutes.

Wine Walk by the Sea Passport

Golf packages with 4 different area courses

Tail Wagging Package – Hofsas House is dog-friendly as is the entire town of Carmel. Be sure and let them know when you are booking your reservation that you are bringing a dog (or two) and they will enjoy a special Doggie Welcome Package.

Spa Package – Cinq Mondes offers guests a relaxing 60-minute massage or facial. Book these packages at least 72 hours in advance.

Monterey Bay Aquarium. Purchase tickets through Hofsas House and enjoy a two-day pass for the price of one.
Things to Do in Carmel
Carrie recommended and arranged these wonderful excursions for us: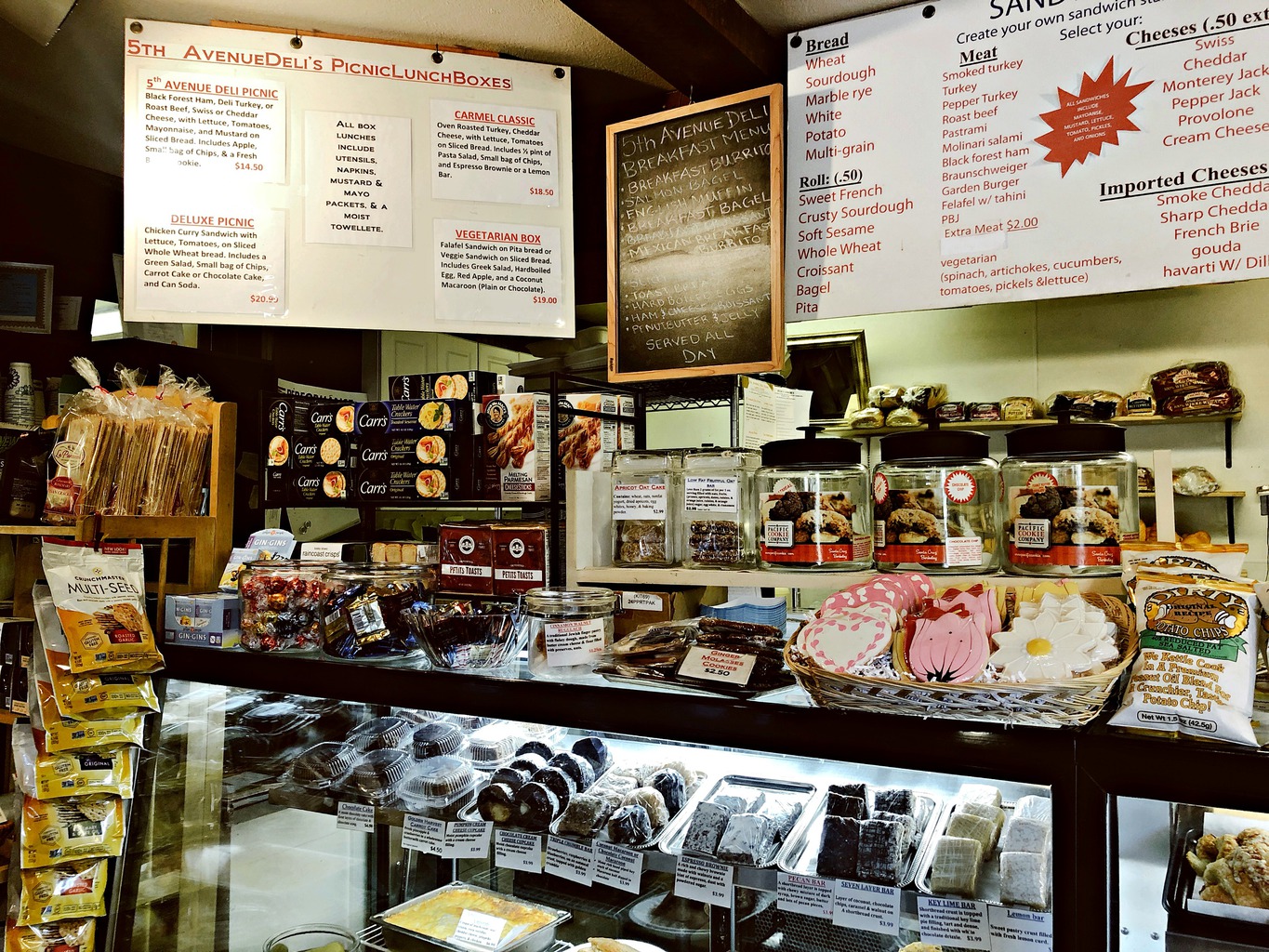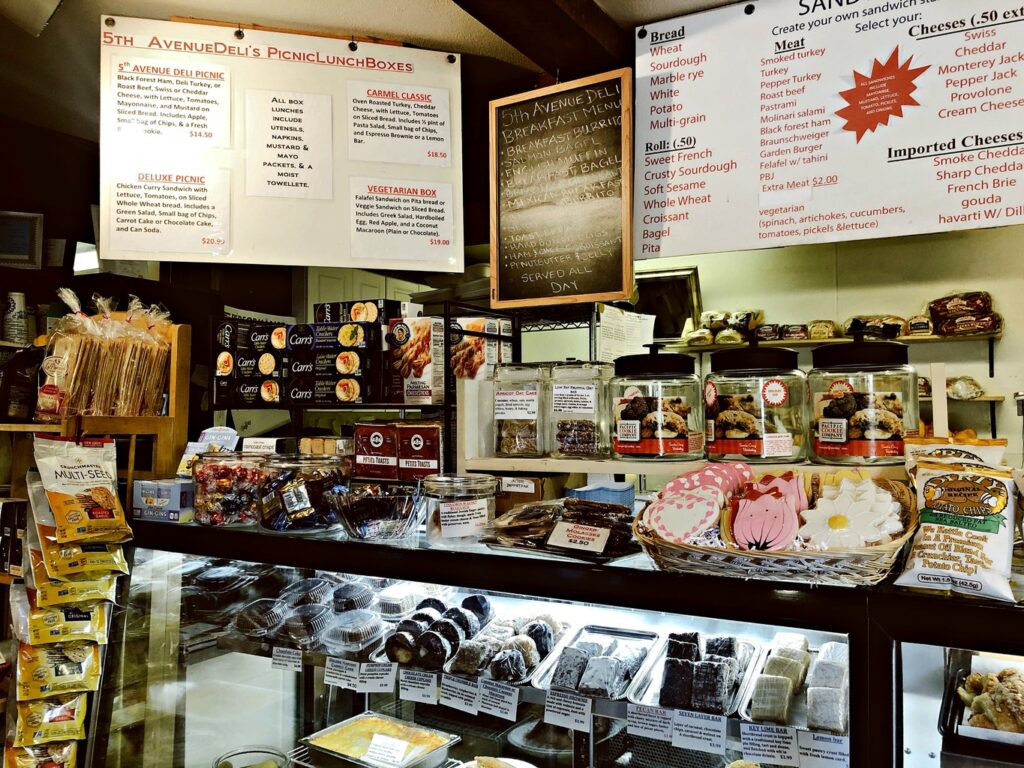 Perfect Picnic Food
We love the 5th Avenue Deli. One of our favorite things to do is to order some of their delicious sandwiches and salads and head to Carmel Beach for a picnic.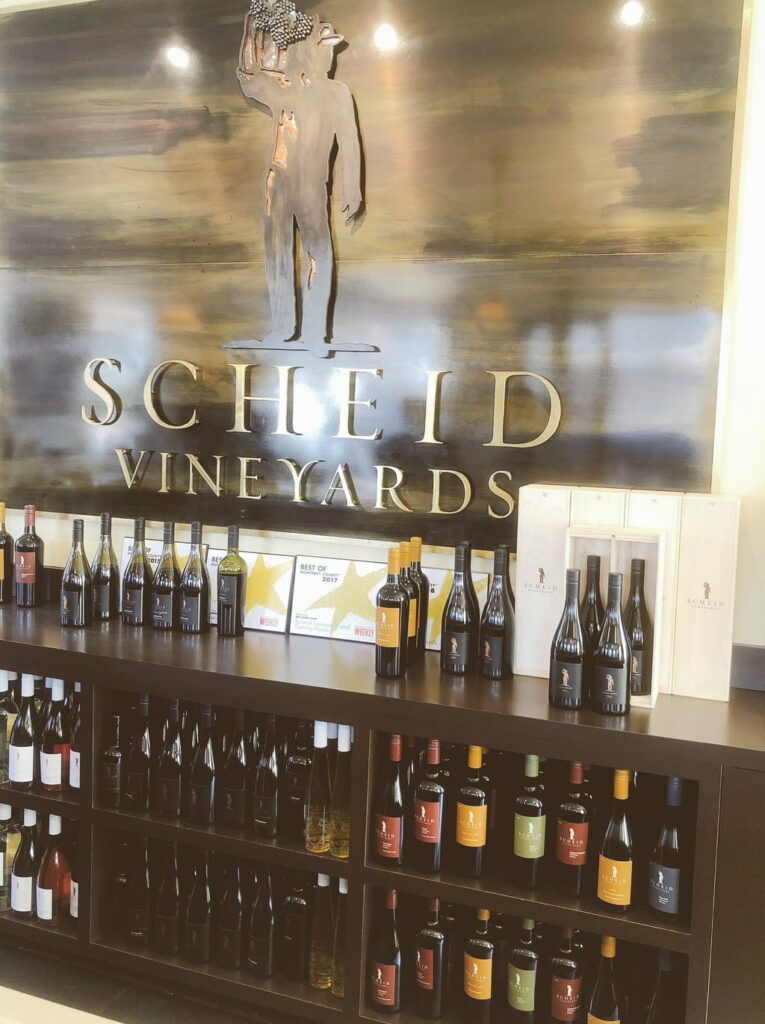 Wine Tasting in Carmel
We visited the Scheid Tasting Room and the Holman Ranch Tasting Room on this trip. We learned about the types of grapes that grow best in this region and tasted some delicious wine.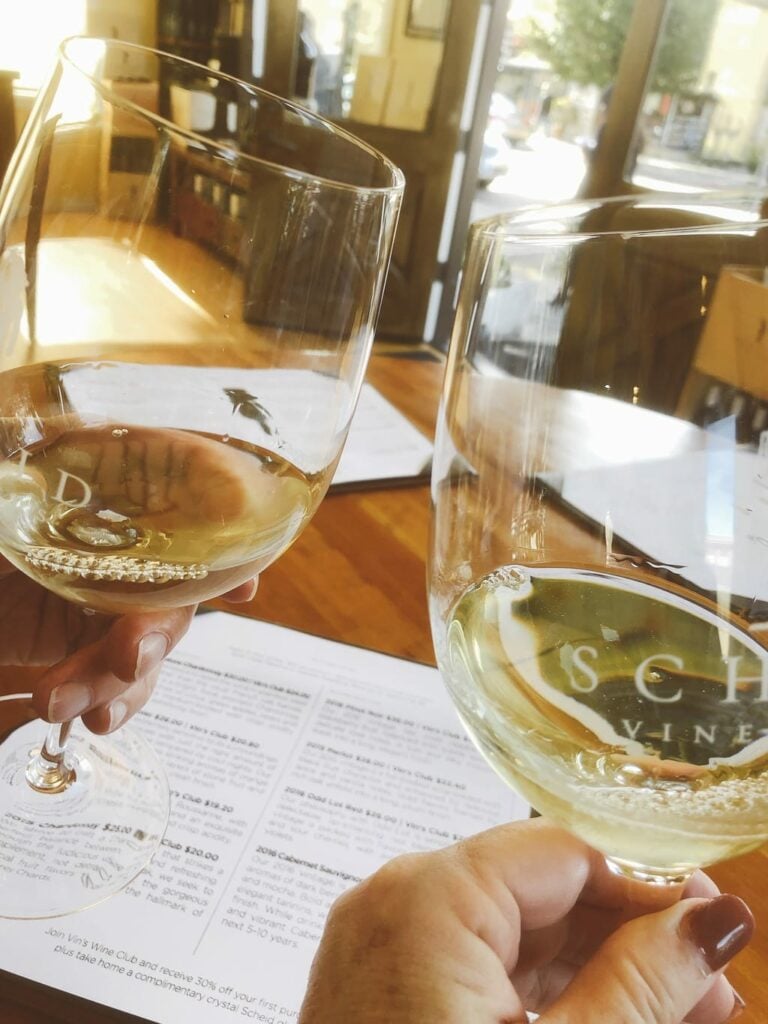 Scheid has a large presence in the area with eleven estate vineyards located along a 70-mile spread of the Salinas Valley with 4,000 acres of vineyards. They sell the majority of their production as custom-made wines to other wineries.
Holman Ranch was our favorite wine from our last visit and now has a tasting room in town. You will find many wine tasting rooms sprinkled throughout town and most will ship wine to you back home.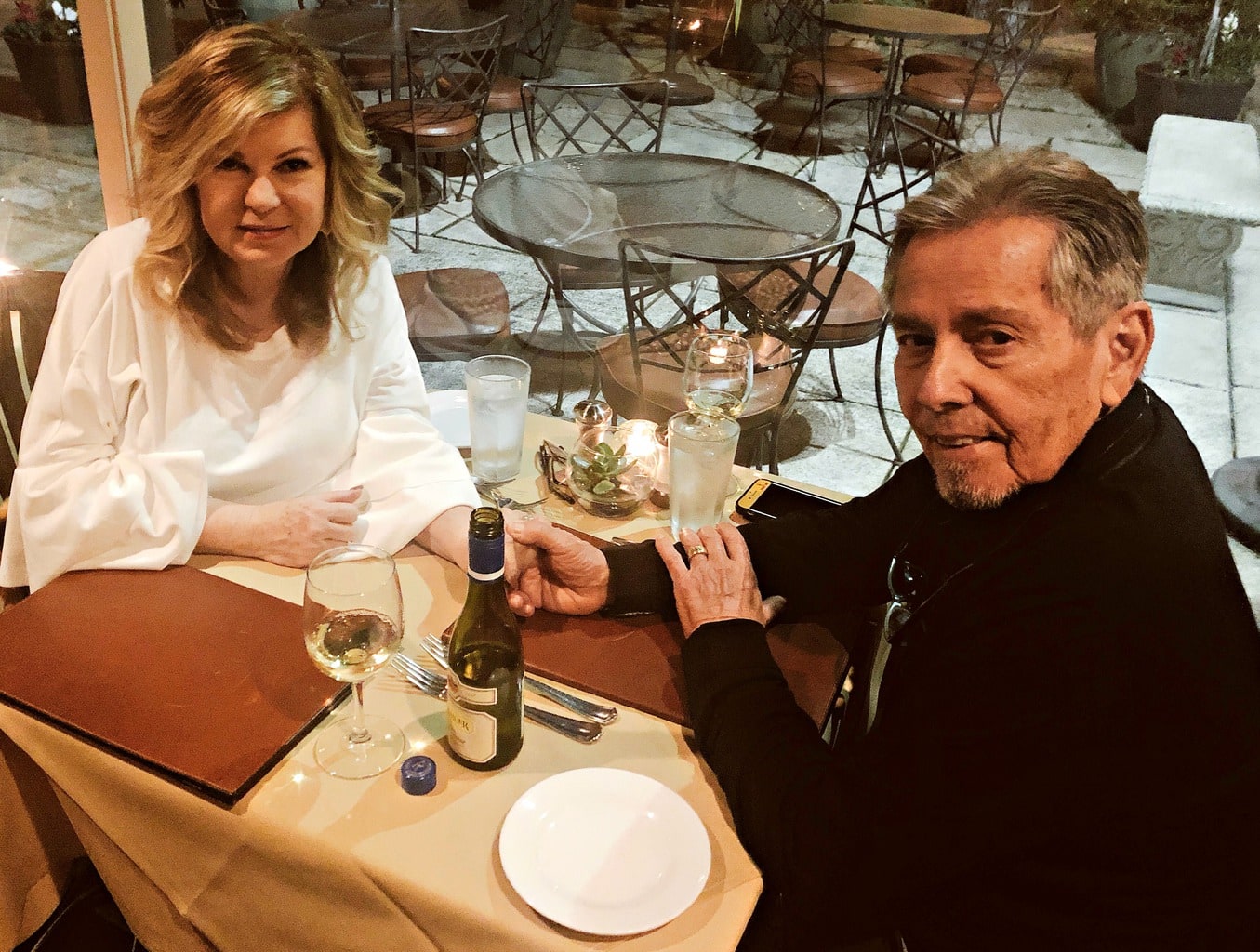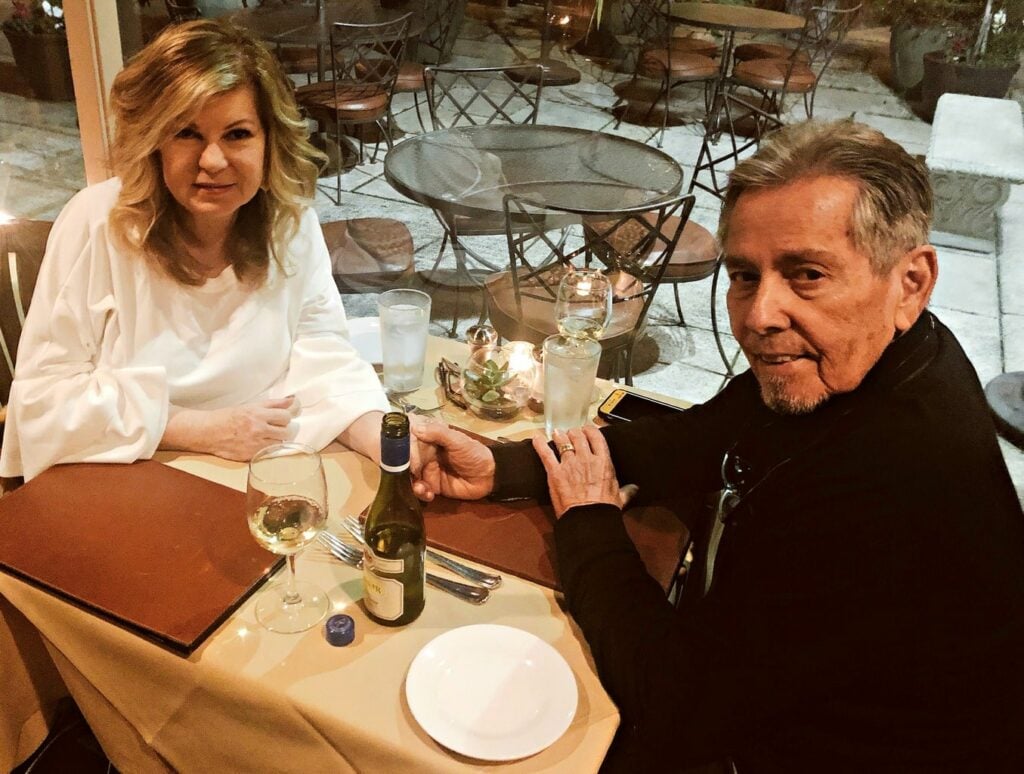 Fine Dining in Carmel
We had the most wonderful dinner at Anton & Michel. It is located in the picturesque Court of the Fountains. The restaurant has been a Carmel favorite since 1980 and is known for excellent food and wine, and attentive service. It was a memorable evening.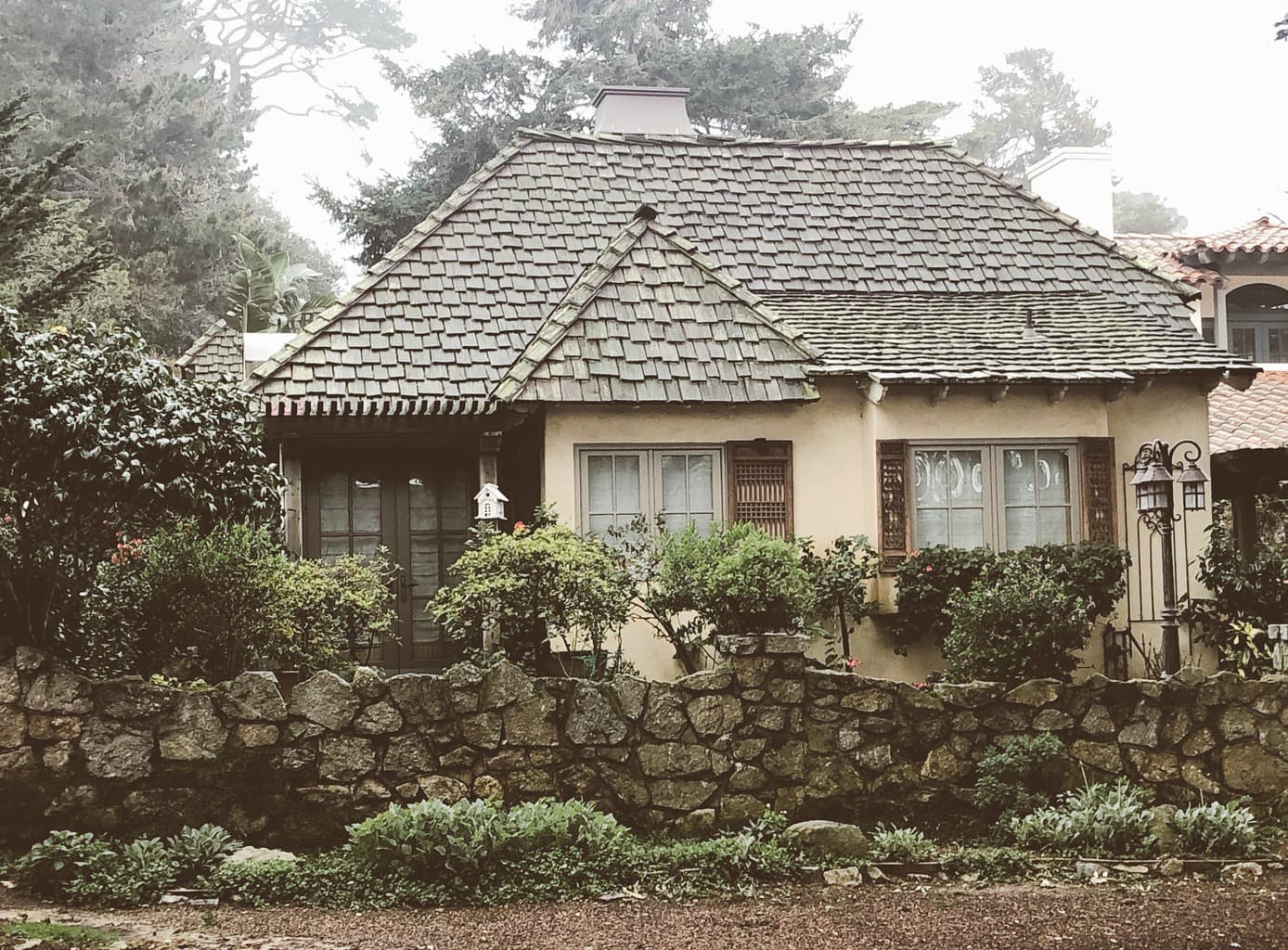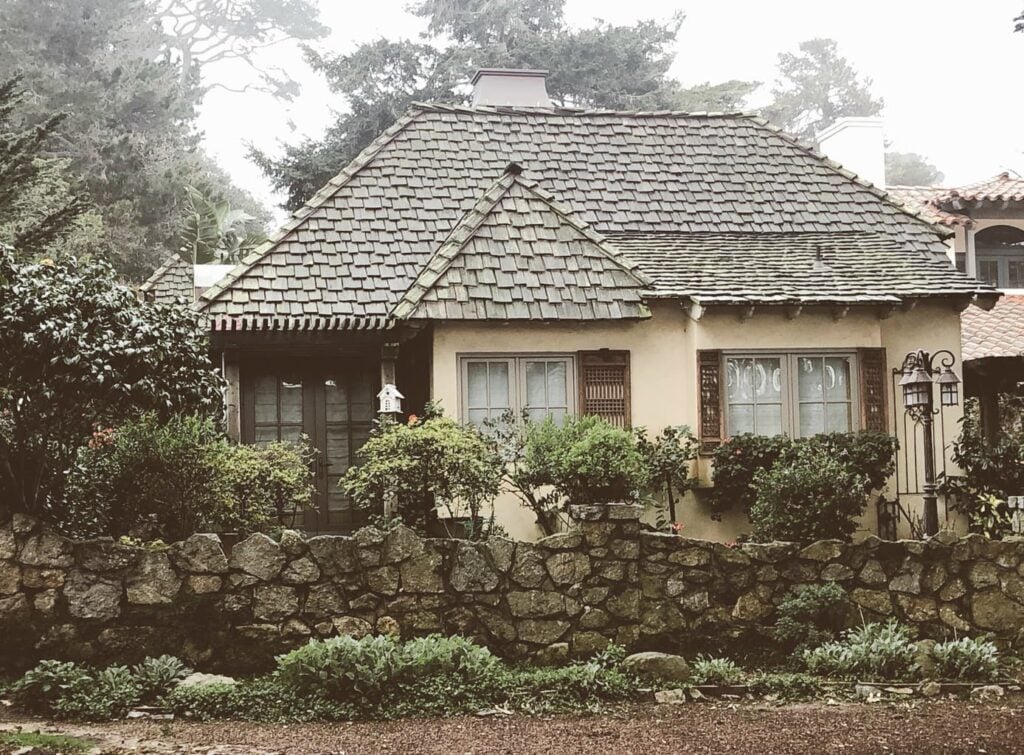 Carmel such a walkable town. I love seeing the charming houses, many with beautiful flowers and landscaping. Time seems to slow down here. It's the ideal place to unwind and enjoy the scenery.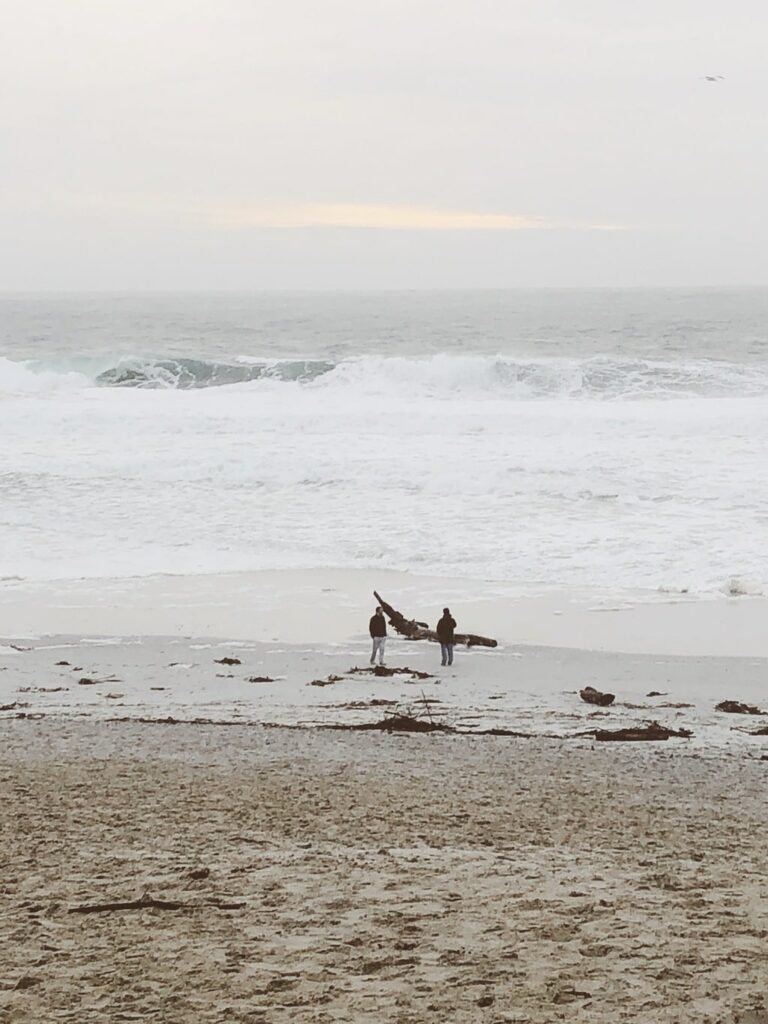 It's the perfect place long romantic walks on the beach, even in the rain!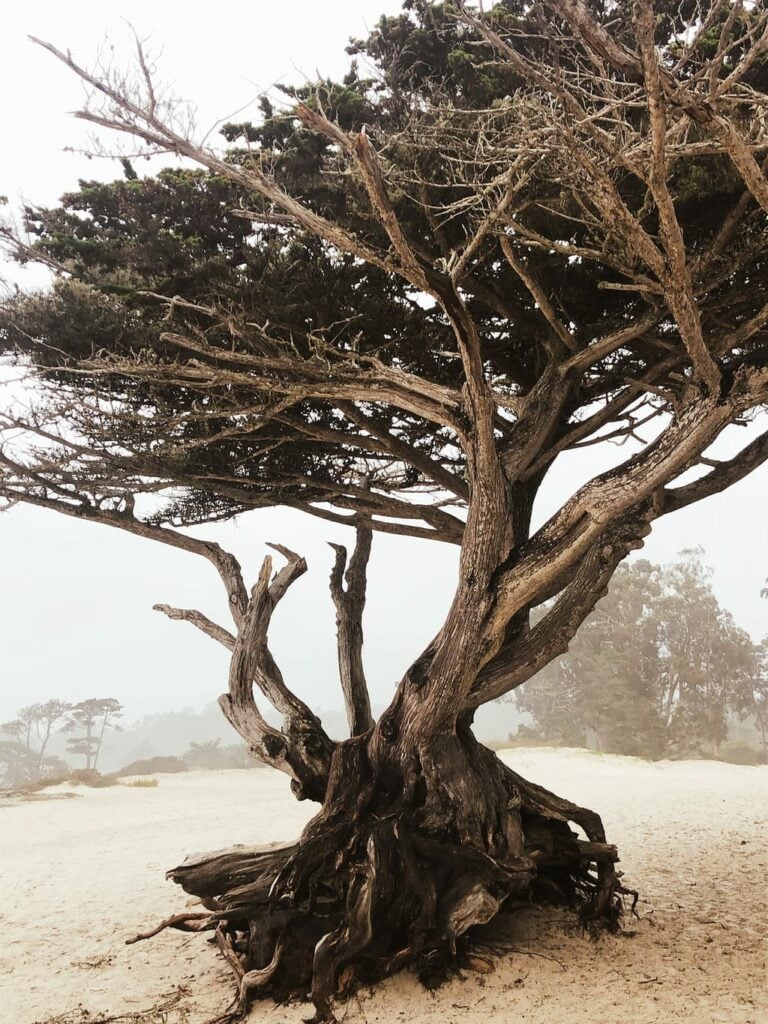 If you want to venture out, I recommend the famous 17-mile drive and Pebble Beach. If you are a golfer, this is a must-see. Big Sur and Pacific Grove are also wonderful places to explore. The Monterey Aquarium is a world-class and will get you up close to the marine life in this region. If you are traveling with children, be sure and allow ample time to explore the aquarium.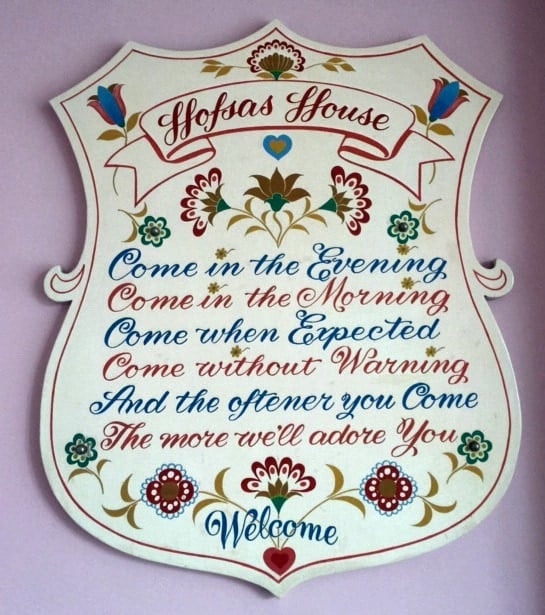 We cannot wait to return to this special place. Learn more on the Hofsas House website and follow them on their Facebook, Twitter, Instagram, and Pinterest.
Save this information for later in Pinterest: