Do you have a teacher or two on your gift list this year? My daughter is a teacher so I got her input on this holiday gift guide for teachers.
This is not the year for gift procrastination, right? With shipping and inventory issues, avoid last-minute stress and disappointment and shop early this year. If I can help you find the perfect gift, or if you are looking for a deal, email me at morewithlesstodayteam [at] gmail.com and I will do my best to help or at least offer a suggestion or two!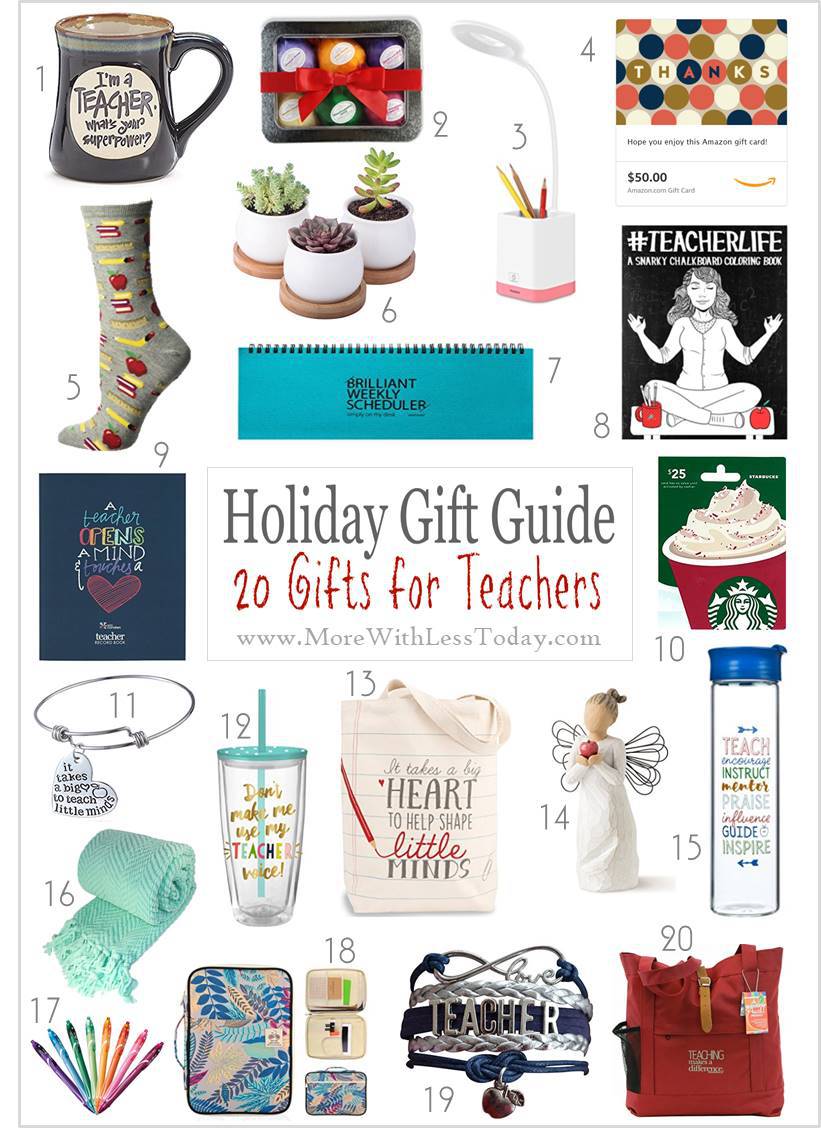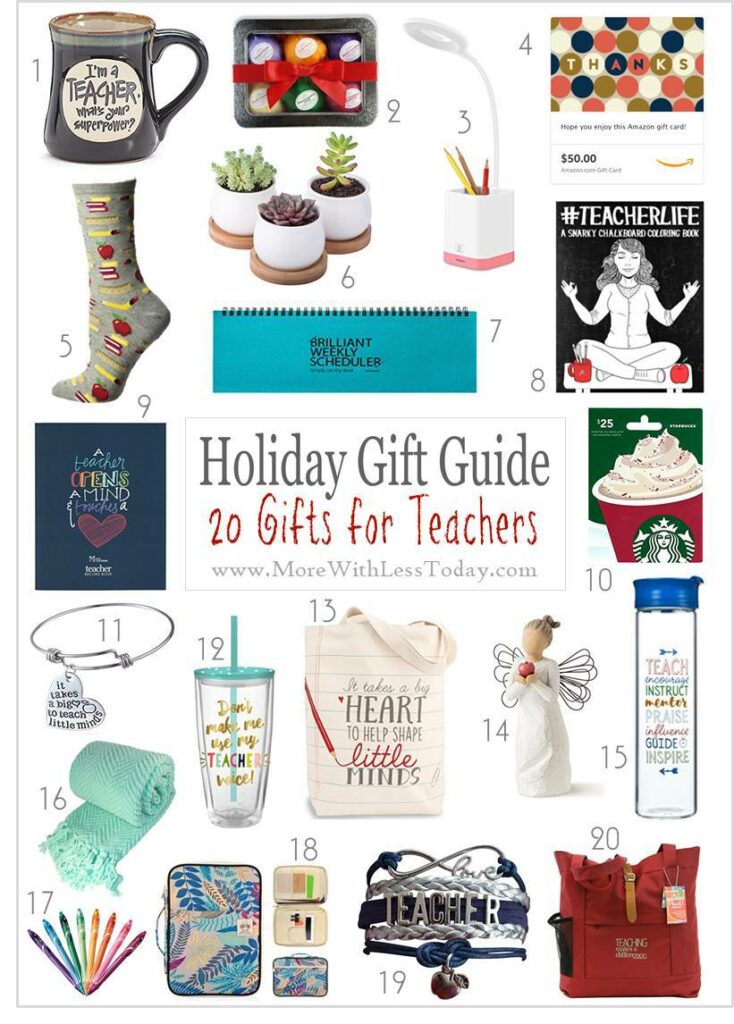 As an Amazon Associate, I earn from qualifying purchases,. I know many of my readers will be purchasing several teacher gifts for the holidays so we have included many that are inexpensive yet thoughtful. If possible, have your children write the card to go with your Christmas gift for their teacher. My daughter treasures those the most.
Teacher Gifts: Holiday Gift Guide for Teachers
1. I'm a Teacher Superpower Mug
"This black mug has cream trim on the rim and on the top of the handle. The front has the message, recessed in black "I'm a Teacher. What's your superpower?"
2. Bath Bomb Gift Set -6 Vegan Essential Oil Natural Lush Fizzies
These fizzy bombs are made from 100% pure natural, organic ingredients and essential oils. They are made in the USA and are vegan and gluten-free.

3. LED Desk Lamp with Fan Reading Light (White, Built-in Fan)
For the classroom or for the home, " this dimmable LED desk lamp has a built-In safety fan for a cool breeze."

Let your favorite teacher choose something for themselves or for their classroom wish list. Amazon gift cards are definitely one-size fits all!
5. Hot Sox Women's Teacher Socks
34 patterns to choose from – "developed using the most advanced knitting methods in order to yield the most premium socks on the market."
6. StarPack Premium 3 Piece Mini White Ceramic Succulent Planter Pot Set with Bamboo Bases
This is a set of 3 mini white ceramic succulent pots. Each pot measures 2.6" in diameter X 2″ tall, and features a drainage hole and bamboo tray – plants not included.
7. Wirebound Undated Weekly Planner Pad Scheduler
This weekly scheduler features 60 sheets to help plan for up to 60 weeks, with weekly schedules on the front and a memo area on the backside to jot down notes and other memorable events.
8. Teacher Life: A Snarky Chalkboard Coloring Book
"You've molded play dough and minds and guided lessons and lives. You're a coach, counselor, and cape-less hero who deserves endless thanks and a starting salary of ten million dollars a year. When inspiring and shaping the future of the world gets to be too much, flip open this Coloring Book for Grown Ups for some laughs and love!"
9. A Teacher Takes a Hand Opens a Mind & Touches A Heart: Lined Journal
This Teacher appreciation notebook or journal is filled with 60+ double-sided sheets (120+ writing pages!) of lined paper.
A Starbucks Card is always a welcome gift. Pair it with a coffee cup or coffee tumbler!

11. Teacher Gifts Bangle Bracelets
This is a pack of 3 adjustable and expendable bangle bracelets with different inspirational words for teachers.
12. Don't Make Me Use My Teacher Voice | 22 Ounce Engraved Mint Stainless Steel Insulated Tumbler with Lid and Straw
These stainless steel travel mugs are powder-coated to eliminate scratches and are durable, rust-resistant and will retain the desired temperature.

13. Mud Pie Heart Teacher Canvas Tote
This heavyweight canvas tote features printed notebook paper print and says "it takes a big heart to help shape little minds."

14. Willow Tree hand-painted sculpted angel, You're the Best!
"Artist Susan Lordi hand carves the original of each Willow Tree piece from her studio in Kansas City, MO. This piece is cast from Susan's original carving and painted by hand."

15. Glass Water Bottle, A Great Teacher, 20 Ounce
This is a leak-proof eco water bottle with a wide mouth, Find it in a variety of colors and messages. The 20-ounce glass water bottle is approximately 9.5 inches high making this slim water bottle conveniently sized to fit in most car and truck beverage holders, backpacks, and strollers.

16. Home Soft Things Boon Knitted Tweed Throw Couch Cover Blanket, 50 x 60
Over 30 different color choices. After a hard day of teaching, they can cuddle on the couch with this soft throw.

17. BIC Quick Dry Retractable Gel Pen, Medium Point (0.7 mm), Assorted Colors, 8-Count
These pens are a teacher's favorite!

18. Multifunctional Travel Pouch Handy Zippered Case for Notebook, tablets, papers and more
This organizer has an 8 pocket design, with a handle. It fits a cell phone, tablet, 13″ Mac, notebooks and documents.
19. Infinity Collection Teacher Bracelet, Teacher Jewelry, Teacher Gift – Show Your Teacher Appreciation
"Adjusts to fits your wrist 6″ to 8″ adjustable length."
20. Teacher Peach Fashion Tote Bag – Motivational Handbag with Pockets, Organizers, Zippers, and Water Bottle Holder
This tote is water-resistant with an organizing pocket and a water bottle holder.
Which of these teacher gifts will you be giving this year? Do you have other gifts for teachers to share?
It's not too early to get into the gifting spirit this year. With inventory and shipping issues becoming commonplace, it is important to shop early to avoid stress and disappointment.
20. Teacher Peach"Teachers Rock" Large Canvas Tote Bag with Pockets & Zipper
Canvas
GIFTS FOR TEACHERS made easy with this canvas teacher gift teacher bag tote that zips closed with motivating teacher gift message is ideal for teachers gifts for end of year and holidays.
PERFECT TEACHER GIFT, this large canvas teacher tote bag with motivational saying is one of the best teacher gifts, versatile working as teacher gifts for teacher appreciation, teacher retirement, new teacher gifts for graduation, Christmas, or end of the year thank you class teacher gift
LARGE TEACHER TOTE BAG measures 18 inches wide, 13 inches high, and 9 inches deep at the bottom – is a terrific gift for teacher events, big and durable enough to carry a purse, shoes, lunch, binders, notebooks, or a tablet or small laptop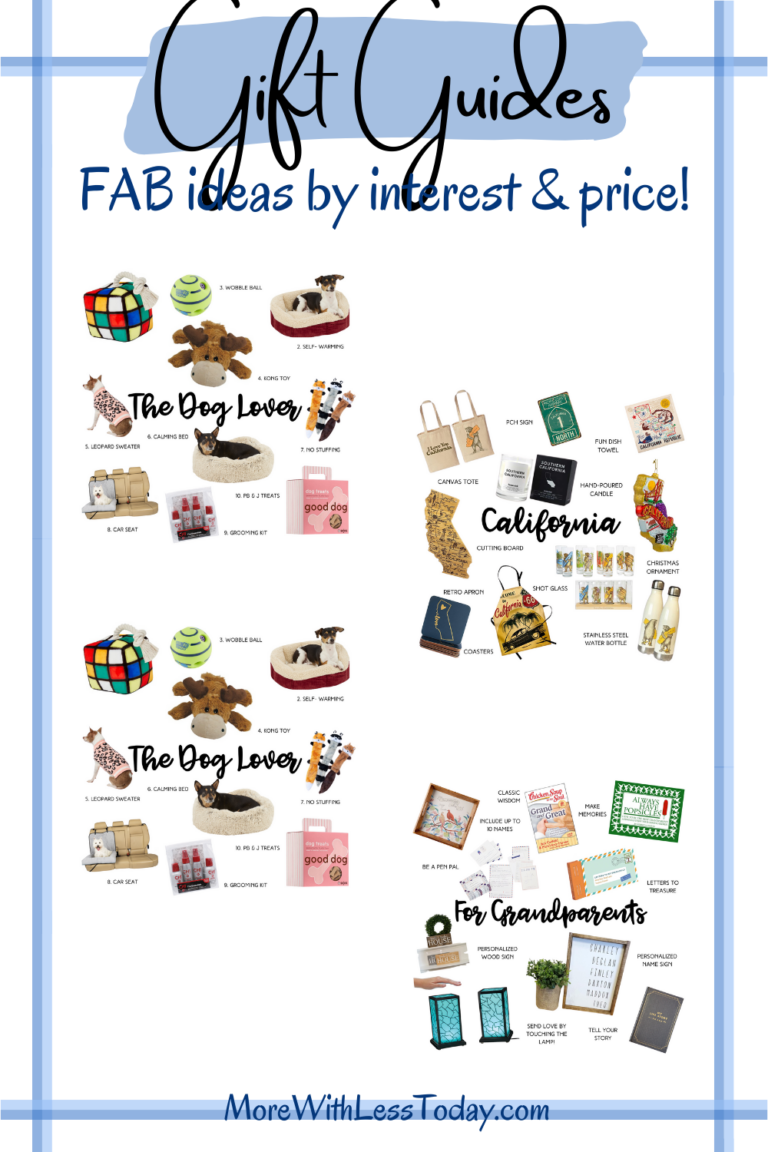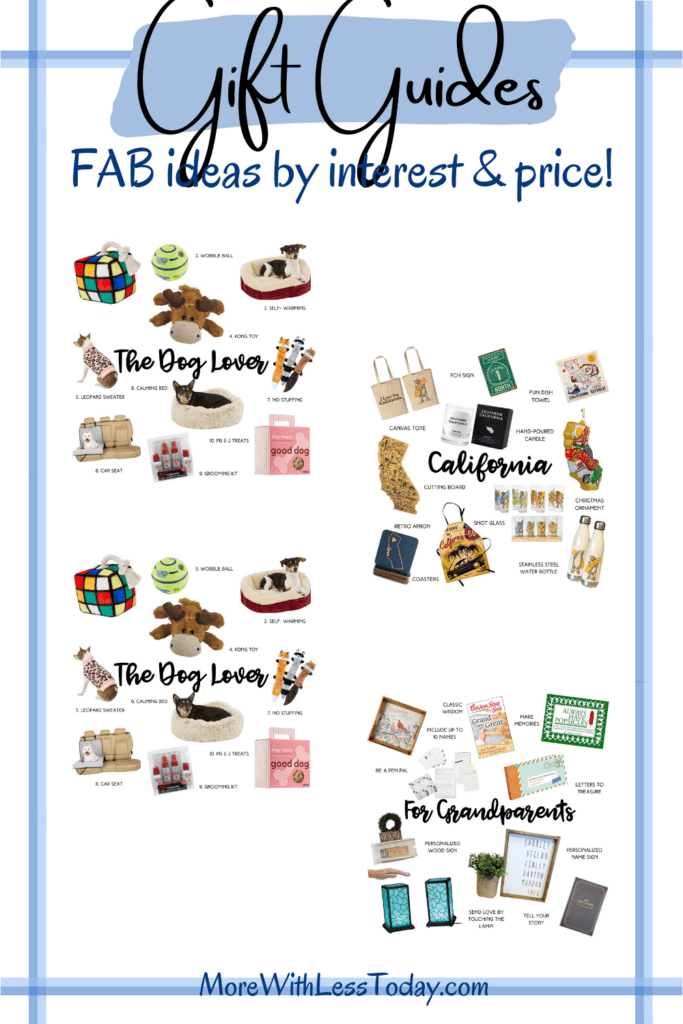 Matching Family PJs for the Holidays – A favorite tradition!
We will be putting together more gift guides in the days ahead. If you have a topic that would be helpful, just let us know! You can email us at morewithlesstodayteam [at] gmail.com.