Did you know The Pioneer Woman has a new bath and bedding collection at Walmart? If you are familiar with The Pioneer Woman's kitchen and home items, then you will recognize her fresh floral patterns.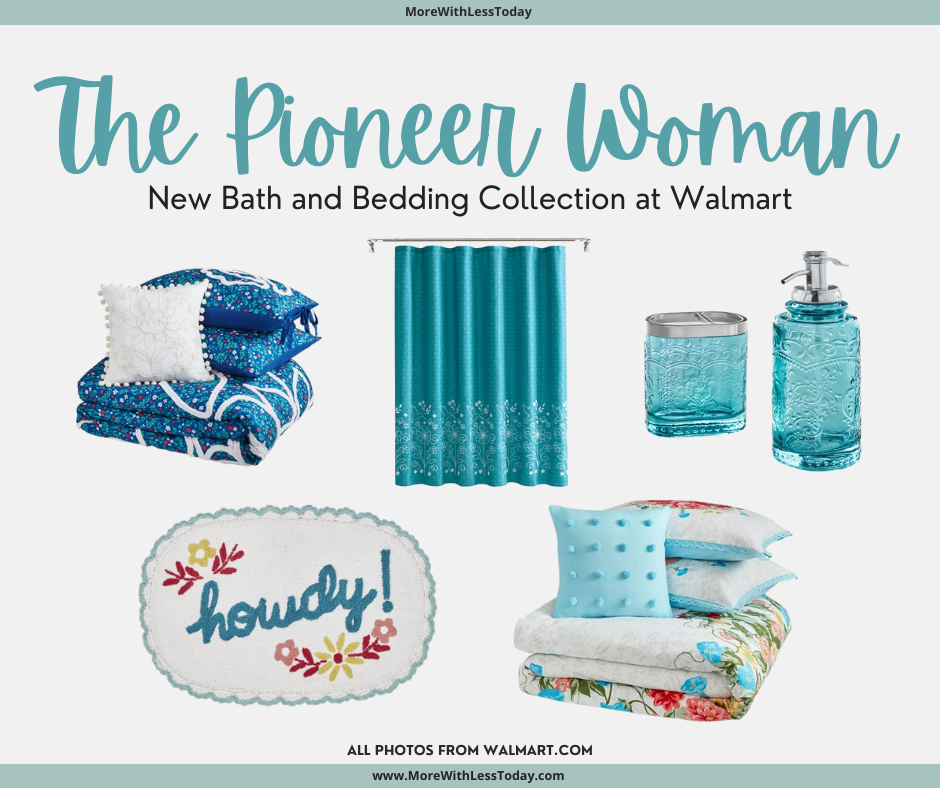 We have affiliate relationships which means we may earn a small referral commission at no additional cost to you if you shop using our links.
Why Buy from The Pioneer Woman?
Fans of the collection style will love their new bath and bedding collection! I've been keeping an eye on this brand ever since Pioneer Woman Ree Drummond announced that her collection will be available at Walmart. The bright colors and floral designs are what's so interesting and fun about this brand. Their website provides updates on the release of their gorgeous new collections.
I've read a lot of good reviews on their items from Walmart shoppers who love the item quality and Ree's signature style. Their eye-catching colors for each item will let the floral flourish in any room of our homes. I have a few of the Pioneer Woman's bed and bath items. I still have the cutest bath accessories and throw pillow I bought months ago. I'm also thinking of getting this most adorable bath mat.
The Pioneer Woman's New Bath and Bedding Collection at Walmart
The Pioneer Woman Collection has a great line of bath products available at Walmart stores. From bath rugs, vintage floral shower curtain, smooth-action pumps, and more, you will find a lot of great options here to achieve a more coordinated bathroom.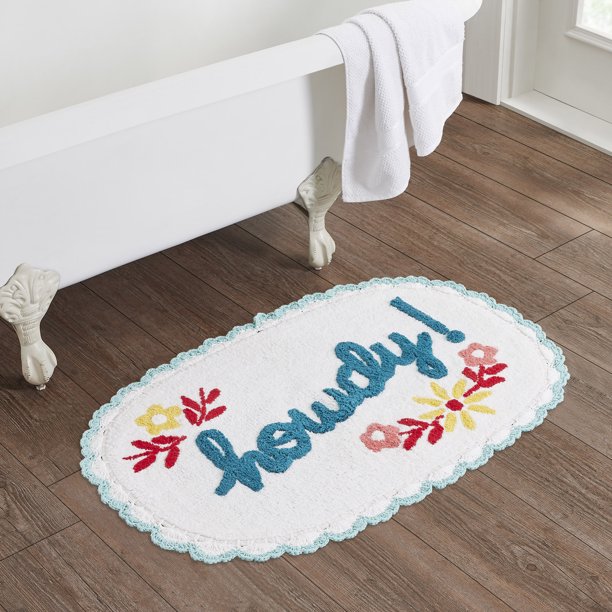 PHOTO FROM WALMART
Need a cozy addition to your bathroom? Add this Floral Howdy Cotton Oval Bath Rug from The Pioneer Woman's bath collection! This rug has a soft cotton texture and will add a pop of color anywhere you place it.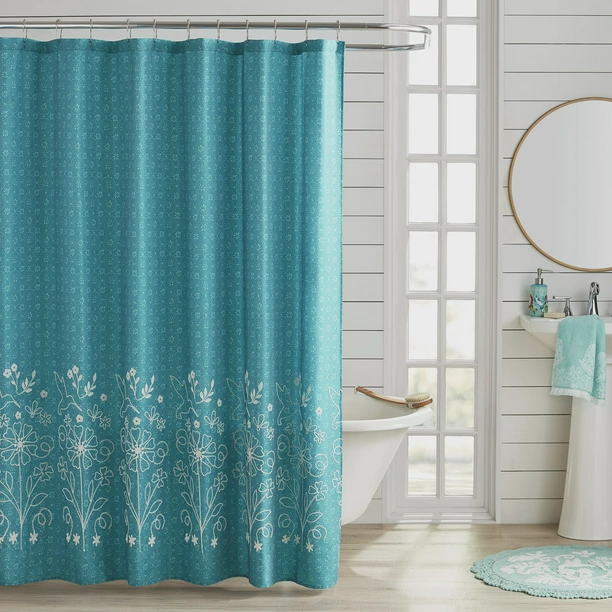 PHOTO FROM WALMART
The shower curtains from this collection also features Ree's signature flair. These are available in different and beautiful colors with a variety of patterns. See them all here.
Shower curtain measures 72″ x 72″

Curtain liner use recommended (not included)

Shower curtain hooks not included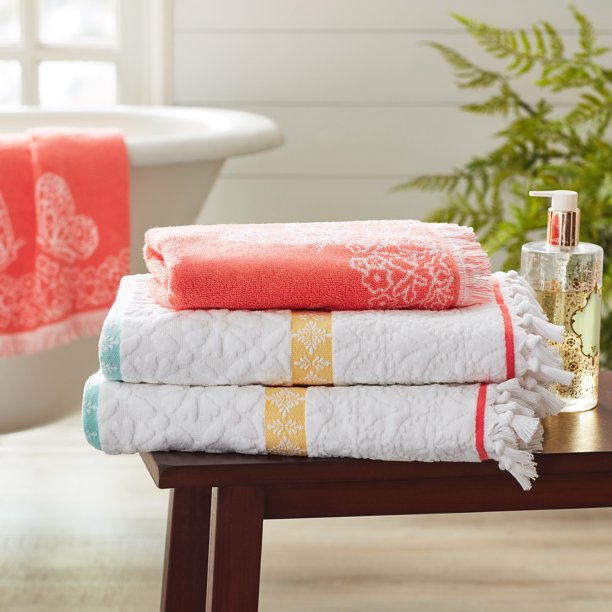 PHOTO FROM WALMART
Ree's bath towels also feature delightful floral prints and cute colors! It's also a great option because it has extra-absorbent cotton that will feel incredibly soft on your skin. Their set includes two bath towels and two hand towels.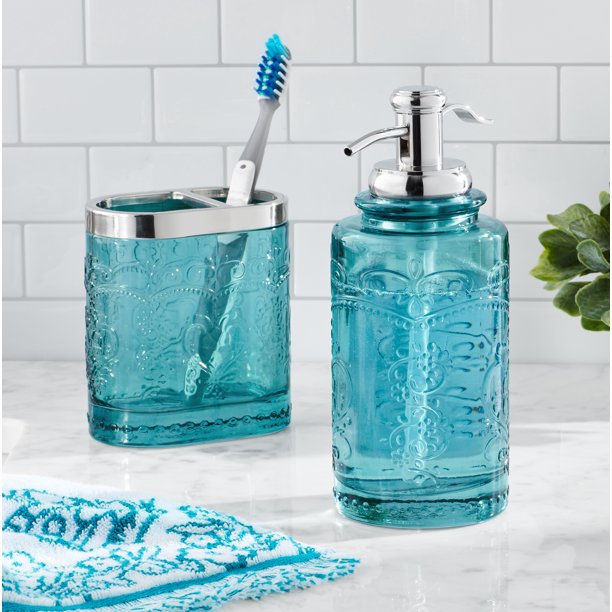 PHOTO FROM WALMART
Add a charm to your bathroom décor with this bath accessories set. This set includes a heavy-duty, teal-colored glass soap dispenser and a toothbrush holder with a vintage-inspired embossed design.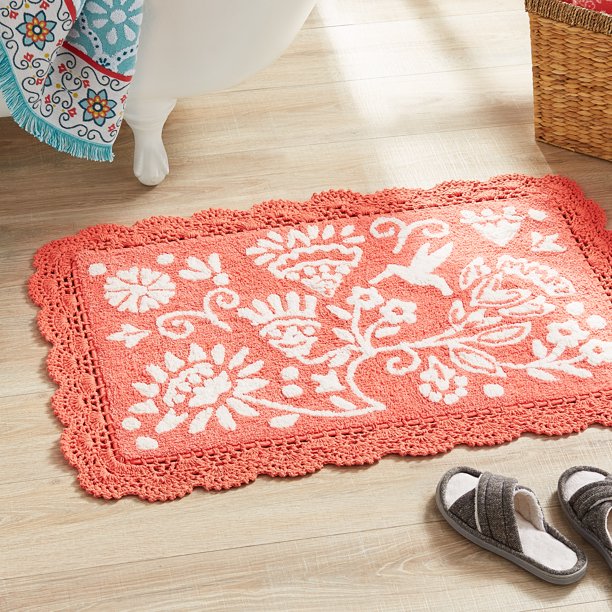 PHOTO FROM WALMART
This Mazie Two-Color Crochet Cotton Bath Rug is another one of their best-selling bath mats at Walmart. There are two design options you can choose from. I like the tone of this Coral bath mat and it has great quality!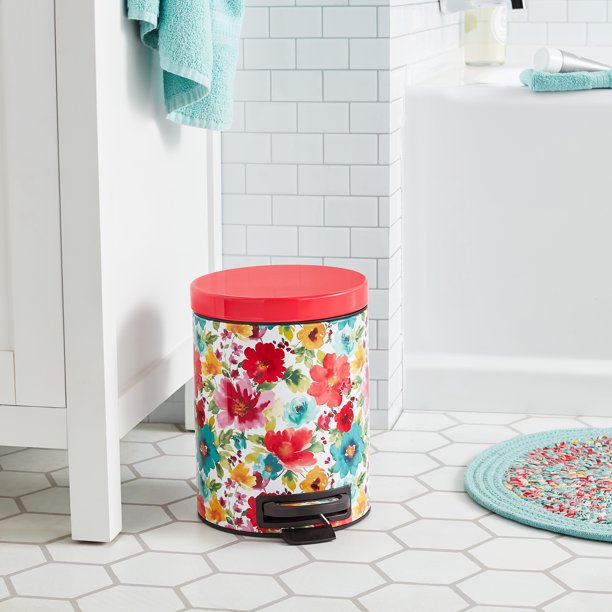 PHOTO FROM WALMART
Ree's bathroom line also has stainless-steel mini trash cans designed featuring her signature Breezy Blossom print. It blends nicely in any bathroom, kitchen, guest bathroom, or home office.
The Pioneer Woman is a full-solution collection. They have a variety of everyday necessities that you can use in various areas of your home. Check out these new cozy sheet sets that will add an extra stunning decorative touch to your bedroom or guest room!

PHOTO FROM WALMART
Combined with vibrant colors and delicate prints, this Tufted Floral 4-Piece Bedding Set will add an eye-catching farmhouse flair to any bedroom! Have comfort and style in your space when you check any of the four design options available. This set includes 1 comforter, 2 shams, and 1 decorative pillow.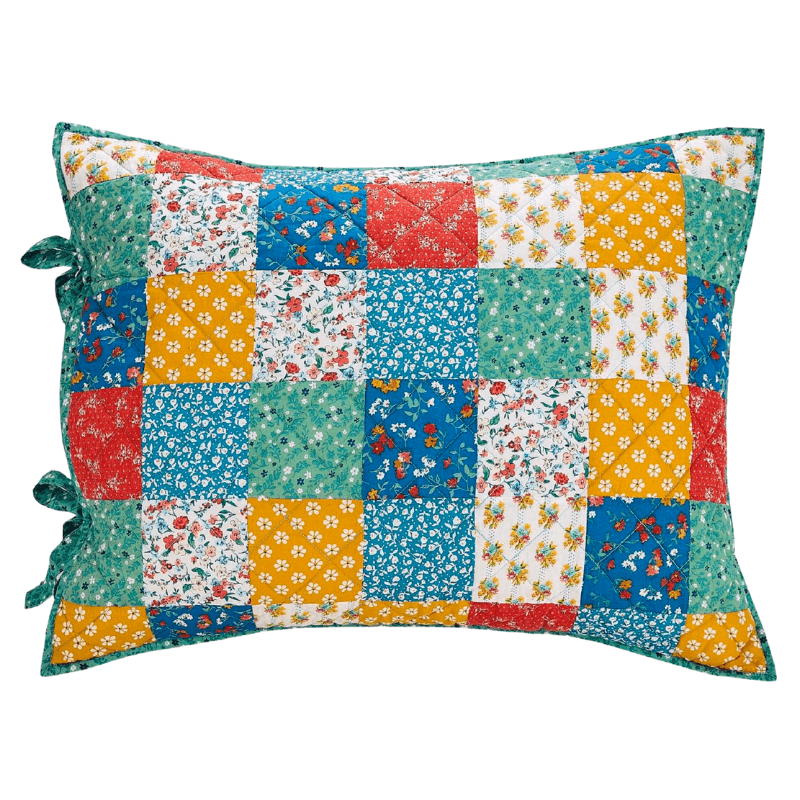 PHOTO FROM WALMART
Give your bedding set a unique look with this high-quality Floral Patch 2-Piece Quilt Sham Set. These matching pillow shams feature a lovely and timeless multicolor floral design. It's made up of several individual fabric squares that are sewn together to create a distinctive look.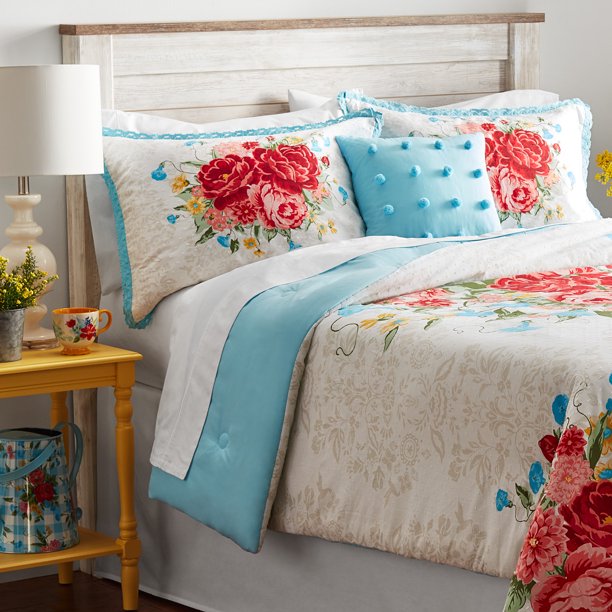 PHOTO FROM WALMART
Do you love the country chic décor as your bedroom theme? If you do, this Sweet Rose 4-Piece Bedding Set might be a perfect match for you! It has charming colors and Ree's signature sweet rose design. The set includes 1 comforter, 2 shams, and 1 decorative pillow.
You might also like:
PIN for later: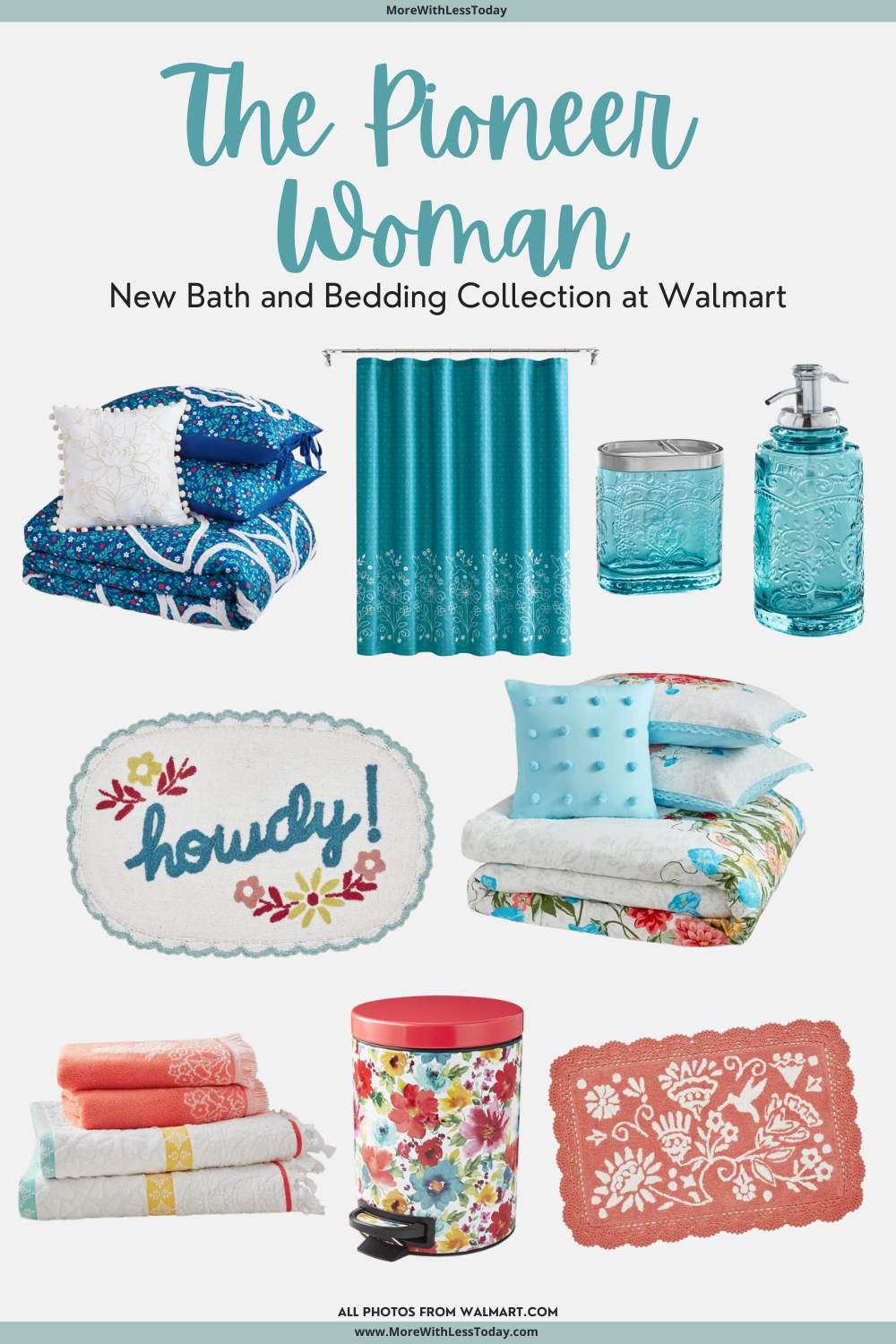 What are your favorite bath and bedding items from The Pioneer Woman collection? Share them in the comments below!
If you are on social media, I would also love to connect with you on Facebook, Instagram, Pinterest, or Twitter. Just click on the links to visit my profile. Leave a message and I will follow you back!