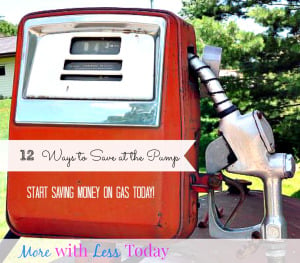 Summer is here and gas prices are soaring! Here are some tips to Save Money on Gas. Our car driving family of 3 spends about $600 a month on gas, how about you? Two out of three of our cars are over 10 years old and although we do not have car payments, they are not fuel-efficient. My next car is going to be a hybrid. Right now, I need these tips myself!
The Orange County Register deal writer, by Marla Jo Fisher had written about may of these tips last year. I added a few of my own and I welcome your ideas too!
12 Ways to Save Money on Gas:
1. GET DIRECTIONS FIRST. I work at the front desk of an office, and many times customers call us because they cannot find our us and they have been driving around lost. Before you go to a location for the first time, take a minute to map it out, or call ahead to get directions. Don't waste precious gas hoping to find what you are looking for!
2. CUT YOUR SPEED. This is the easiest way to dramatically reduce your gas bills. Just stop driving so fast. I am now driving 55 mph on the freeway instead of 65, which is estimated to burn 15% less gas. I am finding it remarkable how much gas I'm saving. And, no, people don't hate you when you drive slowly on the freeway. They hate you when you drive slowly in the fast lanes. Just stay to the right and remember the parable of the tortoise and the hare.
3. PAY CASH. Many gas stations will give you money off if you pay cash instead of using credit cards, so carry around some cash in your wallet. Arco stations are generally cheaper as well, because you can't use credit, though you'll have to pay 35-45 cents if you use your debit card.
4. JOIN A WAREHOUSE CLUB. Sam's Club and Costco routinely have the lowest gas prices in my neighborhood and you can get money back too if you belong to the appropriate membership level. Costco will let you use your American Express, unlike other cheap gas stations. And using a debit card at Sam's Club doesn't cost you like it does at Arco. Sam's Club will let you use a Mastercard, too. (But no Visa)
5. STOP IDLING. You waste a lot of gas idling, so cut your engine if you'll be stopped for more than a minute. The air we breathe will thank you, too. Idling wastes a quart of your gasoline every 15 minutes. You could even walk into the fast-food joint instead of doing the drive-through, in which case you'll burn off 5 of the 2,000 calories you're about to consume.
6. EMPTY THE TRUNK. I just did this, after I nearly had a conniption fit at the gas pump. The EZ UP I've been carrying around and all that other junk in the trunk just went back in the garage where it belongs. There's no reason to haul around extra stuff, it just sucks up your gas mileage.
7. MAKE SURE YOUR TIRES ARE PROPERLY INFLATED. Underinflated tires will require more gas for your engine to push them along.
8. USE Gas Buddy. This site will show you the cheapest gas around you today in real time.
9. PLAN YOUR TRIPS. Think about what you need to do this week and organize your trips so you'll drive less. Do errands clustered together geographically so that you do everything in the same neighborhood at once.
10. GROCERY STORE GAS REWARDS. Find out if your grocery store participates in a gas discount program. Here in southern California, Vons Rewards Club users can get 3 cents off gas at the handful of Vons gas stations around, and also get other discounts with this program. Vons is a subsidiary of the Safeway chain of grocery stores.
If you have your own tips to save gas, let us know what they are!