Learn how to keep food fresh and make it last longer with these essential tips. If you are like me, you hate to throw away food that has gone bad.
With the rising price of groceries, we all need more ways to stretch our food dollars. We found 13 kitchen hacks to save money and avoid grocery waste. Take a look and let us know if you have any tips to keep your food fresh longer.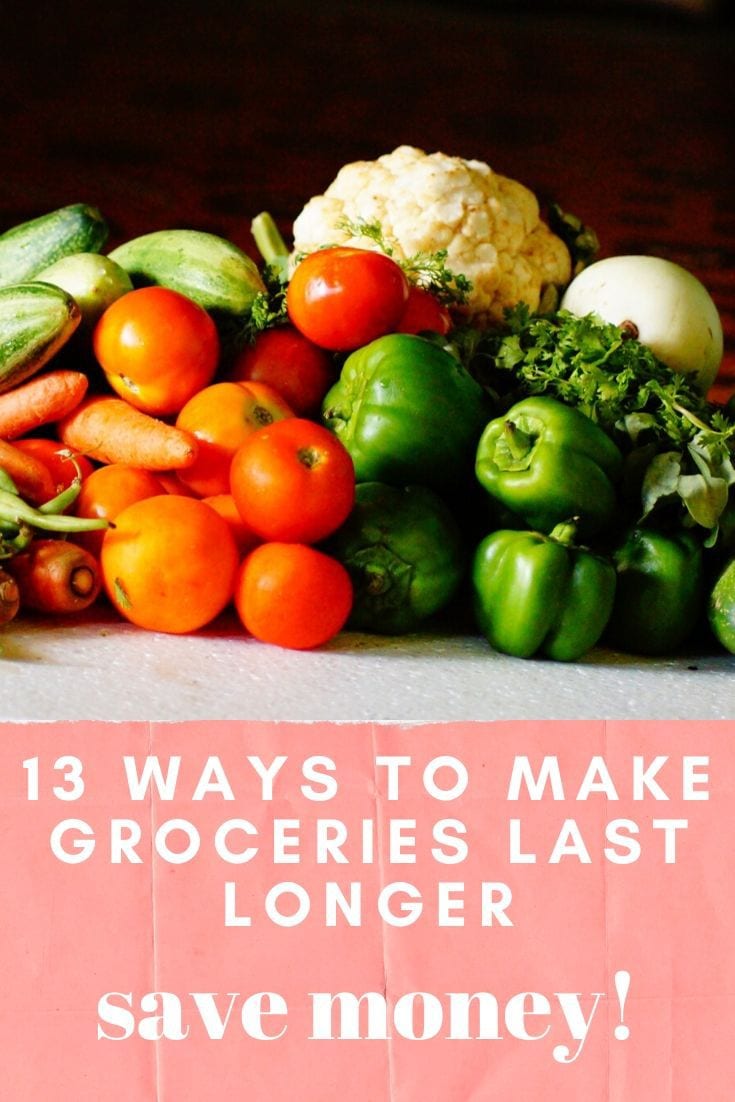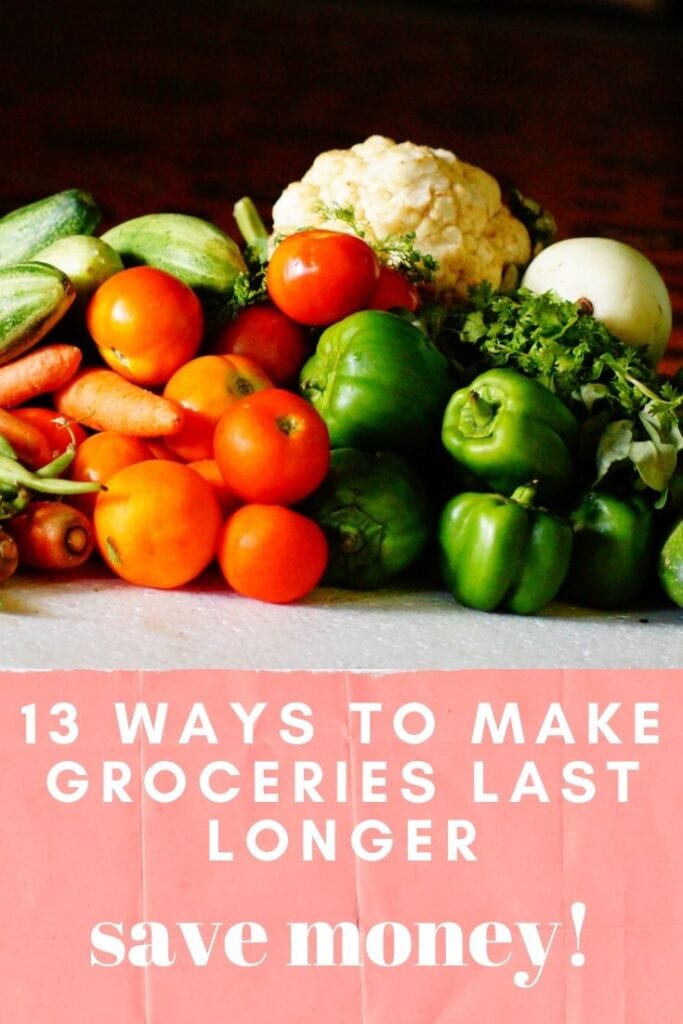 How to Keep Your Food Fresh Longer
Does this cycle sound familiar?
Buy what you think your family will eat that week. Plans change. Meals aren't prepared as planned. Food ends up thrown away because it spoiled and went bad before you had a chance to eat it.
If it does, you are not alone. In fact, these stats from the National Resource Defense Council are pretty alarming:
About 40 percent of all food in the U.S. goes to waste.

The average American wastes about $28 to $43 in food each month, roughly 20 pounds of food.

Broken down, about 17 percent of dairy, 20 percent of vegetables, 15 percent of fruit, 18 percent of grains, 25 percent of seafood, and 33 percent of the meat you buy goes to waste.
I'll do the math for you. That's about $516 you could be throwing away every single year.
How do you keep your food fresh and your groceries last longer? Here are 14 tips that will help you save the food you buy from going bad.
Some of these tips came from MoneyTalk News, written by Angela Colley and others from my own experience.
As an Amazon Associate, I earn from qualifying purchases.
1.) Make Fresh Herbs Last Longer in a Plastic Bag
When you get home from the grocery store, keep the fresh herbs in the thin plastic bag they came in. They will last longer in the vegetable crisper section of your fridge too.
Do this when you get home to keep your fresh herbs fresh:
Wash and dry the herbs

Put them back inside the plastic bag

Seal the bag closed with a twist tie
If you follow those three steps, the herbs will last an entire week.
2. How to Make Onions Last Longer – In Pantyhose
I actually learned this trick from my mother. She would buy a bag of onions, put one onion in the foot of a pair of pantyhose, seal it off with a twist tie, add another onion, and repeat until it was full. Then she hung the hose from a nail inside the pantry. Stored this way, the onions have more room to breathe and last a month or more.
3. How to Make Seasonings Last Longer – With Rice Inside
Do your spices and seasonings clump together? That's a common problem in places with high humidity and can cause you to throw out otherwise still-tasty spices. But this classic trick will prevent clumps for good – add four to ten grains of dry rice to the bottle and shake it.
With the rice inside the bottle, you will be able to keep your seasonings on the shelf for at least 6 months.
4. Invest in airtight containers
What makes food stale? Air. Keep the following items in airtight containers to prevent them from going bad too early.
Cereal

Chips

Crackers

Oatmeal

Rice

Other Grains
These Rubbermaid 2108377 Brilliance Storage 14-Piece containers are BPA Free, Leak-Proof, and highly rated on Amazon.
5. Store bread in the breadbox
Do not store your bread in the fridge, it will dry out and go stale. Keep the air off your bread by keeping it in a plastic bag with a twist tie. Bread will last about 7 days after it is opened. If I know I won't use the bread in time, I freeze some of it and toast it when I need it.
This breadbox is the top seller on Amazon.
6. Throw Away Bad Apples
Apples are one of the fruits that stay fresh the longest but did you know that when one apple goes bad, the rot can spread? Yup! Turns out the rot in just one apple can make an entire bunch of food rot with it. Look closely at apples before you buy them. And as soon as you see a rotten apple, throw it away. Your fruit will last a lot longer. Don't let the apples touch each other to prevent damage and store them in the refrigerator. One bad apple can spoil the whole bunch!
Before you have to throw away apples, check out these easy recipes using apples.
7. Store cheese in wax paper
Keep your cheese fresh by storing it in wax paper. The wax paper allows the cheese to breathe better, keeping it from molding or turning slimy.
You can keep the paper wrapped tightly around the cheese in the fridge. It will last almost twice as long – about two weeks – before it starts going bad.
8. Make Buttermilk and Cream Last By Storing Them In Cubes
How many times have you had to buy an entire pint of heavy cream, just to use 1/2 cup? Then, the rest of the cream goes to waste.
Instead, freeze the leftovers in small quantities to use later.
Pour the cream or milk into an ice cube tray (each section holds two tablespoons), freeze it, and toss it in a plastic container and label it. When you're ready to use it, pull out just enough for the recipe and let it thaw.
9. Keep Lettuce Fresh
Your lettuce will remain fresh and crisp for up to a week if you wrap it in a paper towel. You may need to change the paper towel along the way.
The next kitchen hack will keep your lettuce fresh – no more soggy lettuce! After you buy lettuce from the store, wash, dry, and chop all the lettuce as soon as you get home. After it is chopped, store it in mason jars. Then, you have ready-made salads that will last up to 10 days.
10. Soak Fruits and Vegetables in Water and Vinegar
Produce really will last longer if you soak them in a mixture of vinegar and water. Here's how:
Fill your sink with water and 3/4 cup white vinegar.

Soak your freshly purchased fruits and vegetables for 10 minutes
This vinegar solution will remove dirt, wax, and bacteria, which helps it last much longer.
11. Wrap Celery in Foil
Does your celery turn soft when you store it in the fridge? Wrap opened celery in aluminum foil and the stalks will stay crisp for at least a week.
12. Wrap Bananas Before You Store Them
Bananas last the longest if they're stored in a warm, dry place, but they still turn brown more quickly than I can eat them. A friend suggested wrapping the top of the banana bunch tightly with plastic wrap. I tried it and it works. My bananas last another three days or so before they start to brown.
Before you throw away bananas, check out these great recipes using bananas.
13. Use Paper Towels to Preserve Asparagus
Asparagus needs water or else it will dry out within a few days. The best way to store asparagus is to wash and dry it first. Then, wrap the bunch in damp paper towels. That will keep it fresh without cutting off the oxygen and they will stay crisp longer. Try these Asparagus recipes!
More Home Hacks & Tips
Which of these kitchen hacks will you be using? If you enjoyed these kitchen hacks, here are some more home tips that will help you save money and time.
Do you have any tips to keep your food fresh longer and avoid grocery waste?