Visit Omaha for the College World Series. My husband and I just returned from a bucket list trip hosted by Visit Omaha.
Every year, my husband and I look forward to watching the NCAA College World Series. When there have been local regional playoff games leading up to the Road to Omaha and the CWS, we have attended and cheered for my alma mater, Cal State Fullerton. CSUF has been frequent participants but sadly not this year.

Even without a favorite team in the tournament, we had a spectacular time attending games and exploring Omaha together during opening weekend. The atmosphere is electric, the people are so friendly, and there is not a bad seat at TD Ameritrade Park. Our Omaha weekend was everything we hoped it would be and more! If you are looking for a memorable getaway, I highly recommend visiting Omaha during the CWS, or anytime. You'll find great restaurants and entertainment, a world-class zoo, museums, and locals who love to share their recommendations to make your stay even better.

We were fortunate to see each of the 8 teams play one game over opening weekend and we saw some great baseball. As we stand today, the final games are set with Michigan facing Vanderbilt. We are back home now and will be watching the finals over the next few days. Although Vanderbilt has been a scrappy team with a must-win attitude, to me, Michigan has felt like the team of destiny from the time they beat the #1 seed to advance to the tournament.

We especially enjoyed the Opening Celebration Day on Friday night, June 14th, which included the parade of teams, the U.S Air Force Wings of Blue parachute team, a concert by the Eli Young band, and a spectacular fireworks finale.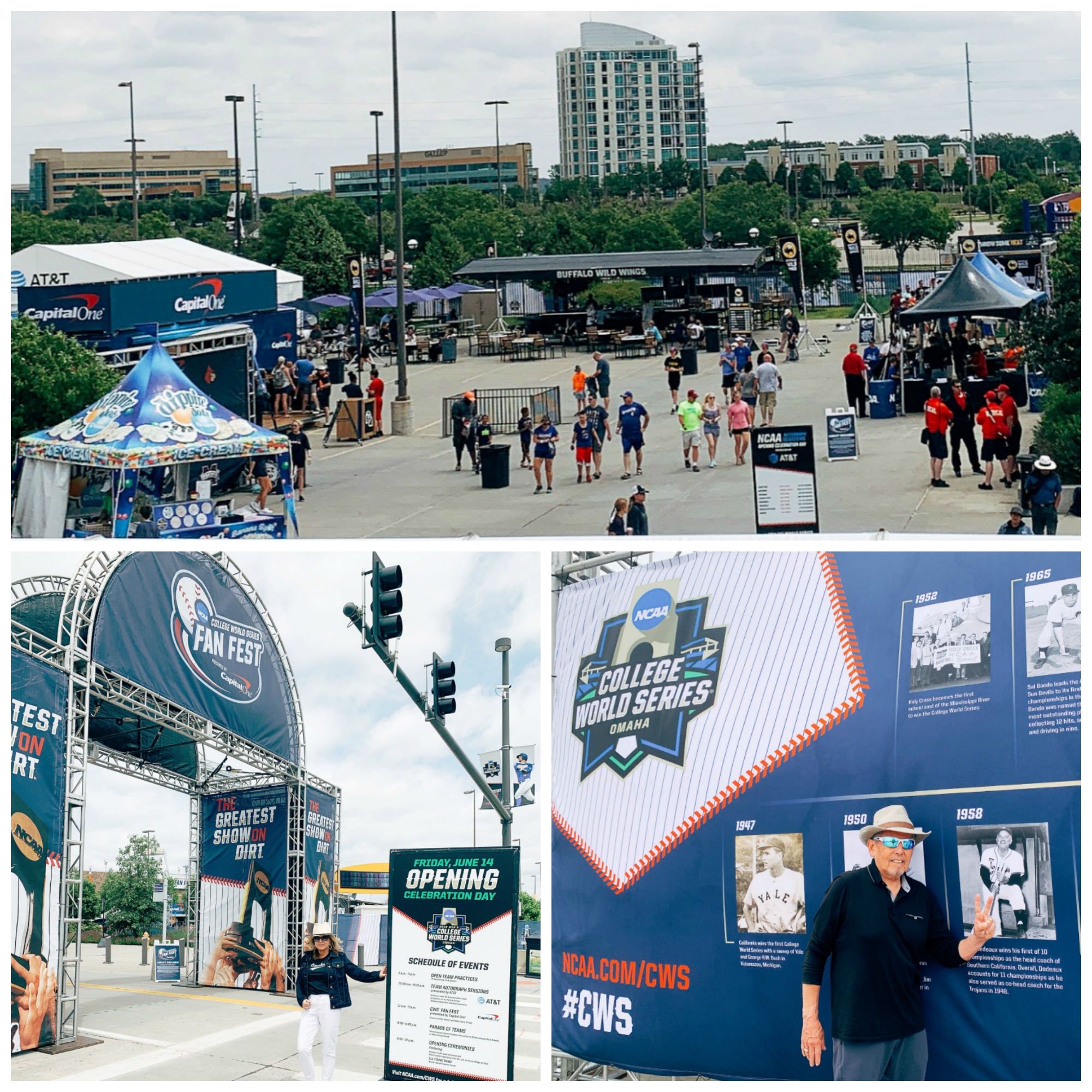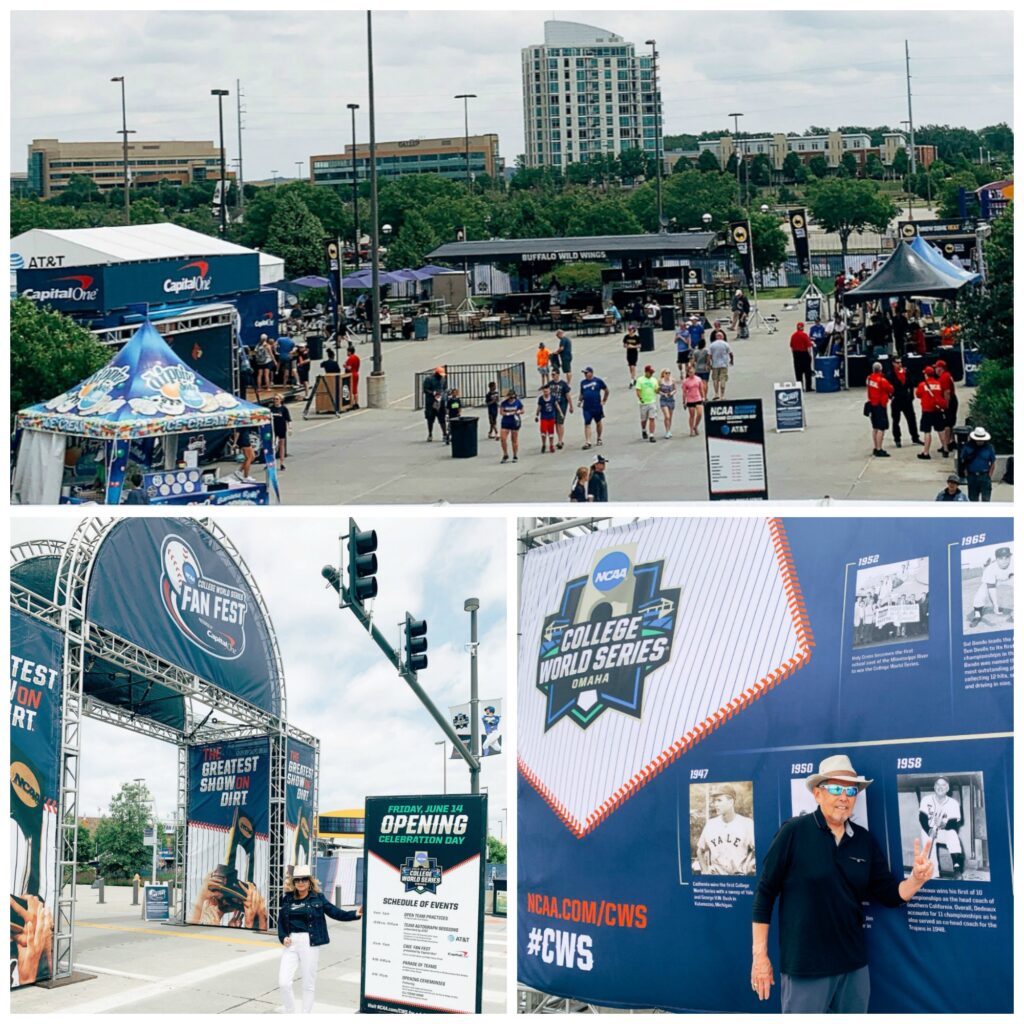 Prior to the ceremony, we walked around the CWS Fan Fest presented by Capital One. It was a carnival-like atmosphere full of souvenir booths, displays, and interactive games that the kids were loving. The Fan Fest was open throughout the entire series and is not be missed.
This was my second visit to Omaha and the first visit for my husband. I was there as a guest of Omaha Steaks last September. You may have seen my Best of Omaha post from that trip. I could not wait to share some of my favorite places with him and see new ones courtesy of my hosts from Visit Omaha. Now, I am excited to share my Omaha weekend highlights with you.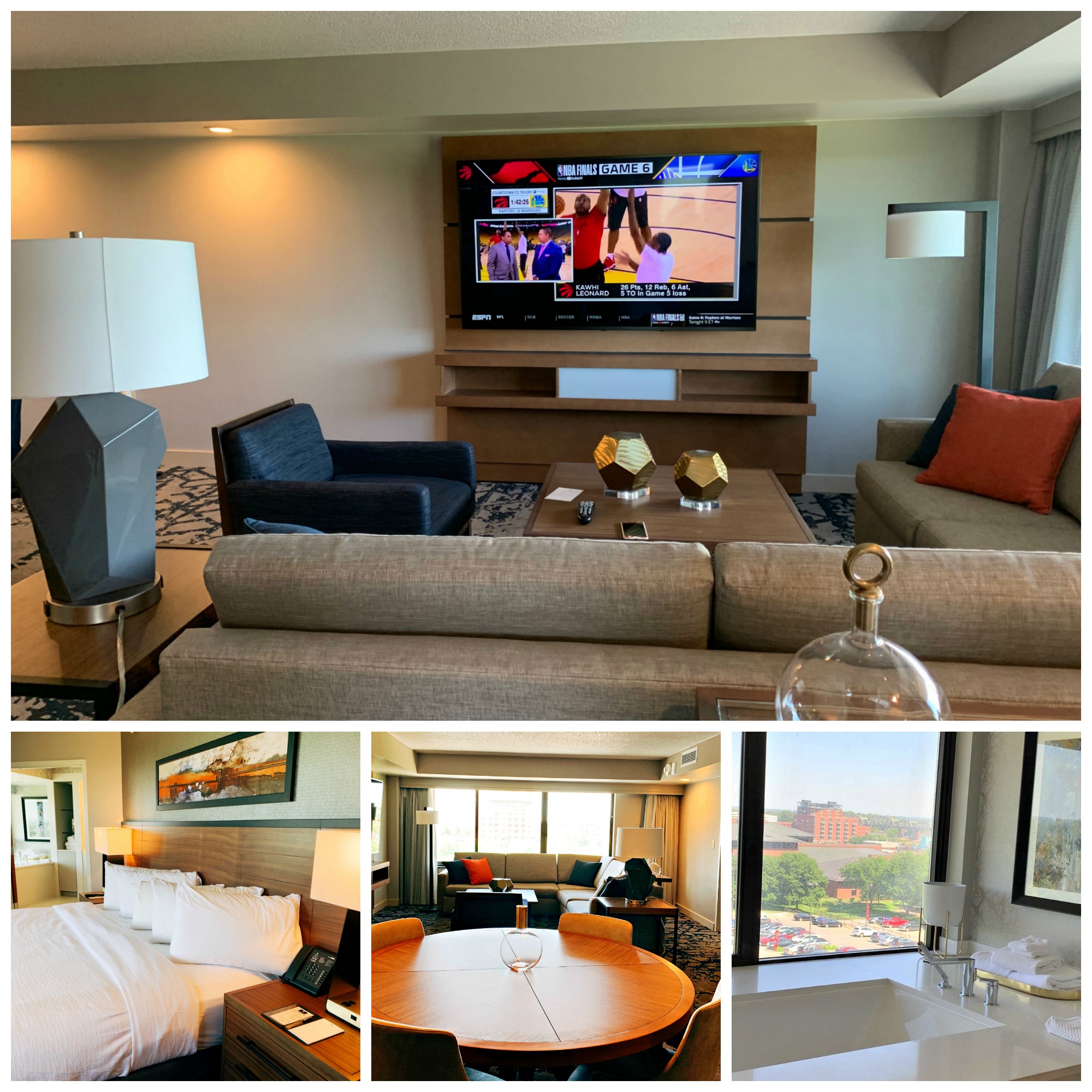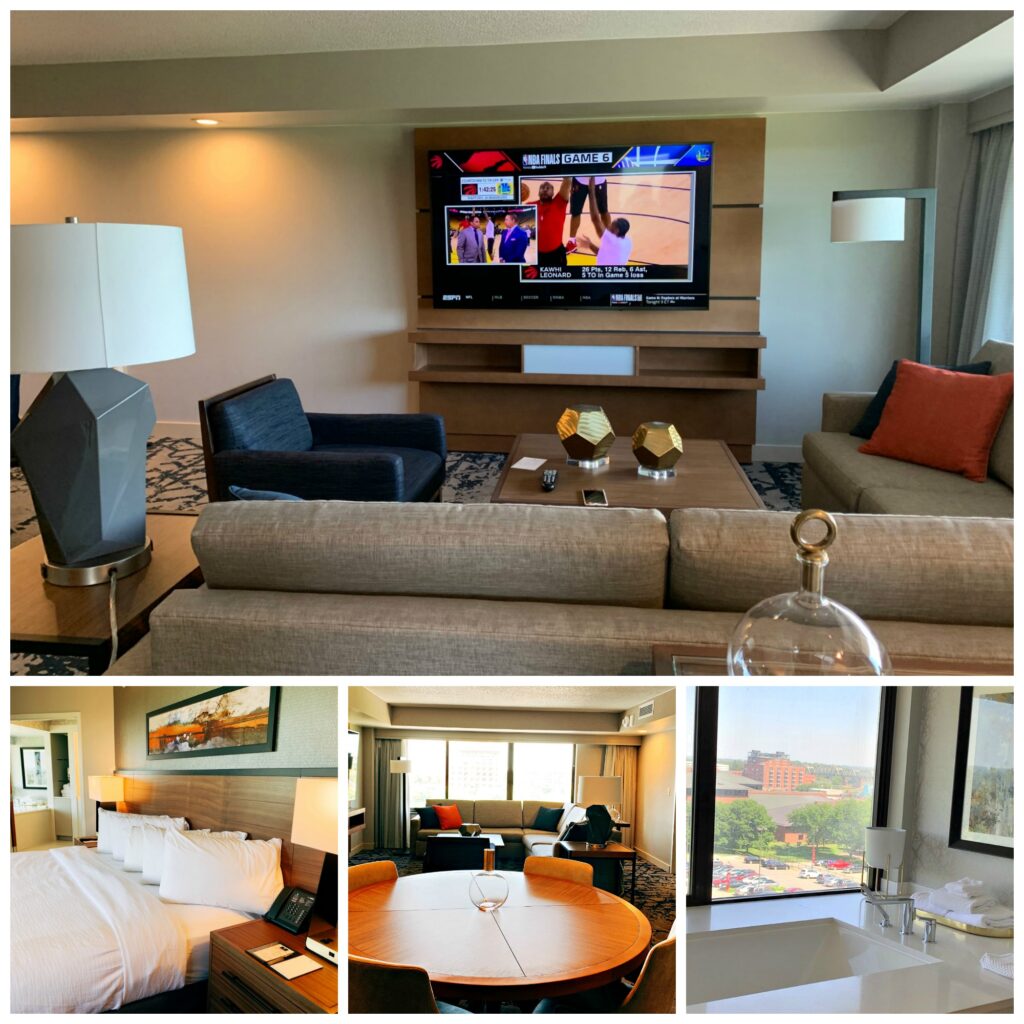 Embassy Suites Old Market
Our trip started with an "oh wow" when we saw our beautiful room at the Embassy Suites Old Market. We were on the top floor with the most beautiful view of the city. Our suite made us feel like VIPs and had two big screen TV's, two bathrooms, a gorgeous sunken tub, a huge shower, kitchenette, and a living room that anyone would be proud to have in their own home. Being the sports fans that we are, we were able to watch the NBA playoffs from the comfort of our couch. It was pretty sweet!
We enjoyed the complimentary breakfast and happy hour every day. I love Embassy Suites for travel, don't you? When my daughter was married two years ago, we hosted out of town guests at our local Embassy Suites. They were able to enjoy the extra perks, and we did not have to worry about attending to them during our busy weekend.

Omaha's Old Market Entertainment District
The cobblestone streets of Omaha's Old Market Entertainment district feature locally owned restaurants, boutiques, coffee shops, pubs, galleries, street entertainers, horse-drawn carriage rides, and more. The century-old brick warehouses have been renovated and stretch across several blocks. You'll find charming shops and restaurants tucked into nooks and crannies so be sure to poke around. We enjoyed our time walking around, window shopping, and people watching. The eight teams in the CWS came with entourages of enthusiastic fans which made the atmosphere so much fun.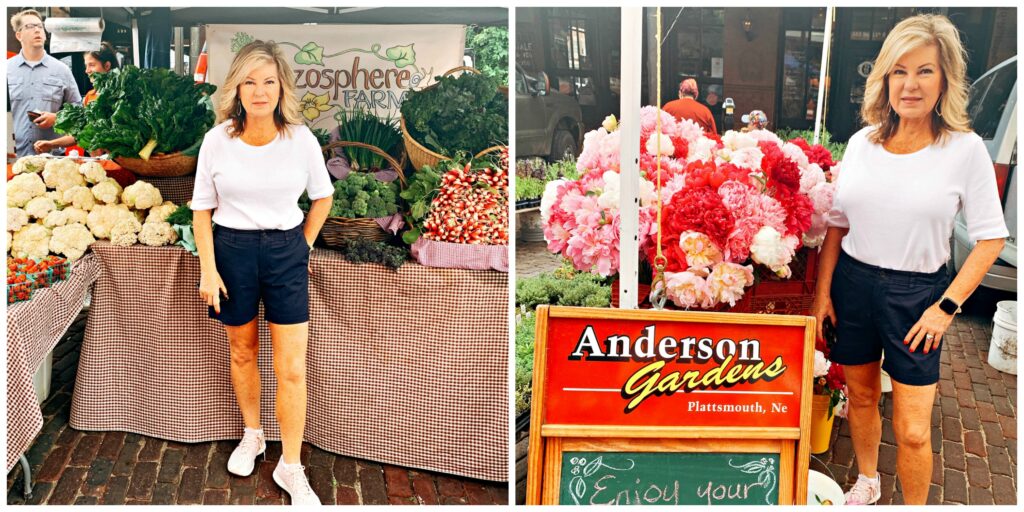 One of my favorite things to do in any new city is to check out the Farmer's Market. On Saturday morning, before the first baseball game, we enjoyed the Omaha Farmer's Market. It's open in the Old Market area every Saturday from May 4th – October 13th from 8 am to 12:30. They also have a Sunday location in Aksarben Village. We sampled the locally-grown foods and chatted with the growers and crafters. You can get more information at OmahaFarmersMarket.org.

The Bob Kerry Pedestrian Bridge
The Bob Kerry Pedestrian Bridge is a one-of-a-kind suspension bridge connecting Nebraska and Iowa. Take a stroll across the 3,000-foot pathway above the Missouri River and you will get beautiful views of the city. You must take a photo with one foot in Nebraska and one foot in Iowa and share it on Twitter @BobTBridge.

Omaha's Henry Doorly Zoo and Aquarium
If you visit Omaha, the Henry Doorly Zoo and Aquarium are a must see. It's considered to be one of the world's top five zoos. The zoo is well laid out and very walkable. I'm told by locals that the annual pass is well worth the price. Don't miss one of North America's largest indoor rainforests and my very favorite exhibit, the Giraffe Encounter. Other favorite exhibits include the Hubbard Orangutan Forest, the Grewcock Butterfly and Insect pavilion, and the Desert Dome & Mahoney Kingdom of the Night.® We took a cool ride on the Skyfari aerial tram that gives you an expansive view of the 160 acres of plants, animals, and habitats. The Scott Aquarium is also contained within the zoo and admission is included.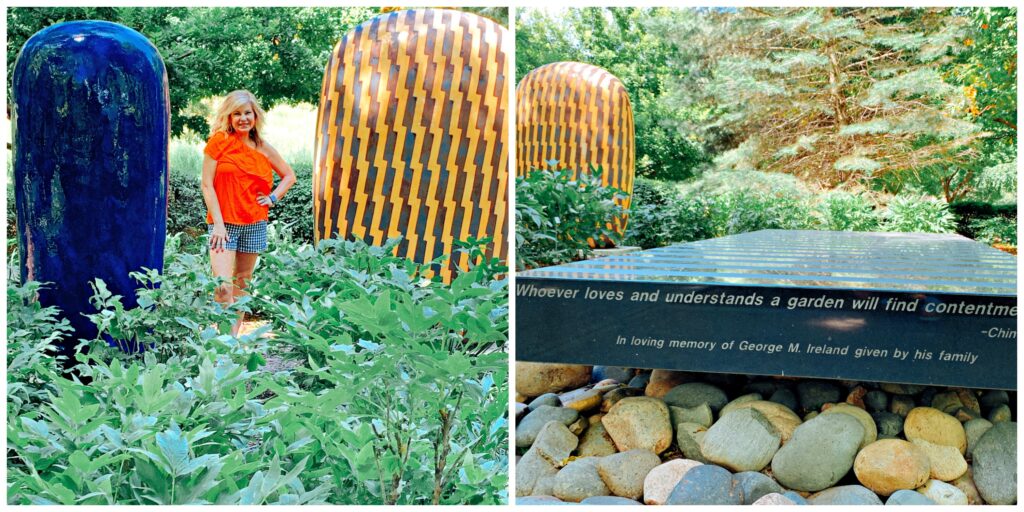 Enjoy a tranquil visit to these botanical gardens and urban oasis in the heart of the city. You can explore their beautiful plant displays including a rose garden, herb garden, model train area and more. There are 100 acres of indoor and outdoor horticultural displays to explore by foot or by tram.
There is a cafe, gift shop, and a library to explore. It was so peaceful and lovely.

The first thing we noticed was the beautiful architecture that looked very similar to the Los Angeles Union Station. The Durham Museum was formerly Omaha's Union Station and is now a National Historic Landmark. The museum opened in 1931 and visiting it is like stepping back in time. We imagined what it must have been like during the World War II as the troops traveled across the country by train. You'll find an authentic soda fountain, candy shop, and a delightful museum shop with unique items from local artisans along with railroad memorabilia. It is located one block south of the Old Market. Find out more about their current exhibits and special events at The Durham Museum.

We were hungry after our travels from Los Angeles and several people recommended that we eat at Block 16 Restaurant. It is a hidden gem and the local's favorite in downtown Omaha. The food is high-quality and locally raised. The restaurant has won numerous awards and accolades and has been featured in USA Today, Food Network and more. Your tummy will be happy after your visit!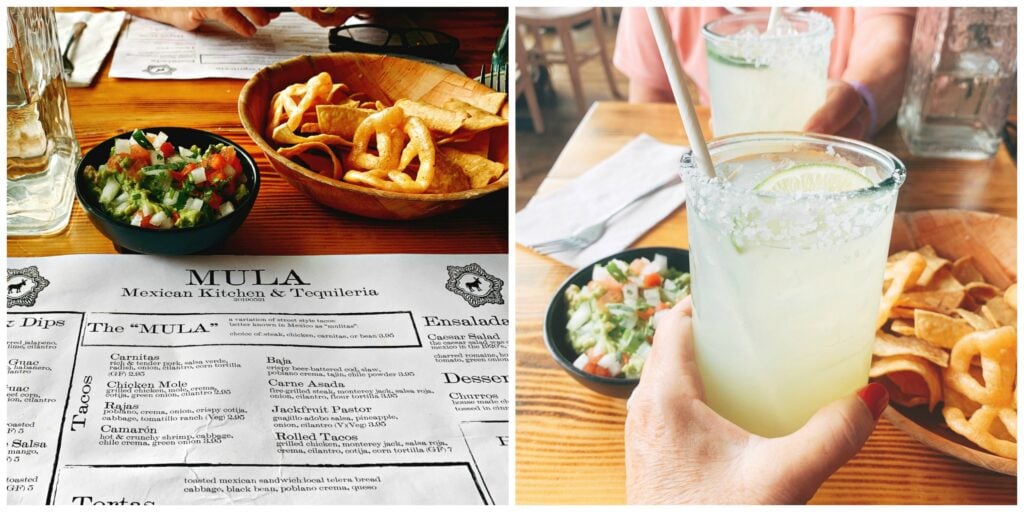 MULA is located in the Blackstone District along with many other restaurants, bars, and shops. It feels like the place to be for young professionals who live and work in Omaha. Being from Los Angeles, we can be a bit uppity about our mexican food, but MULA did not disappoint. You might be able to tell that their margaritas were pretty spectacular!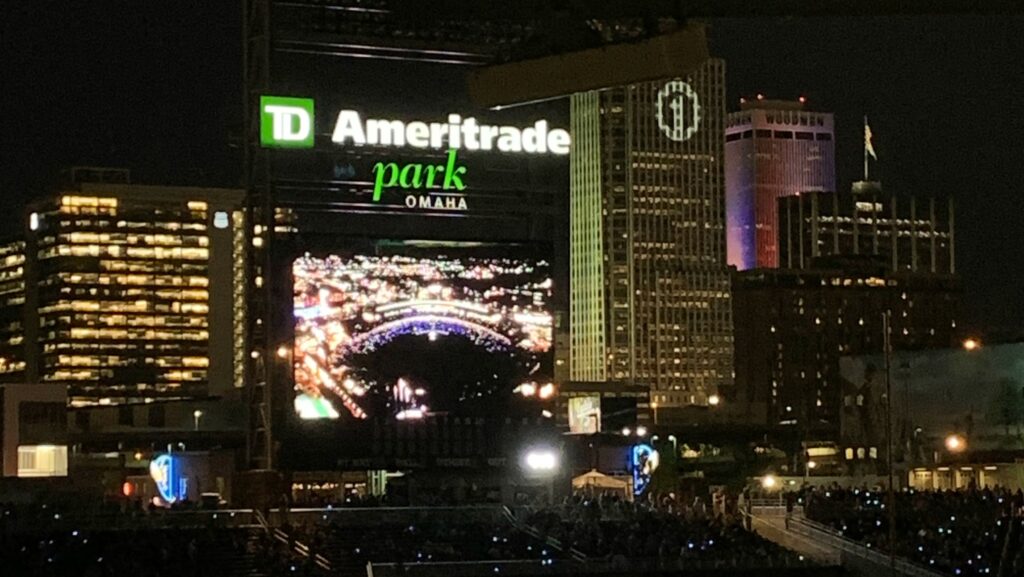 About Omaha
Omaha is home to the fifth generation family-owned Omaha Steaks as well as several fortune 500 companies including Warren Buffet's Berkshire Hathaway. The population of the metro area is just under 1 million people. Although there are big city attractions, Omaha has a small town, friendly midwest vibe.
The city is laid out in a grid pattern and is divided north and south by Dodge Street which makes it easy to navigate. Their north and south streets are numbered and the east and west streets are named.
The Omaha airport, Eppley Airfield, is less than 5 miles from the downtown area. The ease of getting in and out of the airport and the organization and friendliness of the staff was a sight to behold for two Angelinos. You'll find a Visit Omaha kiosk staffed and ready to help. Be sure to stop by.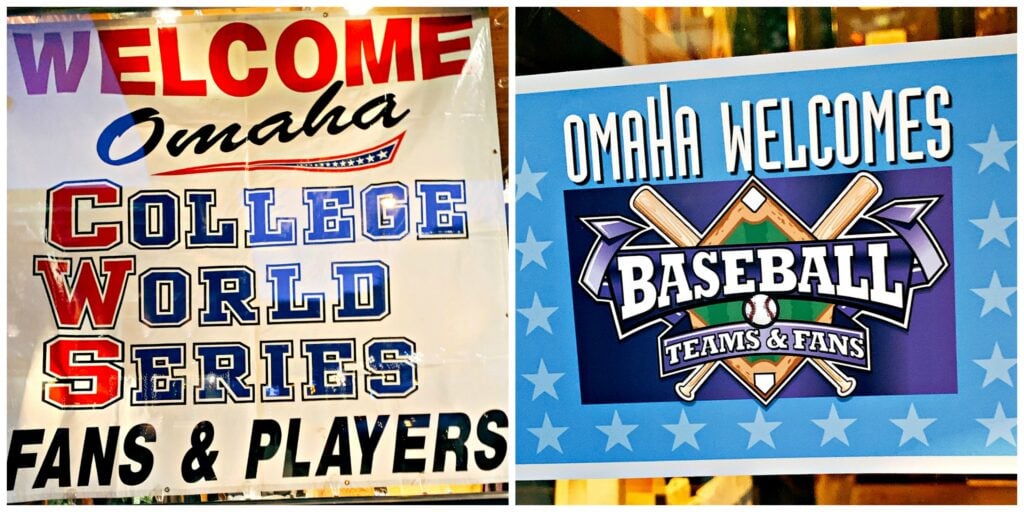 Omaha Hospitality
The restaurants, bars, and shops all had the welcome mat out for the visitors. We were made to feel welcomed everywhere we went. We did not rent a car during our visit, so we used ride share services which were easy and quick. Every driver gave us tips for enjoying the city and asked us about our experience while we were there. It felt so strange but was so delightful. When we landed in Los Angeles and used a ride sharing company to take us home, our driver never spoke one word to us.
About the College World Series
According to cwsomaha.com, the College World Series was first played in Omaha in 1950. The people of Omaha and their civic leaders take great pride in hosting the tournament each year and make it such an enjoyable event. The tournament has been held at TD Ameritrade Park since 2011. My husband and I remarked that there was a lot of nostalgia for the old Rosenblatt Field, but we can attest that the new stadium is beautiful, comfortable, and conviently located. The restrooms were clean, the food was great, and the staff was so friendly. It is one of the nicest baseball stadiums we have visited. The entire tournament lasts 11-12 exciting days.
If you love college sports, then I highly recommend making a trip to Omaha to see the annual tournament in person. The town comes alive, and they are such friendly and welcoming hosts. Many of the people we met were from the local area and attend the games each year with friends and family. For ticket information for next year, go to NCAA.com/CWS.
If you are traveling to Omaha, you'll find great information at Visit Omaha. You can sign up for their Omaha eNewsletter or request a free visitors guide. Follow them on social media using #OmahaWeekend.
PIN for Later!