Air Fryer Snack Recipes
Sometimes, you just want to have a quick and easy snack that isn't loaded with grease. You want something healthy and delicious instead.
That is where air fryer snack recipes come in. With air fryer snacks, you get the healthier version of snacking because you're not cooking it in oil. Instead, you are cooking with air. Plus, your snacks are done in just a few minutes so it's perfect for when you are looking for something quick and easy.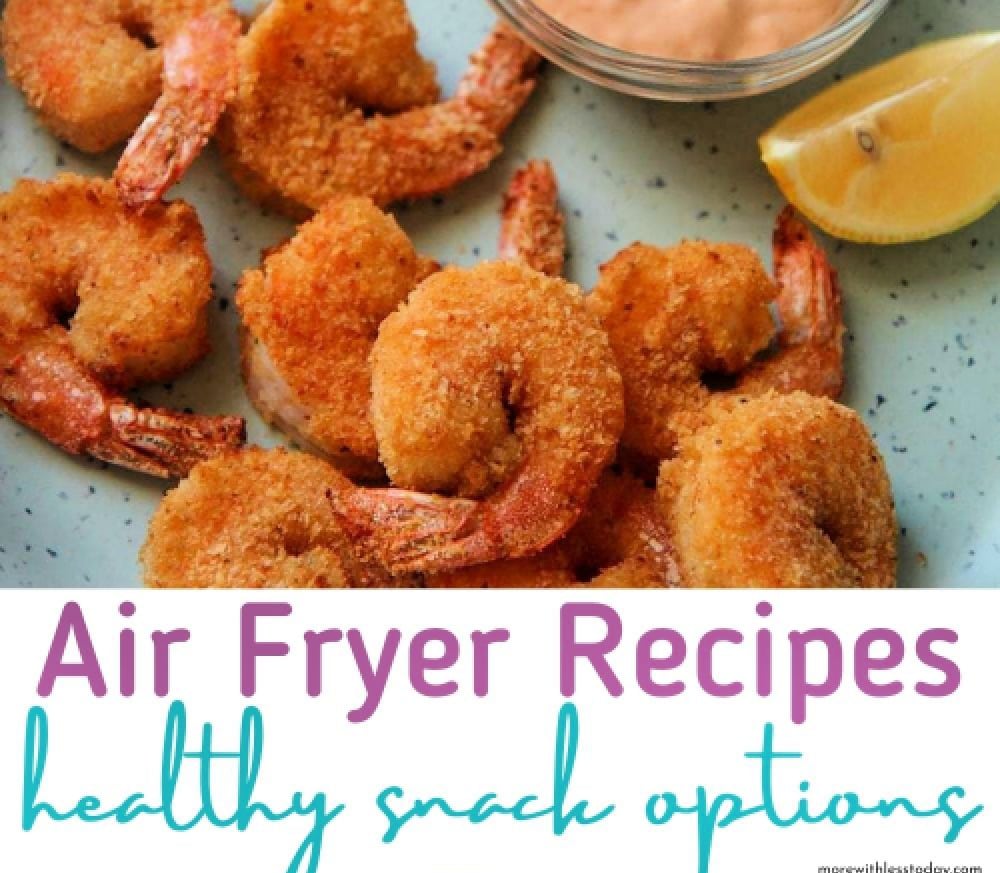 These delicious air fryer snacks are a healthier way to enjoy a tasty snack during the day or when you need to satisfy a craving. Enjoy these delicious air fryer snack recipes from some of our favorite food bloggers.
Crispy and healthy, these air fryer avocado fries make a great snack or party appetizer that is both healthy and delicious.
Crunchy and easy to make, these kale chips are a healthy snack that you are sure to love.
If you are looking for a snack that is a little more filling, this air fryer breaded shrimp is a healthier snack option.
With a smoky flavor, these quick and easy chickpeas are made in the air fryer for a delicious and healthy snack idea.
Sweet and smoky, these low carb snacks are made in the air fryer for a tasty snack that will satisfy your spicy cravings.
A healthy and delicious snack or appetizer, these bruschetta bites will make your taste buds dance in joy.
If you are a fan of roasted almonds, these easy roasted almonds make for the perfect snack to enjoy throughout the day.
Low in calories, these cheesy buffalo chicken pockets will make a delicious healthier snack idea that is filling and tasty.
These homemade pizza rolls are made in the air fryer and are an easy snack for both kids and adults.
A delicious snack that is quick and easy, these cheesy air-fried nachos will make a healthier nacho snack option.
Perfectly seasoned, these air fryer carrots will be a delicious crispy snack that is healthy and easy to make.
A much healthier snack than your typical nuggets, this air fryer popcorn tofu snack is easy to make and quicker than baking.
Made in about 20 minutes, these keto-friendly bacon-wrapped jalapeno poppers can be dipped in ranch dressing for a delicious snack.
Made in the air fryer, these brussels sprouts are mixed with parmesan and served with lemon aioli for a quick and healthy snack.
An easy snack that you can make in no time, these pita chips are made in the air fryer so you can enjoy a healthy snack on the go.
Love onion rings but don't want to load them up with grease? These onion rings are made in the air fryer for a quick and easy snack.
If you've been thinking about buying an air fryer, here is the Top Selling Air Fryer on Amazon. It has over 20,000 ratings! You can see the reviews and see what others are saying and also see other options.
If you don't have your air fryer yet and are wanting a healthy snack, see how easy it is to make Homemade Hummus.
PIN for Later