Bed Bath & Beyond has a great coupon policy! These savings tips for smart shoppers will help to stretch your dollars. Hurry up and use them! We updated this post for 2020 and have a link to the 40 stores that are closing.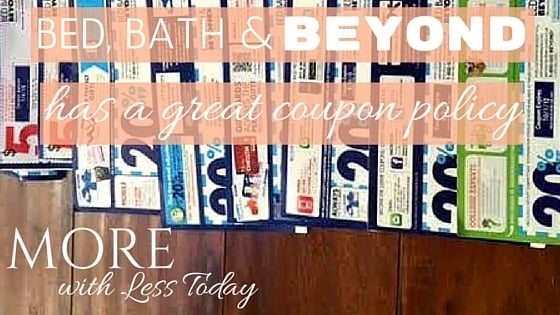 This is a picture of my actual Bed Bath & Beyond coupon stash!
Is Your Bed Bath and Beyond Store Closing?
2020 Updated post- You have probably heard that Bed Bath & Beyond is closing 40 stores. You can find out if your Bed Bath & Beyond store is closing in this article from USA Today.
I cannot find any specific information about their coupon policy changing, but I can see some hints when you read their new corporate strategies. I would not wait to use your expired Bed, Bath and Beyond Coupons. My daughter and I just shopped for a baby shower at buybuy Baby and used one in-store. You can also stock up at Cost Plus World Market on items too.
I love Bed, Bath & Beyond. When I see a great coupon policy, I get excited. I know, I am a little strange, BUT…
Bed Bath & Beyond Coupon Tips
These are just a few of my favorite coupon tips. If you have found some hacks that you want to share – let us all know in the comments.
Bed Bath & Beyond Accepts Expired Coupons
Did you know that Bed Bath & Beyond accepts expired coupons in-store? I used one recently and it was about 3 months old. They also let me combine the expired coupon with another Bed, Bath & Beyond coupon (not expired) that I had on the same transaction. Plus they are so nice about using those expired coupons. They don't announce "hey lady, these coupons are from 2012!" They cheerfully take them.
Use Up to Four Coupons At Once (in-store)
And then I learned this from one of my smart readers!!
Linda emailed – "Hi – I think you can also use up to four BB&B coupons in one transaction." If your store limits how many you can use in one transaction, then ask if you can do separate transactions. Renata went one step further and told me her store let her use five coupons in one transaction. Your mileage may vary but being really nice always helps!
They'll Give You Money Back On Purchased Items
If that isn't exciting enough, the cashier told me that the next time I come in, if I bring in another 20% off coupon plus my receipt for my recent purchase that she would do a price adjustment for me. I will pocket about $14.00.
And there is no time limit to bring back your receipt along with a coupon and have the price adjusted. Now, aren't you excited too?
Can You Use Bed Bath & Beyond Coupons Online?
You cannot use expired coupons online and you cannot use multiple coupons online. There is a workaround if your items qualify for free shipping, you can buy each item separately and use one coupon for each purchase.
Bed Bath & Beyond – Online Shopping Hack
If you are shopping online, you can only use one coupon per online order. You can select "Reserve Now" for your online items and the go into the store to pay for them and use your coupons. I have been told by readers that your card will be charged $1 when you do this but the charge will automatically disappear in 1-2 days. Be sure to confirm this in your store.
So save all of your Bed, Bath & Beyond coupons that you get in the mail and those you see in magazines and Sunday coupon supplements, but NOT the email coupons if they have expired. The email coupons will not be accepted once they expired.
Types of Bed Bath & Beyond Coupons
Bed Bath & Beyond offers two main types of coupons: "20% off" and "$5 off $15". The $5 off $15 coupon gives you $5 off a purchase of $15 or more. I have found them in Parade Magazine and in several popular women's magazines. I hang onto all of them.
Some of the brands they sell are not eligible, so double-check the exclusions to avoid disappointment. If you have excluded items, I recommend ringing those up in a separate transaction and then ring up your coupon eligible items.
Find Current Promotions and Coupons at Bed Bath & Beyond
Here is a great place on their website to see what is currently on sale or special promotions happening now at Bed Bath & Beyond.
Find a Bed Bath and Beyond Store Near Me
Use the Bed Bath and Beyond store locator to find locations near you.
How to Get More Bed Bath and Beyond Coupons:
Sign up to get their emails, you usually get a 20% off coupon as a thank-you.

Sign up for their email newsletter

Sign up for mobile text coupons. Hot tip – these expire so use them first.

Download the Bed, Bath & Beyond App and check the "my offers" section for more offers.
I could not find the official Bed Bath and Beyond coupon policy on the company website, so this may be a store by store policy and not a corporate policy. I checked with two additional Bed, Bath & Beyond stores in my area and they also accept the expired coupons. Call customer service at 1-800-462-3966 or check with your local store, (don't forget to write down the name of the person you spoke with!)
** There are rumors that Bed Bath and Beyond may be rethinking their coupon policy, but nothing official has been announced. If you have a folder full of expired Bed, Bath & Beyond coupons (like me), you may want to start to use them in case they discontinue their great coupon policy!
Online and In-Store Clearance at Bed, Bath & Beyond
Check the clearance sections in-store and online for even more savings! The online section is called "the Outlet" which includes clearance and closeout merchandise.
In the store, those orange clearance signs look for a date in the corner to see when the item went on sale so you can make an educated guess if you should buy it now or hope it gets marked down further. Either way, use your coupons!
If you see yellow clearance signs, it means those items are a final markdown.
Typically Bed, Bath & Beyond will hold semi-annual clearance sales. I have seen them in January and September but ask about them when you are in store.
Bed, Bath & Beyond Gift Cards Can Be Used Other Places
Yes, you can use Bed Bath & Beyond gift cards at other stores! You can use them in-store at:
buybuyBaby

Cost Plus World Market

Christmas Tree Shops

Harmon Face Values
Getting Married – Register at Bed Bath & Beyond
Be sure to register for the Bed, Bath & Beyond wedding registry and when your friends and family buy qualifying items, you get free gifts. You will also get special coupons!
Setting Up a Dorm Room or Apartment?
1. Shop for your stuff on our Shop for College Tab.
2. Select Shop Now, Ship Later under Shipping Options and choose a ship date when you check out!
3. We ship to your address when you're ready!
Limited time only from May 21st through October 1st.
Must purchase all items from our Shop for College Tab. Service excludes items shipped directly from vendor and gift registry items.
If you want to know their policy for price matching and manufacturer's coupons, HERE is the information.
My Bed Bath and Beyond saving tips were featured in Good Housekeeping.
We think you will also like:
PIN for Later: