This is how to save big bucks at Best Buy outlet stores and at the Best Buy clearance items. These hacks will help you find the best deals!
I love shopping at Best Buy! They always have the best tech and appliances. If you need any kind of gadget, chances are they have it. Plus, if you buy the protection plan, you have a team of experts that can help you fix whatever goes wrong. It's such a smart place to shop.
We have affiliate relationships which means we may earn a small referral commission at no additional cost to you if you purchase using our links. There are some sure-fire ways to buy amazing appliances and save tons of money at the same time. Keep reading and see how to score great deals!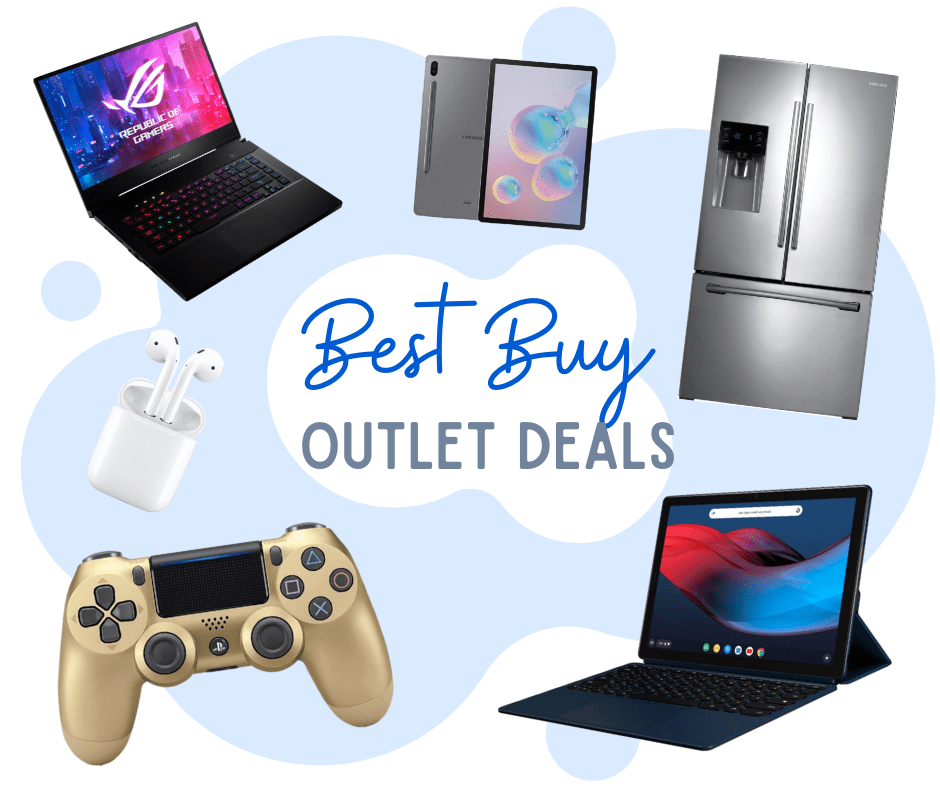 Best Buy Outlet
Did you know that Best Buy has an outlet? Outlets are some of my favorite places to shop because you can get some of the deepest discounts there.
The most up-to-date information is on the Best Buy website. I'll sum up some of the most important points right here for you.
What Is the Best Buy Outlet Store?
At the Best Buy outlet store, you'll find clearance and open-box products at large discounts. They add new stuff to the store every week. The hard part is that they are only open three days a week – Friday, Saturday, and Sunday, from 11 a.m. to 7 p.m.
From the Best Buy Outlet Store website:
Where Is A Best Buy Outlet Store Near Me?
Check out this list of outlet stores to find one near you. As of July 2020, there are 14 outlet stores in the United States. I hope they add more!
What Type of Things Can You Get At Best Buy Outlet Store?
The Best Buy outlet stores sell all sorts of home appliances. You'll find things like:
TVs

Computers

Refrigerators

Stoves

Dishwasher

Washing Machine

Dryer
They also sell what is known as an "open-box" products. You can buy these at a significant discount! An open-box product is something that a customer returned. Sometimes they return it because they ordered the wrong color or they bought two of the same thing on accident. Some open-box things were used as in-store displays. Best Buy tests all open-box products before they sell them to make sure they are in working order.
Can You Return Things To The Outlet?
Nope, all sales are final. If your product is defective, however, you can go back to the Outlet store and ask for assistance.
Shop The Best Buy Outlet Online
The Best Buy brick and mortar outlet store only offers open-box and clearance items. You can find a few more categories when you shop the online outlet. On this site, you'll find clearance, open-box, refurbished, and pre-owned products for sale. This gives you more selection!
Best Buy Clearance
If buying something that was pre-owned or comes in an open box makes you feel nervous, then shop the Best Buy clearance for some great deals. These are all things that are discounted for a quick sale. They are new in the box, never pre-owned.
I prefer to shop the clearance items online. They list how much you are saving right on the price – so I choose the items with the greatest discount first.
I have tons of shopping hacks next that will help you save the most money when you shop.
Best Buy Shopping Hacks
This is the best part! I love sharing hacks and tricks that help you snag some amazing deals. Don't pay full price ever again. You won't have to if you follow these shopping tips.
1. Use Their Rewards Program
When you are a Best Buy rewards member, you get free shipping on orders of $35 or more (which is so easy to do there). Plus, they send you member-only deals and special sales. It is free to join. There are two other tiers to Best Buy Rewards programs which are based upon spending. You can view this chart to see the qualifications, features, and benefits of the three different rewards programs.
2. Best Buy Trade-In Program
Check their trade-in estimator to see how much your old tech is worth. Popular trade-ins include iPhones, iPads, Gaming Hardware, laptops, cameras, video games and more. Trade in that old tech for a Best Buy gift card and use that on your new purchase.
3. Snag Black Friday Deals
If you are patient, the Best Buy Black Friday deals can be worth the wait. Check back with us at MoreWithLess Today. We cover all of the best Black Friday deals extensively.
4. Buy A Floor Model At A Discount
If you find something that only available as a floor model, ask for a discount. It may or may not work but it is worth asking!
5. Price Match
Do your homework before you shop and find the lowest price for what you want to buy. Read the Best Buy price-match policy to see if you can get the price matched.
6 Ask For A Price Adjustment
Keep an eye on sales during the return and exchange period which is 15 days for most items). If the item you bought goes on sale within 15 days, go back to the store and get a price adjustment. Elite and Elite Plus rewards members will have a longer time frame to price match.
7. Deal of the Day
Bookmark the Best Buy Deal of the Day page. I've seen some deep discounts here.
8.

Work At Best Buy
Best Buy has one of the best employee discounts around. If you love Best Buy, consider applying for a job!
9. Sign Up For Easy Replenish
The Best Buy Easy Replenish program is a subscription-based program that automatically sends you things you use regularly, and you get a discount when you enroll.
You can enroll to receive things like printer ink, K-Cup pods, or water filters.
10. Student Discounts
Students enjoy exclusive savings. You must create a My Best Buy® account and sign up for student deals. Once enrolled, your Student Deals will appear on your Member Offer page.
11. Use Coupon Codes
Finally, don't overlook coupon codes or promo codes for Best Buy. I've listed the latest ones for you at the bottom of the post.
Before you buy something like a TV or dishwasher, follow my tips so you get the most savings. It's amazing what you can find at Best Buy when you know where to look!
PIN for Later!