Are you a Kohl's shopper? Me too. It is one of my favorite places to shop when I can get a good deal. Did you know about the Kohl's online clearance section? Yes, you can use Kohl's Cash for clearance purchases!
At the time of posting, there are over 12,000 items in the Kohl's online clearance section. I'm sharing a few of my favorites and more ways to save at Kohl's.
As I'm sure you know, clearance items are often low in stock and sometimes sizes are limited. We have affiliate relationships which means we may earn a small referral commission at no additional cost to you if you shop using our links.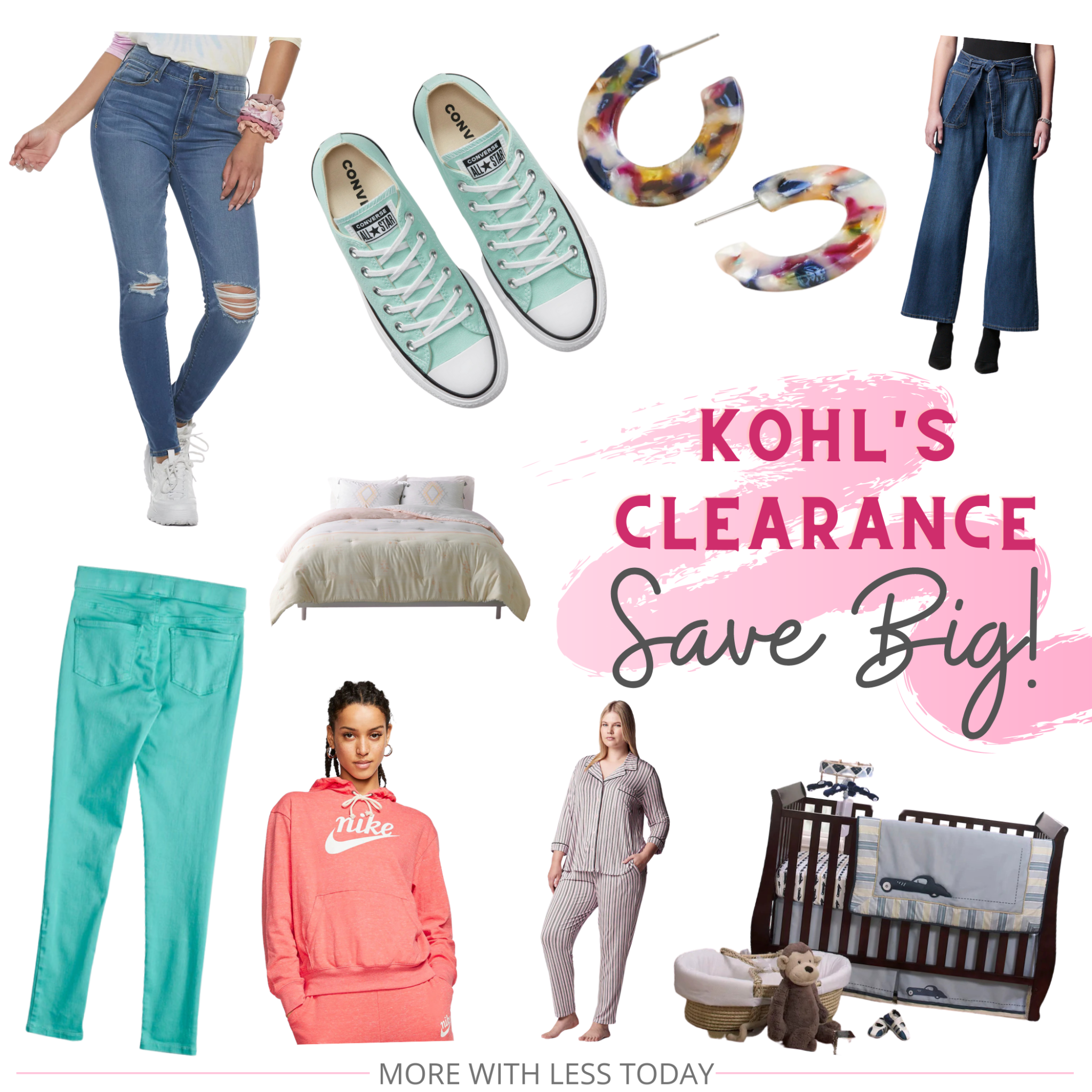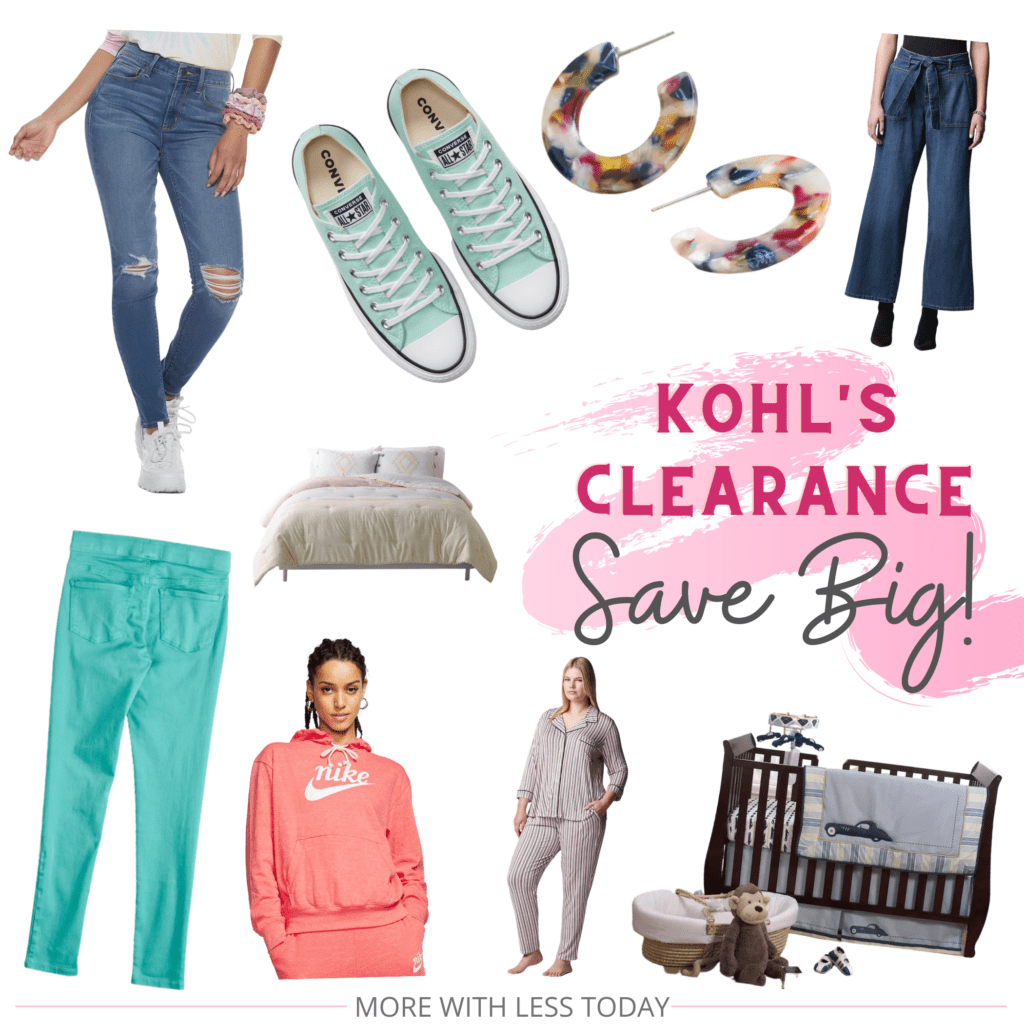 Kohl's Mark Down Clearance
You will find deep discounts for women, men, boys, girls, and home. We picked out just a few of our favorite finds.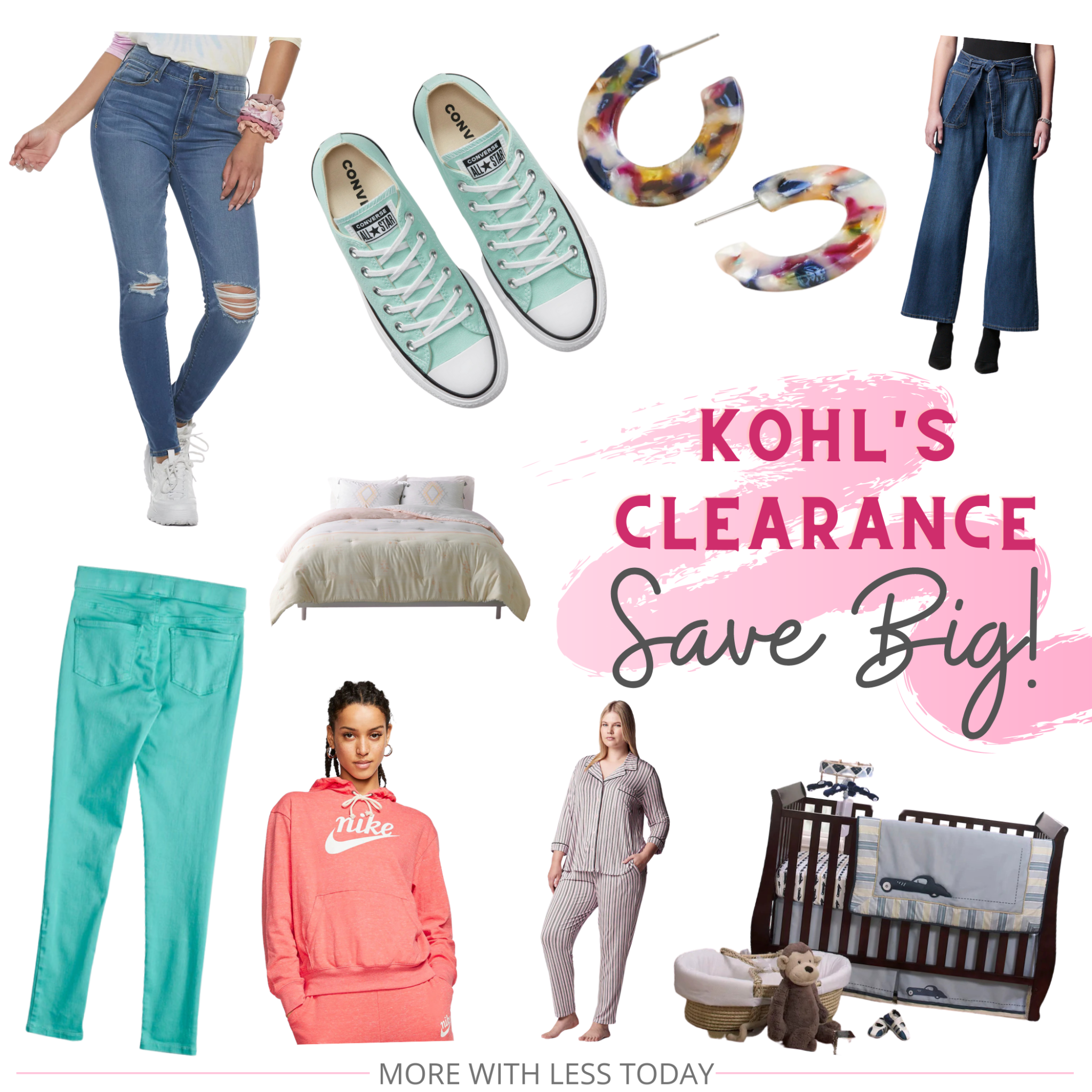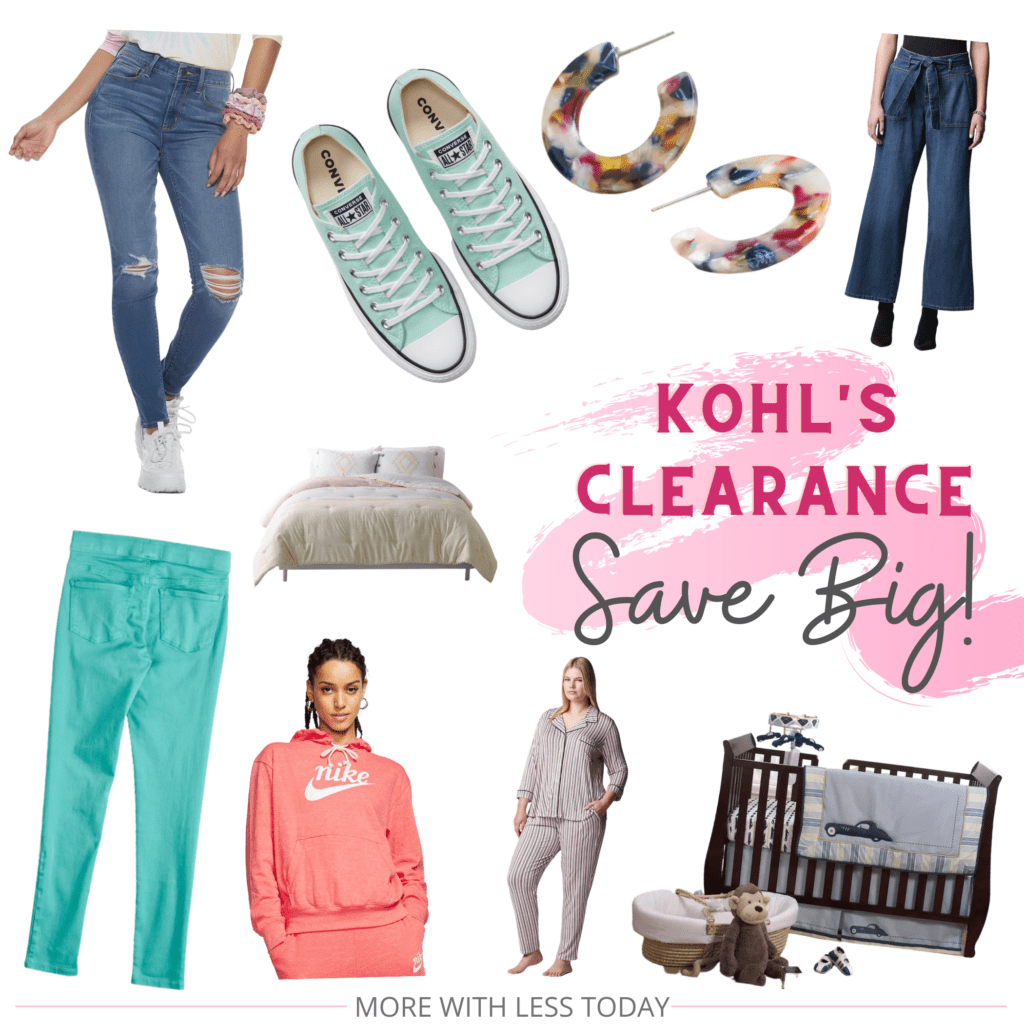 Kohl's Clearance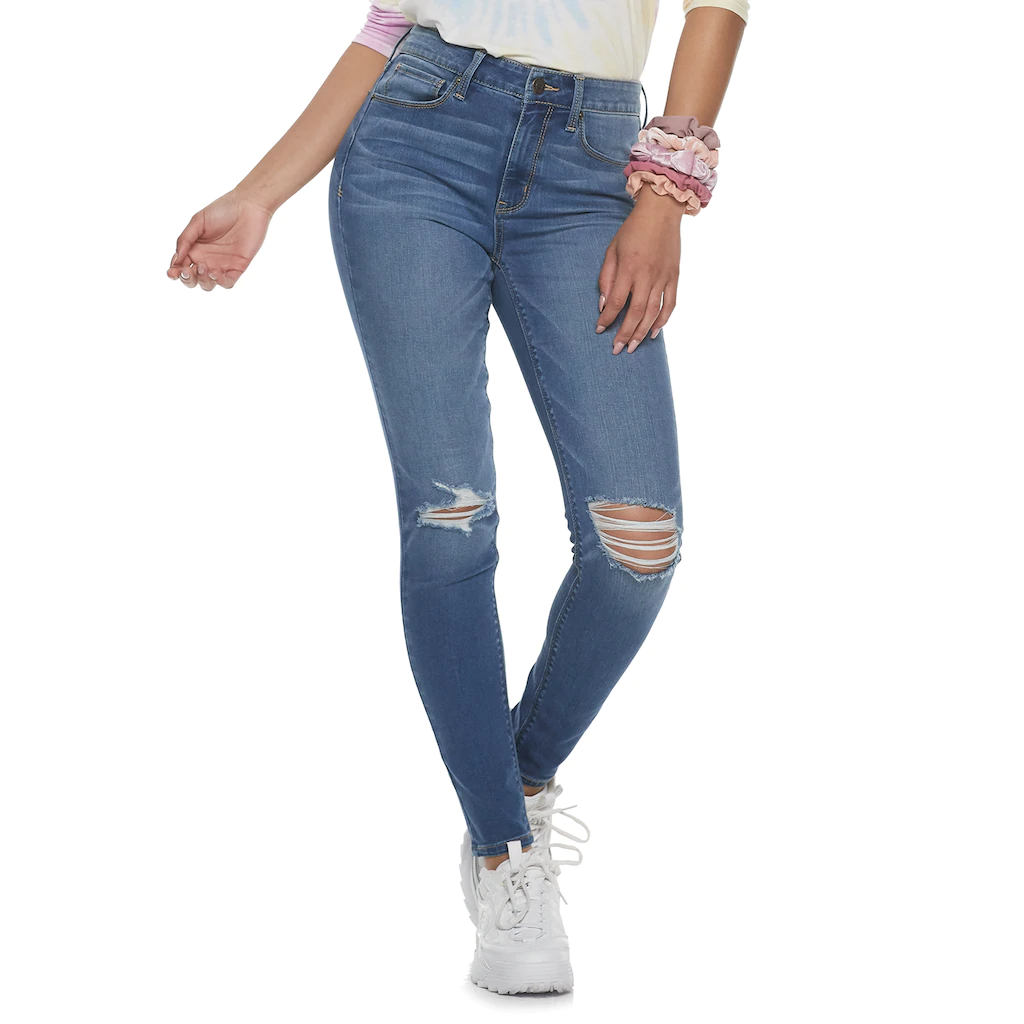 Juniors' Mudd® High Rise Destructed Skinny Jeans
"She'll be stylish in these high rise destructed skinny jeans by Mudd."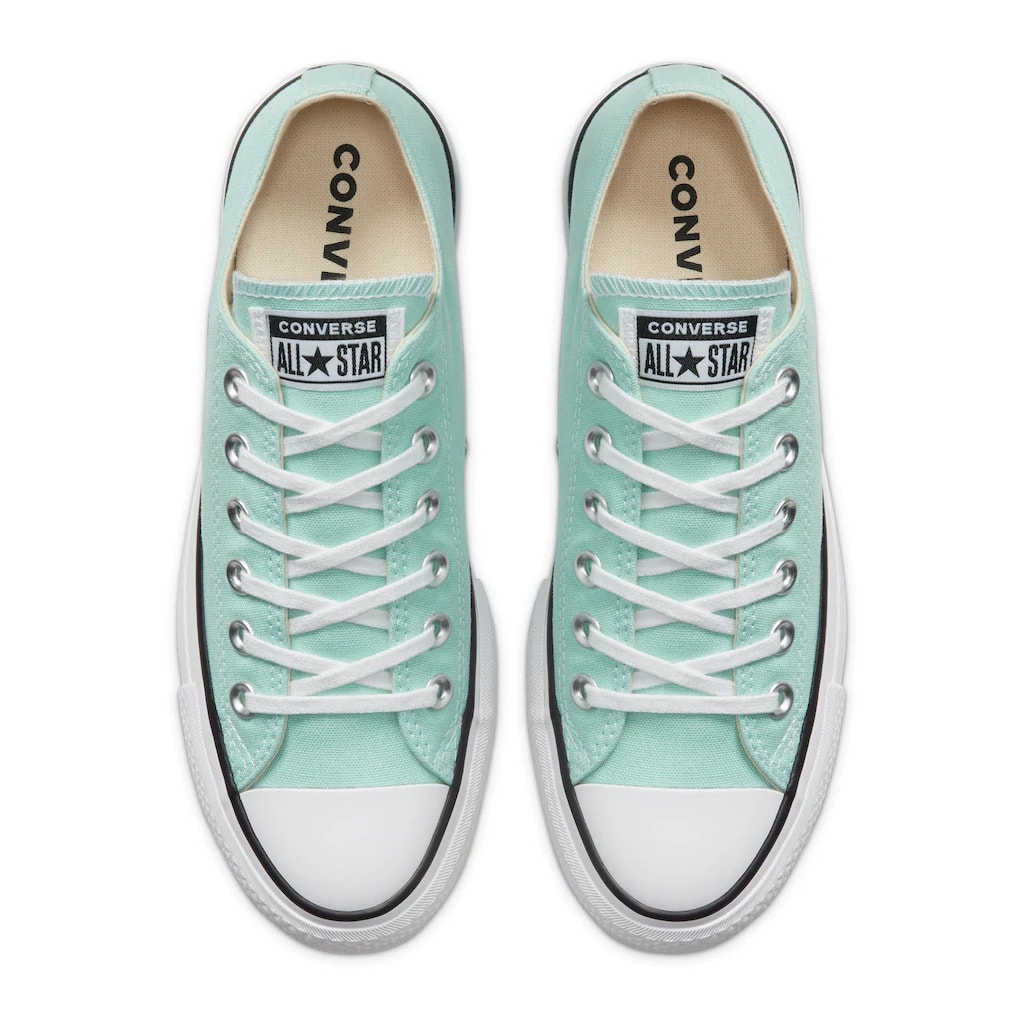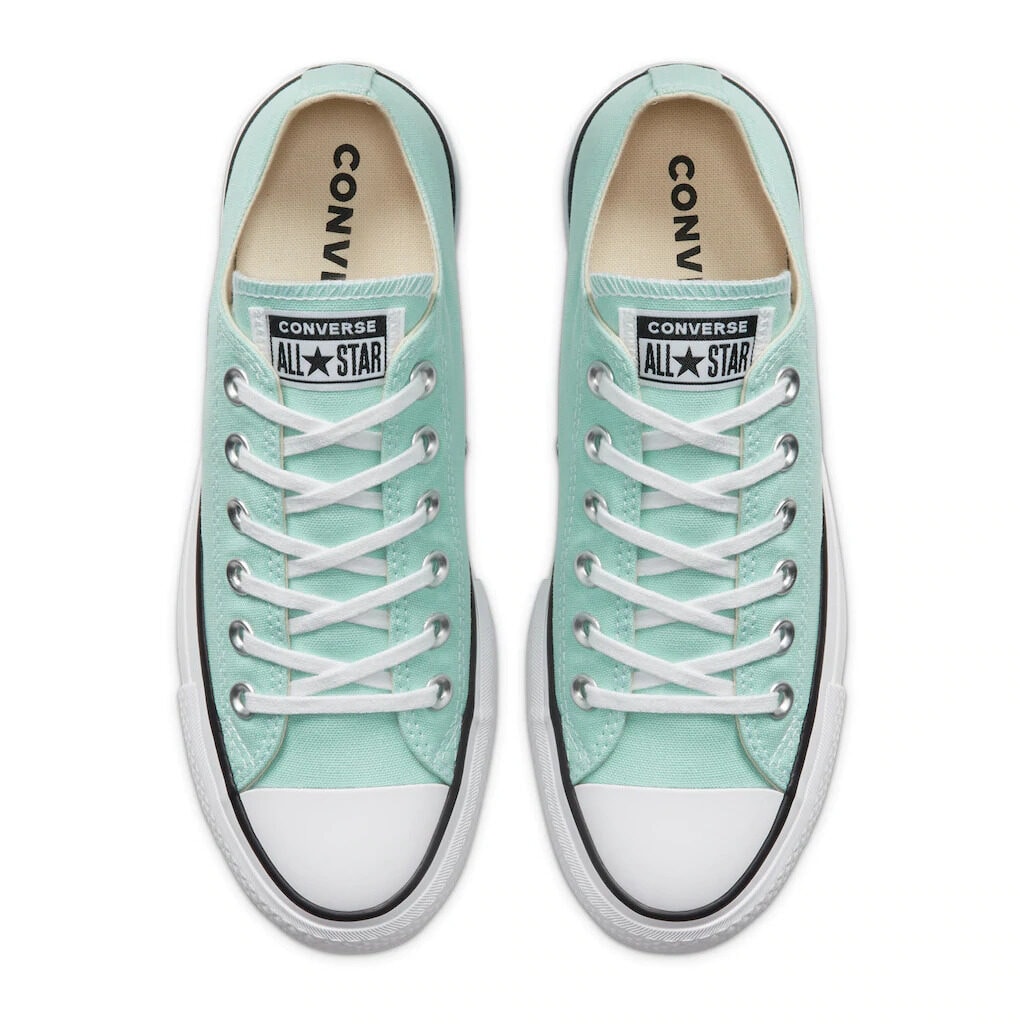 Women's Converse Chuck Taylor All Star Lift Low Top Sneakers
"The laidback legend since '57. These Converse Chuck Taylor All Star Lift low top sneakers flirt with feminine construction.'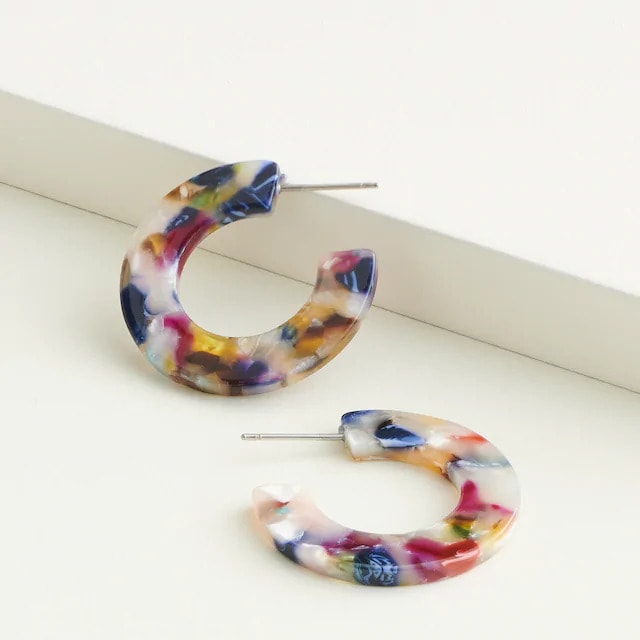 Elizabeth and James Small Tortoise C-Hoop Earrings
"Add a pop of print to your look with these tortoise hoops from Elizabeth and James."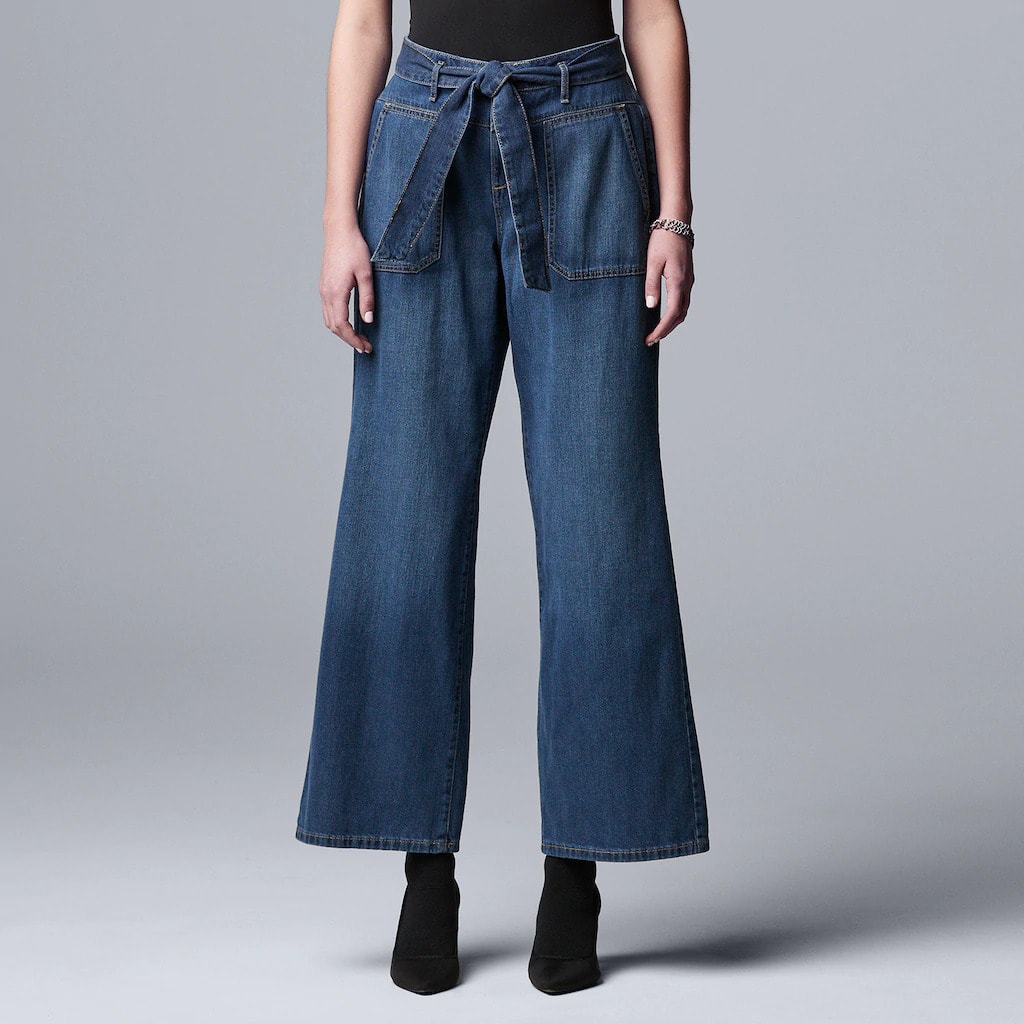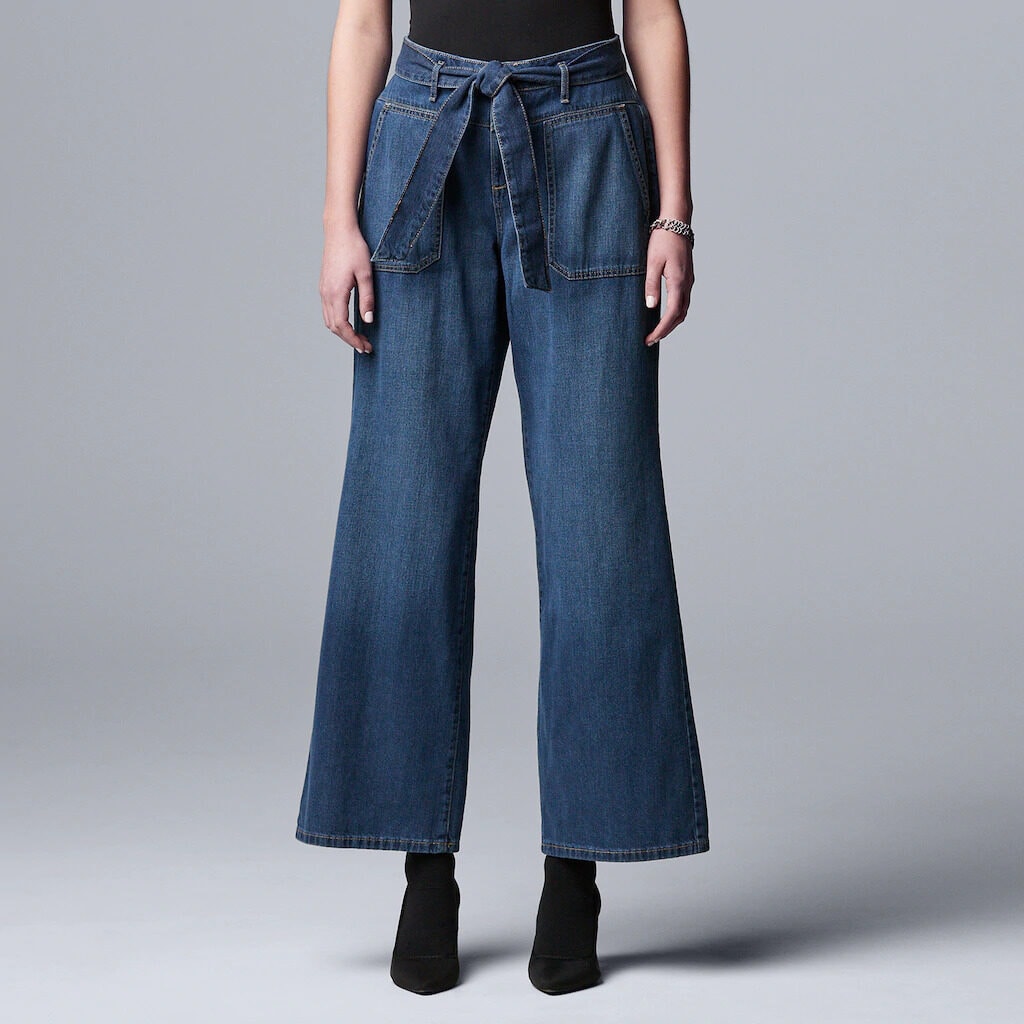 Women's Simply Vera Vera Wang Soft Denim Trousers
"Unique style is yours while wearing these women's soft denim trousers from Simply Vera Vera Wang."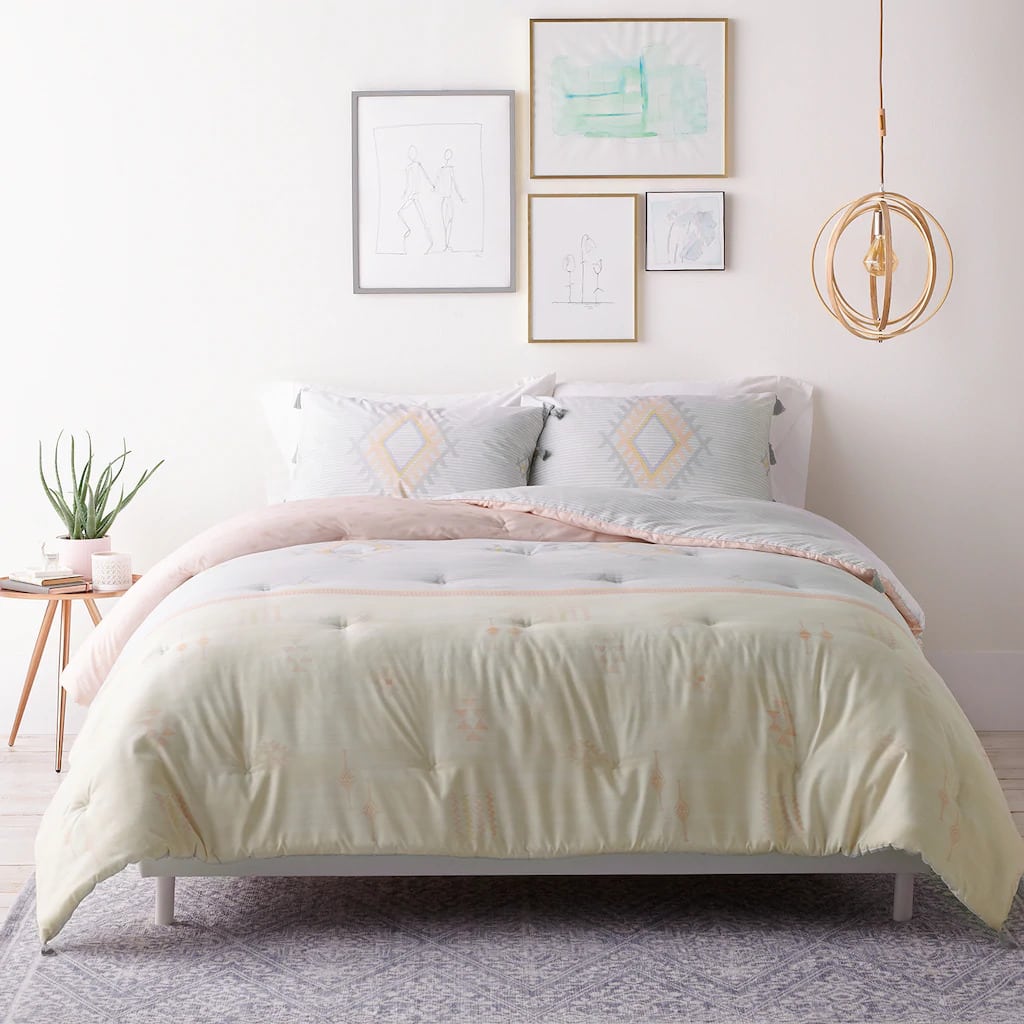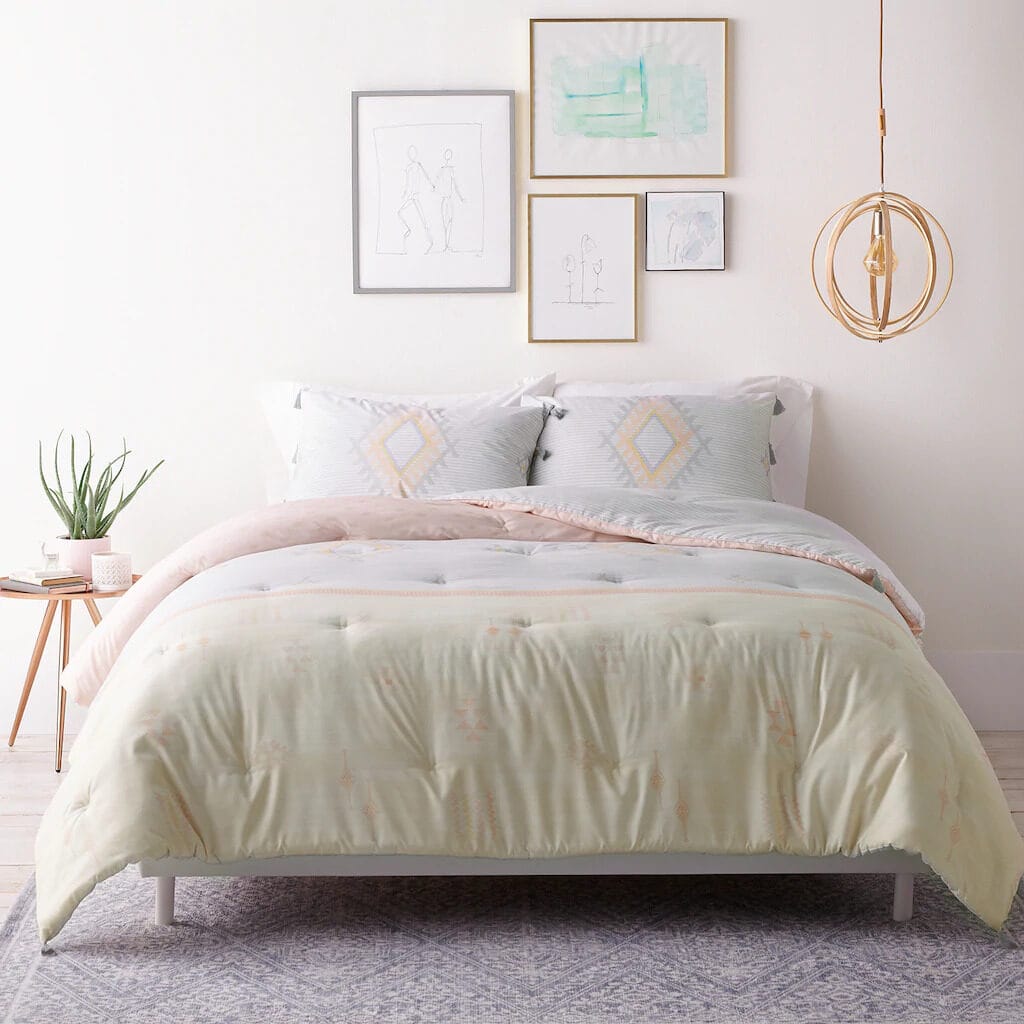 LC Lauren Conrad 3 pc. Tassel Comforter Set
"Say hello to cloud-like sleep with our Dream Soft 3 piece comforter set." I also like to check Kohl's Clearance for Lauren Conrad shoes which I find from time to time!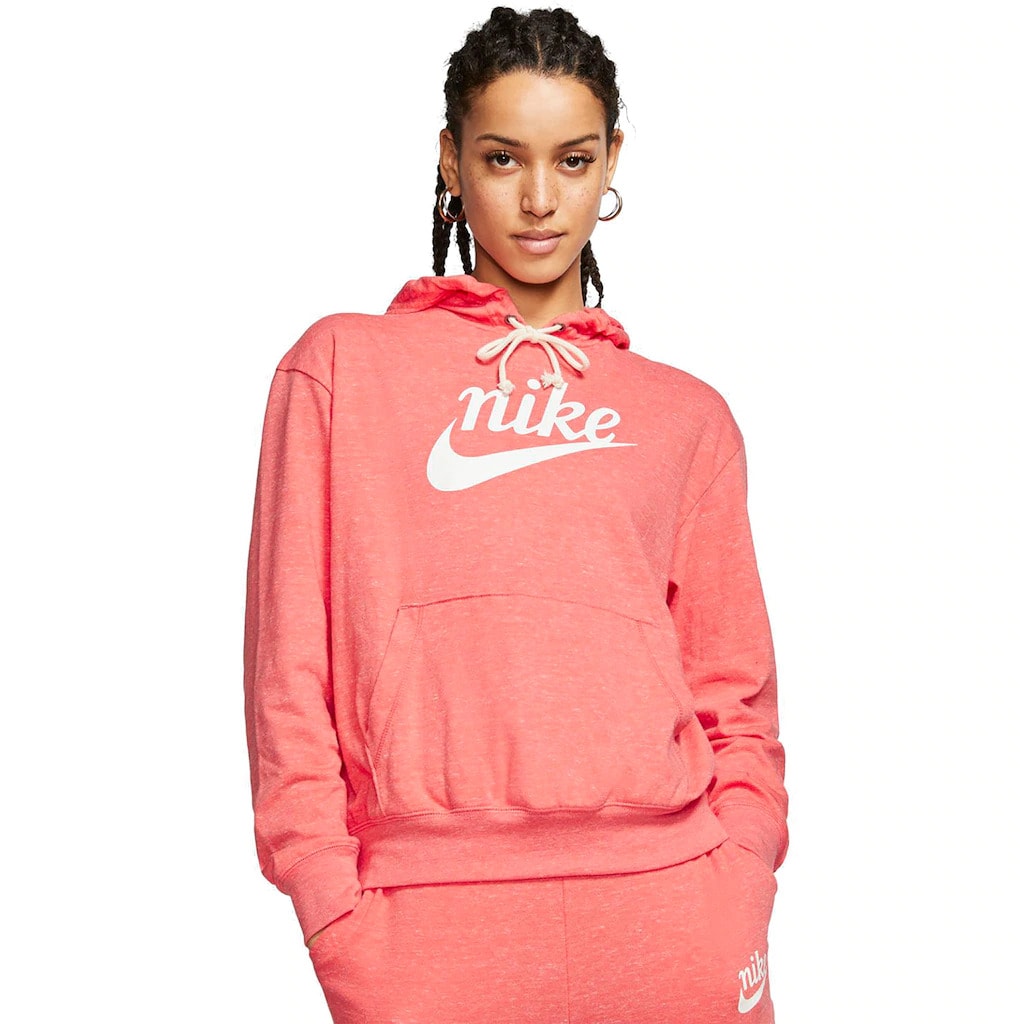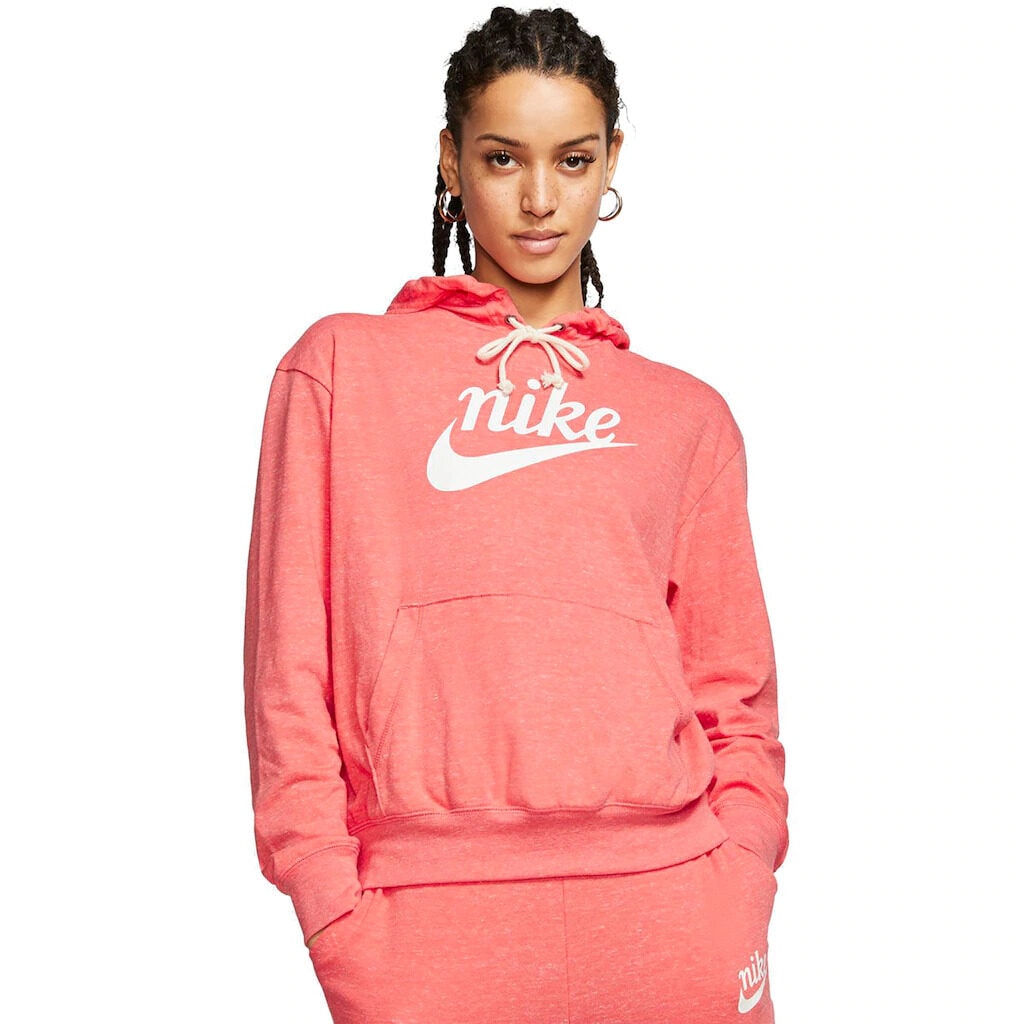 Women's Nike Sportswear Gym Vintage Hoodie
"Made from lightweight cotton and recycled polyester, this women's Nike Sportswear hoodie elevates a wardrobe staple with heritage vibes and a soft, comfortable fit. The raw edge knotted drawcord and script logo on the chest have a vintage look."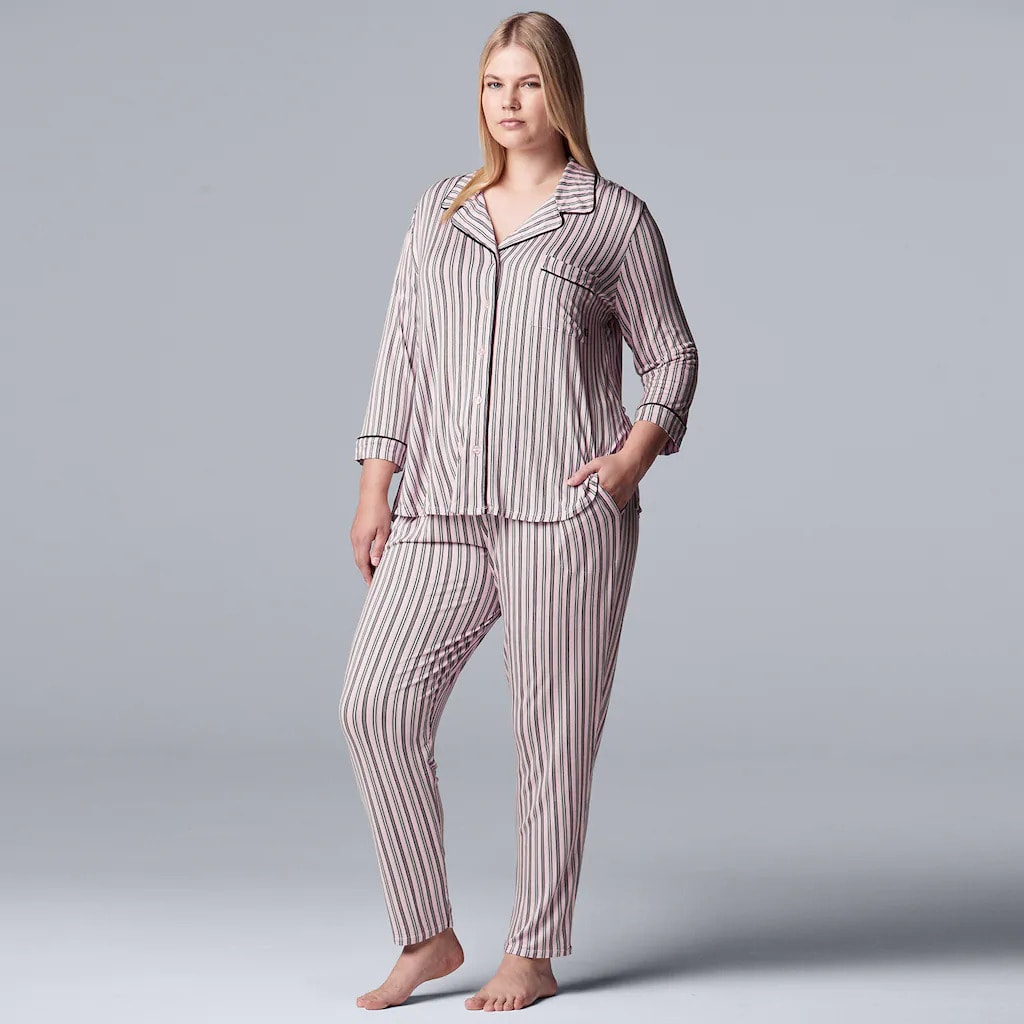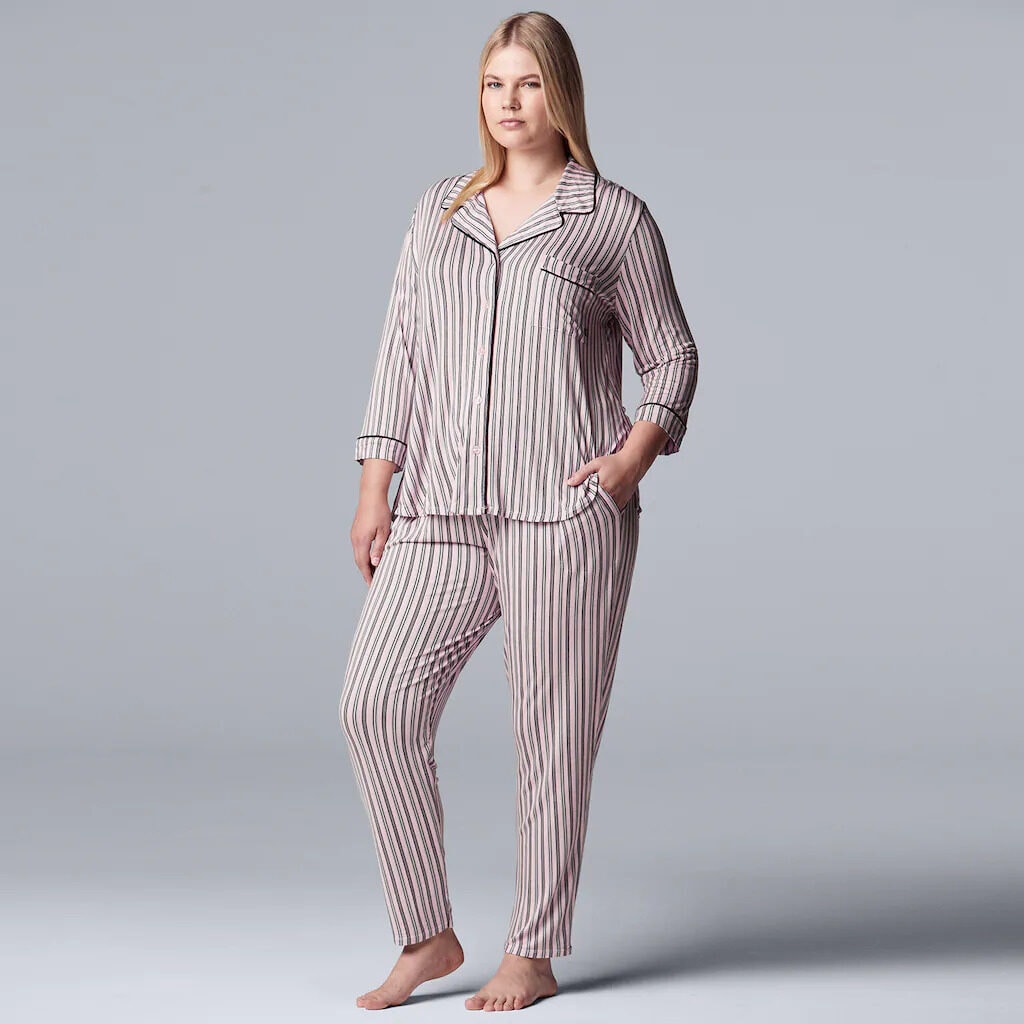 Women's Plus Size Simply Vera Vera Wang 3/4 Sleeve Notch Pajama Set
"Achieve ultimate style and comfort with this Plus Size Simply Vera Vera Wang 3/4 Sleeve Notch Pajama Set."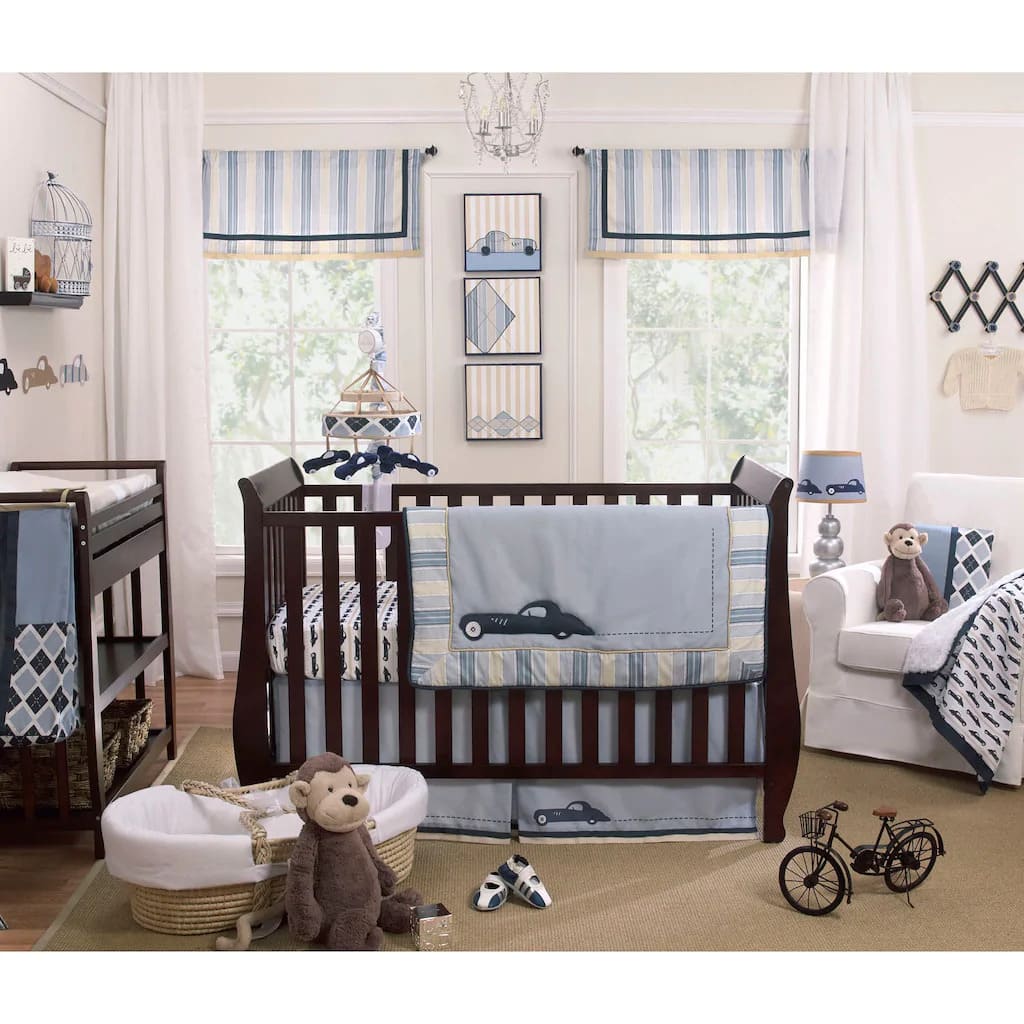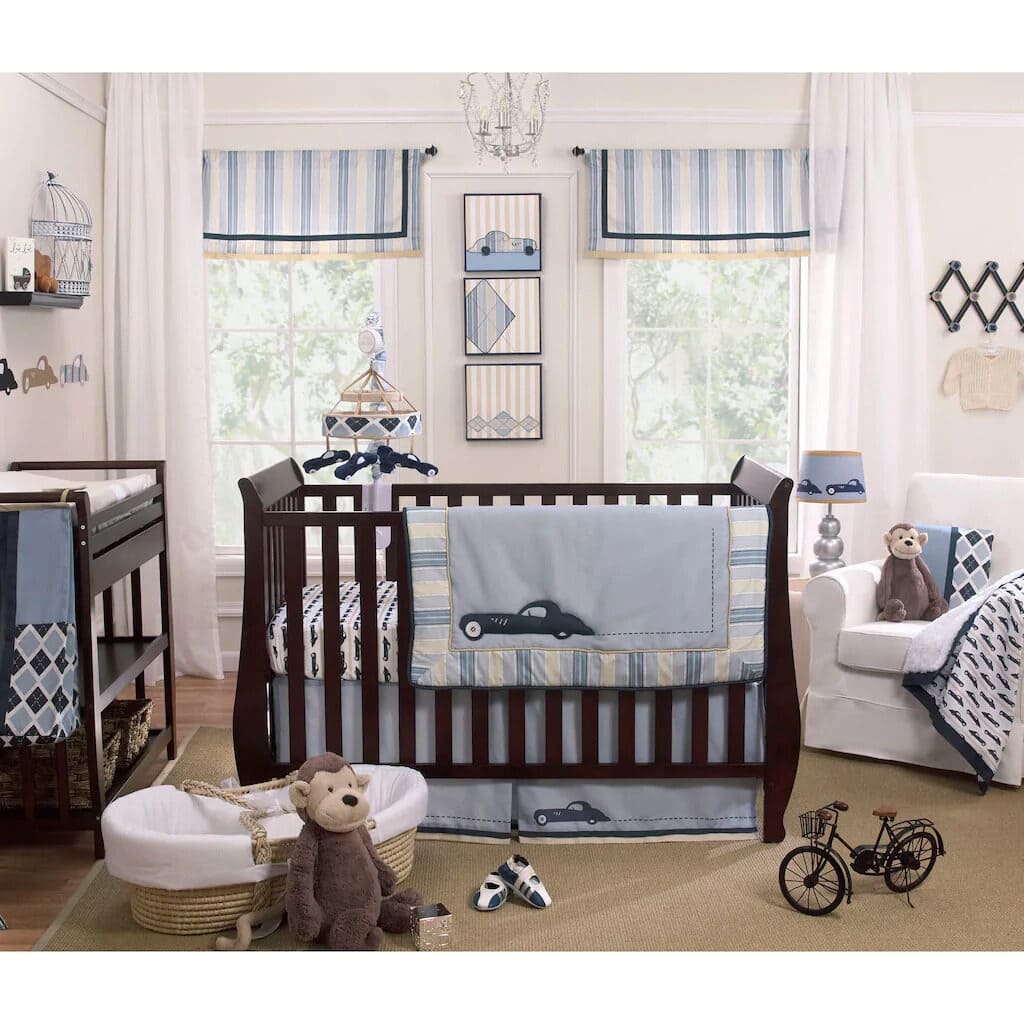 Petit Tresor Luca 4-pc. Crib Set
"Give his nursery sweet style with this boys' Petit Tresor crib set. In blue. The 4-piece set includes a quilt, 2 crib sheets & dust ruffle."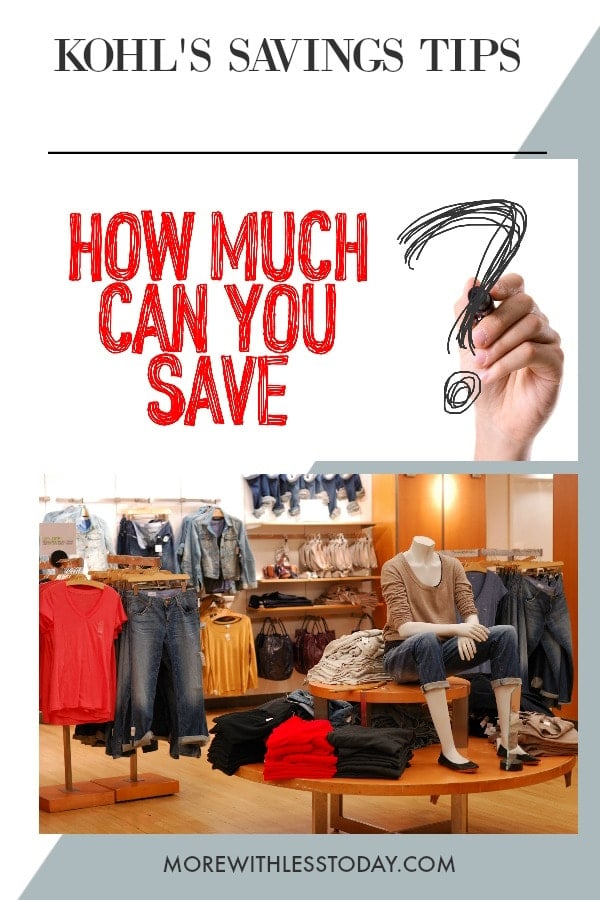 Genius Kohl's Shopping Hacks
Are you a fan of shopping at Kohl's? I am sure you have noticed that Kohl's runs constant promotions. There is no need to pay full price if you can be patient and use Kohl's coupon codes. Here are Kohl's shopping hacks, strategies, and policies to help you to save the most money shopping online and in the store.
Use the Kohl's Credit Card (and pay your balance right after you use it)
I am not an advocate of using credit cards, but if you shop with a Kohl's credit card, you can take advantage of extra promotions sent to you throughout the year. You can charge your purchases to take full advantage of the discounts, and then pay your bill right at the register with cash or a check to avoid any interest charges! When you pay at the register by cash or check, your payments will post to your account the same day. If you shop online with your Kohl's credit card, discipline yourself to pay off the balance right away so you do not offset your savings with interest charges.
All Kohl's charge customers receive additional discounts 12 times a year. Kohl's charge customers who spend over $600 a year become MVC's (Most Valued Customers) and receive 6 additional offers. You can read the fine print here and determine if this makes sense for you.
Kohl's Price Protection Policy
The next Kohl's shopping hack is to go back to the store if your product goes on sale. Kohl's has a 14-day price protection policy. If you bought the item on sale or at regular price and within two weeks (14 days) of the purchase date, the price of the item was further reduced from the final price you paid, you can get a price adjustment. You can get one adjustment per item, so if the price is reduced further after your price adjustment, you cannot get another one. You must have the original, dated sales receipt. Items bought on clearance markdown, Kohl's Cares, or BOGO (buy one get one free offers) are not eligible for further price adjustments.
Kohl's Shopping Hack – Use the Price Matching Policy
Pay attention to their competitor's prices. Kohl's will match competitors' prices at the time of purchase. Just bring a copy of the competitor's ad with the current date on it to your nearest Kohl's Department Store. (Make sure the ad includes a description of the item.) This applies to in-store prices and products only, not to Kohls.com pricing or products. The discount can be on the competitor's website but they must have a physical location too.
This hack also works online. For online purchases, call 1-866-887-8884 and have the competitor's information from their website. You can't price match during Black Friday week or BOGO offers or clearance.
Stack Your Kohl's Discount Codes Online
Don't just use one coupon code when you shop Kohl's online, use two. Yup! You can use two Kohl's discount codes online at one time when shopping on a mobile device. At the time of posting, you can stack up to four Kohl's discount codes when you are shopping from a computer which includes one sitewide percentage off coupon, one free shipping code, Kohl's Cash or dollar off/percentage off specific promotion by a department.
When stacking discount codes, the dollar off coupon will be deducted first.
Kohl's percent-off discounts cannot be combined. To use multiple codes online, enter one Kohl's coupon code at a time, and then click apply after each. You will see the current Kohl's Discount Codes at the bottom of this post.
Return Amazon Orders to Kohl's for a 25% Off storewide coupon
It is easy to return your unwanted Amazon purchase to Kohl's. Just log in to your Amazon account to see if your item is eligible to return to Kohl's. If it is, you don't even need to package it. Just show the Kohl's associate the return code Amazon will send to your email. At my local Kohl's, they have a dedicated area just for Amazon returns. Your receipt will also generate a 25% off coupon. Be sure to note the expiration date.
Kohl's Email and Mobile App Discounts
The next Kohl's shopping hack is to get a coupon just for signing up for their email newsletter. Sign up for Kohl's emails and save an extra 15% on your next purchase. You'll receive email updates about our biggest sales and clearance events, notice of exclusive free shipping offers, plus promo codes valid for online savings!
Get a 15% off coupon when you sign up for Kohl's mobile sales alerts. Text SAVE24 to KOHLS. You will get a text code good for your next purchase. Text HELP for help, STOP to cancel. One time use only.
Kohl's Senior Discount Policy
Another shopping hack is only for people of a certain age, and it is a fantastic one. Kohl's offers a senior citizen discount of 15% off every Wednesday for ages 60+. To take advantage of this special discount, you must bring their identification for age verification. The offer is available in-store only. See your local store for more details.
How To Use Kohl's Cash In Stores & Online
This is my favorite Kohl's shopping hack – use Kohl's cash every single time you shop, both online and in the sore. Yes, remember: Kohl's Cash – can be used in stores and online – and this is how to do it.
During Kohl's Cash earning promotions, for every $50 you accumulate in purchases, Kohl's will issue you a $10 "Kohl's Cash" code or voucher that can be redeemed at a specific later date on a purchase. Online buyers receive their Kohl's Cash via email, and in-store purchasers receive it at checkout. Try to combine your Kohl's cash with a sale or an online Kohl's coupon code.
The Kohl's Cash is usually valid starting the following week and often overlaps with the percent-off discounts for a few days.
To use your Kohl's cash online, go to Kohls.com and enter the 15 digit coupon number and 4 digit PIN number when you checkout and the value of your Kohl's Cash will come off your order. When redeeming online, there is a limit of 4 Kohl's Cash codes per order.
If you have expired Kohl's cash, bring it to a store. My smart readers have told me that stores will honor expired Kohl's cash for 10 days and that you can call customer service at 855-564-5705 and get your expired Kohls Cash applied to your purchase. Your mileage may vary but it is worth a try!
Yes2You Rewards
Sign up for Yes2You Rewards (free to join) and you will get a $5 reward for every 100 points with Yes@You Rewards®. Earn 1 point for every dollar you spend no matter how you pay. Be sure to give them your birthday for a special discount.
Download the FREE Kohl's App
You can save your Kohl's Cash and your Yes2You Rewards in the app. You can also save coupons and have access to a barcode scanner you can use in stores.. Connect to the Kohl's guest Wi-Fi when you are in stores and you may score additional offers.
Best Time to Shop
Check for big markdowns on the 2nd and the 4th weekends during their Night Owl and Early Bird sales events. Between 3 pm on Fridays and 1 pm on Saturday, you can often score discounts ranging from 10% – 25% off.
Mail-In Your Kohl's Rebates
Another Kohl's shopping hack is to look for a special rebate or gift card with purchase offers. They are typically offered on small appliances, other kitchen items, luggage and more, check this section of the Kohl's website to get coupons, current offers, and current mail-in rebates on popular purchases.
Kiosk Orders Ship for FREE
Orders placed from a Kohl's Kiosk or from your Kohl's app in-store will ship for free. If an item is out of stock in-store, you can search inventory and locate the size and color you need online and you can use any discount codes that qualify.
Create a Registry
If you are having a baby or getting married, create a gift registry at Kohl's to enjoy savings and special promotions.
Use all of these Kohl's shopping hacks and save money every single time you shop. I'm a huge fan of Kohl's Cash – it's so fun to save them up and then watch the total go down when I use them to buy what I need. Don't forget to pin this post and share it with your friends so they can learn how to save money at Kohl's too.
You Will Also Like:
Amazon.com Clearance and Outlet Section
10 Easy Ways to Save at Kohl's
PIN for Later: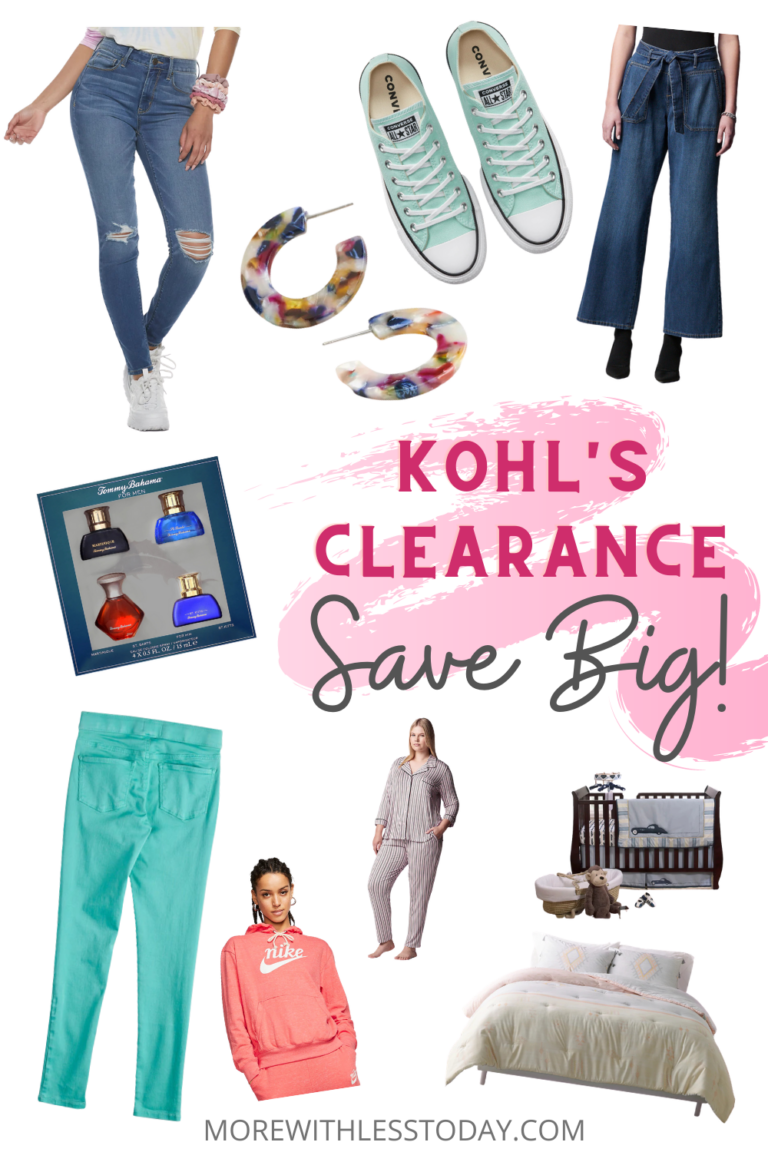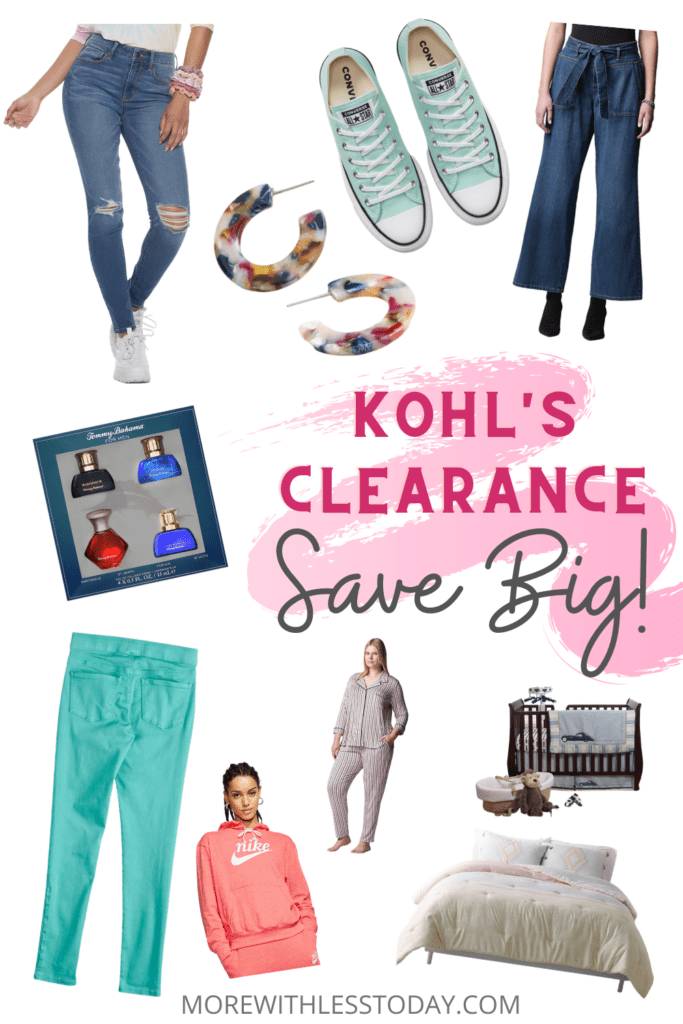 Use Kohl's Discount Codes
Find your Kohl's Discount Codes below from our friends at Savings.com: