Score great deals at the Ann Taylor LOFT Clearance Outlet! You may also get quality clothes by checking the LOFT final clothes & clearance sale tab and current offers tab.
What I've Found as a Shopper at The LOFT Clearance
As a short person, I love the petite clothing from LOFT, especially their pants. The length is good, the fabric is high-quality and the style holds up over the years. When I found LOFT petite pants on clearance in a color I don't have, that is when I stock up.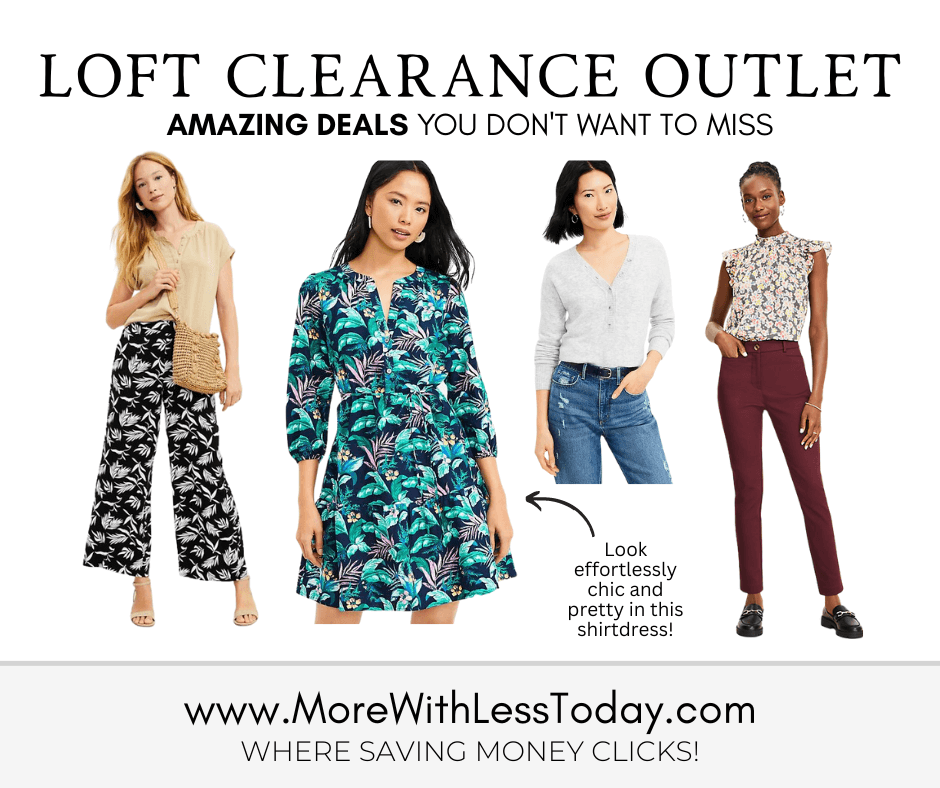 Quick Link to Final Sale and Clearance at LOFT today
I'm a big fan of LOFT! But honestly, I hate paying the full price when I shop. So now, I'm sharing my favorite LOFT hacks to stretch your dollars.
Before I go further, I'd like for you to know that we have an affiliate relationship with LOFT. This means we may earn a small referral commission at no extra cost to you if you shop using our links.
As I'm sure you know, clearance items are often low in stock and sometimes sizes are limited. Be on the lookout for those that say "final sale-not returnable". These clothes' prices typically end in .88. There is nothing wrong with these clothes, but know that some are marked not returnable.
LOFT Clearance Outlet Sales
I spotted great deals on the LOFT's Clearance page. Don't miss your chance to upgrade your wardrobe with these clearance sale essentials that won't break the bank! You will see the called Red Final Sale and Yellow Final Sale but in all cases, you can really save here.
Final Sale & Clearance Clothes at LOFT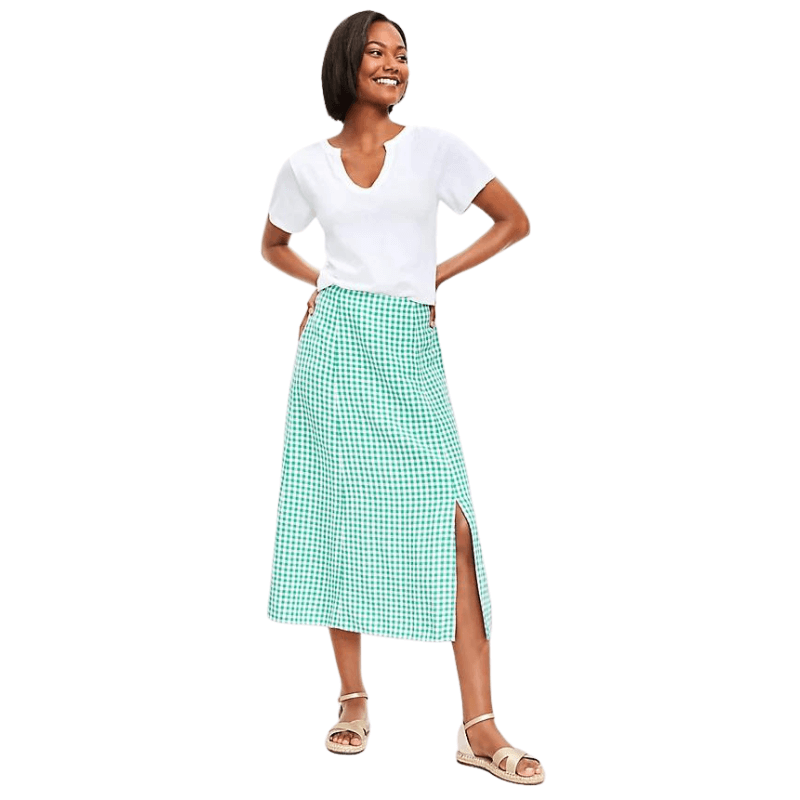 This midi skirt is size inclusive and will transition well into fall. I love green and white checks paired with navy blue.
Blouse and Women's Tops on Sale & Clearance at LOFT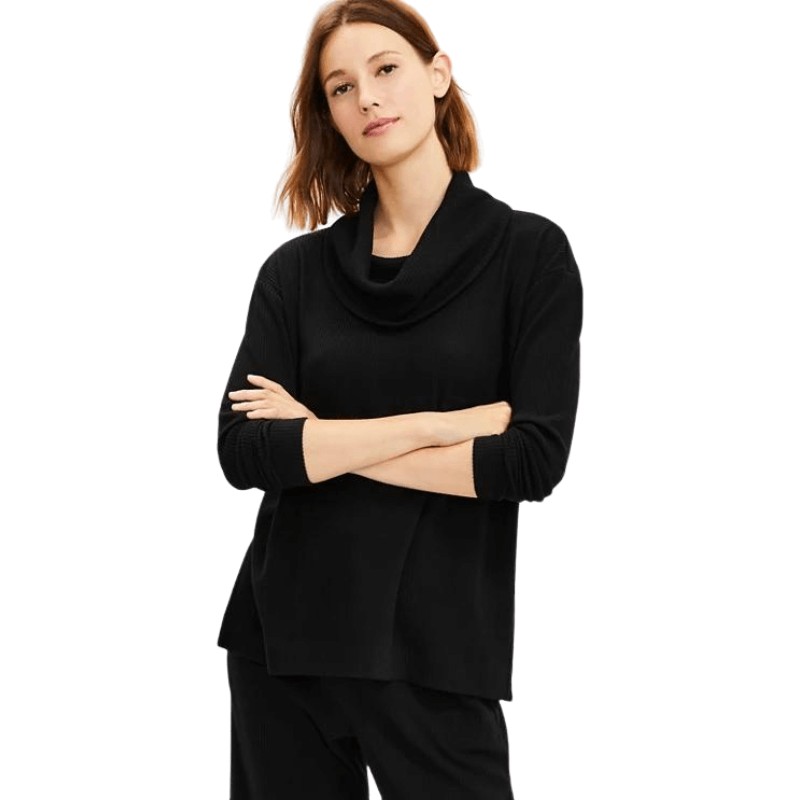 You'll love the soft knit fabric of this Brushed Rib Cowl Neck Top! It's perfect to wear in the office or at home during cold weather.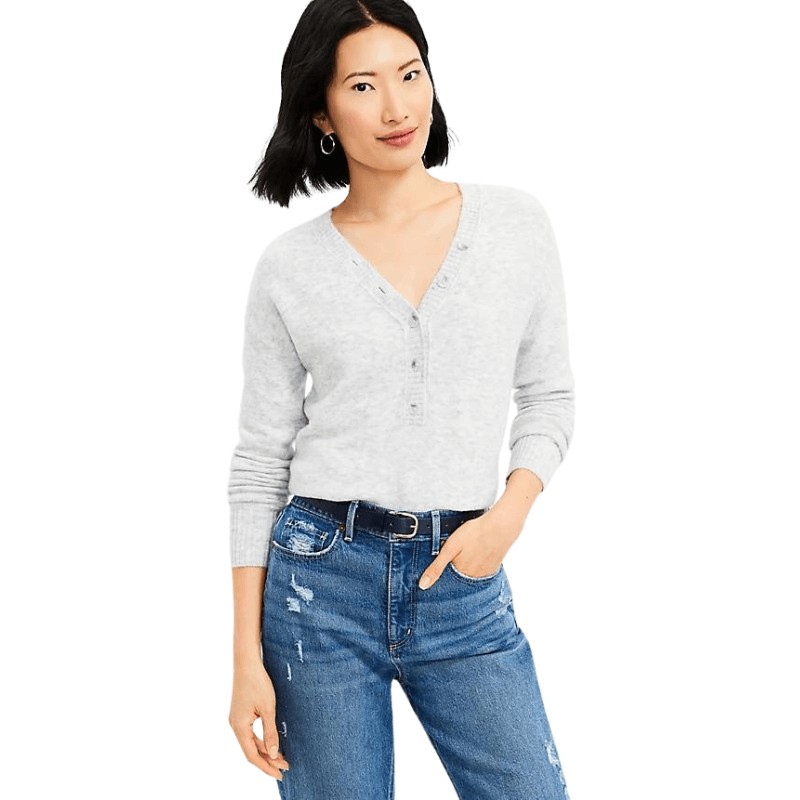 This Cozy Henley Sweater is perfect for your easy-going look! It's made with soft knit fabric and perfectly slouched sleeves.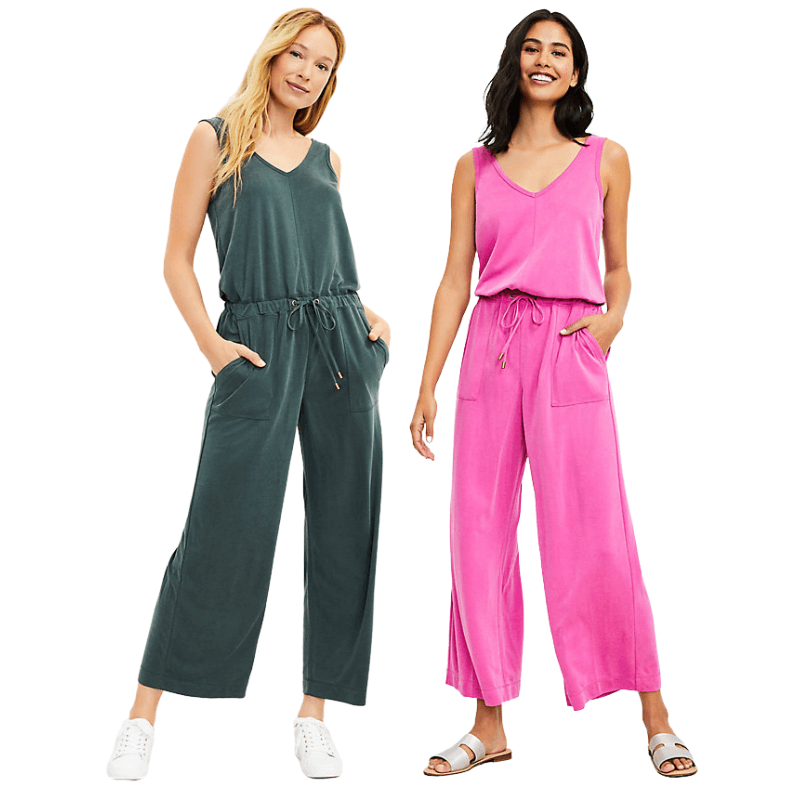 You'll love this bouncy and stretchy Sandwashed Sleeveless Jumpsuit from Lou & Grey. The fabric used is lightweight that will feel super silky and airy on the skin. Pair with your favorite sandals or sneakers and it's the perfect outfit for a lunch out with friends! Pick between two colors: Balsam Green and Imperial Rose.
Sizes available: XS, L, XL (Balsam Green) / XS-XL (Imperial Rose)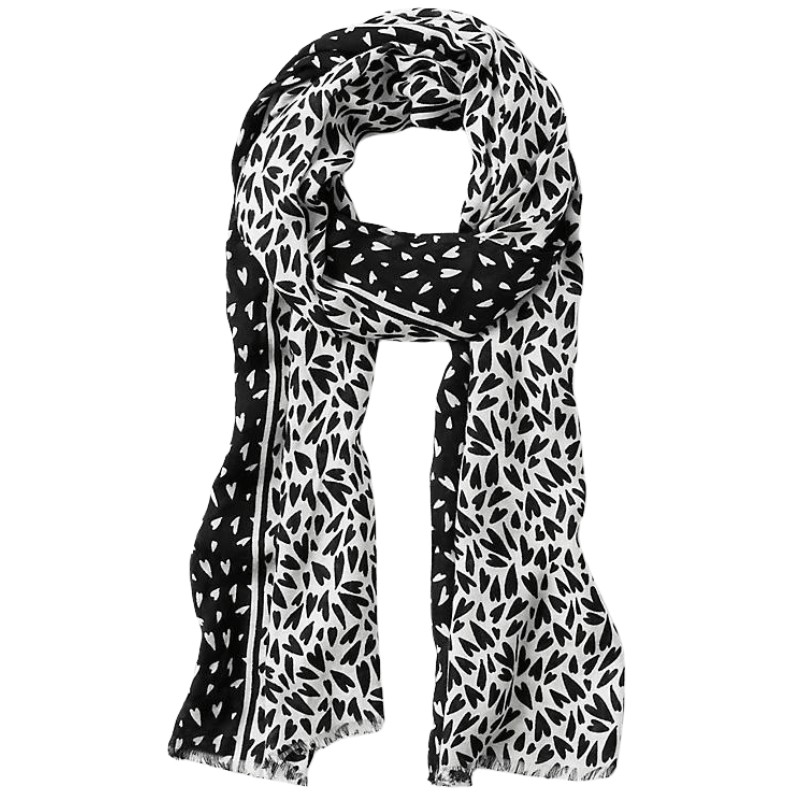 Do you like adding scarves to your outfits during this season? Add this Heart Scarf to your scarf collection. It has a sweet and femme heart print that adds a layer of style to your outfit. 28″ x 76."
LOFT Clearance Dresses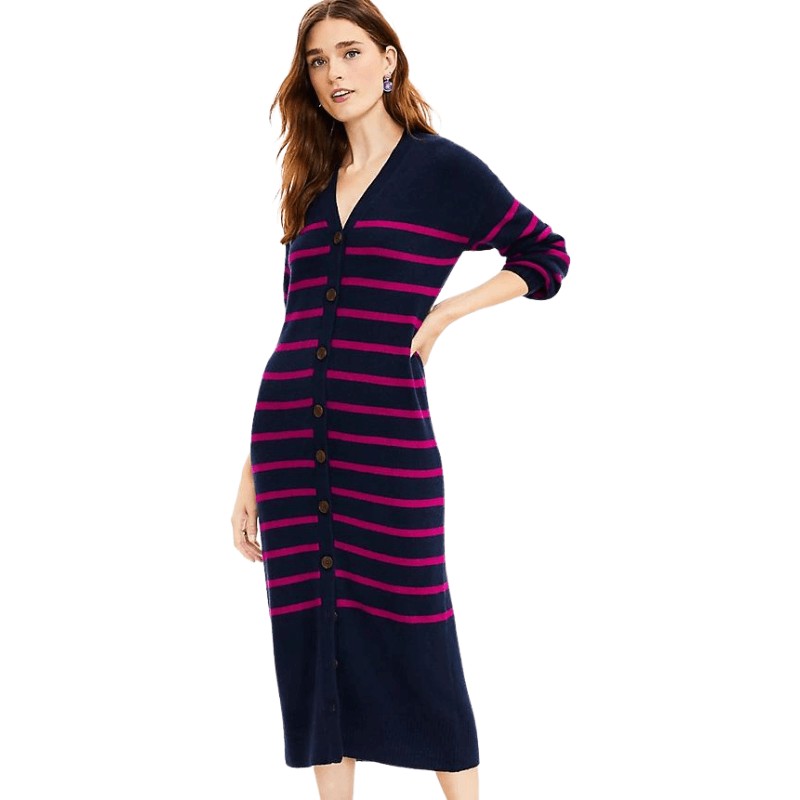 Achieve that chic and polished look in this cozy cardigan midi dress! Add it to your everyday looks to make it even comfier. Available in sizes XS-XL.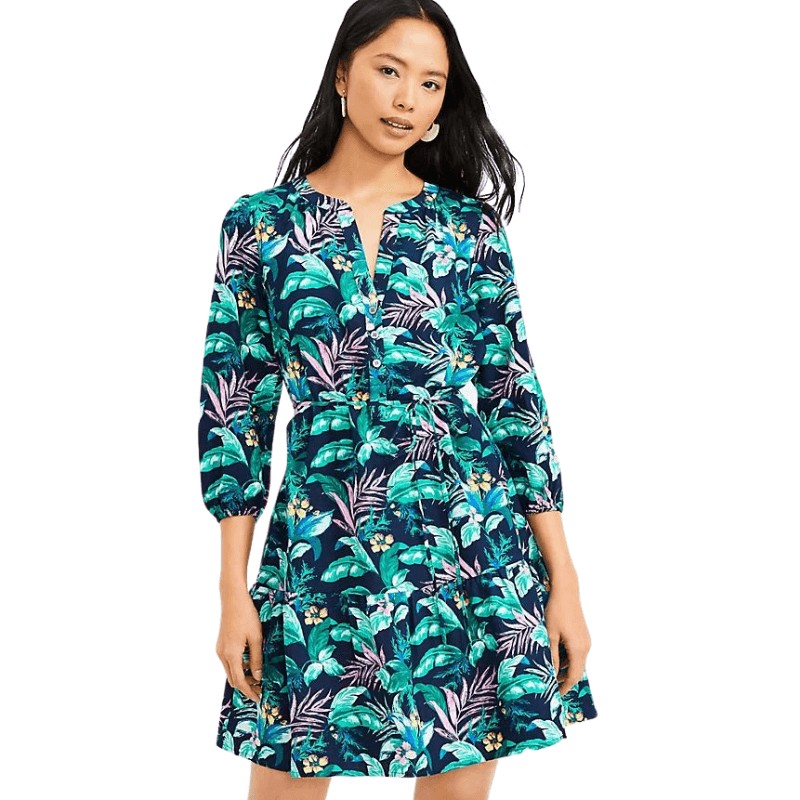 Look effortlessly chic and pretty in this Tall Palm Shirt dress. It's loose and swingy with removable waist ties.
LOFT Clearance Pants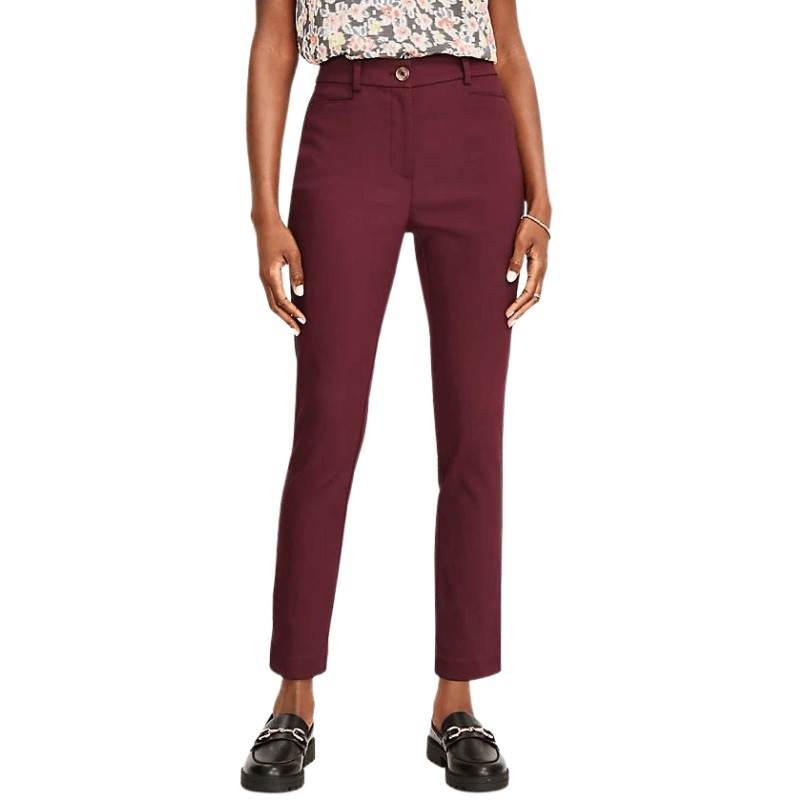 Get that good skinny fit with these extra-stretch Sutton Skinny Pants. You'll look polished whether at work, a night out, or anywhere in between. These pants are size-inclusive and also come in five fun colors for you to choose from!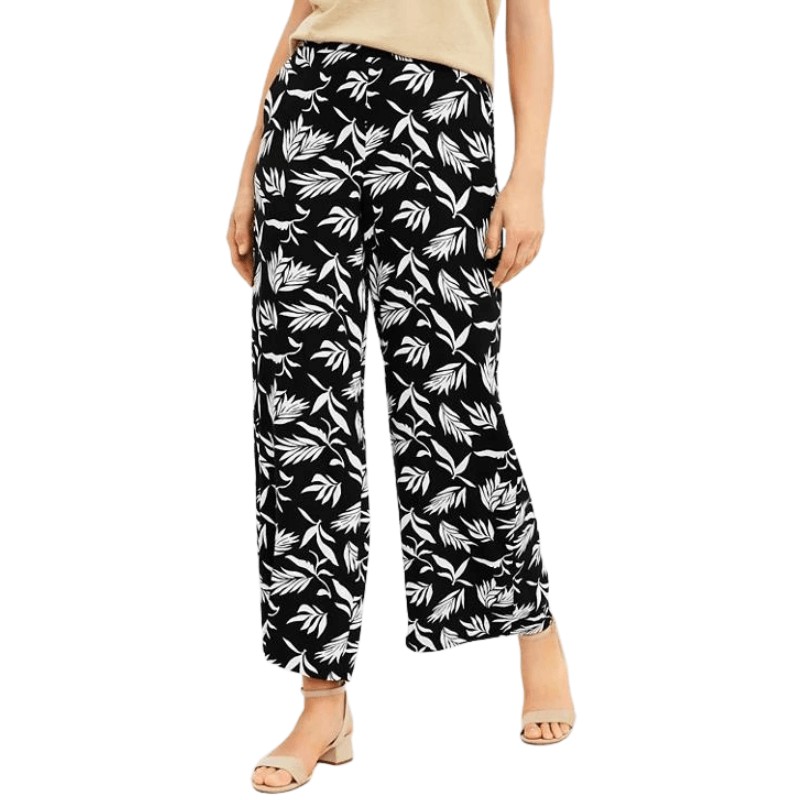 These Wide Leg Crop Pants have a flattering fit and a comfortable elasticized waistband. You'll look effortless and cool paired with your favorite plain shirt or blouse.
Difference between Ann Taylor and Ann Taylor LOFT
Ascena Retail Group, Inc. is the parent company and operator of Ann Taylor and Loft stores. They operate as two separate stores. You cannot return LOFT items to Ann Taylor stores and it applies as well when you have Ann Taylor items. Items there will not be accepted at LOFT stores. You also cannot use their promo codes and store coupons at the other store.
If you have an Ann Taylor credit card, you can use it at LOFT. According to their website,
"You will earn 5 Perfect Rewards points for every dollar spent at Ann Taylor, Ann Taylor Factory Store, anntaylor.com, LOFT, LOFT Outlet, LOFT.com, Lou & Grey, and louandgrey.com."
Ann Taylor is a brand known for its professional and polished work clothes for women. On the other hand, LOFT is known more for business casual clothing.
The LOFT Factory Outlet (sometimes called the LOFT Factory Store) is a great place to find deep discounts if you are a fan of LOFT. Their LOFT Clearance Outlet Plus Size fashion also has the best price drops on gorgeous pieces!
There are 139 LOFT Outlet stores in America. When I researched, there are two LOFT Outlet stores near me in Southern California. You can simply place your zip code in the LOFT Store Finder to find the stores that are closest to you.
Find an Ann Taylor Factory Outlet Store
If you are also a fan of Ann Taylor Factory, there are 98 stores across the US. To find one near you, simply enter your location in the Ann Taylor Loft store locator.
LOFT Clearance Outlet Online
The LOFT Factory Outlet website is a great place to find deep discounts if you are a fan of LOFT. Don't miss these savings on their LOFT Outlet online! You can also check LOFT Outlet Plus Size sales on the site.
Prices on already affordable styles, including tops & blouses, dresses, shirts, pants, jackets, and more are lower than ever. Get select items at a sale price! Fill your closet with clearance wardrobe essentials that won't break the bank!
Where to Find LOFT Coupons
Check the page on the LOFT website for current coupons. Get up to a 40% discount at the time of posting. Terms & Conditions may apply.
Wait for a Sale
LOFT has frequent sales. I wait for the 40% off ones. Don't pay full price! You will almost always find a good sale around a holiday, especially a holiday weekend.
LOFT Loyalty Program
LOFT has an all-new loyalty program called the styleRewards Loyalty Program. It will launch on the 3rd of October. Every single one of their All Rewards members will automatically become styleRewards members once the change happens. Like always, it is free to join!
This rewards program is connected to other partners like Ann Taylor and Lou & Grey. You will get bonus points, birthday rewards, and early information about special sales once you join. You will also receive more perks if you choose to get their store credit card.
I'm not an advocate of using store credit cards, but if you spend a lot of money at LOFT, you may want to check their perks for cardholders.
As far as I know, if you are a LOFT cardholder, you may need to download the LOFT app to manage your credit card account. With the app, you can check out items using your digital card, track and redeem your rewards.
15% off every first Tuesday of the month

$15 off one purchase during your birthday month

5 reward points for every $1 spent in Ann Inc.

$20 rewards card for every 2,000 points earned

early peek at new arrivals (often with a 40% off promotion)
The LOVELOFT MasterCard also gives you two points on gas or grocery purchases and one point everywhere MasterCard is accepted. Get current information and compare the two rewards programs here on the website.
The "LOFT Loves Teachers" Program
Be the best-dressed teacher with the "LOFT Loves Teachers" Program! This will take an extra 15% off every time you make an in-store purchase. To get this, you need to show your valid teacher's ID in-store.
LOFT Cash Cards
Keep an eye out for LOFT Cash Card promotions which happen a few times a year. You will get a $25 LOFT Cash Card for every $50 you spend. These cards are good for future purchases of $50 or more during two weeks soon after. If you can combine these with a store promotion like 30% or 40% off, you can score some deals.
Price Adjustment Policy at LOFT
"One price adjustment on full-priced merchandise may be made within 7 days from the original date of purchase. Returns without an original receipt will be credited for the item's current selling price on the date of the return, in the form of a merchandise credit."
In-Store Free Shipping Option
If you can't find the item you're looking for, or if the store doesn't have your size, you can have an associate order it for you and have it shipped to your home for free and still use any in-store discounts to your purchase.
Additional Ways to Buy LOFT at a Discount
ThredUp is an online consignment store. You can find new tags (NWT) from Loft with prices as low as $5. I recommend checking the site to see what they have. Use Ann Taylor LOFT in the search bar. Today I saw 152 of their items on sale. You get free shipping when you spend $79.
Another very popular site for consignment items. Use code LORIFELIX to get $10 free.
Buy a Discounted Gift Card
Here is a popular site to find discounted LOFT gift cards.
Raise – get $5 when you make your first purchase and use the promo code: LORIJF7076
If you have questions about your LOFT Order, CALL OR TEXT:
U.S. Toll-Free
1.833.845.4439
US Customers only.
Text Message & Data Rates apply.
email: clientservices@LOFToutlet.com
Please allow up to 24 hours to receive a response to your email.
I like the live chat option and have found that to be very helpful.
If you liked this LOFT Clearance Outlet post, you will also like:
PIN for Later