Get great deals on fashionable items at Chico's Clearance sale! They have quality and affordable clothes for all women, especially those ages 40+. Chico's clothing is perfect for vacation too. I find them to be flattering, and they make it so easy to feel polished without a lot of fuss.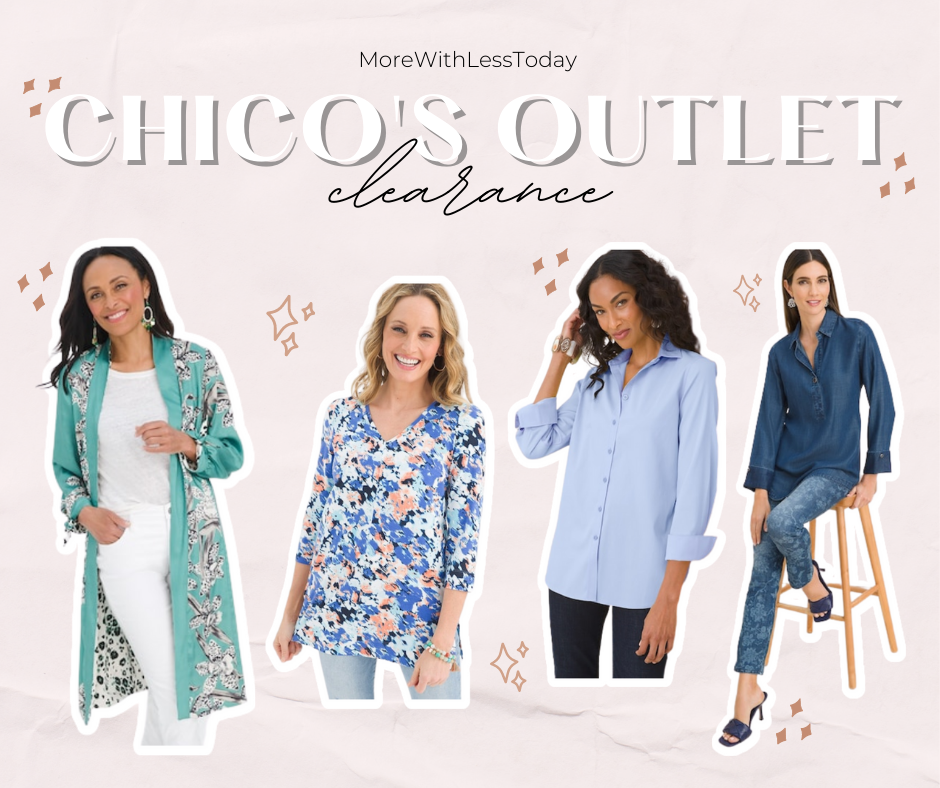 Chico's offers nice quality clothing in a wide variety of the latest styles and is size inclusive. They started at a small Sanibel Island gallery in Florida and have created bold and inspired collections ever since. We have affiliate relationships which means we may earn a small referral commission at no additional cost to you if you shop Chico's styles using our links.
We've Been Looking into Different Ways to Save Money at Chico's
Chico's Sale Clothes
Looking for Chico's clothes on sale? I love the select styles available on the Chico's Sale page. They have clothes available for sizes XS-XXL and they also have Chico's petite styles for shorter girls like me and for tall girls too. Chico's online sale items are size inclusive.
Final Sale
The clothes found on the Final Sale page are sold "as is". This means you won't be able to return or exchange it in case of situations like getting the wrong size or color. Also note that the purchase of Chico's Final Sale items cannot be reduced using additional discounts or offers, but you can for occasional special offers. Often, you will find clothes in this section marked "limited time offer."
What is Chico's Off The Rack?
Chico's Off The Rack is a specialty retailer offering original Chico's Outlet fashions at great prices. We found a sale tab for Chico's Off The Rack where you will find the best deals. Take note if there are Chico's Off The Rack final sale notations on an item before you finalize your purchase.
Where Do I Find the Closest Chico's Outlet Store Near Me?
Use the store finder to locate Chico's Outlet stores sales so you can shop in person. Chico's outlet sales are my favorite way to save. If you have your eye on a current piece that is just too pricey, keep your eye on Chico's warehouse sale prices. I found a Chico's $19.99 sale for a dress I wanted!
What is Chico's Black Label?
Chico's Black Label clothing features elevated designer clothing. These key pieces will elevate your wardrobe and provide timeless fashion for years to come. Think of them as investment pieces. You can still find Chico's Black Label Sale items here.
My Top Picks of the Month from Chico's Clearance
Look your best with my fabulous finds with these fab finds from Chico's Clearance Sale!
"As comfortable as your favorite tee in our refined jersey fabric that's a bit more polished, this floral-print center-seam tunic goes from casual to career with ease. Made from super-soft Pima cotton-blend fabric, you'll love the feel and the flattering tunic fit, just right with jeans and jeggings, pants and leggings."
Sizes available: XS – XL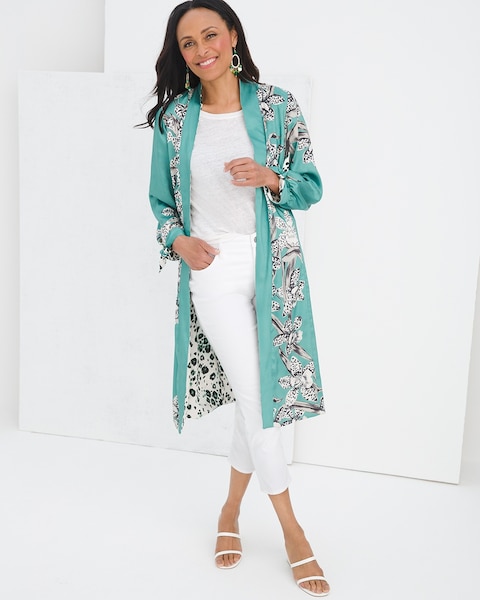 "Two fashion-forward looks, one amazing jacket. Our reversible duster jacket gives you the option of wearing a fabulous floral or an updated animal print. Either way, you'll love the details we've put into this chic style: tie cuffs for a perfect fit and side pockets on both print sides. Pair the duster with our matching reversible tank to mix and match the patterns for four great looks."
Sizes available: S – XL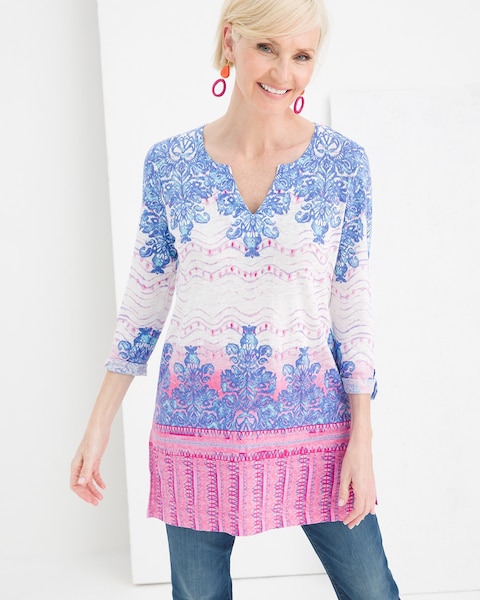 "The Filigree Linen Tunic puts a modern spin on a classic pattern. The blue and pink color combinations on this tunic make it a must-have for your spring wardrobe. If you're all about making the old new again, try this notch neck tunic with jeans."
Sizes available: XS – L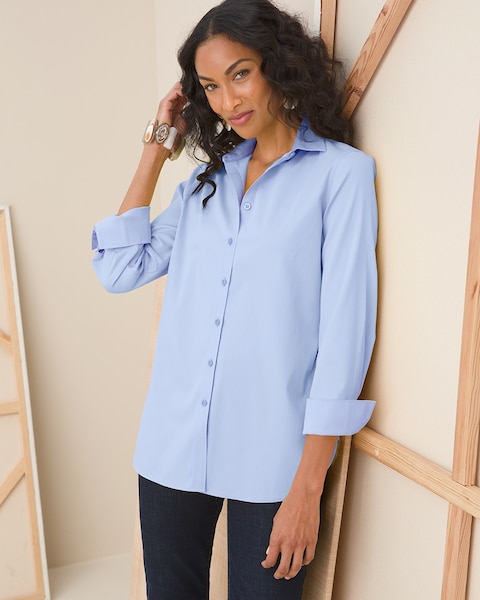 "It's no wonder our No Iron stretch shirt is a customer favorite. Made from a cotton-blend fabric with stretch, it moves with you for all-day comfort and stays fresh-looking with its No Iron ease. Now in a 3/4-length sleeve style, it's perfect in any season—on its own or as a base layer under a jacket or sweater."
Sizes available: XS – XXL
"Add flower power to your denim style with these So Slimming® girlfriend ankle jeans. The classic 5-pocket styling is shaped by built-in So Slimming® Hidden Fit technology that slims and trims your silhouette for a flattering look from every angle. You'll love these jeans year-round because the ankle-length works beautifully with all your favorite shoes, boots, and sandals, just right with a tank or tee in warm weather, topped by a denim jacket on cool days."
Sizes available: XS – XXL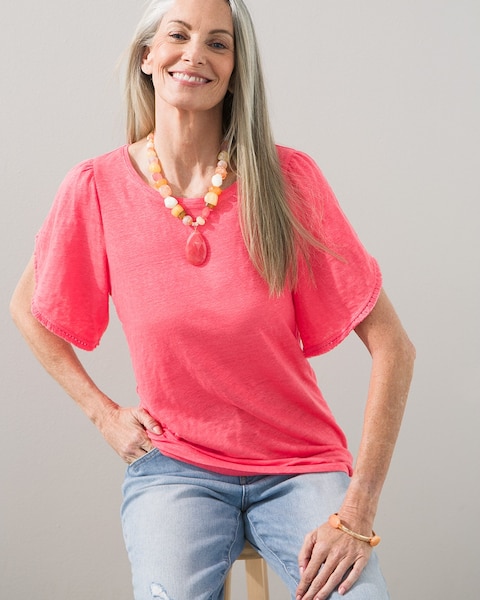 "Summer fashion calls for a bit of whimsy, like our Linen Flutter Sleeve Tee. This linen top features delicate elbow-length flutter sleeves that feel fun and look lovely. Paired with pull-on denim shorts or capris, this scoop neck linen top is a good option for a family gathering."
Sizes available: XS – XXL
"Give them something to talk about in our Easy Chic Trimmed Jacket. The cuff-slits show off the elegant pattern lining of this zip-front jacket. Be ready for the jetway or the runway when you couple this jacket with the Easy Chic Soft Pants."
Sizes available: XS – XXL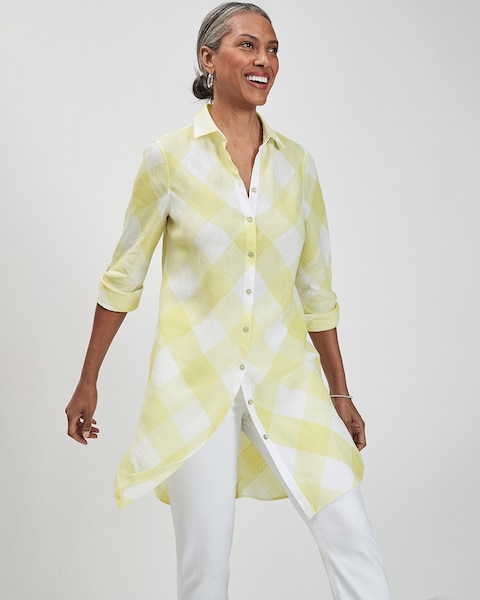 "Reach for our Gingham Maxi Shirt on a casual spring afternoon. This three-quarter sleeve shirt dress is made of No Iron linen fabric. Lightweight and easygoing, you'll love pairing it with gold sandals when you step outside to get some sun."
Sizes available: XS – XL
Understanding Chico's Sizing
You can sort by size to make finding Chico's sales today easier.
000/00 = XS 0/2
0 = S 4/6
1 = M 8/10
2 = L 12/14
3 = XL 16/18
4 = XXL 20/22
Find Chico's Online Sales Today
Chico's women's clothing sale items are perfect for filling in gaps in your wardrobe. Find packable vacation clothes and make great gifts too. Don't forget to check out their accessories.
This page will show you Chico's Flash Sales, markdowns and special offers.
Chico's Black Friday Sale
The deals for Chico's Black Friday Sale 2022 have not yet been released but based on last year, the deals started on Thanksgiving Day and shoppers got 25% off their entire purchase plus there was a page of doorbuster deals starting at $25. These offers were not available for Chico's Outlets or Chico's Off The Rack stores.
Stay tuned as I will be covering Chico's Black Friday 2022 deals just as soon as they are available.
Where to Find Used Chico's Clothing for Sale
I am a fan of Poshmark. Here is a link to see all of the beautiful gently worn clothes you can score here.
Give it a try! If you sign up and use my code, you get $10 and I get a bonus too after you make your first purchase. Use code LORIFELIX to get $10 free.
Chico's email sign-up and in-app discounts
If you just downloaded the Chico's® app for the first time, you will get 10% off your next purchase. The coupon will be sent to your registered email address within 48 hours. It will be valid at U.S. Chico's outlet stores and online.
Do you want to get 20% off your next purchase and get coupon codes? You should join Chico's email list! Signing up makes you a member of their Passport Program. The Passport Program will help you save 5% and receive free standard shipping whenever you shop online. The discounts on the total purchase price will be applied during the checkout process. (Note: Orders from chicosofftherack.com doesn't have this benefit.)
Chico's Rewards+
Planning to shop at Chico's Clearance? Join Chico's Rewards+ Program to score great deals! You can get a birthday reward, receive points on every spend, insider access, free shipping, receipt-free returns and more! There are four tiers to Chico's Rewards+ Program: Daring, Magnetic, Fierce, and Phenomenal. This program is open to U.S. residents only. To read more about the Rewards+ Program, click here.
For Passport Program members:
"Our Chico's Passport® Program was discontinued in June of 2022 and replaced by our NEW Chico's Rewards+™ Loyalty Program. But GREAT news! If you were an active Chico's Passport Member (e.g. you shopped with us using your Chico's Passport membership at least once in the 36 months prior to the date the Chico's Passport Program was discontinued) and have a U.S. address, you are eligible to maintain your Founders 5% Benefits as a Chico's Rewards+ Member."
Return Policy
For an event of a return, note that Final Sale clothes are not eligible to return items because they are sold "as is".
For more details on Chico's Return Policy:
"Merchandise returns and exchanges will be accepted (excluding "final sale" items and gift boxes) within 60 days of the date of purchase. Returns must be accompanied by an original or gift receipt, or date and amount of purchase must be validated in our system. Customer identification may be required. The refunds will be made in the original form of payment, except that merchandise credit may be given for gift receipt returns. If your original purchase was made by check, you may choose to receive a merchandise card, or a check will be mailed within 30 days of return.
Merchandise must be in its original condition, unworn and unwashed, or merchandise must be defective. The Merchandise purchased in an outlet store must be returned to an outlet. Your purchases must be returned in the country of original purchase. We are unable to accept the return of product purchased online via BorderFree. All shipping and handling fees are non-refundable."
Missing Items and Further Inquiries
When you received your order and an item is missing, call their Customer Service at 1.888.855.4986 for further assistance.
For other inquiries, this is how you can reach Chico's Customer Service:
Phone: 1.888.855.4986 (TDD: 1.888.550.5559).
Email: customerservice@chicos.com
International: 1+ 888.855.4986, internationalorders@chicos.com
Enjoyed Chico's Clearance? You might also like this:
Macy's Clearance Outlet and Closeout Deals
PIN for later: