Don't you love how this Firecracker Cake turned out? If the county fair was open, I would enter the baking contest! You can make a Firecracker Cake too. Surprise and delight your family and friends for Independence Day.
I first saw this beautiful cake on the Betty Crocker website. I think ours turned out just as nice in my humble opinion!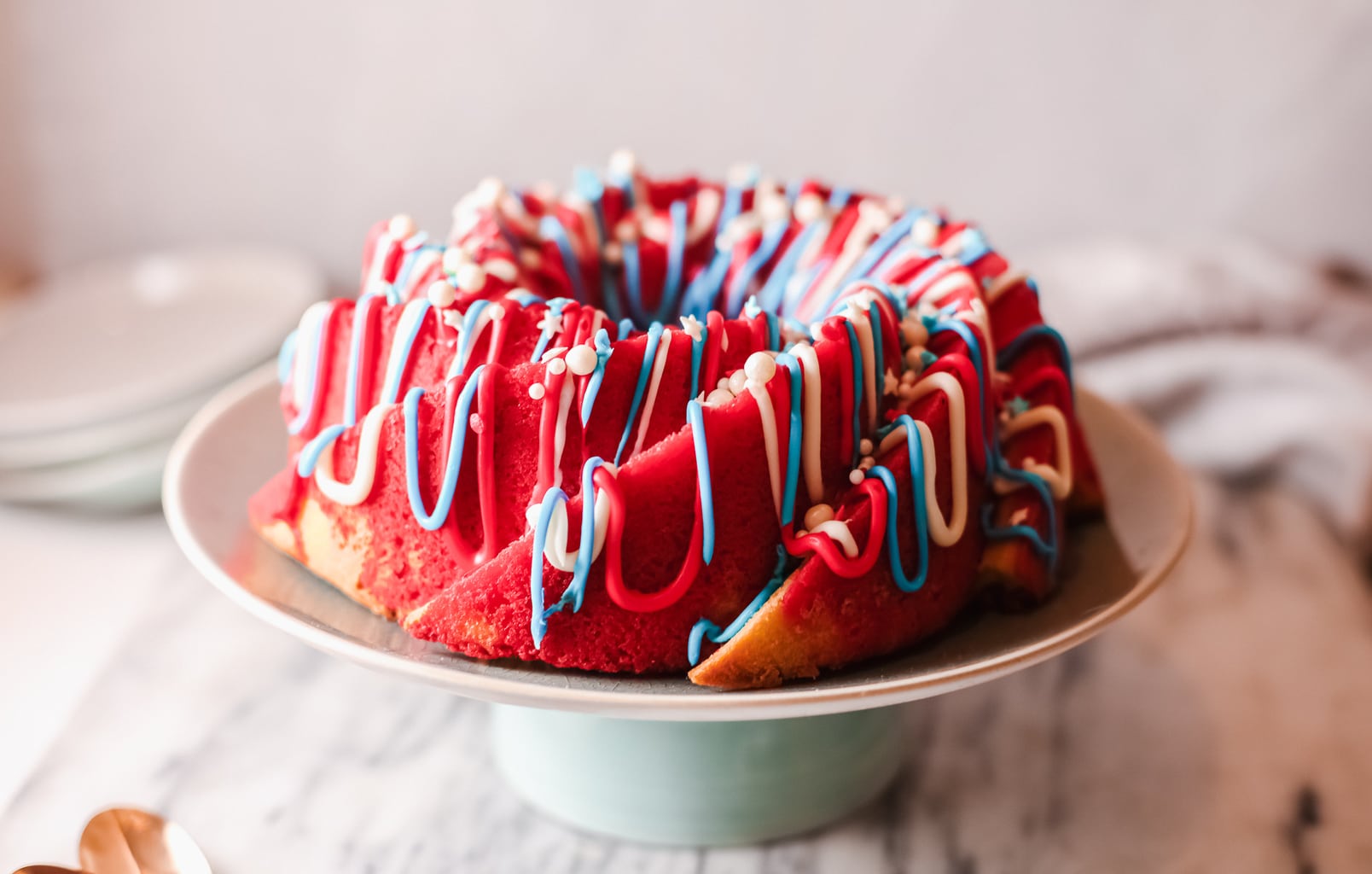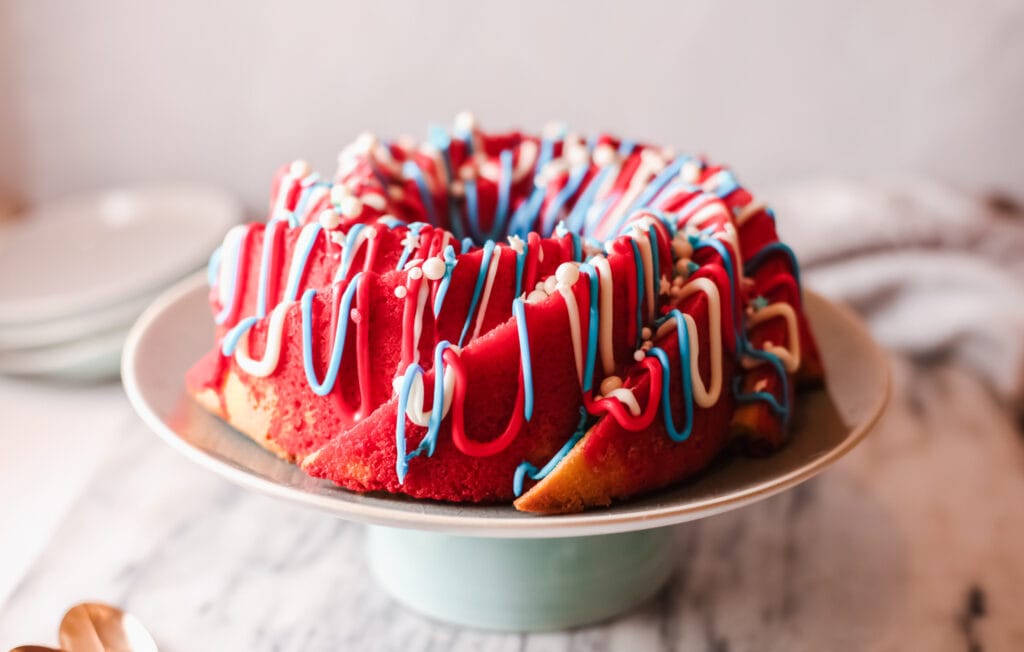 The effect is created by drizzling the glaze down the sides of the Firecracker Cake. Isn't it so pretty?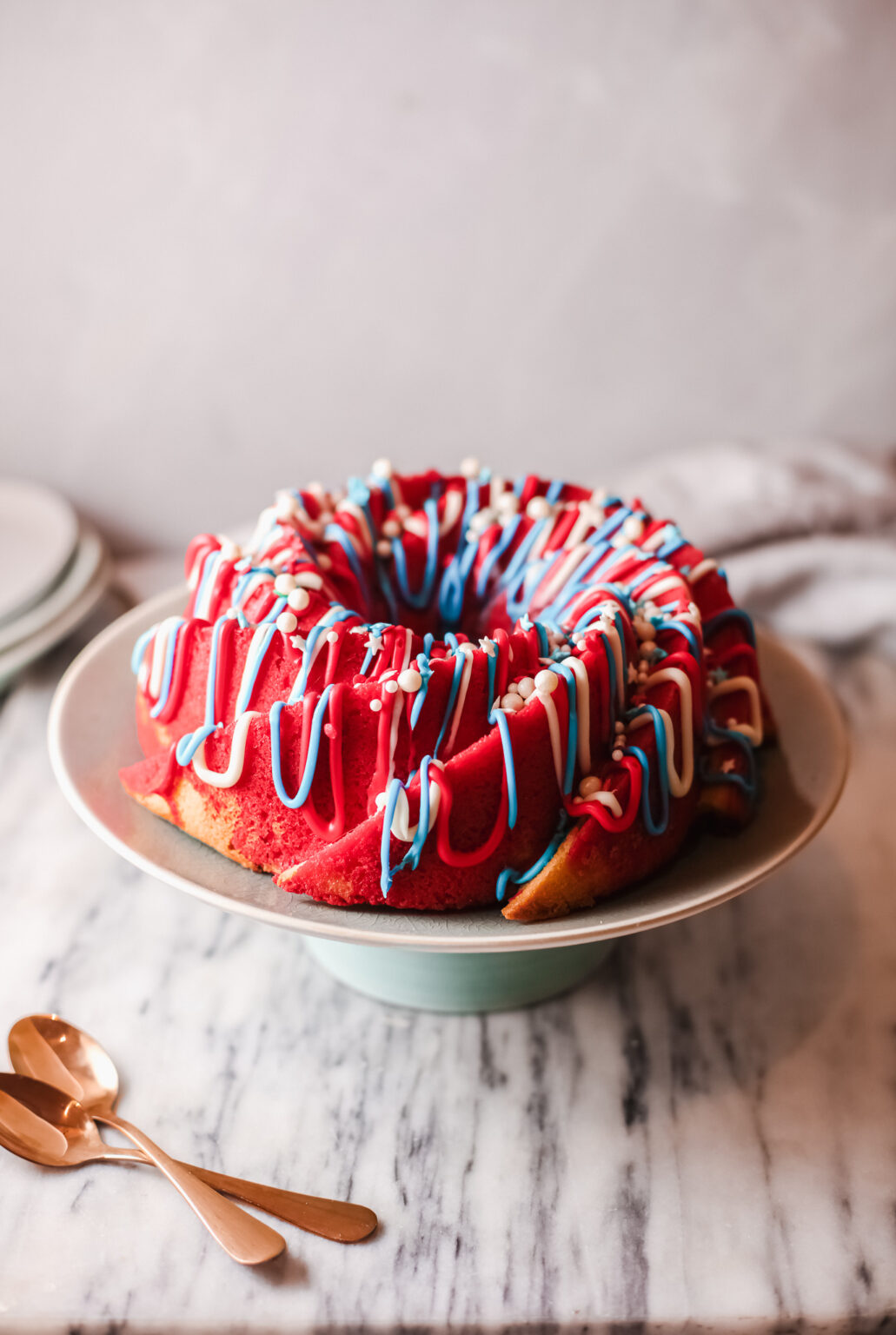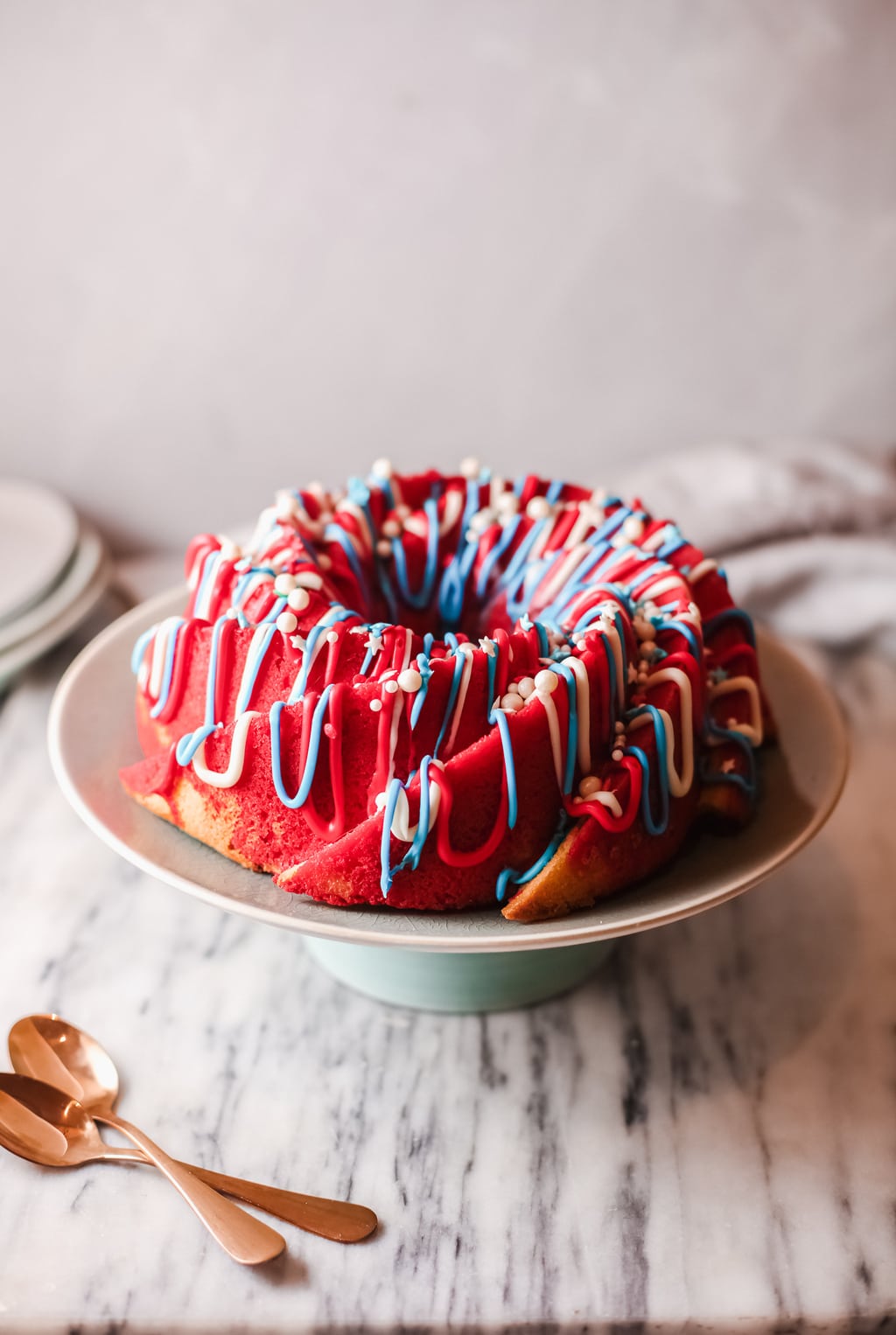 Ingredients:
1 1/2 cup butter
1 1/2 cup sugar
6 Eggs
3 Tsp baking powder
2 3/4 cup flour
1 Tbsp vanilla extract
1/2 cup milk
2 Tsp blue food coloring
2 Tsp red food coloring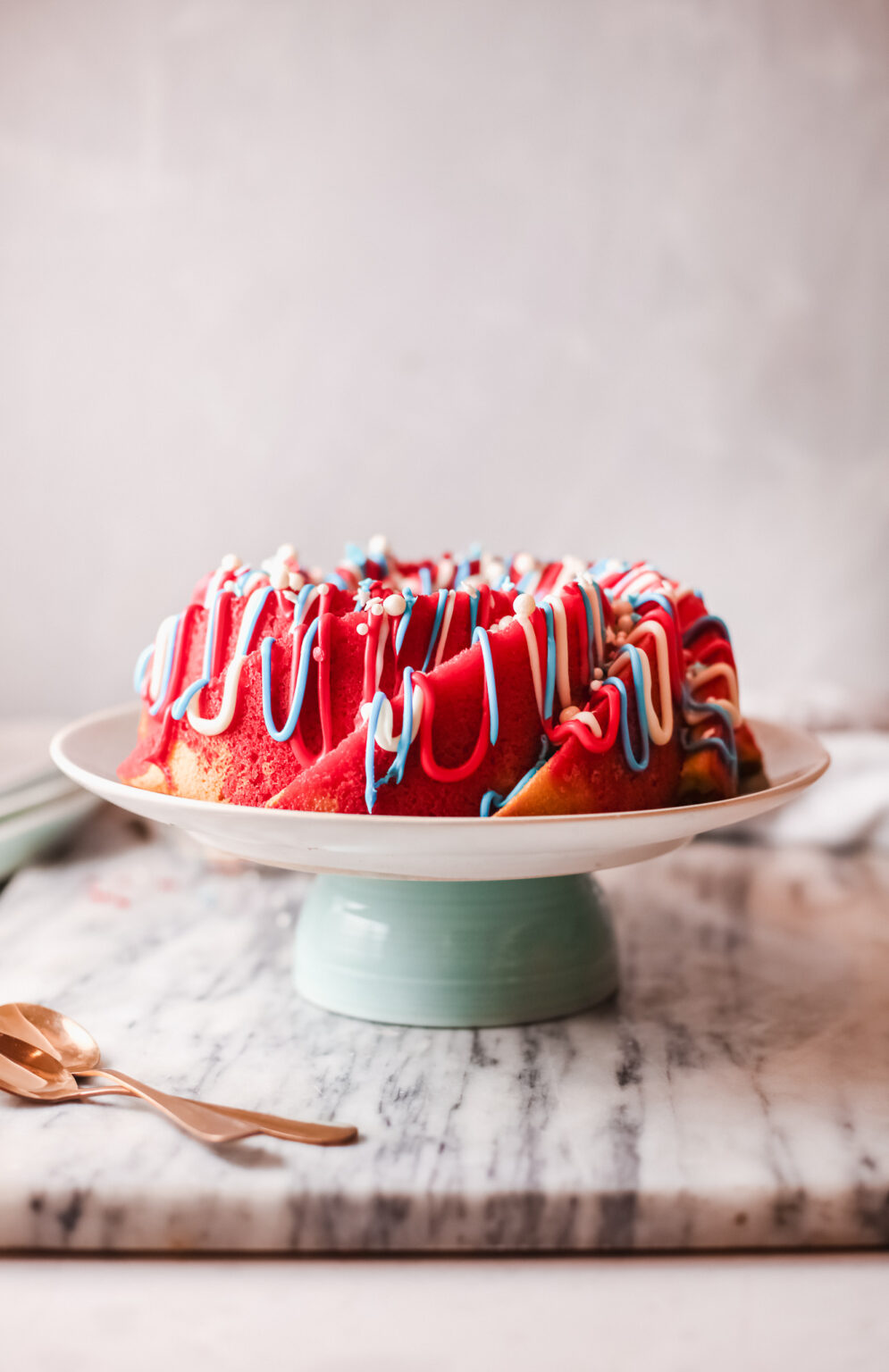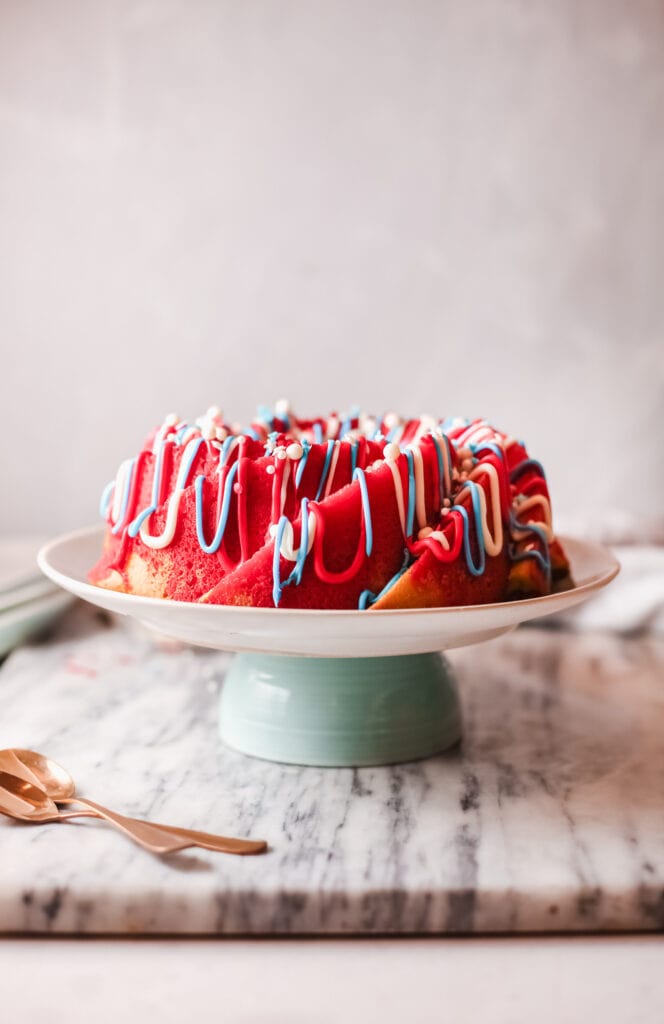 For the glaze:
1/2 cup frosting
1 Tsp blue food coloring
1 Tsp red food coloring
Sprinkles
Directions:
Preheat oven to 350 degrees. Grease a bundt cake pan and set it aside.
In a bowl beat butter and sugar until light and fluffy.
Add the eggs, one at a time, beating well after each addition. Add the baking powder and vanilla extract.
Add half the flour and mix until evenly incorporated. Pour the milk and continue mixing.
Finish with the remaining flour and continue mixing for 2 full minutes.
Divide the batter into 3 bowls. Add 1 Tsp blue food coloring to 1 bowl and the red food coloring to the other and mix to incorporate. You'll have a white batter bowl remaining.
Pour the red cake batter into the bottom of the pan. Pour the white batter over the red batter and finish pouring carefully the blue batter in the middle of the white batter.
Take to the oven and bake for 65 minutes or until done.
Let it cool down completely before removing it from the pan.
Prepare the glaze. Divide the frosting into 3 bowls. Add the red food coloring to one bowl and add the blue food coloring to the other bowl. You'll have a white icing bowl remaining.
Drizzle the glaze over the cake and decorate with sprinkles.