Getting ready to decorate your home for the upcoming holiday season? Every year I like to buy just a few new things to keep my home holiday decor looking fresh and updated.
We've curated a list of chic and affordable Christmas and Holiday Decor from Amazon. This year, we've found some gems to inspire you!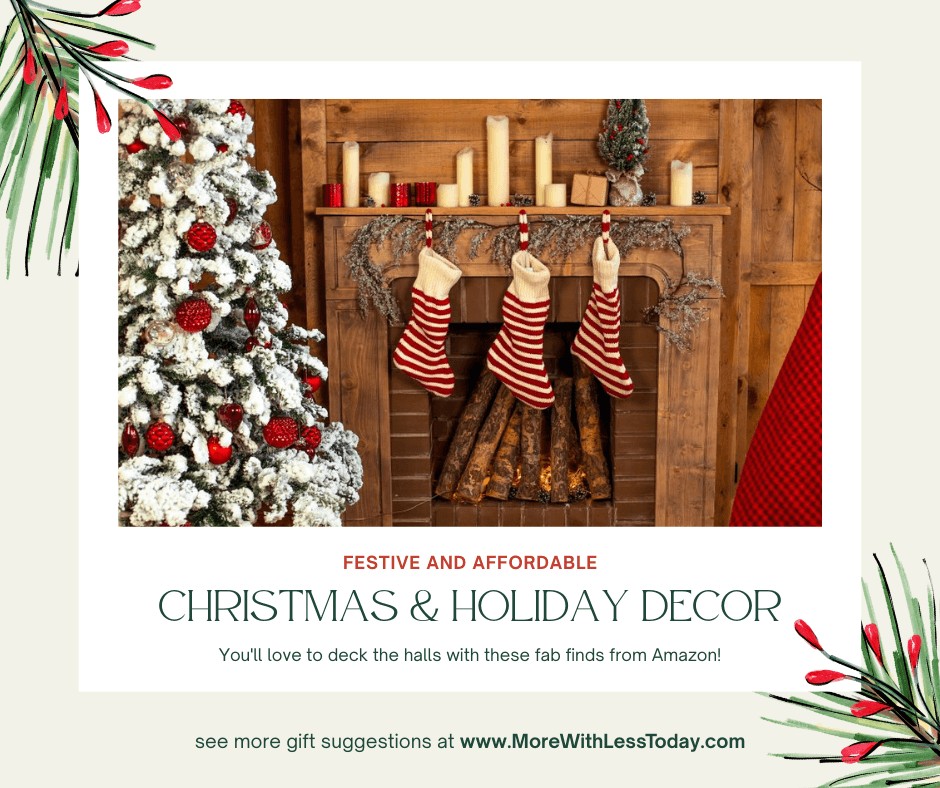 Amazon is one of the best sites to get your festive holiday decorations. From artificial Christmas trees, snow globes, nativity scenes, Christmas stockings, tabletop décor, and more, Amazon has it all to get you into the holiday spirit. Plus you can decorate on a budget and your home can look so festive.

As an Amazon Associate, I earn from qualifying purchases.
Chic Affordable Christmas & Holiday Decor
Every year, Amazon has a great selection of chic and festive Christmas Decorations. It takes a little digging to find the good stuff. I hope you'll agree that we found some good things.
Mix these Wood Slice Base Trees with your other centerpieces. It adds elegance and style to your Christmas décor!
Get this 12″ Artificial Cedar Wreath from Vita Domi to complete your outdoor Christmas decorations. It'll look great on your front door with other decorative elements like Christmas lights or balls.
If you're looking for rustic-style Christmas decor, you might want to get these Wood Bead Garland from LJY & V. It's chic and practical because it's an accent that can go with any of your existing home decor.
If you want a ready-to-place centerpiece, you don't have to look further than this Candelabrum with 3 Glass Candle Holders with Red Plaid Ribbons. It has the traditional colors of Christmas, green and red, that will complete an enchanting Christmas tablescape.
Add this set of Mini Christmas trees to your home decor for the holidays. You can never go wrong with a set of cute artificial Christmas trees that can go along with any design of your choice.
Make these glass ornaments part of your family's magical moments at home. It's made with antique silver mercury glass and you can choose from a variety of embossed designs. A perfect centerpiece —you can hang it on your fireplace mantel or front window.
Complete your tabletop display with this set of Champagne Gold Glittered Christmas Trees. It comes in a variety of sizes from 6.5 to 9.5 inches tall and the largest being 4 inches wide.
This small wooden Christmas Nativity Set is a perfect holiday décor for your home or gift for the little ones. It's handmade and made with natural wood. The whole nativity scene measures 11¾" L x 1¼" W x 7" H.
This Knitted Christmas Stockings set comes in a variety of colors. I love this Ivory and Khaki combination because it looks unique and minimalist. These can be hung on the fireplace, windows, mantel, or Christmas tree. You can select from 3-9 pieces of stockings per set, but at the moment, only 6 and 8-piece packages are available to choose from so it's a good time to grab a set now before stock run out.
Want to add more decor to complete your tabletop design? Add this gorgeous light-up Christmas tree ornament! It's battery-operated with a timer function. This makes a nice hostess gift too.
Check out our Amazon Store for more affordable and chic Christmas decor. We will be updating our store as we find even more items to share with you.
See the rest of the holiday decor when you click this link!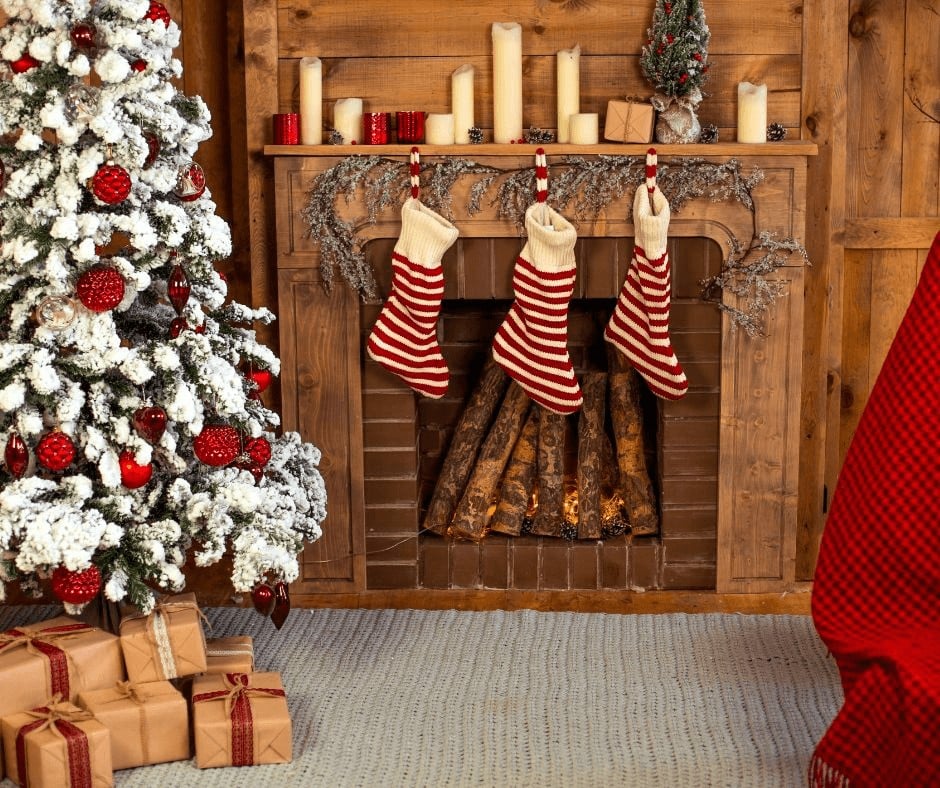 Stay tuned for our upcoming posts! These can help you with gift-giving this season when you choose from our specially curated gift suggestions in various categories.
Suggestions
If you liked this list of Chic and Affordable Christmas & Holiday Decor from Amazon, you might also want to check out these popular posts:
PIN for Later