Is your dog a messy eater? Mine sure is. He doesn't like eating out of a dog dish. He takes the food out piece by piece and carries it to another spot in the house to eat. We joke that he orders his food "to go." I started putting his food on a placemat and now he scatters it all over the floor and prefers to eat it that way.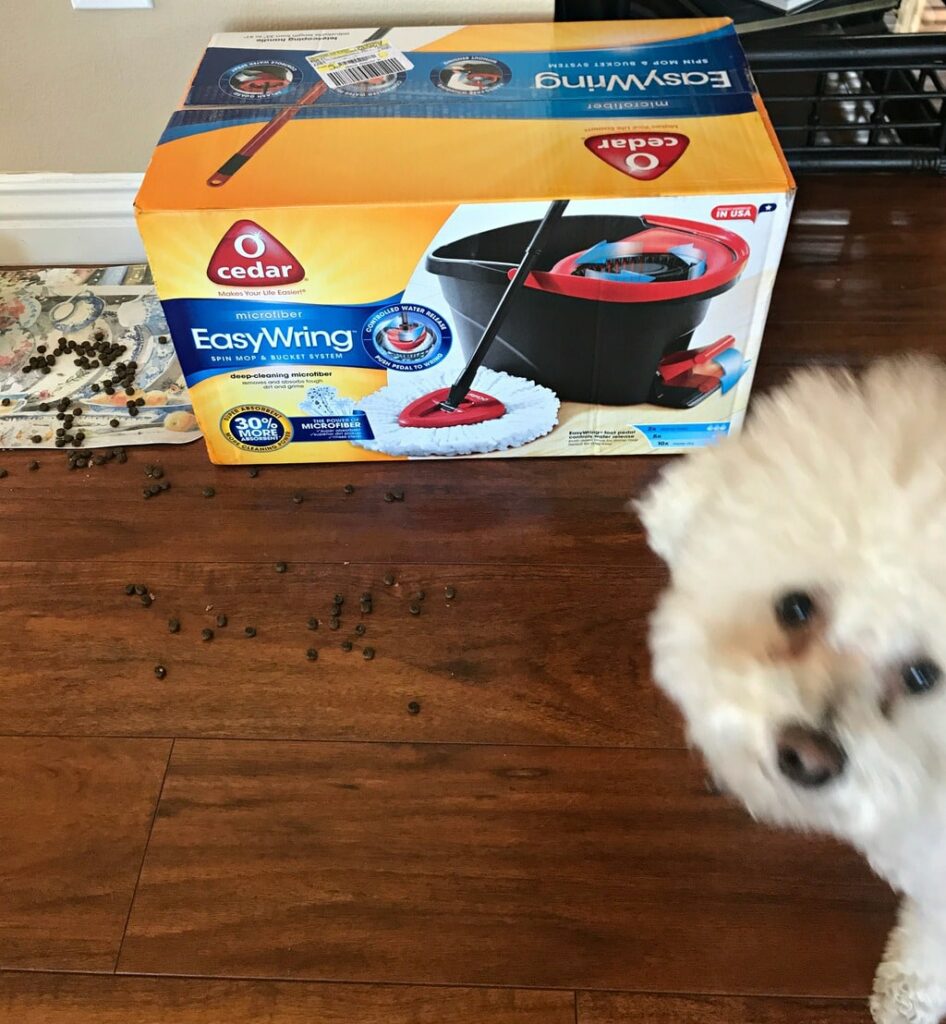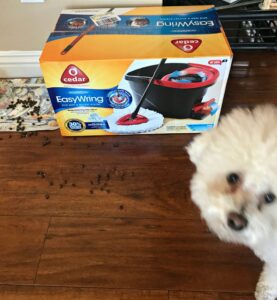 He sure has his quirks, but then again don't we all?
We are so smitten with this little guy that we don't mind. At least until we step on a piece of dog food with bare feet. That is pretty gross. We've all done the "dog food dance" a few times.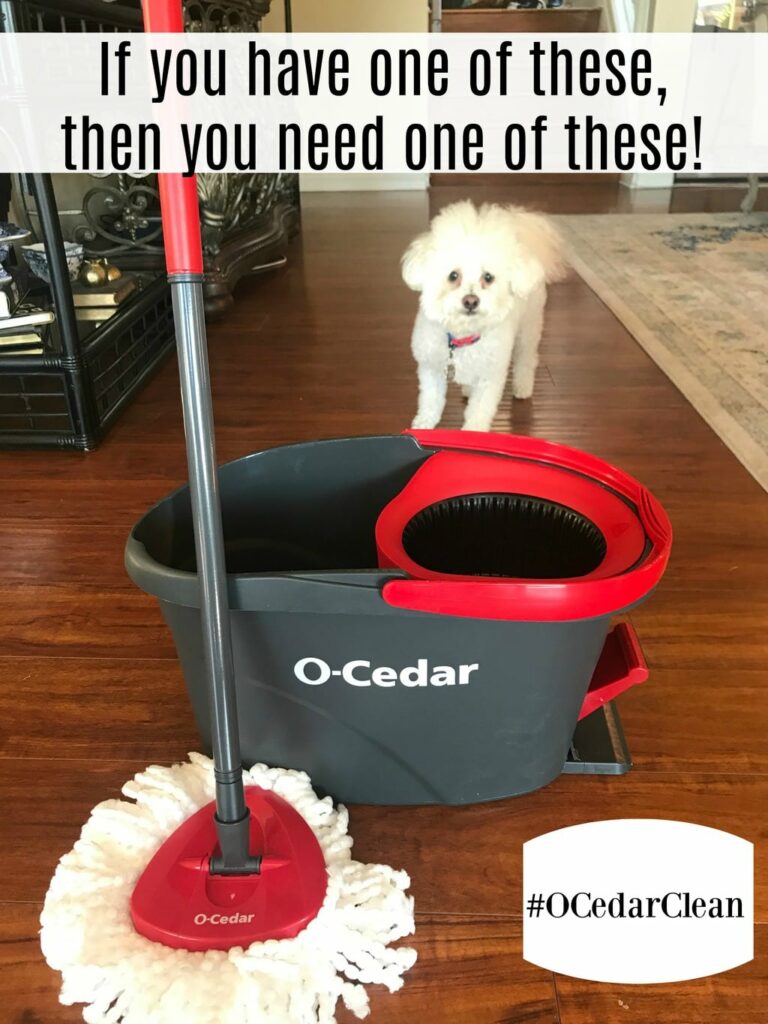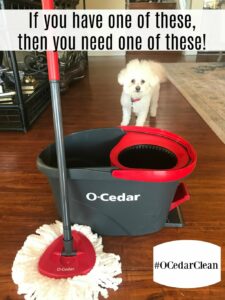 We have hardwood floors throughout the downstairs rooms of our house. We didn't install them, they came with the house. They look lovely but the dark color shows dirt and spills easily. I cannot go more than a few days without cleaning them so I needed an everyday solution that takes just a few minutes.
I was also a bit nervous about properly taking care of my hardwood floors. I did some research and here are the best tips I have found.
How to Easily Clean Hardwood Floors
You can use the disposal cloth mopping systems commonly found in stores, but buying those refills can get pricey. If you use a vacuum, you need to be careful not to use a beater bar attachment or it can scratch the wood floor. Steam cleaner appliances can be expensive. You must remember that excessive exposure to water and or steam may cause floors to warp over time. Because steam is very light, it can penetrate those thin gaps between the wood panels. Check to make sure that steam cleaning is covered under your floor's warranty.
That's why I prefer to choose a mop and one that does not have to be wrung out by hand!
When cleaning your hardwood floors, you should not let water stay standing on the floor because excess water can damage the wood. Be sure and remove the excess moisture.
You can also use a wood cleaning product. Water-based polishes will not leave residues or strip the surface and are considered to be the safest for your hardwood floors. Always follow the instructions from the manufacturer. You can make your own floor cleaner with one part vinegar to 10 parts warm water. You can also add a few drops of liquid Castile soap.
If you choose to use a floor cleaner, then rinse the mop when you finish, wring out excess water, and then go over the floor once more with just a damp mop to remove the cleaner.
Another tip I read about was to use black tea steeped in boiling water for a few minutes. You can pour the tea into a bucket and let it cool or add cold water to bring the temperature down. Test it on a small hidden area of the floor to check for any discoloration and see the details here before you get started.
Try covering scratches with a crayon that is the same color as the floor. I bought some special crayons for furniture from the home improvement store. I just color the scratched surface and then rub it with a soft cloth. I have seen others suggest to also blow-dry the area after the crayon wax is applied. Be sure to buff completely so you don't end up with a slippery waxy surface!
We use area rugs and mats in the high traffic areas of the house and under furniture to prevent scratching.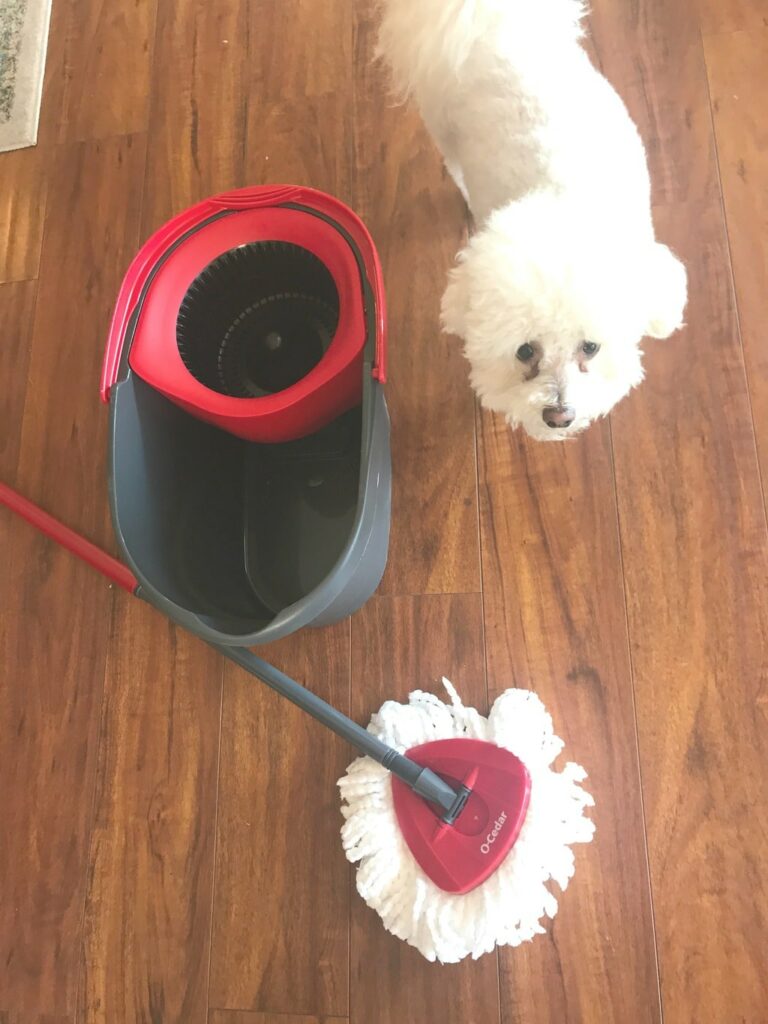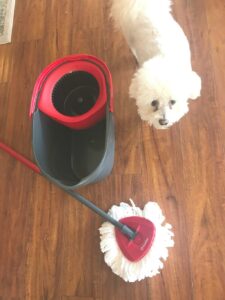 When I found the O-Cedar EasyWring Spin Mop and Bucket System at Walmart, I was surprised at how reasonably priced it was. Everything you need is inside the box including the microfiber mop head, adjustable handle, and the high-quality bucket with splash guard and foot pedal.
You never need to buy any special cloth pads or extra products. You can damp mop with water or use any floor cleaner you prefer.
My favorite features include:
Built-in wringer for hands- free wringing
Foot pedal to activate spin wringing and control moisture level
Splash guard on the bucket: all the water stays in the bucket
Adjustable handle (I'm not the only one here who can mop the floor!)
I can quickly grab it and spot mop just before company arrives. When my hardwood floors are clean, I get so many compliments on them.
I hosted about 50 guests at my home the night before my daughters' wedding. I used my mop right before the company arrived and I sure used it after they left! I highly recommend it.
How it Works
The O-Cedar mop has a foot pedal and when you push it down with your foot, it wrings out the water. You don't have to touch a dirty mop at all. Whirring the mop around with your foot is kind of fun.
It has a splash guard so no dirty water splashes out and a fill to line so you know just how much water to add to the bucket.
The deep-cleaning microfiber head is triangle-shaped so it gets into nooks and crannies and it also absorbs dirt and spills easily.
The O-Cedar mop is not just meant for hardwood floors. it can be used on any solid surface including laminate floors and tile.
Pick one up at your local Walmart or order it online at Walmart.com and make your life easier with the O-Cedar EasyWring Spin Mop and Bucket System. Follow them on Facebook and social media using #OCedarClean.
I have partnered with O-Cedar on this sponsored post, however, all opinions are 100% my own.