Friday night I hosted a last-minute holiday get-together with a few of my neighbors. Everything I needed was delivered straight to my door from my Walmart store with my #WalmartPlus membership. I have affiliate relationships which means I may earn a small referral commission at no additional cost to you if you shop using my links.
If you are looking for an easy festive dessert that comes together fast, this Individual Trifle Cup recipe made with delicious Sara Lee Pound Cake is a semi-homemade dessert that my party guests loved. This post is in partnership with Walmart+.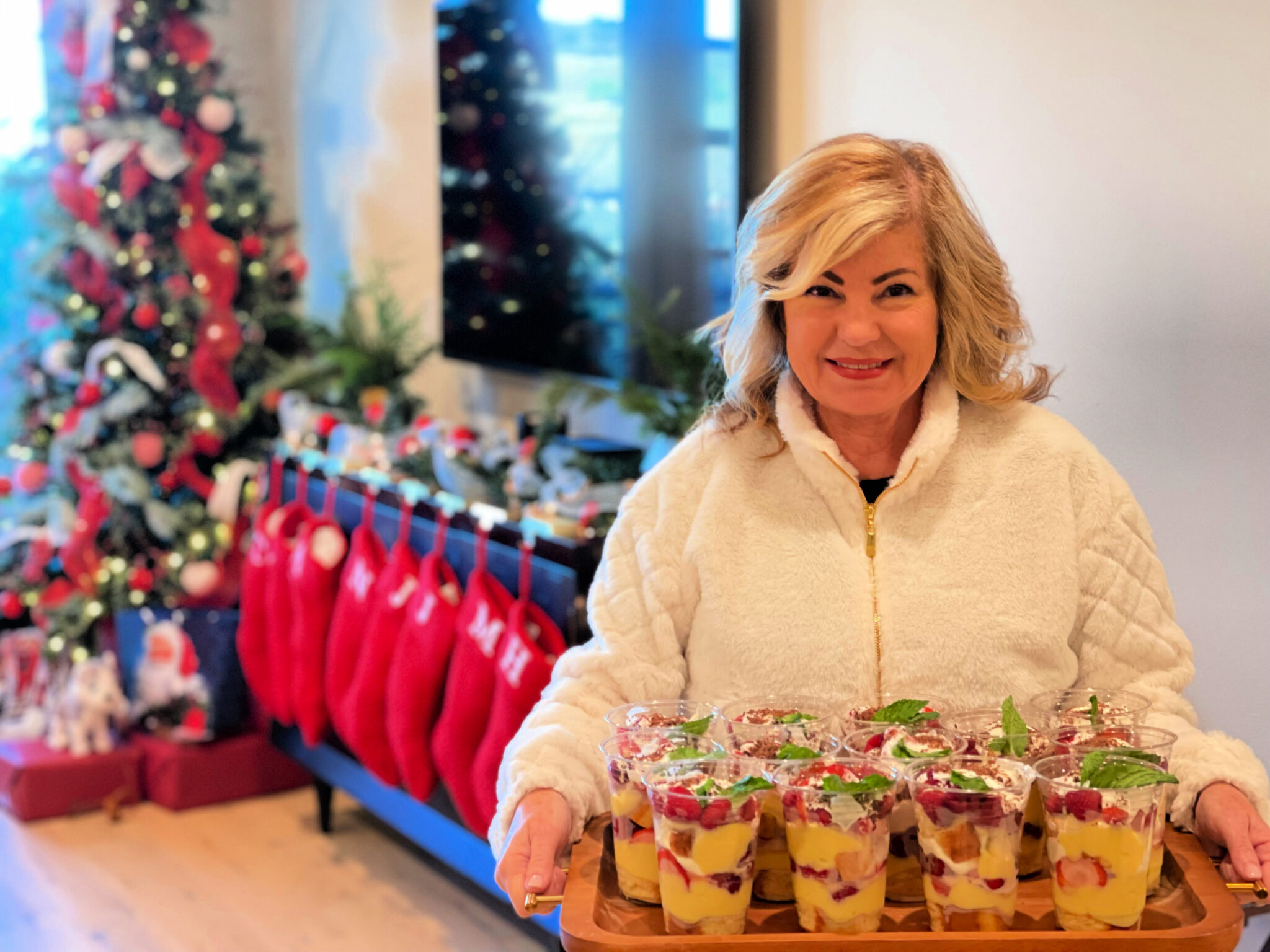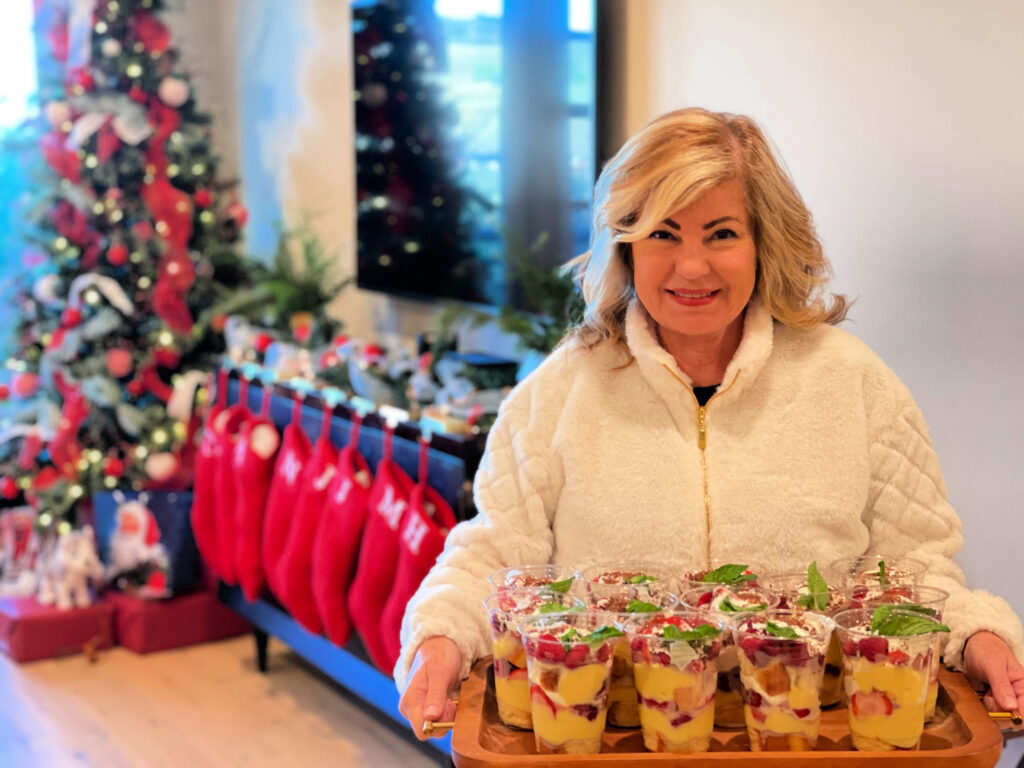 The dessert I made was quick + easy + delish + fancy! It checked all my boxes!
I made my trifle desserts in disposable cups which made party clean up easy but you can also make them in clear glasses for a more eco-friendly version.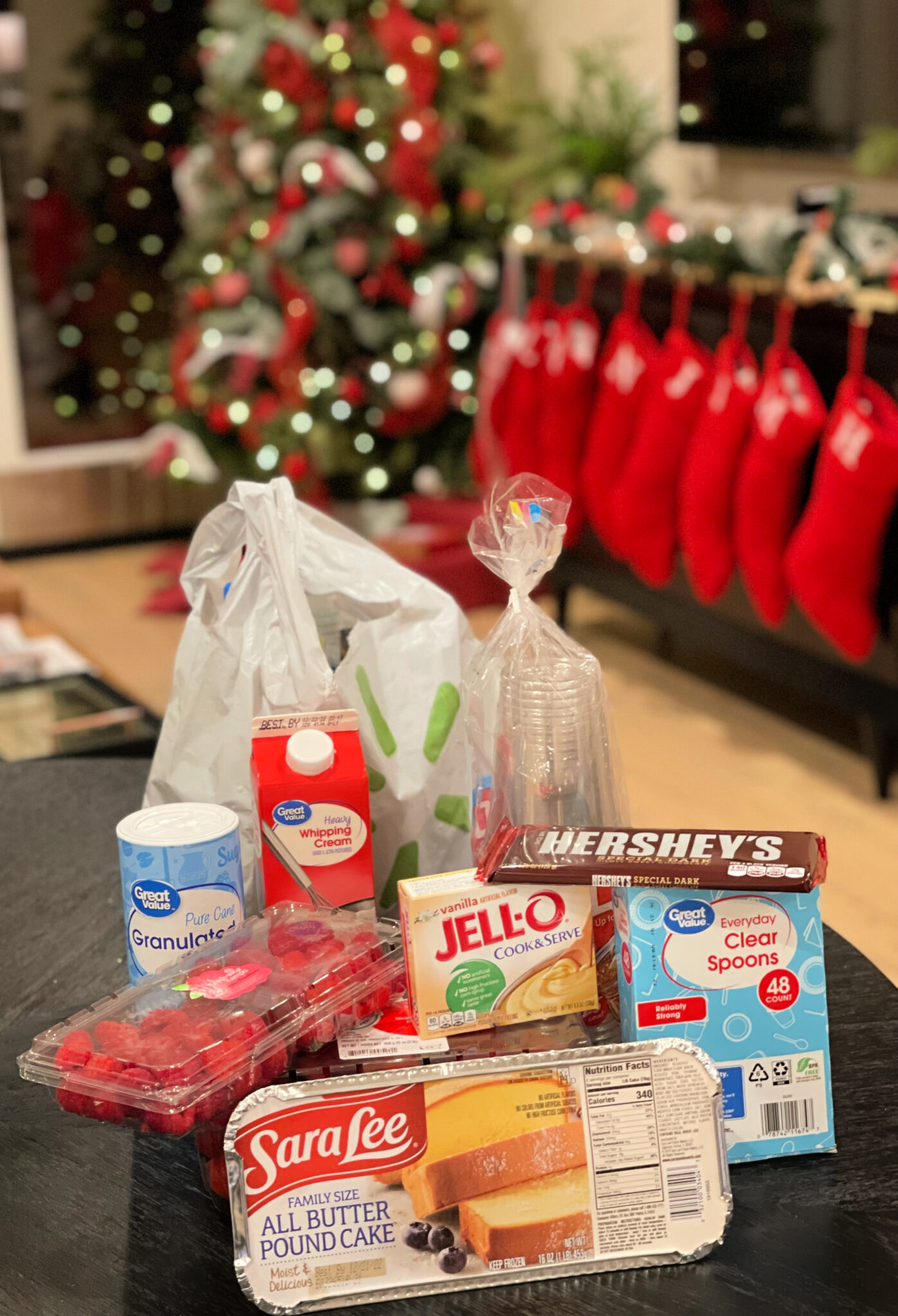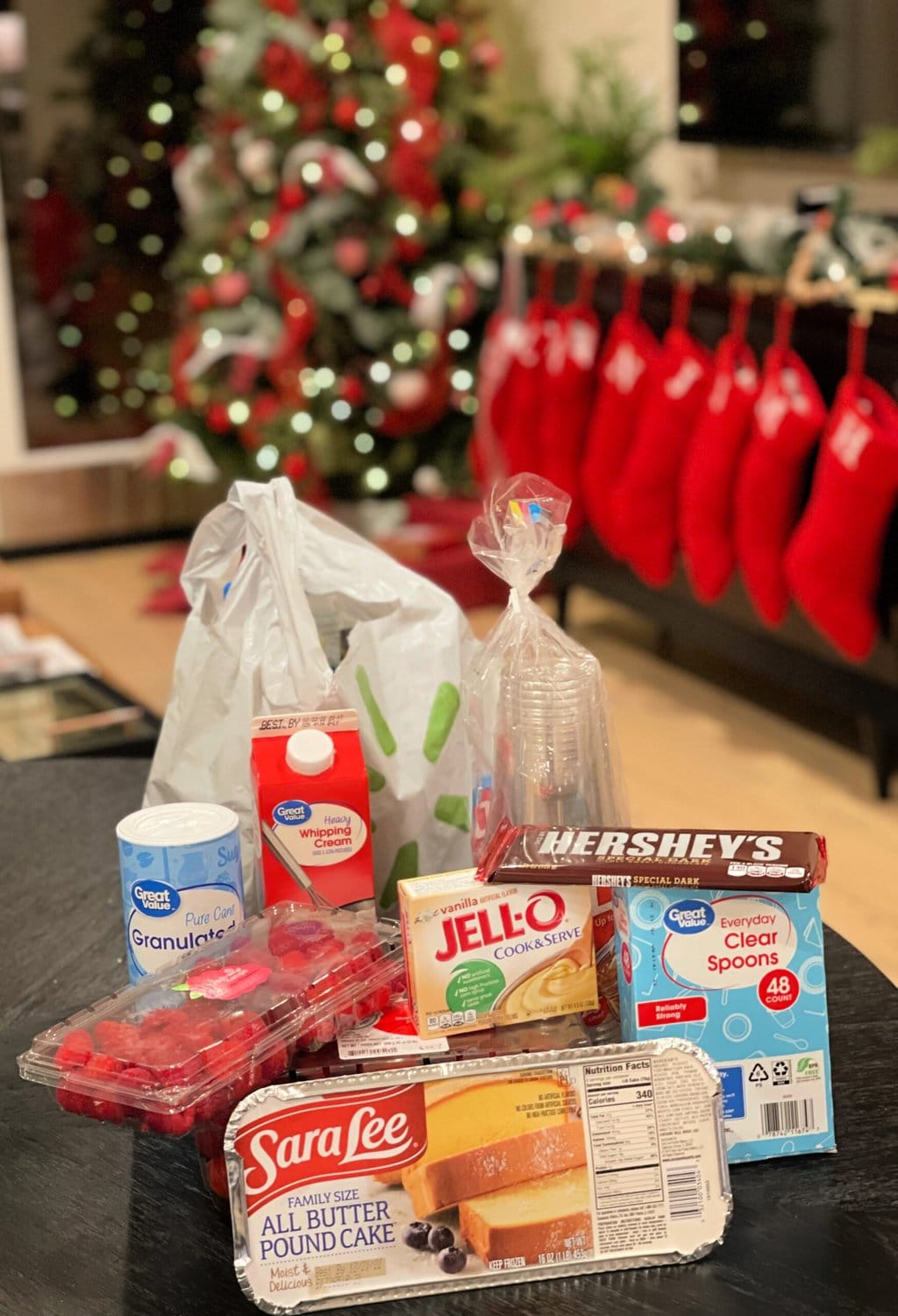 I made 13 individual desserts so I used two Sara Lee Pound Cakes. You will see in my photo below that each cake yields 10 1″ slices and you will need 1 slice per dessert. I also used 2 packages of Vanilla Pudding Mix and had plenty leftover. Adjust quantities according to how many you are making.
Ingredients:
Sara Lee All Butter Pound Cake
Jell-O Cook & Serve Vanilla Pudding & Pie Filling Mix, 4.6 oz Box
Reddi-wip Extra CreamyWhipped Dairy Cream Topping
HERSHEY'S, SPECIAL DARK, Mildly Sweet Chocolate Candy, 6.8 oz, Giant Bar
Great Value Ultra-Pasteurized Real Heavy Whipping Cream 32 oz.
Milk – you will need 2 cups for every package. I already had milk on hand.
Supplies:
Solo Disposable Plastic Cups Clear 18 oz 25 count
Great Value Everyday Disposable Plastic Spoons, Clear, 48 Count
Decorative tray – I've used this Better Homes & Gardens Acacia Wood Serving Tray with Gold Handles for so many different purposes this year!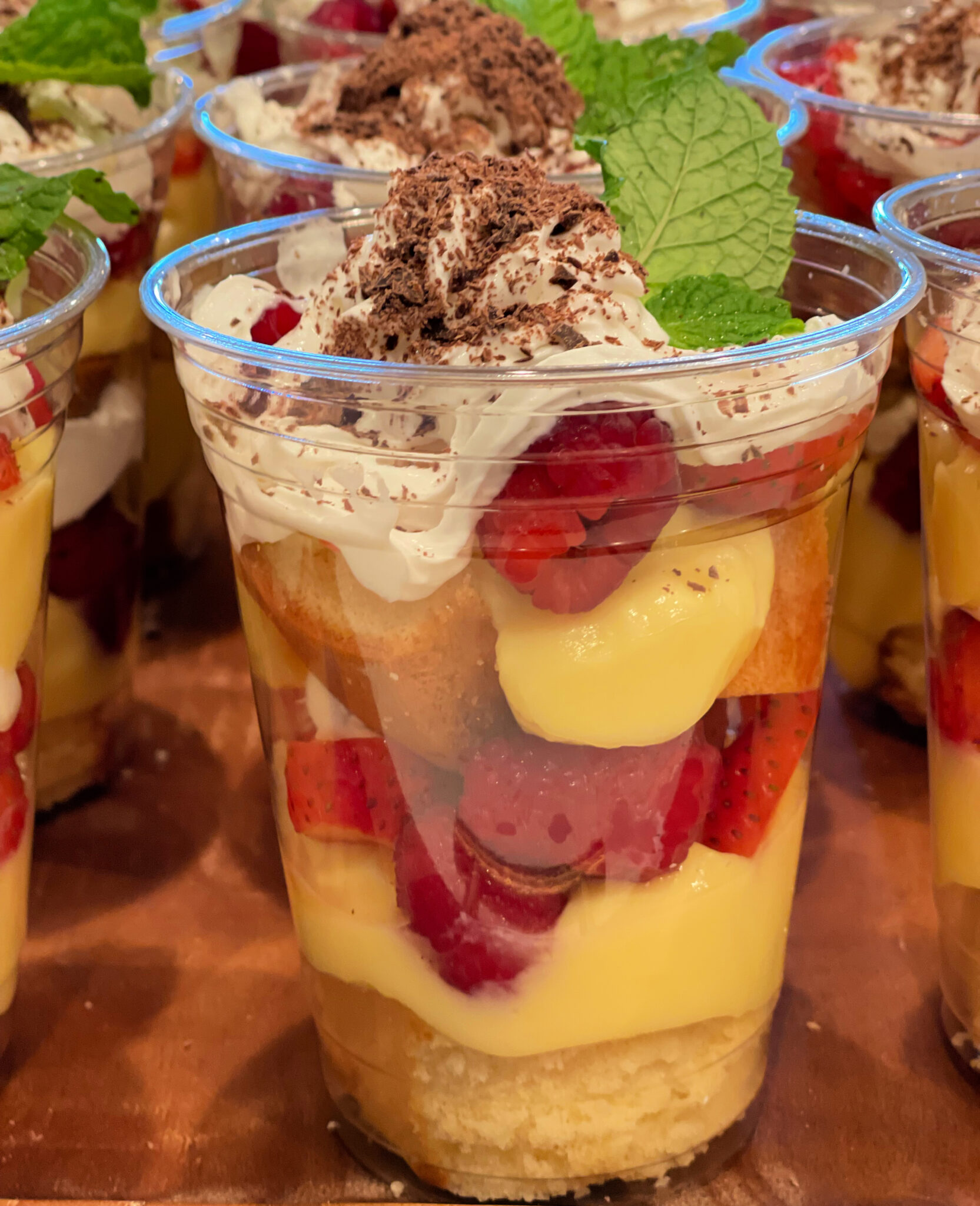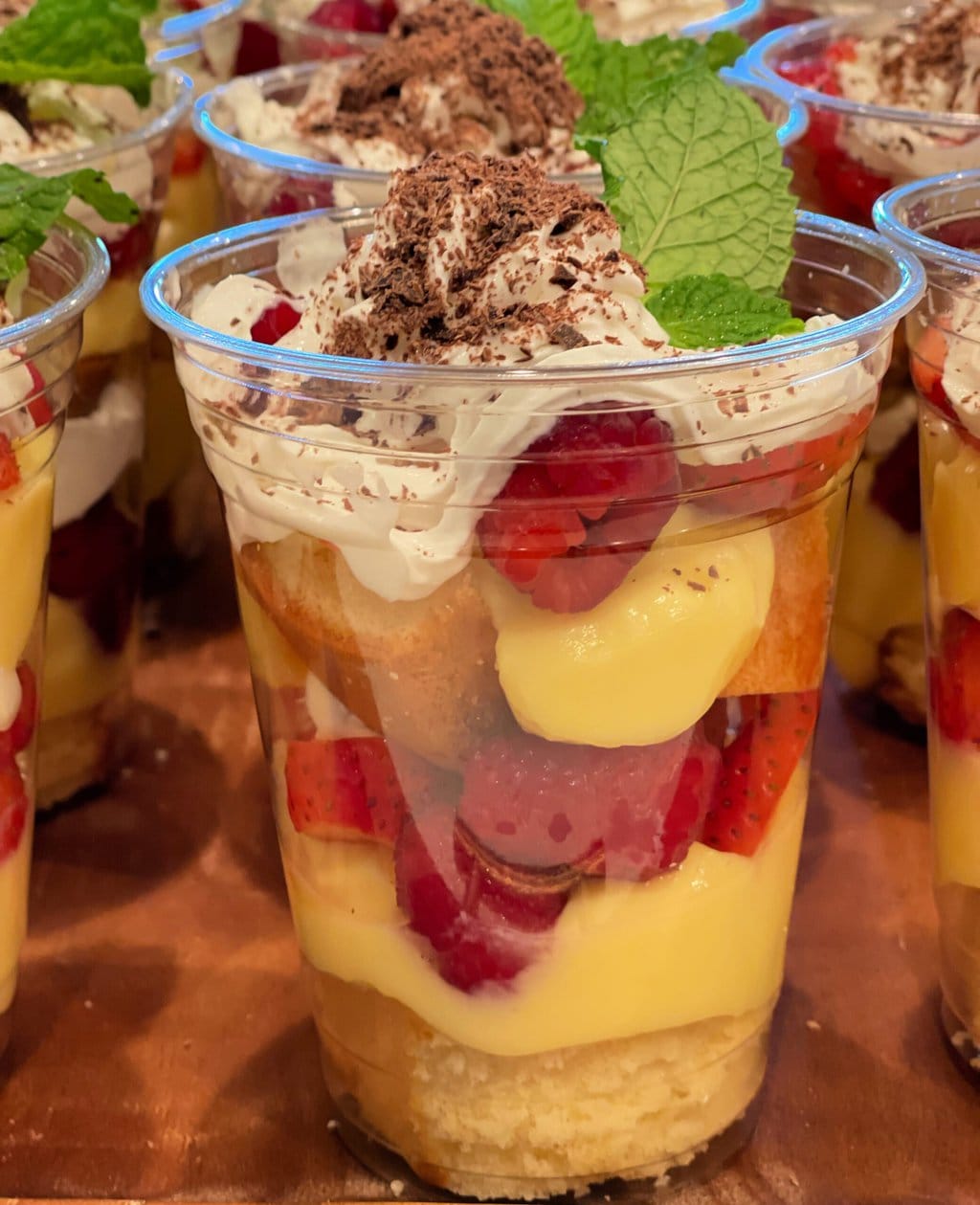 How to Make Individual Trifle Cup Desserts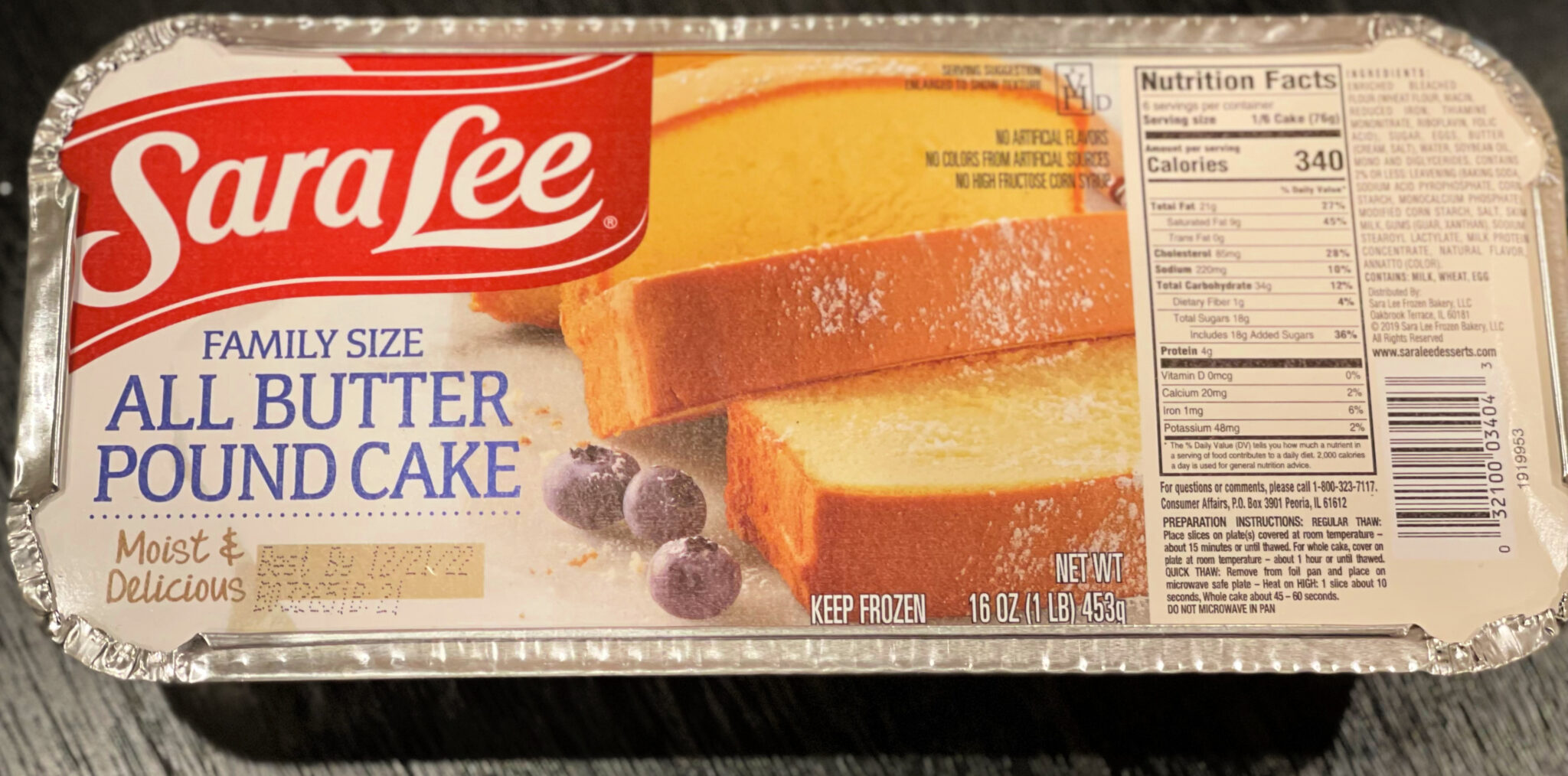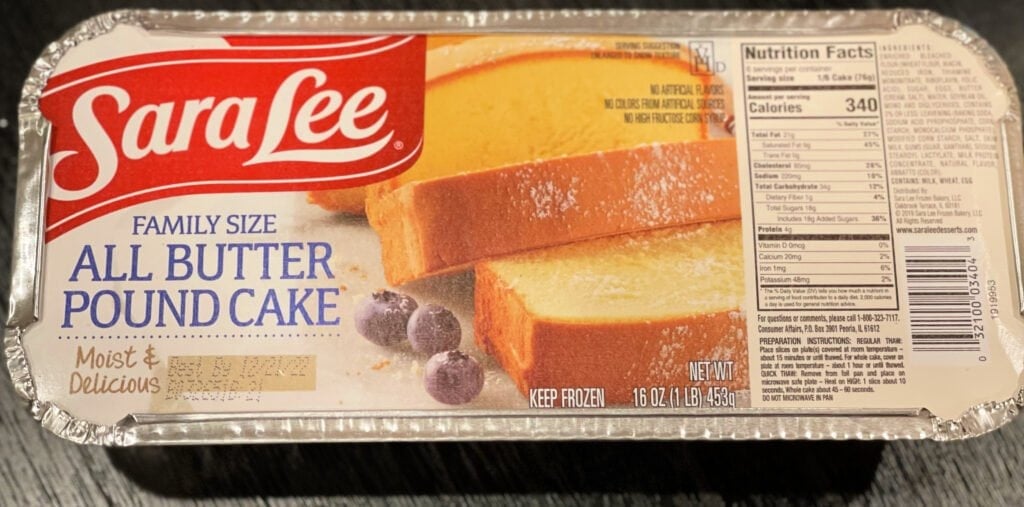 If you are not making your desserts the same day, put your Sara Lee Pound Cake in the freezer and let it defrost overnight in the refrigerator on the day you are ready to make the desserts.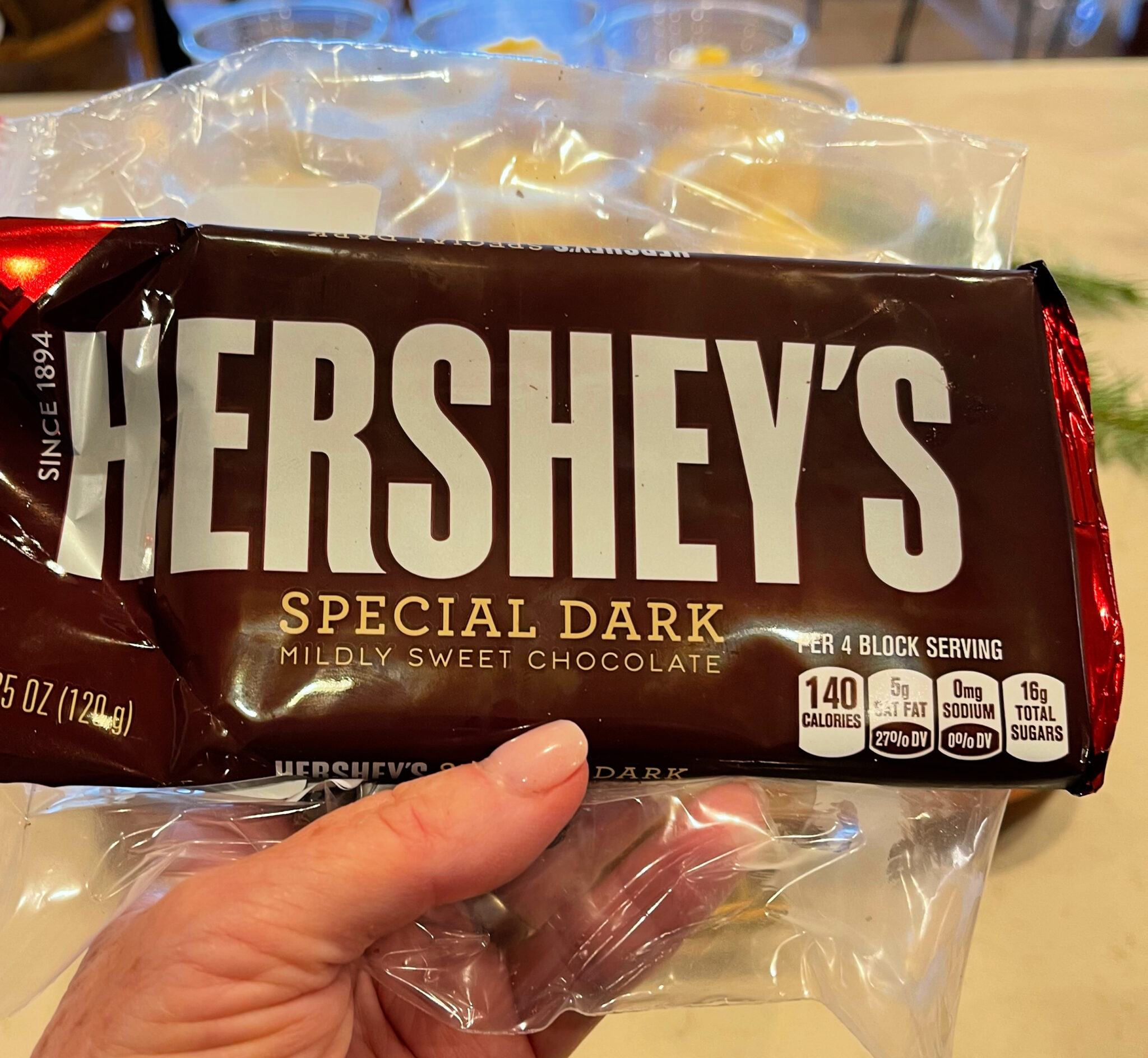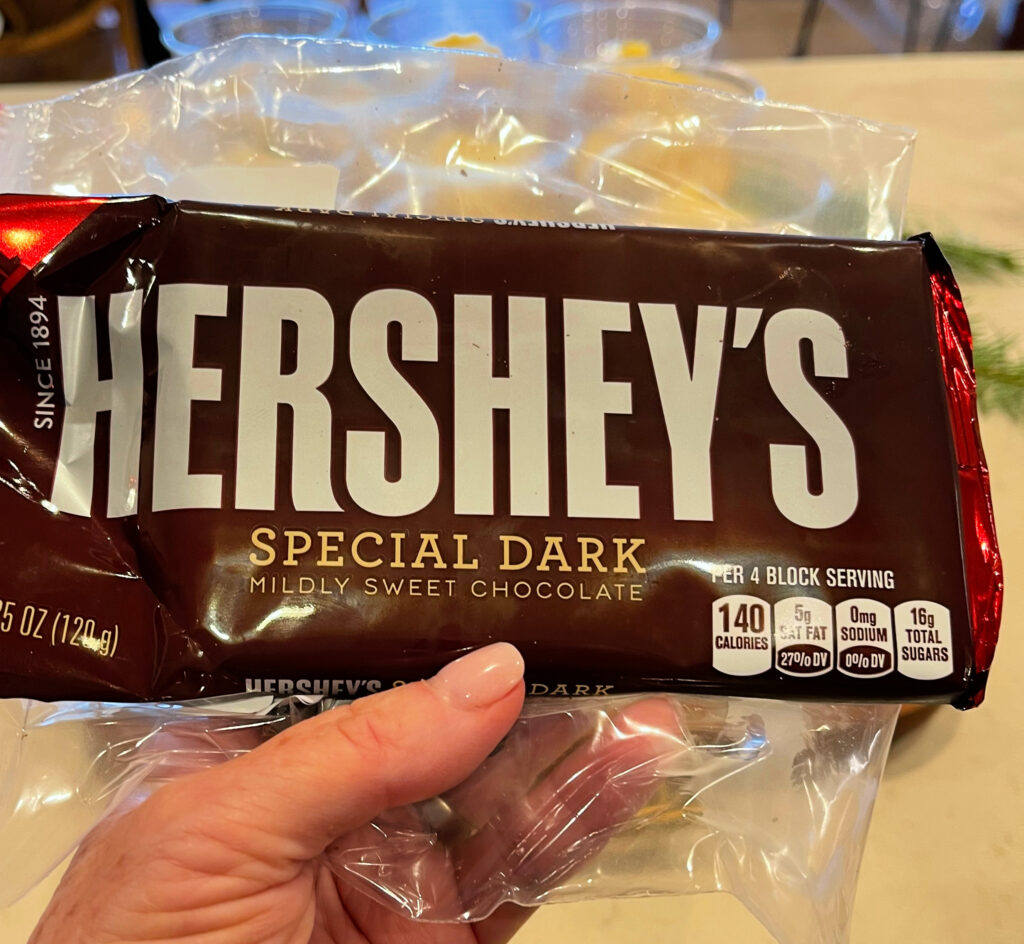 Freeze the Hershey's Chocolate Bar too. Later you will shave the chocolate and when the candy is frozen, this is much easier to do!
Step 1: Make the Pudding according to package directions and let it cool.
"Pudding Directions: 2 cups Milk. Stir mix into milk in medium saucepan. Bring to boil on medium heat, stirring constantly. Serve warm or chilled. (Pudding thickens as it cools.) Makes 4 (1/2-cup) servings. Refrigerate any leftovers. Fat-free, 1% or lactose-free milk can also be used but may result in a softer set. Do not use prepared nonfat dry milk or soy milk – pudding will not set. For creamier pudding, place plastic wrap directly on surface of pudding while cooling. Stir before serving."
Step 2: Make the whipped cream. Optional, if you don't want to make whipped cream, use Cool Whip topping or the Reddi-wip topping.
"Preparation instructions: use a chilled bowl and beaters. Fill bowl so that the beaters are not covered more than 1/3 with cream. When whipping, move beaters around bowl. Whip on high speed until stiff. Do not freeze. Shake well before use. Best if used within 7 days of opening, but no later than date stamped above."
Step 3: Rinse berries, cut stems off strawberries, and dry them. I put them on a clean paper towel and pat dry.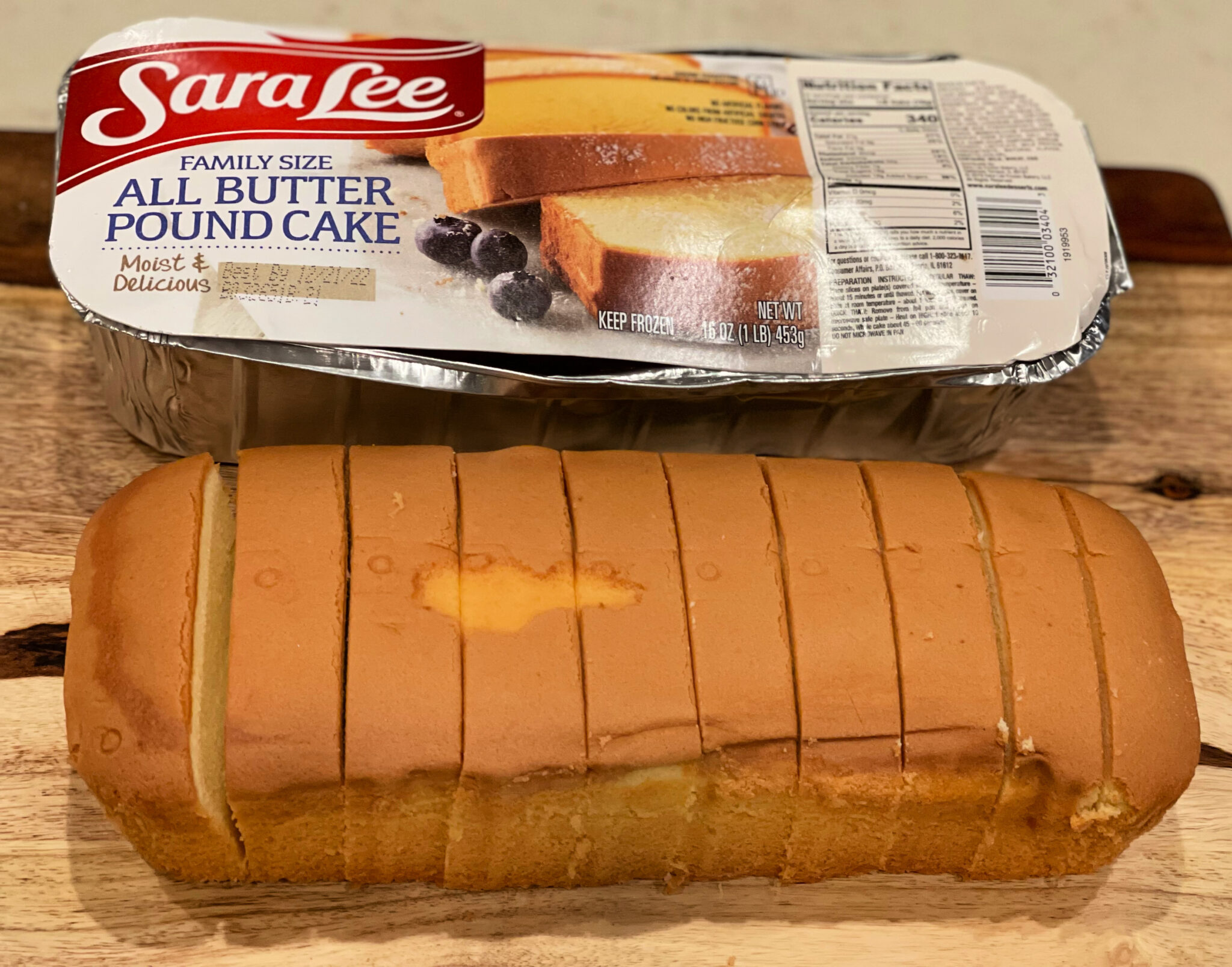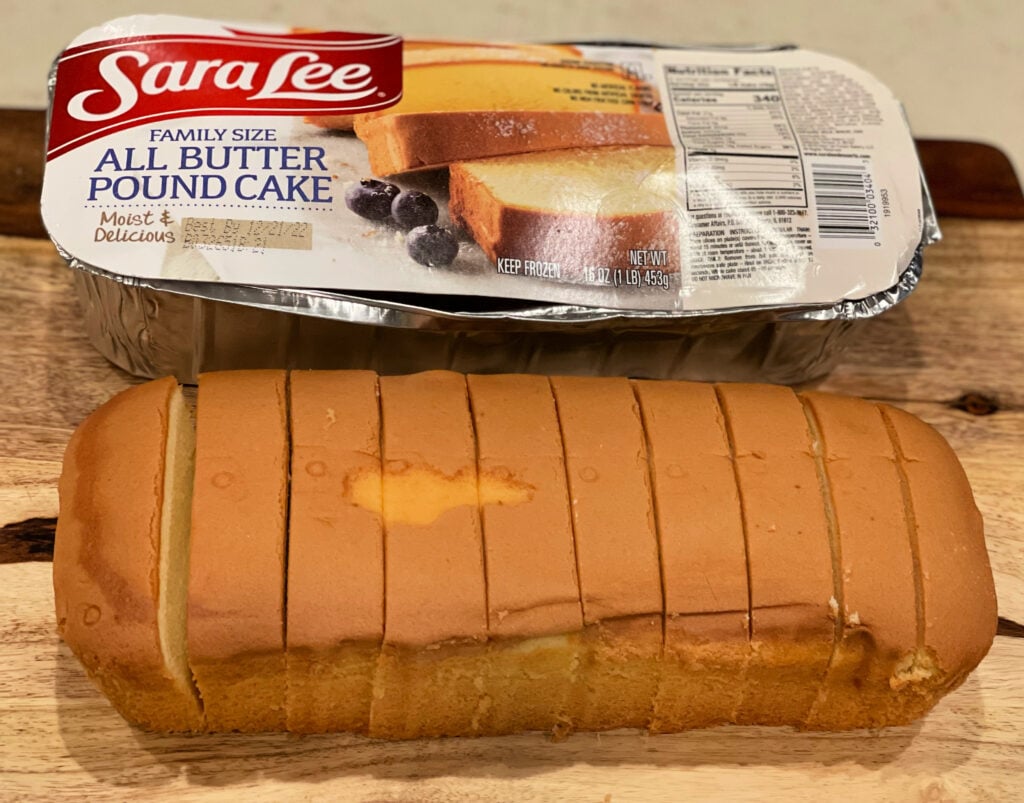 Step 4: Take your defrosted Sara Lee Pound Cake and cut slices about 1 inch thick. This will yield 10 slices per cake.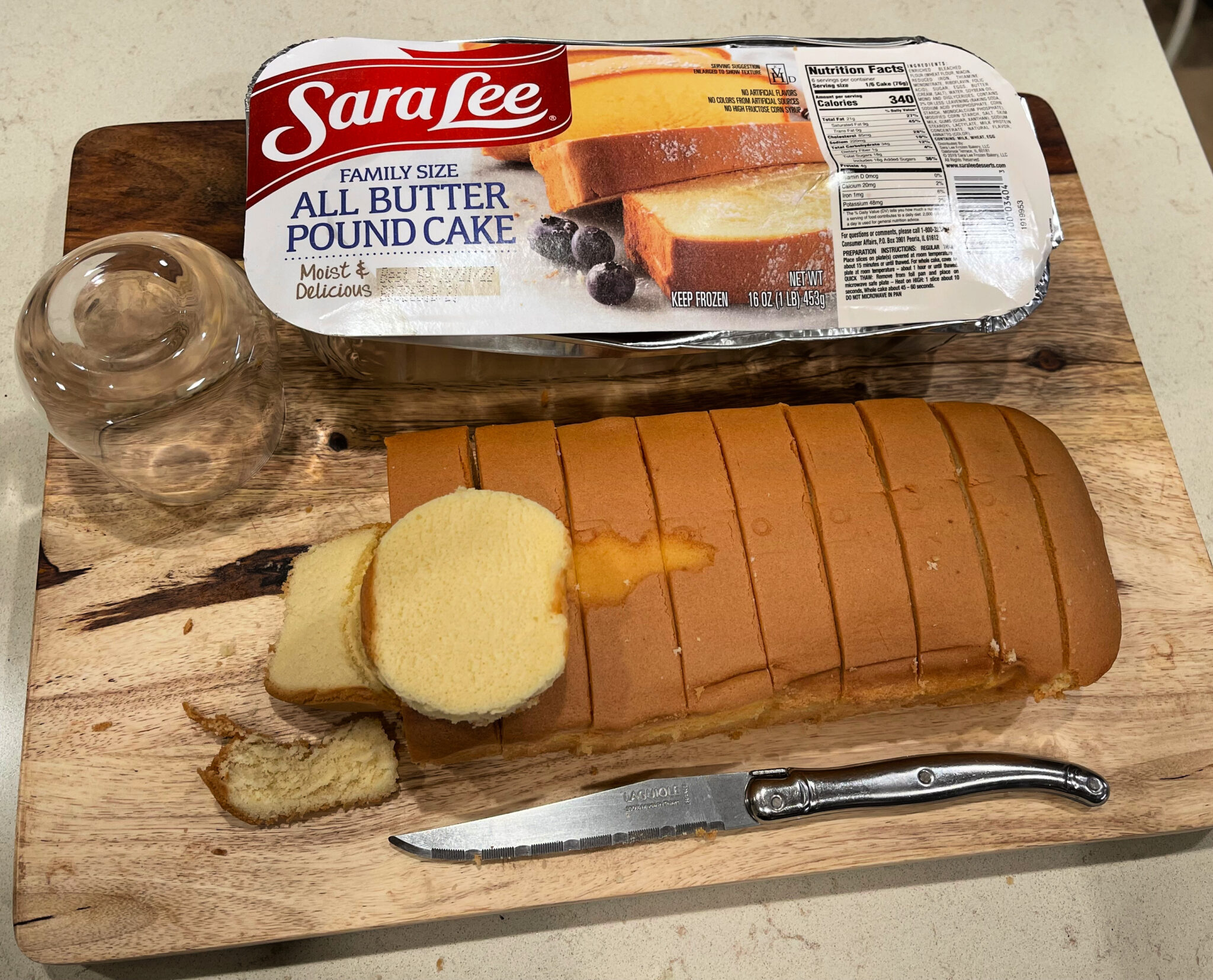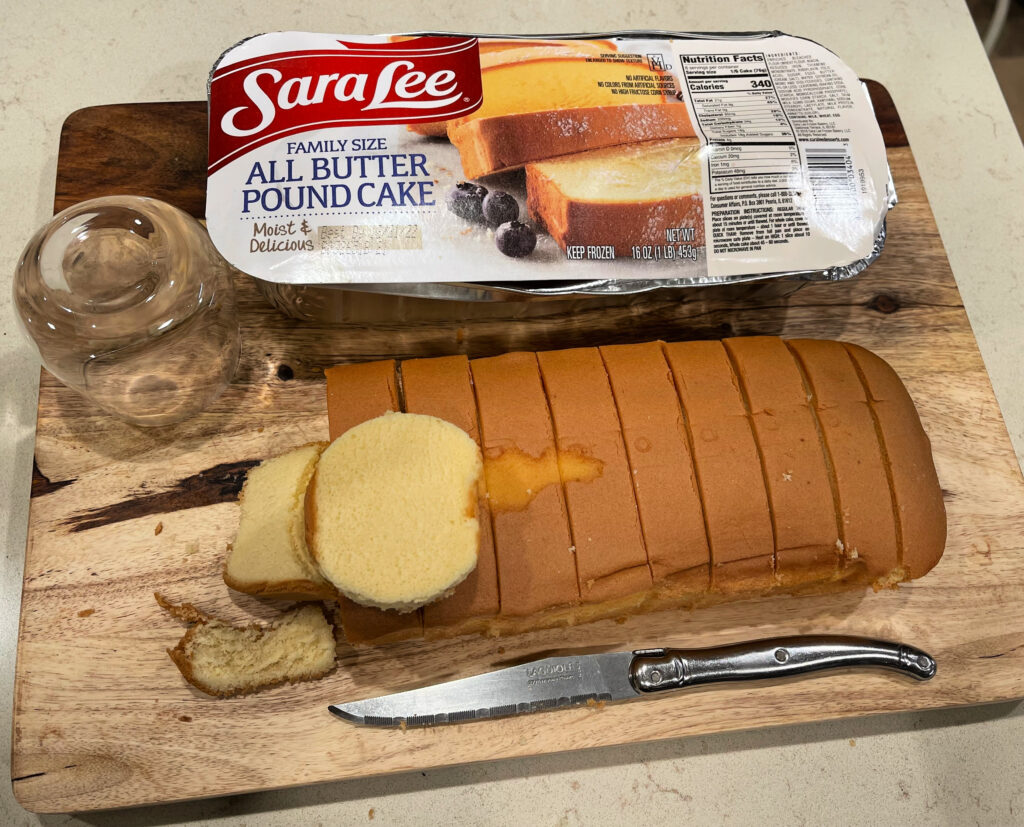 Step 5: Take a glass jar or cup to cut a circle into the Pound Cake to use as your bottom layer. A small wine glass I had was the perfect size for this step. Keep the other pieces, you will use them in another layer.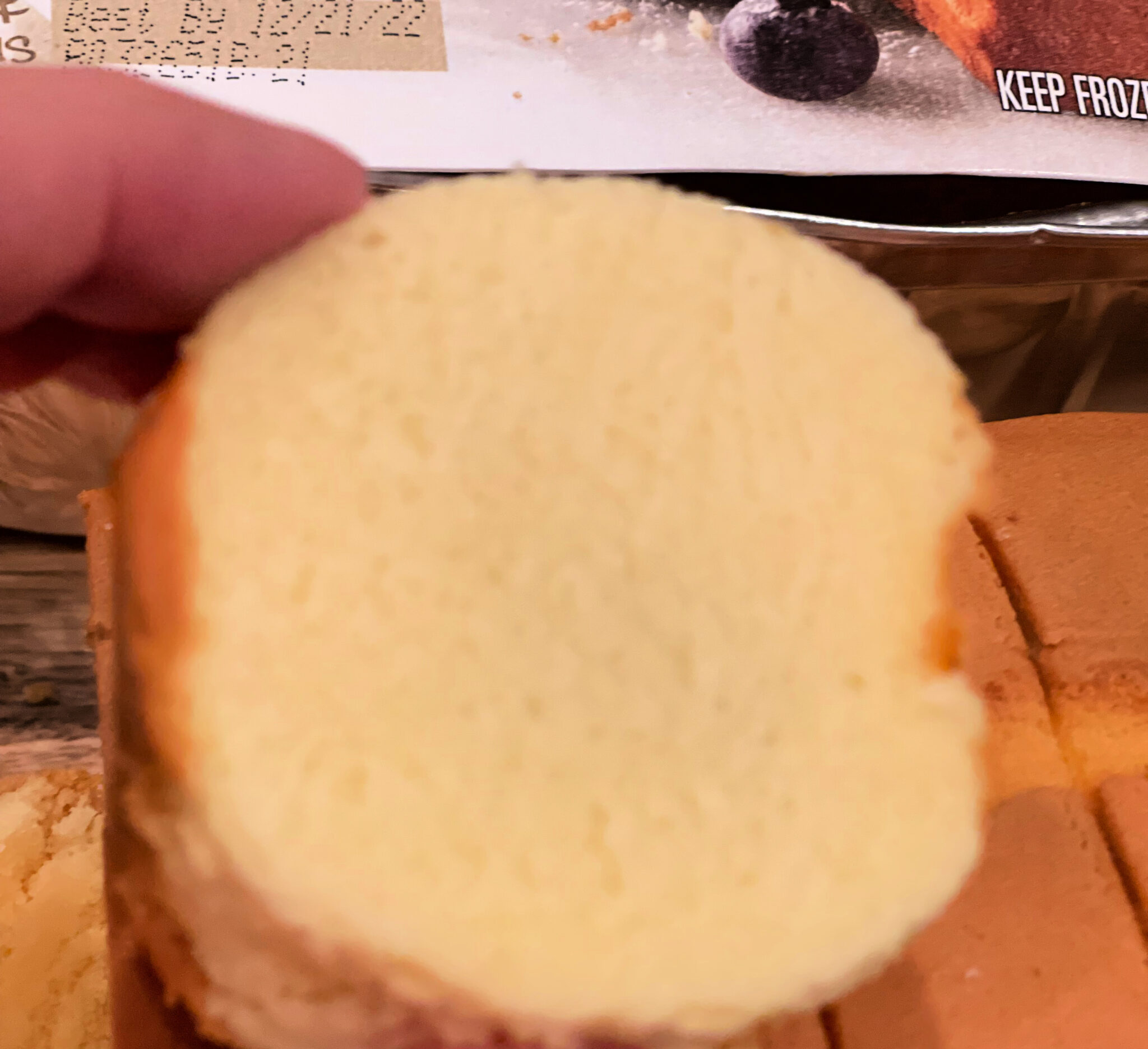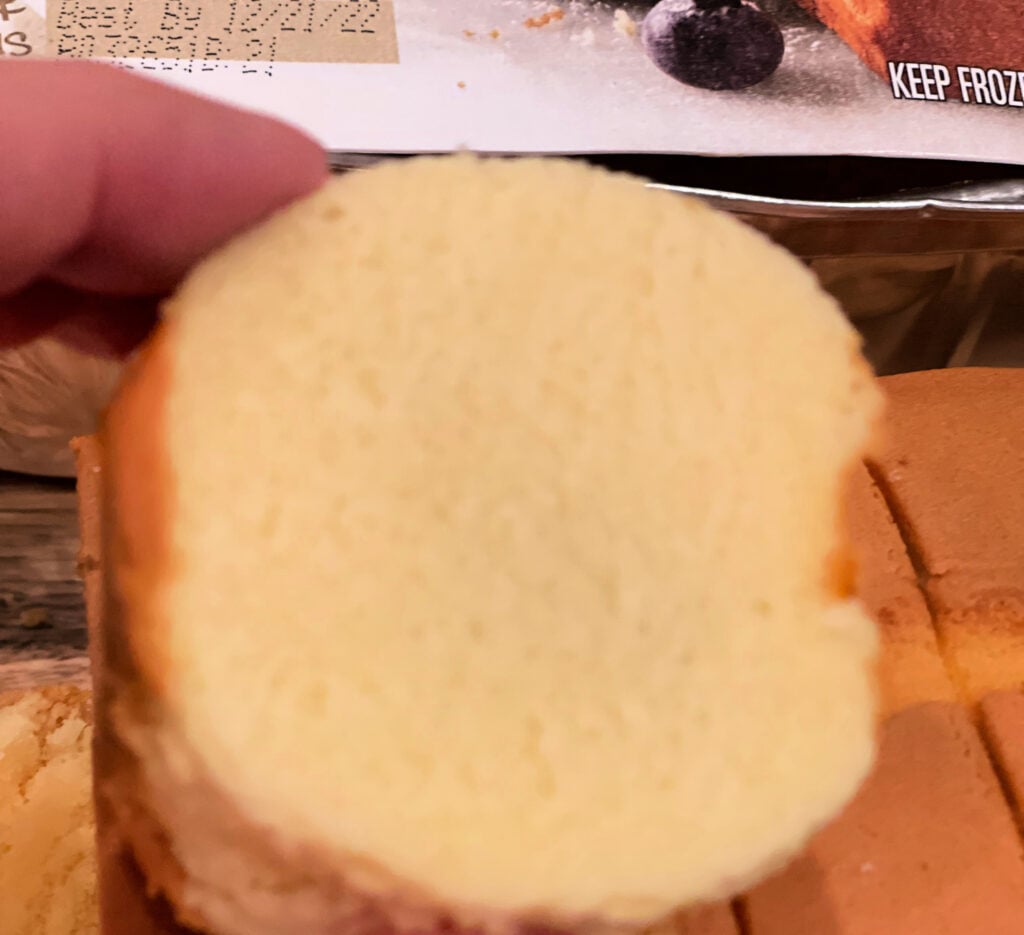 Tip- when you layer in more Pound Cake you don't have to cut more circles because only the bottom layer shows through the clear serving cup. You will use the leftover pieces for the next layer so there is no waste.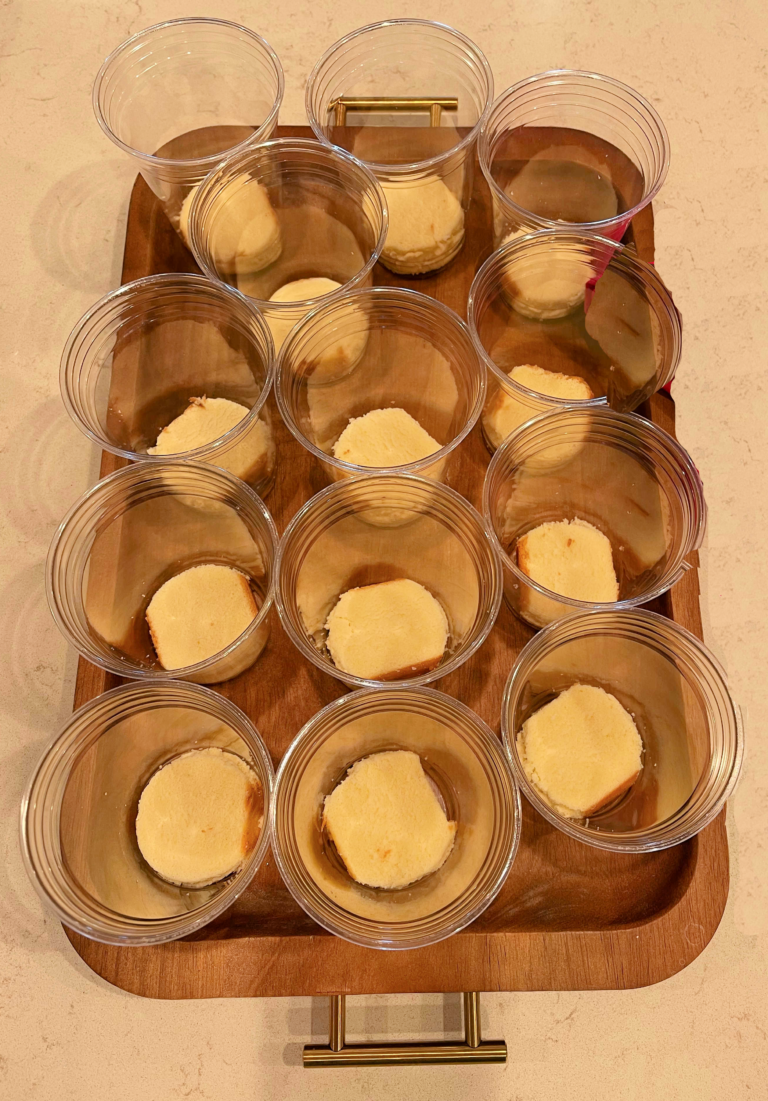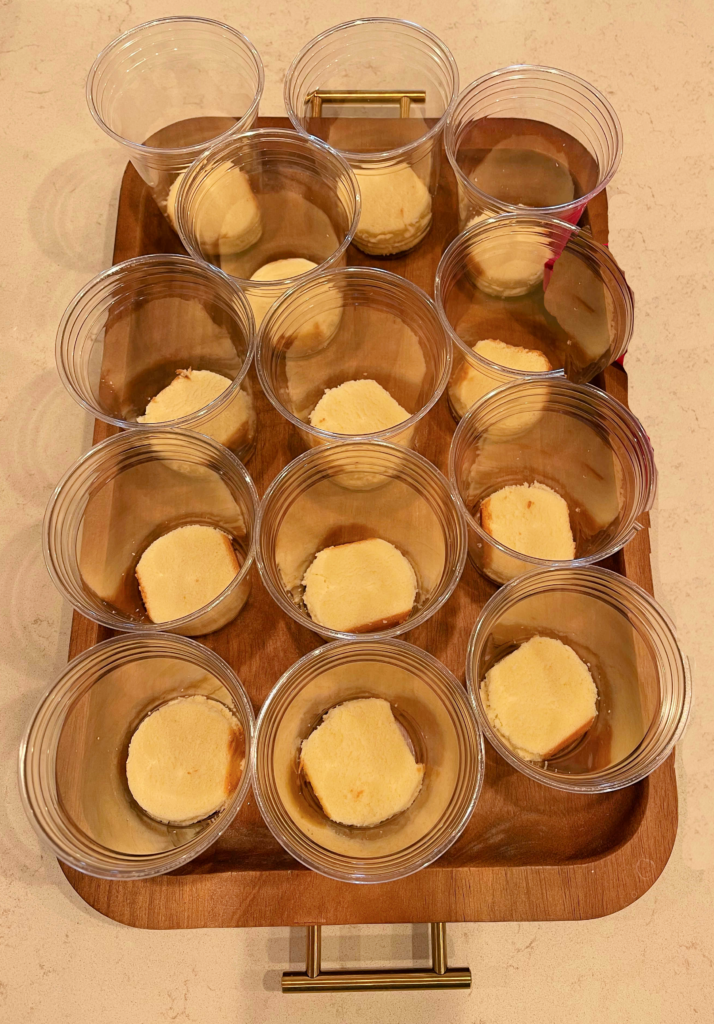 Step 6: Add the circle Pound Cakes to the bottom of each cup. step.
Tip- when you layer in more Pound Cake you don't have to cut more circles because only the bottom layer shows through the clear glass. You will use the leftover pieces for the next layer so there is no waste.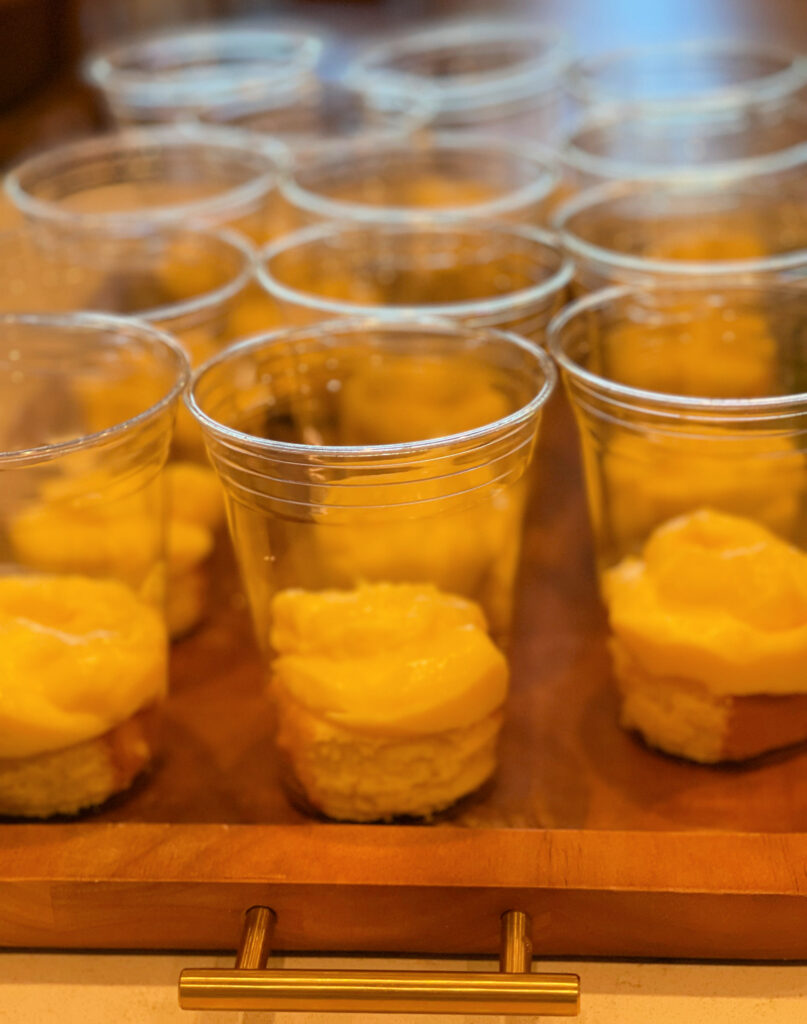 Step 7: Add a layer of cooled pudding
Step 8: Add a layer of berries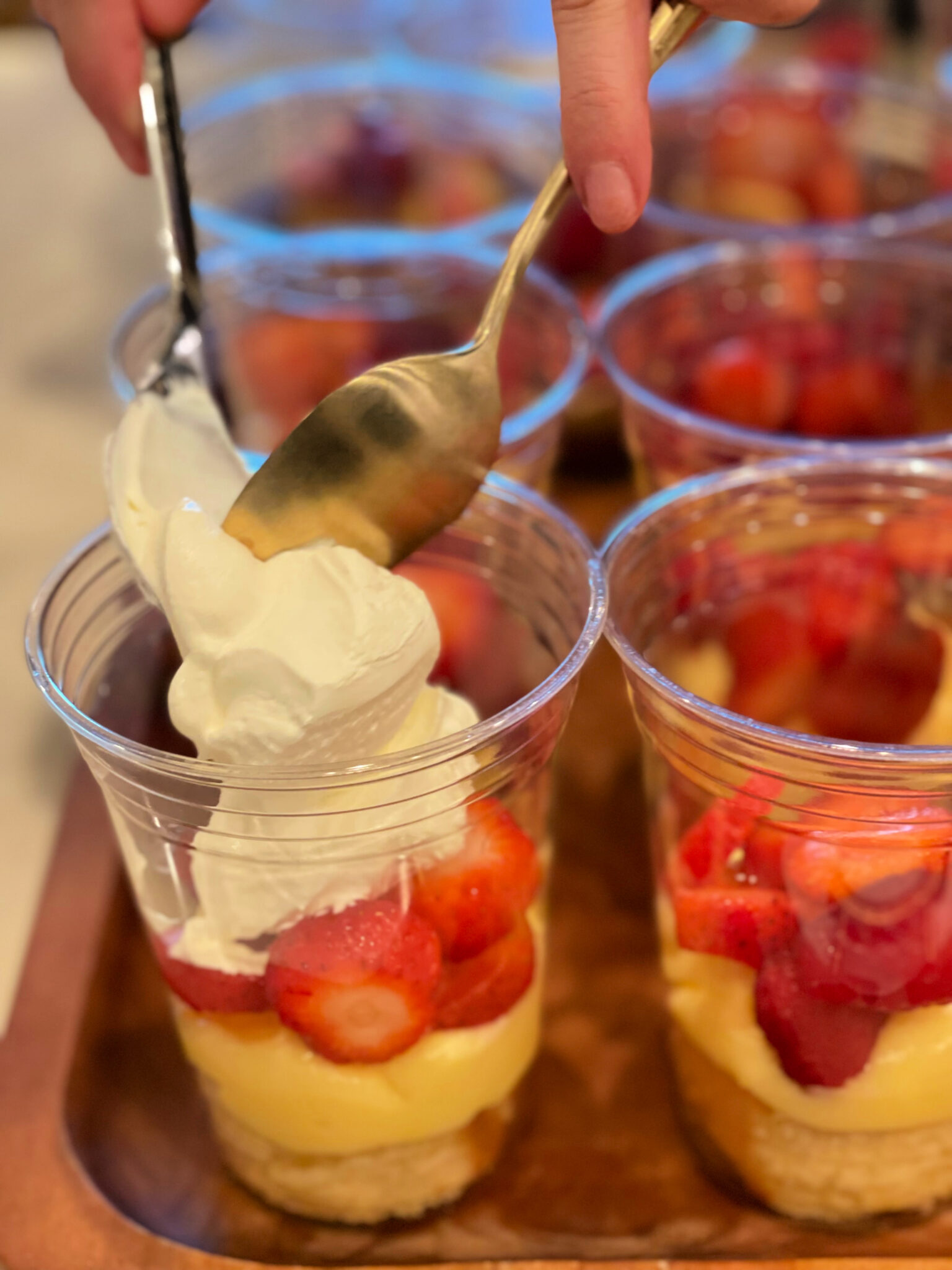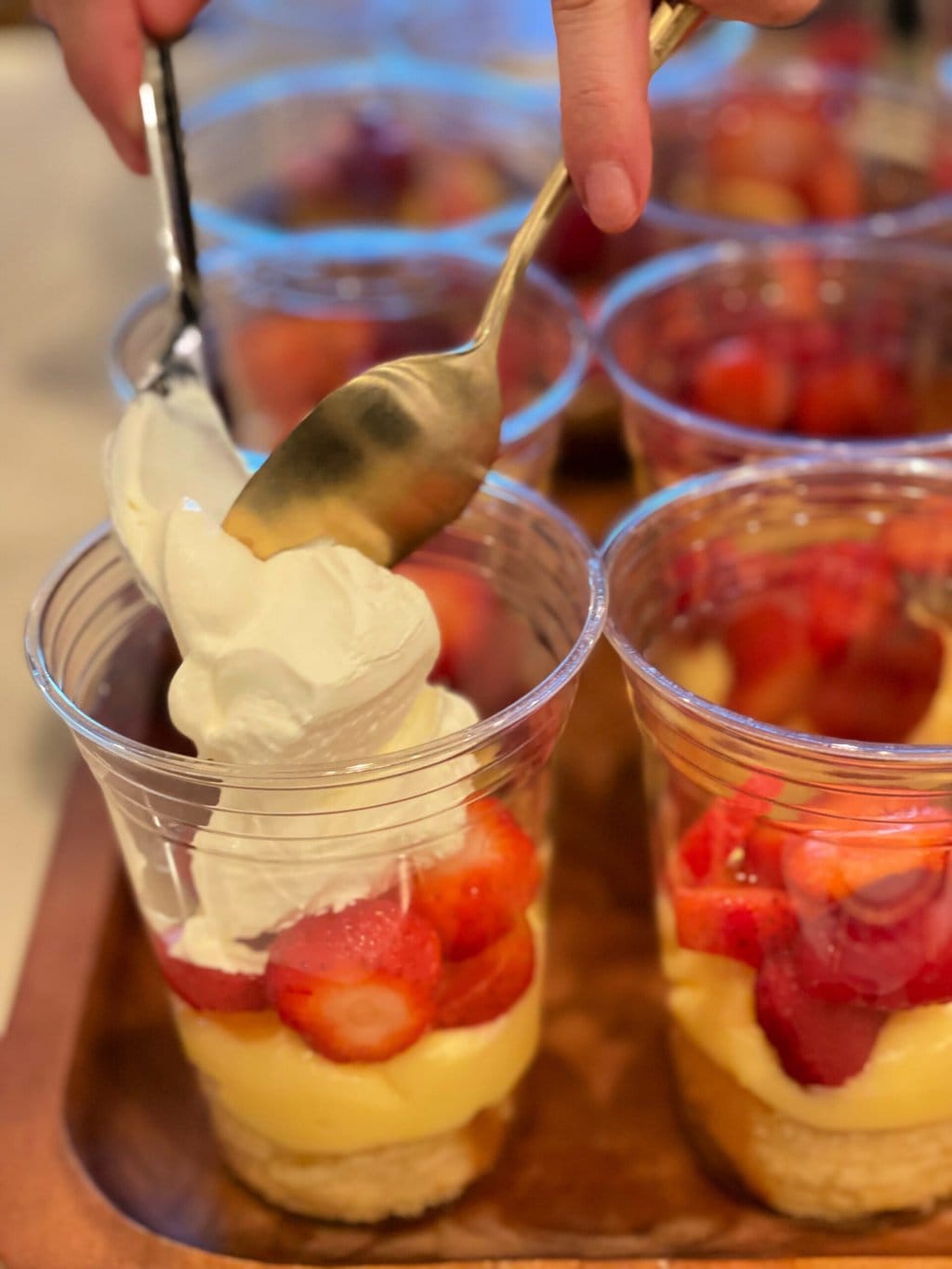 Step 9: Add a layer of whipped cream. Optional, add a little sugar to the whipped cream.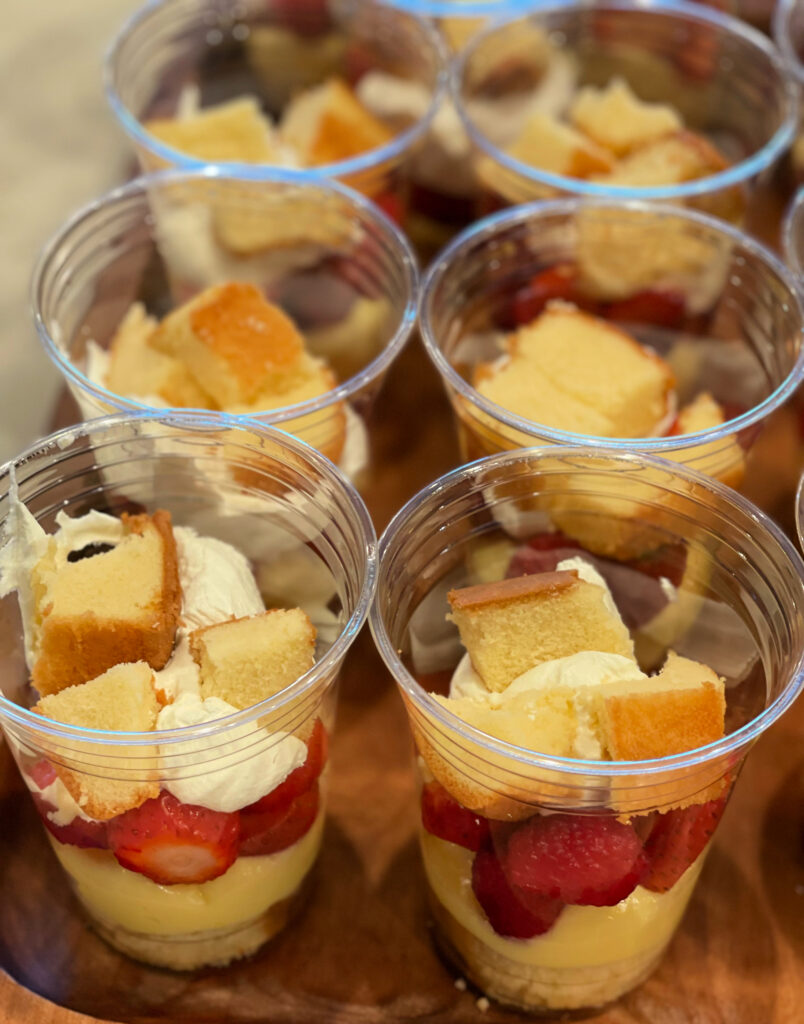 Step 10: Add more pieces of Pound Cake leftover from your circle cuts.
Step 11: Add another layer of pudding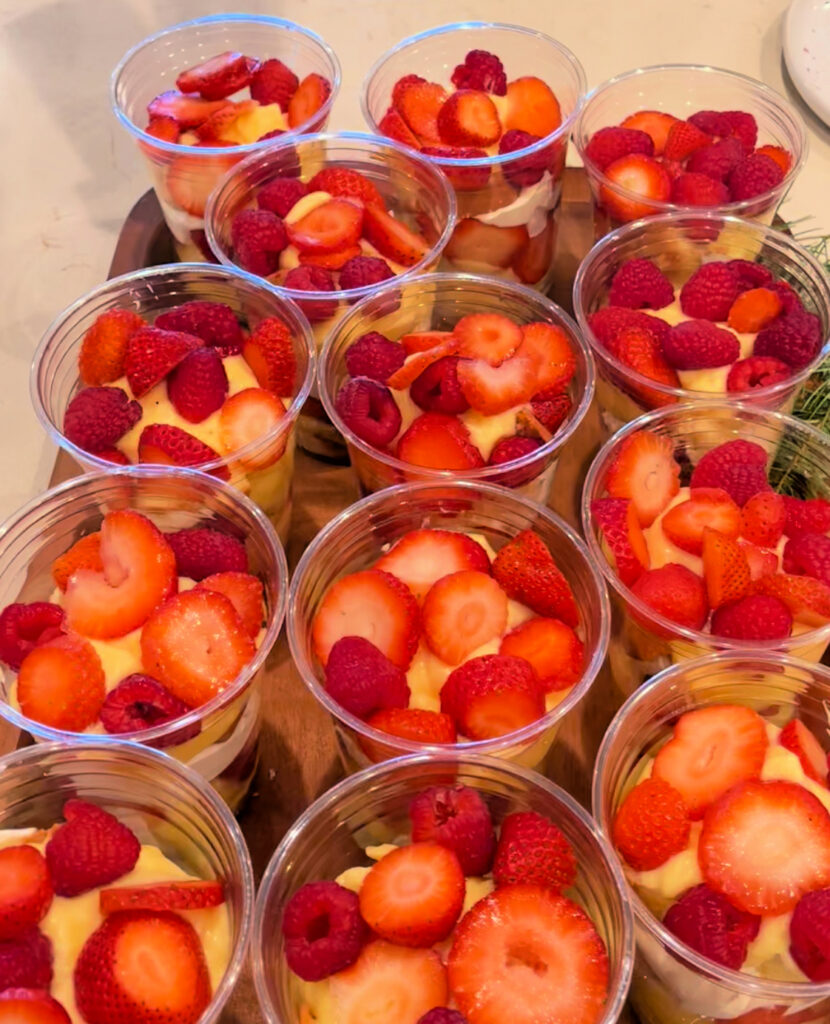 Step 12: Add in more berries
Step 13: Top with Reddi-wip
Step 14: Shave the frozen Hershey's Chocolate Bar into a bowl and sprinkle shaved chocolate on top.
Step 15: Top with a mint leaf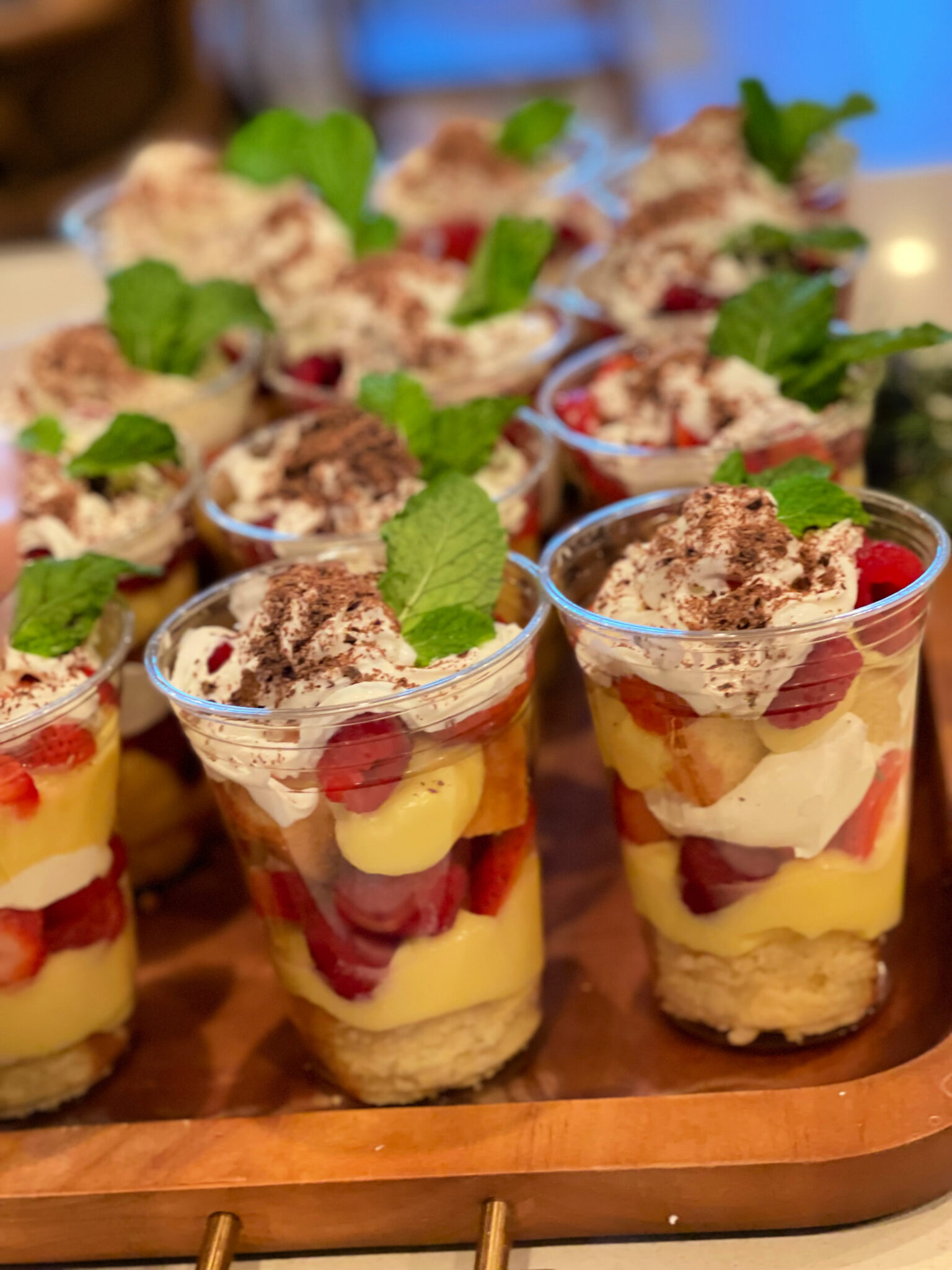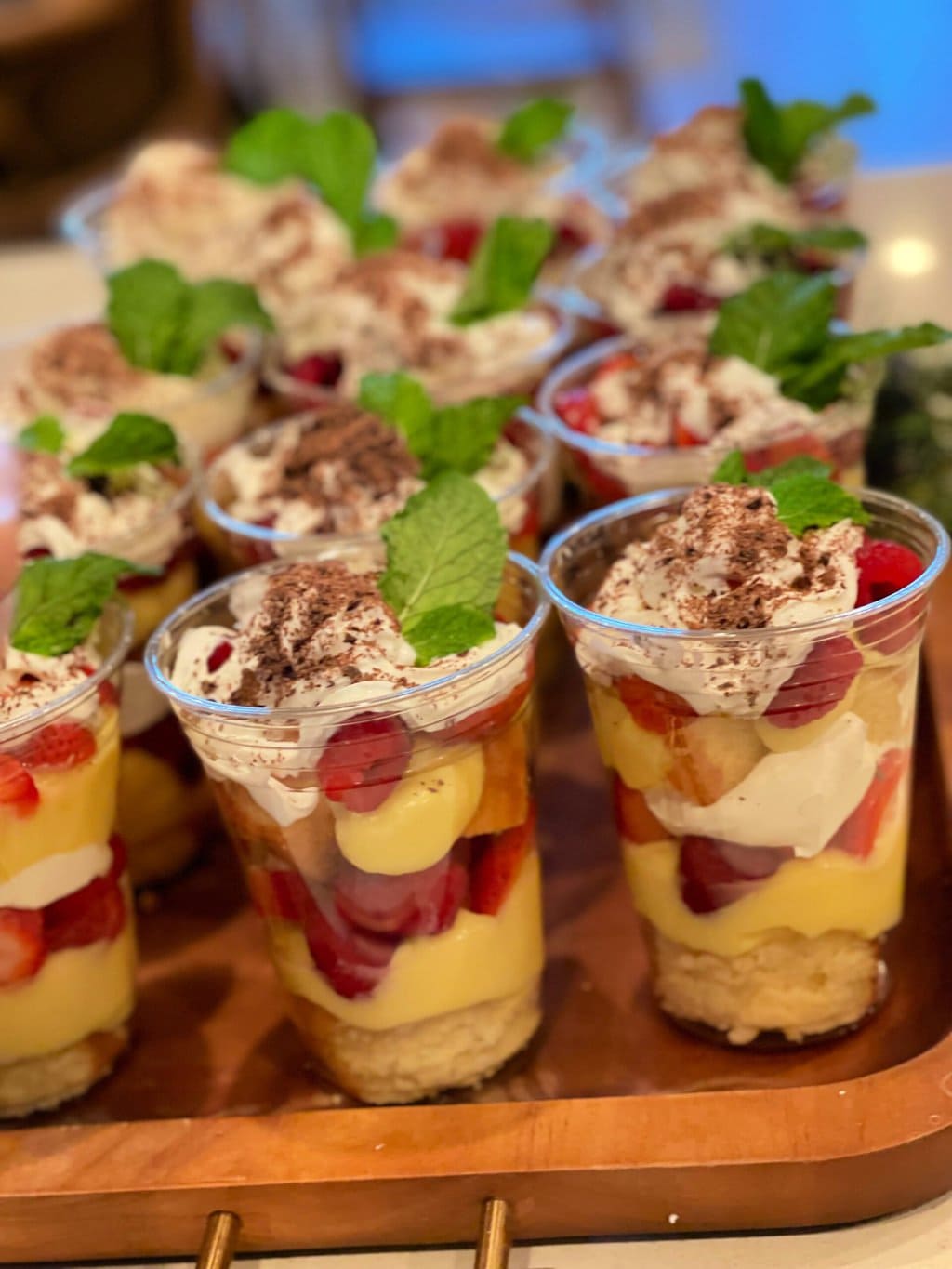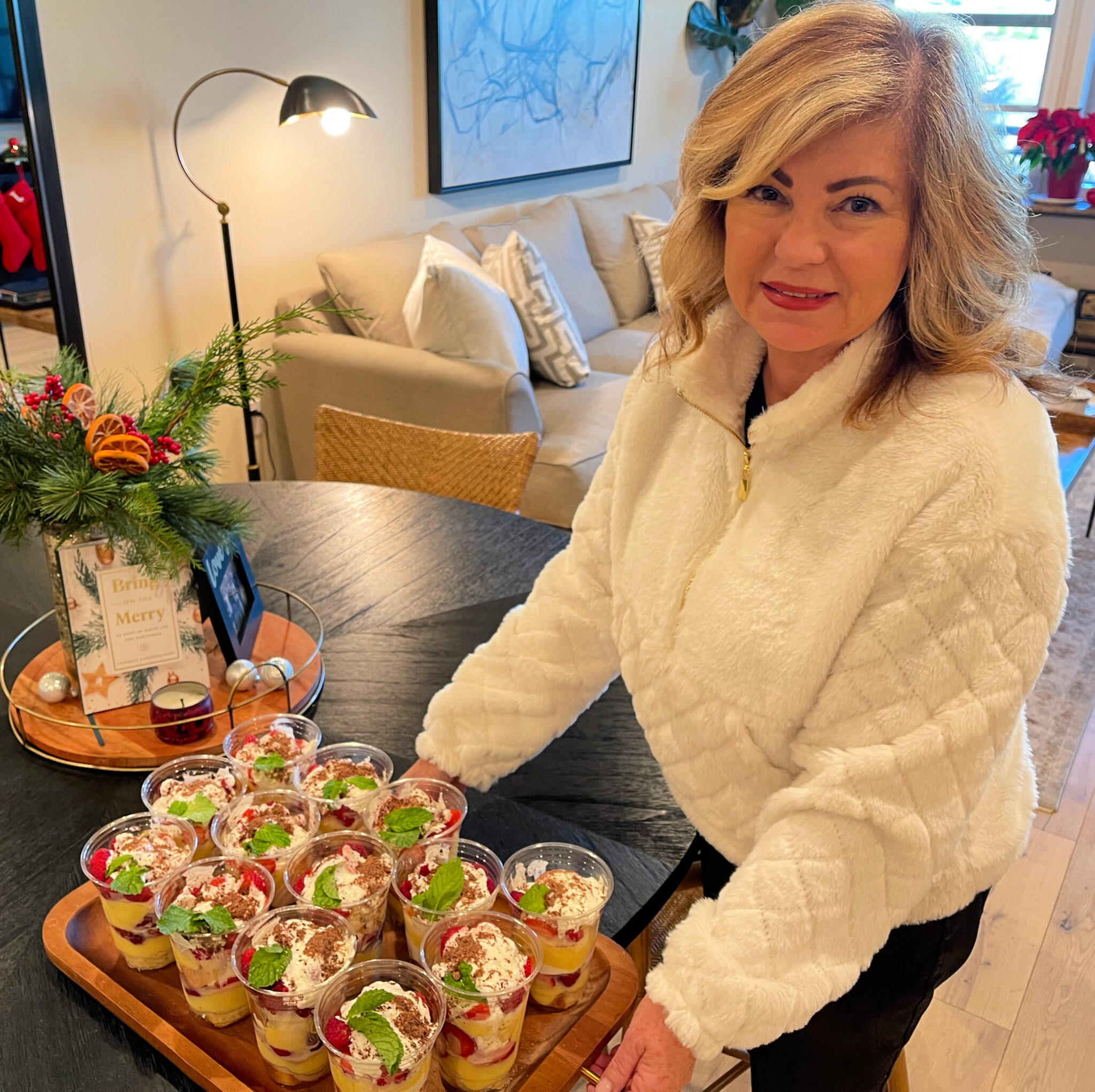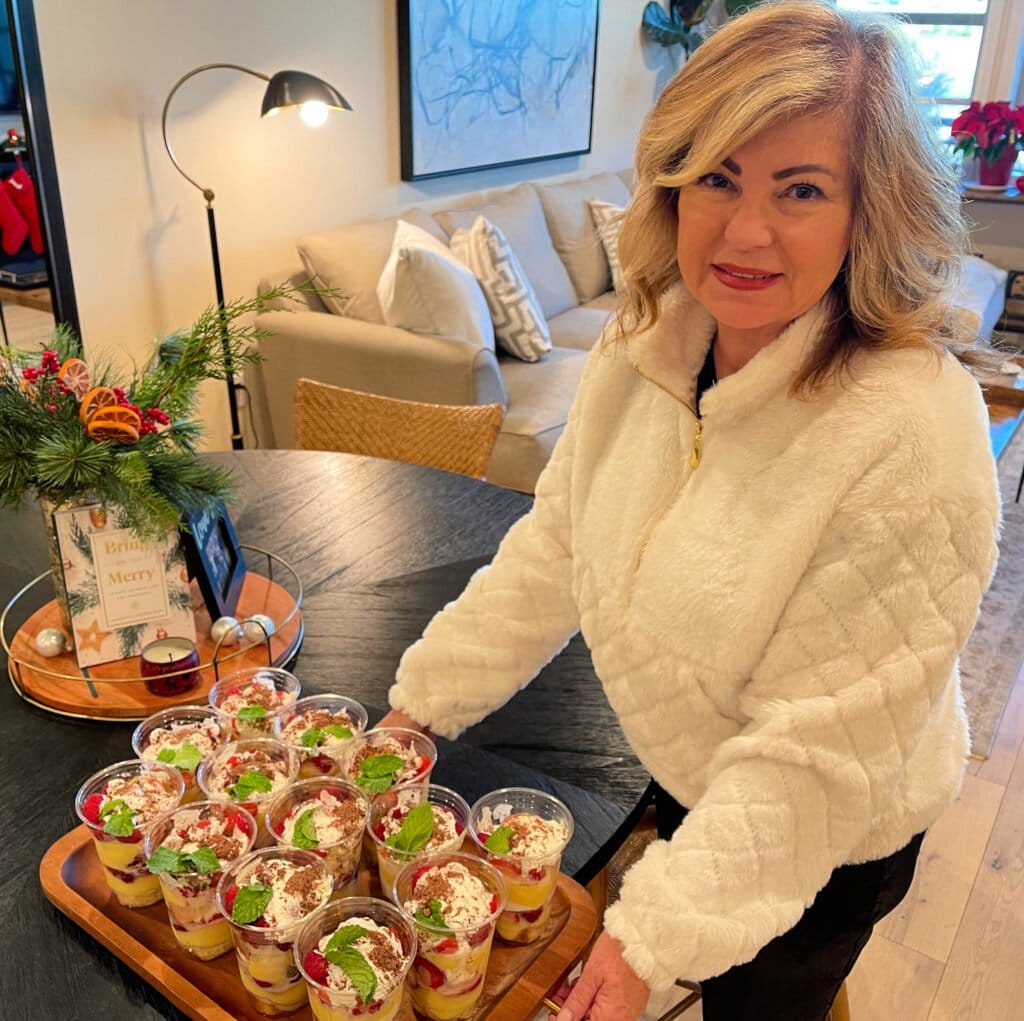 Now I can be the "hostess with the mostest" when my groceries are at my doorstep!
Once you join Walmart+ you'll enjoy:
unlimited free delivery from stores

on fresh, high-quality groceries ($35 order minimum. Restrictions apply.)

schedule delivery at your convenience

free shipping with no order minimum of last minute-gifts

** excludes most Marketplace items, location & freight surcharges

fuel discounts from participating gas stations

e

veryday low prices (the same price as going to the store)

no mark-ups or hidden fees.
The subscription service will cost $98 a year or $12.95 a month. It comes with a 15-day trial period.
There are so many ways a Walmart+ membership will help stretch your dollars and your time all year long!
Visit Walmartplus.com to start your free trial.