Looking for St. Patrick's Day dishes? Whether you want recipe ideas for traditional Irish-inspired dishes like Corned Beef and Cabbage, Irish Soda Bread and stews, or something new, we found 15 St Patrick's Day dishes to celebrate the holiday. We also share several ideas for leftover Corned Beef and Cabbage too!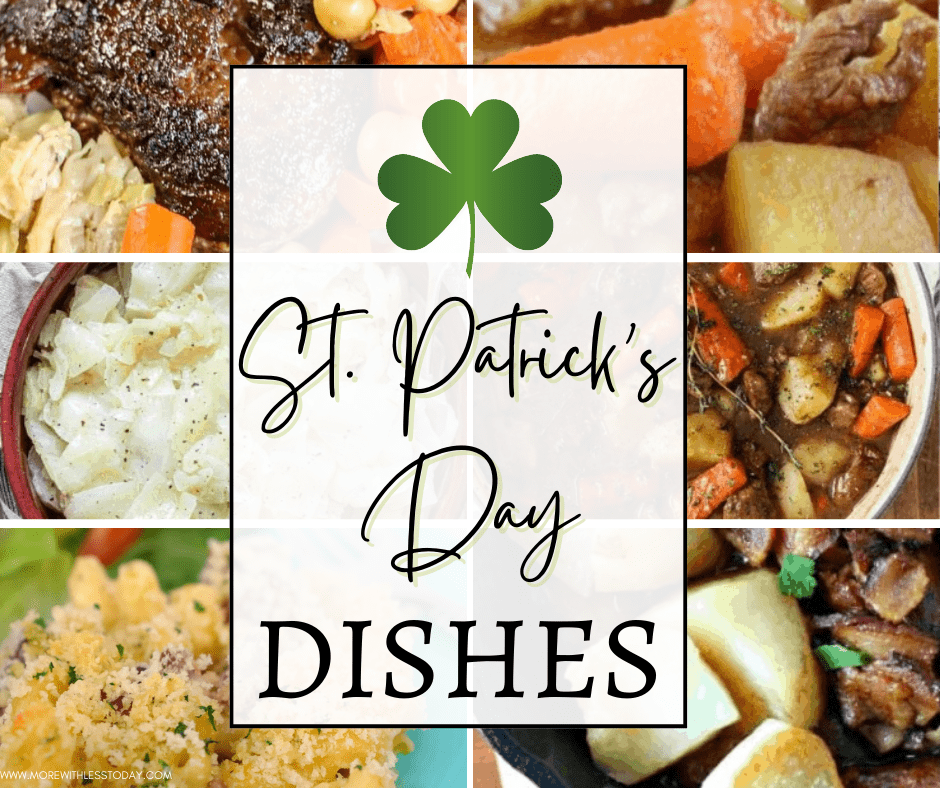 St. Patrick's Day Dishes – Recipe Ideas for St. Patrick's Day
Irish Beef Stew with Guinness by She Saved
"It comes together easily in the slow cooker and is delicious served over mashed potatoes."
Pub Style Nachos by Spend with Pennies
"They are like regular nachos but instead of tortilla chips, they use crispy fried potato slices! In this recipe, you can either bake or fry the potatoes to make them nice and crispy!"
Corned Beef and Cabbage in the Ninja Foodi by Bake Me Some Sugar
"Get perfectly cooked corned beef brisket each and every time. Add in the cabbage and you have a meal to serve up your family."
Corned Beef Mac n Cheese by Who Needs a Cape
"Leftover corned beef from St. Patrick's Day? Make delicious Corned Beef Macaroni and Cheese, a comforting casserole that's so simple to make."
Instant Pot Corned Beef Cabbage by Savory Experiments
"Take my word for it, using an electric pressure cooker is the best and easiest way to cook corned beef!"
Irish Soda Bread by Ever After in the Woods
This was one of my mom's specialties. Everyone loved her Irish Soda Bread.
Colcannon Soup by A Moms Impression
"This traditional Irish recipe combines potatoes, cabbage, and leeks for a delicious creamy soup that the entire family will love. "
Dublin Coddle by Confessions of an Overworked Mom
"Irish Dublin Coddle is a traditional Irish dish that's made of sausage, potatoes, bacon, and onions."
Lamb Stew by Spend with Pennies
"Lamb Stew is a delicious and satisfying recipe with tender chunks of lamb, potatoes, and carrots."
Reuben Pizzas by Who Needs a Cape
"Simple Reuben Pizza, all the great flavors of the beloved sandwich on refrigerated pizza crust. Perfect way to use leftover Corned Beef."
Leftover Corned Beef Cabbage Soup by Savory Experiments
"What could be a better recipe for leftover corned beef than leftover corned beef and cabbage soup?"
Reuben Dip by The Crock-Pot Ladies
"Grab rye bread or your favorite crackers & dip on into to this warm & cheesy Crock-Pot Reuben Dip recipe. Just 4 ingredients & all the flavor!"
Corned Beef and Cabbage Egg Rolls by The Comfy Abode
Here is an easy version of corned beef and cabbage egg rolls.
Lamb Stew by Savory Experiments
"Are you ready to make the most flavorful fall stew you've ever tasted in just 30 minutes?"
Buttered Cabbage by Recipes From a Pantry
This is the buttered cabbage recipe that will keep both its shape and delectable buttery flavor each and every time you make it!