Easter Desserts
When it comes to Easter desserts, we want something fun, festive, and of course easy to make! The easier to make the better that way we can spend more time celebrating what the holiday is all about as we spend time with friends and family.
Whether you are looking for a dessert to serve a small group of people or need a delicious dessert to serve a crowd, these dessert options for Easter are sure to be a hit.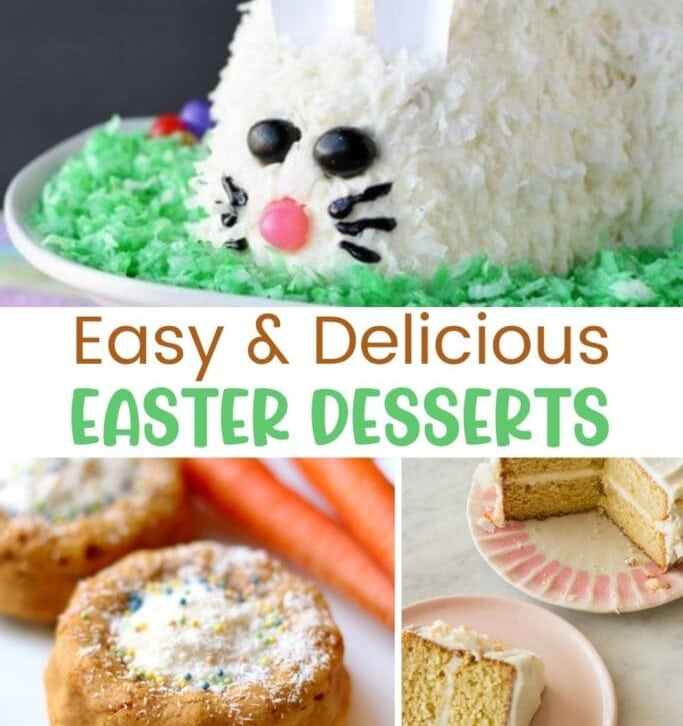 Included here is everything from tasty Easter cakes that are all decorated up for the holidays to simple individual desserts and treats that everyone is sure to love.
"Scrumptious and easy to make, this no-bake Easter icebox cake will satisfy every sweet tooth!"
"These fun individual Bundt cakes are sure to be a hit with everyone this Easter. Flavorful and delicious, they are perfect for Easter."
"Another fun Easter dessert that both kids and adults will love, these cake batter truffles are easy to make and delicious."
"Made with homemade chocolate frosting, this tasty sunflower-style Easter cake will be a hit with friends and family."
Egg Shaped Chocolate Rice Krispie Cake
"Perfect for Rice Krispie treat lovers, this tasty dessert is another easy-to-make clever dessert that is sure to be a hit with young and old."
Cake Filled with Chocolate Easter Eggs
"Serve as a dessert or with tea this Easter, this is an easy and delicious cake that is filled with chocolate Easter eggs."
"You can't forget about a cheesecake when it comes to desserts and this Easter egg cheesecake is a fun dessert for everyone to enjoy."
"Fun and colorful, this Easter trifle is made with white cake and a sweet creamy filling to make a fun and colorful dessert."
Blueberry Cheesecake Easter Eggs
"With a sweet chocolate egg-shaped outside, these egg treats are filled with a creamy blueberry flavored cheesecake filling."
"A simple but tasty recipe, this strawberry cake is the perfect Easter dessert that you can serve to a crowd."
Chamomile Cake with Salted Honey Buttercream
"This fragrant chamomile cake is infused with whole chamomile buds and topped with a salted honey buttercream icing for a delicious dessert."
"A healthier version of the traditional carrot cake, this tasty dessert will be an easy dessert that everyone is sure to love."
"Simple but elegant, this delicious coconut cake is sure to be a crowd-pleaser at your Easter dinners and events."
"Another tasty cake dessert for Easter, this cake is shaped like a bunny and will make a fun Easter dessert for both kids and adults."
Pistachio Pudding Dessert Parfaits
"Festive and flavorful, these pistachio pudding dessert parfaits are an easy-to-make treat everyone is sure to enjoy."
You May Also Enjoy:
Here is a roundup of beautiful and Easter cakes you can make!
Here are Easter side dish recipes to try.