I'm sharing this wonderful Carrot Cake Cupcakes recipe that is sure to become one of your family favorites! It's an easy recipe to follow that you can make any time of year.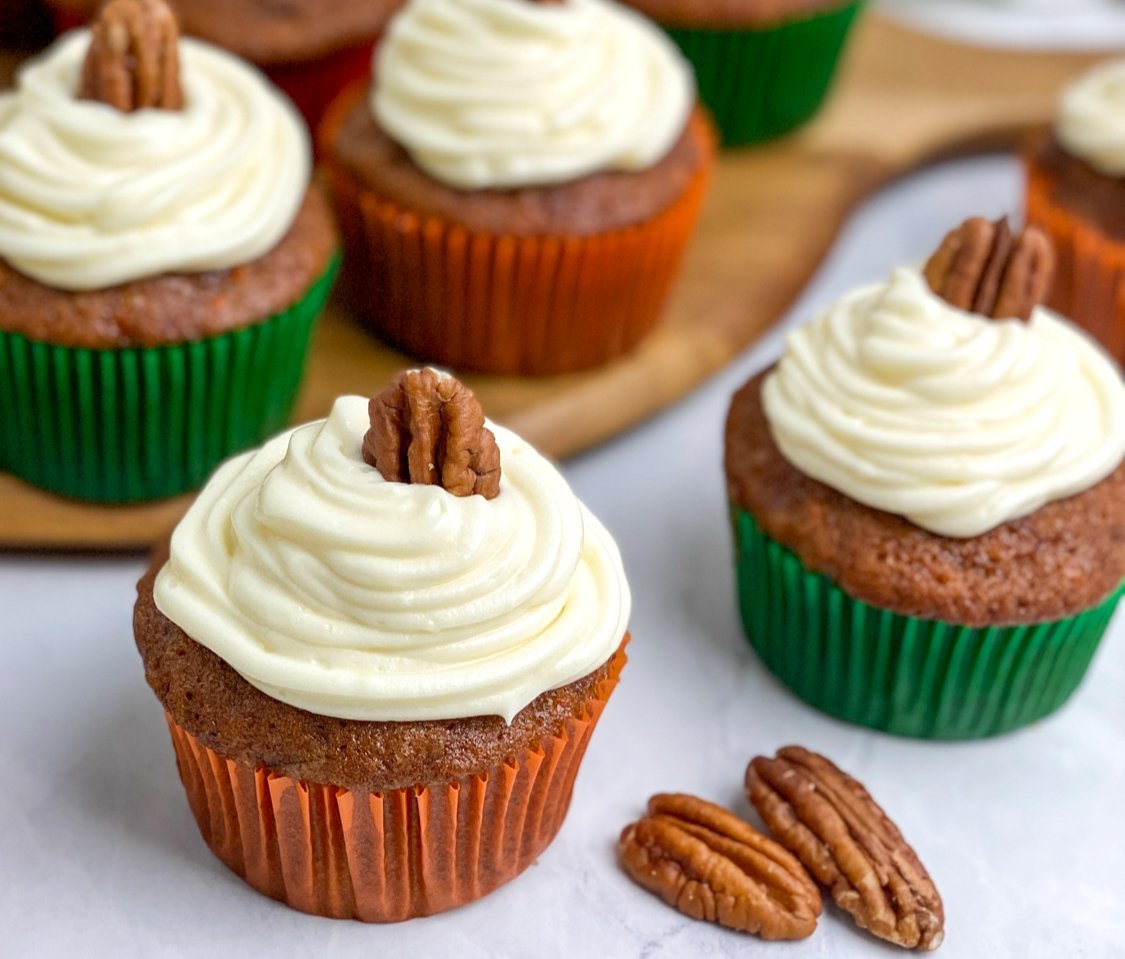 This recipe is one of my absolute favorite cupcake recipes. They are moist and packed with flavor thanks to its wet ingredients. The molasses, generous amounts of ground spices, applesauce, and fresh carrots add the perfect amount of moisture. Also one of the best parts of these homemade carrot cake cupcakes is the cream cheese frosting that ties it all together.
Kitchen Tip
For leftovers, place remaining cupcakes in a deep, airtight, freezer-safe container and store at room temperature for 3-4 days or freeze for up to 3 months.
Ingredients for Carrot Cake Cupcakes
For the Carrot Cupcakes
1 c. whole pecans, divided

4 large eggs, room temperature

1 c. vegetable oil

1 c. brown sugar, tightly packed

¾ c. white sugar

3 T. molasses

1 c. unsweetened applesauce

2 t. real vanilla extract

2½ c. all-purpose flour

2 t. baking powder

1 t. baking soda

½ t. salt

2 t. ground cinnamon

1 t. ground ginger

½ t. ground nutmeg

½ t. t. ground cloves

2 c. fresh finely shredded carrots, (approximately 5-6 medium carrots)
For the Homemade Cream Cheese Frosting
8 oz. cream cheese, room temperature

4 T. unsalted butter, room temperature

1 t. real vanilla extract

¼ t. salt

1¾ c. powdered sugar
Supplies Used
How to Make The Best Carrot Cake Cupcakes
Step #1. Arrange both oven racks equal distance apart. Preheat the oven to 350°F and line two 12-cup muffin tins with cupcake liners to perfect the cupcake form. Set aside.
Step #2. Finely chop three-quarters of the pecans and place in a skillet set over medium heat. Toast the chopped pecans, stirring frequently, until fragrant, but not overly brown. Remove from heat and set aside on a medium bowl. Note: Reserve the remaining quarter cup of whole pecans for garnish.
Step #3. Whisk together the eggs and vegetable oil in a large bowl. Add the brown sugar, white sugar, molasses, applesauce, and vanilla extract and continue whisking until combined.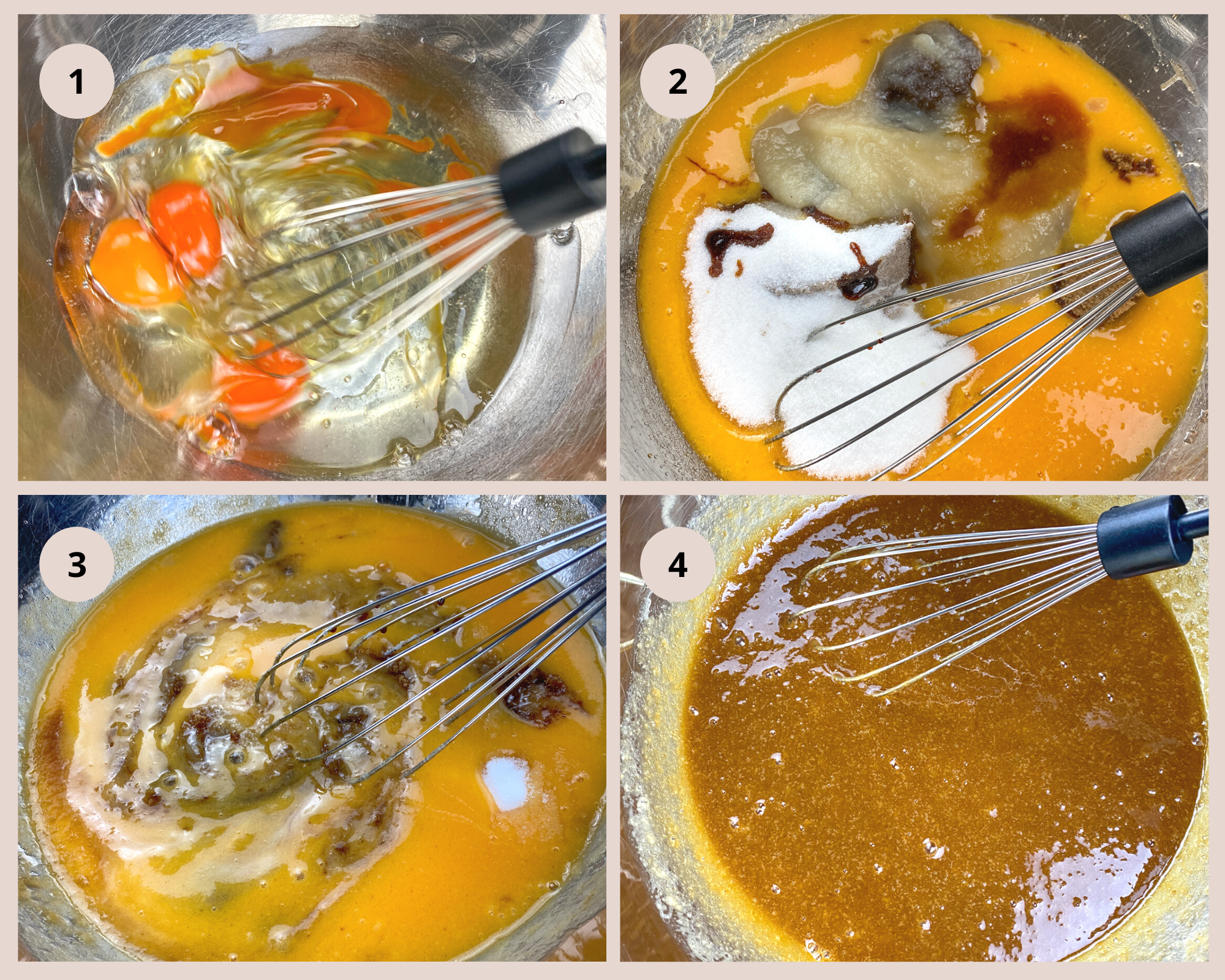 Step #4. In a separate bowl, combine the flour, baking powder, baking soda, salt, cinnamon, ginger, nutmeg, and cloves. Stir to combine.
Step #5. Gradually add some of the dry ingredients to the wet and whisk to combine. Repeat until all the dry ingredients have been incorporated into the batter.
Step #6. Pour the toasted pecans into the large mixing bowl and stir to combine.
Step #7. Add the freshly grated carrots and carefully fold into the mixture until thoroughly incorporated into the batter.
Step #8. Fill each cupcake liner with the cupcake batter until approximately three-quarters full, as shown. Note: Do not overfill.
Place the muffin tin into the preheated oven for 18-20 minutes, or until a toothpick inserted in the center comes out clean. Note: Rotate the muffin pans to the other rack halfway through baking.
Remove from oven and transfer the cupcakes to the wire rack to cool completely.
Remaining Steps for the Frosting Recipe
Step #9. While the cupcakes are cooling, prepare the frosting by beating together the cream cheese, butter, vanilla extract, and salt. Slowly add the powdered sugar a little at a time until thoroughly incorporated into the frosting. Set aside.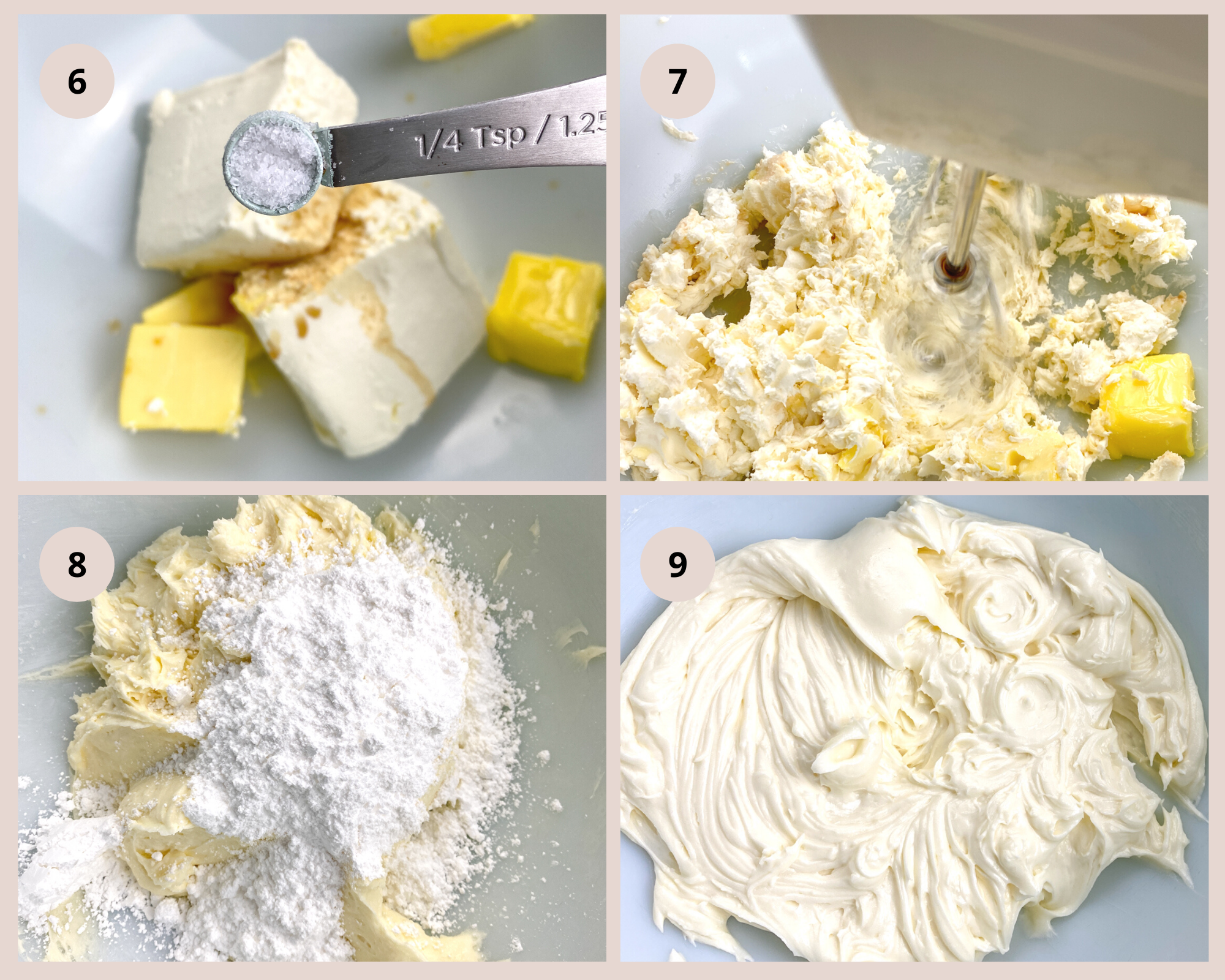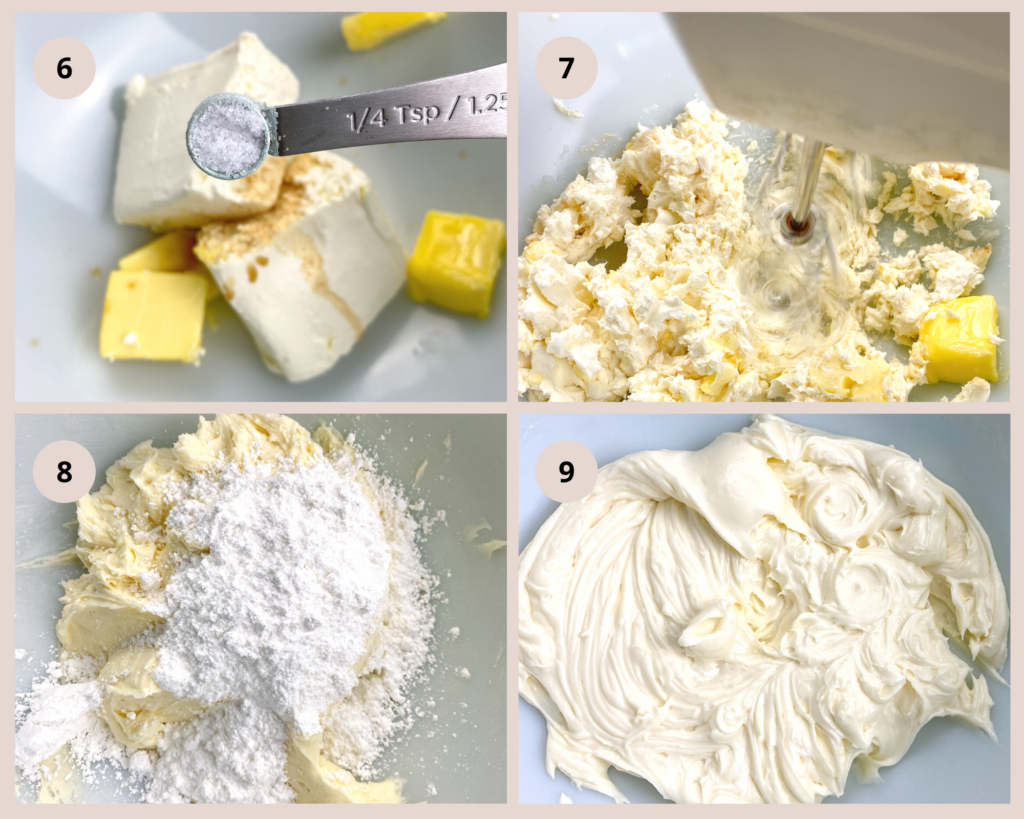 Step #10. Once the unfrosted cupcakes are completely cool, frost them with the cream cheese frosting. If desired, garnish these delicious cupcakes with the remaining whole pecans and place them at the center of a cupcake. Enjoy!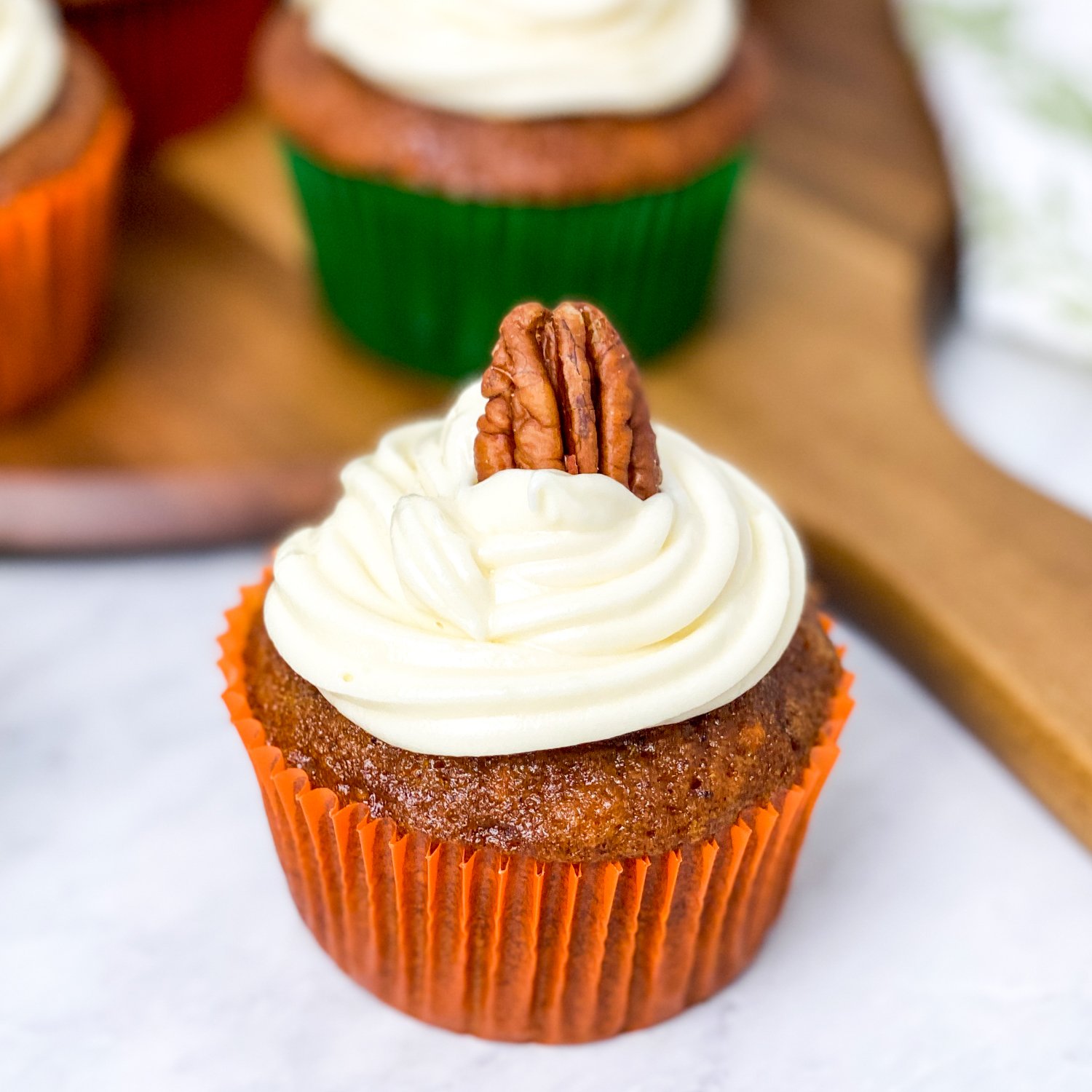 Don't forget to share these delicious Carrot Cake Cupcakes with your friends and loved ones! Make sure to follow me on social media to stay updated on my latest recipes.
Try Walmart Plus to Have Your Groceries Delivered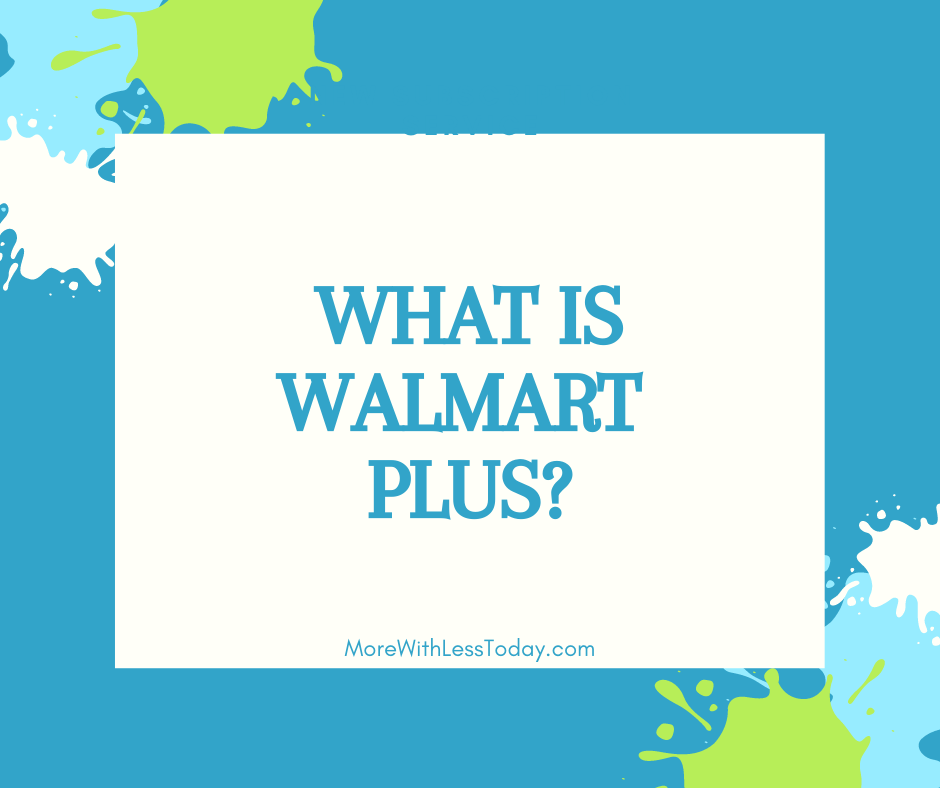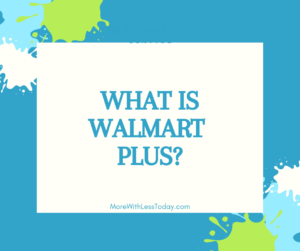 Have you tried Walmart Plus+? You can have your groceries and your household items delivered to your door! I am loving it. For us, the big box store sizes are too big. I find the prices at Walmart to be very competitive in the sizes we need. To be honest, I don't love going to the store but I place what I need in my shopping cart online and every few days I place an order-easy peasy!
Get $20 off a future order when you sign up using this link. You can also get a 30-day free trial to make sure you love it!
Get More of Our Easy and Free Recipes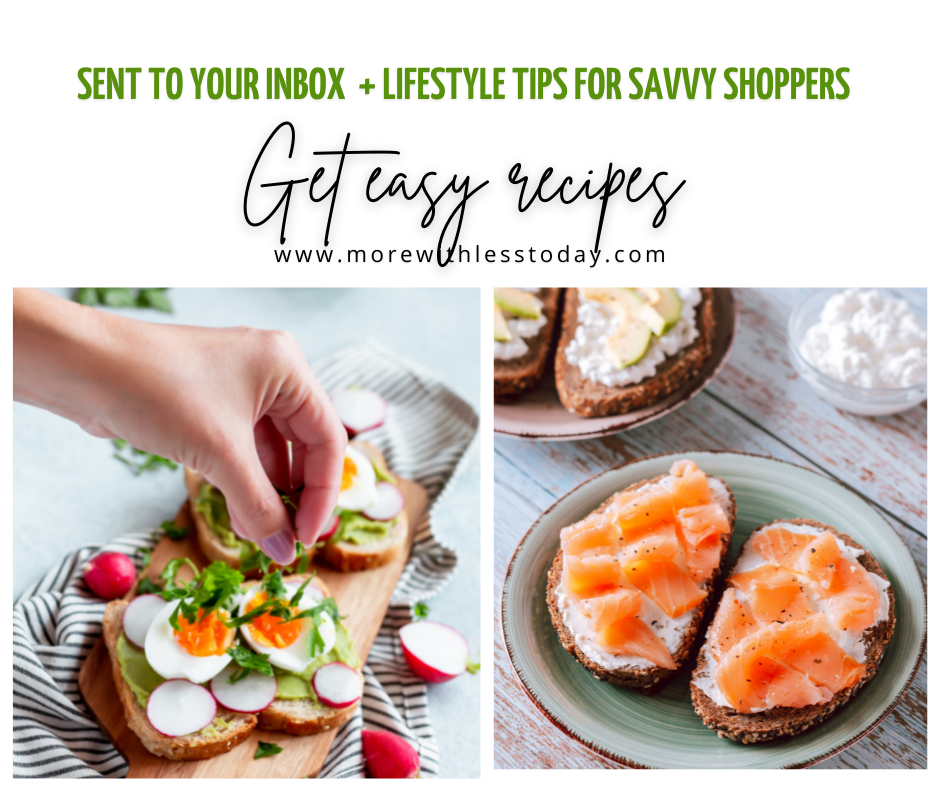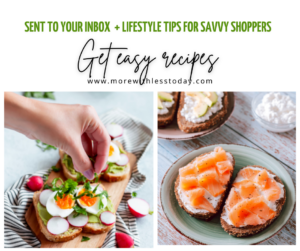 Have more easy and delicious recipes like this Best Carrot Cake Cupcakes recipe sent straight to your inbox! We also share lifestyle ideas for shopping, travel, pets & more. We would love to connect with you.
Sign up for our emails and know we respect your privacy and will never share your email with anyone else.
More Baked Recipes To Try
If you're a sweet tooth and a fan of this Carrot Cake Cupcakes recipe, try these other delicious desserts:
PIN for Later