Canned Tuna Recipes
Canned tuna recipes can be a lifesaver when it comes to finding something quick and easy. There are many ways to get healthy and delicious meals on the table fast using canned tuna and other pantry staples.
Make dinner, lunch, and quick salad ideas using canned tuna. Come back and tell us which recipe was the best one!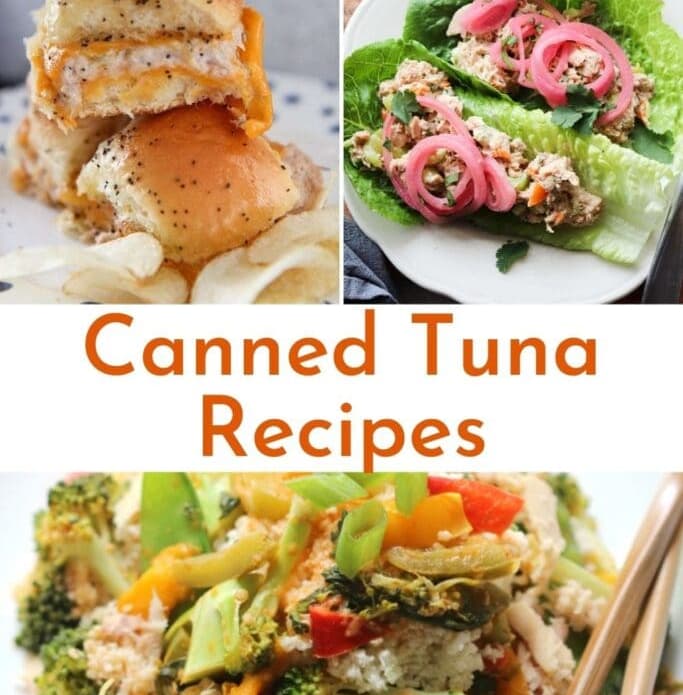 These canned tuna recipes are perfect for an easy weeknight dinner, a quick lunch, or a healthy snack. Many only contain a few other ingredients and will be something you can have ready in no time.
"Easy and delicious, these tuna melt sliders take tuna salad to a whole new level because it adds cheese and a buttery garlic sauce."
"With only a few minutes needed to whip up, this tuna Thai red curry is served over coconut cauliflower rice for a delicious meal."
"Made from scratch and ready in just 15 minutes, this canned tuna pasta is an easy weeknight dinner idea."
"Made with canned tuna, this tuna egg salad is a healthy and delicious lunch or dinner idea."
"These tuna cakes are surrounded by a delicious Pepita crust and are fried until brown and delicious."
Japanese Crispy Fried Tuna Rice Balls
"These Japanese fried tuna rice balls can be served as an appetizer or side dish. They are crispy and best served with a homemade sweet and hot Orange Wasabi sauce."
"Both canned tuna and canned sardines are combined to mellow out the flavors and create a delicious salad for lunch."
"Take your tuna salad up a notch by adding some homemade mayo and avocados for a delicious sub sandwich lunch."
"Add some canned tuna to your scrambled eggs to make an easy and nutritious breakfast that is also low in carbs."
"Another easy tuna casserole dish, this tuna casserole is made in the instant pot for a quick and easy dinner idea."
"A delicious snack or appetizer, this classic tuna pate is served with crackers for a tasty treat everyone will love."
"If you love tuna salad, you will love these spicy tuna salad lettuce wraps. Plus, they are Whole30, Paleo, and Keto friendly."
"Topped with a dill buttermilk dressing, this tuna potato salad is sure to be a hit with the family."
"Drizzled with an herby lemon salad dressing, this Mediterranean salad with tuna will make a healthy lunch."
"Serve as a side or turn it into a light meal, this tuna and bean salad is flavorful and easy to make."
Chipotle Tuna Salad Sandwiches
"These tuna salad sandwiches are mixed with a roasted garlic and chipotle mayo sauce that adds a bit of a kick to your favorite tuna salad."
You May Also Enjoy
Salad Recipes that are fast, fresh, and delicious!