This Vichyssoise Soup recipe is a must-try! It's a classic French soup that sounds fancy but it is delicious and so easy to make.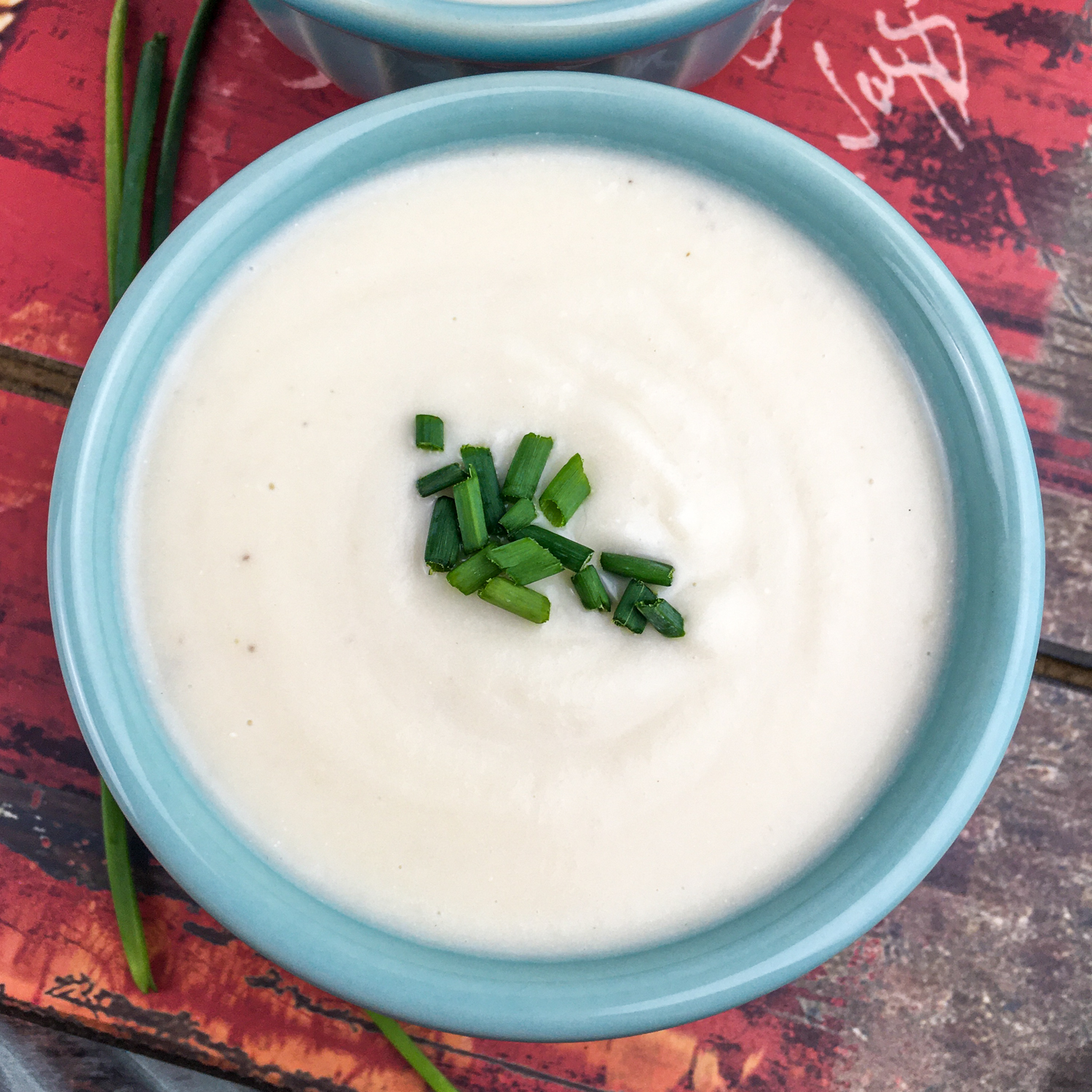 What is Vichyssoise?
Vichyssoise is also known as potage parmentier or Crème Vichyssoise Glacée in French. It's a traditional cold soup made with main ingredients such as leeks, potatoes, onions, cream, and chicken stock. View more info here.
Vichyssoise is a classic soup base recipe that is reportedly a favorite of well-known American chef, Julia Child.
The Vichyssoise recipe was created by French chef, Louis Diat, while he was working at the Ritz-Carlton Hotel in New York City in 1917. See more of its history here.
Tip
When blending hot liquids, don't fill the blender more than 1/3 full and make sure the top is properly vented to prevent exploding.
We have affiliate relationships which means we may earn a small referral commission at no additional cost to you if you shop using our affiliate links. As an Amazon Associate, I earn from qualifying purchases.
Ingredients for Vichyssoise
3 T. Unsalted butter

3 T. Extra virgin olive oil

1-2 Large cloves garlic, finely minced

3 Large leeks, white and very light green parts only

Sea salt and black pepper, to taste

4 c. Yukon Gold potatoes, peeled and diced (approximately 4-5 medium potatoes)

2 c. Chicken stock, preferably organic

2/3 c. Sour cream

1/3 c. Heavy cream

3 T. Fresh chives, finely chopped
Supplies used
How To Make Vichyssoise
Step #1. Add butter, olive oil, garlic, and leeks to a large, high-sided skillet set over medium heat. Melt butter then cook by stirring occasionally, just until the leeks are tender. Do this for approximately 4-5 minutes. Do not allow to brown.
Step #2. Add potatoes and chicken broth. Increase heat to high and bring to a rapid boil. Immediately reduce heat to just below medium and cover skillet loosely with a lid. Simmer for 25-30 minutes or until potatoes are fork tender.
Step #3. While the potatoes are simmering, combine the sour cream and heavy cream in a medium-sized bowl. Season with salt and black pepper, to taste, and stir to combine. Set aside.
Step #4. Remove skillet from heat and cool for several minutes. Working in batches, if necessary, carefully transfer the contents of the skillet to a high-powered blender. Cover and blend on high until completely smooth, approximately 1-2 minutes.
Step #5. Remove lid and transfer the purée into a large bowl. Repeat process with remaining contents of the skillet.
Step #6. Temper the sour cream mixture by adding 2 or 3 tablespoons of the soup to the bowl. Stir to combine.
Step #7. Add the tempered sour cream mixture to the skillet. Season with additional salt and black pepper, as desired, and stir to combine.
Step #8. Allow soup to cool completely, then transfer to an airtight container. Refrigerate until chilled, approximately 3 hours to overnight.
Step #9. To serve, divide the chilled soup between four bowls and garnish with fresh chives. Enjoy!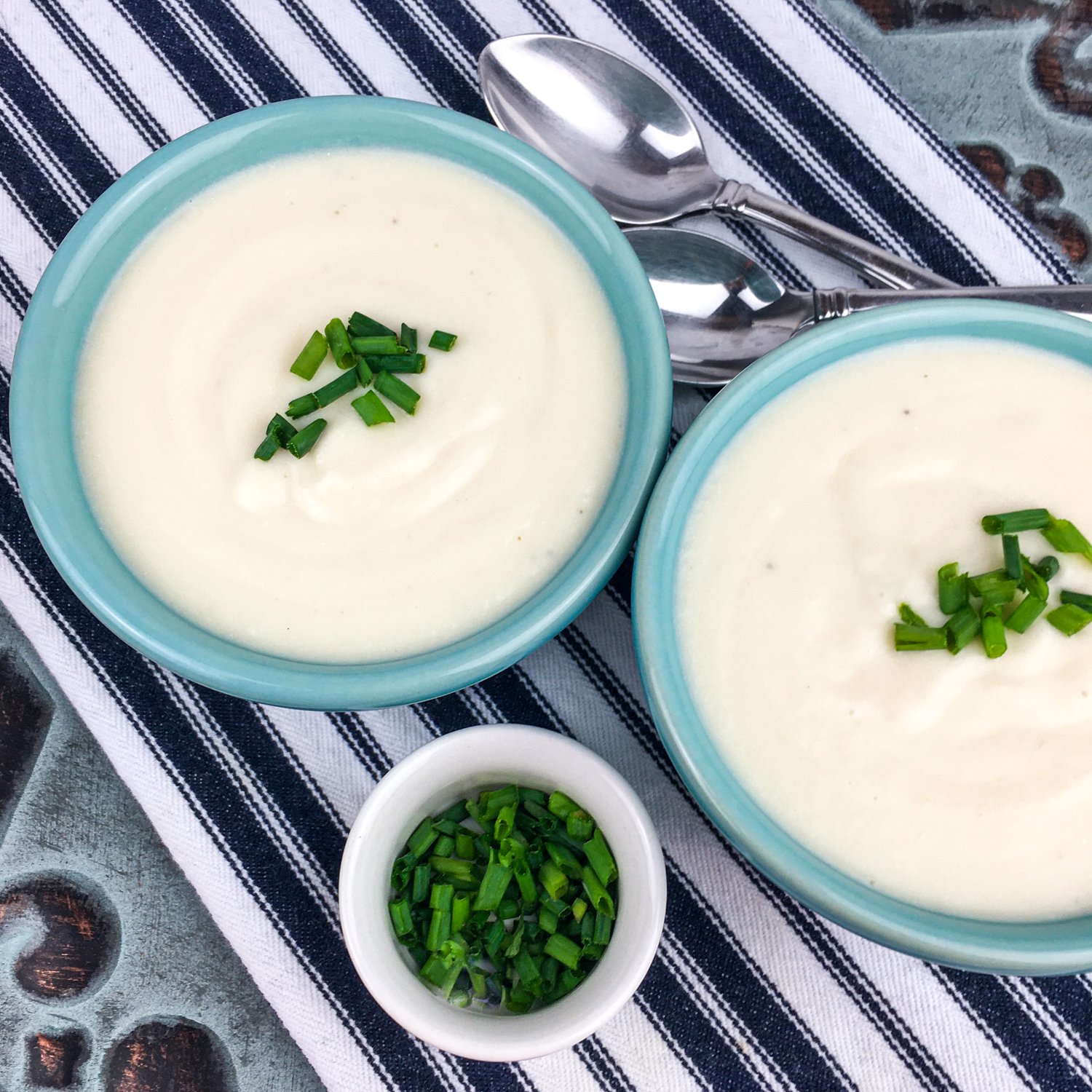 Enjoyed this Vichyssoise Soup and looking for more simple soup recipes to try? You've come to the right place! Click here to view all of my delicious recipes.
Pin for later: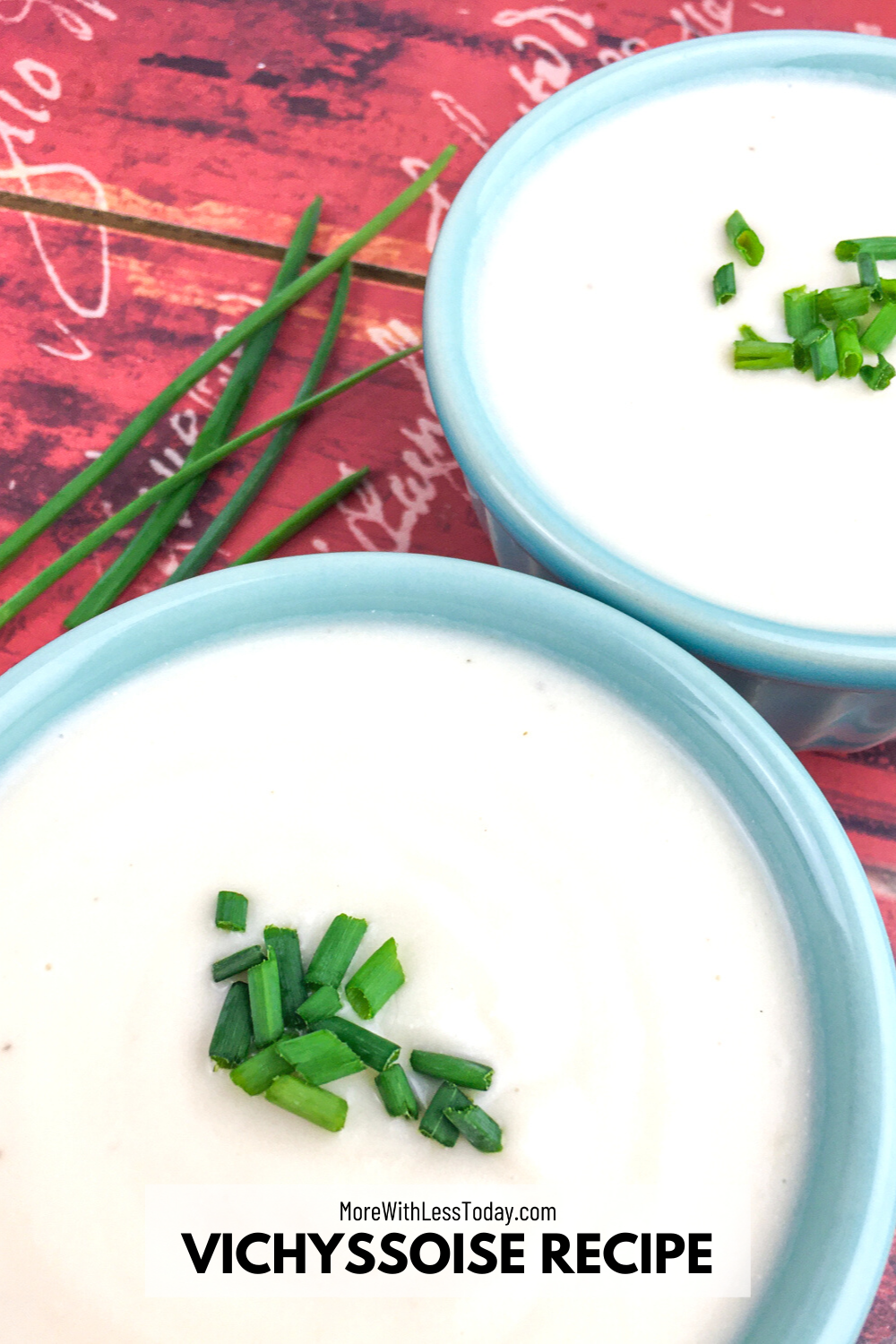 Don't forget to share this Vichyssoise Soup with your friends and loved ones! Follow me on social media to stay updated every time I post!